So today I have something really special for you in-store – HER Dating app review.
I don't always do such specific reviews as they don't tend to be aimed at the broader audience but because my job is to review dating app, I've taken up the task to not let lesbian dating apps sit in the dark.
So without further ado, let's see what HER is all about.
Is your dating app giving you the best chance for success?
Make sure to take our online dating site/app quiz to find out.
People who follow our dating site suggestions have on average 2 more dates per month.
Her Review in Video Form
Audio (podcast) form for those of you on the go
Ratings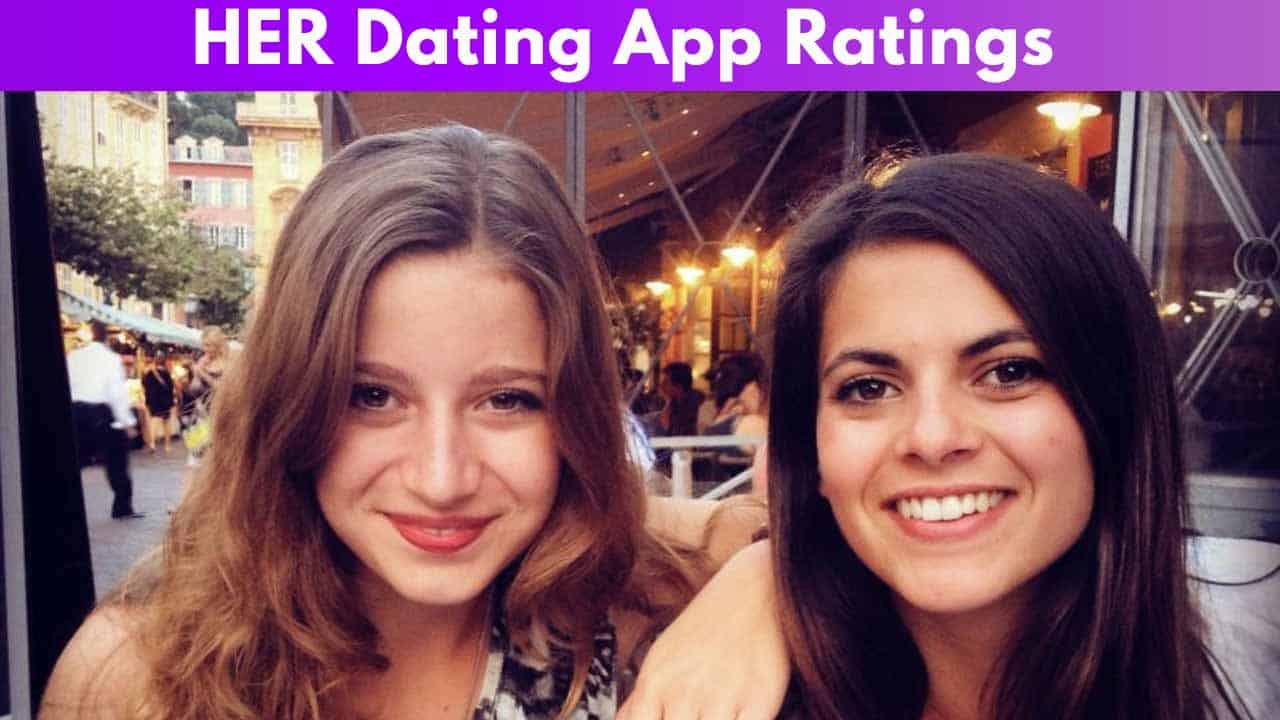 Effectiveness 4/5
Features 5/5
Ease-of-Use 5/5
Price 5/5
Pros
Unlimited and free messages
Lots of LGBTQ+ preferences
Easy signing up process via Facebook and Instagram
Frequent events hosted by the app
All profiles are verified
Cons
You can only message your matches and friends
No search option
Location-based only matches
Not the most user-friendly interface
Who is it for/Demographic Makeup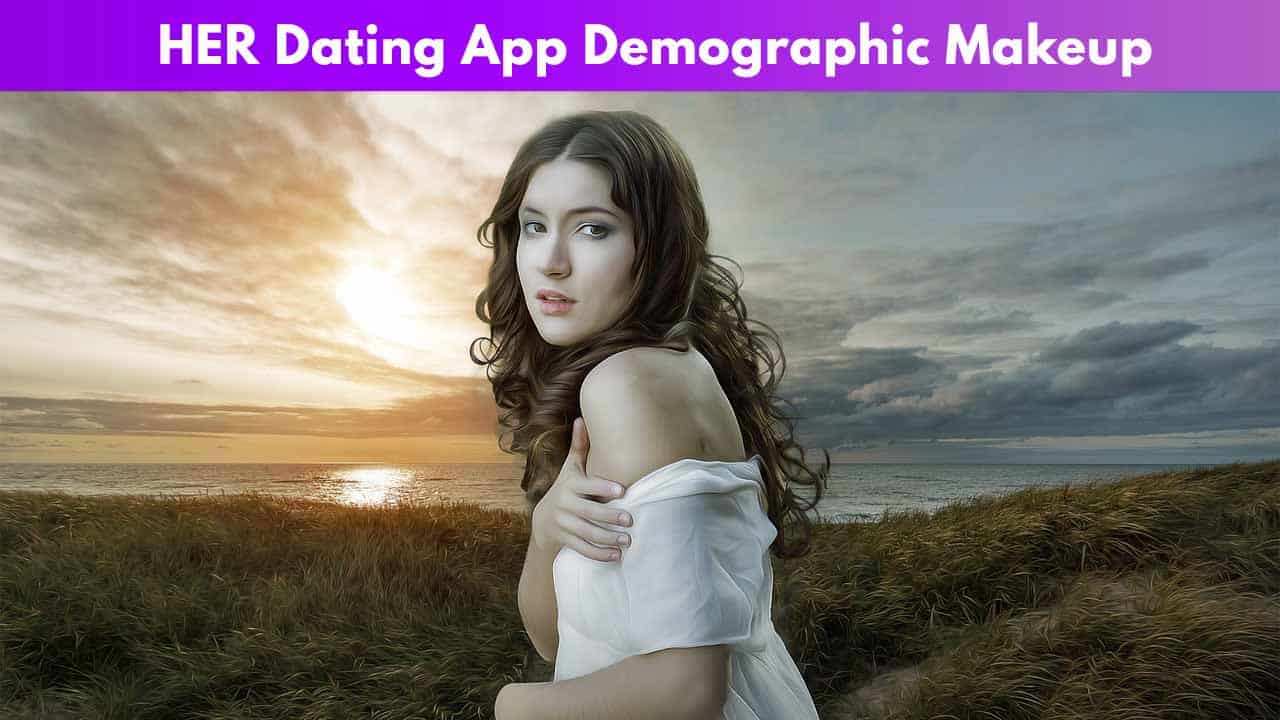 As HER is a lesbian only dating site, you can expect that there are only women using the app and no males are allowed.
The app only verifies female Facebook and Instagram profiles so it's quite hard to fool the system.
Nevertheless, it is estimated that there are over 4 million active users which is quite a high number for a lesbian-only app.
With so many users, it's safe to say that HER dating site is one of the most popular queer women apps.
What's interesting about HER is that even though the primary LGBTQ+ group the app is aimed at are lesbians, other female groups from the LGBT community are also welcomed and you can choose your sex identity when you sign up.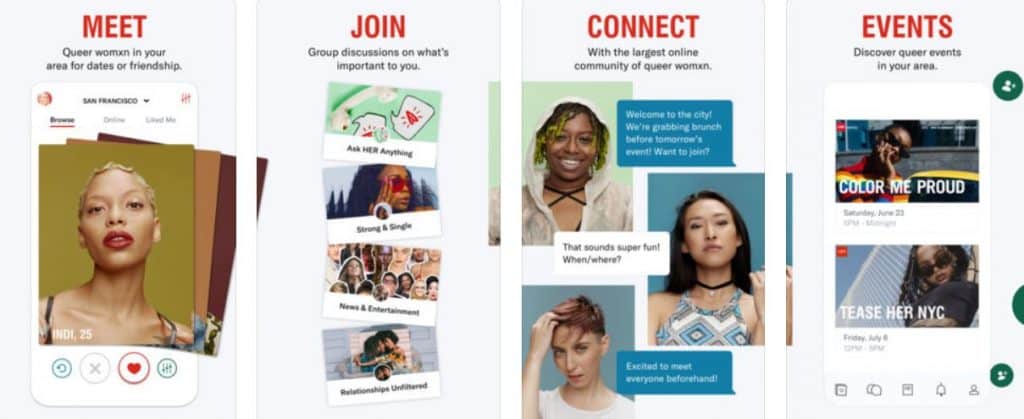 Now, there aren't any definite numbers that show the real picture of all the age groups that use HER, but it is estimated that over 50% of the users are between 20 and 30.
It shouldn't be shocking that millennials are keener on using a lesbian-only dating site as they're more open to LGBT rights and people's differences.
Furthermore, it seems that most users on the site are looking for a long-term relationship but casual hook-ups and online friendships are also some of the reasons why so many women use the HER lesbian dating app.
HER is sort of like a safe zone where like-minded women can express freely who they are and try to find love.
So who is HER for?
Well, as far as the data is concerned, HER is aimed towards lesbian, bisexual, and straight women who want to find like-minded women and start dating them.
Because there are constant events that you can participate in, HER is also there to make the LGBTQ+ community have a better connection among its members.
So now that we know who uses the HER app, let's see how well the app works and is it effective in bringing lesbian women together.
Effectiveness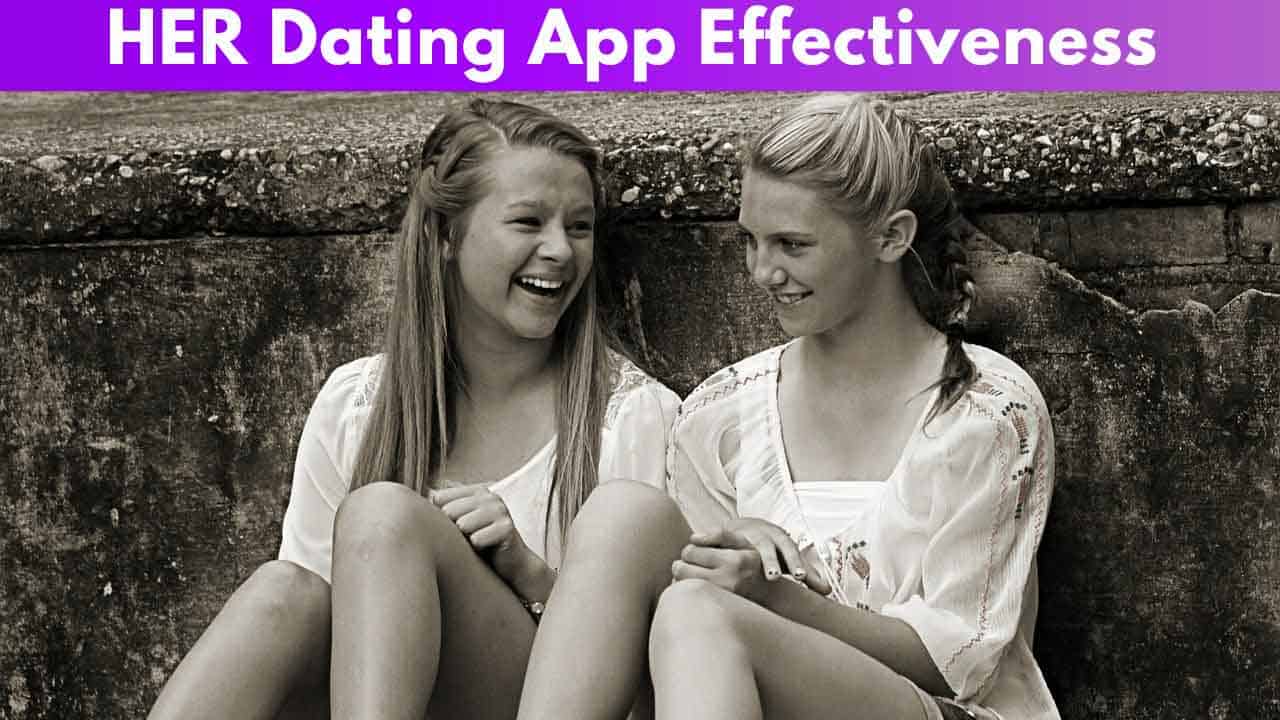 HER is one of the best lesbian dating apps you can use to find women that fit your preferences in terms of sexual orientation.
It may not be the smoothest app as it's not that easy to navigate through the interface, but because it has a lot of cool features and a lot of active members, you're bound to find at least a couple of dates.
Also, there aren't any indications that fake profiles are present on the app.
OFL Top Recommendations based on 100,000+ Survey

"Serious Relationships"
"Discreet Hookups"
"Best Course for Men"
"Quick Flings"
"Normal Hookups"
"Our Quiz"
The developers are working hard to make the user experience as pleasant as possible so scammers, catfishes, and bots aren't tolerated.
Because it's a modern dating app, you already know that there's some swiping involved and that's exactly how you start to interact with other members.
Just like on Tinder, you either swipe right on members you're interested in or swipe left to the ones you aren't.
Then, when they swipe you back, it's a match and you can start chatting.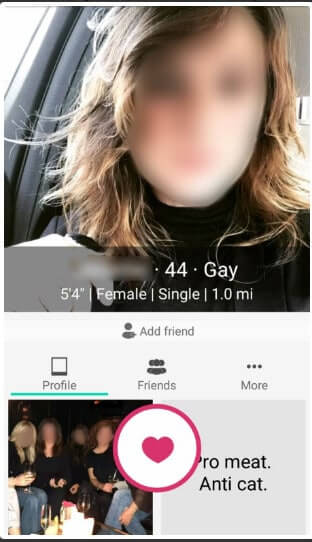 Also, you can add people to your "Friends" list and start chatting if they accept your friend request.
One of the features, and we'll talk about them later, is a feed that shows you what your friends and other members post on their profiles and you can comment and also post content of your own.
This part of the app sort of feels like using social media, however, it's still effective at engaging other members.
Events hosted by the app are also a great way to actually meet members in real life as there are frequent cocktail parties, festivals, and such you can attend by getting an event ticket.
However, the crown jewel of all dating apps is always the chat because the best way to get a date with someone is to actually ask for one.
It's great that HER offers unlimited and free messages and that you can even send photos in the chat so communication can run smoothly.
Now, as profile quality is concerned, I have to say that HER does a fairly good job keeping it both simple and discreet.
The profiles aren't packed full of info, just the basic stuff like age, orientation, location, and a short bio.
This can most definitely be compared to Tinder's interface as it's quite similar but also straight to the point.
And because your profile is the first thing other members will see, it doesn't hurt to make a good first impression by posting multiple great pictures and having an interesting bio.
So is HER effective at getting lesbian women on dates?
Well, according to thousands of happy users, because it's a specific dating app, people know exactly what they're looking for and tend to find like-minded people on the app.
Knowing this, I have to say that overall HER is a great app if you want to find a lesbian, bisexual or straight woman and you'll definitely score a date or two.
Now, let's look at the features and see how does HER works.
Key Features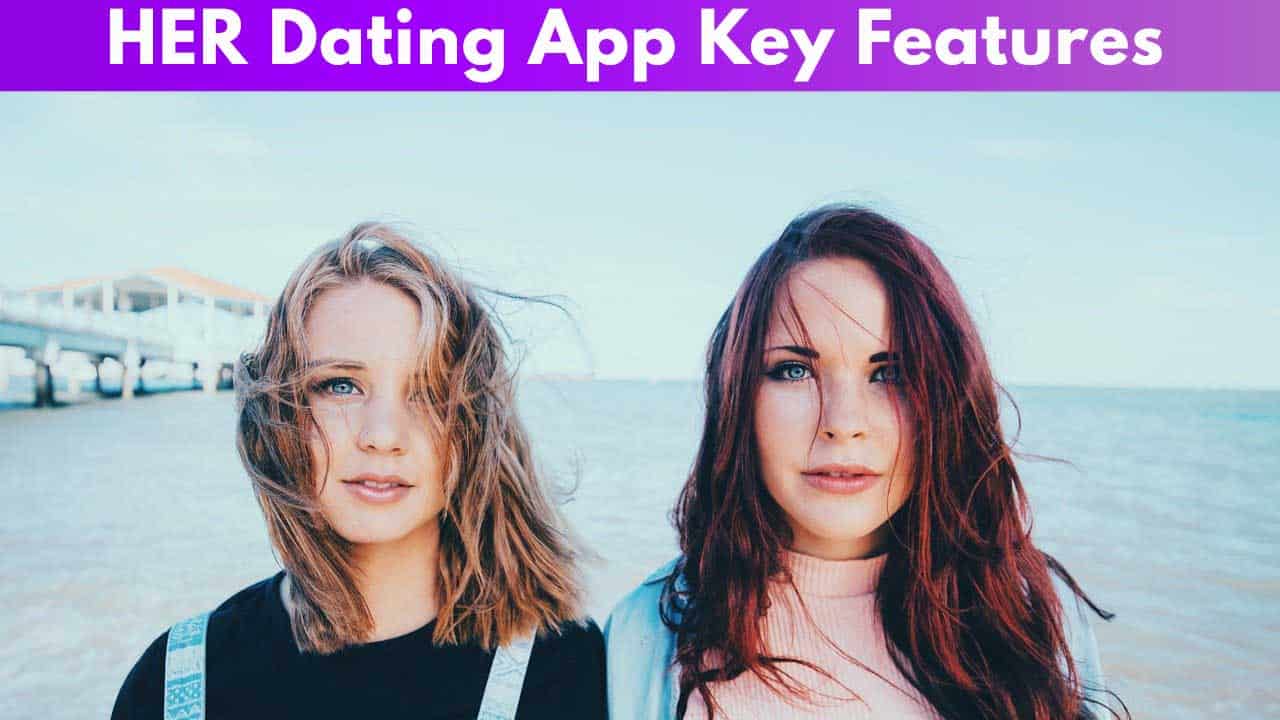 Even though the HER lesbian dating site doesn't have a lot of features, they get straight to the point – get people to engage with one another.
The truth is that you can't rely solely on the features to get a date, but they do help in making contact so let's see what HER has to offer.
1. Meet
In most HER dating app reviews the Meet feature is the first in line and here it's no exception.
If you're used to swiping dating apps, then you'll have no problem figuring out how to find matches using this feature.
You'll be presented with profiles based on your preferences and location and you'll either have to swipe right if you want to match with the person, or left to skip them.
Once you match with someone, you can start chatting and maybe move the conversation elsewhere.
However, this isn't the only way you can start a conversation with other people.
2. Friends
Yes, you can also add people as friends and start a conversation this way.
You can go to a person's profile you've bumped in to through "Meet" or through "Feed" and send them a friend request.
If they accept your request, you can start chatting and it's sort of like you matched with them.
The cool thing is that you can invite your friends you've met on the app to events and meet them that way.
This feature makes HER feel like social media, and when you add the feed into the mix, it's safe to say that HER is sort of like Facebook for lesbian women.
It makes engaging with other people much quicker and enjoyable and is definitely one of the best features of the app.
3. Feed
The feed is sort of the Facebook of the HER dating app as it functions just like Facebook.
You'll see the feed of members you've matched with, your friends, and also other members who are near you and you can like and comment on their posts.
Also, the feed functions as sort of a news report because HER makes frequent announcements about what's happening in the world of LGBTQ+ community.
It's great to have such a feature on an all-lesbian dating app as it keeps the community updated with the latest news.
There are two feeds you can view:
Local – You'll see the members that are near your location and also your friends and matches
Global – You'll see members from all over the world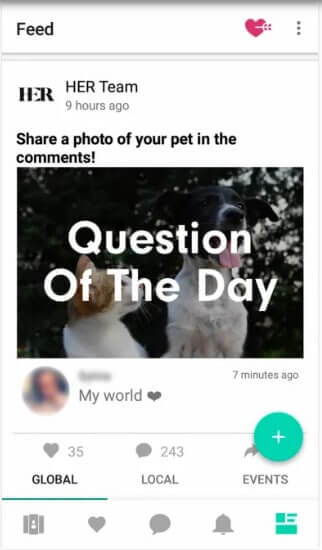 You can also create your own posts by writing something on your wall or posting a picture of a video or sharing a link.
When you're being active on the feed, more members will be exposed to your profile and you'll get more interactions.
Also, if you opt for a Platinum subscription, you can boost your profile once a month so that your profile is seen by more people on the main feed page.
All in all, the feed is a great way to interact with other members without matching with them.
And if engaging through comments isn't your cup of tea, at least you'll have something to do by scrolling through the feed as you wait for your swipes to recharge.
4. Events
Events such as cocktail parties, LGBTQ+ festivals, cookouts, concerts, and music festivals are frequently hosted or suggested by the HER app.
You can see all the events that take place near you or globally in the "Events" section.
Once you've decided to go to an event, you can book tickets and also invite your friends to join you.
You can also see who is attending the event and share the event on social media for your other friends to see.
The tickets overall aren't that pricy and some even include food and drinks so you won't leave with an empty stomach but might leave with a pretty-looking lesbian woman.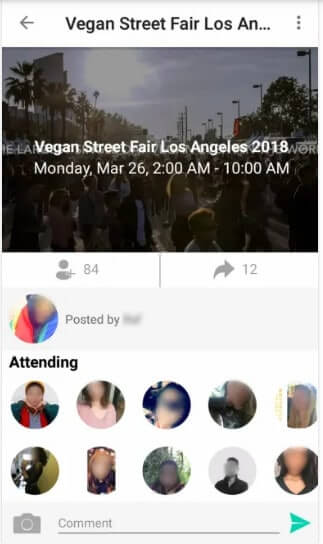 5. Profile Boost
When you get a premium account, you'll be able to boost your profile for 24 hours once a month and your profile will be one of the first ones people will be able to see in the "Feed" section and also in "Meet".
This feature is great if you want to bring more attention to your profile and get more matches and overall interaction with other members.
To summarize, these features are just what this all-lesbian app needs and will surely get you more engagements with other users.
Even though some of them you have to pay for to enjoy fully, they are certainly worth the price.
Ease-of-Use
So now that you know what the features are, let's see how to use HER app.
The signing up process isn't the simplest in the world.
To register into HER, you need to sign up using either your Facebook or Instagram account.
The server will scan your photos and check if you are indeed a woman and once that identification is done you can continue with your registration.
You don't have to verify your account via e-mail but this step is mandatory.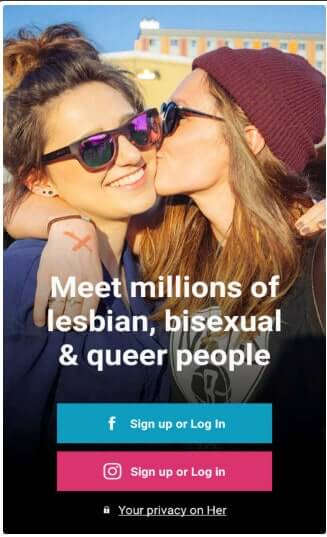 Your first name, photos, and birthday will be pulled out of your profile and transferred into your HER profile.
You won't be able to change your name or age but you can always change your profile photo and upload new photos to your profile.
Once that's done, you can start creating your account by providing your sexual and gender orientation as well as writing a short bio about yourself to let people know what you're interested in.
After that, you've successfully registered to HER and you can start exploring the app.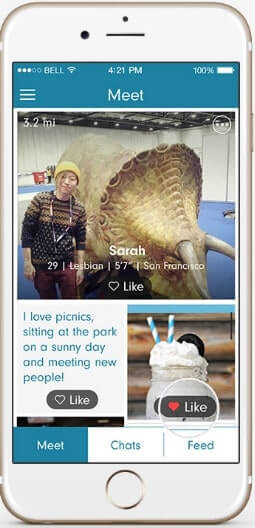 Your main menu is "Meet" where you can list through profiles and like them and as you can see you have all the sections down below.
The interface is quite easy to navigate through and it shouldn't take more than a couple of minutes to get the gist of it.
If you've used dating apps before, you shouldn't have any problems.
Unfortunately, HER doesn't have a desktop version to the app, but the app itself gets frequent updates and the developers are always making sure to provide the best user experience.
You will have to get used to the frequent updates though as sometimes the whole interface changes even though everything stays at its place.
Knowing this, it's safe to say that you'll enjoy using the HER dating app as its both fun and simple to use.
Pricing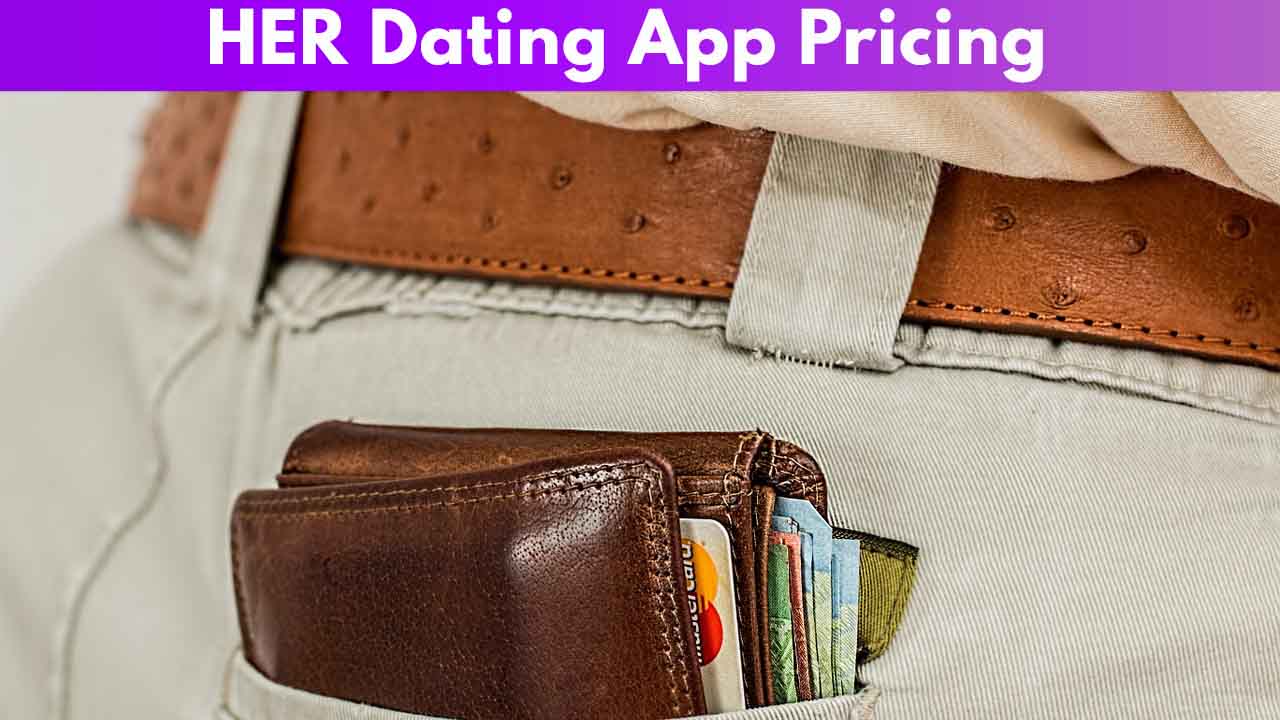 Sure HER is free to use as you have unlimited messages, but if you want to have some extra features you can also subscribe and have a better experience on the app.
There are 2 subscription plans you can get – Gold and Platinum.
The Gold subscription is like a starter pack while the Platinum one has really cool features which make it easier for you to engage with other members.
The Gold subscription prices are around:
$9.99 for 1 month
$44.99 for 6 months
$59.99 for 12 months
The Platinum subscription prices are:
$14.99 for 1 month
$59.99 for 6 months
$89.99 for 12 months
The features you get with a Gold subscription include:
No more advertisement on the app
Premium filters for finding members
You'll be able to see who liked you
You can change your location at any time
Incognito mode – no one will know you're using the app
Rewinding profiles – you can undo your left swipes
The features you get with a Platinum subscription include:
All of the above
Unlimited swipes
See online members now
See read receipts in the chat
1 monthly free profile boost
As you can see, it might be worth getting the subscriptions even though the app is generally free.
One thing I would just add is that there should be a lifetime subscription because these specific apps need to bring more users and making a one-time-only subscription will surely attract more attention.
So overall you do get quite a lot of features by going either Gold or Premium and the price isn't really that bad either compared to other dating apps.
Conclusion, Overall Rating and CTA based on HER Dating App Review
Well, that's about it as far as this HER dating app review is concerned.
My personal opinion is that this is one of the best lesbian dating apps on the market not only because it's free to use but also because it has all the features this type of app needs.
Taking everything into consideration, I would rate the app 5/5.
Of course, there is always room for improvement, for example implementing a desktop version, having more frequent events, having unlimited swiping, and so on, but as is, HER is a great lesbian dating app.
But what do you think?
Is HER the best lesbian dating app?
Would you try it out yourself?
Please leave a comment or a success story in the comments section below.
Also, by sharing this article, you'll help people find this dating app and it would be much appreciated.
Frequently Asked Questions