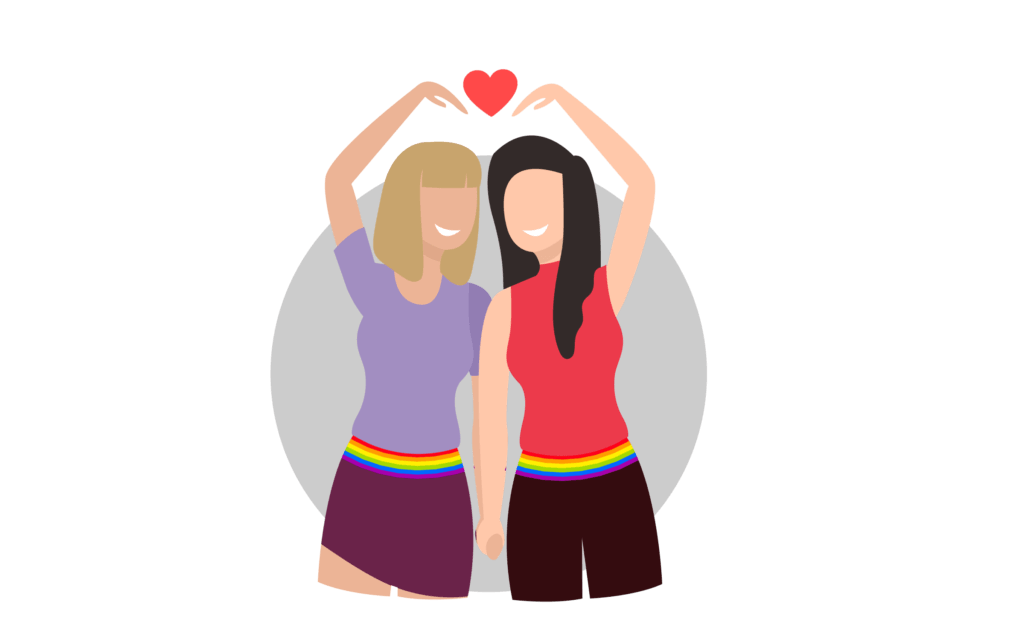 Hey all and welcome to my article on the best lesbian dating sites!
LGBTQ women should not miss out on the dating experience as there is a large number of queer-only apps readily available where you can meet people with the same sexual orientation.
Let us get right into experts' top picks on lesbian dating sites!
Is your dating app giving you the best chance for success?
Make sure to take our online dating site/app quiz to find out.
It's a fact that people who follow our dating site suggestions have on average 2 extra dates per month.
Best Lesbian Dating Sites in Video Form
Audio (podcast) form for those of you on the go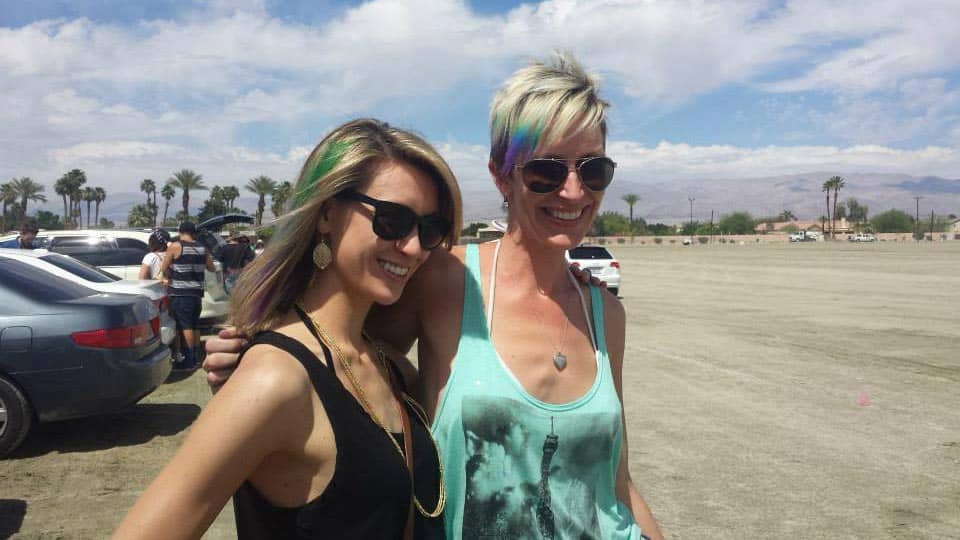 The 5 Best Lesbian Dating Sites in 2023
1. PinkCupid

Ratings
Signing up – 4/5
Making Contact – 3/5
Profile Quality – 4.5/5
Overall Quality – 3.88/5
Pros
The large audience, all age groups are present
Cupid tags help with finding users with similar interests
Photos are public and profiles are detailed
Everyone can send messages
Cons
This lesbian dating app isn't available for iOS
Only subscribers can read messages
Demographic Makeup
With almost 30 000 new members every month and over 350 000 monthly logins in, PinkCupid is one of the largest lesbian dating sites.
Its members are looking for either a hook-up, casual dating, or long-term commitment, so you can find everything you need on one dating website.
The site has over a million users from all over the world. Out of a million users, 315 000 are sexy American lesbians.
If you are in your late twenties or early and middle thirties, then you belong to the most popular age group of PinkCupid.
Only 13% of members are young adults between 18 and 24 years.
This dating website doesn't recognize any age limit, so even women above 55 are present – 8% are senior lesbians looking for love.
Even though it is a lesbian dating website, males are present as well.
Ease of Use "mobile and desktop version"
You can join PinkCupid via desktop or mobile app.
The theme of the website is pink, but you won't be overwhelmed by the color. Furthermore, the layout is super simple, so every age group can navigate easily through tabs, messages, and profiles.
The design of both versions are great, so it is up to your preferences! Keep in mind that the app is available only for Android users and for matching and chatting with members on the go, Apple users have to use Safari.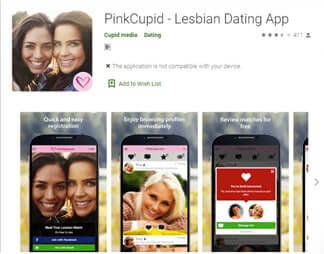 Creating an account is simple but requires some time. There are several forms to fill – some of them are just general information, while others are about your hobbies and interests.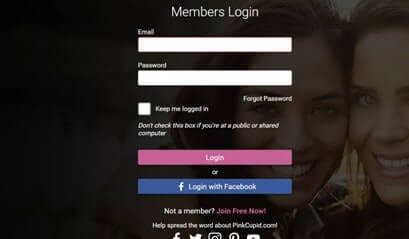 Three photos can be uploaded and for verifying you also have to add an ID.
Thanks to such a lengthy registration process, the profiles are quite detailed and there aren't so many scammers.
Besides standard features, here are some unique PinkCupid features:
1. Tags
Tags are a way to show your preferences and hobbies, so make sure to list a few on your profile.
These are just simple hashtags and you can use them for searching members with the same interests.
OFL Top Recommendations based on 100,000+ Survey

"Serious Relationships"
"Discreet Hookups"
"Best Course for Men"
"Quick Flings"
"Normal Hookups"
"Our Quiz"
2. Photo Competition
If you do not want to pay for one of the memberships, try winning one!
All you have to do is enter a photo competition and upload your best glam picture.
The winner is chosen every month on the eight and platinum membership is the prize!
If you win the grand prize, you will be able to enjoy a platinum membership for three months.
Cost
PinkCupid offers plenty of features to free profiles.
However, upgrading has many benefits such as anonymous browsing, access to better match algorithm, and reading received texts.
There are two memberships available and the prices of subscriptions are:
Gold membership:
1 month – $24.98
3-month – $16.66
12-month – $8.33
Platinum membership
1 month – $29.98
3-month – $20.00
12-month – $10.00
FAQ
1. Is PinkCupid safe?
Yes, this is one of the safest lesbian sites. Each member has to add a valid ID and email verification is required as well, so there are almost zero scammers.
2. How to delete PinkCupid?
If you want to deactivate and delete your profile, you will have to do it via the desktop version.
Use this link pinkcupid.com/switchoff/reasons.cfm and follow the steps. You will have to provide the reason for profile deactivation and feedback. People that have found partners via PinkCupid have to write the testimonial as well.
Overall Rating
With an overall rating of 3.88/5, PinkCupid is one of, if not the best lesbian dating website. It offers a great design and detailed profiles. Thanks to the great app, you can browse through profiles even on the go. The only downside is the limited access to messages.
2. LesbianPersonals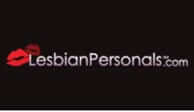 Ratings
Signing up – 4/5
Making Contact – 3.5/5
Profile Quality – 4/5
Overall Rating – 3.5/5
Pros
Profile information can be altered at any point
Profiles are quite detailed
The website offers multiple ways for verifying the identity
There are plenty of blogs, chat rooms, and forums
Cons
Access to profiles and pictures is limited
It doesn't have a mobile app
Demographic Makeup
Just like others on this best lesbian dating sites list, LesbianPersonals was designed for women, but 20% of users are males – these are mostly heterosexual couples that are looking for someone to swing with.
The biggest percentage of users is in their late twenties, but even teens and seniors are present.
Lesbian Personals is available all over the world and around 250 000 members are from the USA. New Zealand and Canada have a significant number of users on the website as well.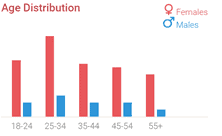 Ease of Use "mobile and desktop version"
LesbianPersonals wouldn't be a part of the best lesbian dating apps list because they do not offer an app. However, you can still get notifications on your phone via a mobile browser.
The desktop version looks much better than the mobile one – there are fewer ads, more features and navigation is easier.
Linking social media accounts and creating a profile via them isn't possible.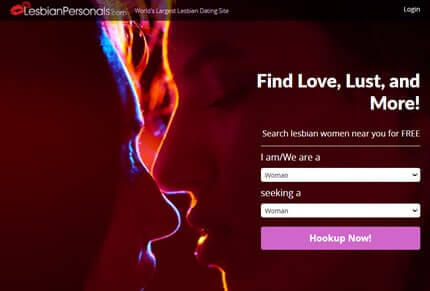 For signing up, you will have to fill the forms manually, but the process isn't lengthy – everything can be completed in just a few minutes.
When all forms are filled and the "About me" section is written, an activation link is sent to your email.
Since scammers are present, the creators have decided to keep most of the profile information private and allow full access only to subscribers.
Now, let's take a look at some of the Lesbian Personals' features:
1. Account Linking
As said, linking social media account isn't possible. You can however link account of other dating websites.
LesbianPersonals has a sister network – FriendFinder, so by linking these two profiles you can double your chances of finding someone new.
2. Live-Action
Live-Action consists of a few different things.
This feature opens the door to different live-streams, such as Model shows, webcams, and broadcasts.
It also unlocks chat rooms!
3. Community
If you love blogs or online games, then you can join the community. Different contests are held and these are a great way to meet new people.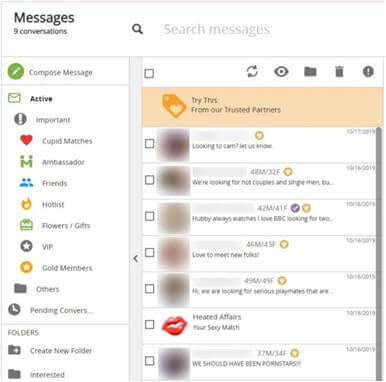 Cost
Because free users have limited access, the majority of members decided to upgrade their profile.
If you are interested in becoming a subscriber, get to know the plans first:
Gold membership
1 month – $27.95
3-month – $59.85
12-month – $179.40
FAQ
1. Is LesbianPersonals legit?
Yes, this is a legit lesbian dating website. It is a part of FriendFinder network and Various Inc.
2. How do I block people on LesbianPersonals?
To block another user, go to the inbox and open the message thread. There you will find the "Abuse" and "Block" button.
Overall Rating
We gave LesbianPersonals an overall rating of 3.5/5 because it doesn't have a mobile app. Even though free members have limited access to messages and profile information, there are still plenty of great features such as chat rooms, blogs, and forums that make online interaction exciting.
3. Her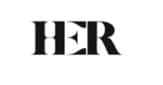 Ratings
Signing up – 4/5
Making contact – 3.5/5
Profile Quality – 2.5/5
Overall Rating –3.25/5
Pros
About 350 000 weekly logins, active members
Features events that allow members to meet offline
Easy registration process
The simple design of an app, suitable for seniors as well
Cons
Demographic Makeup
Her has only women profiles – it is entirely dedicated to lesbians and bi women, and some heterosexual women are present as well.
There is no specific target age group, but it is quite popular among young adults in their early twenties.
Only about nine percent of users are seniors above 55, and people in this age group are most interested in forming a new friendship.
If you are from the USA, you will have the highest chances of finding someone – over a million users are Americans.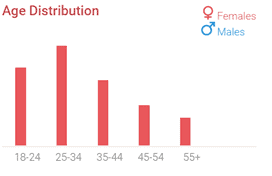 Ease of use "mobile and desktop version"
Her is probably popular among young adults because a profile can be created only via social media accounts, which makes the entire process super quick. You can use either Facebook or Instagram to join.
The website automatically uploads a profile photo and fills the form with basic information. Later, you can alter this information.
Because email verification is not needed, scammers are present on the website.
Also, since all information is automatically transferred from Facebook and Instagram, users do not bother with adding additional information. Thus profiles are not as detailed, and many only have 3 to 4 pictures.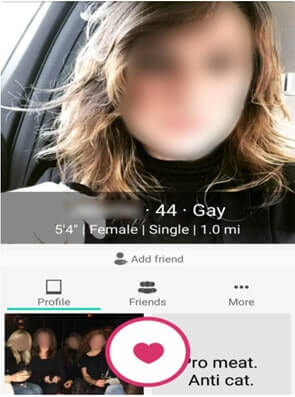 The overall design of the app is great – the plain but quite modern layout makes this one of the best lesbian dating apps.
Even seniors do not experience any troubles with finding what they need and the younger audience is amazed by the app's features. Here are some of the most popular:
1. Meet
Meet is similar to Tinder swipes, so Her is like a lesbian Tinder.
Profiles are chosen by distance and age, and you can swipe to like and delete a profile.
If like is mutual, you can start chatting.
2. Feed
Because Meet feature is showing you only profiles based on location and age, creators came up with Feed.
This feature allows you to look at profiles that aren't in your area or age group, and boost your visibility.
You can write comments or like posts and images other users have posted.
3. Events
On Feed different events are displayed. Typically, these are parties, festivals, or concerts in your area.
Other lesbians on Her are attending them, so by visiting one, you get a chance to meet members offline as well.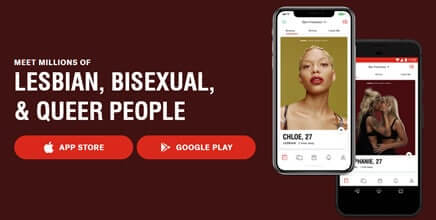 Cost
Her offers a variety of free services, so many members do not feel the need to upgrade their profile.
If you choose to purchase a membership, you will unlock an unlimited number of swipes, a rewind feature, etc.
Check out the subscription plans:
Premium
1 month – $14.99
6-month – $59.99
12-month – $89.99
FAQ
1. How to cancel Her?
Canceling a membership can be done via Play Store – find the subscription manager and just click on the cancel button.
2. Is Her free?
Yes! The app is free to download and sign-up is also free. There are some in-app purchases.
Overall Rating
With such a great design, Her is considered for one of the greatest lesbian apps. Still, its features aren't so unique and because of the fake profiles on the app, we gave it a score of 3.25/5.
4. Scissr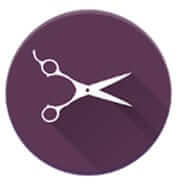 Ratings
Signing up – 4/5
Making Contact – 3.5/5
Profile Quality – 3/5
Overall Rating – 3.5/5
Pros
Great website for lesbians that are looking to settle down
Sending messages is free
The design of the website and app is straightforward
Cons
The free profile has limited access to some features
Demographic Makeup
Scissr is strictly a dating website for lesbians, so the majority of the users are women.
It counts thousands of users and the goal of the website is to provide a safe network for lesbian dating.
Keep in mind that this isn't a hookup website, so if you are only interested in one-night-stands, you won't find like-minded people.
Scissr is dedicated to helping lesbians that are hoping to settle down and meet a life-long partner.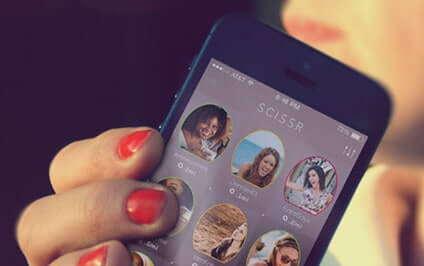 Ease-of-use "mobile and desktop version"
When it comes to the design of the app and desktop version, there aren't any huge differences.
The layout and theme are the same, as well as the features, so choose one that is more convenient for you.
Generally, the design is simple and quite intuitive. Icons are pretty self-explanatory, so you can easily find what you need and go from one tab to another.
If you decide to download the app, you can do it for free from the App and Play Store.
The sign-up process isn't going to take not more than 15 minutes of your time.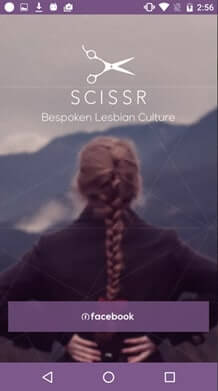 Scissr will ask you about your gender and gender you are interested in. Then you will have to provide a username and password.
The rest of the sign-up process is dedicated to providing basic personal information.
There is also a questionnaire regarding some habits, interests, and preferences – the more information is displayed on your profile, the higher the chances of meeting someone great.
When all forms are filled, you can start scrolling and exploring the Scissr's features.
1. Chat
This is the most basic feature of Scissr.
If you stumble upon someone stunning, you can simply show interest by sending a message.
The website also has a few pre-written messages, so you do not have to come up with a smart and witty pick-up line on your own.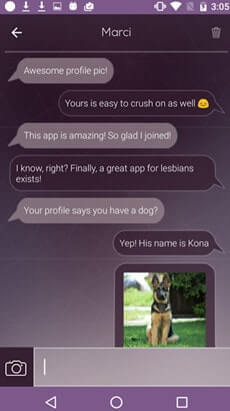 2. Video and audio call
If both sides feel comfortable, you can switch to either video or audio call.
During these conversations, you can learn more about the person than via text message.
Cost
You are probably now wondering whether using Scissr will cost you anything?
This isn't an entirely free website.
Some features, such as registration, browsing, and texting are free.
Also, the app is free to install.
However, all the features are limited – you only get a certain number of messages or likes per day.
If you need or want more, you will have to upgrade your profile.
Is it worth it? Well, that is up to you to decide.
FAQ
1. How is the target group of Scissr?
This website is dedicated to lesbians.
However, others can join – there is a lot of bisexuals on the website as well, so all members of the LGBTQ+ community can join.
2. Is Scissr safe?
Yes, it is safe! Of course, you shouldn't share your address or phone number with the users – some things should stay private.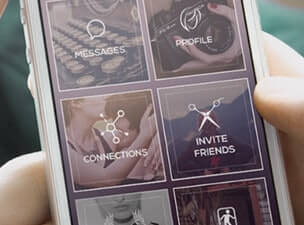 Overall Rating
I gave Scissr a score of 3.5/5 – even though the design of the website is great (the same goes for the app), the creators should add a few more features, to make online dating more exciting.
5. LesPark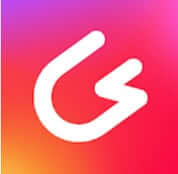 Ratings
Signing up – 4/5
Making Contact – 3.5/5
Profile Quality – 4/5
Overall Rating – 3.63/5
Pros
Offers different ways of joining
Sending messages is free
It has 5 thousand weekly logins.
Cons
The app requires a lot of free memory space
Demographic Makeup
The target group of LesPark is lesbians and bi women looking for either relationship or a casual hookup.
This website counts 10 million members out of which 10 thousand are Americans.
It is also quite popular outside the United States, and you can meet sexy lesbians from China or Europe.
When it comes to age distribution, the highest percentage of users are young adults – if you are in your twenties and thirties, then this website is a great option.
Ease-of-use "mobile and desktop version"
The layout of the website is similar to the Facebook layout, but a bit more feminine.
It has a quite straightforward design, so it is super easy to navigate.
The app is just the same – blue theme, with large icons, and plenty of features to try.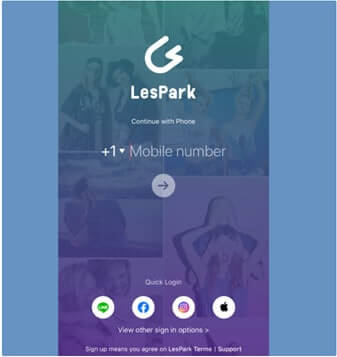 However, many bugs have been reported, and because it takes up a lot of memory space, many users stick to the desktop version.
For joining, you have several options.
You can do everything manually, and use either an email address or phone number.
If you want to create your profile faster, then link one of the social media accounts – Facebook, Instagram, and Twitter are all welcome.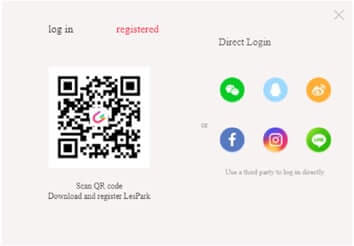 For manual registration, you have to state your role, emotional status, and choose a nickname.
All users have to choose a few interests because matches are based on them.
Once your profile is completed, you can start connecting with other lesbian singles.
Here are some of LesPark's features:
1. Lover's Park
This feature is used for sharing love stories with other members of LesPark.
2. Live Streaming
Want to share your daily routine with other members, or show one of your skills or talents?
Do it via live stream – this is one of the easiest ways to interact with multiple members at once.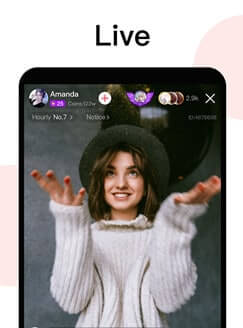 3. Scan
Each member gets a unique QR code upon registration.
This code can be scanned and shared among members.
Cost
LesPark offers two memberships, and with them, you can unlock anonymous browsing, voice messages, and profile visitors.
The prices are based on membership's duration:
VIP
Premium
1 month – $12.99
6-month – $59.99
You can only buy credits, and the price is determined by the number of purchased credits:
Credits
42 credits – $0.99
210 credits – $4.99
420 credits – $8.99
686 credits – $14.99
2086 credits – $46.99
4116 credits – $89.99
FAQ
1. What are LesPark credits?
If you want to boost your profile and increase visibility, you can use LesPark credits or diamonds.
2. Is this website for Chinese dating?
The website was made in China, and there are plenty of Chinese lesbians on the website. However, it isn't for Chinese dating, and people from other parts of the world can join as well.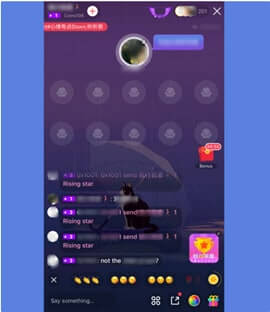 Overall Rating
LesPark got an overall score of 3.63/5. The website is gathering millions of single lesbians from different parts of the world, has a great design and unique features. However, the creators should work more on the app version.
Conclusion on the Best Lesbian Dating Sites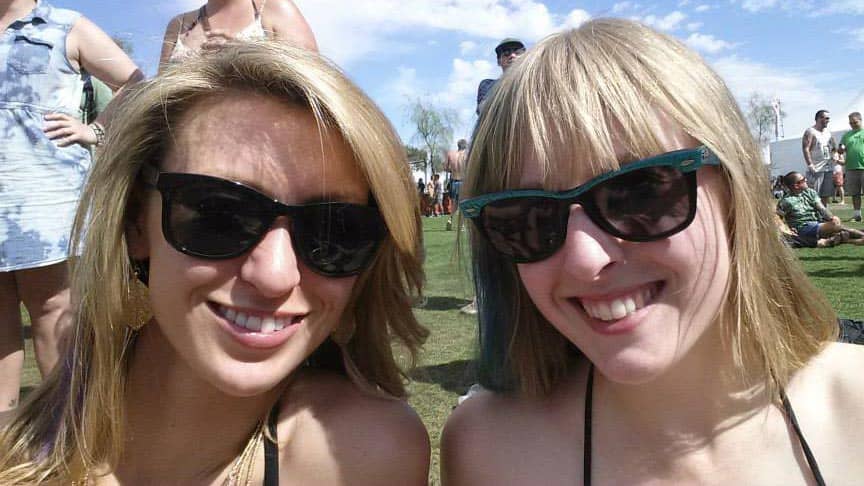 These 5 sites are a great place to start searching for potential matches for you.
Good luck with your search for the right person! I hope you all learned something from my best lesbian dating site article!