Instaboink is a dating site for people looking for a hookup nearby, and it has been around for a while, helping singles connect with other individuals interested in something casual.
Although it is made for casual dating, people are interested in looking for a potential partner on here too, so it is quite an exciting dating website.
We will be considering the following in this Instaboink Dating Site Review:
OFL Top Recommendations based on 100,000+ Survey

"Serious Relationships"
"Discreet Hookups"
"Best Course for Men"
"Quick Flings"
"Normal Hookups"
"Our Quiz"
Is your dating app giving you the best chance for success?
Make sure to take our online dating site/app quiz to find out.
It's a fact that people who follow our dating site suggestions have on average 2 extra dates per month.
Signing up: 5/5
Making Contact: 3/5
Profile Quality: 2/5
Overall Quality: 3/5
Instaboink is an online dating platform for people looking for casual sex and hookups (like BeNaughty or Ashley Madison) rather than starting a serious relationship (like eHarmony or Tinder) in their surroundings, and it allows you to find exciting individuals easily.
The Instaboink.com dating website is one of the regular hookup sites, and it doesn't provide you with many more options than those needed for finding a hookup buddy for today.
On Instaboink, you won't have detailed dating profiles, special features, or offers – you will only see a list of people registered on this dating service looking for a hookup.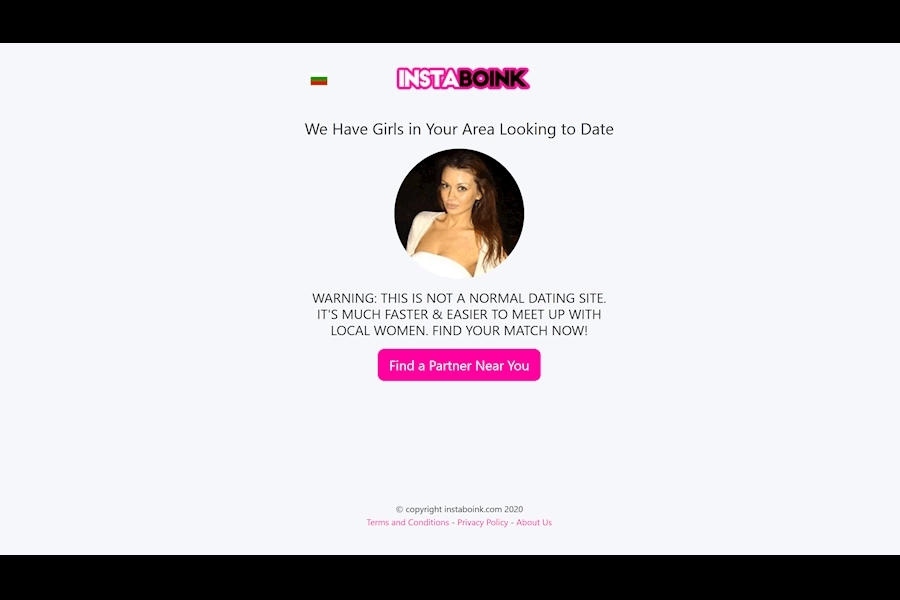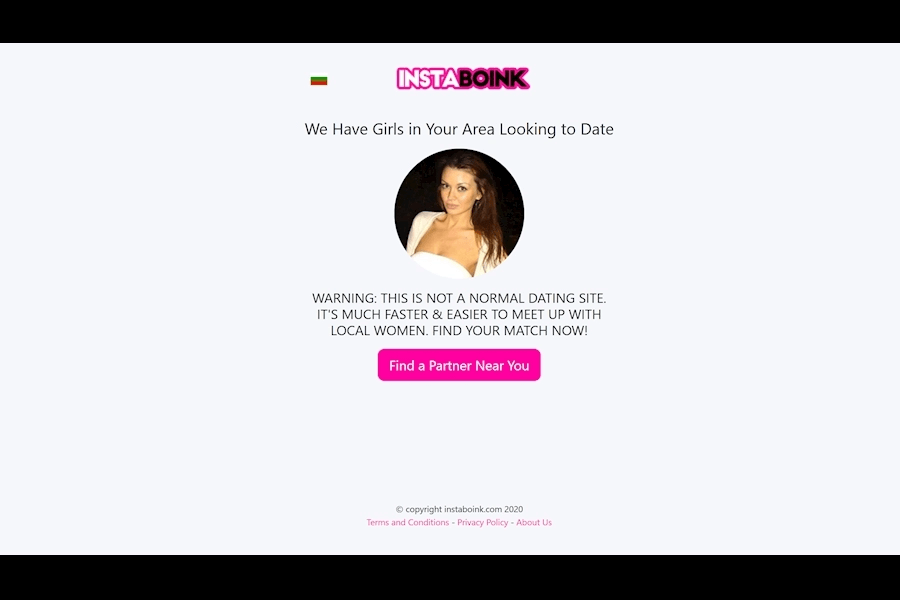 It is one of the best dating sites if you are looking for a place where you can be free and do whatever you want without fearing getting judged because other users are on the platform for that reason too.
The platform is quite simple, and the only criteria of the algorithm are your location so that you won't get recommended to any people not living near you.
Unlike other dating apps, this one is easy to use, and the matchmaking process is relatively easy, so make sure you share your location, and you can start meeting other people for hookups too.
If you have read an Instaboink.com review or two, you have probably realized that the platform is not very popular and that it doesn't have too many registered users, especially in smaller cities.
The whole app is quite simple, and it doesn't require too much effort, which also means that you can't expect to always have the best matches, mainly because you are only looking for people in your member's area.
OFL Top Recommendations based on 100,000+ Survey

"Serious Relationships"
"Discreet Hookups"
"Best Course for Men"
"Quick Flings"
"Normal Hookups"
"Our Quiz"
Also, this mobile app doesn't require any verification process when you sign up, making it a sketchier place for dating than most other online options.
When deciding to meet up with someone, I would recommend you to stay extra safe and constantly check up on them a few times because you can never know who you are dealing with, even if they have a clear profile photo and have shared information about themselves.
All subscribers are still anonymous, and no one can protect you once you leave the platform to meet them IRL, so be cautious and don't agree to a hookup before you are sure you will stay out of trouble.
They also have a lot of bots that are here to stimulate people to spend more time and money on the platform, so make sure you know how to realize this type of behavior.
Instaboink is not transparent when it comes to this sort of information, and no one can tell you for sure how many active users it has and what demographic they belong to.
There is not too much information about the company and its users, but the users are usually around 30 years old and mostly located in the USA, which shows that this dating website is not a total scam.
Instaboink caters to a simple group – people looking for a hookup and casual sex in their surroundings, and it isn't meant for finding any deeper relationships.
It is even more simple than Tinder or Bumble because all it can offer to its users is a sex buddy, and that is what the majority of them want, so if you are looking for something bigger and better, then Instaboink is not for you.
Instaboink In The Numbers
Since there is not too much information about this dating platform, no one can tell you how many active users there are exactly and how big is its success rate, so you shouldn't rely too much on it unless you have some information from other users.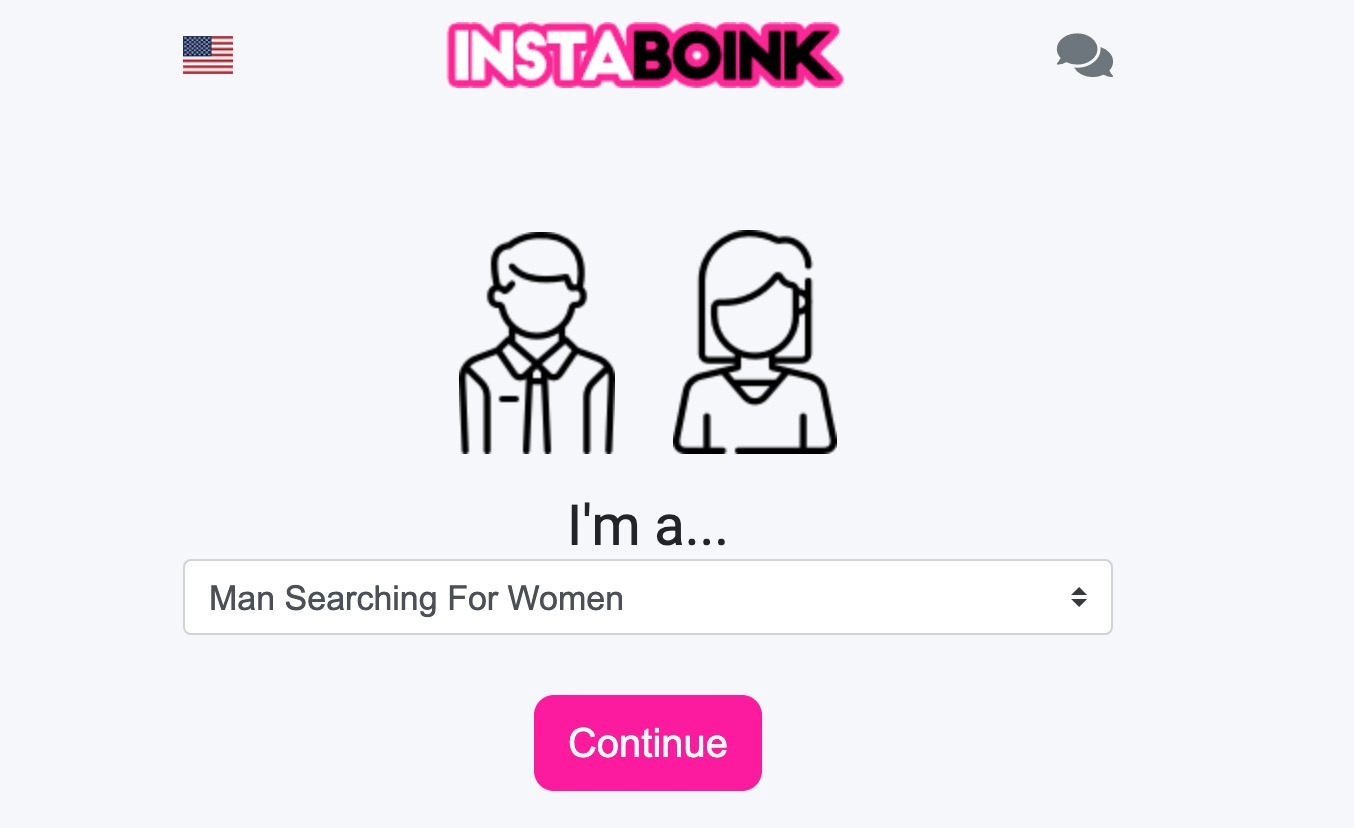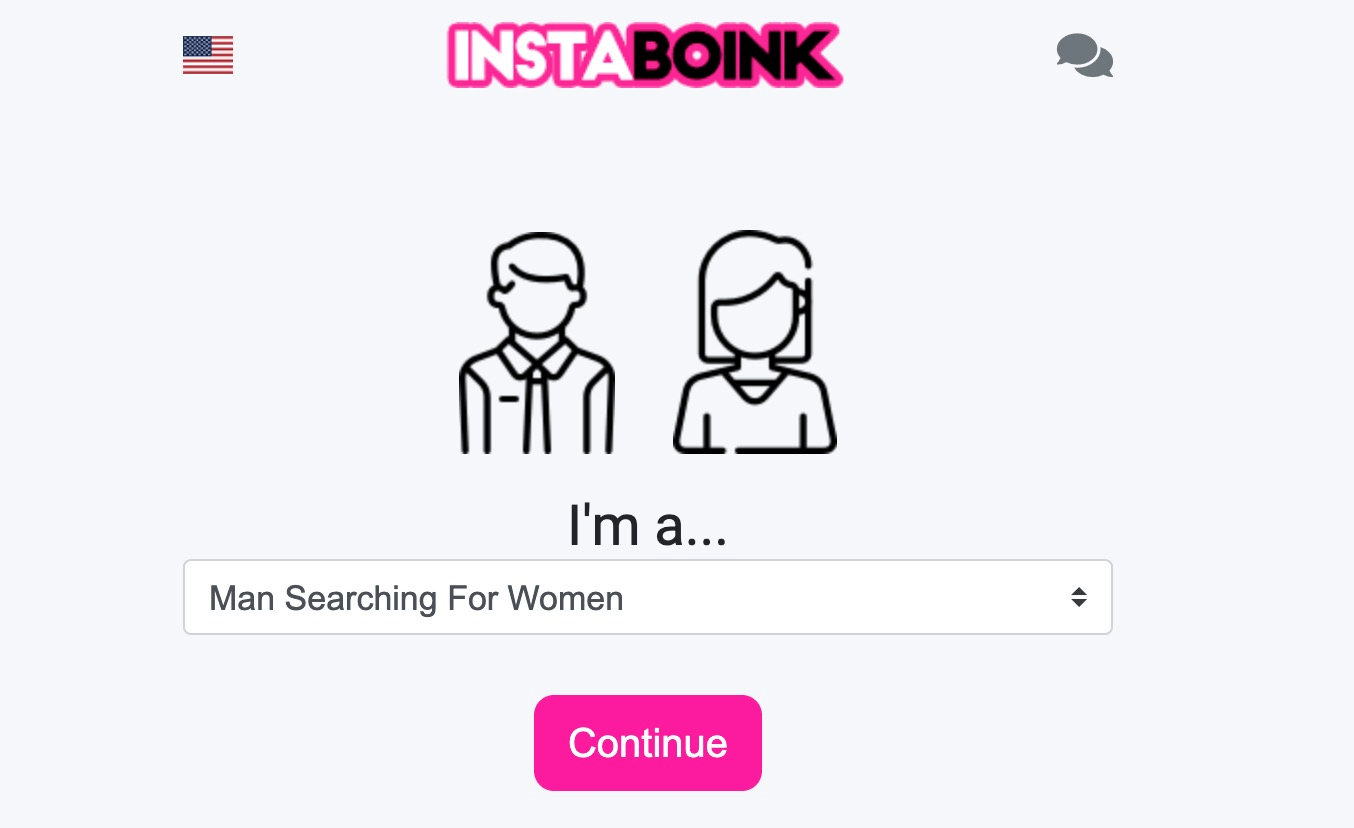 Instaboink is extremely easy to use – you must register on the platform, purchase a membership and open your homepage.
You don't need to use any features or filters to find people because all individuals using this app and living near you will immediately appear on your homepage.
All the people on your homepage will be local women and men, and you can be sure you won't get recommended to people living in another city or country.
Quality Of Dating Profiles
The quality of dating profiles on Instaboink is relatively poor, but that is also not the focus of this online dating site, so you wouldn't benefit too much from a detailed dating profile, except that you will be sure you know who you are dealing with.
The Instaboink dating app is still available on both Android and Apple app stores, but it has a lot of bugs, and it hasn't been updated in ages, so you would probably have much more success with their official website because it works fine.
How effective Instaboink is is something no one can say because there is not too much information about the platform itself, and there are not too many testimonials from other users either.
How To Search For Matches
Searching for matches on this app is relatively easy because all people living in your surroundings and looking for a hookup will appear on your homepage, and you can scroll down until you look at all available profiles nearby.
How To Reach Out To Others
Reaching out to other users on Instaboink is also relatively easy, but you will need to have a premium membership before you are allowed to message anyone.
Once you see an interesting person, all you will need to do is open their dating profile and choose the Send message option.
There are not too many features on Instaboink, but you can establish some decent contact, although it doesn't offer video chat.
You will have some basic filters that will allow you to choose your preferred age and gender, and you will be able to set the desired location even to the city nearby, not only your own.
One of the cool features is that you will be able to rate other users depending on how hot they are.
Also, you will use some basic features like smiles or winks to show other people on the platform that you like them.
Although it is not a dating website you will hear about all the time, Instaboink requires you to purchase a membership to start using it.
You will be able to choose among two types of memberships – monthly access, which costs 26 dollars per month, and a 3-month pass, which is 45 dollars.
This is quite expensive, especially for a hookup platform, and you will need to pay through your credit card because that is the only payment option, which may not seem reliable to all of you.
In general, it is more expensive than some other more popular apps, so it is probably not worth your money.
Instaboink is a good hookup app, but it definitely isn't the most reliable dating option and not even the least expensive one.
There is not too much information about it, and it doesn't seem to be too active, so it is probably not worth your time.