Welcome!
In today's article, we are going to research and evaluate online dating apps similar to Grindr.
While that's super popular, there are other dating sites and apps for gay men that certainly are excellent Grindr alternatives.
We've taken a few of these sites like Grindr and assessed and analyzed them so you can quickly find one that appeals to you.
OFL Top Recommendations based on 100,000+ Survey

"Serious Relationships"
"Discreet Hookups"
"Best Course for Men"
"Quick Flings"
"Normal Hookups"
"Our Quiz"
There are also other excellent LGBTQ dating websites and gay hookup apps out there.
These include Adam4Adam, Jack'd, Hornet, Chappy, and Growlr, and they provide a safe space for the gay community.
But as we can't cover them all (and you've probably heard of them before), we've decided on Grindr online alternatives you may not know about.
While exploring these apps and websites as an alternative to Grindr, we will collect data to compare the following:
So for those of you who don't like frequenting a gay bar to find someone suitable to date but prefers meeting gay people through a dating site, this is a must-read article.
Is your dating app giving you the best chance for success?
Make sure to take our online dating site/app quiz to find out.
It's a fact that people who follow our dating site suggestions have on average 2 extra dates per month.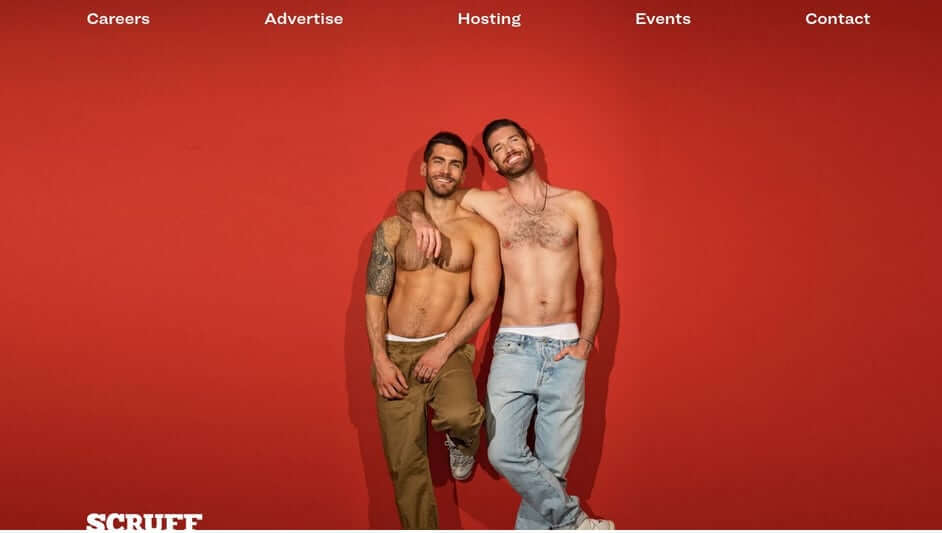 Signing Up – 4/5
Making Contact – 5/5
Profile Quality – 4/5
Overall Quality – 4/5
Scruff claims no fake profiles
Millions of active users
You can message anyone for free
Users are split into various gay communities
Advertising can be annoying
Scruff is an excellent dating site where all kinds of queer people, including transgenders, can meet up online without fear of homophobia.
The LGBTQ community you'll find on Scruff is massive, making this an excellent gay app like Grindr in terms of user numbers.
Here's a quick breakdown:
20 million users around the world
Close to 4 million gay guys from the United States have signed up for Scruff
Close to 800000 users are active on the site each week
27% of users are aged from 25-34 years old
The smallest group of users (10%) are 55 and older
In terms of the type of relationships you will find here, well they are across the board, from those looking for something long-term (like eHarmony or Tinder) to others who want a more casual relationship (like BeNaughty or Ashley Madison).
OFL Top Recommendations based on 100,000+ Survey

"Serious Relationships"
"Discreet Hookups"
"Best Course for Men"
"Quick Flings"
"Normal Hookups"
"Our Quiz"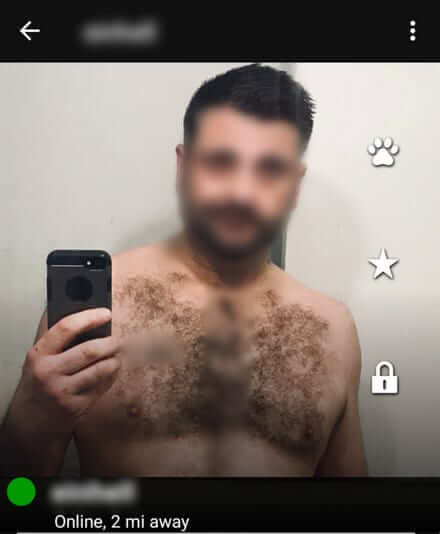 Ease of Use "mobile and desktop version"
Scruff is app-only so start by either logging onto the Google Play or App Store and downloading it for your Android phone or iPhone and other IOS devices.
Interestingly, even before you've set up your profile, you can view those of others.
But of course, you will have no way of interacting with them before you become a Scruff user yourself.
With a quick, simple registration process, you will be online quickly but you will have to share your location first up to start the whole process.
Just don't upload a profile pic of you in your underwear as that's not allowed.
Also, it's important to note, if you want to appear in Scruff Match (the roulette-style swiping system where users look through matchups), you will need a picture of your face as a profile pic.
Take a few minutes to complete your profile as well, most Scruff users seem to do so, which is nice.
To find potential matchups, you can start with Scruff Match.
Swipe through profiles and skip those you don't fancy and like those you do.
Scruff is technically a free gay dating app because when it comes to messaging, well you are free to send a message to anyone at any time.
For me, this is why Scruff is one of the best alternatives to Grindr.
Should you be interested in meeting up, just go to the profile of the person you are chatting to and select a checkbox that indicates you are.
Scruff also puts users in various gay communities, for example, twinks or bears.
That means it's far easier to find what you are looking for than swiping through profile after profile.
Seeing that right now messaging is for free, you probably wondering if Scruff membership is worth it?
Well, it has its advantages and will:
Removes all ads from the site
Give you 1000 matches to look through
Provide extra search filters
Allow for incognito browsing
And more
I like the fact that paying users get more matches while removing annoying ads is always a good thing.
Here's a breakdown of the cost of Scruff:
1 month: $14.99
3 months: $39.99 ($13.33 per month)
12 months: $119.99 ($10 per month)
What makes Scruff one of the best dating apps for gay arrangements or gay daddy relationships is the fact that you can use it for free.
If you'd like the added advantages of membership, well that's not too expensive either.
This is an app with millions of users around the world and certainly one that many actually consider being better than Grindr.
But you'd have to make that decision.
So let me reveal how we've rated Scruff.
It gets a solid 4.25 out of 5.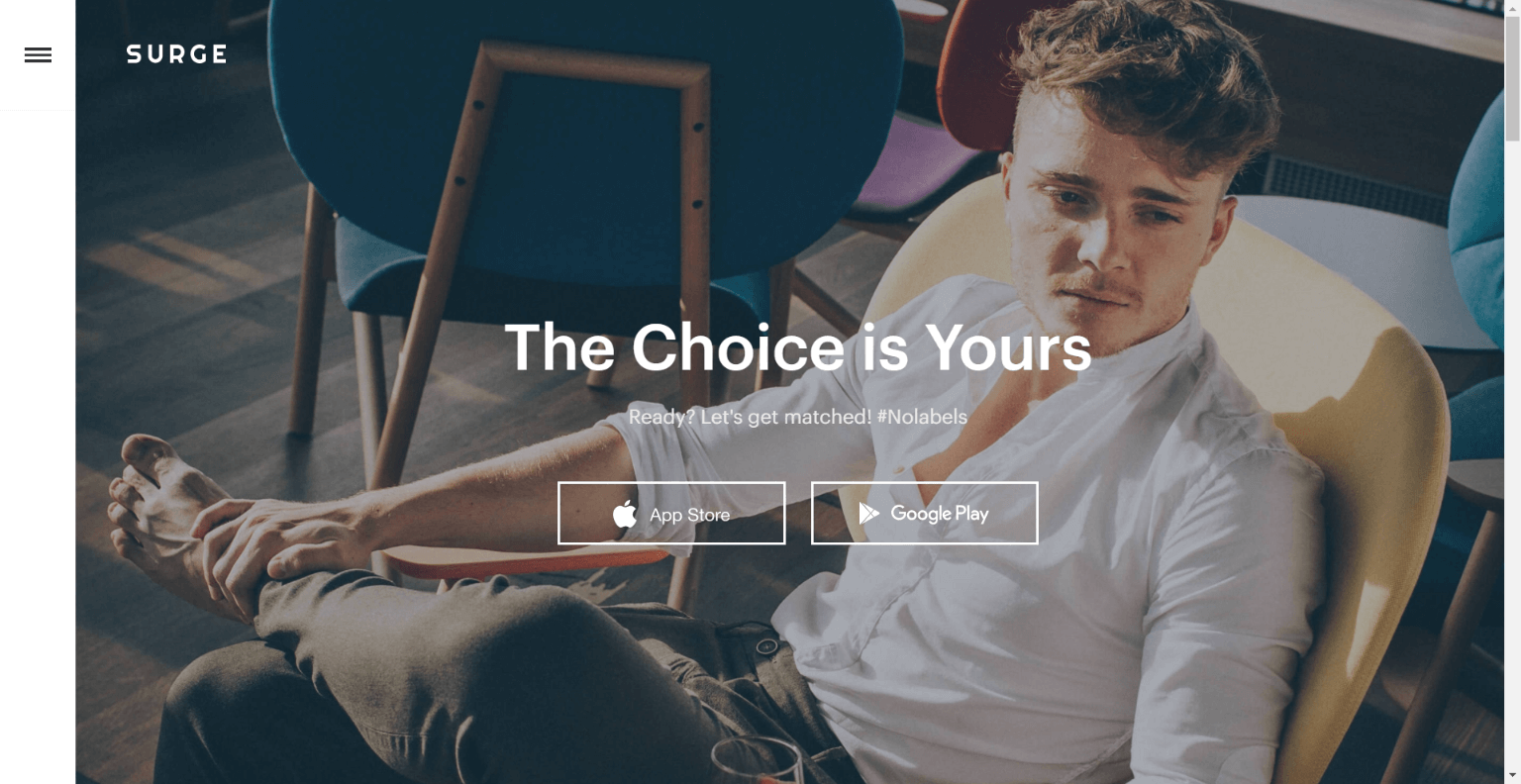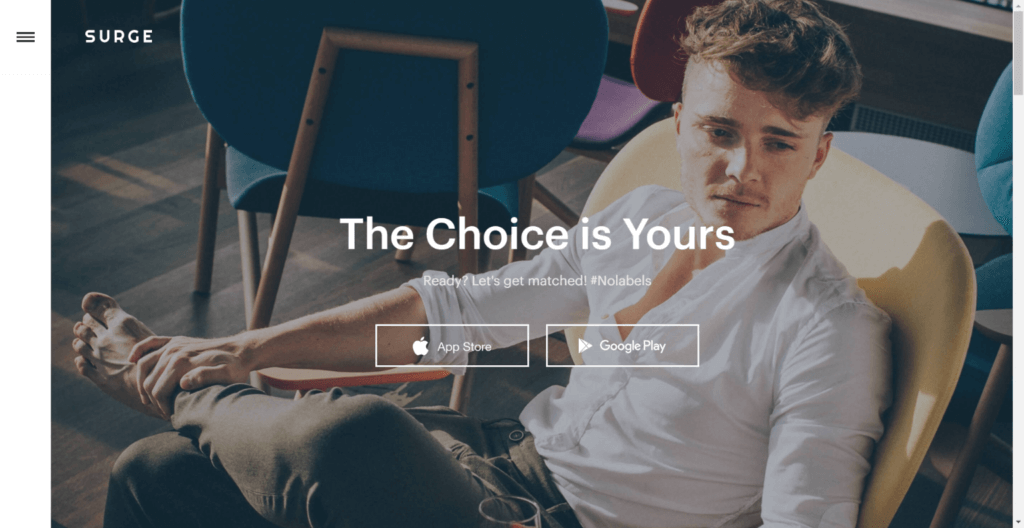 Signing Up – 5/5
Making Contact – 3/5
Profile Quality – 4/5
Overall Quality – 4/5
4 million users of which 1.5 million are American
Includes fingerprint security
Photos and videos will disappear after they are viewed
No in-app advertising
Free users can only send messages if matched with someone
When talking about other apps like Grindr, Surge should always spring to mind.
That's because it does things a little differently from most other dating apps, but we will get to that.
First, let's look at a few numbers behind the app:
Surge has 4 million users from all over the globe
1.5 million are Americans
400000 users are active each week
84% of users are aged between 18 and 34 years old
Those are some impressive numbers and right up there when you are looking for apps and dating websites like Grindr.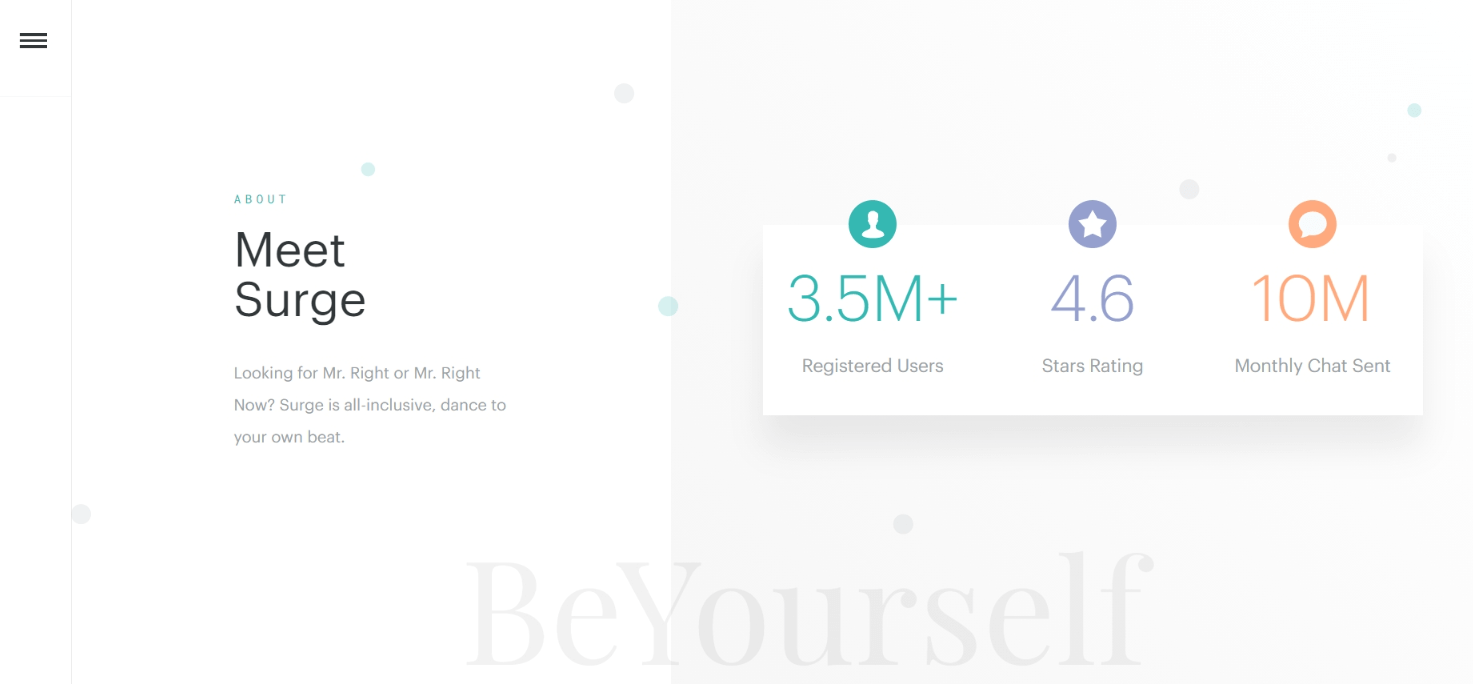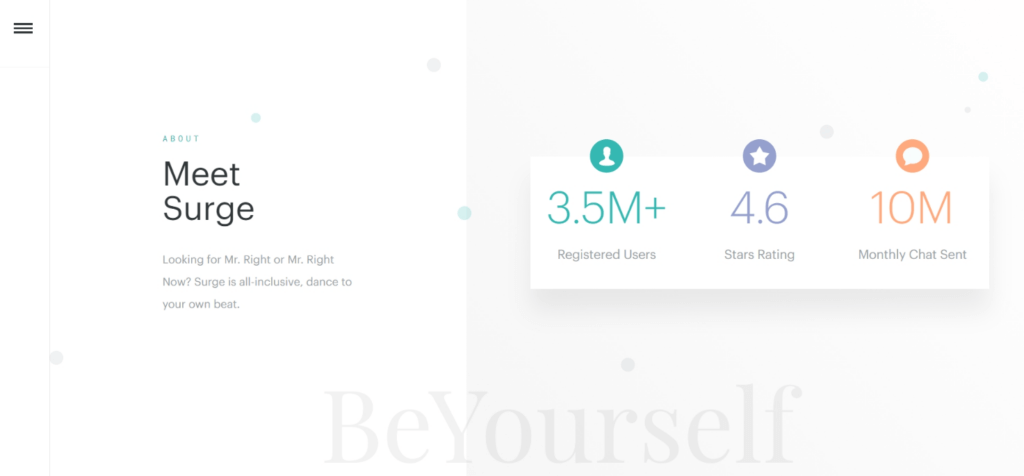 Ease of Use "mobile and desktop version"
No matter if you choose a social media sign-up using Facebook or a valid email address, registration for Surge is extremely quick.
We talking a couple of minutes maximum here.
To start the process download the Surge app, fill in the few details they do want, reply to a mail that is sent to you and you are online.
Before you do anything, make sure you get your profile completed.
Most users load more than one picture, although your profile pic must be a shot of your face.
Completing your profile won't take too long either, so get it out the way before you start looking for matchups.
You can even link your Instagram, Facebook and Spotify accounts if you'd like.
Now I mentioned that Surge operates a little differently from other dating apps.
But matching up with other users works in the same way.
Surge will give you potential matchups near your location.
Swipe left on those you don't like and right on those you do.
Should someone you've swiped right on do the same to you, a matchup is created and both parties informed.
From there, you can start conversing with that person.
The difference from other dating apps comes in the form of photos and videos shared in these conversations.
Once they are viewed, they are immediately deleted.
It's certainly an added security feature that will appeal to many.
Free users do get a Super Like that they can use on someone they really want to chat to.
This informs them that you have liked them and if they like you back, then messaging can begin.
So if you are impatient and unable to wait for matchups, membership might be an option for you.
Let's clarify what extras that brings before we look at pricing:
You can see who has liked your profile which helps create matchups faster
You can view other members' locked photos
You can change your location
And more
Without a doubt, membership can speed up the matchup process significantly.
Here's what it will cost:
1-month: $4.99
3-months: $16.99 ($5.66)
12-months: $59.99 (5.00)
If you don't want to buy a membership (although at that price, I am not sure why you wouldn't), you can purchase Power Likes for your profile instead.
Surge has so much going for it.
I am sure many believe it's actually one of those apps better than Grindr.
The positives for me are a large user base, cheap membership and all-around ease of use.
So if you haven't tried it before, give Surge a go!
It scores 4 out of 5.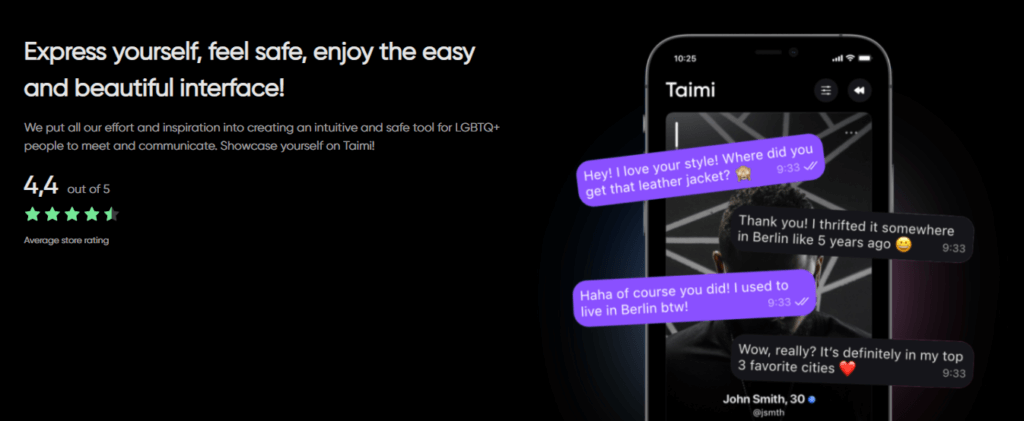 Signing Up – 4.5/5
Making Contact – 3/5
Profile Quality – 3/5
Overall Quality – 3.5/5
Free social networking tools like live streaming
Over 8 million users
Plenty of extra for members
Not the biggest user base in America but growing
The app is confusing till you've used it for a while
Before we get into the numbers behind the app, it's important to know that Taimi is not just a dating app for gay men but one for the whole LGBTQ community.
It's also not only strictly a dating app but one that's got social network aspects to it as well.
Its user base is worldwide and while it's not the biggest app in terms of use by Americans, their numbers are growing fast.
Here's a breakdown of some demographics behind Taimi:
There are 8 million users all over the world
Around 300000 are based in America
7000 users are online at any point during the day
70% of the users are male (that's a reason why we've included Taimi in this article)
80% of users are between the ages of 18 and 34 years old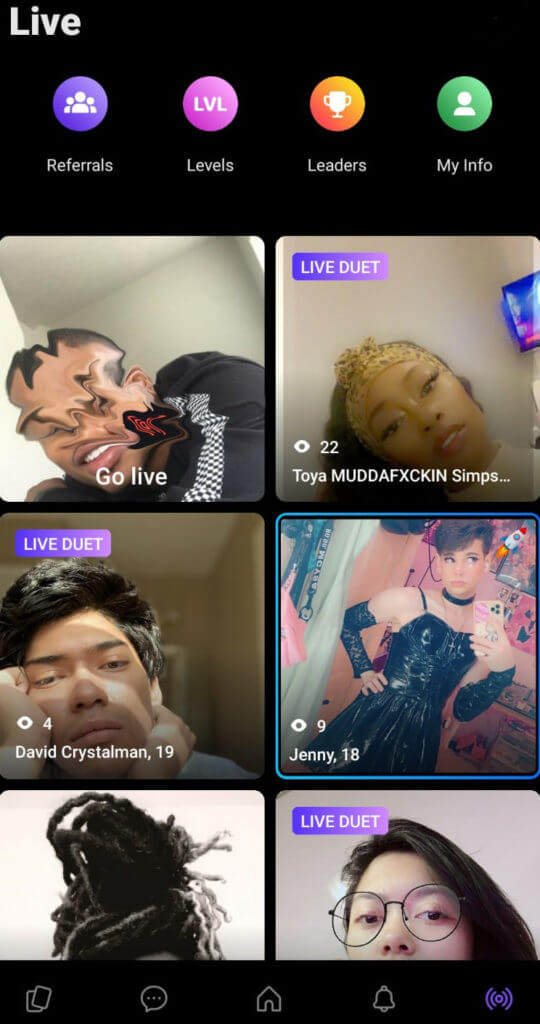 Ease of Use "mobile and desktop version"
Once you've downloaded the Tiami app, you can register as a user with a social media account or via email.
While the app requires a fair bit of information during the registration process, it only takes a few minutes to complete.
You will need to provide the following:
Your name
A valid email address
Location
DOB
Secure password
Your gender (with full LGBTQ gender options
Profile picture
Your reason for using the site (dating, gay chat, relationships, hookup, etc.)
Overall, the app does take a bit of getting used to, so let me just talk you through the various menus will encounter.
Some of them don't really have anything to do with the dating site of things but are for social networking, for example, live streaming.
Here's the menu system you will encounter on Taimi:
Icon of Two Cards: Click here to find potential matchups near your location. Swipe left if you don't like them and right if you do.
Speech Bubble: If you receive a message you will find it stored here
House: Click here for the social networking side of the app.
Bell: This is the notification menu
Broadcast icon: Again, this is all about social networking and live streaming.
If you are using Taimi to find matchups, the first two menus are the most important.
Taimi works just like many other dating apps.
Swipe right to like someone and if they do so on your profile, a matchup has occurred.
Both parties are notified and then messaging can take place.
Taimi does include a Rainbow Like which you can use on those users you want to alert to the fact that you really dig them.
Regular users get one per day.
Membership features that you will receive when you sign up as a member are as follows:
Unlimited likes
Extra search filters
Rollbacks on swiping mistakes
Extra Rainbow Likes (up to 3)
The great news is that new users can use Taimi for free for a week.
Once you are done with that you can sign up for your preferred package out of these offerings:
1-week membership: $4.99
1-month membership: $14.99
1-year membership: $71.99
Without a doubt, Taimi is priced perfectly.
Your best bet is the month-to-month membership first up but if you are really going to use the site for a long period of time and if you can afford it, you might consider the one-year option.
While it's not a pure dating app, Taimi has what you need to met other members of the gay community.
Plus it's really fun to use.
The one downside if you are from the United States is that the user base is not at the level when compared to the other apps we have looked at.
That said, it is growing at a pretty fast rate.
So to summarize Taimi, let's give it a rating.
It scores 3.5 out of 5.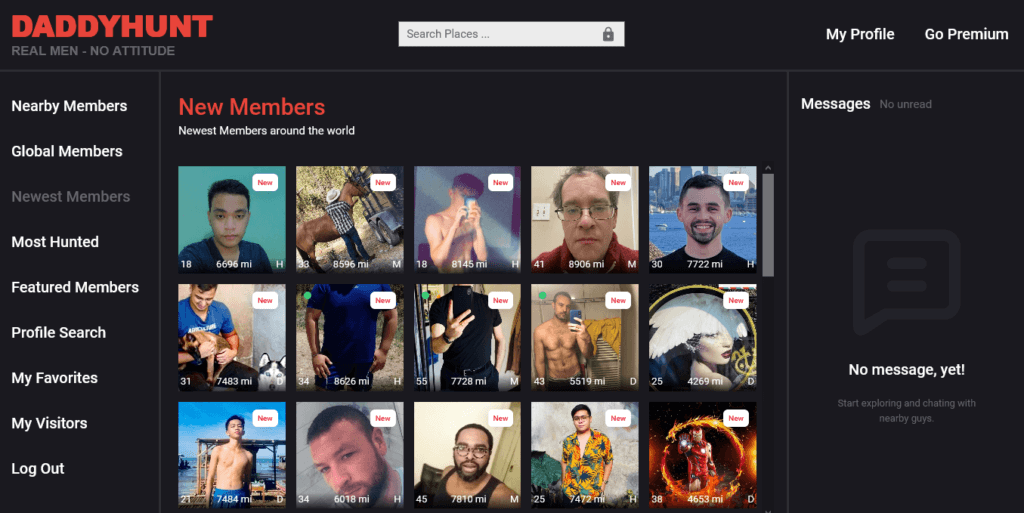 Signing Up – 4/5
Making Contact – 5/5
Profile Quality – 4/5
Overall Quality – 4/5
Most users are looking more for hookups than anything else
So DaddyHunt isn't your typical gay dating app.
This is for older, more experienced men looking to date younger men and vice versa.
Or sugar dating as it is called in the dating scene.
And you'd be surprised how many people are looking for relationships like that.
Here is a quick breakdown:
DaddyHunt has around 5 million users
Around 6000 users are online each day
Most users are between the ages of 18 to 24 and then above 40 years old (which fits in exactly with what the app is all about)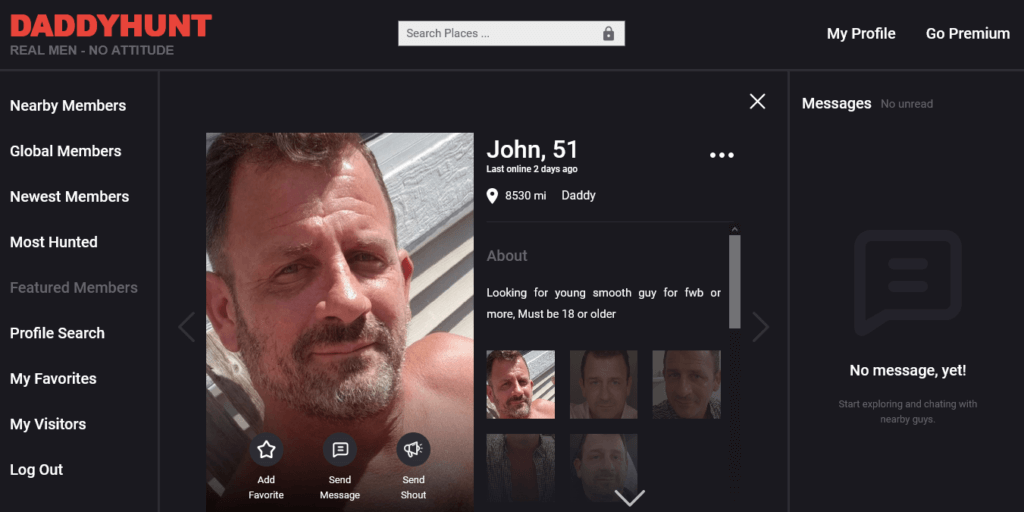 Ease of Use "mobile and desktop version"
DaddyHunt offers both an app as well as a desktop site, so each potential user can choose what is best for them.
Signing up for a profile on either is pretty simple.
Let's talk about the website, however, as all the others we have looked at so far in this article were app-based.
To sign up, you will need to provide a few pieces of information.
It's pretty much what all dating sites ask for, so I am not going to go through the registration process at all.
Once you are online, however, set aside a few minutes to complete your profile.
It's got quite a few questions that are asked they also focus on sexual safety, which is a good thing.
Here's an idea of what you will need to fill in.
Sexual positions you like
HIV status and when you were last tested
What safe sex practices you use
A section about yourself
You can set up HIV testing reminders from the site
Location
Do you follow the DaddyHunt code (acting with integrity, are safe, respect others)
Do you carry any stigmas (for example to people who are HIV positive)
As I said, this is very different from the other sites but despite that, I feel that it is a very welcome addition.
DaddyHunt gives extra privacy settings too.
For example, you are free to hide your location as well as your age.
You have numerous ways of finding potential matchups.
You can see members near you, the most popular members on the site or you can launch searches for your own matchups.
Regular users can use an advanced search engine too.
This allows you to search for specific profile parameters and there are plenty to choose from.
You also get the option to save searches as well which is handy.
When it comes to messaging, if you are prepared to verify your phone number, you can message other users for free.
With messaging for free, what features does DaddyHunt provide those who become members?
Here are a few:
Ad-free browsing
Profile notes
Even more advanced search filters
Extra privacy options
Photo request to other users
And here's what membership costs:
3-month membership: $20.99 ($6.99 per month)
12-month membership: $80.99 ($6.75 per month)
DaddyHunt is by far the cheapest dating app of all those we've covered in this article.
While DaddyHunt isn't going to be for everybody, there is no denying that sugar dating is popular in the gay community.
And that's why we've included it.
The best thing about it is the fact that it's free to use but I like that it has added privacy options and takes sexual safety very seriously.
DaddyHunt gets a rating of 4.25 out of 5.