Today, we review something that's very different from the regular dating sites that we cover.
LuckCrush is a chat site that offers guaranteed random video chats with members of the opposite sex.
These kinds of live video chat websites are not new and do provide an alternative way of finding people to hookup with.
That's especially true if you don't mind talking to random strangers.
OFL Top Recommendations based on 100,000+ Survey

"Serious Relationships"
"Discreet Hookups"
"Best Course for Men"
"Quick Flings"
"Normal Hookups"
"Our Quiz"
Or if you aren't specifically looking for an online dating site with a matching algorithm that provides you with potential matchups near your location.
LuckyCrush chat, as a random video chat site, provides all of the above to your mobile or your laptop from their homepage.
With just the click of a button, you can start chatting with random people all over the world.
So if you'd like to know more about what LuckyCrush.live has to offer, you should read our evaluation of it, that's for sure.
In it, we assess the following:
Without a doubt, our LuckyCrush review is one of the most comprehensive out there so let's get straight into it.
Is your dating app giving you the best chance for success?
Make sure to take our online dating site/app quiz to find out.
It's a fact that people who follow our dating site suggestions have on average 2 extra dates per month.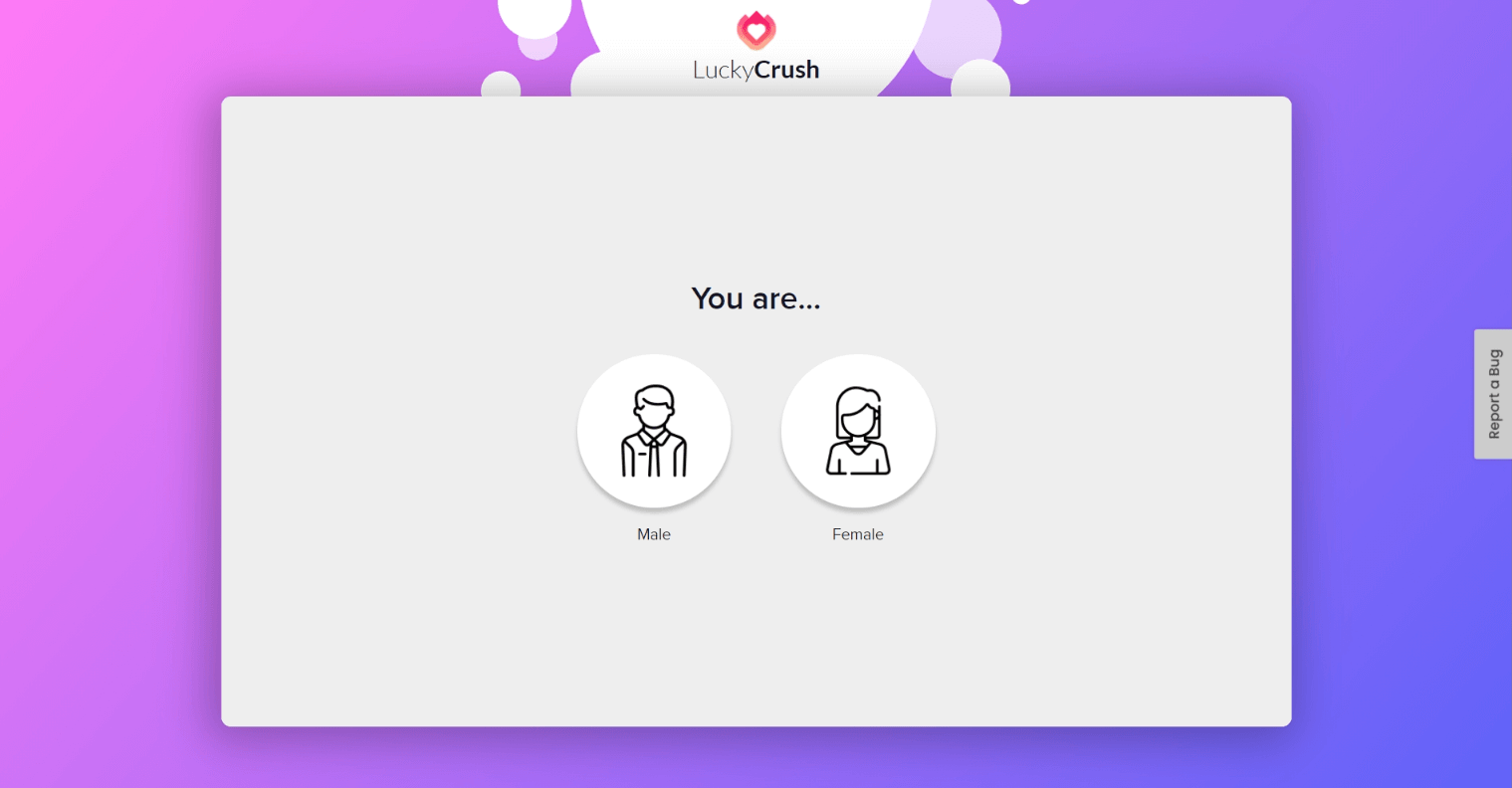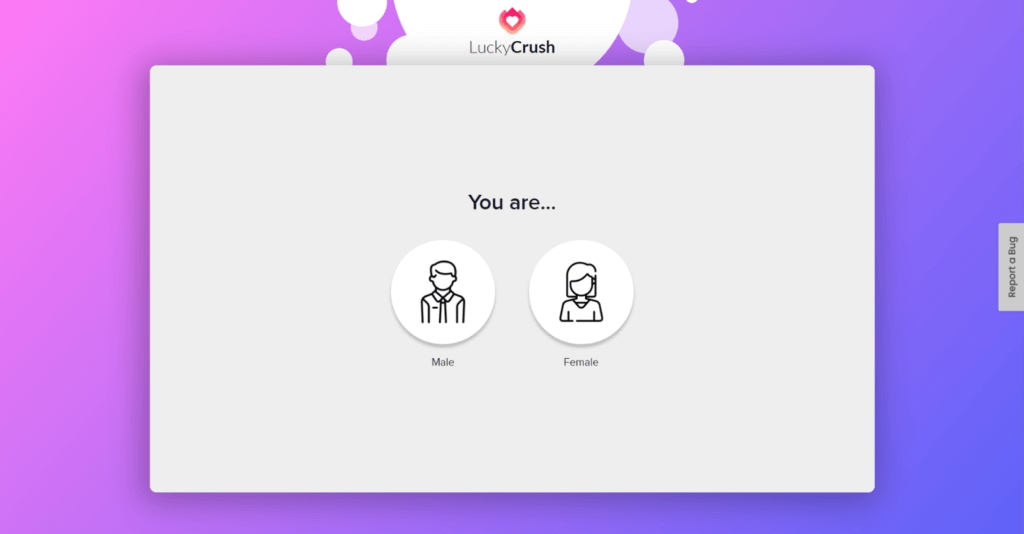 Ease of Use – 5/5
Effectiveness – 5/5
Key Features – 3/5
Pricing – 3/5
Simple to use
You will only speak to users of the opposite sex
Free for females
Auto translation so language differences doesn't matter
Not optimised for the LGBT community
No app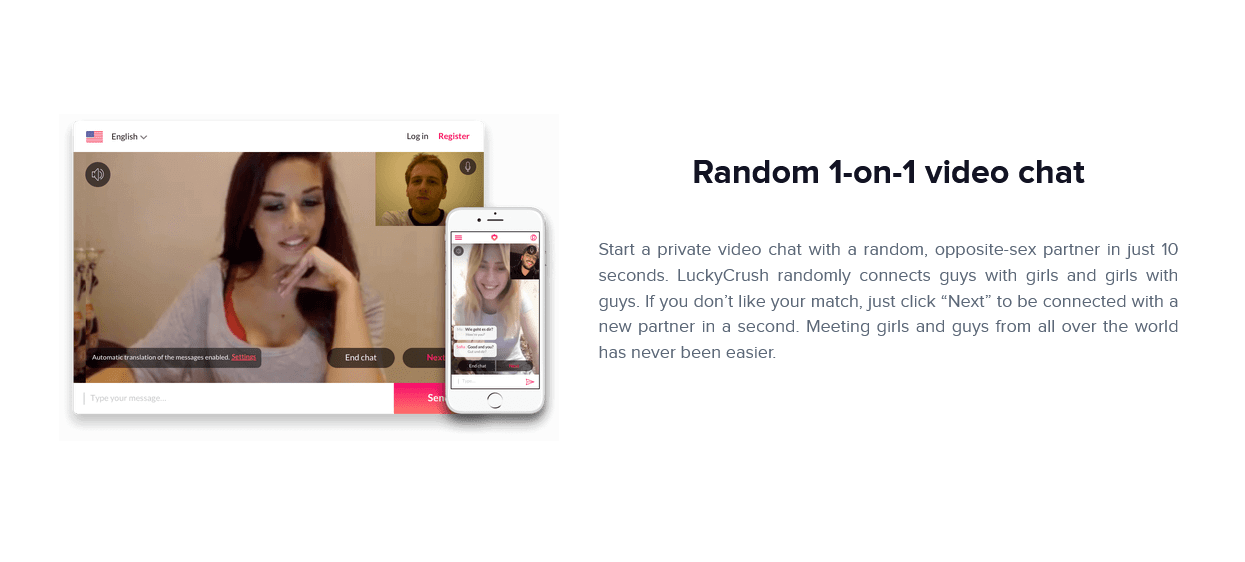 Who's It For/Demographics
If you don't mind chatting one-on-one with random girls and guys from around the world, then you should be giving LuckyCrush a try.
OFL Top Recommendations based on 100,000+ Survey

"Serious Relationships"
"Discreet Hookups"
"Best Course for Men"
"Quick Flings"
"Normal Hookups"
"Our Quiz"
Here, you will meet straight people as the site is not set up with LGBT options yet.
But just how popular is LuckyCrush?
Well, to date, over 1 million have signed up to use this online chat hub.
It makes sense too, that sites like this would become even more popular during lockdown forced by the Covid-19 pandemic.
Here are a few more facts and figures that I was able to find out about the site:
Most of the members using LuckyCrush in real life are men
Around 200000 users come from the United States
100000 users log in each day so it's a very active chat platform
That's 3 million users logging in each month
As you can see from the stats above, LuckyCrush is a site that many people turn to in their free time.
In fact, if you compare it to online dating portals, it has user numbers that put it up there with many popular ones.
Gender ratio and user age range on LuckyCrush
We've already seen that males make up much of the user base on this chat site but what kind of gender ratio are we looking at?
Well, at the moment it is split as follows:
78% of the userbase are male
22% are female
So yes, this is a male-dominant chat site, that's for sure.
I guess the real test is if it can provide you with random live webcam chats with the gender you want to converse with.
But that's something we will test a little later.
What about age ranges?
Well, the biggest group of users are males over 55 and they make up 22% of the total user base.
I found this pretty surprising to be honest but luckily, the user base, despite this strange anomaly, is well spread.
Here's a full breakdown for you:
55 and over: 25% of all users of which 22% are male and 3% female
25 to 34 year-olds: 24% of all users of which 12% are male and 12% are female
45 to 54 year-olds: 17% of all users of which 15% are male and 2% are female
35 to 44 year-olds: 26% of all users of which 8% are male and 8% are female
18 to 24 year-olds: 15% of all users of which 5% are male and 10% are female
If we look a little deeper at these stats, there are a few things that stand out.
The first thing that caught my eye is the fact that in the 18 to 24-year-old group, females users outnumber their male counterparts by a ratio of 2:1.
But it's also to notice that this group contributes the least users to the site which is something I would not have suspected.
You will also see that in the 25 to 34-year-olds, both male and female users contribute the same amount of users.
That's again repeated in the 35 to 44-year-old group.
So if you are worried about the male domination on the site in terms of users, if you find yourself in these two groups, you really shouldn't have a problem finding a chat buddy.

While it seems like LuckyCrush has a few APK options if you'd prefer to try it out as an app, there is nothing official on Google Play or the App Store.
To be honest, I would steer well clear of these APK files because you just don't know how trustworthy they are.
That leaves the LuckCrush website which you can easily find by pointing your browser at www.luckycrush.live.
But how does the registration for LuckyCrush work?
Well, it couldn't be easier really.
Here's what you need to do.
Provide your gender
Click the "Enter" button
Start chatting
Yes, you don't even need to register to use the site.
But most users will register and there is a process to follow for that.
You will need to provide the following information:
Email address
Username
Password
And that's all the information that you need to provide.
You won't even need to validate your email.
I guess that's par for the course on a site that will let you use it without registering.
Now a quick word of warning before you get going.
If you don't like nudity, you might not want to not use LuckyCrush at all.
There is no setting where you can adjust nudity or anything like that at all either.
It seems that users on LuckyCrush have no problem showing some skin!
Using LuckyCrush and finding your way around
LuckyCrush is not a chat site where you will find chat rooms with hundreds of users.
No, it provides users with private video chats with other users.
And this is a one-on-one setting, just you and another person at the end of the line.
Of course, having your webcam on is of critical importance.
If you don't, users will just move onto the next person before you can even say something or type them a message.
But I'm jumping the gun here.
Let's take about what you need to do to get into your first random chat.
Well, it's not that much, really.
Once you've finished registering, you can click on the "Start Chatting" button.
That will hook you up with the first open user that the site can pair you with.
One of the highlights of the site for me is the fact that this is always the opposite sex that you will chat with.
This, despite the site having far more male users than female users.
I can clarify that every time I clicked the "Next Button" to initiate a new chat, it never took more than five seconds to connect me to another female user.
I thought that was pretty impressive.
The other interesting thing I found was that as a male, I could use the site for around five minutes for free.
After that, I had to pay to continue chatting further.
If you are a female, however, the site is totally free to use.
With this in mind, I can't really understand why there aren't more female users on LuckyCrush.
I guess that might change as more find out they won't have to pay a cent to use the site.
I will talk about how the chatting aspect of the site works a little later in the review, but for now, I want to talk about the site itself and what it offers.
The answer to that is not that much.
You will notice only four menus at the top of the screen and they don't really do that much.
These menus are:
Support: If you click here, you won't access help files or a FAQ. Instead, all you will see is an email address where you can send any queries you might have about the site.
Pull down arrow: If you want to change the language of the site, you can do so here. There were only two options for me, English and France.
Balance: Click here to see how many more talk minutes you have left on the site. If you are a male user and you reach zero, you can opt to buy more by clicking on the "Buy Minutes" option you will find under this menu.
Account: Here you associate various options dealing with your account. This includes settings, a log-out option and also the chance to delete your account when you are done with the site. If you click on the account settings options, you can edit your username, your email address and your password.
As I mentioned earlier, in terms of what the site offers from a menu and navigational perspective, there is nothing much on offer.
It's all about helping users to connect with others and video chat with them, that's it.
There isn't one at all.
It's certainly one of the things they got wrong in my eyes.
I understand that the site focuses on connecting people and helping them to chat but what's wrong with having a small profile with a little bit of information about each user.
I mean, there isn't even a profile picture that you can upload for yourself.
I think it's one area that certainly can be improved.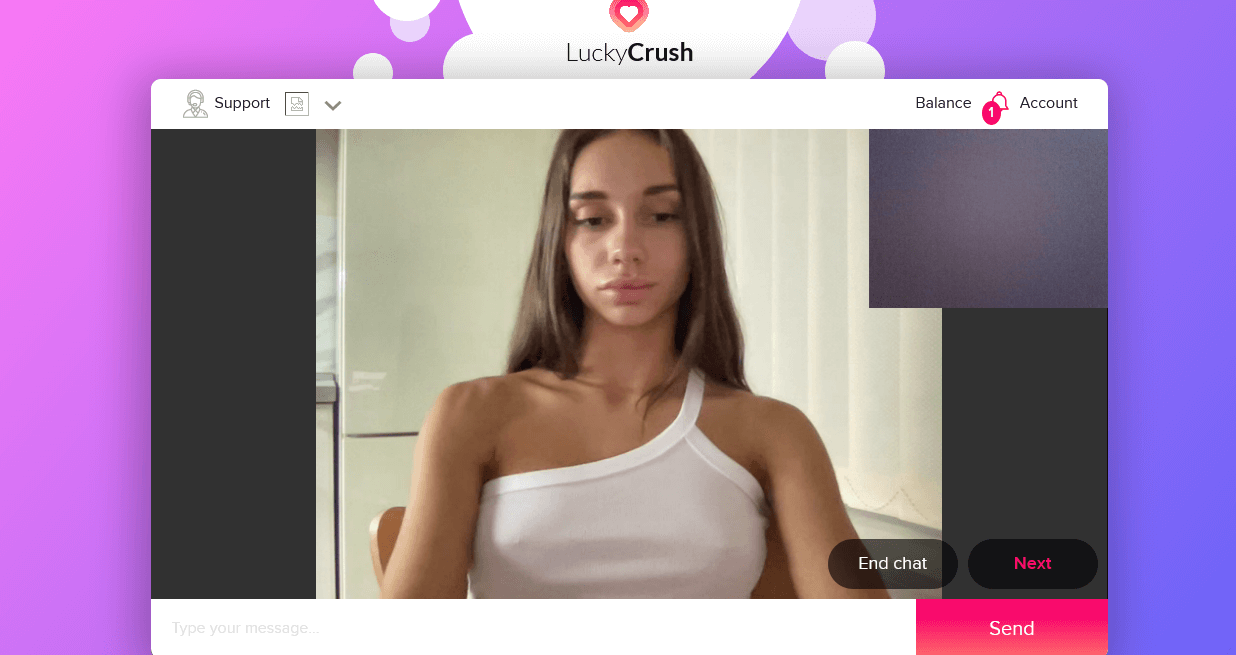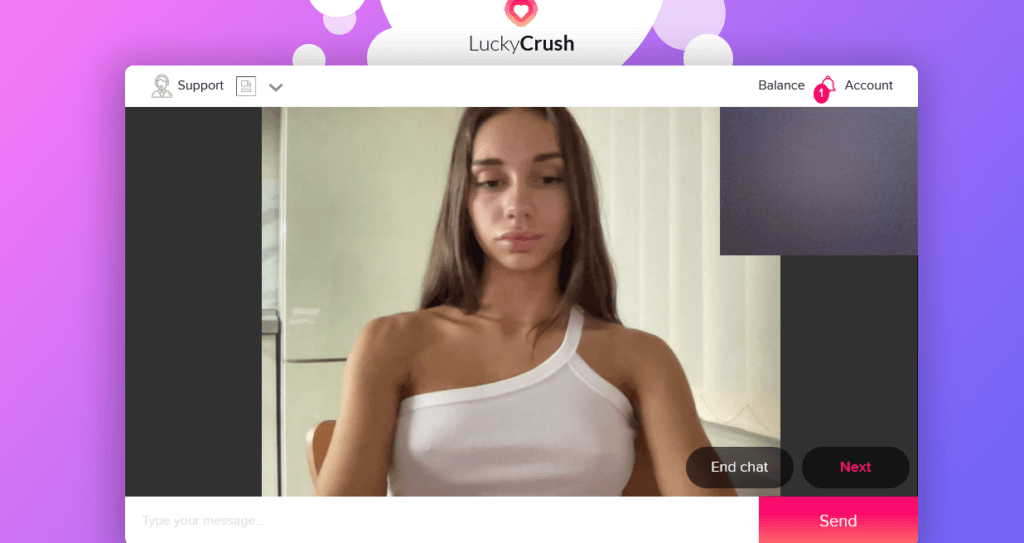 LuckyCrush is all about hooking up with people from all over the world online (like BeNaughty or Ashley Madison). Users of this platform are generally not interested in serious connections (like eHarmony or Tinder).
You aren't going to find another person down the road to start chatting with and then meet in real life.
It just doesn't work like that at all.
LuckyCrush users are more than happy to use the platform to meet new people and make friends but as I have already indicated, some are ready to take their clothes off as well.
So yes, cybersex is a potential outcome on the platform if you are into that kind of thing.
Many of the people I chatted to seemed keen to get into it straight away as well with their webcams firmly fixed on their assets, so to speak, and not their faces.
It's up to you to find out exactly what you hope to get out of the platform but it's very easy to use.
Finding the type of LuckyCrush partner you are looking for
LuckyCrush is a bit of a Chatroulette, that's for sure.
To find the kind of person you are wanting to talk to is a hit-and-miss affair.
And that's totally understandable seeing how the site operates.
So once you've elected to start video chatting, you will be linked up with another person on the other side of the world (in all probability).
When the connection is made, there are a few things that you will notice straight away.
First, their webcam view is the most prominent thing about them.
Yes, whatever they've decided to show will be there in all its glory and will take up a large part of your screen.
As I said, some people go full NSFW, so be sure you are in a safe area when using LuckyCrush, for example, don't try it at your workplace.
Underneath their webcam view, you will see a chatbox.
This is probably the best place to start communication.
As I explored the site and chatting in particular, I found that LuckyCrush makes use of an automatic translator.
So it doesn't matter if you cannot speak your partner's language, the site does all the translations work for you.
If they understand English, then you can chat with each other via the microphone on your webcam.
Otherwise, type away and you will see your words translated into their language and vice versa.
It's a pretty nifty system and one of the strengths of the site thanks to the fact that it facilitates quick and easy chatting with other users, no matter where they are in the world.
If you don't fancy the person you are chatting with or vice versa, either party has two options.
Either they can end the chat by clicking the relevant button or they can move on to chat to someone else by clicking on the Next button.
It's that simple.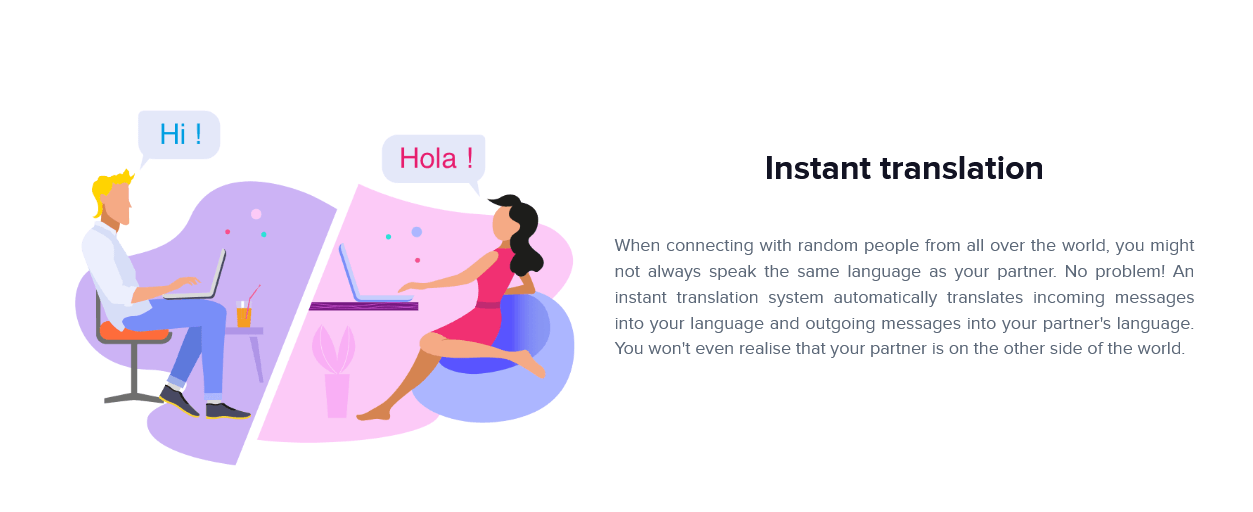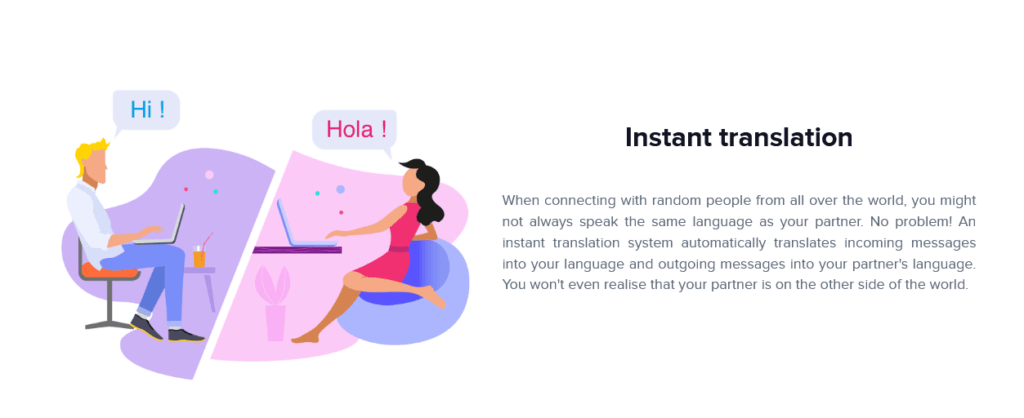 With no real membership option and men only needing to buy credits to ensure they have chat minutes on the platform, LuckyCrush hasn't got that many key features.
There are a few things that I want to point out that help the site be an effective live chat platform.
I've mentioned the brilliant automatic translations system above already.
Without it, LuckyCrush would not be that effective.
Yes, other sites that are similar also have systems like this in place but I love just how effective this one is.
And you can learn from it as well.
That's because as soon as you hit type a word or sentence and hit enter your words are immediately translated for the other user to read.
Not only that, but you can also see what the word is in their language which I thought was a handy addition to the site.
It's a clever system and one that keeps the site extremely functional
2. Only connecting you with users of the opposite gender
No matter what your gender, LuckyCrush will only connect you with users of the opposite gender.
While this does rule out an effective way for LGBT members to use the site, it is a key feature for me.
That's especially true thanks to the fact that the gender ratio on this video chat site is so far apart, 78% men to 22% women.
I am not sure how the site manages to ensure each connection is with the opposite sex but it does somehow.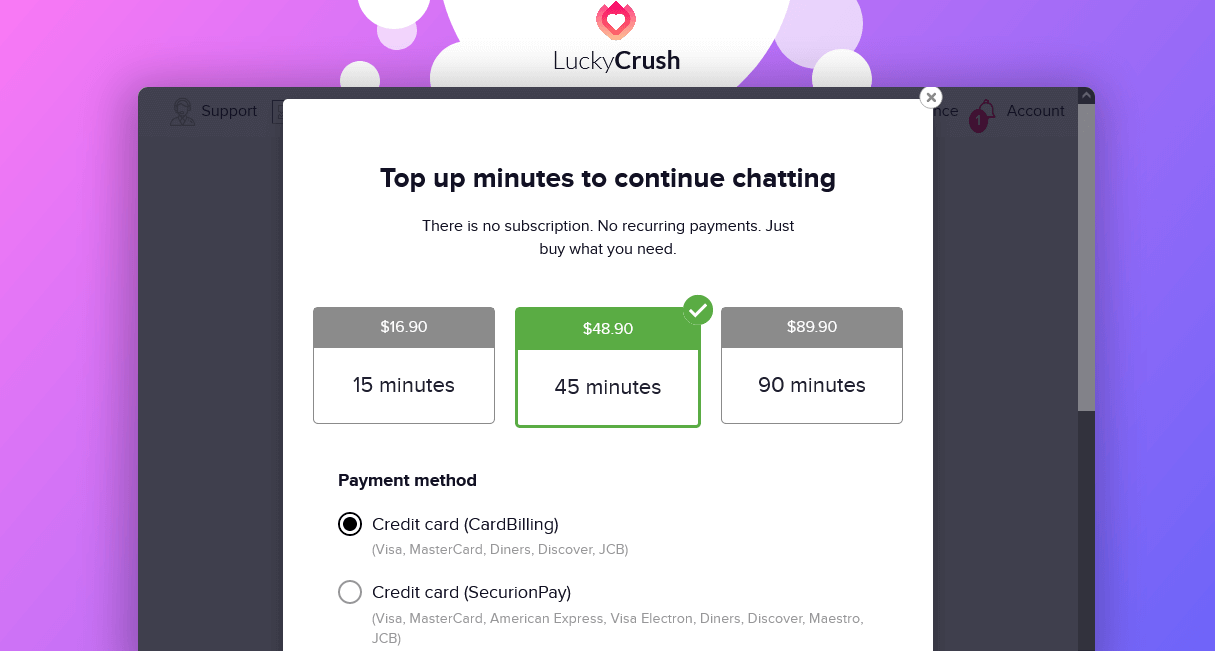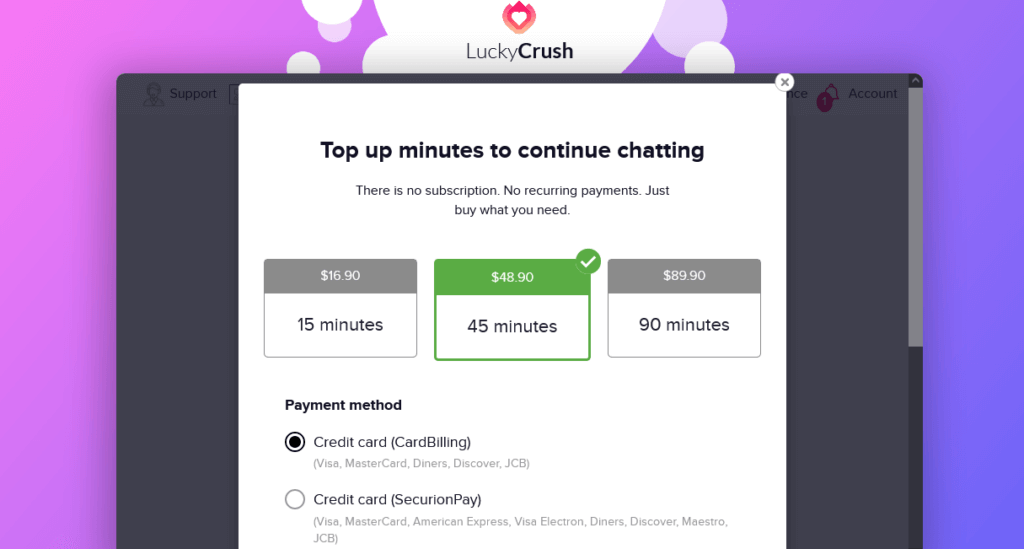 As we've already seen, if you are a woman, you can use the site for free, as long as you are going to register your profile.
For men, you have the option of not even registering for a profile but you won't be able to effectively use the site and chat with others if you are not prepared to pay money to do so.
As we know, that comes in the form of credits.
This on-site currency is needed to initiate contact with female users if you are a male user trying out LuckyCrush or hoping to meet people through it.
But how much are these credits going to cost you and does LuckyCrush provide you with different pricing options?
For example, if you are prepared to buy more credits at a time, will this cost you less per credit?
Well, there are options – three of them, in fact.
Here's a breakdown of what you can expect:
15 credits: $16.90 (15 minutes of online video chat)
60 credits: $48.90 (60 minutes of online video chat)
90 credits: $89.90 (90 minutes of online video chat)
If you do purchase 15 credits for 15 minutes of chat, it works out to roughly $1.20 per minute.
This does drop if you opt for the bigger packages but not that significantly.
In fact, the best value is 60 credits offering 60 minutes of chat.
That works out well under $1 per minute.
Is it pricey?
Well, yes, I think it is.
The advantage all male users do have here is the fact that they do get a few free minutes to see how the site works and to try it out.
This "try before you buy" option will allow you to navigate the site enough and speak to enough other users to make that final decision if you want to pay in the future.
And while I do think the site could be cheaper to use, ultimately, the decision to buy credits for viewing time is going to rest on each individual and what they aim to achieve from LuckyCrush.
Conclusion and Overall Rating
Thanks for taking the time to read our Lucky Crush Live review.
If you've been on the lookout for a video chat site to meet new people around the world and don't mind some nudity, this really is the site for you.
To summarize, LuckyCrush is super simple to use.
In fact, it takes under a minute before you are chatting with other users.
The overall interface, while not the greatest to look at, ensures that you can find your way around and start chatting as soon as you log into the site.
The automatic translator also helps that you can chat with anyone you link up with.
The other big plus for me is the fact that LuckyCrush always ensures those that you do chat too are the opposite gender.
It is a pity, however, that this does rule out the LGBT community and I am sure that a few tweaks could ensure the site could be used by them as well.
Hopefully sometime in the future.
As for pricing, well as a male, you will have to pay for video chat time on the site and it's pretty expensive in my book.
If you are a female, however, you can use the site for free at this point.
One major downfall for me is the fact that there is no app for LuckyCrush although it does offer mobile compatibility.
I just think an app would work well and perhaps is something that can be considered in the future.
But let's get to a rating for LuckyCrush.
It scores an excellent 4 out of 5 and for me, is well worth looking into.
Our team of dating experts at Onlineforlove took an extended period to test LuckyCrush.
The site received an overall star rating that was based on critical criteria that are applied to all site reviews.
The final evaluation of LuckyCrush is based on criteria such as:
Membership cost
Overall ease of use
The key features it offers members
How effective it is in helping users find matchups
The size of the user base