People have all kinds of fetishes and that's reflected in the massive selection of niche dating sites that you will find online.
While you've probably heard of BBW and BHM dating platforms, like BBWCupid, BBWAdmire, or others that feature big, beautiful women and big heavy men, there are even further niches within that.
Many fat admirers are also lovers of feederism and feedees.
This is the eroticized act of feeding someone and watching them gain weight.
OFL Top Recommendations based on 100,000+ Survey

"Serious Relationships"
"Discreet Hookups"
"Best Course for Men"
"Quick Flings"
"Normal Hookups"
"Our Quiz"
Today, we are specifically looking at one of these dating websites called Feabie.
It's become popular in the feederism community as a way to help find like-minded people that are into the same fetish.
In this review, we will assess and evaluate the Feabie website in full, looking into:
Following our analysis of Feabie, you certainly will have all the information you need about this BBW/BHM/feederism site that you need.
And that will allow you to make an informed decision as to whether you should sign up or not.
Is your dating app giving you the best chance for success?
Make sure to take our online dating site/app quiz to find out.
It's a fact that people who follow our dating site suggestions have on average 2 extra dates per month.


Ease of use – 5/5
Effectiveness – 4.5/5
Key features – 3.5/5
Price – 5/5
Includes a mobile application for IOS and Android
Free users can send up to 10 messages a day
Comprehensive profiles
Social networking feeds
The Faebie app crashes from time to time
Feabie has a small user base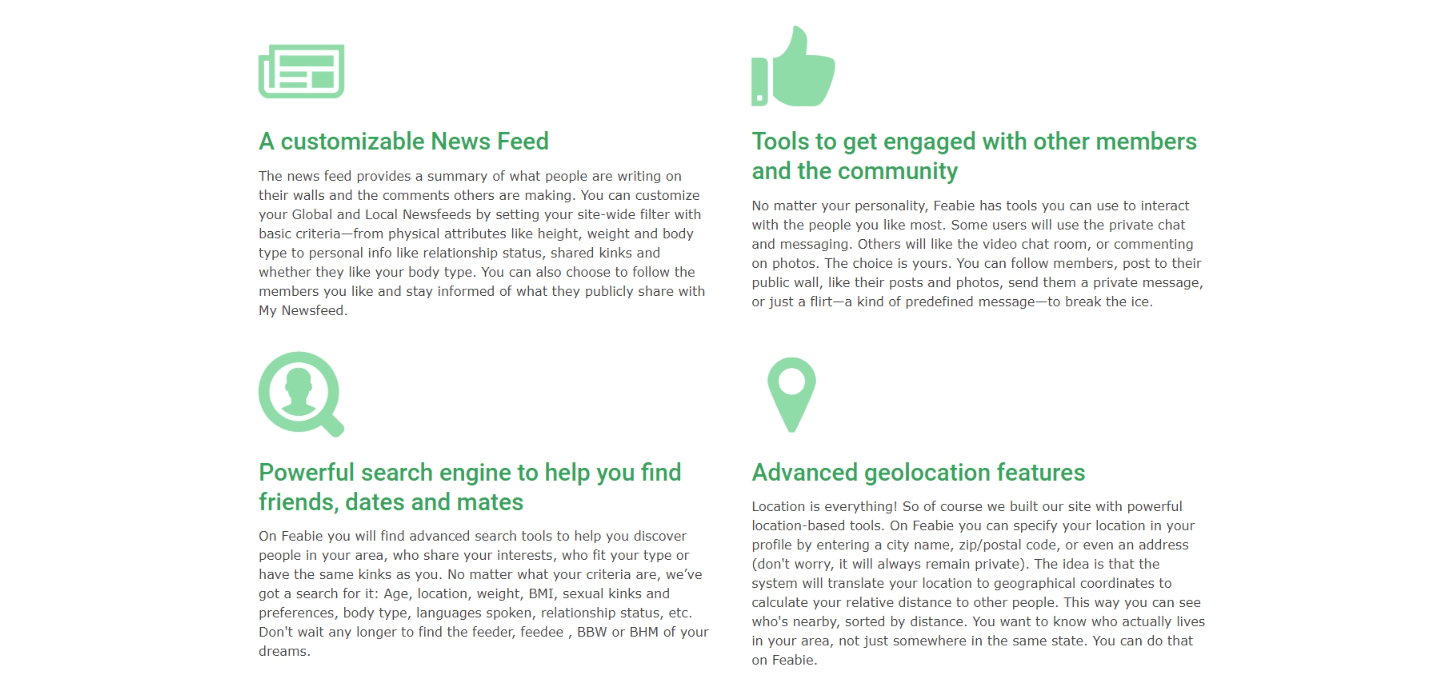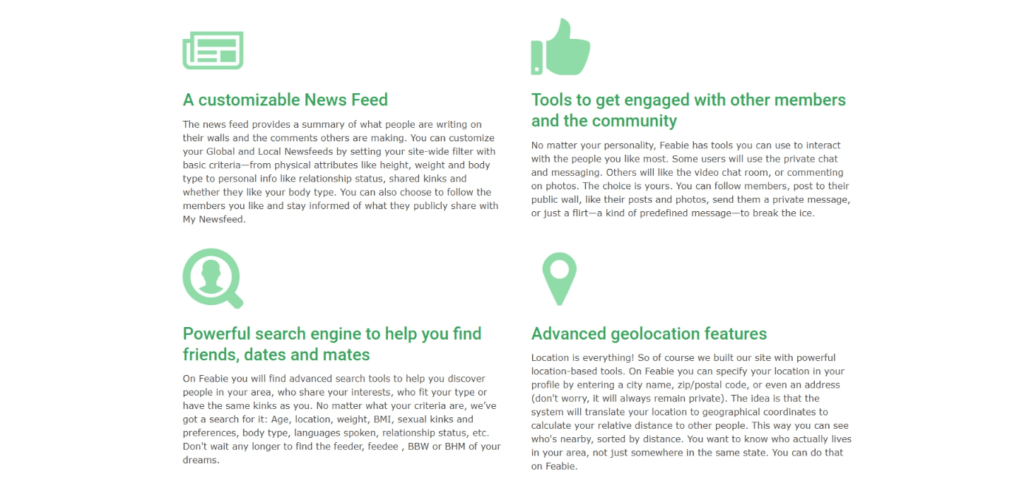 Who's It For/Demographics
Feabie has a wide range of people that have signed up as users on the mobile app and website.
For example, you've got:
OFL Top Recommendations based on 100,000+ Survey

"Serious Relationships"
"Discreet Hookups"
"Best Course for Men"
"Quick Flings"
"Normal Hookups"
"Our Quiz"
Those looking for a BBW dating site (both BBW's themselves and fat admirers who want to date them)
Feedees and feeders who want to meet them
So in total, that's five different target groups.
It's still a very particular niche, so you cannot expect there to be a massive users base here.
Luckily, Feabie is quick to tell you on their homepage just how many people have signed up for the site.
Currently, Feabie has around 120000 users with most of them coming from the United States.
But you will find users worldwide as Feabie has no location restrictions.
When it comes to the most popular age group, that's between 25-34-year-olds while the gender ratio sees males in the ascendency.
Around two-thirds of the profiles on the site are male users while a third are females.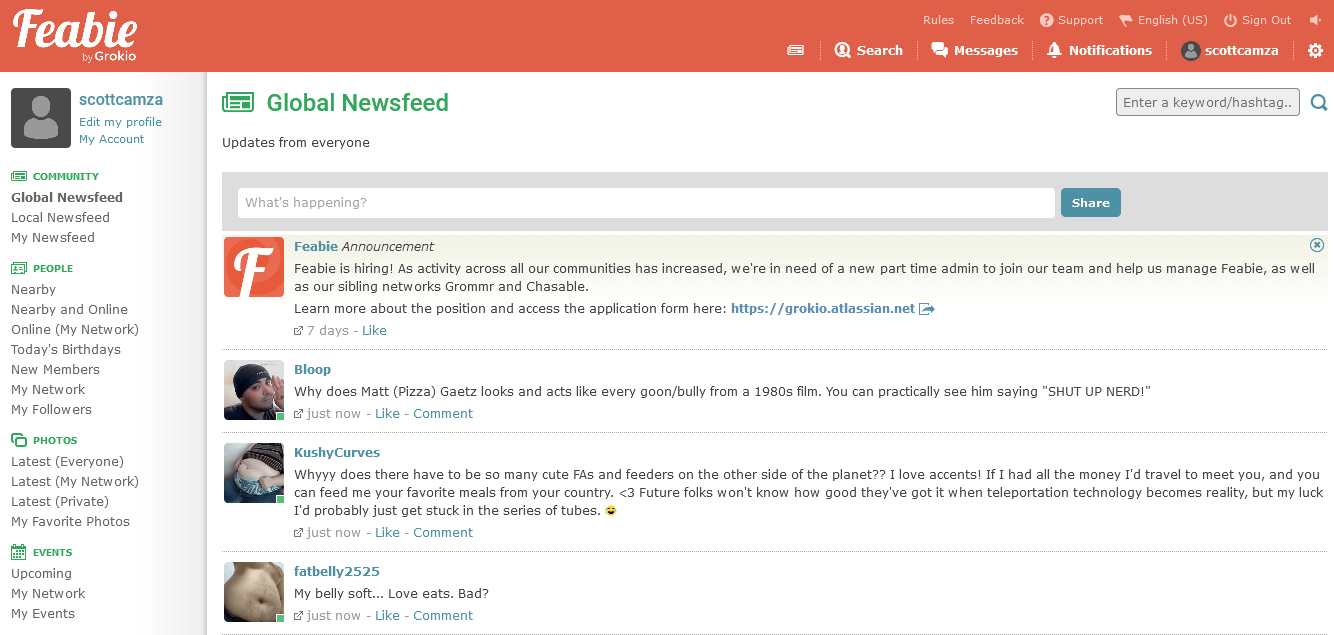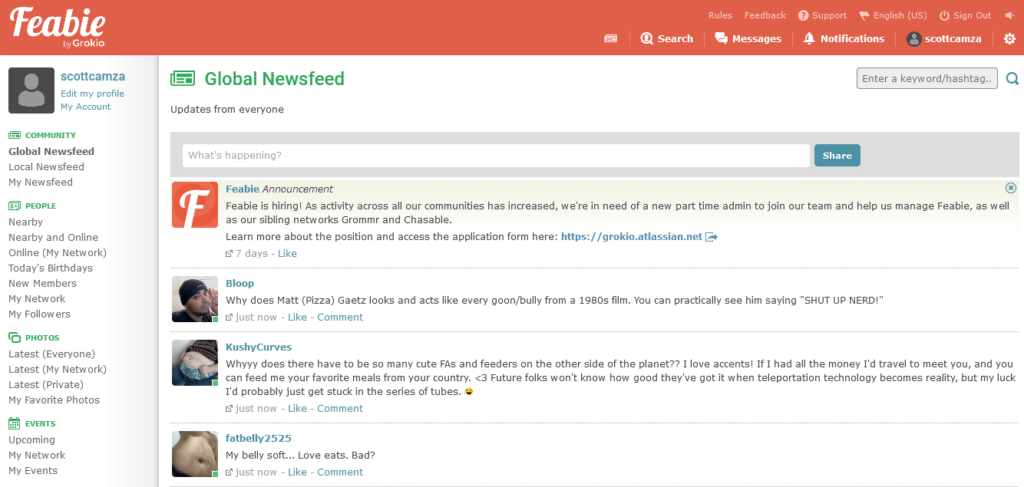 Should you wish to register for this dating portal using your mobile phone, you can. The Feabie app is available off the Google Play Store and as an Apple app for IOS devices like iPhones and available on the App store.
I would suggest using the website to register at least and then use the app later if you wish.
That's because while the registration process is pretty quick, you will have to fill in your profile and that's far easier to do on a normal keyboard than the one you will find on your phone.
Feabie.com does not include a social media login at all and the process in total will take you about 10 minutes at least.
That's because Grokio, the team that runs Feabie want you to fill in all of your profile although there are still sections you can skip.
First up, you start the process with the following information:
Username
Email
DOB
Gender (Feabie is for Gay men and women as well as all other LGBTQ genders)
Interested in
Feabie will then send you a password to your email address as specified and from there you can log in for the first time.
It's at this point that you can complete your profile with the following information
First name (optional)
My bio (tell others about yourself)
Weight
Goal weight
Height
Gender
Relationship status
I identify as (Feedee, Feeder, BBW, BHM, Fat Admirer)
I am looking for (online chat rooms, online video chat, friends, date, relationship, poly relationship, asexual relationship)
Community-based kinks/interests (ballon play, force-feeding and more)
General kinks
Body type I like
Body features I like
Languages
Ethnicity
Geolocation (in other words, where you live)
Occupation
Education
Interests
Favorite music, TV shows, movies, books
Favorite food
Words to live by
My idea of a great Saturday night
My earliest, funniest, hottest feeder/feedee memory
Youtube page
Tumblr page
Yahoo messenger ID
Skype name
Twitter name
When you compare it with other dating sites, Feabie allows for social media and other social network accounts to be displayed on your profile.
So fill these in if you do have any other above accounts.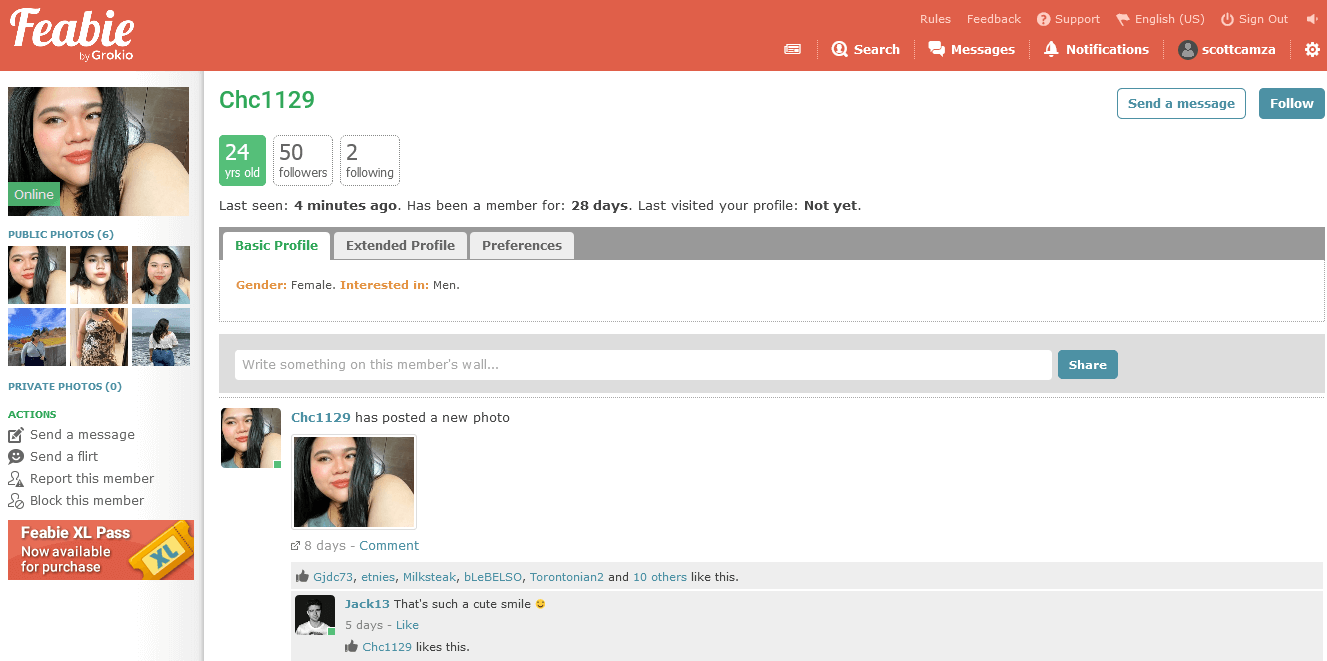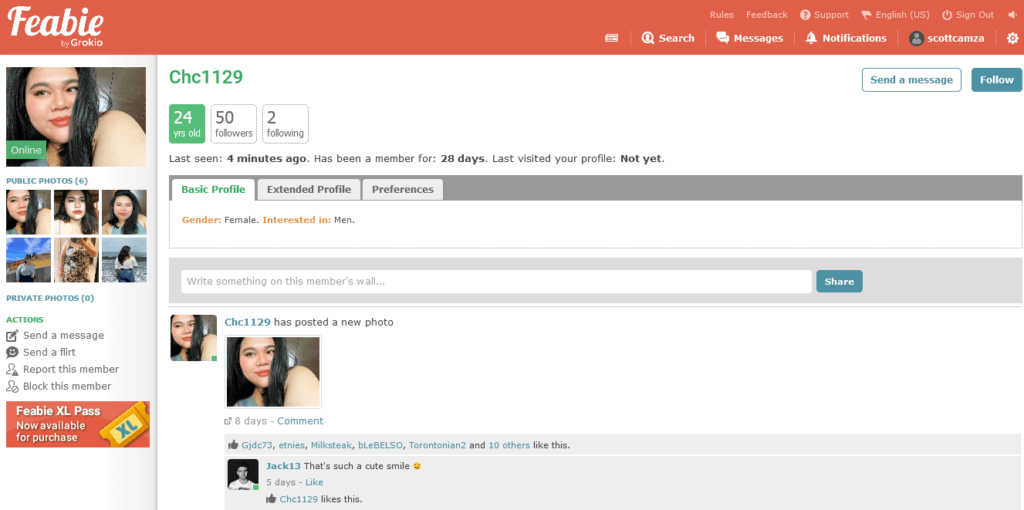 Site design and finding your way around Feabie
Feabie is a beautifully designed website and one that I thoroughly enjoyed using.
The overall design is modern and fresh and even dating site newbies won't have any trouble finding their way around.
I also loved the color scheme used by the site.
It's predominantly white with flashes of green, orange, and gray.
The site uses a two-viewing pane system.
The first on the left contains several menus.
These are secondary menus and you will use them from time to time.
The main viewing pane will show you what you've clicked on, for example, potential matchups, the search engine, your messages, etc.
Feabie has a social networking aspect to it as well which includes a global newsfeed and a local one.
Here you can see updates posted by other users in the form of photos or a new status.
To navigate the site, you will mostly use the main menu system that you can find at the top right-hand side of the screen.
These are:
Newspaper icon (Newsfeed): Click here to access the global newsfeed.
Search: This gives you access to Feabie's incredible search engine
Messages: All sent and received messages can be found here
Notifications: You will be alerted to important site notifications here
Your name: This is the quickest way to access your profile
Cog icon: Various site settings can be accessed here
The secondary menu in the left-hand viewing panel is one you will no doubt use as well.
This is split into four sections:
Community (which includes global, local and the user newsfeed)
People (this includes quick access to people near you, those users who are celebrating their birthdays, new members, followers)
Photos: See the latest photos from all users and those in your network
Events: Find all upcoming Feabie events here
Online counter: You can see exactly how many people are online at that moment.
Just a quick word about the online counter.
It shows just how active Feabie is.
In fact, in all the time I used the site, it didn't drop below 4000 users which is fantastic.
Overall, this is just a well-designed website that's a pleasure to use and super efficient as well.
That includes the way it helps you to find potential matchups, so let's get into that now.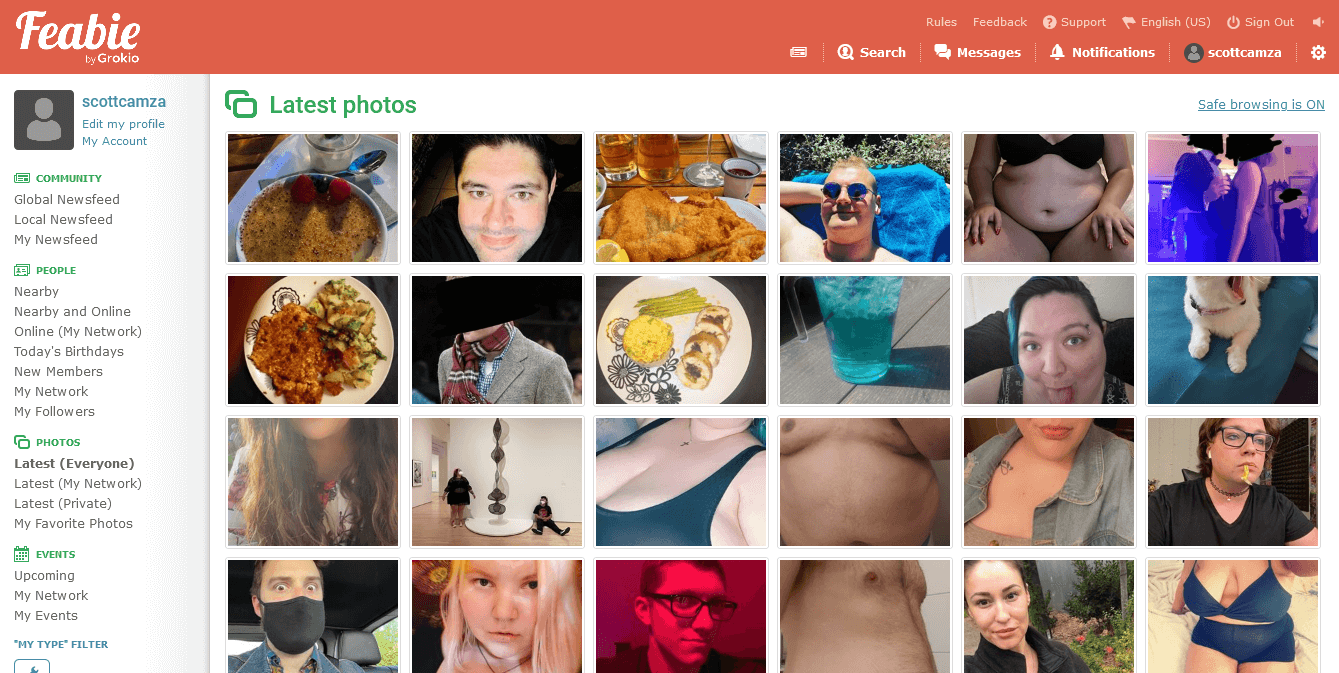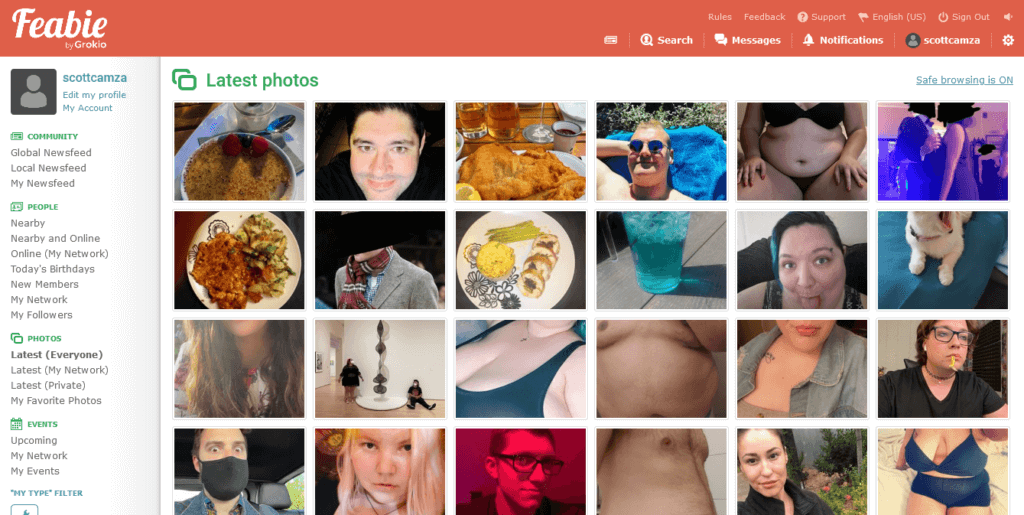 So once you've spent some time on Feabie, no doubt you are going to want to try it out and help you to find the kind of relationship you are looking for, long-term (like eHarmony or Tinder) or casual hookups (like BeNaughty or Ashley Madison).
There are several ways to go about this.
If you don't mind where in the world someone comes from and you are online looking for a friend or online interaction, you can start with the global newsfeed.
Many users post photographs here, make status updates and ask questions and it's fun from time to time to scroll through this and see what people have to say.
Of course, if you are into the social networking side of things, you can use this as well.
Post a question, tell a joke or upload your latest selfie.
It's really up to you but it's a side of Feabie that I found really fun to use and people certainly reach out to you as well if you do.
If you want to bring things a little closer to home, then use your local newsfeed.
This just shows you the updates of people near your location.
The thing about this is that it can be a little less effective depending on how many Feabie users are in your local area, but that's understandable I guess.
If you want to see other matchups the site has found for you based on your gender and age preferences, you can look under the People section of the secondary menu system on the left-hand side of the page.
This has a few options for you to use to bring up these matchups.
Nearby: This lists all the potential matchups the site has found that are nearby to your location
Nearby and online: These are the nearby matchups who are currently online
New members: This is a link to all the new members who have signed up for a Feabie account
My followers: See which Feabie users are following your profile
The option you'd probably use most here is the first one.
That's going to list everyone that's close by, whether they are online or not.
But what about searching for matchups?
Well, for me, despite all the other matchup options Feabie gives you, this is where you will return time and time again.
The search engine is one of the things that Feabie has got so right.
Let's look at just what it offers.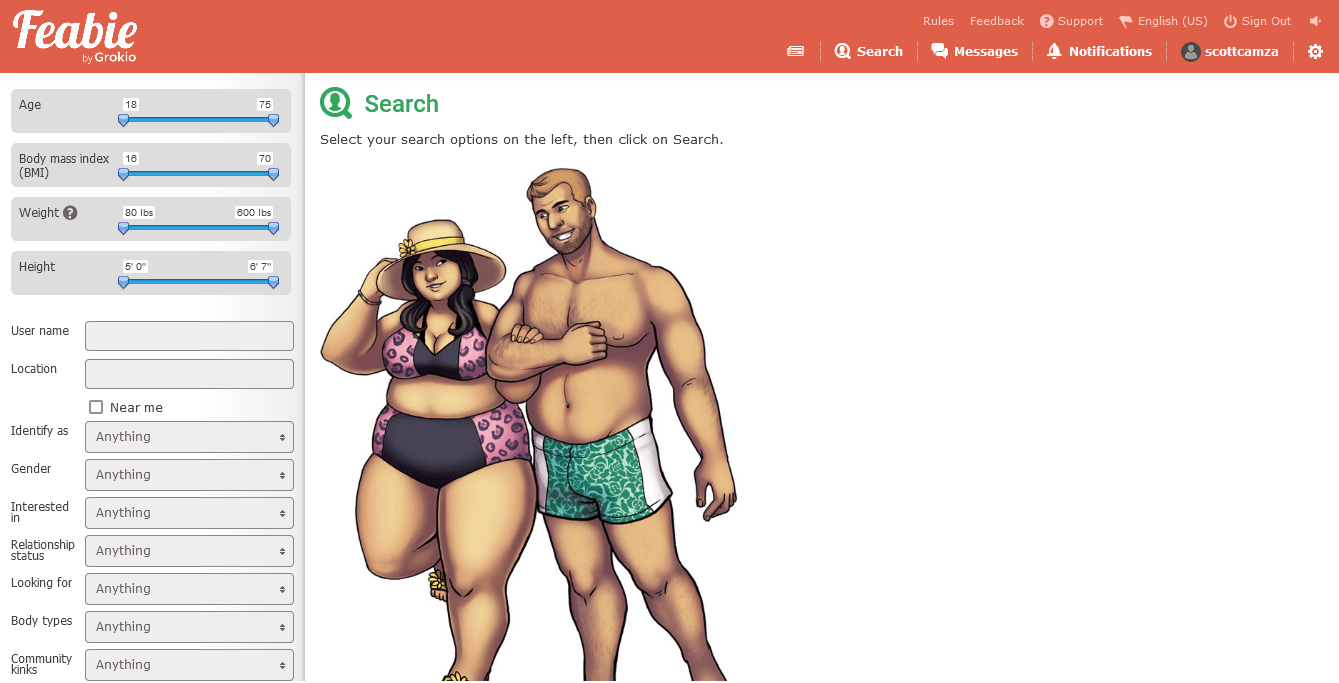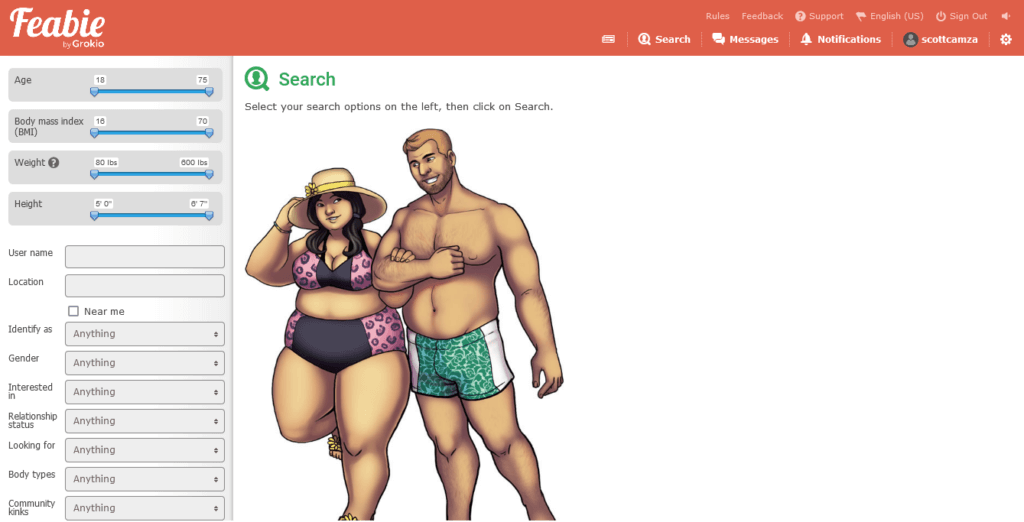 Using the Feabie search engine
Did I mention that the Feabie search engine is incredible?
It's right up there with some of the best I have ever seen on a dating site.
That's because, even with regular users, you can tweak so many parameters to help you find the best possible matchups.
But there is a downside, unfortunately.
That's in the fact that Feabie, while an active site, doesn't have a massive user base because of the particular niche it serves.
And if you aren't careful when using this search engine, it might hinder your returns not enhance them.
My advice when using it first up is to start with the basics.
So that means the gender you are looking for, the age range, and maybe if you want a specific type of matchup return, for example only BBWs, feedees, or feeders.
Then you can add the other must-have parameters that you want and see how that affects the returns.
As the user base grows, the search engine will be even more effective, that's for sure.
So what can it do?
Well, there's the basics.
Age
Body mass index (BMI)
Weight
Height
Gender
Location
But then there are 17 other parameters that you can add including:
Username
Identify as (feeder, feedee, BBW, BHM, fat admirer)
Interesting in
Relationship status
Looking for (relationship type)
Body types
Community kinks
Other kinks
Languages
Ethnicity
Only search returns of members that have photos
Only search returns of members with private photos
Only members who like my body type
Only members online now
Recently online (30 days)
New members (joined in the last 30 days)
Despite the fact that many of these search parameters are found on other dating sites, I particularly like that you can search for those that are specifically looking for a user's specific body type.
That means you have access to matchups that are looking for someone like you and that's getting your search for the best possible matchup off on the right foot straight away.
Once you've found a potential matchup, you can learn tons about them in a few minutes from their profiles.
You immediately can see the following:
Age
Height
Weight
BMI
Distance from your location
The country they live in
How many followers they have
How many people they are following
What they identify as, for example, BBW, Feedee or Feeder.
Free users of BBW also have access to the full profiles of other users.
But what about reaching out to someone that has caught your eye?
Is messaging a part of free membership or something that regular users can do?
Reaching out to others on Feabie
So far, we've seen that regular users can not only view full profiles of others on the site but also use the very powerful search engine too.
But what about messaging?
Is that something a free user has access to?
Well, the answer is yes.
As a free user, you can send up to 10 messages a day.
Also, you have unlimited replies if someone messages you.
You can, however, only see 25 photos a day and 10 private photos and upload 200 of your own.
If you want to send more messages and get other key features, you might consider signing up for a Feabie XL membership.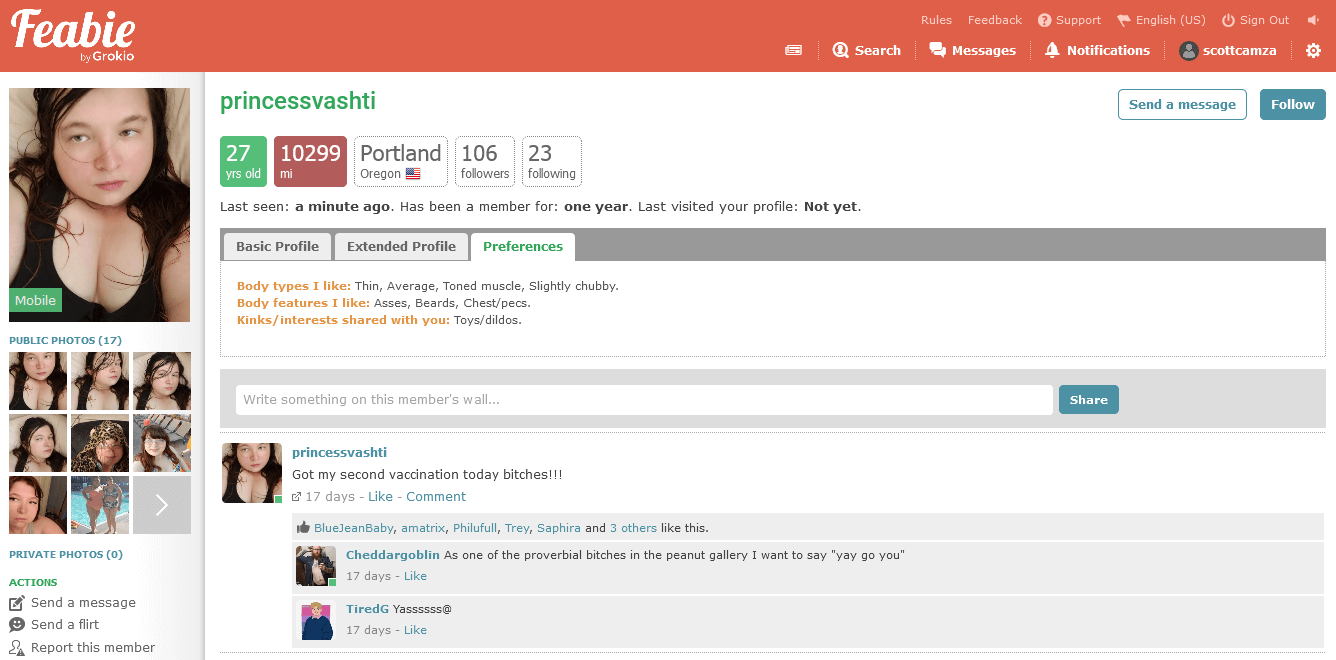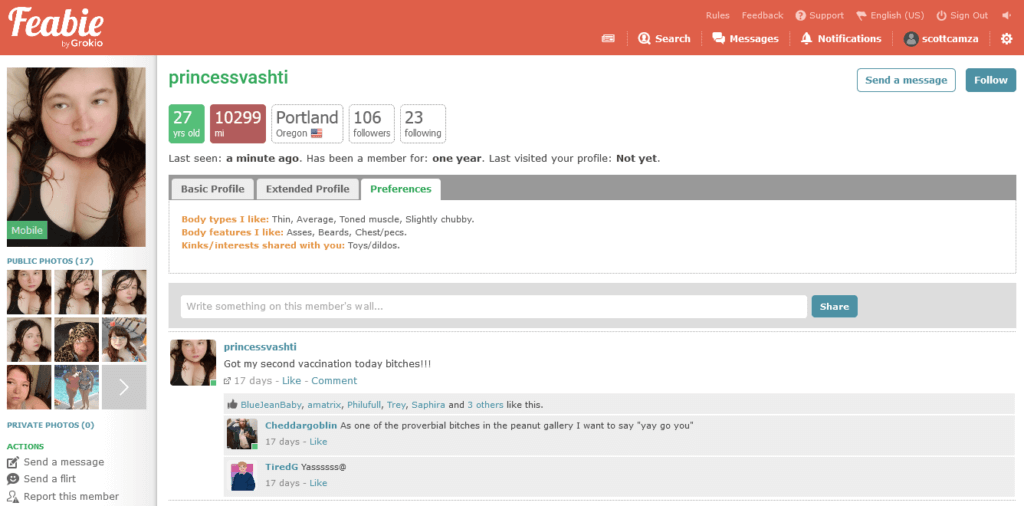 Feabie XL membership is offered for those users who want a little more out of the site.
For the most part, people will sign up for this membership to be able to send unlimited messages, but there are a few other advantages too.
1. View full-sized photos
There is no doubt that Feabie is a very visual medium.
From the newsfeeds to other user's profiles, there a literally thousands and thousands to look through if you'd like.
While a regular user can only see 25 each day, as a paying member, there is no limit to the number of photos you are allowed to view.
2. Requests for private photos
Regular users can only send 10 requests a day to access the private photos of others.
Those who sign up for membership have unlimited requests in this regard.
While regular users can only upload 200 photos to their profile and private galleries, those who opt for membership are allowed 1000.
Members who prefer to use the Feabie mobile application won't have to worry about invasive advertising when doing so.
Their time on the app will be free of advertising.
5. See who viewed your profile
All paying members can see who has viewed their profile.
They can also choose to leave no trace on other users' profiles they have browsed by activating the anonymous browsing privacy feature.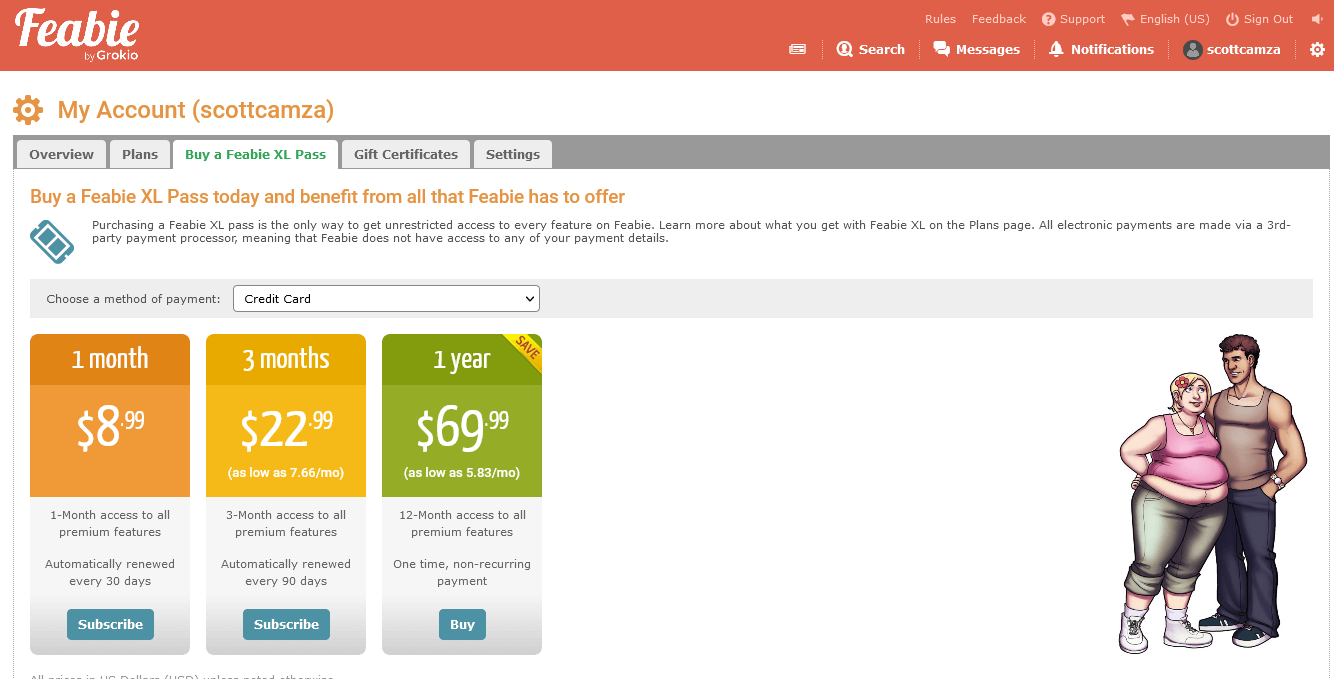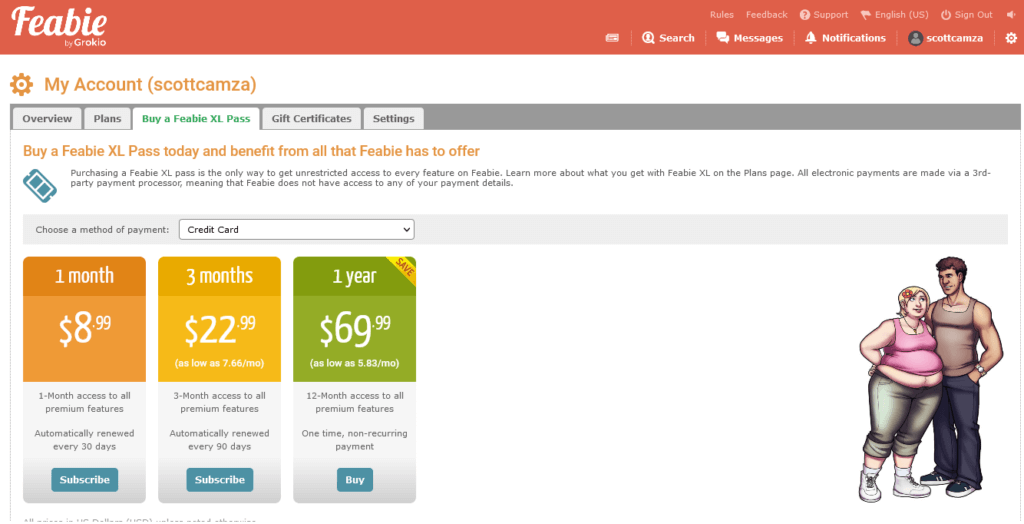 There are some useful extras here for members, but regular users also get to certain extras that often are found behind a paywall.
And by that I mean they can message others, view full-sized pictures, and use the excellent search engine as well as the advanced parameters.
Feabie XL comes in three different packages: one month, three months, and 1-year.
Here's what they will cost you:
1-month membership: $8.99
3-month membership: $22.99 ($7.66 per month)
1-year membership: $69.99 ($5.83).
Now normally, I would analyze membership options, looking into what would be the most cost-effective in the long run.
There is no real need to do that on Feabie.
I mean, who isn't going to sign up for the $8.99 option straight away if they are interested.
Other niche dating sites often charge three times as much, maybe even more.
If you are interested in membership, that's exactly where I would start.
It's perfectly priced and goes a long way to encouraging full-size people to try the site out.
As for payment, you can easily set up your credit card and the one-month and three-month packages are recurring.
So if you want to cancel it at some point, you will have to do that yourself.
Feabie also has gift certificates for sale that you can then pass onto another user if you'd like.
Just like the membership, they are for one, three or 12-months and cost the same price as membership.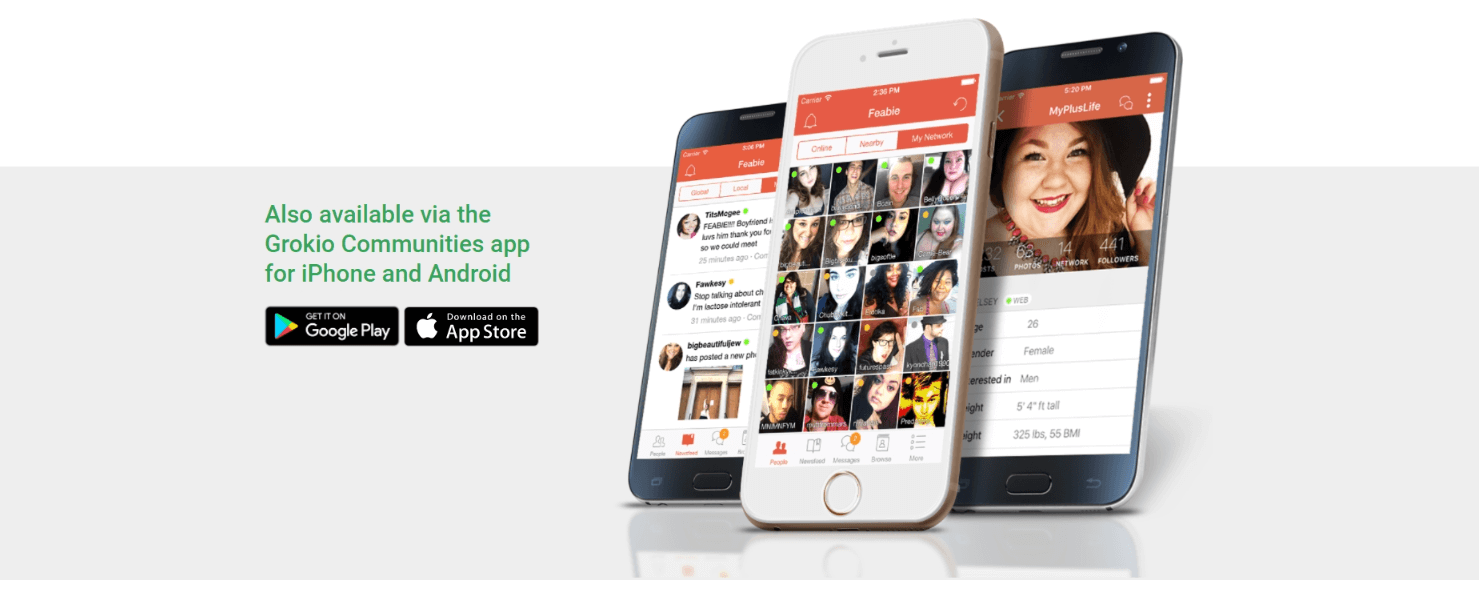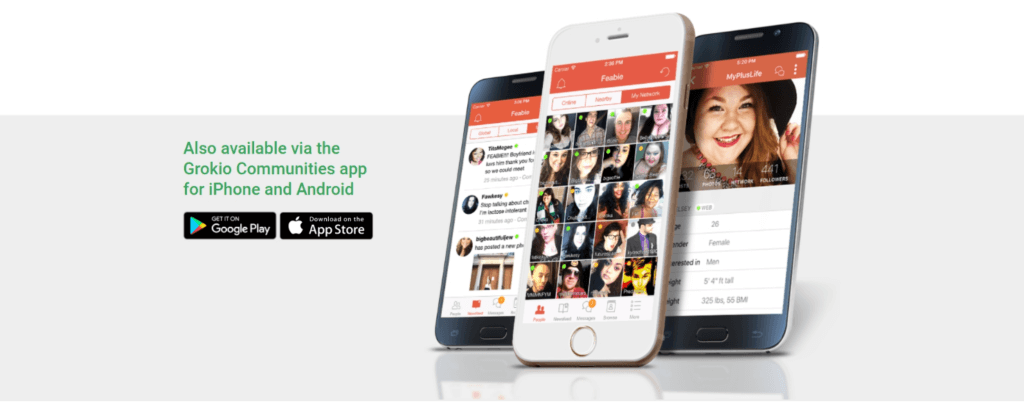 Conclusion and Overall Rating
That's it for our comprehensive Feabie review.
It's a fantastic site in a niche section of dating that's still pretty new.
Of course, that affects the user base but with Feabie accepting new users from all over the world, I think it will continue to grow at a significant rate.
Can Feabie work for you?
Well, I would suggest that if you are from the United States, your chances of finding what you are looking for here are better than elsewhere in the world.
And that's especially true if you live in a large metropolitan area.
But dating isn't always face to face thanks to modern technology and Feabie allows ways to connect with users all over the globe.
In terms of design, ease of use, and the tools Feabie offers users, it's one of the better dating websites I've ever used.
But let's get to a rating then.
Feabie scores an excellent 4.5 out of 5.
Our dating experts at OnlineforLove tested Feabie for a period of a month.
Following that period, the website was given a final star rating based on various criteria which included:
How many users have signed up for the site
How easy it is to register a profile on the site
How the search engine and matching algorithm works
What it costs to become a member
What key features members receive