Today's dating site review takes an in-depth look at OneAmour.com, a dating service with a distinctly international flavor.
It's one of many online dating sites that have members from around the world.
And in this review, we will analyze it in great depth.
Rest assured, we are going to highlight everything about the site, the pros and cons, strengths and weaknesses, and everything in between including:
OFL Top Recommendations based on 100,000+ Survey

"Serious Relationships"
"Discreet Hookups"
"Best Course for Men"
"Quick Flings"
"Normal Hookups"
"Our Quiz"
So let the assessment begin and let's see what this review tells us about OneAmour.
Is your dating app giving you the best chance for success?
Make sure to take our online dating site/app quiz to find out.
It's a fact that people who follow our dating site suggestions have on average 2 extra dates per month.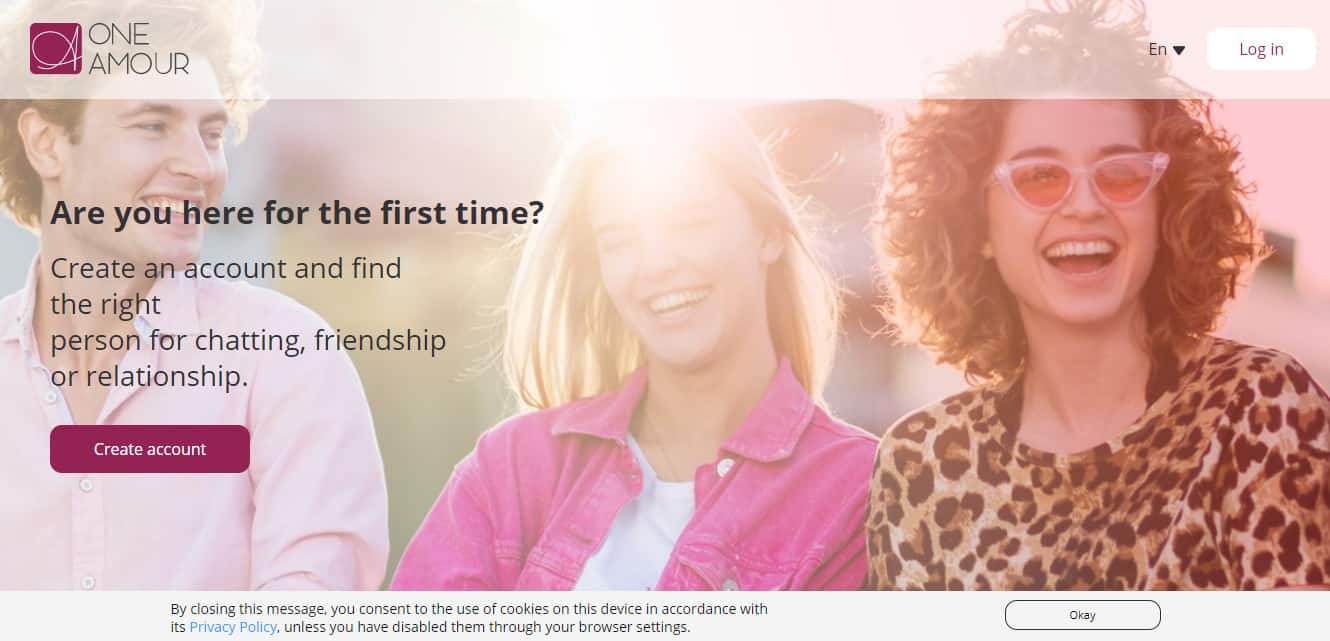 Ease of use – 4.5/5
Success rate – 3/5
Key features – 3/5
Price – 3/5
Your profile is filled in as part of the registration process and this means no blank profiles on the site
You can see what type of relationship someone wants as it is marked on their profile
The site provides you with matchups near your location but you can search further afield if you'd like to
OneAmour has a three-day trial membership
This site does not cater to the LGBT community at all
To communicate with others, you will need to become a member


Who Is It For/Demographics?
While it is run out of Russia, OneAmour is a global dating site that allows users to sign up from countries around the world.
But what kind of site is this?
Will you find serious daters here, people looking for long-term love (like Tinder or eHarmony), or is it more of a site where people are wanting casual relationships (like BeNaughty or Ashley Madison)?
Here were some facts and figures that I found out about the site:
Around 4 million users have registered for accounts on OneAmour
About 200000 of them reside in the United States
Roughly 15000 people are active on the site each week
That's around 2000 a day and 60000 each month
It's critical to clarify that this is not a site that caters to the LGBT community at all.
You will only find heterosexual users here and yes, most of them want long-term relationships.
OFL Top Recommendations based on 100,000+ Survey

"Serious Relationships"
"Discreet Hookups"
"Best Course for Men"
"Quick Flings"
"Normal Hookups"
"Our Quiz"
Gender ratio and user age ranges
Identifying the gender ratio of a site could be one of the reasons why someone signs up for a profile or not.
Ideally, you want that ratio to be as close as 1:1 as possible, but that's obviously fairly impossible to assure.
Luckily, when it comes to OneAmour, the ratio isn't that far off.
While we determined that there were more male profiles than female, the ratio is 55% to 45% which is as close to perfect as can be.
The collected data regarding age ranges shows an excellent spread of users from 18 to 55 and older.
In detecting these various age ranges, OneAmour, like many other similar sites has younger age ranges in the ascendency, particularly the 25-34-year-olds.
Research shows that they contribute almost a third of the user base.
The smallest group of users are aged 55 and older.
But they still make up 16% of the user base and number over 600000 users
Here's a full breakdown exploring the gender ratio of each age group as well as the percentage of users:
25-34 year-olds: 28% of all users of which 15% are male and 13% are female
18-24 year-olds: 20% of all users of which 11% are male and 9% are female
35-44 year-olds: 18% of all users of which 10% are male and 8% are female
45-55 year-olds: 17% of all users of which 9% are male and 8% are female
55 and older: 16% of all users of which 9% are male and 7% are female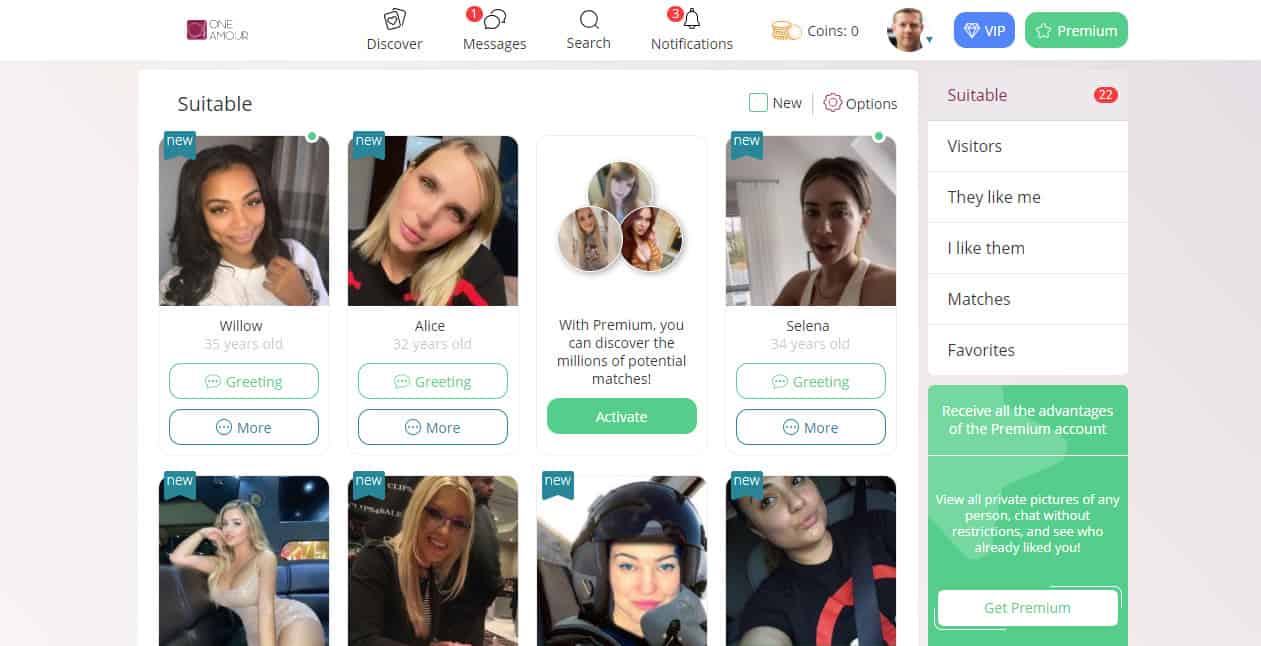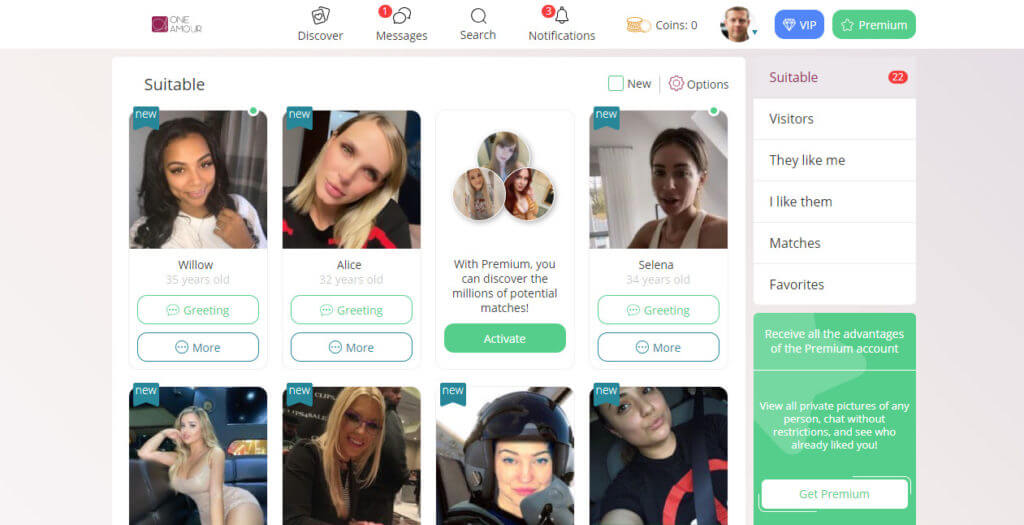 At this point, if you'd like to start a profile on OneAmour and log in for the first time, you will have to do it through the website.
While you can use social media (a Facebook account in this case) to sign in, I used the traditional email address method.
There is no app here and you won't need to associate your phone number with the account either.
The registration process takes at least 10 minutes and there is a fair amount of information to provide.
It starts with the following:
Your name
An email address
Your password
Following that, OneAmour wants to find out a little more about you.
This means you need to provide:
Your location
Date of birth
The gender you'd like to match up with (remember, this site is not LGBT friendly)
Your education
Your current professional status (unemployed, working for yourself, etc)
What career you are in
Languages you speak
Current relationship status
If you have children/want children
Your religion
Your height
Your weight
If you smoke or drink
This is a standard template for registrations for dating sites and includes a little bit of everything, even some parts of your profile.
Lastly, you are going to have to upload a profile photo and then verify your email address.
Once you've done that you are free to use the site.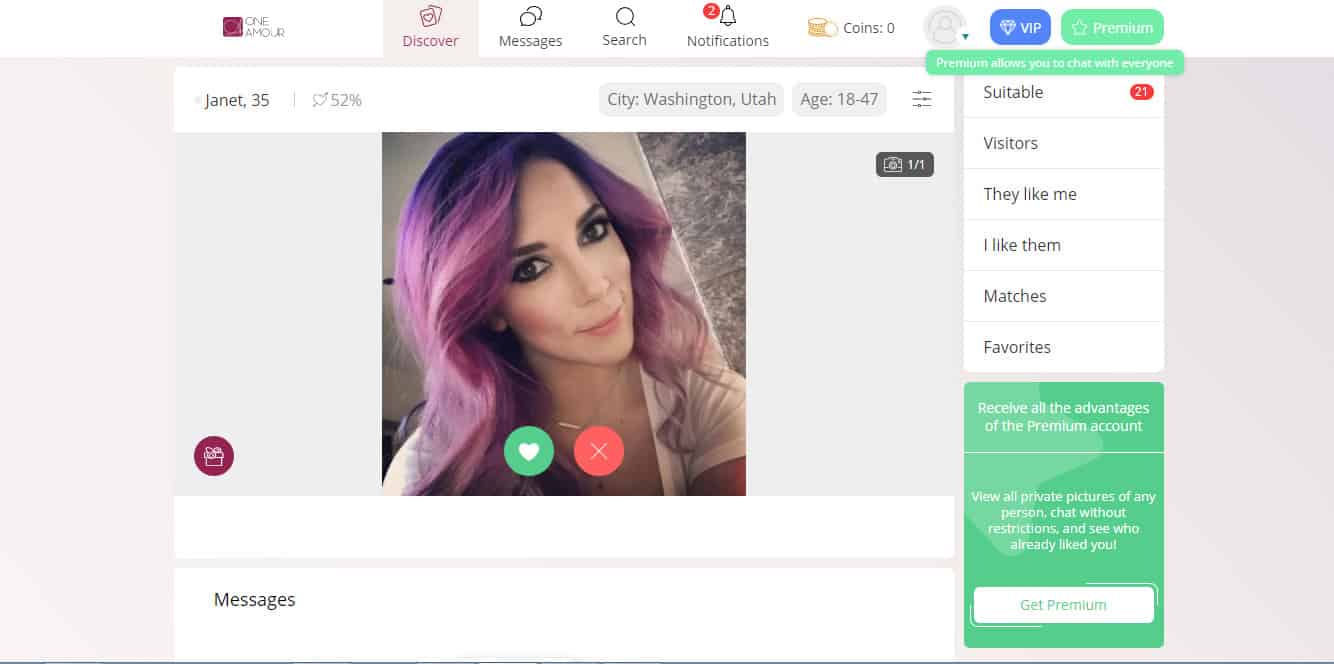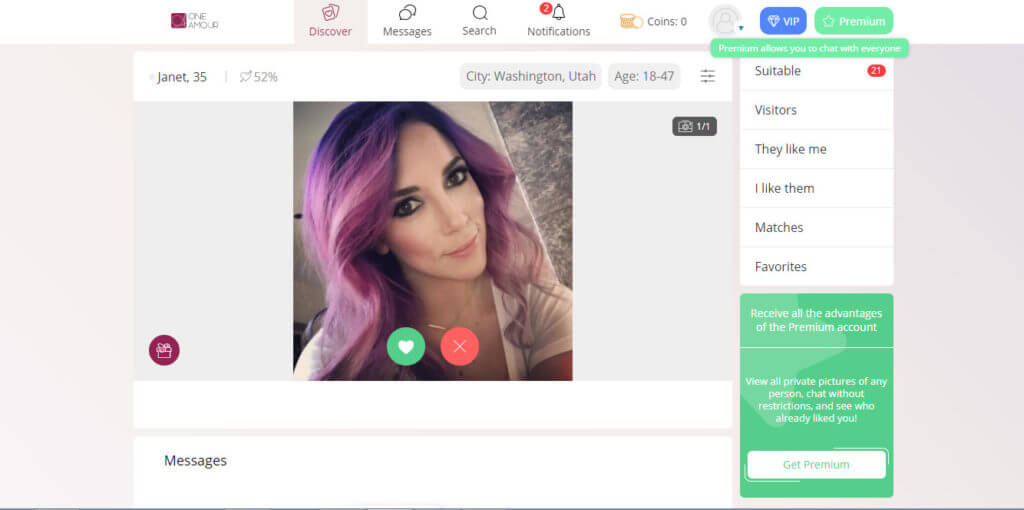 Dating sites often use the same templates, but OneAmour has a unique design that is fresh and interesting.
The major thing they got right is letting the profiles of each user stand out and do the talking for them.
In fact, the moment you first get on the site, you are presented with a roulette-style matchup game where you can look through potential profiles and either like them or pass.
That's pretty standard fare for most online dating sites nowadays.
Let's quickly conduct a review of the various menus that you're going to use to navigate the site.
They are:
Discover: This is where you can scroll through user-profiles and either like or pass on them
Messages: All the messages you receive are found here. If you send any, they are recorded here as well
Search: If you'd like to launch your own searches instead of seeing matches through the Discovery menu, click here.
Notifications: All important notifications that you need to know about appear here
Coins: This is the virtual currency on the site that you can use to buy gifts for others
Your profile: Click here to make adjustments to your profile or to see site settings, get support or read safety tips.
You will also notice a few menus on the right-hand side of the screen.
Here you can see your most suitable matchups, see who has visited and liked your profile, see if you've matched with anyone and who you have favorited.
Overall the design of this site is fantastic.
It's super easy to navigate, there is no in-your-face advertising and it's simple to find potential matchups, which is what you want, right?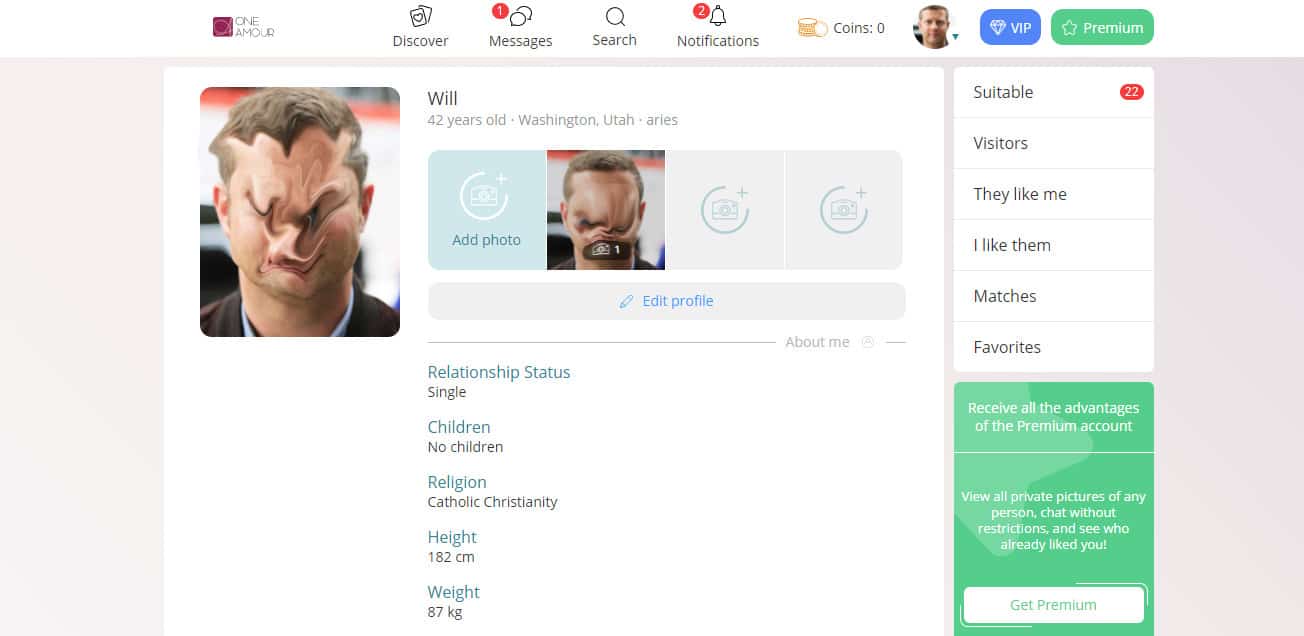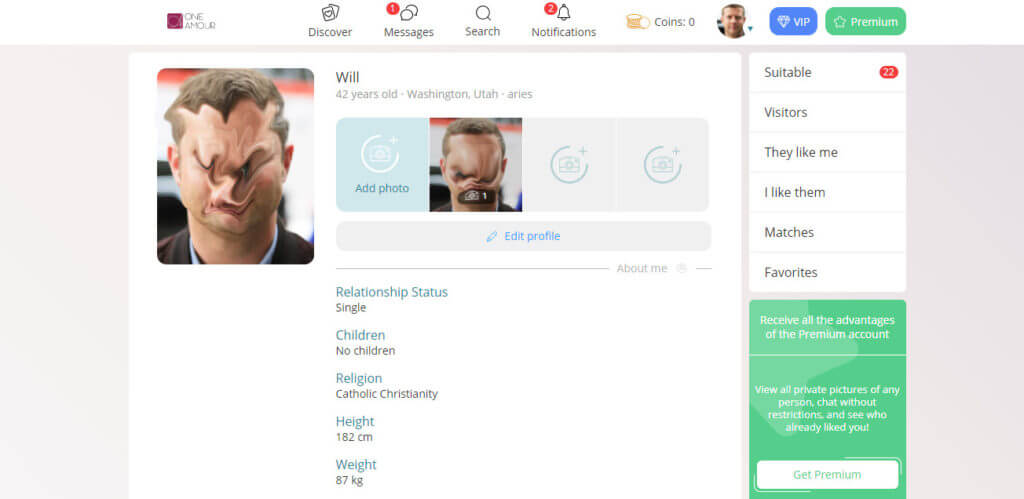 One major critique I always have with dating sites is that it's a struggle to get people to fill in their profiles properly.
But because OneAmour makes this part of the registration process, your profile is complete the moment you gain access to the site.
Of course, you are welcome to edit it if you'd like and change things as need be, but if you filled it in properly, you have nothing to do.
You can add a few more pictures if you want because at this point you will only have your profile photo uploaded.
From my perspective, I would have like to see a bit more information in the profiles on the site.
They are a bit brief for my liking.
When looking at other users' profiles, you will notice a compatibility score.
While this is an excellent feature to have, from what I understand, it seems to be worked out by comparing your profile to that of another user.
And that might demonstrate compatibility or the lack of it between two users, it's not like it's based on a personality test that other dating sites offer.
One area that I do think the site does well in is to highlight what type of relationship each user is looking for.
This can be set from your profile and when viewing others is one of the first bits of information that you will learn about them.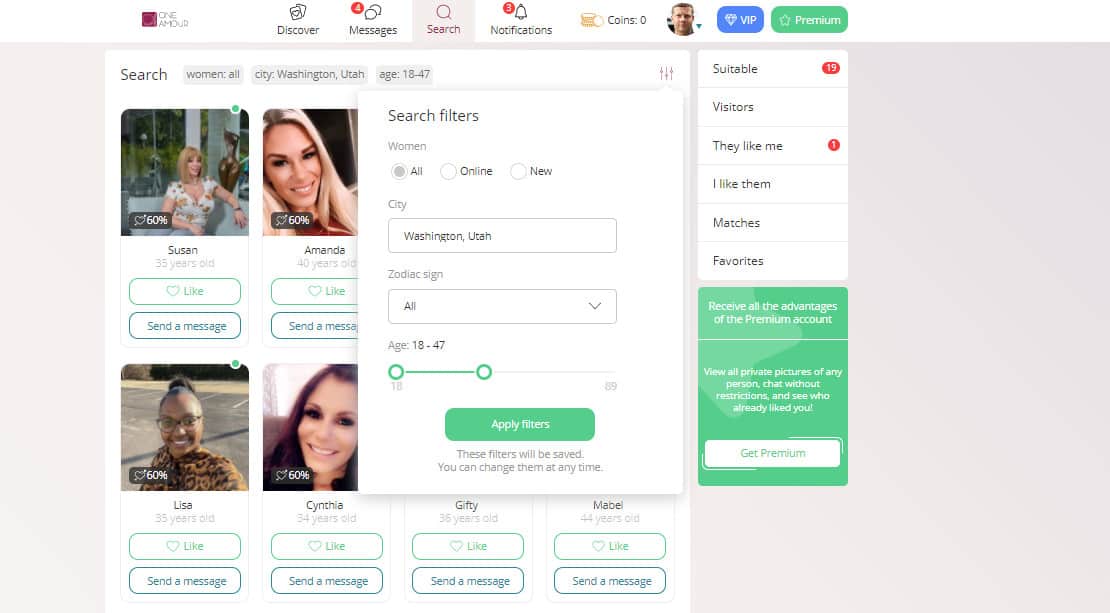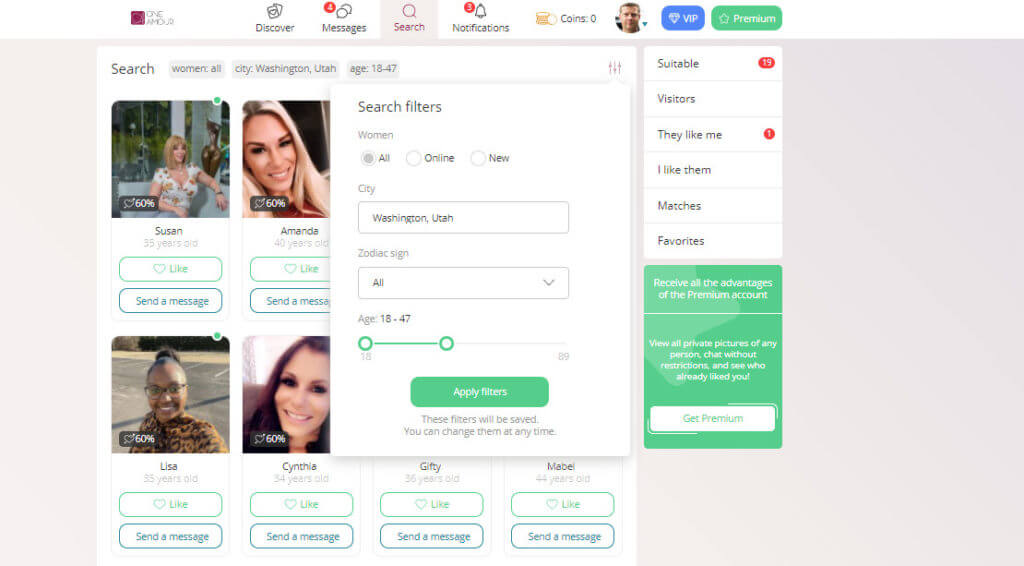 So I've already talked about how you can find matchups to look through using the Discover menu.
And while I don't mind using a tool like that, it's not my preferred way of trying to find someone to contact on a dating site.
But I can confirm that OneAmour has other options at your disposal.
First up, if anyone joins the site while you are logged in, a small message pops up on the bottom of the screen with a link to their profile
Of course, this is just users joining that are near your area.
I believe that this is a useful tool in finding new matchups.
But you are going to want to search for your own as well, right?
And that you can do by clicking on the Search menu.
That will bring up a list of potential matchups according to the three criteria you set when registering your profile:
A highlight for me here is the fact that you can like their profiles as well as see their compatibility scores against your profile.
As a member, you can also quickly message them without having to enter their profile.
One area they can improve, however, is to allow you to open someone's profile from the search menu.
Currently, only a member of the site can do that.
Luckily, you can browse full profiles of users under the Suitable menu on the right-hand side if you are a regular user.
These are deemed to be the most compatible with your profile.
I can also confirm that regular users can change the parameters of their searches from the Search menu.
Simply click on the slider icon to do so.
Now you can adjust:
If the returns should be all men/women, only those online or just new users
The search location
The zodiac sign you are looking for
The age ranges of returns
There are no extra profile parameters that can be added, even for members of the site.
That's an area I feel that can be improved for sure.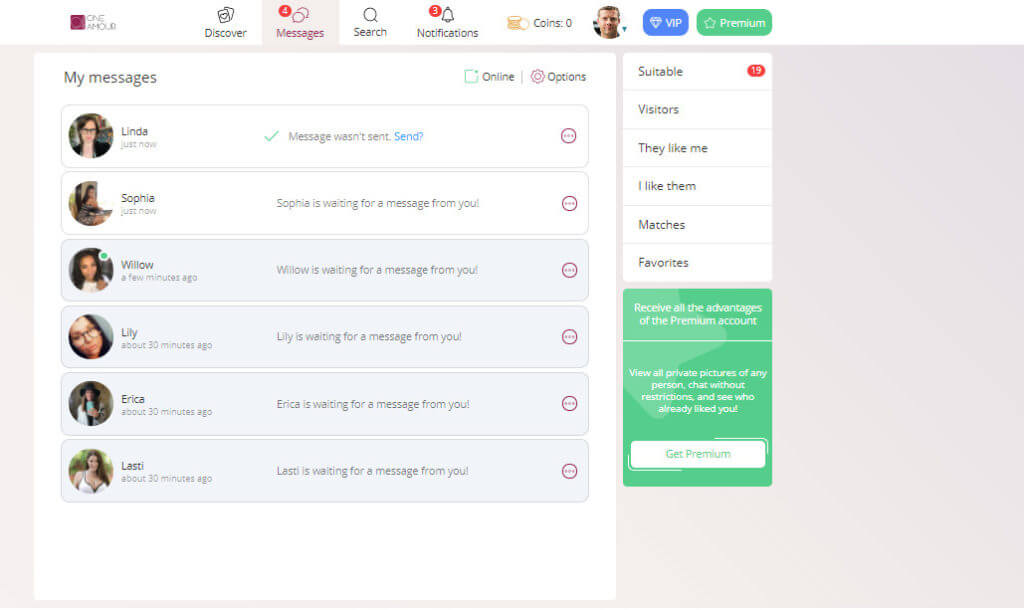 As you probably would have guessed, communication for regular users is very limited on this dating site.
You cannot send messages to others without taking out premium membership first.
There are some virtual gifts as well as stickers that you can send to others but that's not really going to get across any meaningful form of communication now is it?
You can send a greeting from their profile as well but again, this is a once-off.
So if you really want to reach out to others or reply when they reach out to you, membership is your only option.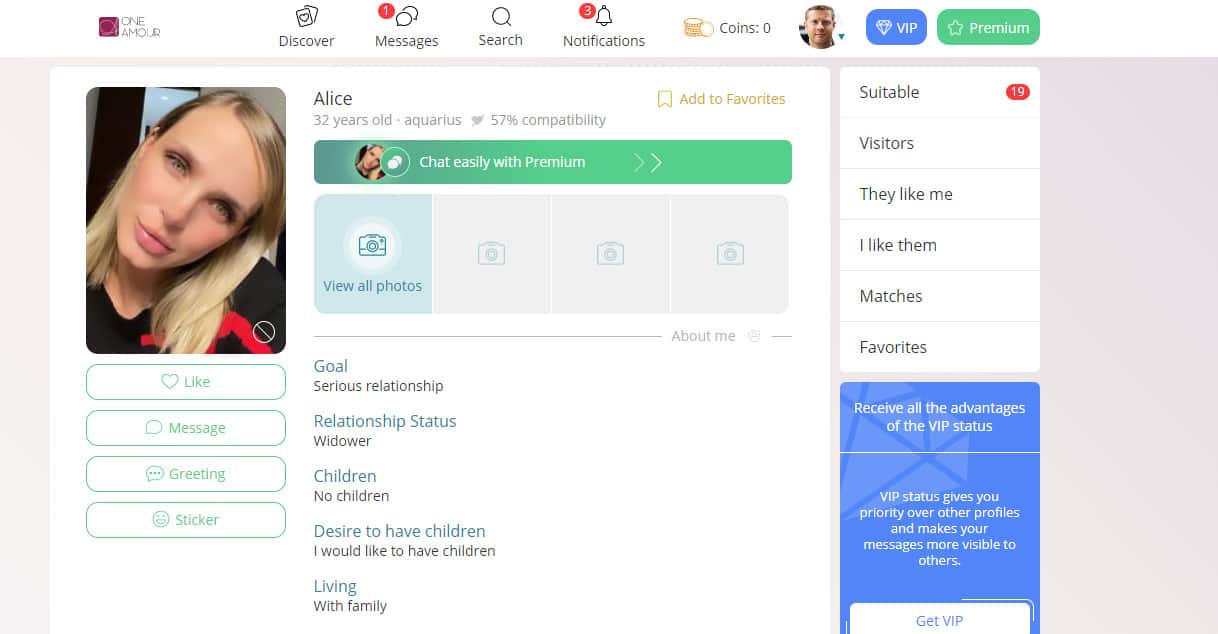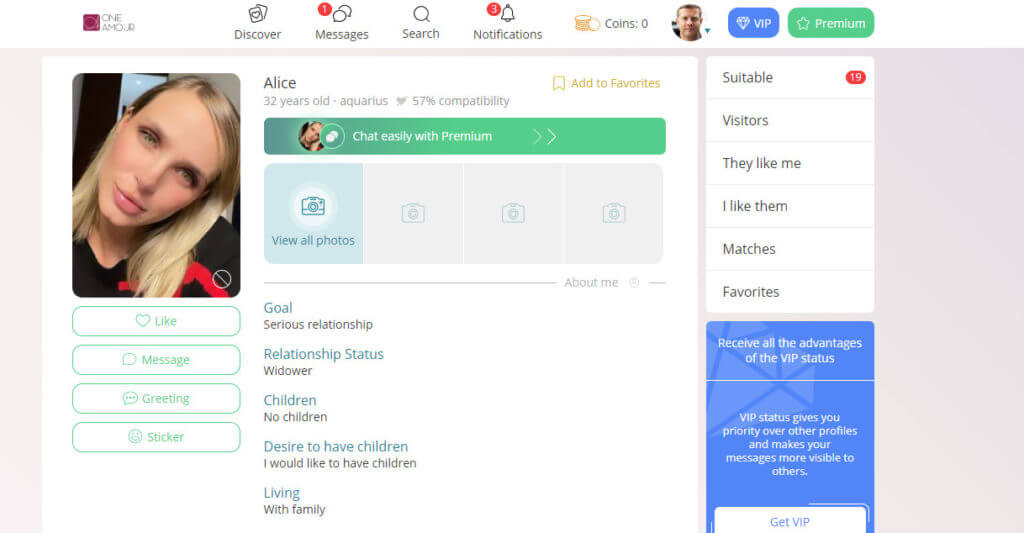 Membership will bring several key features.
Let's look at everything it has to offer.
Although we already know that messaging is one of the benefits provided by membership to OneAmour, I cannot stress just critical it is.
While some dating sites will allow regular users to reply to a message sent by a member, that's not the case here.
If you want to send a message or reply to one, you simply have to be a member of the site.
​​​​​2. See all profiles/private pictures
I won't lie.
I found it super annoying to be able to see some user's profiles but not others.
I just don't see the point of that at all.
If you sign up as a member, however, all profiles are open to browsing as well as pictures that other users have marked as private.
3. See who liked your profile
It's always nice to see who has liked your profile and as a member of the site, you can.
This is a staple membership feature with just about every dating site out there.
But it is a powerful tool that you can use to your advantage, that's for sure.
If you have an issue with anything on the site, you can sort it out in a matter of minutes by opening a private chat with a support manager.
Often an underrated extra, boosting your profile puts you at the head of the pack so to speak.
So while you are looking for love, your profile is out there at the top of other users' searchers.
And that means they often reach out to you.
Please note, this is an added extra and costs $19.99 per month.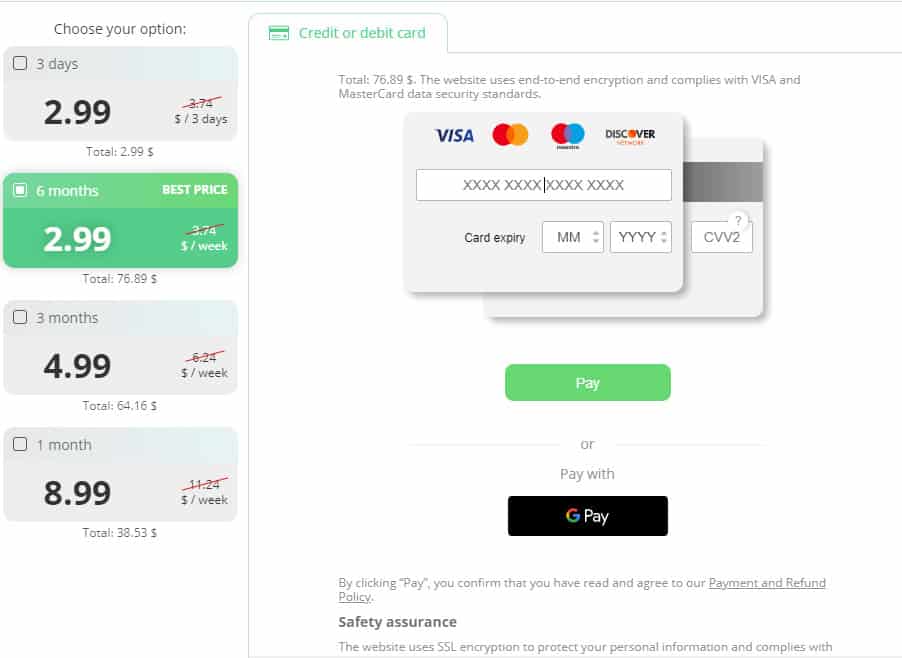 If you compare those key features above to other similar online dating sites, they are very similar.
But what's the cost?
OneAmour has a few options when it comes to the length of the membership package.
Here's a full breakdown:
3-day trial membership: $2.99
1-month membership: $38.53
3-month membership: $64.16
6-month membership: $76.89
I love the fact that there is a trial membership because it allows you to use the site for three days and in that time, you will know if this is the dating site for you or not.
Month-to-month membership is a little more pricey than I would have expected, especially as profile boosting costs an additional $19.99.
If it was built into the overall membership package, the month-to-month cost would be perfect, I feel.
You can make significant savings in the three and six-month membership deals, however.
If you think you are going to use the site for a long period of time, I would opt for one of these packages.
As for payment, you have a few options, including your credit card and Google Pay.
You may have also noted that the site makes use of coins to send various stickers and virtual gifts.
While these aren't necessary if you like to try them out, here's a breakdown of what coins will cost you.
100 coins – $2.99
550 coins – $14.95
1250 coins – $29.99
2750 coins – $59.80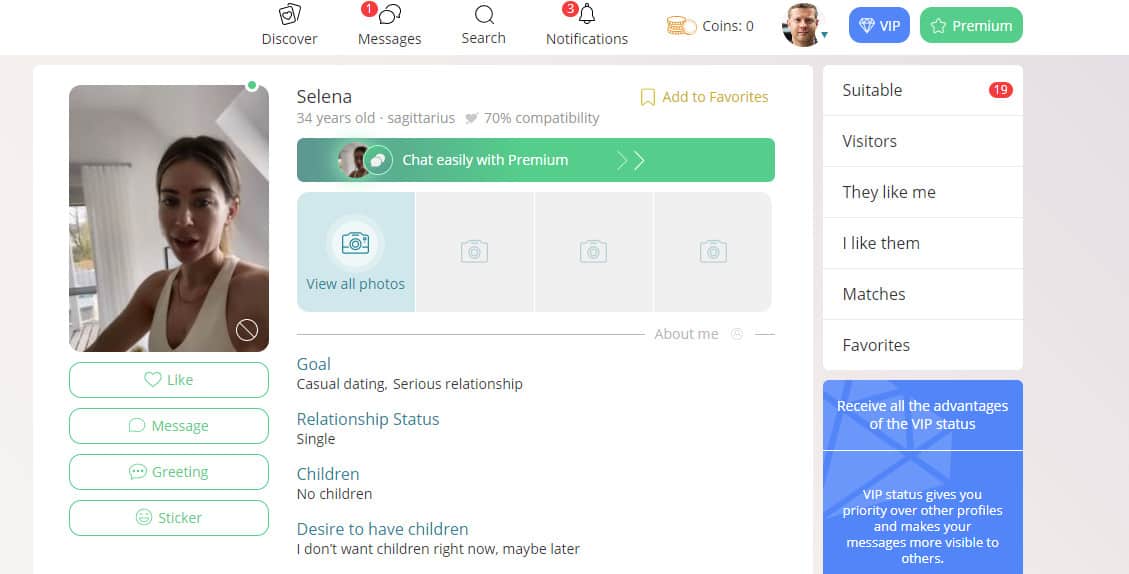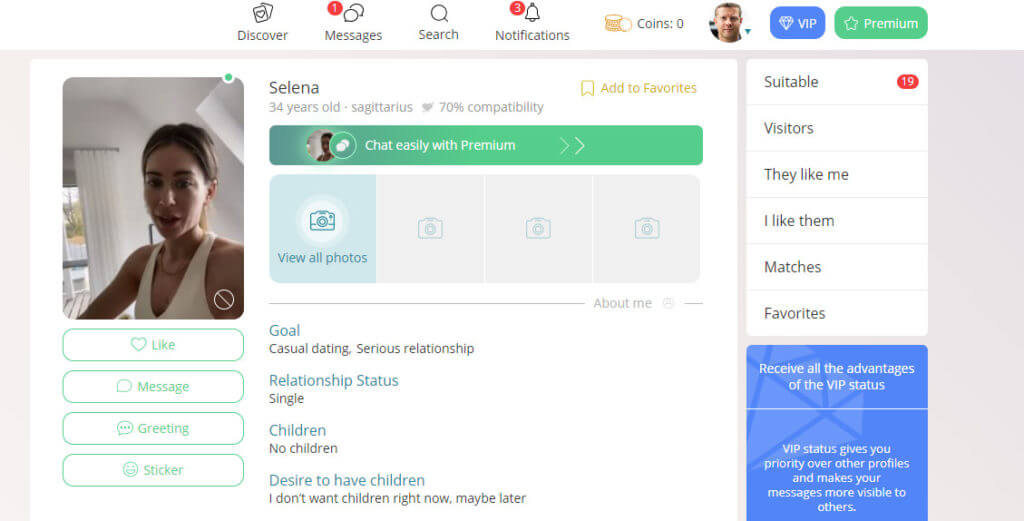 Conclusion and Overall Rating
Thanks for taking the time to read our OneAmour.com review.
Let's quickly summarize what it revealed about this dating service.
OneAmour has a lot going for it.
A growing user base, super simple to use and useful key features give this online dating site a solid foundation from which to carry on growing from.
To date, around 4 million users have signed up for a profile on the site but currently, not many of those are from the United States.
If that's where you are based, I'd say try to register for a profile on the site and see what comes up in terms of matchups.
These are presented to you by the site, so if someone is near your location, you'd get a chance to see what they have to offer.
You can search further afield too, even as a regular user.
Just remember, communication is going to be impossible without membership and that's if you prefer a month-to-month membership, well it's not that cheap.
But you can trial the site for three days for just $3 which will help you decide if OneAmour is the place to find the type of relationship you are looking for.
To conclude OneAmour gets a solid 3.3 out of 5 as an overall rating.
The Onlineforlove team tested and studied the OneAmour dating site over several weeks.
Our approach this testing period involved giving an overall star rating after studying the critical criteria compared to other online dating websites we have reviewed.
Our final evaluation was then based on these factors: how much membership cost, ease of use, what features the site includes, how many users it has, and its overall effectiveness in finding matchups.