If you've always been thinking that the right time to be someone's Valentine is just in February, then, you're wrong.
Every time is the right time for love. Valentime.com online dating site offers you a dating experience 365 days a year.
Stay tuned and find out more about this dating website throughout this Valentime review. The goal is to match people online and offline informally and casually at the same time.
Our review of the Valentime.com dating site will look into:
OFL Top Recommendations based on 100,000+ Survey

"Serious Relationships"
"Discreet Hookups"
"Best Course for Men"
"Quick Flings"
"Normal Hookups"
"Our Quiz"
Is your dating app giving you the best chance for success?
Make sure to take our online dating site/app quiz to find out.
It's a fact that people who follow our dating site suggestions have on average 2 extra dates per month.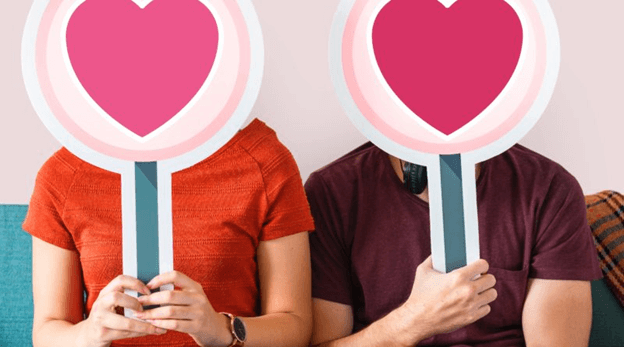 Effectiveness 3/5
Features 3/5
Ease of use 3/5
Pricing 2/5
ID verification process
LGBT community is welcomed
An international online dating site
Many active members
The Valentime dating site Demographic Makeup/ Who is it for
Valentime.com is one of the most popular international dating websites for all single people who are looking for a long-term relationship, true love, and marriages (like eHarmony or Tinder). If you are interested in hookups you should check other websites (like BeNaughty or Ashley Madison).
The site is a part of Cellar Door Limited company, and it is a sister online dating site with other online dating sites like Victoria Hearts and Romance Tale love dating sites.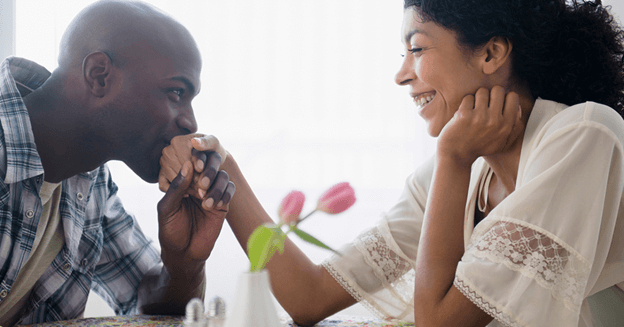 There are many active members from all over the world, but they mostly come from Australia, the UK, and the States, but also Ukraine and Russia.
This dating platform counts 80% of the male population, and eastern Europeans break all the Valentime's limits.
There are many Russian and Caucasian members who are from 24 to 54 years old. The Valentime's male population is usually older than its female population.
Girls and women are younger, and they also come from eastern Europe.
It is well-known fact that Slavic women are very beautiful women, and that they are coming in a package as mail-order brides.
OFL Top Recommendations based on 100,000+ Survey

"Serious Relationships"
"Discreet Hookups"
"Best Course for Men"
"Quick Flings"
"Normal Hookups"
"Our Quiz"
But, hey, you don't have to worry about your bad Russian or Ukrainian language because, actually, many of those pretty Slavic ladies can speak and use English flawlessly.
However, if you are among young adults, then, maybe, this site isn't the best option for you because active members are 54 plus.
This online dating site can help you to find your potential matches who are interested in marriages, but in occasional hookups, too.
Many single parents are searching for a serious relationship or one without any commitment.
The LGBT population is very welcomed and the Valentime's dating service is open-minded in every possible way.
Valentime.com Design and Functionality
The site's design is very attractive and unique. It is one of the sites where your navigation is so smooth and easy.
An interesting fact is that this online dating platform uses lots of different colors that show different actions.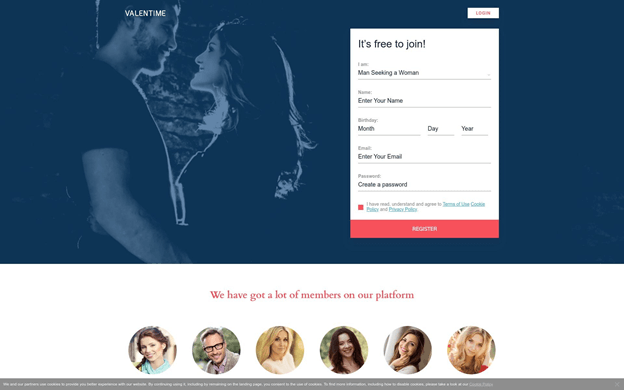 The orange color is for paid memberships and payment options. Green is for all active members who are using the site at the moment or for new members. Red is for all kinds of alerts and notifications. And, finally, its white and blue colors are the site's personal mark.
Toolbars are very easy to find, and they are well-organized. Once in a while, you can notice some ads that represent the Valentime sisters' online dating websites. But, they are not that boring, so there is nothing to worry about.
Valentime.com Ease-of-Use
Using the Valentime online dating site is a piece of cake. It is too easy and practical that there is no place for mistakes.
Look at the Valentime ease-of-use step by step in next sections, and find the easiest way to become a Valentime active member in no time.
The signing up process is a little bit exhausting because it lasts approximately more than 10 minutes. After all, there is a questionnaire that you cannot skip.
Unfortunately, there is no Facebook easy-way registration, and ID verification is necessary.
If you want to finish successfully your registration process follow these three main steps, and join the site today.
The very first step is to complete the signing-up application form. You have to type your gender, birth date, username, valid email address, password, and of course, gender that you are really interested in.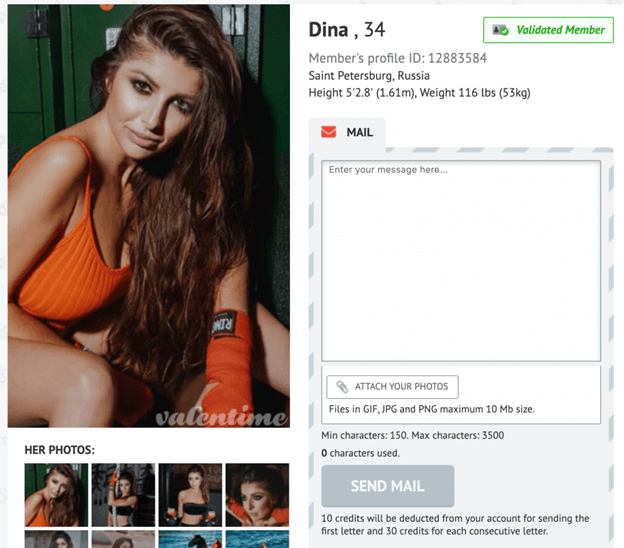 The second step leads us to a section called the About my date section. In this section, you have to describe your perfect partner. It would be great to write ideal age, look, parental and emotional status.
The last, but not the least important is the About me section. This section is very popular on online dating platforms, and in this section, you should describe yourself, reveal some details from your life, and label the most important ones.
Spice this section with some hot, sexy, and interesting profile pictures.
After you finish all these crucial steps, a link will be sent, and you just have to click the quick confirmation button to complete your registration. Your Valentime account has been created.
The rest is the Valentime online dating site job. Sit down and prepare for your perfect matches.
Making contact on the Valentime online dating site is easy thanks to different communication features. Some of those features are free to use, but some are just for paid members.
Communication features that Valentime offers for free are free registration, search filters, likes, winks, and the section My Favorite List.
When you register for the first time you always get 20 credits for free to use to upgrade your Valentime account.
Although it seems that 20 credits would be enough to continue your matching adventure, it never is. When you spend your first free credit, you have to recharge your account by buying more credits.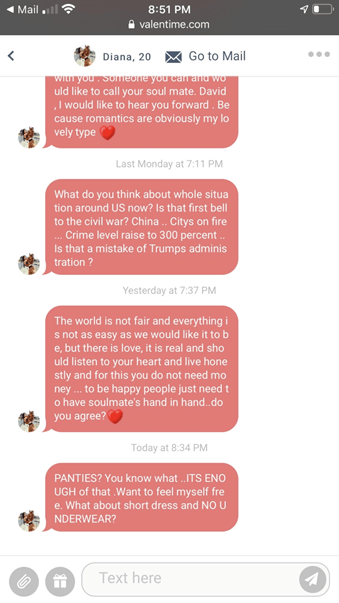 Unfortunately, messaging and chatting with other users are for paid members only, so do not have a snake in your pocket. Open your wallet and start enjoying your online ride.
You can communicate with other members using features such as likes, winks, gifts and flowers, faces, stickers, live chats, emails, contact, and meeting requests.
More details about these popular features can be read in one of the sections below.
To create a high-quality Valentime profile, there are a few things you have to know before you complete your profile.
When you finish the registration process go to profile settings. Click on additional info, and fill all the gaps that are required.
Describe yourself in a few sentences in the About Me section. Write all the things you've ever considered important that can reveal your true personality and all your interests.
Profile photos are always full-sized pictures and they represent the proper quality of profiles.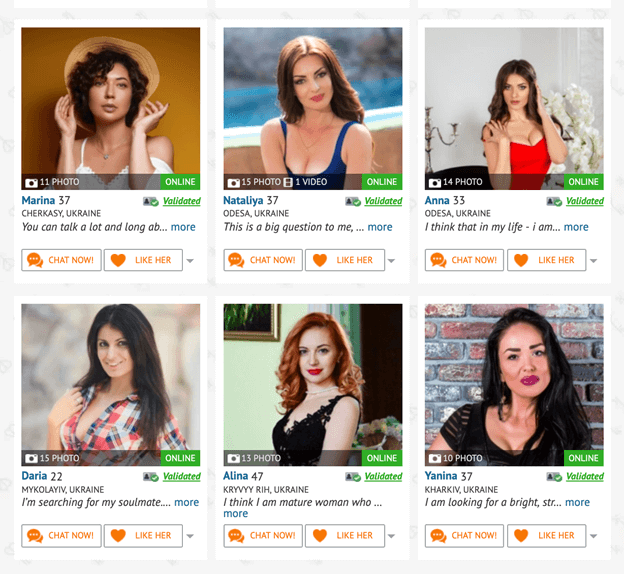 There is also a possibility to create your own private gallery where other members can see many other pictures. The only catch is that a member who wants to see them has to send you a message. And sending messages is reserved for premium users. Premium members can upload videos and watch other users' videos, too.
However, very detailed profiles, names, and locations can be easily seen, and it is free.
At the end of the day, you have to pass an ID verification process, and you can become a legit member of this dating platform.
Verified members always get some kind of mark that will help you to recognize fake profiles of real ones.
Each verified user has got a badge on the profile picture.
Although the Valentime.com support team has been trying to avoid scammers and fake profiles for a long time, there are some fake accounts on the platform.
There are a lot of fake profiles that use the same name and picture.
The Valentime online dating team takes seriously online matching. All features, paid or free, are based on interaction among their members and members' necessities.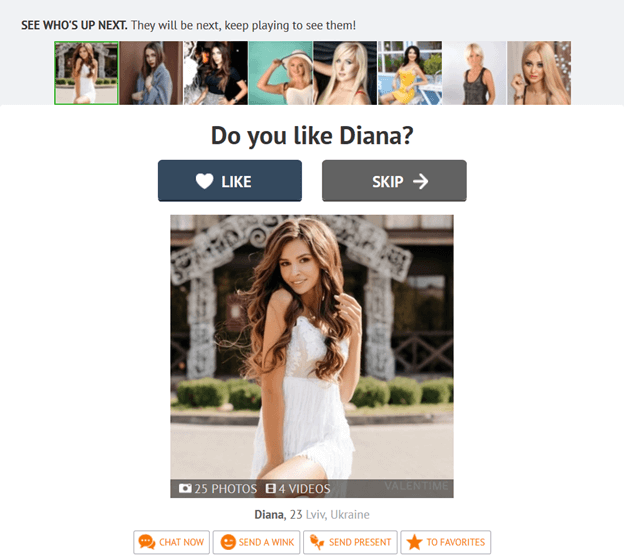 Some of the features are available for free and here is the list of features that all members can use all day long, without any restrictions.
Give some likes every time when you like a member's profile. Show that you care, and that you are interested in something more than just a simple crush.
Send an innocent wink when you want to intrigue a Valentime user. It works every single time.
This feature can be compared to Tinder's swipe feature. Swiping made a big revolution in the online dating world, and it deserves the best place among all other online dating features.
Faces allow you to take a quick look at other Valentime users scrolling down through the browser. Using this feature you will be able to see full and detailed profiles, names, and locations that you are interested in. There is a messaging option that you can use, but only as a paid member.
One of the features that is also extremely popular on online dating sites.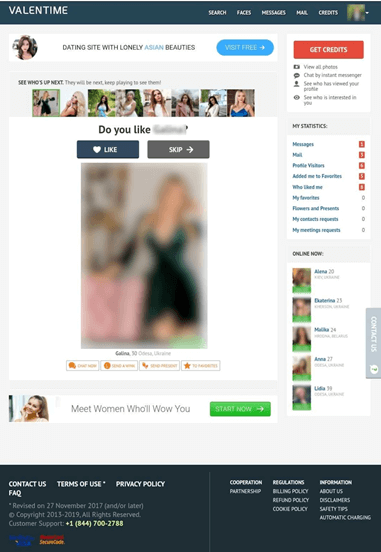 Make a list of your favorite matches, and contact them at any time.
This feature isn't one of many virtual options that you can use. It is quite the opposite.
The Valentime.com providers made this special opportunity just for Valentime's users. On the site, there is a catalog that offers many interesting gift ideas and crafts that you can send directly to a girl next door.
Search for Flowers and Gifts button on your profile. When you click the button it will automatically show you all gift offers from their lover catalog.
Pay attention to delivery charges because they are not included in gift offers.
Other Special Features that Valentime.com offers
As a free member you won't be able to send any messages to your favorite matches.
Start live chat with your perfect match, and learn more about hidden desires and wishes.
You want to place yourself on the top of the best active members on the Valentime online dating site? Okay, then! Just upload your profile video, and magic can begin.
Watch and like videos that other members are uploaded. Make an interaction and send your Cupid flesh.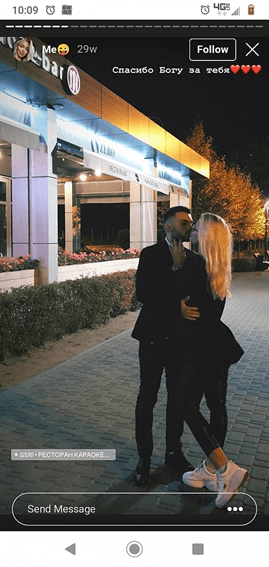 This feature can be very useful in situations when your match or any other user that you are interested in is offline.
You can send a message, and it will be placed in a user's inbox where your matchy-match can read it later and respond to it.
6. Contact Request feature
The last two features are based on making contacts in the real world, far away from virtual kinky eyes.
Thanks to this feature you can share your further contact with a member you are matched to. You can share other social media accounts, phone numbers, and addresses.
The only condition is that a request must be mutual. Otherwise, you spend your credits, and it is just a waste of time and money.
7. Meeting Request feature
Similar to the previous features, this feature helps you to go out of your safe box, and start real offline dating.
You can ask your match to go out to a nice, romantic restaurant, to watch a movie, or drink some great cocktails at a bar downtown.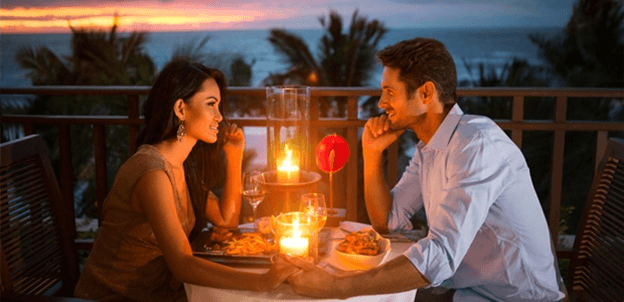 This request has to be volunteer and mutual, too, as the previous one.
The newest feature that Valentime.com prepared just for you
Well, girls, boys, and toys, the Valentime online dating site proudly represents its newest feature, the Automatic Top-up Feature.
This new feature is like your personal charge tool. It charges automatically your credit, but only when you are on five credits.
The Valentime team prepared some credit packages that you can use if you want to upgrade your online and offline love relationship.
Some of the basic features are free to use, the others aren't. You have to become a premium member to start using them in no time.
Look at the list of free features that you can use whenever you want.
registration process
creating your profile account
searching and digging through other members' detailed profiles
searching options
likes
winks
My Favorite list feature
Faces feature
Here is the list of all those features and options that you can use as a premium member.
chat options
Mail feature
Flowers and Gifts feature
Gallery feature
live chats
video chats
uploading videos
watching uploaded videos
profile viewers
Credit packages on the Valentime online dating website represent your currency that you can spend the best you think you can.
There are credit packages from 40 credits to 750 credits.
Prices are a little bit higher than on other online dating sites that are based on spending some credits on different features, and for a different purpose.
A credit package can go from 9.99 USD to 149.99 USD, and it all depends on a chosen credit package.
Payment options are pretty much the same as on any other dating site. You can buy your credit package using your credit card or your PayPal account.
How to spend your credit package example
Spending your credit package has to be wise and brave. Continue reading this dating site review, and find out more about how to spend your credit package.
1. Interaction and communication
Flowers and Gifts feature – 100 credits per gift
Meeting request feature – 625 credits per meeting
Contact request – 3.000 credits per a contact
leave a comment – 2 credits per a comment
view a video – 25 credits
upload a video – 100 credits
5 credits per sticker
10 credits per photo
50 credits per video
send an email – 10 credits
send an emailed photo – 10 credits
send an emailed video – 50 credits
Valentime.com Overall Rating
Because this is one expensive site in the online dating world, and because that online dating world has to recharge constantly, the overall rating will be 2,75/5.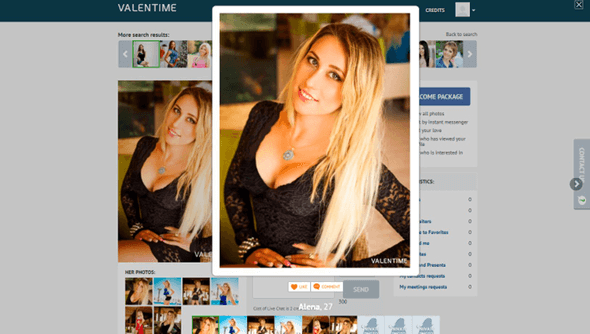 Plus, many active male members are over 55, and there isn't enough fresh fish in this sea. But, hey, that is just another subjective perspective.
We sincerely hope that this Valentin Valentime.com online dating review melted your heart and that you are prepared for new love adventures and new turbulence in your life.
Open your heart to the Valentime community, and feel butterflies in your stomach.
Valentime.com Usability and Security
Valentime.com Payment Options