Fruzo is a dating website that helps connect people from different parts of the world by connecting them through video chats.
This online dating platform is similar to most social networks you can find these days, and its main goal is to connect with like-minded people and help them engage in interesting conversations and relationships.
In case you are someone who loves video chatting but couldn't manage to find a dating app that offers this feature, then Fruzo is definitely a great option for you.
During this review, we will evaluate the following:
OFL Top Recommendations based on 100,000+ Survey

"Serious Relationships"
"Discreet Hookups"
"Best Course for Men"
"Quick Flings"
"Normal Hookups"
"Our Quiz"
Is your dating app giving you the best chance for success?
Make sure to take our online dating site/app quiz to find out.
It's a fact that people who follow our dating site suggestions have on average 2 extra dates per month.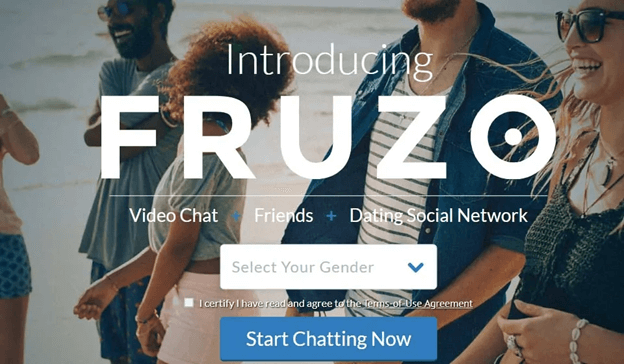 Effectiveness 3/5
Features 2/5
Ease of use 4/5
Pricing 2/5
Free 30-day trial
Video chats
​Private messages can be sent to everyone
You can create your own friends' list
Similar to most social media
Easy registration
Affordable membership
No scammers
Bad video quality
The mobile app tends to crash down
Most users are located in very big countries
The support team tends not to respond to messages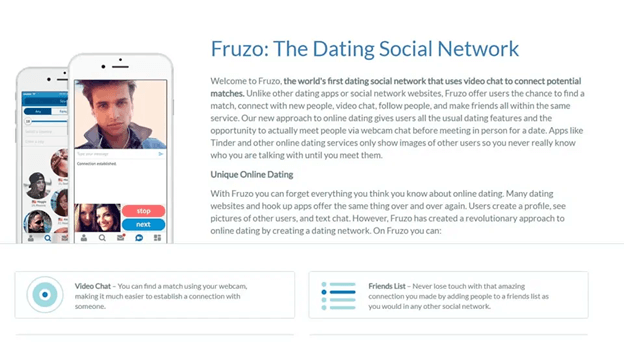 Fruzo is a dating site that was created a few years ago, but somehow it didn't manage to gather a significant number of users until last year.
Since its focus is on video chatting, Fruzo members are usually younger people fond of technology and know-how to use it in their advance.
This dating platform has over 3 million registered users, and over a million of them are active on a weekly basis, so we can say it is a pretty popular platform.
45% of Fruzo users are women, while the rest of them are men, and they are usually somewhere between 24 to 37 years old.
There are also a lot of teenagers on this platform, but it seems like most of them have registered to engage in interesting conversations and not to seek a relationship of any sort.
Statistics say that over 60% of users are looking for a serious long-term relationship (like Tinder or eHarmony), which is usually a more mature audience.
Users that are under 27 years old are usually here to look for new friends or casual hookups (like BeNaughty or Ashley Madison), but there are some exceptions, of course.
OFL Top Recommendations based on 100,000+ Survey

"Serious Relationships"
"Discreet Hookups"
"Best Course for Men"
"Quick Flings"
"Normal Hookups"
"Our Quiz"
This platform is open for people of all sexual orientations, so you can feel free to join and start the search for your preferred gender.
Around 40% of users live in the USA or in the UK, while 7% more people live in Italy or Germany.
However, the Fruzo app has a lot of active users throughout the whole world, so you will definitely be able to find some people living in your close surroundings too.
The reply rate is pretty high, so even if you don't manage to find the perfect partner, you will definitely make some great new friends.
When it comes to design and functionality, we can say that Fruzo has a pretty good design and that it everyone can use it with ease.
The website is very neat, and it is enriched with blue color, so you won't have to struggle too much to find the settings or other features.
After they register, everyone will be greeted with a thorough description of how to use the platform and access different settings, so it is definitely user-friendly, and even the oldest users will be able to navigate through it without problems.
However, every time you open your homepage, you will be asked whether you want to see their site guide, and in case you are struggling with something on this dating service, this short guide will definitely be able to solve it.
The menus are very simple, and you will be able to access your preferred tab immediately, just by clicking on its name.
All of the images on the platform are also of a decent size so that you won't feel like someone's face is taking up your whole screen without reason.
The search option will be located at the center of your screen, whether you are using an app or a website, so you will be able to look for your significant other easily.
You can also count on many filters that will be shown to you the moment you open the search tab, which is also great.
The most important thing you need in order to use this dating platform is a webcam, and you will also be taken through the whole connection process on your Fruzo account.
Fruzo app is also very easy to use and navigate through, but users complain that it tends to have some bugs from time to time, so your dating experience may not be the best every time you use it.
Ease of Use (Mobile and Desktop version)
Creating a profile and starting to use all the Fruzo features can sometimes seem complicated, even though its design is pretty simple.
For that reason, we have decided to guide you through every single feature carefully there is on this platform and make your dating experience a lot easier.
While the registration process is very easy, it requires something not all users are fond of, and that is registering through your Facebook account.
If you have a Facebook profile with hundreds of friends, relatives, and co-workers, you might be embarrassed or scared to connect it to Fruzo.
This type of registration was created in order to make the whole process a lot easier and shorter since many people tend to give up from joining the social network when they see they have to fill out dozens of brackets.
However, once you have signed up, you can change all the information and pictures on your Fruzo profile, so it might not be that bad as it seems.
If you really don't want your friends and relatives to know you are using Fruzo for dating and social networking, you can always create a fake Facebook profile and register through it.
Even though Fruzo is a great dating site, the quality of profiles on this platform is not really the best, and you will not be able to find out too much information about someone before you engage in a conversation with them.
The only information other people will be able to get from your profile is your relationship status, sexual orientation, age, gender, and location.
You don't really have space where you will be able to talk about your likes and interests or to describe your perfect partner, which is, in my opinion, pretty lame for a dating network like this one.
Fruzo also allows you to create a profile as a couple, so you can see a lot of joint profiles of people who are usually looking for a new friend.
Since many people of different sexual orientations are on this online dating site, it can be a great way to connect people from the same community and area.
Every member is allowed to post unlimited pictures to their profile, and that's a great feature because it will make a profile look way more realistic.
Connecting with other users
Even though it is a website that guarantees you face-to-face contact with other users and allows you to use a webcam, most people on Fruzo connect through their chat option.
You can enter the chat and start the talk with a random person or someone you have sent a message request to.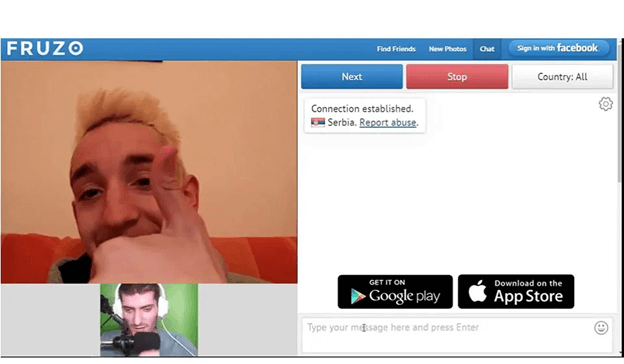 All registered users are allowed to send private messages to other people on the platform without any obstacles.
Everyone is able to connect with everyone, just like on most social media, so you definitely won't have a problem with finding someone to talk to.
Once the two of you have established some type of connection, you can engage in a video chat and continue your internet friendship.
You can also open the video chat option, which is similar to the Chatroulette one, and connect with a random person who is up for a video call too.
However, some people can choose a setting that they can't participate in a video chat unless it is with someone from their friend's list, so you might not be able to connect with absolutely everyone, at least not in this way.
There is no poking, liking, or anything else on this platform – you will send a message or video call request to someone, and they will agree on it or decline your offer.
You can also start following someone on Fruzo, and this will allow you to keep in touch with all the photos they post and different chat rooms they have opened, but also to see whether they are online or not.
Everyone will allow you to follow them, and this is a great way to initiate a conversation, in my opinion.
Unfortunately, neither the Fruzo app nor the website has any special features they can provide their users with. They are basically sticking with their video chat option as the best thing they have to offer.
However, there are some honorable mentions and things that make Fruzo more special than dating platforms like Tinder or Bumble.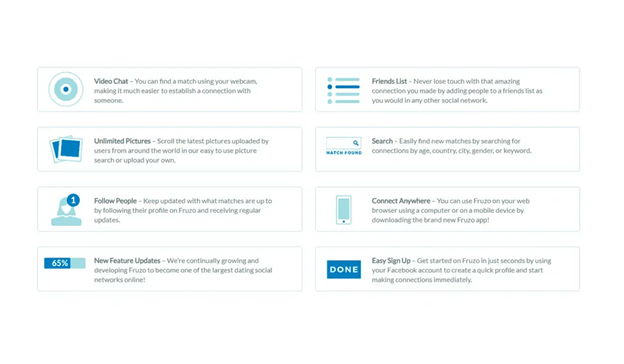 As we have already mentioned, video chat is what Fruzo is actually known for, and their random video chat is the best feature for face-to-face dating online.
You can engage in a video chat with basically anyone on the platform, and you can be sure there will be hundreds of different people who are eager to participate in this.
Your friend's list feature works pretty much the same s this same feature on Facebook or Instagram.
By following or befriending someone, you will be able to see all of their posts and keep up with chatrooms or forums they open on the Fruzo app, but also get permission to participate in them.
The Fruzo mobile app can be downloaded both to Apple and Android devices free of any charge.
Every iOs and Android mobile phone can open the app and utilize all of its features, but users complain that sometimes they experience difficulties with their mobile application.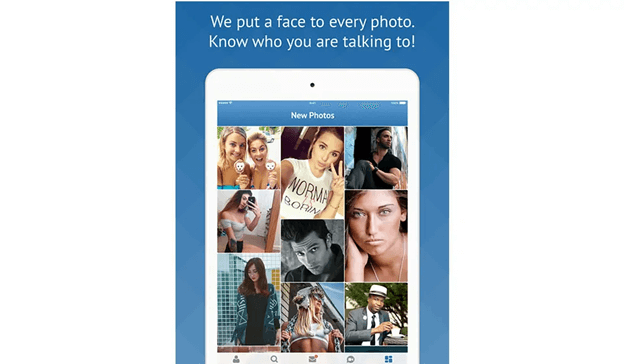 It tends to slow down or completely crash from time to time, which can become a very big problem if you are in a middle of a video chat with someone.
However, the app is also pretty neat and easy to use, just like the Fruzo website, so you definitely won't have any problems when navigating through it or updating your profile.
It is also a lot easier to use the video chat through the app, and mobile cameras are usually a lot better than regular webcams, so many people still opt for the app.
You will also receive notifications when someone starts a chat or sends you a friend request, making finding potential matches a lot faster.
When it comes to pricing, we can say that Fruzo is a pretty generous dating platform because it provides everyone with a 30-day free trial period.
During this time, you will be allowed to use all the features and options this platform has to offer, and you will also be able to connect with other users and engage in video chats.
After your trial is over, you will have to decide and see whether you will pay for a Fruzo subscription and continue to use the platform or switch to another dating website.
You can choose whether you want to pay for your subscription weekly, monthly, or you want to pay for it for 3 months upfront.
One week at Fruzo will cost you 11.99 dollars, while a whole month on the platform will be 29.99 dollars.
On the other hand, you can save up a lot of money and purchase a 3-month membership that is 49.99 dollars.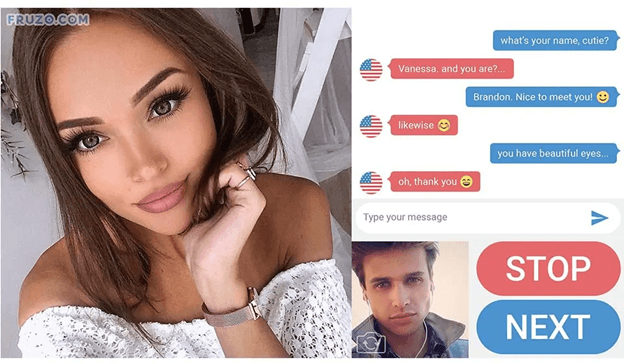 All subscriptions on the website are renewed automatically, so you will have to contact customer support if you want to leave this dating platform.
You can choose whether you will pay for the subscription through some of the mobile banking apps or through your credit card account.
There is no premium membership of any sort, and all users will have access to the same features and possibilities on this dating platform.
However, people who are loyal, long-term users may get a discount of some kind, so after some time, you will definitely be offered a lower membership price or maybe a free membership for one month.
They really take care of their users and try to do their best in order to keep them on this dating platform.
As you could conclude from our Fruzo review, this is a great dating website that provides its users with some of the features you can't find on other dating platforms.
This is a unique dating platform that allows you to engage in a cam chat with anyone who is online and establish valuable friendships and relationships through it.
It is very popular and has millions of users throughout the world, so you can count on Fruzo no matter your location.
Their chat random feature sets them apart from other online dating sites, and I would recommend it to anyone, especially to the younger audience.
We hope you have been able to find all the valuable information in our Fruzo dating review and that you will consider creating a profile on this amazing website.
The number of Fruzo users has been rising from day to day, and this is definitely a platform that has a future, so create your profile as soon as you can!