You just have to love the internet, right?
In the online dating community, it's practically got a dating app for just about every dating niche you can think of.
Today, we specifically going to look at a dating service for those living with the herpes simplex virus.
Not only is this a serious disease to live with but it can make those who suffer from it steer clear of online dating sites such as Tinder due to the stigma attached to it.
OFL Top Recommendations based on 100,000+ Survey

"Serious Relationships"
"Discreet Hookups"
"Best Course for Men"
"Quick Flings"
"Normal Hookups"
"Our Quiz"
Luckily, there are several herpes dating websites online, for example, HSV Singles, Positive Singles, and our site for this review, MPWH.com.
You will find people here with both genital herpes & oral herpes.
During our review, we will fully assess and evaluate the site by looking at the following:
We've gathered all the information you need to know about MPWH dating and will highlight all the key points regarding the site, including those things they got right and those they got wrong.
So let's get the ball rolling then.
Is your dating app giving you the best chance for success?
Make sure to take our online dating site/app quiz to find out.
It's a fact that people who follow our dating site suggestions have on average 2 extra dates per month.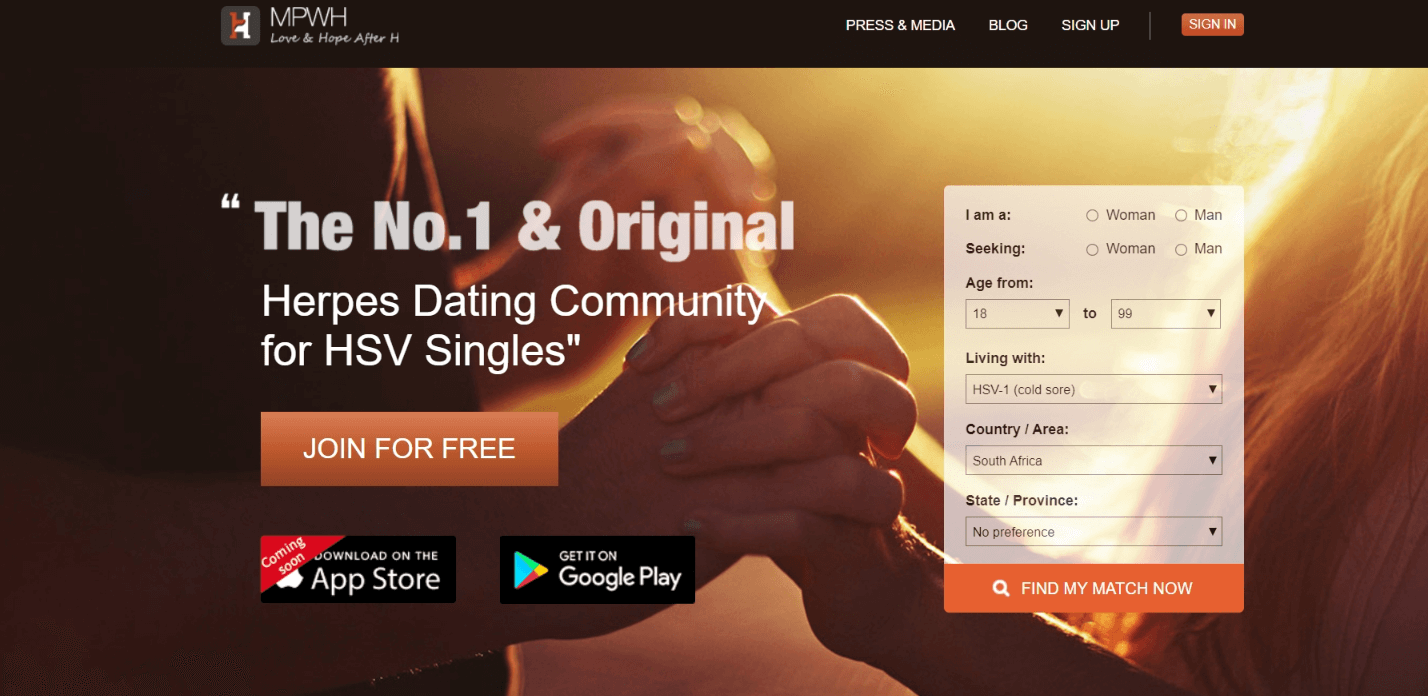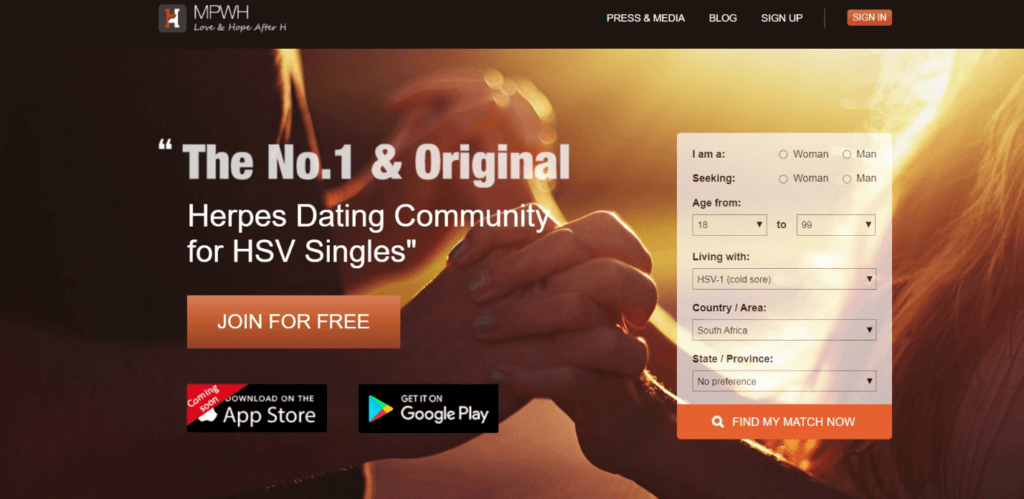 Ease of use – 4/5
Success rate – 3/5
Key features –5/5
Price – 4/5
Well designed website
Excellent search options
Lots of key features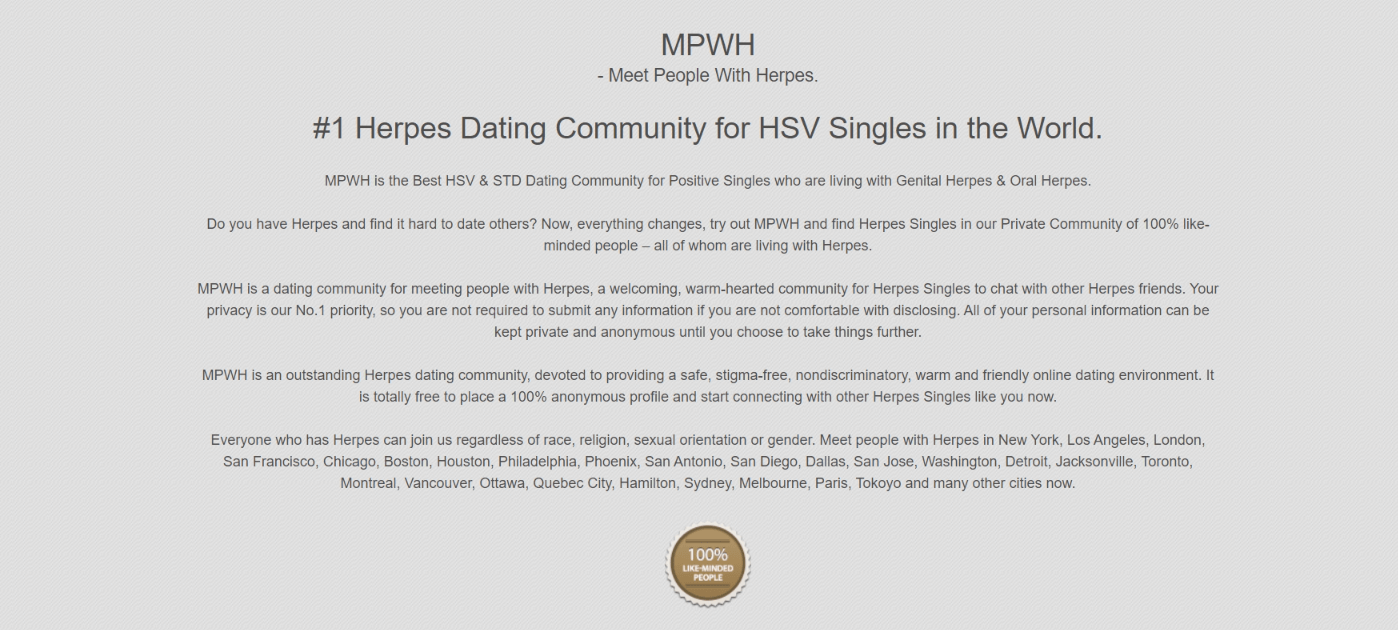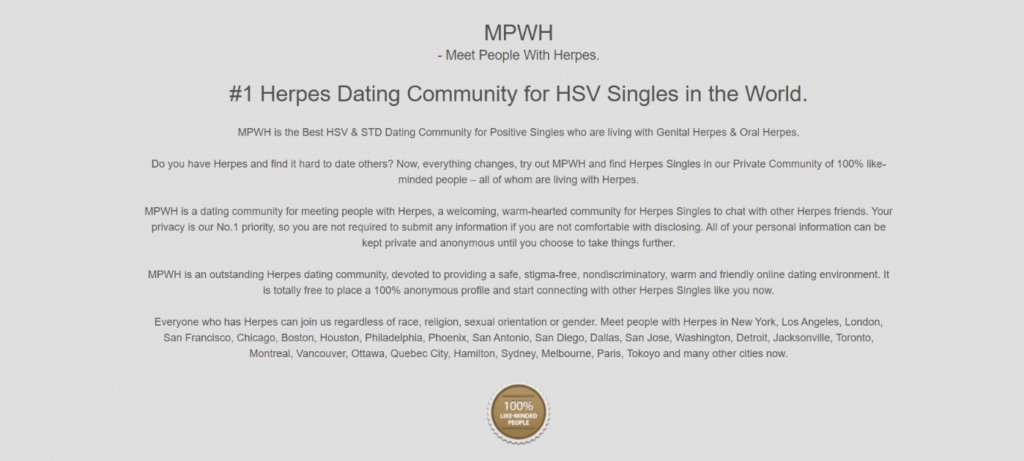 Who's It For/Demographics
Well, we know who MPWH is for.
If you have HSV-1 or HSV-2 herpes as either an STD or a cold sore, you are welcome to register on this site.
OFL Top Recommendations based on 100,000+ Survey

"Serious Relationships"
"Discreet Hookups"
"Best Course for Men"
"Quick Flings"
"Normal Hookups"
"Our Quiz"
Of course, this is as niche as a niche dating site can be, so there are never going to be millions and millions of members.
In fact, I couldn't find an overall figure, but I guess that the United States would contribute the most users to the site.
And there are close to 200000 Americans that have signed up for profiles here.
Many of the users here are looking for long-term relationships but you will also find those looking to make new friends (like eHarmony or Tinder). Rare are those who are interested in casual hookups (like BeNaughty or Ashley Madison).
Gender ratio and user age breakdown
Looking at the gender ratio breakdown on the site, we see that it has more male users than female users.
And the ratio is quite far apart with:
62% of all profiles started by males
38% of all profiles started by females
It's almost 2-1 in fact.
That's not too much of major concern.
All it means is that women have more choice with potential singles than men.
25% of all users are between the ages of 25 and 34 and this is the biggest group on the site.
The smallest are the 18-24-year-olds and 35 to 44-year-olds, both contributing 17% to the user numbers.
But users are spread across all age groups as signified below:
25-34 years old: 25% of all users of which 15% are male and 10% female
35-44 years old: 22% of all users of which 13% are male and 9% female
55 and older: 19% of all users of which 12% are male and 7% female
18-24 years old: 17% of all users of which 11% are male and 6% female
45-54 years old: 17% of all users of which 12% are male and 5% female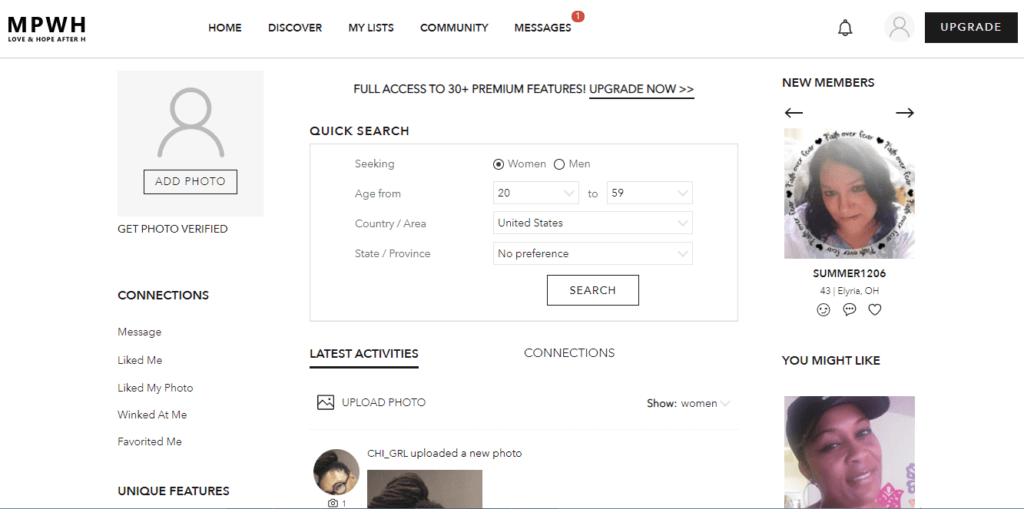 Those behind the site are quite proud of what it has achieved and have shared success stories on its landing page along with dating sites reviews.
I also like the fact that they've included dating safety tips for you to read through before you register your profile.
That indicates that the team behind the site is concerned for their users and doesn't just see it as a money-making scheme.
So if you want to sign up, you have a few options.
Head on over to www.mpwh.com if you want to register through the website, or download the MPWH Android app if you prefer to use your phone.
Currently, there is no app for IOS users.
I registered through the website and while it included filling in parts of my profile, it didn't take long at all.
The registration process includes agreeing to the MPWH service agreement, something all users have to do.
If you've dated online before you will know that online dating life starts by registering a profile on the site you've chosen.
To do that on MPWH you are going to have to provide the following information:
Gender
The gender you want to date (MPWH is LGBT friendly)
Your age
Your email address
Your first name (this won't be displayed on the site)
A username
A secure password
That's the first phase.
The second phase includes more information about you and your potential match:
The country you live in
Your zip code
Your height
Your ethnicity
Your current relationship status
What you are living with (HSV-1, HSV-2, Herpes)
A profile picture
A profile headline
An About Me section
An About Your Match section
After MPWH has sent you a verification code to your email address and your input, you can access the site.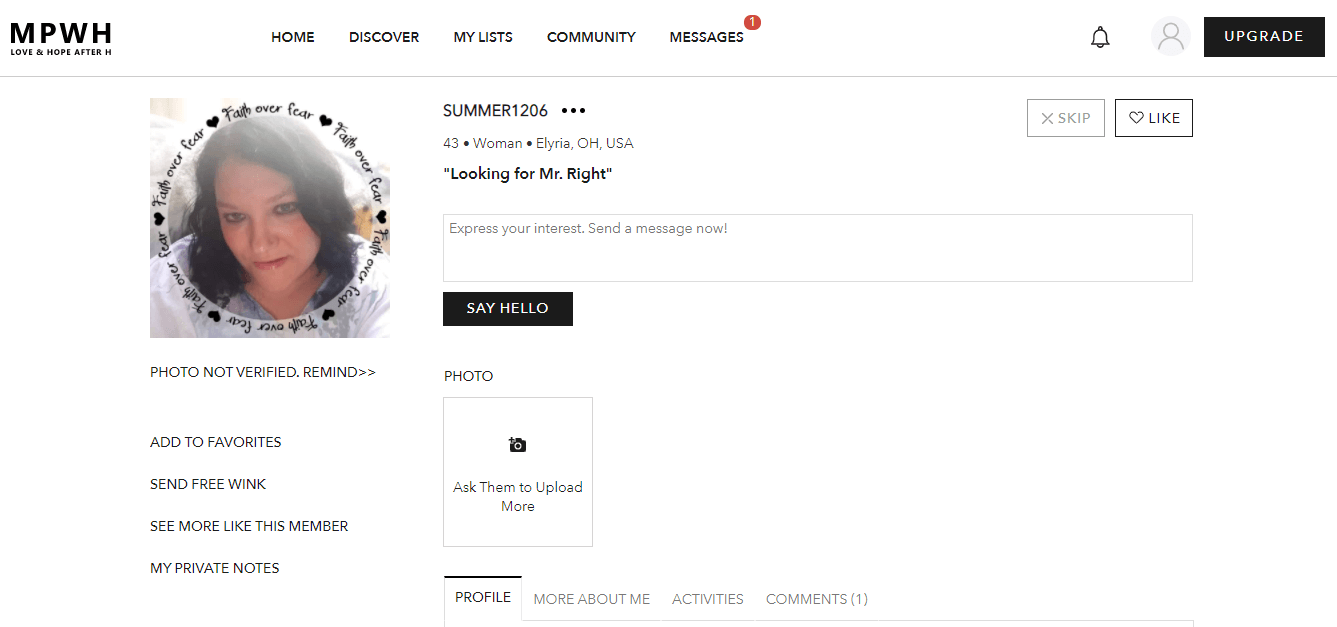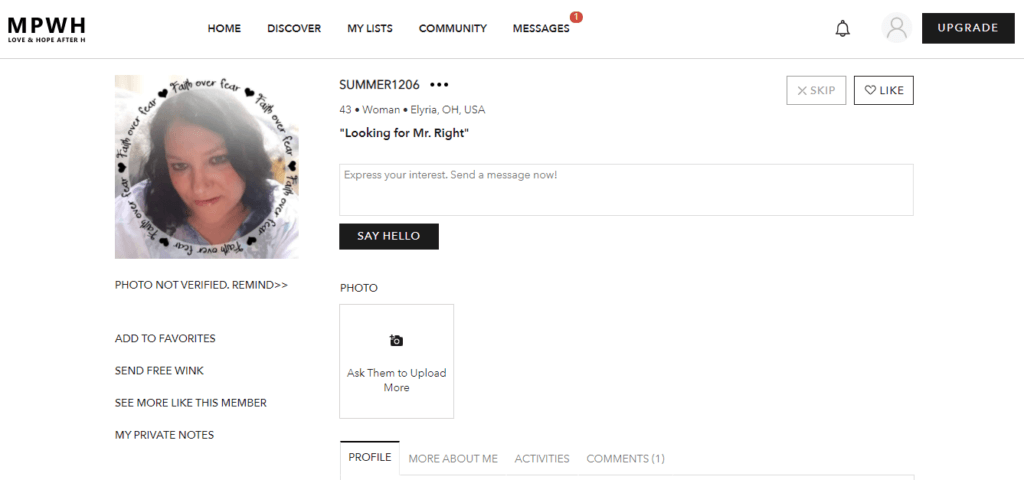 Finding your way around the site
While I found MPWH nothing special to look at – in fact, the colors are pretty drab – the site is a pleasure to use.
It's just very well thought out and has a modular design with everything in the correct place.
I enjoyed my time on the site that's to the fact that you can quickly work out where to find what you are looking for due to this clever design.
The site itself also includes some social networking elements.
By that I mean it includes a feed on the main page where you can view updates from other users and see any new pictures they've posted or someone has updated a section on their profile.
The site has three main viewing panels.
On the left, you will find access to your profile and the Connections sub-menu.
This contains quick links to the following:
Your messages
Who has liked your profile
Who has liked your photos
Who has winked at you
Who has favorited you
It's useful to have this information front and center without having to go and dig through menus to find it.
The main panel is the viewing panel.
On the home page, this is where you will find the updates of other users as I mentioned above but it also includes the Quick Search tool.
On the right-hand side viewing panel, you can see new members who have joined up as well as others the site has earmarked for you to check out under the You Might Like section.
Of course, there is a whole menu system as well by which you will navigate to other sections of the site.
These menus are found at the top of the page.
They are:
Home: By clicking here you return to the home page that I have discussed above.
Discover: Hovering over the Discover menu will show you a few sub-menus. These are all geared to help you search for a matchup. Searching by location, for new members, for reverse matches and for what type of herpes people are living with is for members only, however.
My Lists: Another menu that's packed with sub-menus. You can see who has viewed you profile, who has winked at your, your favorites, who you have liked, who has asked to view your private albums and much more.
Community: The community section includes access to a roulette-style dating game called Spark as well as user blogs and first date ideas.
Messages: All messages are found under this menu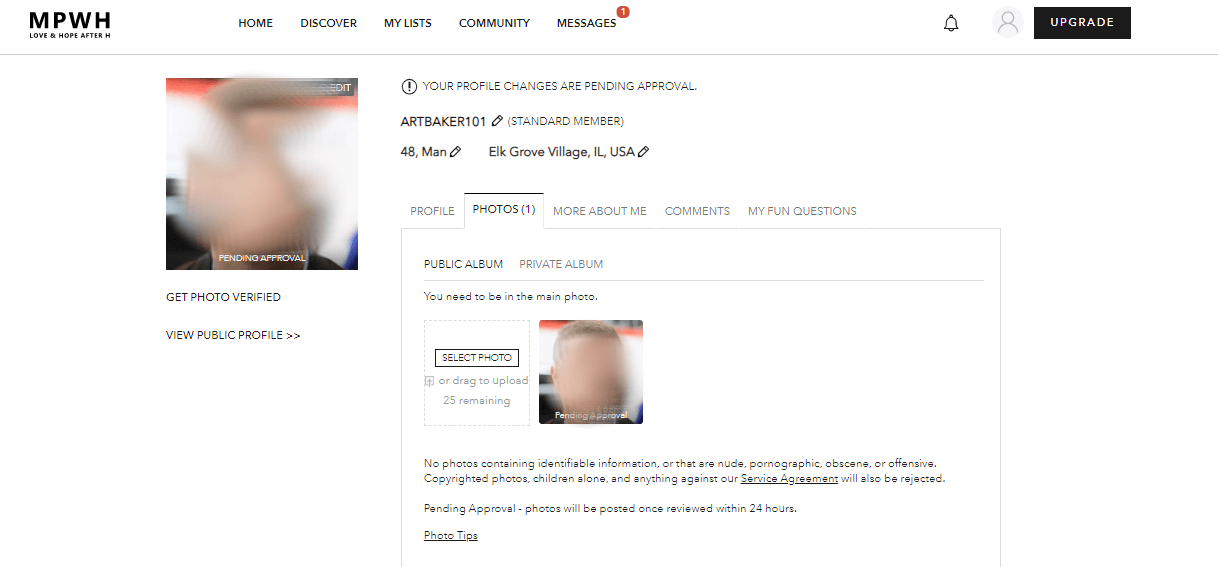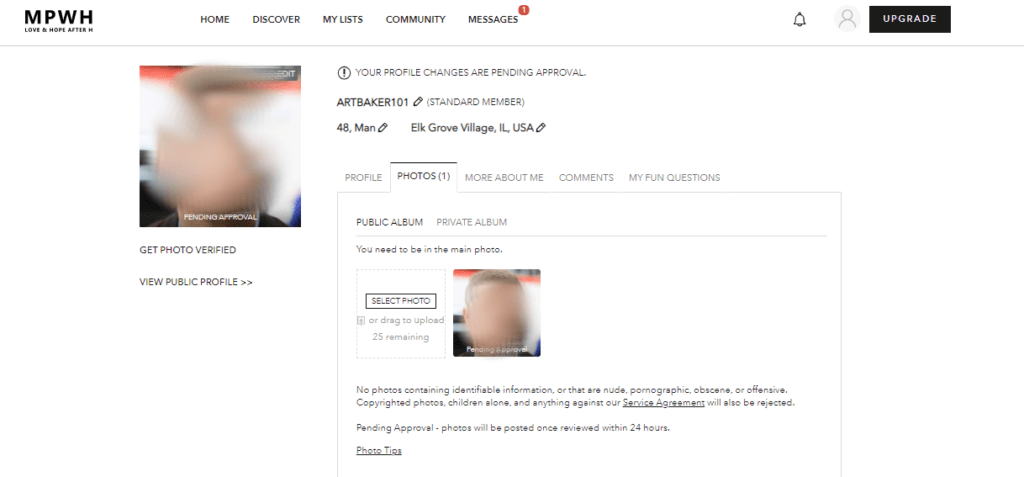 Profiles on MPWH are packed with information and on the whole, it seems like users take them really seriously by filling them out in full.
To access your profile, click on the small thumbnail of your picture on the right-hand side of the screen.
While users add some profile information during the registration process, I can clarify that there is still a lot more to do.
Profiles on this site are comprehensive and for me, that's always a very good thing.
So what's left to add.
Well, there are still some:
Appearance parameters (physical appearance, eye and hair color, body type)
Background infrmation (education, annual income, habits, if you have or want children, if you have pets)
Interests
What you are looking for in a relationship
Your distance preference when it comes ot matchups
Your star sign
What I love about this section is that you can fill in the same requirements listed above when it comes to your matchups.
Not only does this help the site provide you with more accurate matchups but people can know what you are looking for.
This is a strength of the site for me.
Finally, you can set questions on your profile for potential matches to answer.
The site suggests that these be related to your dating preferences or your outlook in life, for example.
But they could be anything, really.
For me, seeing as you want a potential matchup to answer them, they shouldn't be too intimidating.
But they also should be a way of getting information out of someone that can help you decide if you want to reach out to them.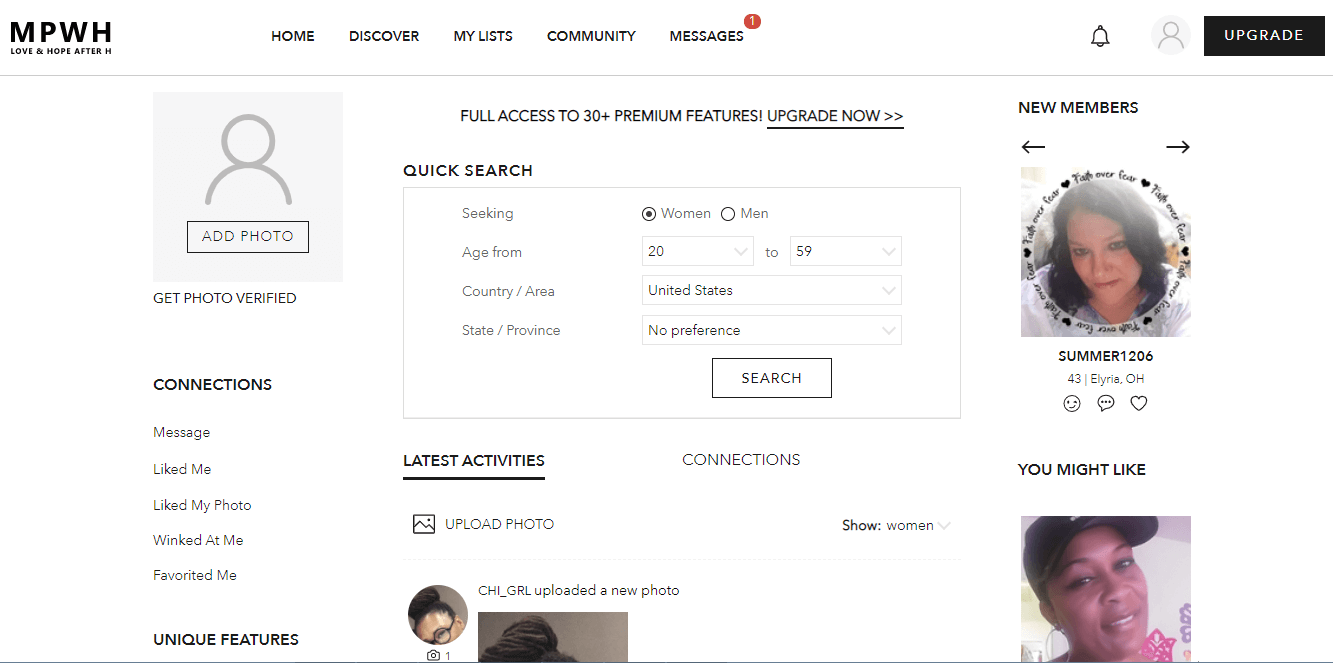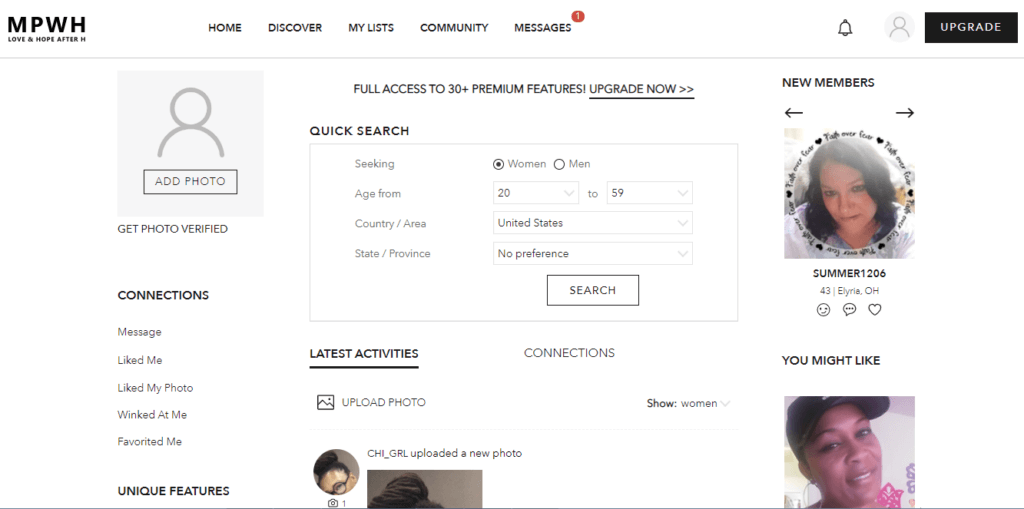 Finding the right kind of matchup on MPWH is about using all the tools the site has to offer.
And there are a few ways that you can go about it.
So let's look at all the options the site presents before we talk about searching for your own matchups.
So let's talk about the home page first.
While there are options there for you to discover a potential matchup, they are certainly a little more hit and miss than most.
For example, you could see a potential matchup by looking at the social networking feed that updates when people change their profile picture.
Or you can view the new members that join up on the site.
Of course, there is no guaranteed that these people will even be near to your location, so if you aren't wanting a long-distance relationship, this probably isn't your best bet in finding someone.
Your other option on the home page is to look through the other profiles that the site suggests.
You will find these on the right-hand side of the page under the You Might Like banner.
Searching for your own matchups
Most people are going to want to search for their own matchups too.
You can do that by using the quick search tool that you will find on the home page.
This allows you to look for others using these parameters:
Gender
Age Range
Location (both country and state)
You can then sort the order of the search returns you receive into:
Top picks
When they were last active
Age
Distance
Photo count
There is an advanced search engine as well, but that's only for people with paid membership.
And that adds the following search options:
You can search by Living With (in other words the type of herpes someone is suffering from)
You can search via location (including city, zip code)
You can search for reverse matches
You can search for new members
Your can search via key words
These are all helpful additions in helping to identify the best matchups for you.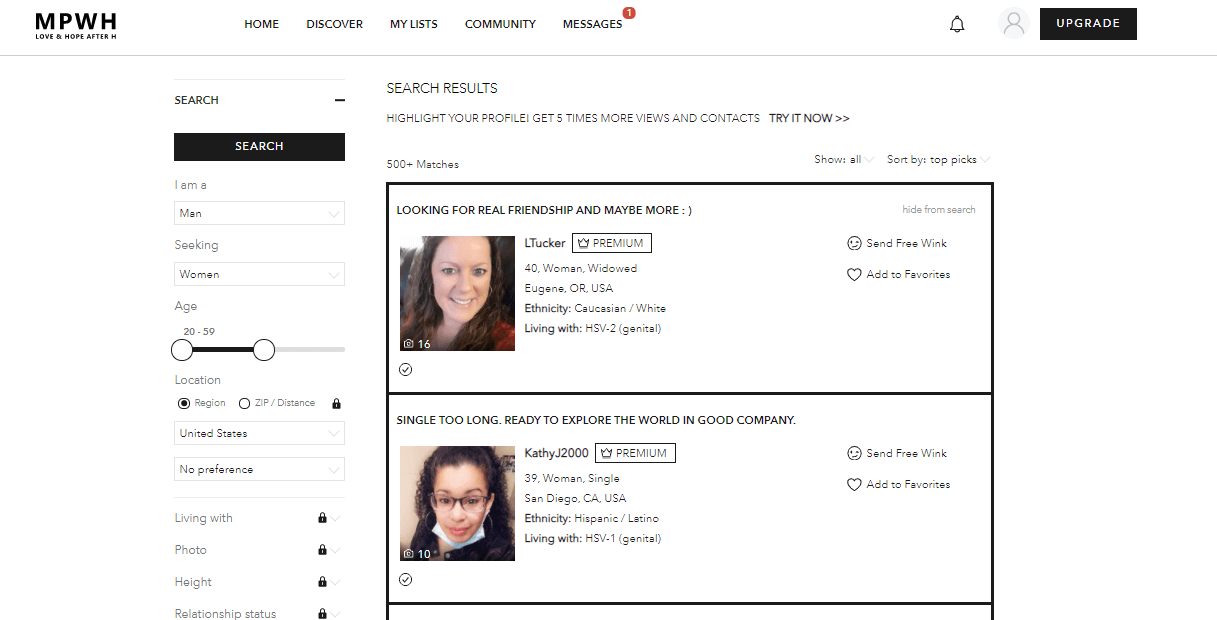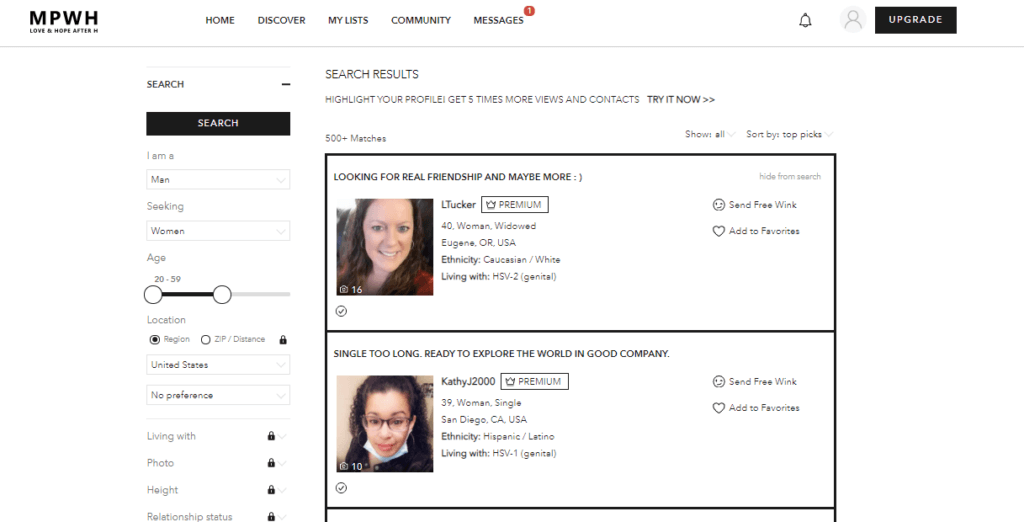 Reaching out to others on the site
Messaging on the site is restricted for regular users.
Sending one is only something that a member can do.
But there is some good news.
As a regular user, should a paid member message you, you will be able to reply to them.
So yes, if you are patient and prepared for other people to make a move and reach out to your, then you could use the website for free.
But I would suggest membership so that you not only benefit from the extended search filters but that you can be proactive and send messages to others.
Free users can also send a free wink to others.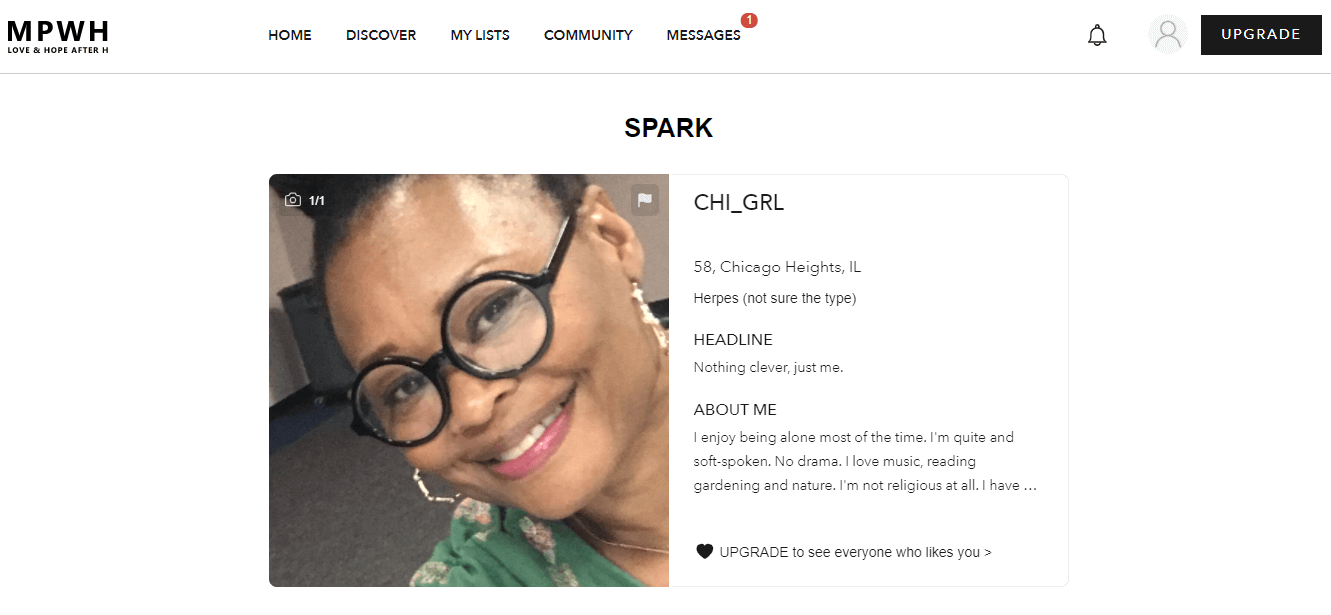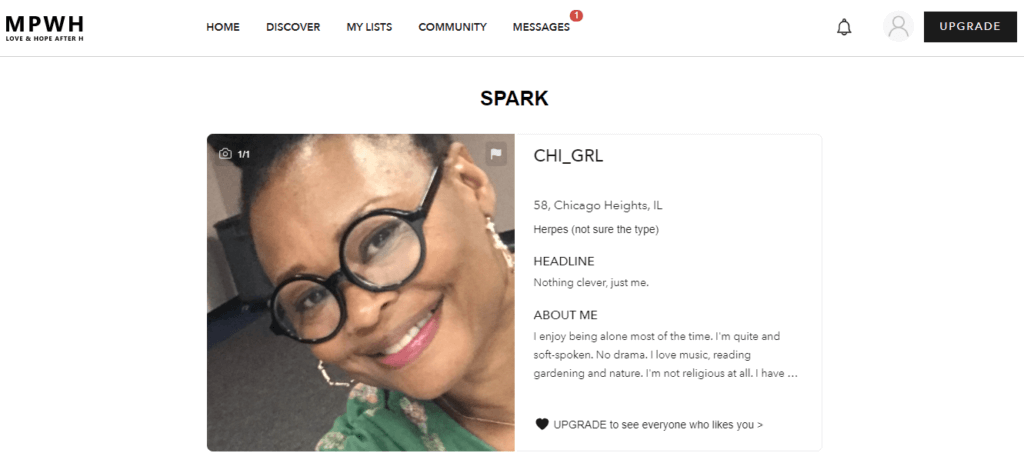 For those interested in taking out a membership, let's analyze the extras that you can expect.
We've already talked about it but without a doubt, being able to send messages is a critical part of any success you might have on a dating site.
And it's no different here.
That's because you can be proactive and reach out to others.
Better still, they don't have to be a member to reply to you.
It's a win-win really.
Extra search filters are useful, especially if you want to look in a precise location, like the city you live in.
But beware, they can also be a burden, especially on a site that doesn't have the user base like a commercial dating site would have.
Adding too many parameters might just narrow down the field too much, so be aware of that.
3. See who has viewed and favorited your profile
While this might not seem like much, it should never be underestimated.
If someone's viewed your profile but has not messaged you yet, you can send them a message.
Or perhaps they aren't a member so they are interested but can't message you.
If you message them, they can now at least reply.
If you'd prefer, you can set certain privacy settings so that you won't leave a trail of the profiles you have browsed.
Members have a section on each users' profile where you leave notes for yourself.
It's a pretty novel idea and I think it can come in really handy.
6. See when last someone logged in
No more chasing up dead profiles, thanks to the fact that members can see when someone logged in last.
All members' profiles are boosted.
This means that at the top of other users' searches, member profiles come first.
That gets your profile out there and gives it far more exposure.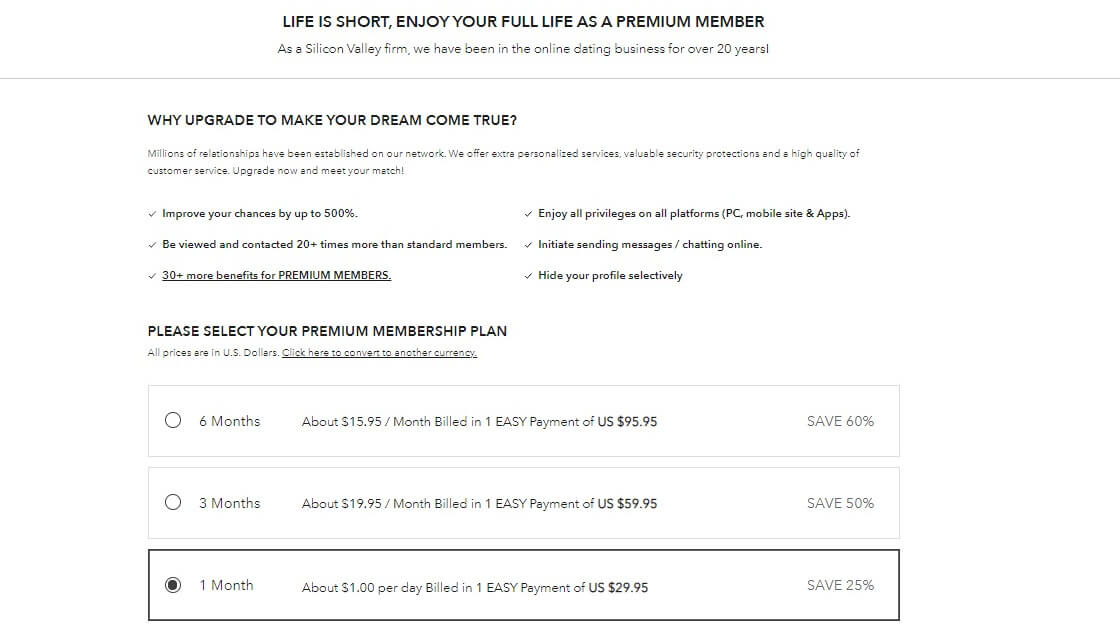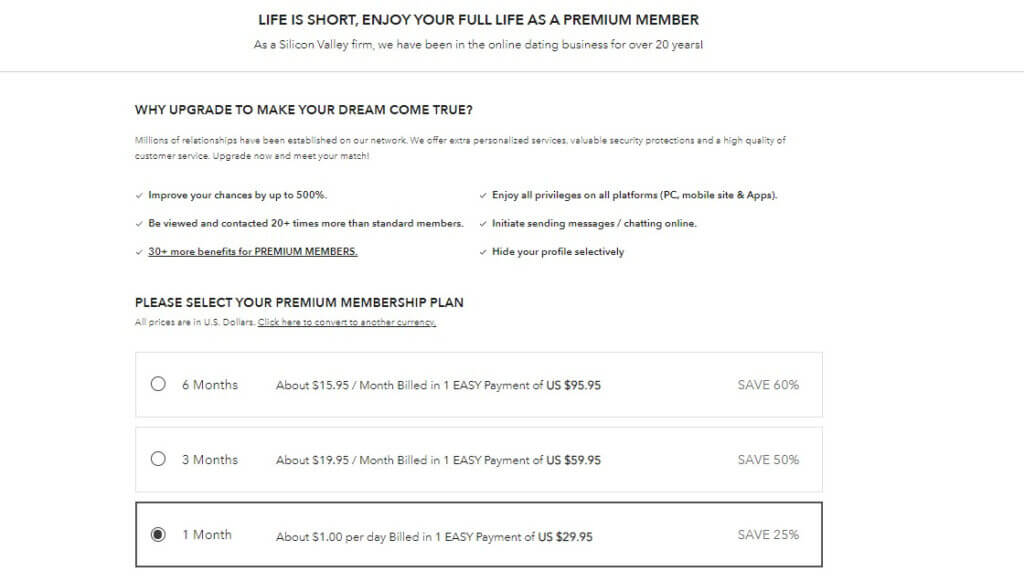 Pricing for membership on niche dating sites that target a certain group of people often varies.
Let's see what membership options you have on MPWH.
Well, there are three different packages but no trial package which is something I wish all dating sites had.
The three packages run for a month, three months, or six months respectively.
Here's how much they will cost:
1-month: $29.99
3-months: $59.95 ($19.95 per month)
6-months: $95.95 ($15.95 per month)
On the whole, I am more than impressed with the pricing and packages offered by MPWH.
I think most should be.
Just think about it, not many dating sites come in under $30.00 per month.
And we've seen that there are many benefits and features to signing up as a member.
If you'd like to pay a little more for a monthly saving, then I would go for the three-month membership.
But in starting out, try for a month first to test the waters and to see the kinds of matchups you can find that are near your location.


Conclusion and Overall Rating
Thanks for taking the time to read our MPWH review.
It really is a site where you can meet like-minded people, those that understand that having an STI like herpes isn't easy.
To summarize all the users on this site are herpes sufferers so it's a community where you don't have to feel ashamed.
And that's a good thing.
The site itself is so well-designed, easy to use, packed with features for members and you could even use it for free if you wait for people to send you messages so you can reply.
The pricing isn't expensive either, something other niche dating sites could learn from.
Today, MPWH gets a rating of 4 out of 5.