If you into the kinkier side of sex, fetishes and BDSM, then Alt.com might just be the website you are looking for.
That's because it's the perfect place to find people that are into the same things as you are.
And in this wide-ranging review of Alt.com, we are going to look into the site in great detail.
That's so we can provide those of you who might be interested in starting a profile on Alt.com with all the information you need to help you decide if you should or not.
OFL exclusive offers - Check all of them

"Serious Relationships"
"Discreet Hookups"
"Best Course"
"Quick Flings"
"Normal Hookups"
"Our Quiz"
That means the review will cover the following:
So what are we waiting for, let's get started?
Is your dating app giving you the best chance for success?
Make sure to take our online dating site/app quiz to find out.
It's a fact that people who follow our dating site suggestions have on average 2 extra dates per month.
Alt.com Review in Video Form
Audio (podcast) form for those of you on the go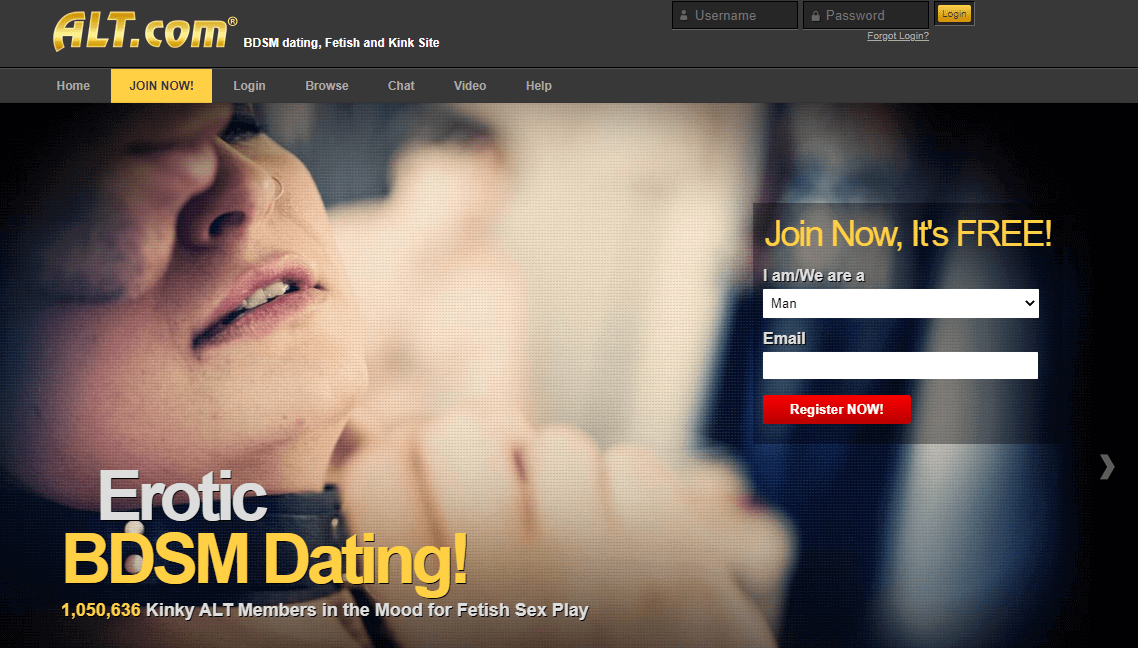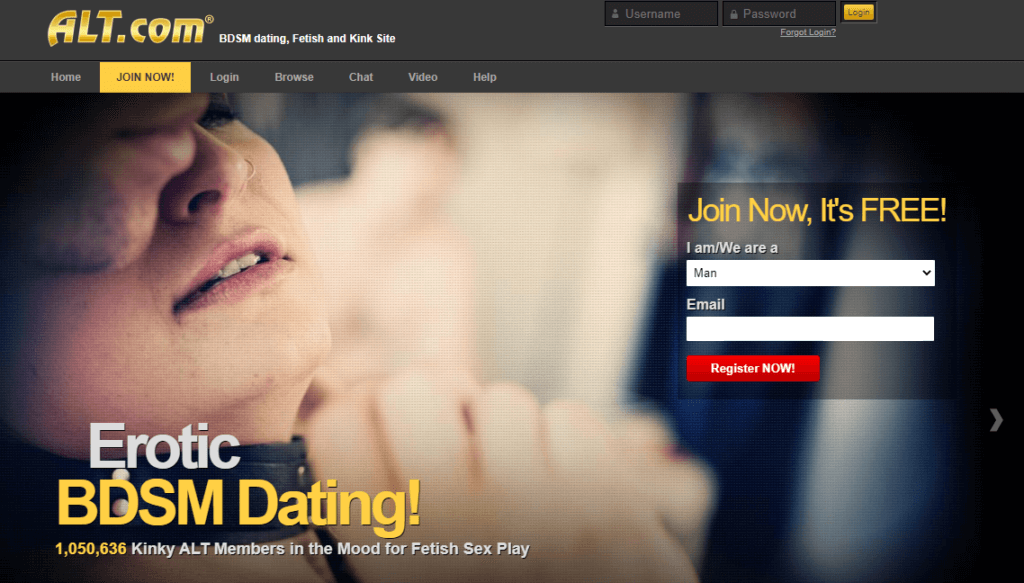 Ease of Use 3.5/5
Effectiveness – 3.5/5
Key Features – 3.5/5
Pricing – 3.5/5
Over 1 million users
Lots of ways to search for matchups
Extensive profiles with lots of information
A very "busy" design that can be intimidating
You can't see full profiles of users unless you are a member

Who Is It For/Demographics?
Just take a look at the Alt.com website.
They make no bones about who the site is aimed at.
Yes, that's people who aren't into boring physical encounters, that's for sure.
Whatever your kink, you can rest assured that Alt.com has many other users just like you.
And they are all looking for people to hook up with.
That's the basic idea behind the site, hooking up (like BeNaughty or Ashley Madison).
But that doesn't mean some users aren't looking for long-term relationships (like Tinder or eHarmony).
The numbers behind Alt.com
Getting into the demographics and numbers behind a website is always a good thing.
There's no real point in starting a profile on a dating site with only a few thousand users and perhaps little chance of ever meeting someone near your location.
Luckily, Alt.com doesn't have problems such as these.
That's because it boasts millions of users worldwide.
Yes, this is a global platform but of course, many users come from the United States.
So let's break down the numbers a bit further:
Just over 400 000 of Alt.com's users are from America
Around 80 000 people are active on the site over a seven day period
That's around 11 000 people each day and 320 000 each week
Yes, it really is one of the top BDSM, fetish and kink sites available online today.
A look at Alt.com's gender and age breakdown
Noting the gender ratio on dating sites might be a reason you choose to join a particular site or not.
Generally, when it comes to niche sites, particularly hookup sites, men are always in the ascendency over their female counterparts.
And it's always by a large percentage.
While this is not technically a hookup site in the traditional sense of the word, the same is usually the case for fetish and BDSM sites like Alt.com.
The trend is no different here at all, either.
In fact, I'd go as far as to say that Alt.com has one of the most skewed male-to-female ratios that I've seen on a dating site.
That's because:
80% of the profiles found on Alt.com are male users
20% of the profiles found on Alt.com are female users
So that means that only one in every five profiles on the site is a female user.
It's a male-dominated site for sure and seeing that it is so well established with over a million users, that 80/20 ratio isn't really going to change from this point onwards.
But what about age ranges?
That's also often a critical factor for people when choosing an online site.
You want to be able to meet up with people in your target age group, right?
If they not there, you are simply going to try other sites.
Of course, there are always dominant age groups and while that's no different on Alt.com, the spread of users over the various age ranges is fairly even.
Here's a breakdown from the age ranges with the most users to the least:
25-34 years old (26% of all users of which 19% are male and 7% are female)
55 and older (21% of all users of which 15% are male and 6% are female)
35-44 years old (19% of all users of which 14% are male and 5% are female)
18-24 years old (18% of all users of which 13% are male and 5% are female)
45-54 years old (16% of all users of which 11% are male and 5% are female)
So while the 25-34-year-olds make up over a quarter of the users of the site, the split is fairly even across all age ranges.
Even the smallest group of users by age, the 45-54-year-olds, account for 16% of all users.
That means no matter your age range or preferences, the matchups on Alt.com have you covered.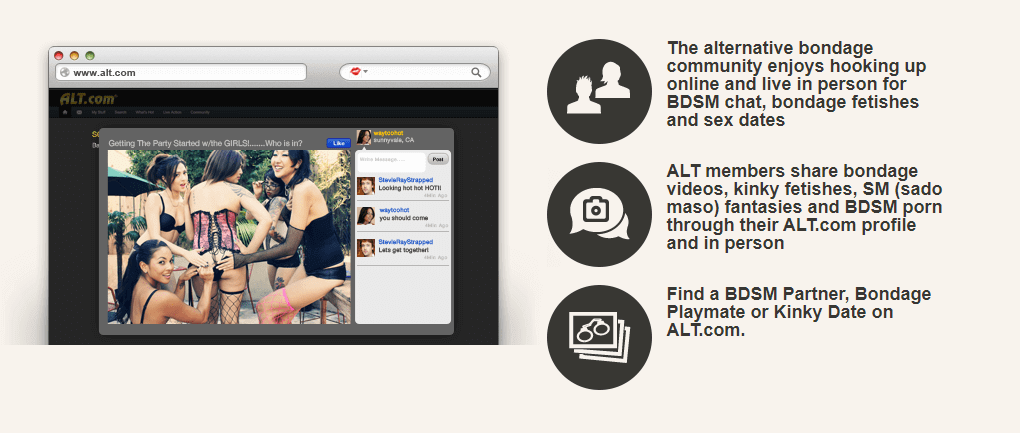 The thing that might not be in your favor is the gender you are looking for, but of course, that depends on a number of factors based on what each individual wants in a matchup, right?
So let's say that based on the above demographics, you've decided to sign up for an account on Alt.com.
I want to take you through the process.
Alt.com is part of the Friend Finder Network.
There is no seperate app for it but there is a general app for the Friend Finder Network.
Of course, that's not only going to bring you the specific target group that Alt.com offers and it's for that reason that I suggest rather registering on the website.
There's a few pieces of information that you need to provide at the start of the process.
First up, your gender.
Alt.com allows you to register as a single person, as a couple and even as a group.
Also, it's an inclusive site, so transgenders can join up too.
Then you select the kind of matchups you will be searching for.
That includes all the same options and you can click as many or as few as you'd prefer.
Follow that up with your date of birth, location, email address, username and password.
Finally, there's a section of your profile that you can complete including:
Sexual orientation
Body type
Race
Marital status
Role (for example dominant, submissive, switch)
Profile introduction title
An about yourself section
It takes just a few minutes to complete that all and once you have, Alt.com sends a verification email to your inbox.
In it, you will find a link that you need to click on to finalize your profile on the site.
The first thing Alt.com shows you is their membership fee.
Simply skip past this by clicking on the Alt.com logo at the top of the screen or the house icon underneath it.
I am not sure why they think anybody would sign up for a membership of a site that they haven't used yet.
Clearly, people must do, however, because they keep taking new members to the sign-on screen.
So let's talk a little about your profile on Alt.com.
With a site of over one million users, you need to ensure that it stands out from the rest.
That means you need to provide information to someone who might be looking for what you have to offer.
Also, it's important to understand that it's only around 20% complete the first time you get online.
Yes, while you did fill in parts of it while registering for the site, there's a lot more that you need to add.
And that starts off with a profile picture.
You probably would have noticed that nudity goes on this site but that's totally up to you of course.
Just upload something.
The other sections that need to be completed include:
Physical information about yourself
Personal information about yourself
Additional questions (interests, fantasies, etc.)
Personality type
Purity test
Your kinks
Listen, on sites like these there are often fake profiles.
But if you'd like to you can get yours verified by Alt.com.
Just follow the instructions from the link you find when you edit your profile.
Fully completed profiles on Alt.com have a lot of information in them which is a good thing considering the type of site it is.
You'd like to know as much as you can about someone that you are going to hook up with, right?
Finding your way around on Alt.com
If you are new to sites like this, Alt.com can be a bit intimidating.
First and foremost, be prepared to see nudity.
It's all over the site, not only from the users but the advertising as well.
And there is a lot of advertising!
There's plenty of menus as well, which can be intimidating for new users.
Just remember, the menus on the top of the screen are the ones you are going to use most often.
Those on the left are additional menus that have some value but they are not that important.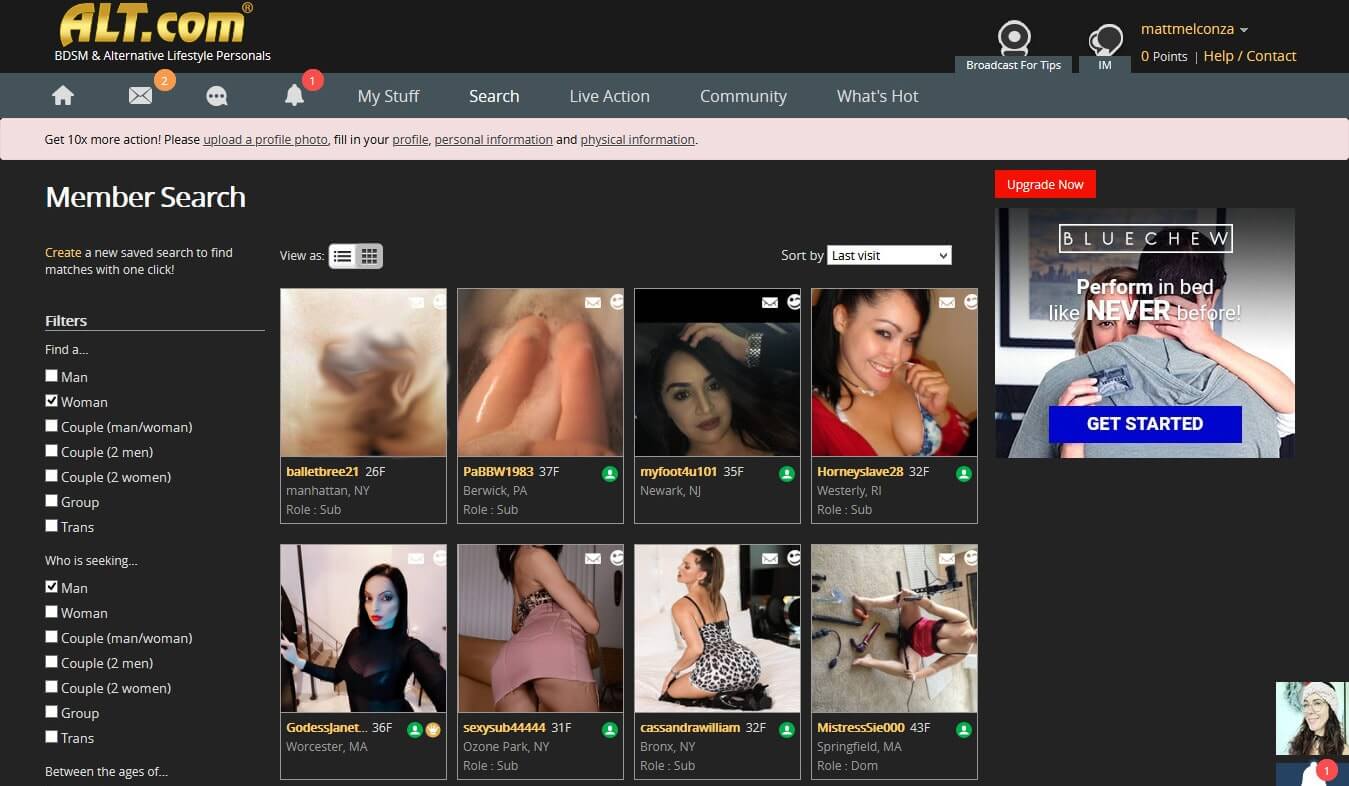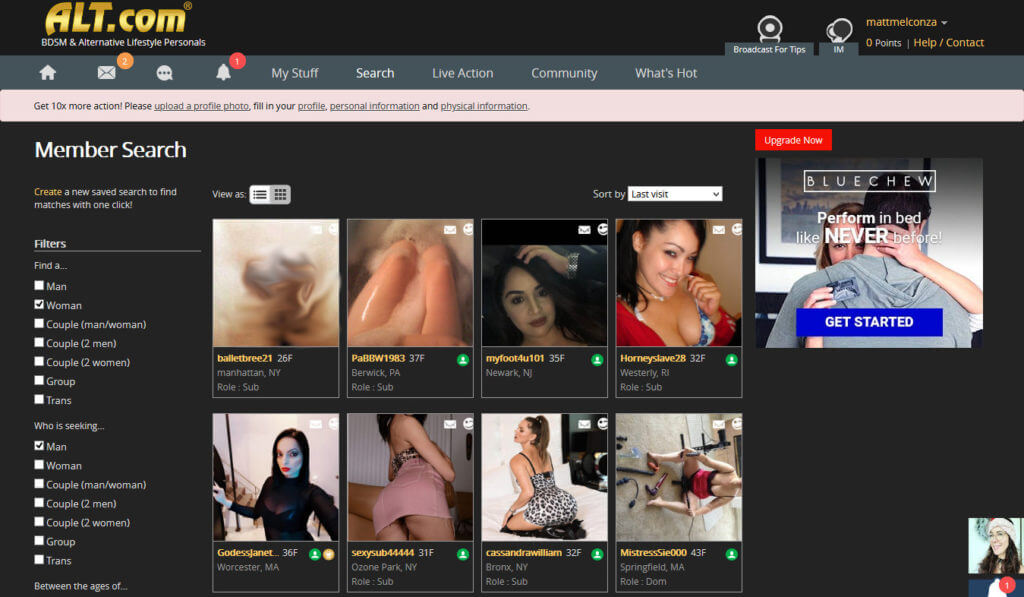 Speaking of the menus you will find at the top of the screen, they are:
House icon: Home screen
Envelope icon: Messages
Speech bubble: Instant messenger
Bell: Notifications
My Stuff: There are 28 different sub-menus under this menu. But it covers just about everything on the site, for example, you can edit your profile, see who has liked your profile, see friend requests, access your member account, and more.
Search: This menu offers nine different ways to search for matchups on the site from who is online now, to matches provided by Alt.com and more.
Live-Action: Here you can view various live cams including models members as well as accessing adult chat rooms
Community: This includes blogs and groups started by other members
What's hot: See the hottest photos, videos, albums, and more on Alt.com
While it's pretty easy to be intimidated by what Alt.com offers and because it is so busy, I suggest taking your time looking around the site first to get used to it.
Once you've done that, however, you are going to want to find some potential matchups in your area.
After all, that's the reason you started your profile, right?
Alt.com gives you many ways that you can do this.
From the first time you log in, you will be presented with matchups near your location.
So that's a place to start.
But if you just move your cursor over the Search menu, you will see even more ways to find matchups.
These include:
Searching through online users
Looking at users that are on the instant messaging system
Seeing matches that Alt.com presents to you based on your requirements
Seeing members that are near you
Looking at VIP members of the site
Searching for someone via various kinks
Searching for someone using the advanced search engine
Playing the Hot or Not game
Most of those are self-explanatory, so I am not going to go into great detail on all of them.
I do want to talk about three, however.
First up, the Hot or Not game.
Not many dating websites, even those that serve the fetish, BDSM and kink community are without these types of features anymore.
You will be shown a picture of another user on Alt.com and you choose if they are hot or not.
It's that simple.
If they are hot, they get placed on your Hotlist.
As a regular user, you can only use this for a limited time.
Secondly, I want to talk about Kink search.
Here you can search for other users via various kinks.
And there are 100s of them.
Lastly, the advance search.
This is a powerful tool that allows you to search with over 40 separate categories.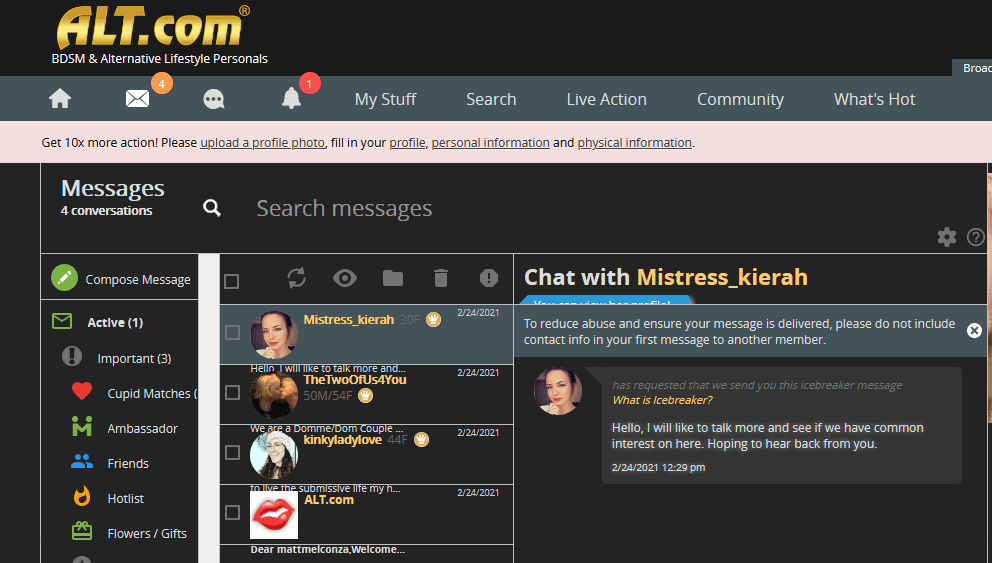 Within those, there are even subcategories that you can select.
This can be used in an effective manner to bring you the exact kinds of matchups you want, especially on a site with so many users.
Reaching out of someone on Alt.com
Before we get into how to reach out to someone on Alt.com, I want to first talk about user profiles.
Without a membership, you cannot see a full profile of other users.
Click on it and you are taken to the membership sign-up page.
You can, however, find out a little information about a potential matchup by hovering over their picture in a search return.
This brings up a very brief overview of what they are all about.
But to find out more, membership to the site is necessary.
That's true for messaging as well.
There is no way to communicate with someone via messaging on Alt.com without membership.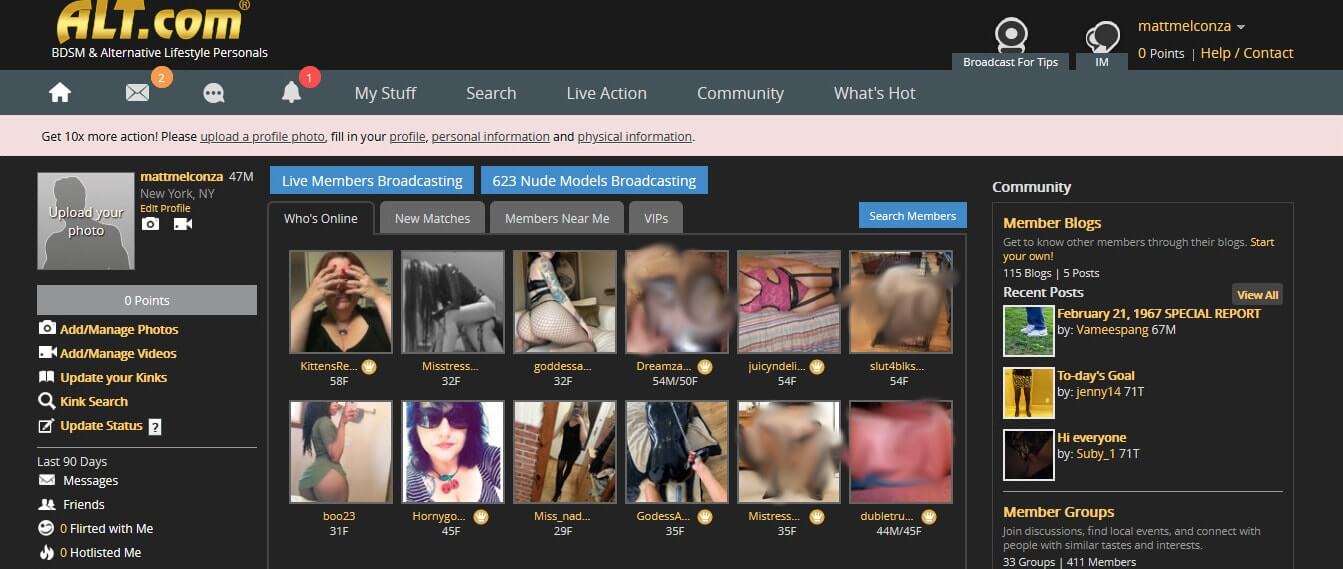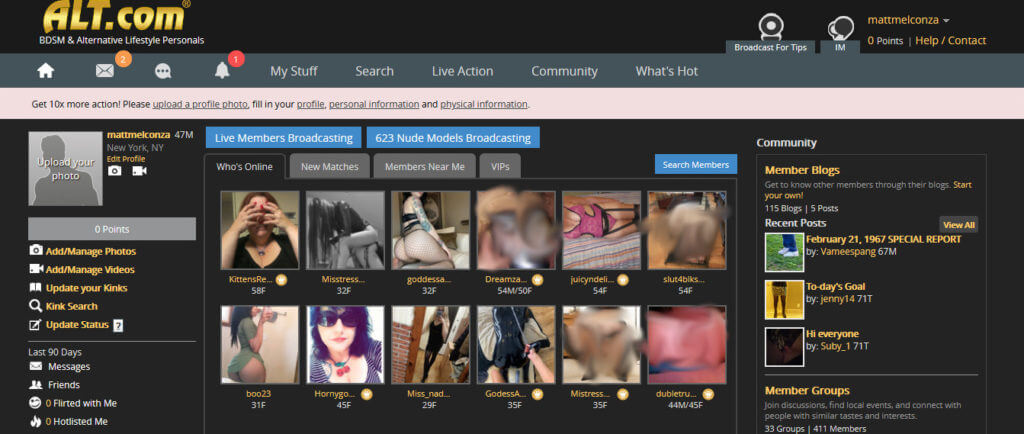 You can't even flirt with them, add them to your hotlist, send them a gift or add them as a friend.
All of these actions mean you need to consider membership.
Members of Alt.com get a number of key features.
Let's take a look at what those are.
If you are not prepared to sign up as a member of Alt.com, you just won't get very far on the site.
Communication is crucial if you hope to meet up with someone eventually and as we have seen, it's only members who can send messages.
Yes, you can receive messages from a regular user and read them too, but you guessed it, you need to be a member to reply.
Of course, using a dating site is about searching for the right kind of person, right?
But it's so much better if they are searching for you as well.
And as a member of Alt.com, this is just so much easier because your profile will appear at the top of other users' search returns.
That gets you out there and hopefully, other members contacting you.
But also as a member of the site, you get to see the profiles of new users before other regular users.
That's a big advantage to membership as well.
3. See user videos and full profiles
Videos are pretty big on dating sites like this and Alt.com is no different.
If you are a member, you can see any videos posted by other users as well as watch their webcam live shows.
Also, while regular users can only see a profile summary for other users, members can see full profiles.
This can help you learn so much more about someone before you reach out to contact them.
All members of Alt.com have round-the-clock support if they have any problems or queries that they need to sort out.
5. Access to pay-per-minute adult movies
Adult movies are a feature of sites such as these and here you can rent them by the minute if that's your kind of thing.
Those are just some of the features you will find as a member of Alt.com but there are even more.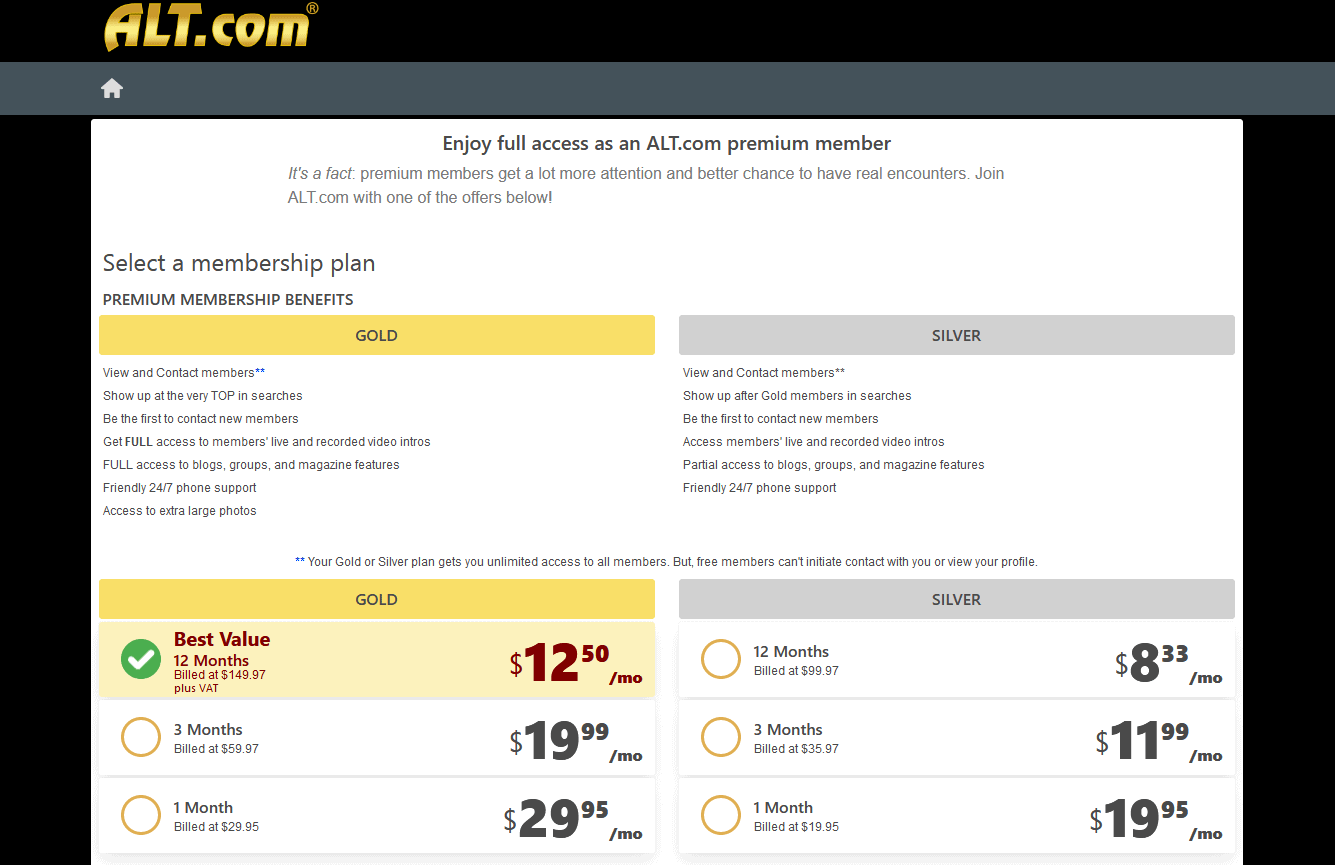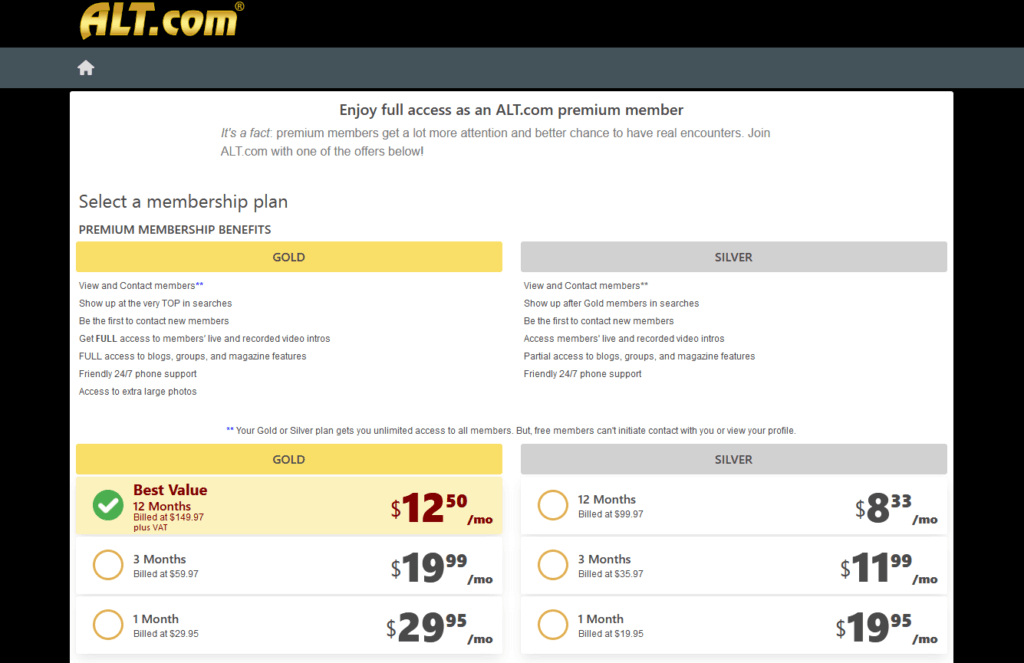 The question is just how much membership is going to cost you and what options do you have.
Alt.com has two membership options, a silver and gold package.
The gold package will give you all the membership features offered by the site, while the silver package is cheaper with fewer features.
Importantly for me, both will allow you to send and receive messages which are critical to use the site effectively.
But what do these packages cost?
Well, here's a breakdown.
Silver membership
1-month : $19.95
3-months : $35.97
6-months : $99.97
Gold membership
1-month : $29.95
3-months : $59.97
6-months : $149.97
My advice would be to take out a one-month silver membership at $19.99 to give the site a thorough tryout.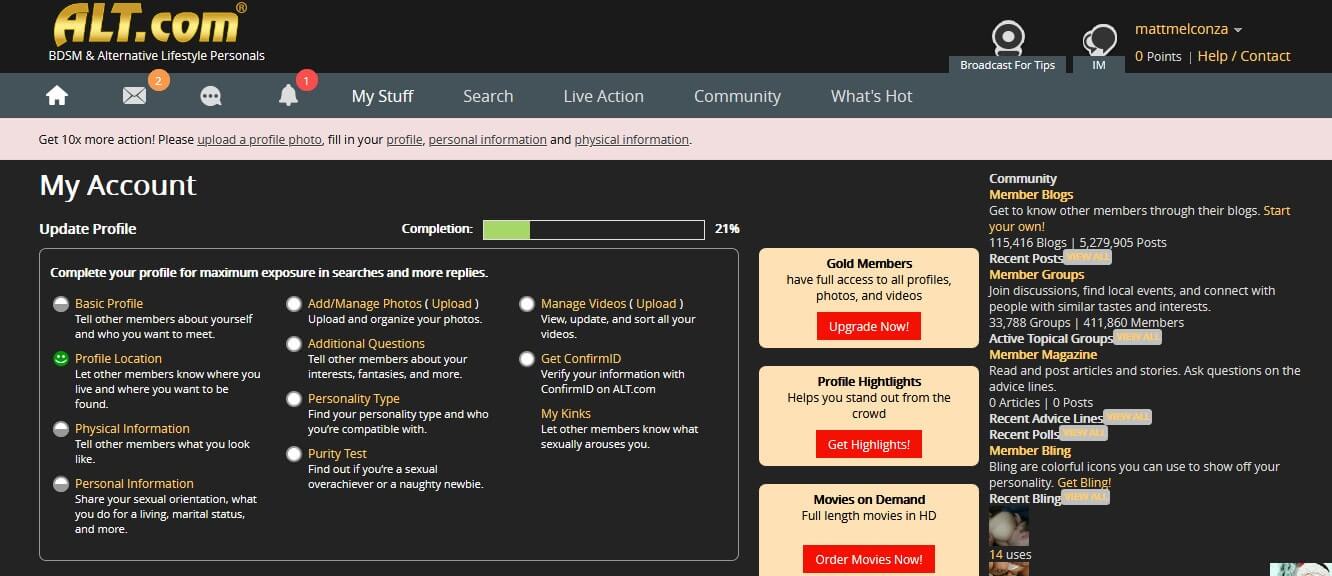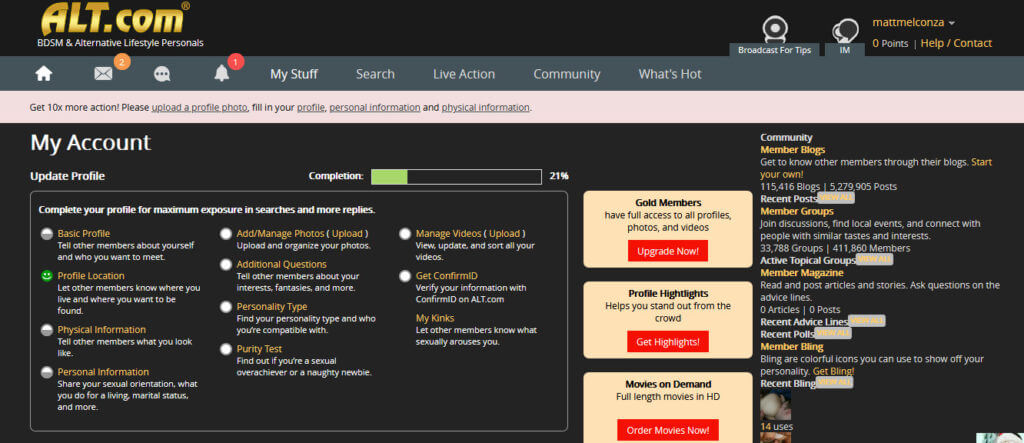 If you are prepared to be a member for long after that, you can look at the extended memberships to make some savings.
Conclusion and Overall Rating
So that's it for our review of Alt.com.
All that's left is to give a conclusion and an overall rating.
Listen, if you are looking site that can hook you up with others who are into fetishes, BDSM and other kinks, this is one of the most popular out there.
That's doesn't mean it is without problems.
Most of those, however, you can look past I feel.
For example, the overall design of the site is extremely cluttered and busy.
That's not a massive problem, I guess but it can be a little annoying at times as there is just so much going on.
I suppose that it's something you will get used to.
Also, there's tons of nudity and even full-on porn on the site.
Again, that's the nature of many sites like this and with the type of people who use them, I am guessing that seeing porn on the sites or nudity in profile pics won't be a worry to most but it's important to know that it's there.
From a key feature and pricing point of view, Alt.com has plenty to offer its members and a pricing structure that fits.
Some sites tend to charge large monthly fees, especially niche sites.
For me Alt.com everything priced just right.
I mean, you can talk out a Silver membership for $19.99 per month and it has all you need to make a success of finding someone that you'd like to hook up with and then communicating with them effectively.
Lastly, Alt.com has over one million members spread all over the globe but be prepared for fake profiles.
But then again, which dating site doesn't have them?
As for an overall rating, it gets 3.5 out of 5.
What do you think of Alt.com?
Is it a website that you've used before or would consider using?
Frequently Asked Questions