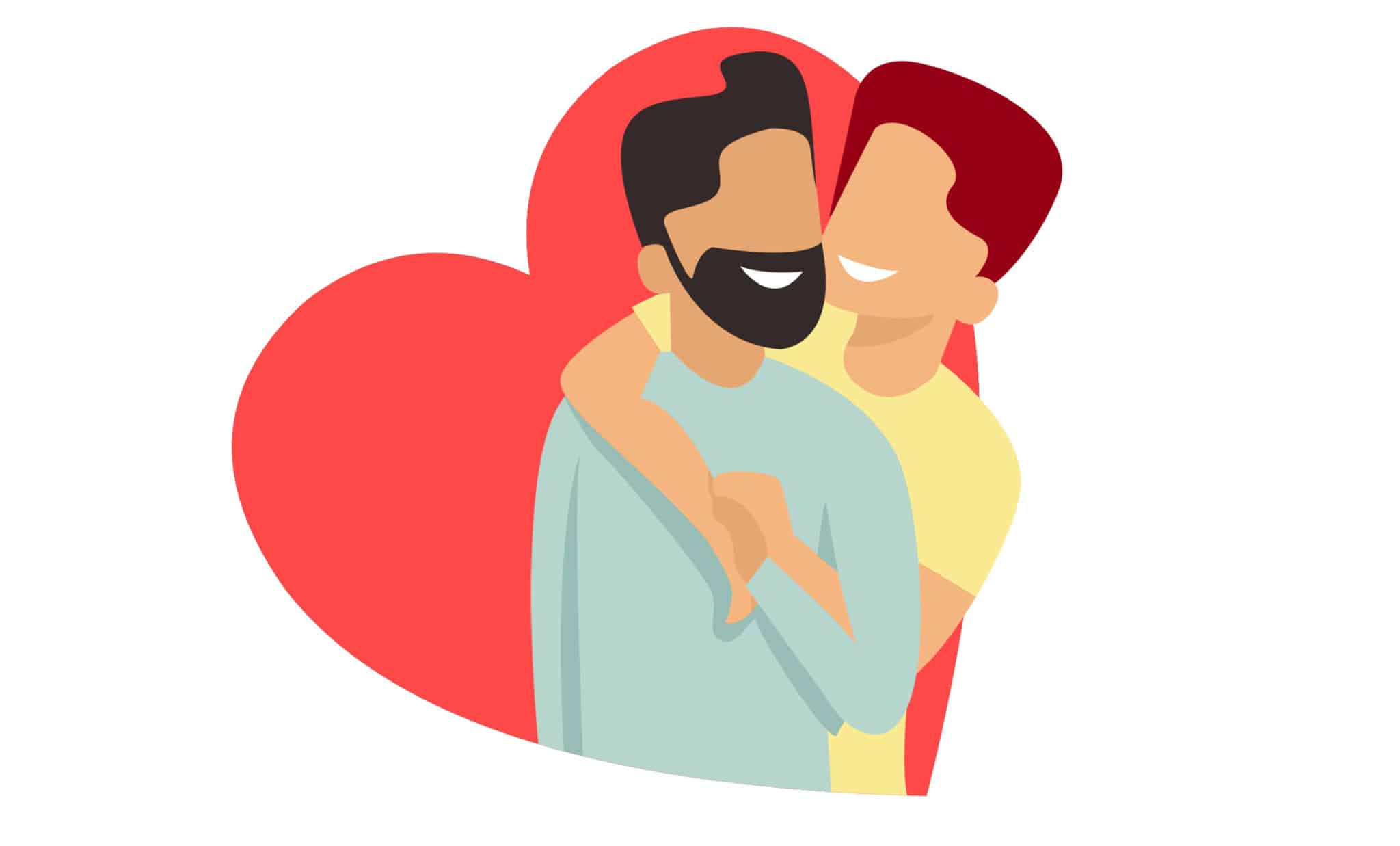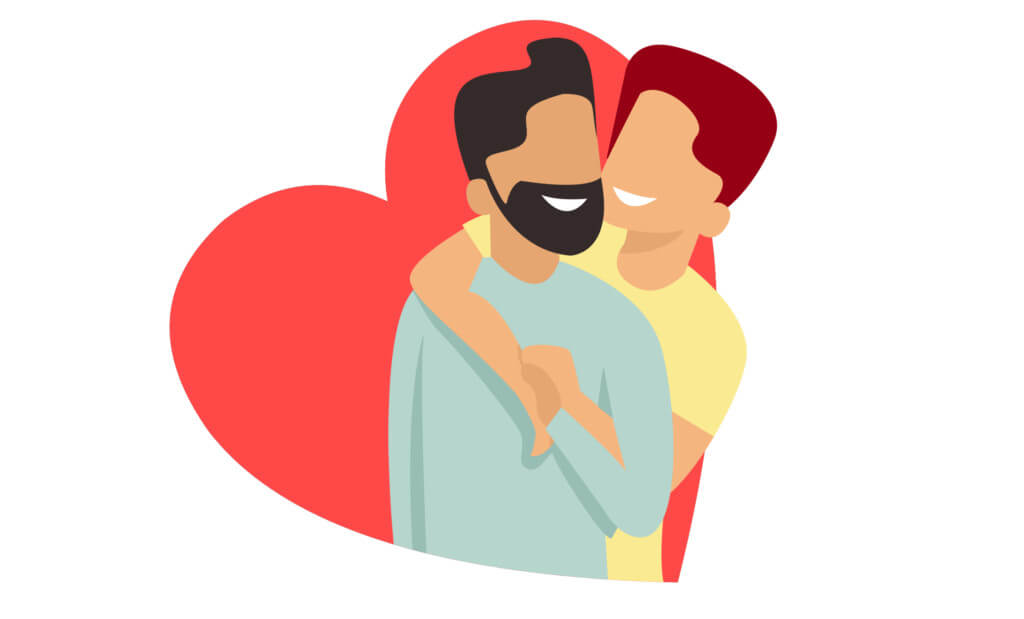 QUICK OVERVIEW: Best Gay Dating Sites
Large user base
Simple design and easy options

CHECK IT OUT →

Suitable for both iOS and Android
Couple registration for a couple who is looking for something more

CHECK IT OUT →

The largest gay dating app with 27 million users
Multiple features to help you get more matches

CHECK IT OUT →
Hey everyone and welcome to our article on the best gay dating sites!
Many popular online dating sites are specifically geared towards gay dating that single gay men can choose from, whether they want a long-term boyfriend or a casual encounter.
Whether you choose to use a mainstream site that caters to heterosexuals and gays or a site that is solely for gays is entirely up to you.
OFL Top Recommendations based on 100,000+ Survey

"Serious Relationships"
"Discreet Hookups"
"Best Course for Men"
"Quick Flings"
"Normal Hookups"
"Our Quiz"
We want to use this forum to enlighten you on the best gay dating sites that also happen to be mainstream dating websites.
Let's get right into it!
Is your dating app giving you the best chance for success?
Make sure to take our online dating site/app quiz to find out.
It's a fact that people who follow our dating site suggestions have on average 2 extra dates per month.
Best Gay Men Dating Sites in Video Form
Audio (podcast) form for those of you on the go
The 6 Best Gay Dating Sites in 2023
While Match.com may take the top spot as far as gay online dating is concerned, OkCupid and Chemistry.com do not fall too far behind in terms of the quality of handsome men they have. Whereas the 3 are competitive price-wise, it is the incredible individual features that would help you decide.
We have come up with a detailed review of the favorite gay websites that are best for gays and heterosexuals who prefer online dating.
From the results of our research, we were able to select these 6 best gay dating sites based on their large user base and acceptance of all forms of sexual orientation.
1. eHarmony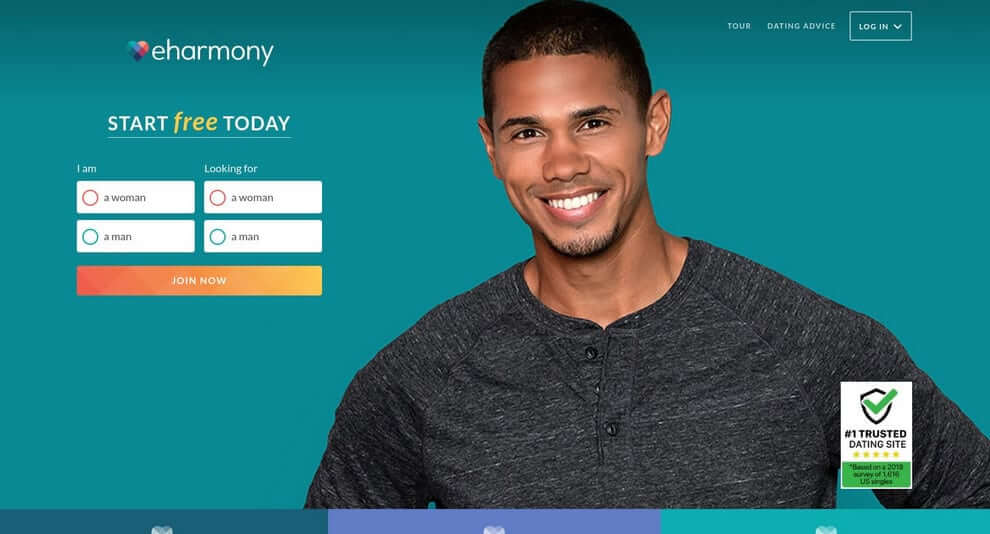 Rating
Signing up – 4/5
Making Contact – 5/5
Profile Quality – 4/5
Overall Quality – 4.3/5
Pros
Large user base
Simple design and easy options
Cons
Registration takes a lot of time
Demographic Makeup
eHarmony is one of the biggest dating websites and with the fastest-growing user base.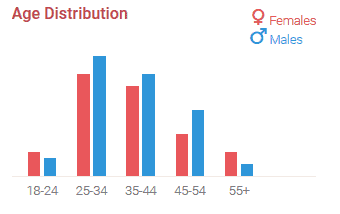 With new members joining every single day, you can be sure that there are plenty of LGBTQ+ members there as well and that you won't have a problem in the search for the man of your dreams.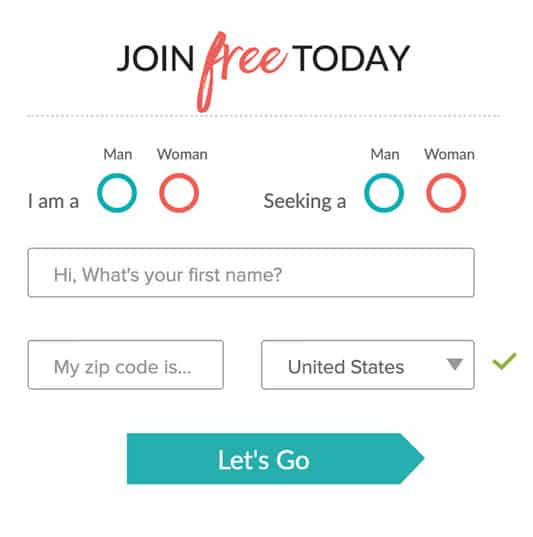 Or men, if you're into it.
There are only about 6% more men than women users, but with over 16 million active users every week, that still leaves a lot of men to choose from.
Most of the users are in the younger age group, 25-45, but if you are over 40 and still looking for someone on eHarmony, we do not doubt that there will be plenty to choose from.
Ease of Use "mobile and desktop version"
As eHarmony is dedicated to helping you in your search for the right partner, the registration process is very detailed.
OFL Top Recommendations based on 100,000+ Survey

"Serious Relationships"
"Discreet Hookups"
"Best Course for Men"
"Quick Flings"
"Normal Hookups"
"Our Quiz"
This might not be something that a lot of people really like, but if you're serious as much as the creators of eHarmony are, you will be ready to spare a few minutes to answer all of the questionnaires and fill in your profile.
It might be a little bit quicker to register via your Facebook account (no worries, nothing will go on FB without your consent!), but you will still have to fill in the personality test that you are presented with.
There are also compatibility quizzes that are meant to help the algorithm decide what kind of a partner you would like for yourself, and offer you these men later on.
You will also get to play with the appearance preferences of your potential partner, like nationality, body type, etc.
As for the app, it is as simple as an app can get. There are no special features outside of what the desktop version offers, but if you like to chat with guys or just swipe around while you commute or drink your coffee, it is pretty useful.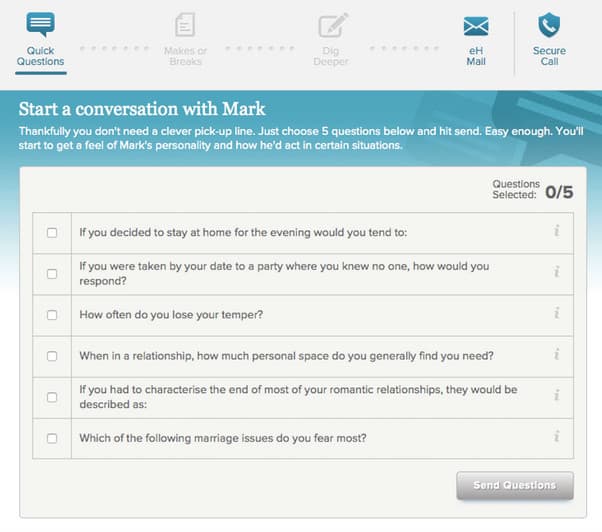 The minimalist design of the site and the app makes it easy to navigate it even looks modern.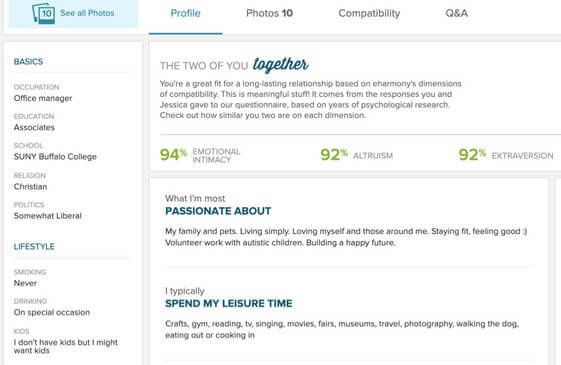 As for some special features, there are:
1. What If
This is a feature that you will have to pay for and it gives you a certain number of additional matches.
Now, it is pretty fun because these additional matches are not in the group chosen for you through the personality quizzes.
So if you want to see what those guys that are outside of your "target group" look like and how you get along – this is the option for you.
2. Send Questions
Sometimes it can be difficult to keep a conversation with someone new. But there is an option there – send questions.
You will get a list of questions to choose from and there is no limit to how many of these you can send.
So if you are ever stuck, you can always ask the good guy eHarmony for help.
3. Send a Smile
Remember Facebook and their unsuccessful Poke option?
That might not have been all that good, but eHarmony makes starting a conversation much easier with something similar.
Send a Smile is an option that lets you send a smile (who would have guessed!? :D) to your matches and in that way help you break the ice and start a conversation.
4. Video Date
In the time of global pandemics, going on dates is not all that wise.
But chatting endlessly isn't going to get you anywhere either.
So Video Date lets you chat with your match in person while still staying safe.
FAQ
1. Is there a way to contact eHarmony if I have any questions?
If you have any questions, there is always the Help Page that covers pretty much everything there is to know about eHarmony.
If you, however, don't find the answer to your questions there, you can always use the contact form on the website.
2. Is this considered to be a safe website?
Yes, eHarmony is considered to be one of the safest websites there are.
Even the registration process makes sure of it with all the questions and quizzes. Not a lot of scammers would waste their time on that.
Cost
Just like with every other app, there are some free and some paid features.
With eHarmony, you will have to choose one of the plans if you want to look at someone's photos, get unlimited chat messages, use anonymous browsing, and similar.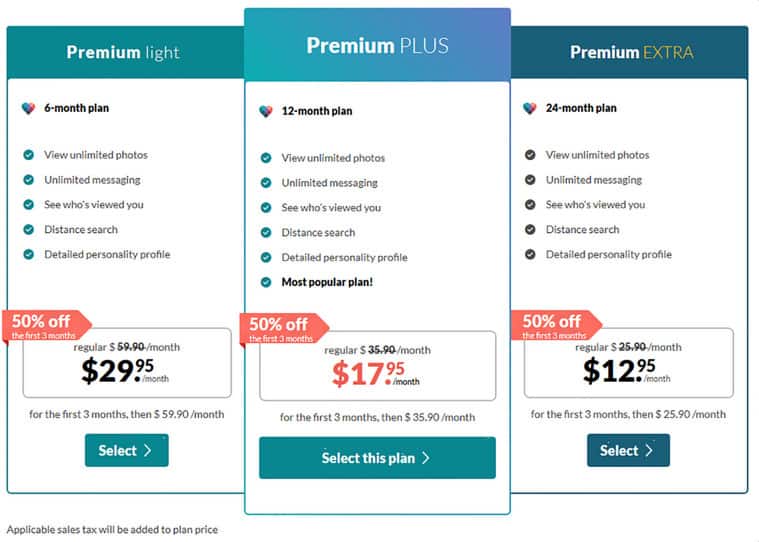 Luckily, there are fantastic discounts if you choose to commit to longer periods of time as seen on the Harmony website.
6 months – $59.90 ($9.98 per month)
12 months – $35.90 ($2.99 per month)
24 months – $25.90 ($1.08 per month)
Overall Rating
Overall, eHarmony is a fantastic website with an ever-growing number of users. It is simple and intuitive to use, it offers fantastic plans with unbelievable discounts for loyal users and some features that are hard to find anywhere else.
2. GaysTryst

Ratings
Signing up – 4/5
Making Contact – 3.5/5
Profile Quality – 3.5/5
Affiliate Program – 4/5
Overall Rating – 3.75/5
Pros
The website is entirely dedicated to homosexual males
Satisfaction Networks unlocks membership to other dating sites
Straightforward design of desktop and mobile version
Uploaded pictures are monitored by administrators
Cons
Messages are a paid service
Fake profiles are present
Demographic Makeup
With over 500 000 monthly logins, GaysTryst is among the most popular free gay dating websites.
Men from the USA get the most opportunities to meet new people since most members are Americans.
Besides the USA, it has a large audience in Europe (most are from the UK, France, Spain, and Germany) as well as in Australia.
This is a website dedicated to gay dating, specifically to homosexual men and most of them are in their twenties and thirties. Also, users have to be at least 18 years old to join.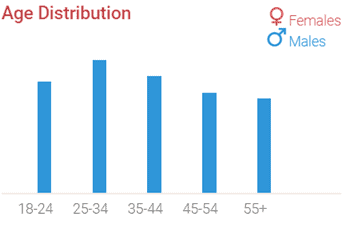 Ease of use "mobile and desktop version"
When it comes to design, both mobile and website versions feature a super simple design. You do not need to be super tech-savvy to navigate through any of the versions.
The registration process is also pretty simple – there is only one form that needs to be filled.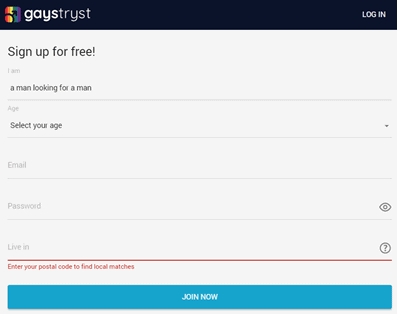 After you complete the email verification, you can start browsing.
Even though the sign-up process is simple, the profiles are quite detailed. Besides general info, there is some additional information you can add later. These include tribes, hobbies, professions, etc.
GaysTryst uses an algorithm that most people are familiar with – it displays profiles of people near you and offers plenty of basic and unique features.
Let's check out the features available on this top gay dating site:
1. Winks and Likes
These two features are quite similar.
When someone grabs your attention, you can wink at them and they will receive a notification.
If you get a wink back, the interest is mutual!
Likes are similar to swipes – you can see one profile at a time and either like it or delete it from the queue.
2. Flirtcast
If you want to send a message to the multiple members on the platform, use Flirtcast – choose one of the pre-written messages and with one click, start chatting with numerous sexy singles.
3. Satisfaction Guarantee
Members are often skeptical about the benefits of premium memberships.
That is why creators invented Satisfaction Guarantee.
With this feature, you can unlock the premium membership to all gay dating sites (and mainstream as well) that belong to Together Network.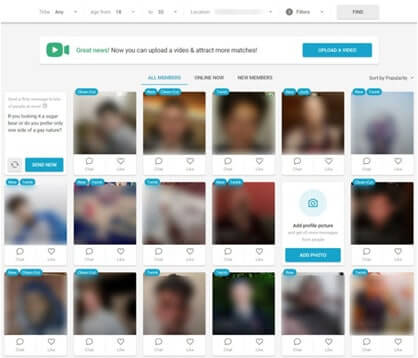 Cost
Among the different gay hookup sites, GaysTryst is considered a pricier one.
By becoming a member, you are granted access to more search filters, messages, full-profile info, and some unique features.
Let's see the prices written out on the website:
Full Membership
1 Day – $0.99
7-day – $7.00
1 month – $28.80
3-month – $48.60
FAQ
1. Is GaysTryst legit?
Yes, this website is a part of the Together Network and it is among the most popular free gay dating sites.
2. Is GaysTryst free?
Yes, this is a free gay dating site, meaning you can log in and use it for free. However, there are some fee-based features.
Overall Rating
GaysTryst is on the list of best gay hookup sites for a reason – it has a great design, even better features and the process of joining is super simple.
The gay hookup site would be even better if it featured a free mobile app. We gave it a score of 3.75/5.
3. Adam4Adam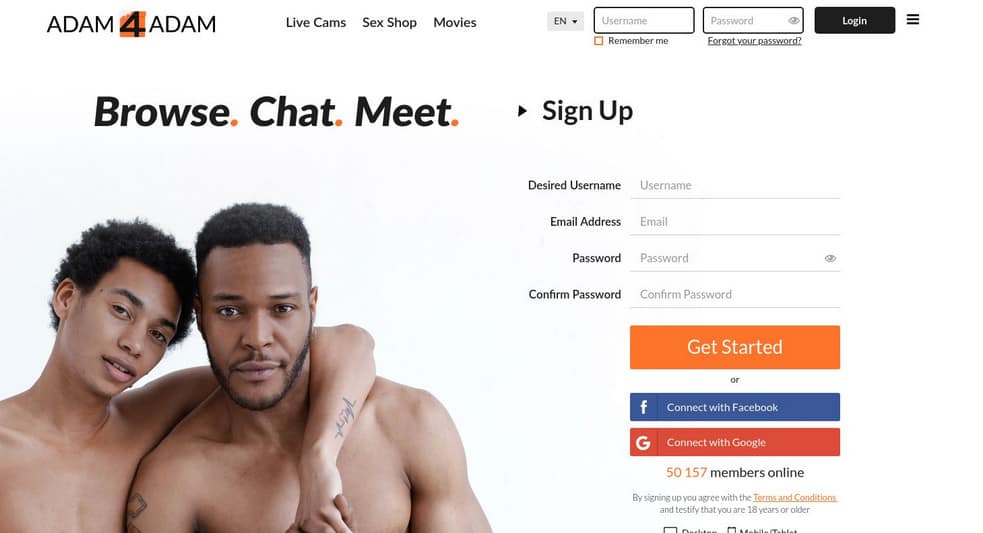 Rating
Signing up – 4/5
Making Contact – 3/5
Profile Quality – 4/5
Overall Quality – 3.7/5
Pros
Suitable for both iOS and Android
Couple registration for a couple who is looking for something more
Age verification
Cons
A lot of in-app advertisements
Demographic Makeup
If you are looking for a multi-ethnic best gay dating app, Adam4Adam should be your jam.
Users of Adam4Adam come from all over the world, even though the majority is located in the United States. Also, more than 50% of users are non-white, so if you are interested in interracial or multi-ethnic gay dating, Adam4Adam has got you covered.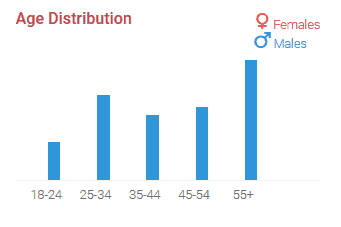 Adam4Adam has more than 6 million users from US only, and all of them are very active.
As for the age range, most of the members are, surprisingly, over the age of 55. Still, there are a lot of younger people using Adam4Adam, especially those aged 25-35.
Ease of Use "mobile and desktop version"
Registration to Adam4Adam is pretty simple.
First, you have to leave your email address and verify that you are at least of the age of 18, and after that, you will have to complete your profile with photos, personal information and anything else that you would like others to know about you.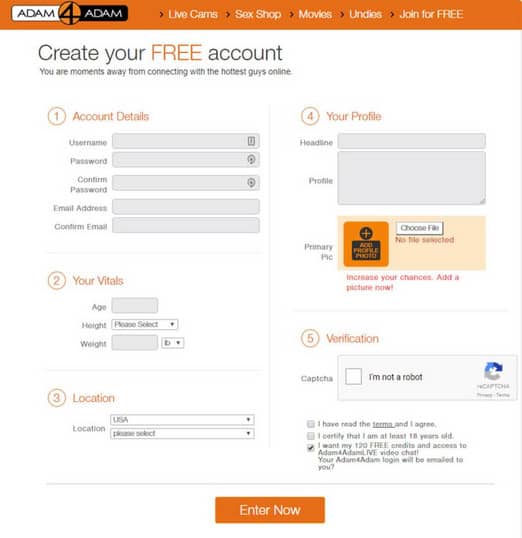 The gay dating app and website are simple to use with not all that many options, but what we didn't like about it is all the advertisements.
Most of them are of pornographic nature, true, but anyone who registers knows what they are getting into. So the nature of the advertisements isn't as big of a problem as the advertisements themselves.
As for the app, we would suggest sticking to the desktop version.
The app seems to be created a bit sloppily with a lot of features missing.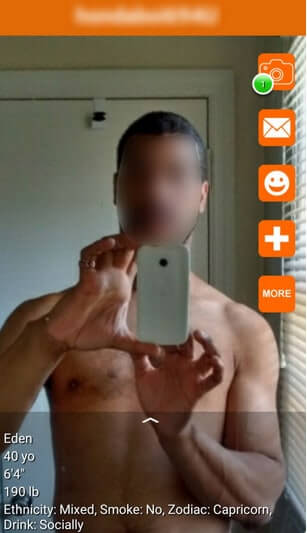 Still, the features that are missing from the app are still to be found in mobile browser version. This makes us think that the app is still under development and that it won't be long before we have a functioning app as well.
When we mentioned special features that are missing, we should also say what those special features are:
1. Adult Movies
There is a special Adam4Adam.tv domain where you can watch adult movies if you are a member.
There are 3 options for this:
You can pay for a certain amount of time (like a credit) and the $$ is deducted from your account with every minute of the movie
You can rent a movie for 48 hours and watch it as many times as you wish.
You can download a movie for a week, a month, or forever, depending on how much you are ready to pay for it.
2. Sex Shop
Sex Shop option is like any other online sex shop. You will be able to browse and buy, if you wish, toys, lubricants, and anything else your heart desires.
3. Live Cam
Live Cam lets you chat with other users "in person", or you can even watch those members who are streaming.
4. Underwear Club
Underwear Club subscription will get you new designer underwear to your doorstep every month.
FAQ
1. Is this a safe website?
Yes, Adam4Adam is a safe website. Even your photos have to be verified before your profile is created completely.
2. Is there a way to remove all those ads?
Yes, there is a way, but you will have to have a VIP membership for that.
Cost
Adam4Adam is mostly free, but for some features (removing the ads, for example), you would have to be a member.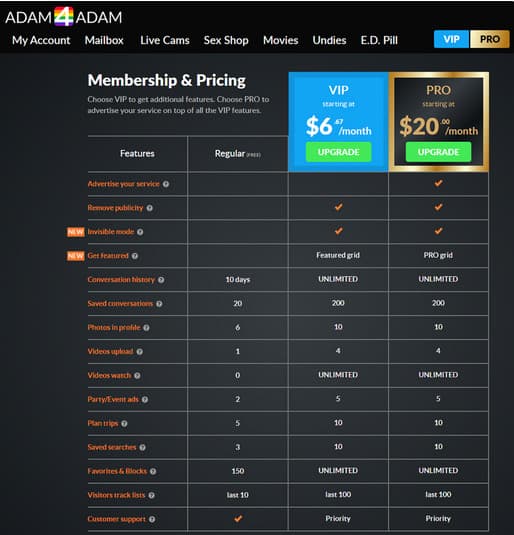 There are 2 plans, VIP and Pro, and the pricing is as follows as seen on the website:
VIP – $6.67 per month
Pro – $20 per month
Overall Rating
Adam4Adam is a website for gay men, with most of the users being non-white, so it is perfect for all of those interested in multi-ethnical dating. It also has some super features like adult movies and sex shop. However, the app is still under development with a lot of the ads and features missing, so this is something that should be fixed in the near future.
4. Grindr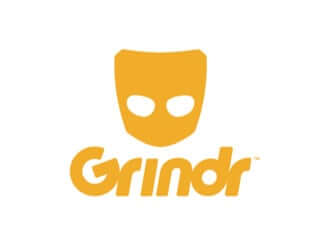 Ratings
Signing up – 3.5/5
Making Contact – 3/5
Profile Quality – 3/5
Affiliate Program – 3.5/5
Overall Rating – 3.25/5
Pros
The largest gay dating app with 27 million users
The simple design of an app and fast registration process
Multiple features to help you get more matches
Users are active
Cons
A large percent of fake profiles
Demographic Makeup
Our list has to include one of the first gay websites – Grindr.
Grindr belongs in the category of best gay dating apps and as one, it counts 27 million users from over 190 countries.
Americans, Brazilians, French, Mexicans, and Germans are the most active on the app.
All age groups are present, and the highest percentage of users (around 30%) are people between 25 and 34 years.
This is one of the gay hookup apps dedicated only to males, so only homosexual and bi males are welcome.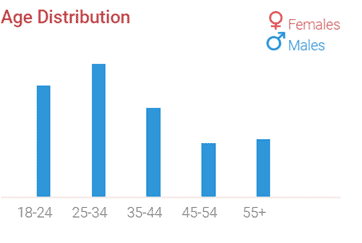 Ease of use "mobile and desktop version"
Grindr exists only as an app, and you can get it from either Apple or Play Store.
The design on the app is super simple – the theme is dark, and all buttons are placed on the bottom of the screen.
With just one click, you can switch between different tabs and access any feature.
Furthermore, the registration process is also quite simple.
Many users go for registration via Facebook, since it speeds up the process.
You can also log in manually – there are only a few information that has to be given.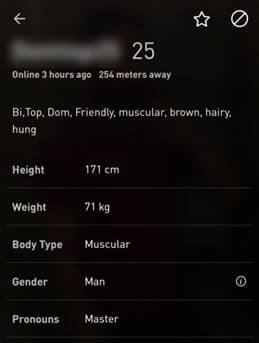 Grindr won't ask for email verification, but it has to approve your profile picture, so be careful about what you are posting.
Now, let's get to know some of the popular features:
1. Tap
Whenever you are ready to make the first move and start a conversation, you can use the Tap.
It is similar to a Like, and the other person will either like you back or break the ice and send the message.
2. Explore
The number of profiles in your area might be low, so you should look for sexy guys somewhere else. Use Explore to find single gays outside your country and start chatting with foreigners.
3. Gaymojis
Sometimes, you might lack words to explain what you are feeling. Grindr offers Gaymojis – there are over 500 emoticons so you can send creative responses to other members.
4. Tribes
Tribes are used for describing preferred sexual positions. By adding "My Tribes" to your profile you are significantly increasing chances of getting a match with similar preferences.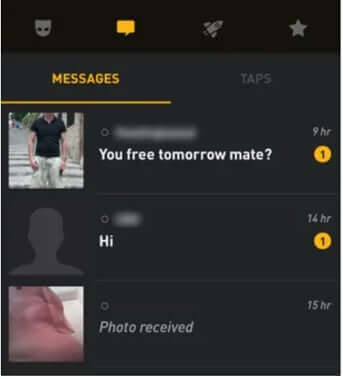 Cost
One of the great things about Grindr is that it offers so many free features.
However, if you want to make your profile more detailed, remove ads, or swipe without any limitations you will have to become a subscriber.
The prices written on the app are:
Grindr Xtra:
1 month – $13.00
3-month – $28.20
12-month – $62.40
Unlimited
1 month – $41.11
3-month – $61.17
12-month – $176.46
FAQ
1. Is there a desktop version?
Officially, Grindr doesn't have a desktop version, so you can't access it via PC.
However, if you are more tech-savvy, there are some hacks, so you can play a bit and try installing it on your computer.
2. Is there any background check or verification required?
Email verification isn't necessary, and when it comes to a background check, it is done by administrators.
3. Can I get banned?
Yes, if you aren't following Grindr rules, you can easily get banned. Users are usually banned because of pornography, use of stolen photos, and talks about drugs or weapons.
Overall Rating
Grindr is on our list of best gay sites for several reasons – it has a large audience, great design, and plenty of features that can be used without an upgrade. The creators could focus on making a desktop version as well. It earned a score of 3.25/5.
5. OkCupid.com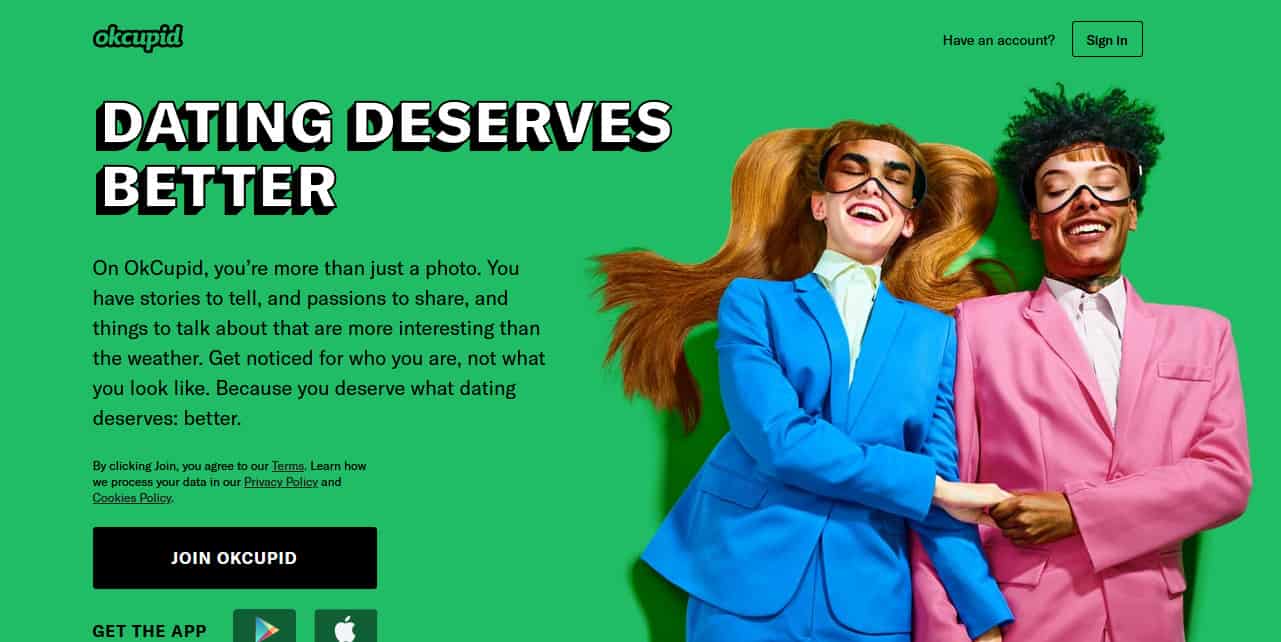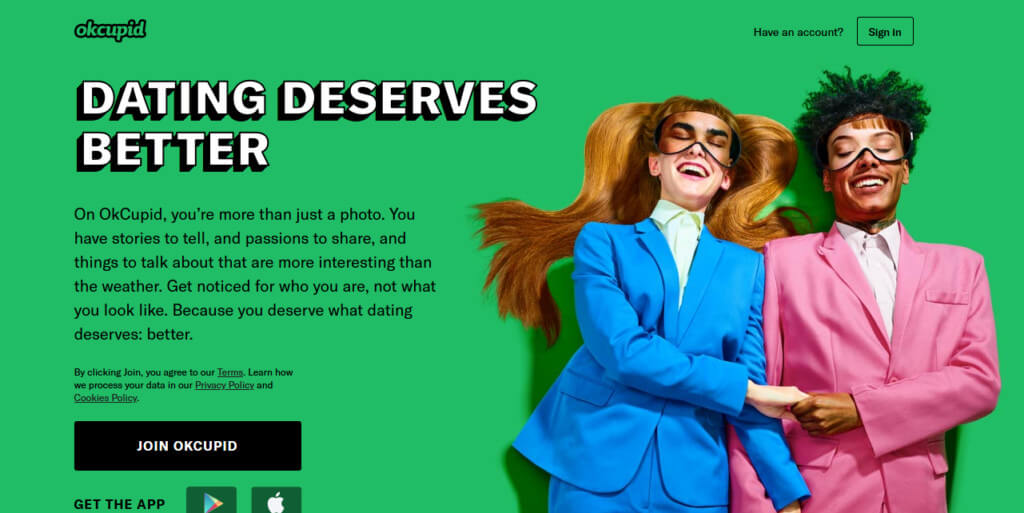 Ratings
Signing up – 3/5
Making Contact – 3/5
Profile Quality – 4/5
Overall Rating – 3.6/5
Pros
Free messaging
Mobile app for easy access on the go
Detailed profiles
Cons
Filling out your profile is very detailed and takes a lot of time
A lot of adds for non-paying members
Demographic Makeup
OkCupid is a free online dating site that in addition to catering to heterosexual singles also does a fabulous job of being a place where single gay men meet other men for friendship or to find love.
OkCupid has grown tremendously, starting out with a small collection of men to now having a broader audience of single men to meet and choose from the list of the best online dating sites.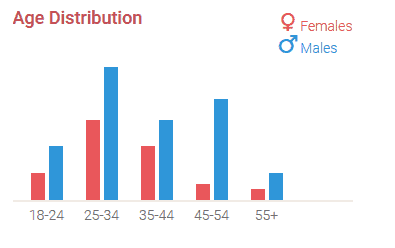 Being a free online dating site does help in attracting this ever-increasing audience.
With so many gay members on OkCupid, finding a guy to grab a drink with on a Friday night for a gay hook-up is just as easy (or challenging) as finding a guy on an exclusive gay hookup site.
Most of the people are between the age of 25 and 34, with 35 to 44 following, so you will easily find young and single and ready to mingle guys on OKCupid.
Ease of use "mobile and desktop version"
The sign up process is nothing more difficult than any other mentioned so far but it presents its users with a series of personality test questions when filling the online dating profile that the site uses to match them up with compatible gay singles.
One cool feature about OkCupid is that you can block the profiles of straight visitors and also block them from seeing your profile. Pretty cool huh!
These features make using the site less intimidating for new gay users or those who want to keep a low profile and wish to stay private and put OkCupid at the top of our best gay dating sites list.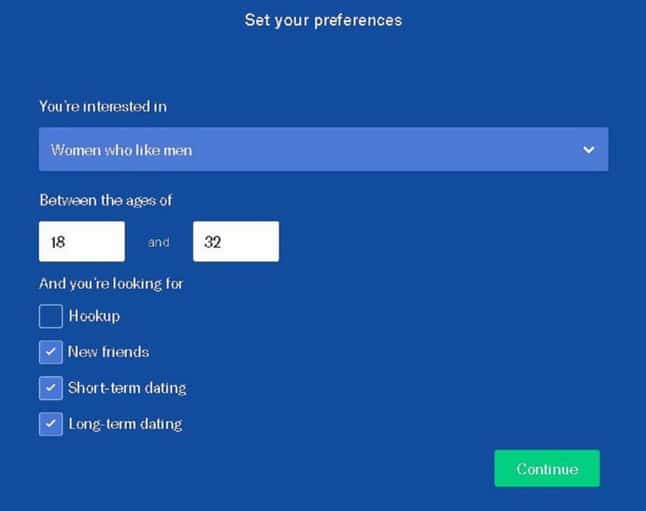 There is also a mobile version which makes matching and chatting with your likes on the go as easy as it can be.
There are no additional features or costs for mobile users, but it is pretty handy.
Some of the features include:
1. Boost
This feature will make your profile appear more frequently than other profiles, thus improving your chances of a perfect match.
2. See Who Likes You
This is a paid feature and it will let you see who liked you.
3.Double Take
This is the simplest possible matching machine similar to Tinder's where you just have to swipe left or right if you (dis)like someone.
Cost
As for the costs, you can use OKCupid for free, but if you wish to have some additional features, you will have to buy one of the plans mentioned on the website.
A-List Basic plan:
1 month – $7.95 per month
3 months – $6.35 per month
6 months – $3.95 per month
A-List Premium plan:
1 month – $24.90 per month
3 months – $22.90 per month
6 months – $19.90 per month
You can also buy additional boosts if you want to make your profile visible to others more frequently.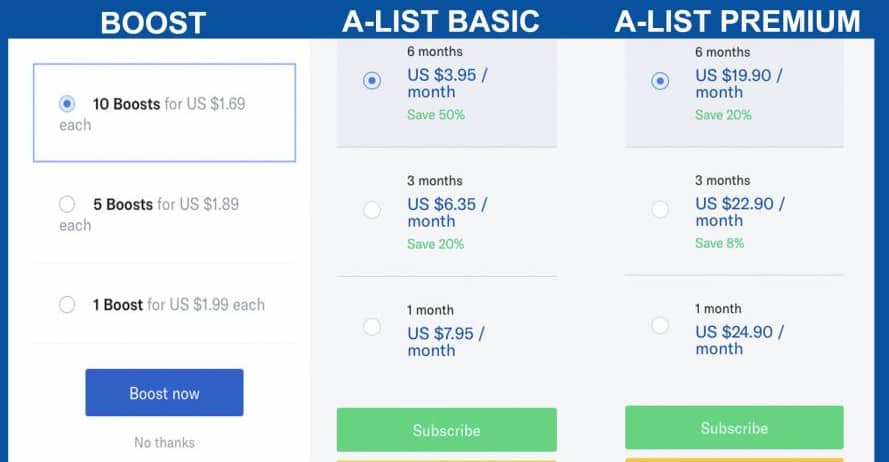 FAQ
1. How do I renew my plan?
You don't have to do anything to renew your plan. If you have bought it once, it will renew automatically.
2. Can I see all the profiles I liked?
Yes, you can. It is easily done through "Likes" tab on your profile.
Overall Rating
OKCupid is another pretty popular dating website with a lot of members and it is open and welcoming to LGBTQA+ members.
If you are there just for fun or to find a meaningful relationship, you will be able to find your person.
The basic plan is also free, so you will not have to spend a lot of money up front without knowing if you like what this website has to offer or not.
6. Scruff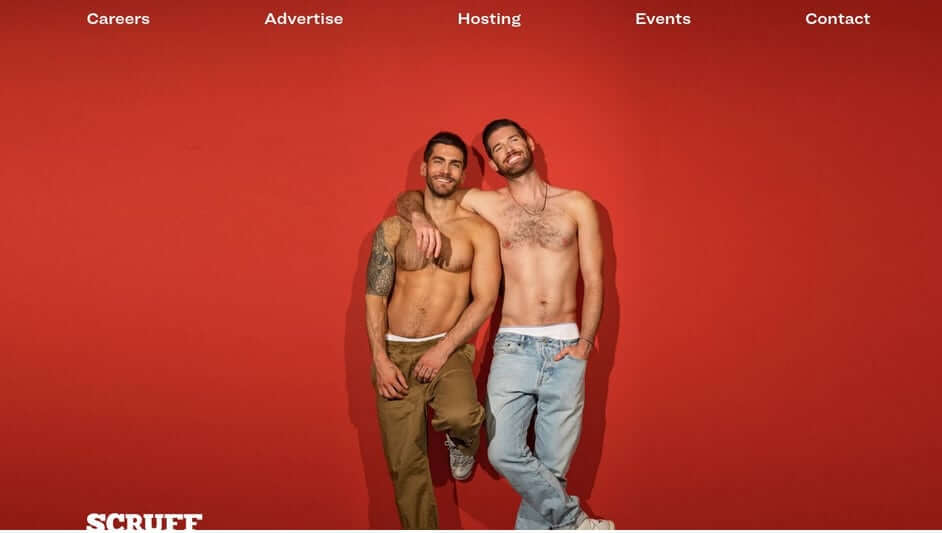 Rating
Signing up – 3/5
Making Contact – 3/5
Profile Quality – 3/5
Overall Quality – 3/5
Pros
No fake profiles
A large number of active members
You don't have to have an account to browse
Cons
A lot of adds
The app tends to crash
Demographic Makeup
Scruff is an app dedicated to homosexuals and their relationships, be it a long term, friendship, or just casual hookups.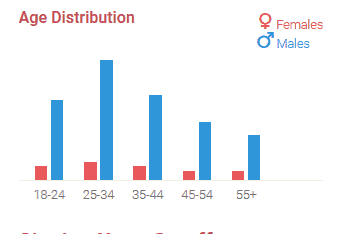 Most of the members of Scruff come from the United States and are between the ages of 25-35.
However, with a whole lot of members, all age groups are covered, so even if you are over 50, you will easily find your partner here.
Over twelve million people are using Scruff for whatever they like, and so can you.
Ease of Use "mobile and desktop version"
First of all, if you are interested in looking only, you will be able to do that even if you don't have an account.
However, if you are ready to start chatting and meeting new people, you will have to register.
First of all, you will need to input your location.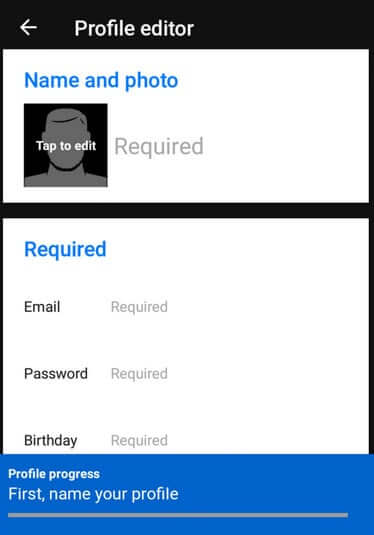 Once the app has your location, you won't be able to change it more often than once a day.
Next, you will have to upload your picture and have in mind that it will be checked and that underwear photos are not allowed.
Also, you will have to select what is it that your picture is showing: your body, your face, or something completely different.
Unlike many other websites and apps that require a clear photo of your face, Scruff will not ask you for it, but know that your profile will not be shown to others as much as if it would be if you had a nice and clear photo of yourself.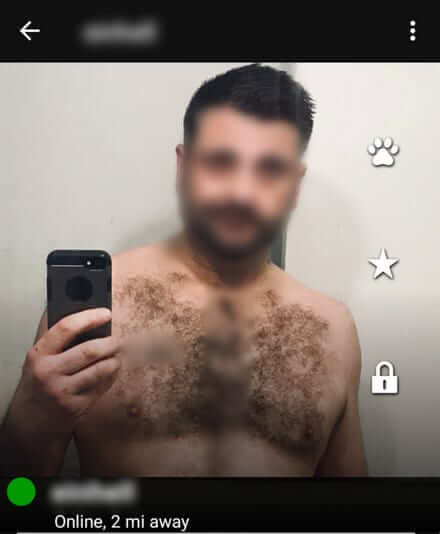 Same stands for completing your profile and adding all the personal information.
Some special features include:
1. Scruff Venture
Scruff Venture is something like a travel companion and dating app in one.
If you are planning to travel to any place, you can input the place into the app, and Scruff will give you a list of its users living there or visiting at the same time.
It will also give you a list of events and places you can visit, and you might even find someone at whose place you can crash – something like couch surfing.
2. Scruff Match
This is a regular swiping feature that will match you with people you like and swipe right if they swipe you right as well.
However, there are some new options here that other apps based on this principle do not have.
For example, if you are not sure whether you like or don't like a person, you can click on a little clock and have that same profile shown to you the next day.
3. Scruff Events
This will give you a list of all the events near you and you will even be able to see the list of people who have responded if they are attending a certain event or not.
Little flames next to the event will also show you how popular the event is, and there might even be some events that Scruff itself sponsors.
FAQ
1. Is there a way to see who visited my profile?
Yes, there is. If you click on the paw button, you will be able to see who viewed your profile and who send you woofs.
Cost
Even though you can do most of the things without paying (you can even search the app without having a profile), there are still some features for which you will have to spare some cash.
For example, if you want an ad-free app, you will have to buy a membership plan.
This doesn't sound like something on which you would like to spend your money, but there are so many ads that you might even reconsider.
Below are the prices you will find on the website:
1 month – $14.99
3 month – $39.99 ($13.33 per month)
12 months – $119.99 ($10 per month)
Overall Rating
Scruff is a dating app for LGBTQ+ members and it is dedicated to helping you find your partner – for love, hookup, friendship, or whatever you like. It has numerous new options, but our main dislike is that it has a lot of ads that you have to pay to remove.
Pros and Cons of the Best Gay Dating Sites
Pros
A great way of finding a compatible partner
Availability of gender identity and sexual orientation options
Gay dating sites allow you know who is gay or not without feeling embarrassed
Saves you the hassle of answering unnecessary questions about your sexuality
Cons
Lots of scam profiles
Your options might be restricted due to location
Fear of transitioning the relationship to the next level
Methodology
The following methodology was used to review the Best Gay Dating Sites:
Ratings
Pros and Cons
Demographic Makeup
Ease of use of the mobile and desktop version where applicable
Cost
Final Word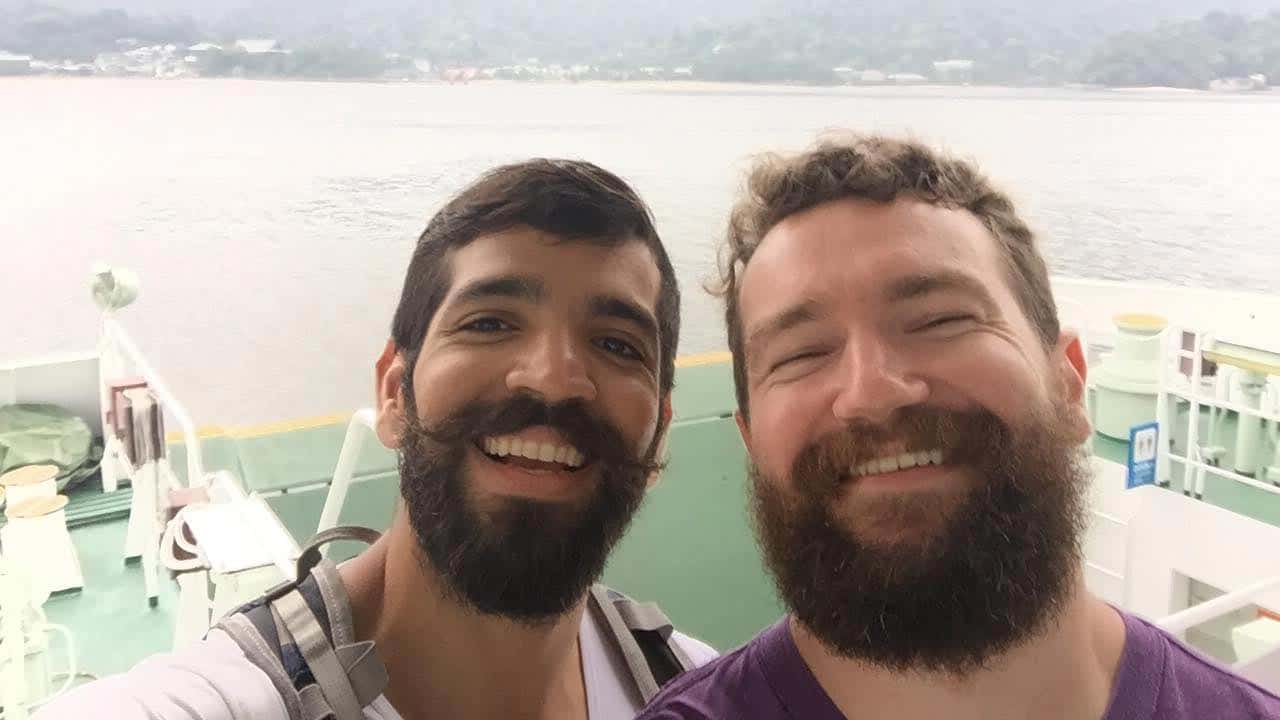 I hope you all got something valuable out of our article on the best Gay dating sites! Make sure to check out our article on the top overall dating websites, the best dating websites for lesbians as well as the best dating websites for young people!
Now go out there and have some fun, you crazy kid!
FAQ