Online dating is big in the land of maple syrup, ice hockey, and stunning natural vistas.
Yes, millions of Canadians from Vancouver, Toronto, and other major cities can be found online looking for that perfect match, be it for a long-term relationship, casual dating (like Tinder or eHarmony), or a hookup (like BeNaughty or Ashley Madison).
So today, we are going to look at a few online dating services used by single men and women in Canada who are looking for some dating fun or even their soulmate.
These Best Dating Sites in Canada will be scrutinized on:
OFL Top Recommendations based on 100,000+ Survey

"Serious Relationships"
"Discreet Hookups"
"Best Course for Men"
"Quick Flings"
"Normal Hookups"
"Our Quiz"
Once you've finished, you will have a far better idea as to which of the Best Dating Sites in Canada would be the best to trust as a matchmaker for your love life and help you set up that all-important first date.
Is your dating app giving you the best chance for success?
Make sure to take our online dating site/app quiz to find out.
It's a fact that people who follow our dating site suggestions have on average 2 extra dates per month.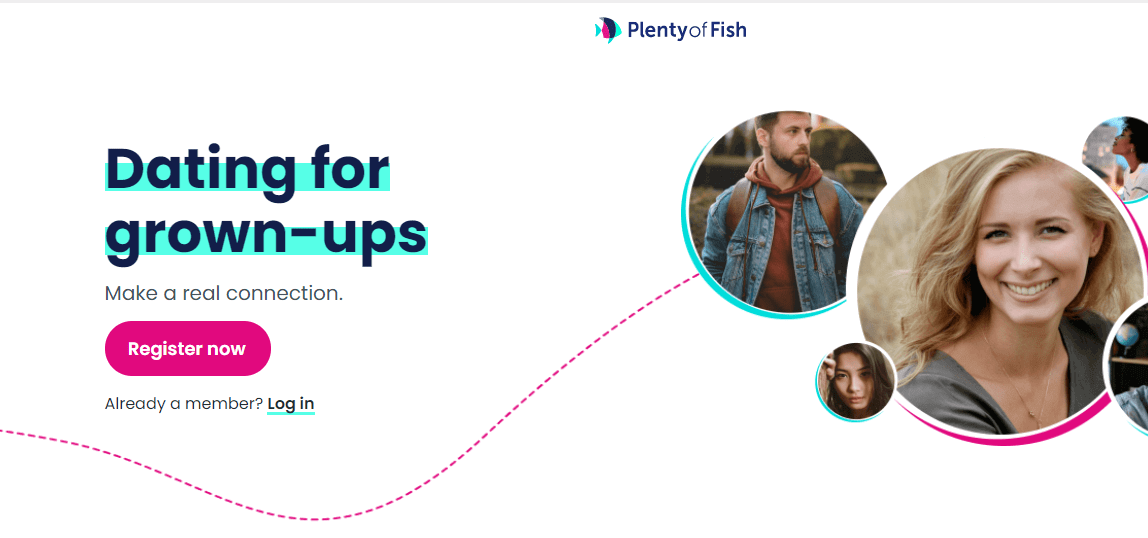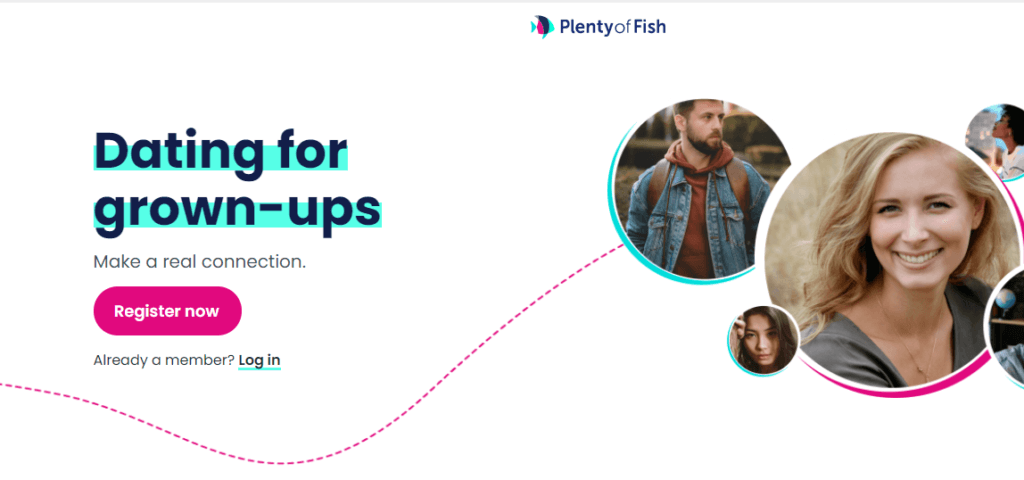 Signing Up – 4/5
Making Contact – 4/5
Profile Quality – 3/5
Overall Quality – 3.5/5
A popular dating app in Canada
You can message others for free
Two-step verification
Not all those 90 million users live in Canada
Plenty of Fish is a well-known dating site that's based in Canada and has been operating since 2003.
It's not only popular with Canucks but with their southerly neighbours in the United States as well.
Finding Canadian only demographics for Plenty of Fish isn't possible but we can get a fair idea of just how busy the site is by looking at overall figures.
And those are simply staggering!
In terms of overall users, Plenty of Fish has more than 90 million people who have registered for a profile.
Here are some more incredible facts and figures:
Around 70 million Americans have a profile on the site
According to Plenty of Fish 1.5 million Canadians log in each day
The Android app has been downloaded over 50 million times
60% of users are males
40% of users are females
27% of users are between the ages of 25 to 34, the biggest group.
The smallest group of users are 55 and older (14%)
Let's see how the site works.
As we've seen above, the Android app for Plenty of Fish has had millions of downloads.
I suspect that the IOS version for Apple devices would also be very popular.
It seems that many people use the app for their Plenty of Fish experience
Of course, it's a free download and it takes mere seconds to come down.
I prefer to register online, however.
It's not a slapdash procedure either.
That's because over and above the normal username, email address and password, you will have to fill in a personality test questionnaire.
That will help Plenty of Fish with matchmaking compatibility.
So take the time to fill it out as best you can.
Plenty of Fish then provides you with potential matchups from the moment you use the app or the website.
They are based on the answers you gave in the questionnaire but obviously, you can adjust various filters to help your change the type of returns that you receive, for example, age ranges.
Profiles on Plenty of Fish are actually pretty detailed but don't forget to fill yours.
Reaching out on the website or app is simple because you can send any amount of messages that you'd like.
There is no limit, even if you are a free user.
You can even send voice messages to others using the app.
In terms of using the app or website for the first time, well it's so straightforward that even a dating site newbie won't have any problems working it out.
While it's certainly possible to use Plenty of Fish without signing up for a membership, you do miss out on some added extras.
For example, if you do sign up, you can see who has viewed your profile which is useful for matchups.
You can also know if your messages have been read, enjoy an ad-free experience and boost your profile in other users' search results.
Plenty of Fish does things a little differently when it comes to membership in that they offer two, four and six-month packages.
The pricing for that is as follows:
2-month membership: $38.70 ($19.35 per month)
4-month membership: $51 ($12.75 per month)
6-month membership: $81.40 ($10.18 per month)
Those prices are competitive for sure, but I still would have liked to see a month-to-month option, even if it was priced at $20.00.
But as I said earlier, membership isn't needed to make a success of your online dating exploits on the site.
There just might be far more swiping needed if you don't take it out.
1. Is Plenty of Fish free?
Yes, it is.
While it includes membership which will help you in your quest for a soulmate, without a doubt, you can use the site successfully without paying a cent.
2. Is Plenty of Fish safe?
Well, it has been around since 2003, so it must be safe, right?
Your private details are kept behind all the security checks and balances you would expect.
It also includes a phone number verification system to make it difficult for scammers to start a profile.
3. Is Plenty of Fish the best dating app in Canada?
Well, that's pretty subjective.
It certainly is one of the best, that's for sure.
Over 1.5 million Canadians have signup up for profiles on the platform.
As it's one of the most popular dating sites on the North American continent, giving Plenty of Fish a try in your quest to find a partner is a simple decision.
It certainly is worth it.
Ease of use, a massive amount of users and the fact that it's free puts Plenty of Fish right at the forefront of dating apps in Canada.
​In terms of an overall rating, well, it scores a more than credible 3.6 out of 5.


Signing up – 4/5
Making contact – 3/5
Profile quality – 4/5
Overall quality – 4/5
A dating site with 4 million users from Canada
eHarmony has a super effective matchup algorithm
Users must complete their profiles before using the site
You can sign up with a social media account, in this case, Facebook
A lengthy signup process which some potential users might not like
You cannot use profile details as part of your search process for potential matchups
There's no doubt about it.
eHarmony is one of the biggest dating sites on the planet.
And one of the most successful in helping to bring people together.
If you are Canadian and on the lookout for love, you'd have to consider it as one of the best dating sites to try out.
For a start, it has over 4 million users!
Now that's impressive.
While other Canadian-specific information isn't available, by looking at global stats for the site, we can also determine the gender ratio and most popular age ranges.
So starting with the gender ratio, 47% of eHarmony users are female and 53% are male.
That's another excellent reason to start a profile because men and women are almost equally represented on this dating app.
That's not something that you see very often.
As for age ranges, well 37% of all users are between 25-34 years old.
The next biggest group is the 35-44-year-olds who account for 32% of all users.
The smallest group of users in terms of age range are the 55+ users.
They account for just 6% the user base of eHarmony.
Ease of Use "mobile and desktop version"
One of the things about eHarmony that makes it different from the vast majority of dating sites is the registration process.
If you want to get online in a few minutes, well, you probably aren't going to like what eHarmony has to offer.
But I say, stick it out.
Yes, the registration process is long, but it's something that I think is necessary.
There are two reasons for this:
By taking you through the process and having you provide critical information, eHarmony can give you excellent matchups thanks to their awesome algorithm which even uses machine learning.
During registration, your profile is completed and that's never a bad thing.
Once you are active on the site, each day, eHarmony will allow you to look for potential matches for you.
As a regular user, you can see their full profile but not a profile picture.
That's only a perk for paying members.
Reaching out to them is also limited.
Yes, you can send them a wink to show them your interest and you can also send them some site-generated questions for them to answer.
Personal messages aren't possible without a paid membership, however.
So if you aren't prepared to sign up, you are very limited in what you can do onsite.
Membership brings a few key extras:
Unlimited messaging
The ability to see profile pictures
See if anyone has favorited your profile
See who has viewed your profile
Incognito browsing
Receive matches outside of your preferences
Many users choose to use eHarmony in app form.
It's available as a free download on both the Google Play and Apple Store.
For eHarmony to be effective, you are going to need to buy into one of the membership options that it offers.
But what's that going to cost?
Well, here is a breakdown:
6-month plan: $59.95 per month
12-month plan: $35.90 per month
24-month plan: $25.90 per month
Let's be honest, that six-month plan is expensive.
But then again, eHarmony does have a lot to offer, that's for sure and their matchup algorithm is one of the best around, that's for sure.
1. What is the best dating site in Canada?
Whether it is the best is obviously always going to change depending on individual opinion.
eHarmony is right up there, that's for sure.
That's due to the fact that the matching algorithm is superb and continues to improve the matches for each user thanks to machine learning.
2. What's the best dating site to find someone with the same interests?
Well, I would suggest eHarmony is right up there.
Again, that's thanks to the matchmaking algorithm that it uses to bring potential matchups together.
It certainly does this by comparing interests.
Yes, this is a massive online dating site.
It has everything it needs in place to keep each user's private details safe.
Also, thanks to the lengthy registration process, you'd think scammers and those who want to create fake profiles would move to other sites where it is quicker to do so.
eHarmony is a fantastic dating site.
It's also home to over 4 million Canadians that have registered profiles.
Thanks to its brilliant matchmaking, it is a site where you can find what you are looking for, be it a long-term relationship or casual dating perhaps.
It gets an impressive 3.75 out of 5.


Signing up – 4.5/5
Making contact – 3/5
Profile quality – 4.5/5
Overall quality – 4/5
A massive worldwide user base and in Canada too
OkCupid includes a host of features to help you find the perfect matchup
​That includes a very effective matching algorithm
Messaging is very limited for free users but not impossible
While no figures for Canadian user numbers for OkCupid exist, it certainly is a dating app that is popular.
Unlike eHarmony, however, OkCupid is an online dating site where there are more men than women.
Around 65% of users are male and 35% users are female.
That's might be something that would influence your decision to sign-up or not.
When looking at age ranges, 80% of all users can be found between the ages of 18 to 44 years old.
Ease of Use "mobile and desktop version"
Like eHarmony, the registration process for starting your OkCupid profile is a lengthy one.
That's because the site prides itself on bringing you excellent potential matchups.
But to do this, you need to fill in a comprehensive questionnaire.
In total there are over 4 000 questions that you can continue to fill in once your profile is complete.
This can help to refine the matchups that come your way even more.
Of course, the registration process will only have you fill in some of these to begin with, those that can give an idea of what it is you are looking for.
You can do this either through the OkCupid website or from the dating app.
The choice is yours.
Other information you will have to complete during the registration process is all the regular stuff.
And yes, OkCupid has a full range of gender options which also adds to the fact that it is so popular.
Both the site and app are very easy to find your way around, even if you are an online dating newbie.
Of course, you will be provided with a range of matchups based on the information given during the registration process.
Communication, however, isn't simple
Yes, you can message them but only if you have liked their profile and they liked your profile in return.
The thing is, if someone likes your profile or you like theirs, there is no way of knowing without having a membership on the site.
If you like someone's profile, however, you will start to appear in their matchups, so there is a chance that they may like you back.
And then communication can begin.
But in all honesty, it's so much easier if you take out a membership package.
Membership on OkCupid brings messaging, more search options, the opportunity to see if sent messages have been read and also you can see who has liked you.
There are two membership options on the site: A-list basic and A-list premium.
​A-list basic
$7.95 month-to-month
$19.05 for a 3-month membership ($6.35 per month)
$23.70 for a 6-month membership ($3.95 per month)
​A-list premium
$24.90 month-to-month
$68.70 for a 3-month membership ($22.90 per month)
$119.40 for a 6-month membership ($19.90 per month)
If it's all the features you want, then A-list premium is the way to go.
In comparison to many other dating sites, membership on OkCupid is pretty competitive.
1. What dating sites actually work?
Well, all the dating sites in this article are successful in helping people find the right kind of relationship.
OkCupid in particular is popular around the world and in Canada because it facilitates matchups so well.
That's because it makes sure that compatibility is the order of the day.
2. Can I only pay for OkCupid membership with my credit card?
No, there are other ways as well.
You could pay using PayPal or via your mobile phone account in some cases.
Stacks is a tool that OkCupid allows you to use by which you can categorize the matchups you get.
For example, you can have groups that are nearby your location, for example.
You can put these matches in any number of groups as you see fit.
​OkCupid gets a stellar rating of 4 out of 5.
Much like eHarmony, there is a lot of effort put into providing users with top-quality matches.
Some dating sites just find a few things in common and throw matches at you but with OkCupid, if you've filled in your profile and answered the registration questionnaire, you know the matchups you receive will be top quality.
Canadians love OkCupid and I am sure you will too.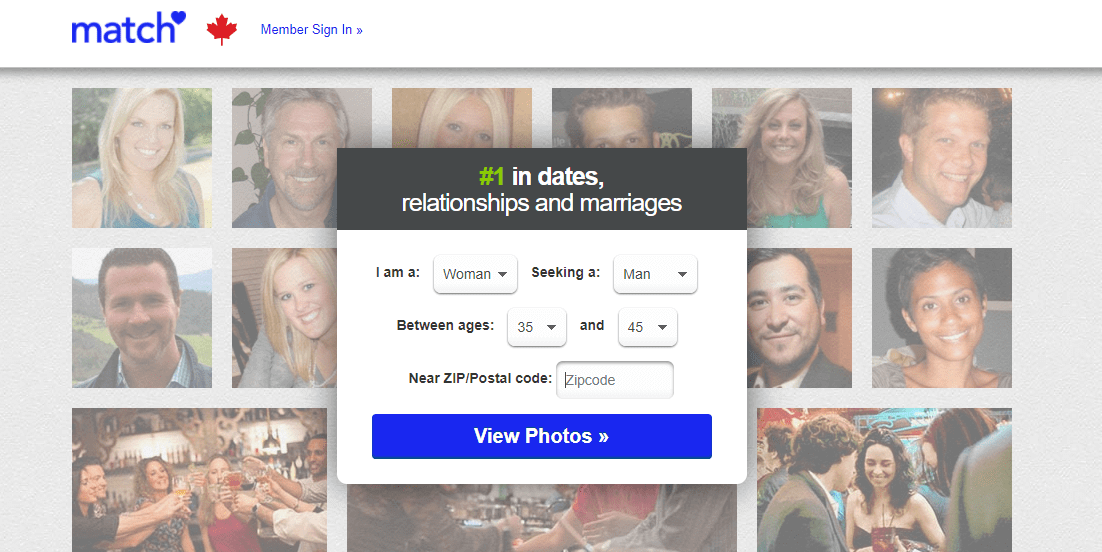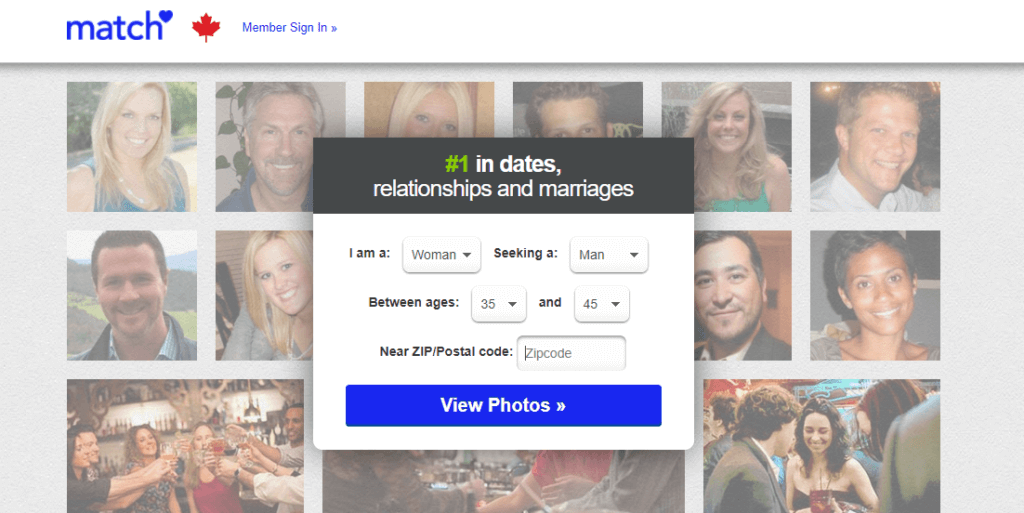 Signing Up – 4/5
Making Contact – 4/5
Profile Quality – 4/5
Overall Quality – 4/5
Match has its own website for Canadians
Large user base
App for both Android and IOS
Most members going for long-term relationships
Only members are able to send messages
Getting site-specific numbers for Match.ca just wasn't possible.
But back in 2015, reports suggest that around 14 million Canadians are single.
That's probably grown a little more over the past few years.
But yes, often they will turn to dating apps like Match to help them find love.
We can look at global statics for Match to see what the gender ratio breakdown, as well as the most active age ranges, are on the site.
They shouldn't vary too much for Canada so can give us an idea.
When looking at gender ratios, 55% of Match users are male and 45% are female.
It's similar in that way to eHarmony and far better than OkCupid and Plenty of Fish.
This may be the reason why you choose Match over another site.
As for age ranges, the group that provides the most users is the 25-34-year-olds (25%).
The great thing about Match, however, is that you will find a good spread of users across all age ranges.
For example, the smallest group of users are the 18-24-year-olds and they make up 10% of all members.
Ease of Use "mobile and desktop version"
It seems that many Match users like to use the app instead of the website.
Either way, the registration process isn't that extensive with you having to provide regular information like all dating sites.
Part of your profile will also be completed at this point but you have to finish it off once you gain access to the site.
Most of it will be done during registration, however, which is a good thing.
I found it interesting that Match doesn't require that you validate your email address like so many of the other large, commercial dating apps.
To look for potential matchups, you will mostly use the "Discover" feature.
This is like a search engine and you can tweak lots of parameters if you'd like to.
These are all based on profile details mostly.
Making contact, however, is for members only.
As a free user, you can like someone's profile but really, that's all you can do.
So membership is necessary for messaging but it also brings some incredible features that the other dating sites we've covered don't have.
For example, you can call another use through Match and speak to them.
Or you can use the Match Me feature to boost your profile to the forefront of people you match with.
Also, you can go on a video date with another user.
These extras are pretty awesome but what are you going to be paying for them?
Let's look at the different cost options Match has.
There are two different plans for either three-months, six-months or 12-months.
They are the Standard Plan or the Premium Plan.
Let's look at the Premium Plan as it has all the added extra mentioned above which make Match unique over the other sites we've covered.
Three-months – $14.99 per month
Six-months – $11.49 per month
Twelve-months – $8.99 per month
Note, these cannot be paid monthly and will require on-off lumpsum payment.
Video Date is a tool for Match members only.
It allows two members to chat with each other using their webcam or phone camera.
You cannot do it with just anyone, however.
You will have to have exchanged four messages or more between each other before the option becomes available.
2. Can I call someone through Match?
Yes, you can.
This is another member-only feature called "Match Phone".
The best thing about it is that Match facilitates the call without you having to give out your phone number.
​Match certainly is a little different from the other sites we've covered in that it has some unique features that members can use.
And that might just be the thing that convinces you to try out this online dating site in your quest for love.
It doesn't hurt either that this is a well-respected dating portal with a lot of users.
Match gets a well-deserved 4 out of 5 as an overall rating.