Tinder, Bumble, or other common dating apps aren't so popular among single doctors.
These websites just aren't their cup of tea and they are looking for something more specific – the dating sites that professional singles are using to find love.
These professional sites are not for hookups (like BeNaughty or Ashley Madison) but are mainly for those seeking serious relationships (like eHarmony)
We'll review these Best Dating Sites for Doctors based on:
So, I have created a list of the five most popular doctor dating sites.
Without further ado, let's begin!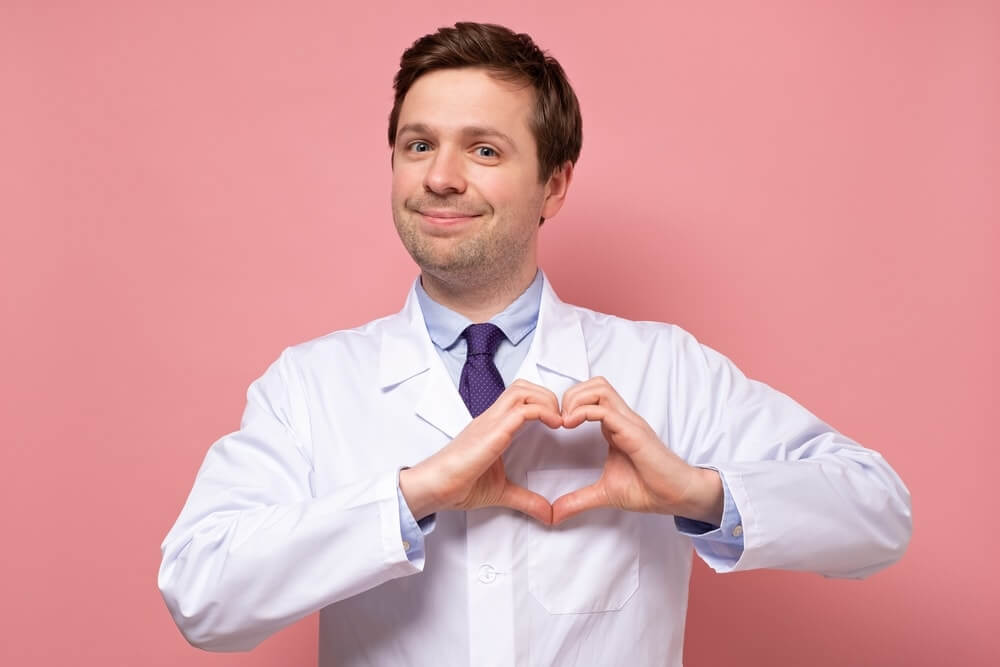 Best Doctor Dating Sites in Video Form
Audio (podcast) form for those of you on the go
Best Dating Sites for Doctors
Signing up – 4/5
Making Contact – 3/5
Profile Quality – 3.5/5
Overall Rating – 3.5/5
4 million users with a 50:50 ratio of women and men
Each member gets 50 winks per day
All photos are verified
The registration is simple, and you can use Facebook to join
Free users have limited access to features
Millionaire Match is an international dating site and one that is frequently used for doctor dating.
It has almost 4 million users – all are rich, professional singles that are hoping to settle down.
The largest percentage of members is from the United States.
This website is suitable for all ages.
Members in their mid-thirties and forties are the most active, while only 4% of users are young adults.
Speaking of gender distribution, it is equal – there is the same number of female and male members.
Ease of use "mobile and desktop version"
When it comes to design, the website is created to fit the taste of its audience.
It is super modern, black and gold, and quite easy to use.
You can access any feature you want via the top bar – there are placed in separate sections, so with one click, you go to the wanted page.
The Millionaire Match app isn't as good as the website.
It offers the same features, but the design is a bit different.
Instead of seeing profiles in the grid, they are displayed linearly.
Also, the app crashes frequently, so it is sometimes quite frustrating to use.
Moving on to the registration process – it is simple but sometimes lengthy.
In the first step, you will need to provide basic information, as well as a username and password.
This step can be easily completed, but the second one might take longer.
One paragraph about your interests is required, along with one paragraph about the person you wish to meet.
After both are written, you will have to verify the profile via email.
Here are some of the key features:
If you aren't so creative but want to take the person you've met via the website on a memorable first date, visit the First date ideas page.
There you can find numerous recommendations, and if you have a premium account, you can even reply to posts.
The website is called Millionaire Match for a reason – almost all members are wealthy.
So, on this page, you can find photos of member's luxuries – they are bragging about things they own that came with a big price tag.
This website is considered a pricier one – you can pay either via bank or credit card.
Here are the prices:
Gold membership
1 month – $70.00
3-month – $170.00
6-month – $270.00
No, you do not have to be a millionaire to join.
However, if you aren't rich, you have to be attractive, or you won't be accepted as a member.
This symbol is used for distinguishing standard and premium members – anyone with a crown is a premium member.
Millionaire Match has an overall rating of 3.5/5.
The design is great, the verification process is quite strict, and so the number of authentic profiles is high.
However, free members have limited access and the app often doesn't work.
Signing up – 4/5
Making Contact – 4/5
Profile Quality – 3.5/5
Overall Rating – 3.75/5
The strict verification process, so all profiles are authentic
Search profiles by online status
Great design of mobile and desktop version
Members can create private galleries, and unlock them only for some members
The app is available only for Android phones
If you are a single doctor, but not ready to settle down, then Seeking Arrangement is maybe your cup of tea.
The ratio of women and men on this website is almost the same – there are only 2% more males.
Seeking Arrangement has almost 10 million users, and they are looking for one of two things: either member is looking for someone to look after, shower with gifts and attention, or he/she is the one that wants the attention.
Since this is a website for more casual relationships, young adults are the most active – around 30% of users are in their late twenties.
Ease of use "mobile and desktop version"
The website has a minimalistic design – it may seem boring at first, but you will easily get used to it.
All icons and text are quite clear, and the instructions are easy to understand.
If you are a bit older, you will easily find what you want.
The mobile version is just as good.
It has similar features and designs.
However, it is only available for Android, and iOS users have to use Safari to access the website, which often isn't so convenient.
Becoming a member is quite easy – after the standard forms are filled, the profile goes through a background check and verification process.
To increase the visibility of your profile, linking your LinkedIn profile is recommended.
Now, let's see the features of Seeking Arrangement:
On the blog, you can find plenty of tips for safe online dating.
Also, events hosted by the website can be found there.
If you feel comfortable, you can video chat with your matches.
This is a premium feature, so you have to be a subscriber to try it.
Seeking Arrangement offers to premium accounts – one is called Successful member and the other is an Attractive member.
The prices for both a bit higher compared to other dating websites.
Successful member
1 month – $89.95
3-month – $239.85
Diamond membership – Successful member
Attractive member
1 month – $19.95
3-month – $44.95
Diamond membership is the more expensive one – typically, Diamond members are verified by the website as wealthy, and their profiles have higher visibility and rank.
Yes, every profile picture has to be approved by the website, so members cannot upload photos of somebody else.
My final verdict – 3.75/5. The design of the website is stunning.
Also, it offers plenty of search filters, and a private gallery is a unique feature.
However, the iOS version of an app is unavailable.
Signing up – 4/5
Making Contact – 3/5
Profile Quality – 3.5/5
Overall Rating – 3.375/5
Photos and profile information are unlocked
The mobile version is quite intuitive
Winks, flirts, and gifts are available to everyone
Each member receives suggested profiles
There are many pop-up ads
The app is unavailable for Android
Doctors, nurses, and dentists are quite active on Uniform Dating, so you can start dating doctors via this platform.
This isn't just a doctor dating site – Uniform Dating is a dating app designed for police officers, firemen, pilots, and other professional singles.
Currently, Uniform Dating counts 400 thousand American users, and most of them are men.
The difference between female and male users isn't big – since the ratio of male to female is 2:1, both genders have almost equal chances of finding love.
Across all age groups, the same trend is present – men are the more active gender, and most of them are either in their thirties or early forties.
Ease of use "mobile and desktop version"
Becoming a member of Uniform Dating won't take longer than two or three minutes.
The process consists of some of the basic forms, and there are tips on how to complete them, so if you get stuck on one of the questions, just see the instructions.
Once the forms are filled, you have to complete the email verification, and then you can browse.
You will see that Uniform Dating is fairly easy to use.
There are plenty of search filters, so you can filter the results by age, location, gender, and profession.
Everything is quite straightforward, but if you aren't spending too much free time on the internet, you might feel overwhelmed at first – the website is full of advertisements, and often, one piece of information is displayed multiple times.
So, if the website version doesn't suit you, you can switch to the app – it has a much clearer design and has the same features.
Keep in mind that the official Uniform dating app is available only for iOS.
Let's move on to the features:
Since many users are on this dating site for doctors, your profile can easily get lost in the pool of others.
To make sure that others see you, highlight your profile – this will increase both visibility and match rate.
Winks are used for showing interest and they are available to everyone.
However, messaging isn't, but if you are a premium member, you can turn on Free communication and allow standard members to contact you.
Uniform Dating has budget-friendly prices, which are determined by duration:
1 month – $34.99
3-month – $59.97
6-month – $95.94
If you can't see your profile picture, the team of Uniform Dating has probably deleted it because they found it inappropriate.
Before you upload a new one, check out their community standards so you know which photos are accepted.
Yes, all subscriptions are auto-renewed, and you can cancel the subscription on the Billing History page.
I gave this doctor dating website an overall score of 3.375/5 – the sign-up is fast, and it offers many search filters and good profile quality.
However, some of the basic features are locked for free members, and there is only the iOS version of an app.
Signing up – 4/5
Making Contact – 3.5/5
Profile Quality – 4.5/5
Overall Rating – 3.875/5
High-quality profiles as a result of personal test
An equal number of male and female users
Straightforward design of mobile and desktop version
Verified profiles
Pictures are blurred for standard members
Since Elite Singles is a website only for educated singles, among their millions of users, many single doctors are looking for love.
Elite Singles is a worldwide dating website, so you can meet people from across the globe, and members are mostly from the USA, UK, Canada, and Europe.
The total number of female users is equal to the number of males, but over different age groups, the trend changes.
When it comes to the 25-34 age group, there are almost twice as many men as women.
However, this trend changes for the 35-44 age group, where women are the more active sex.
Ease of use "mobile and desktop version"
If you want to become a member of Elite Singles, you will have to complete the registration process.
Some parts of this process can be done in just a few minutes, while others are a bit lengthier.
So, when you give general information, you will have to complete the personality test – these questions are analyzing almost 30 traits, and the results are later used for matching.
The result of this process are detailed profiles – some answers to the questions can be hidden, but the quality is still pretty high.
Another thing you will love about Elite Singles is the ease of use – since the younger audience isn't so active, the creators made a website that will suit older generations better.
Everything is quite intuitive, and with one click you can switch tabs.
If you want to stay in touch with your matches while on-the-go, then install the app.
It allows messaging, winks, likes, and other features of the desktop version.
You can even use the app to create a profile.
So, what features besides chatting, and winks Elite Singles has to offer?
Well, if you have upgraded your account, then try Wildcard Matches – you will receive additional twenty profiles that you are highly compatible with.
With Have you met, you can match with people that you might have missed when browsing.
If you enjoy quizzes, and different personality test, then complete the personality survey – you will have a more detailed profile and even better match recommendations.
Elite Singles offers three different memberships: light, classic, and comfort. With one of the memberships, you will unlock the messaging feature, as well as comments and gallery.
Light
Classic
Comfort
Yes, you can delete or add information any time you want, by clicking on the pencil icon on your profile.
In the Settings, find the Account and choose to Delete my Account.
The final verdict on Elite Singles – 3.875/5.
One of the biggest advantages of this website is high-quality profiles, as well as great design.
However, the pictures are blurred for standard members, and many features are only available when you upgrade the account.
Signing up – 3.5/5
Making Contact – 3/5
Profile Quality – 3.5/5
Overall Rating – 3.375/5
The website only for doctors, nurses, and dentists
Great design, and mobile app for Android and iOS
No scammers on the website
If you are looking to date only doctors or nurses (somebody from your professional field that will understand your schedule), then Marry Doctor is the right choice.
This is a medical dating site – only doctors can join the website.
It is an international dating website but doesn't count as many users as other websites on this list do.
The majority of users are from the USA, and the number of female and male profiles is the same.
What the users are looking for?
Doctors on Marry Doctor are looking to settle down, so only deep connections are made.
Ease of use "mobile and desktop version"
Marry Doctor has a simple design – you won't be overwhelmed by profiles, icons, or ads.
You can use the app as well – it offers the same design and options.
Thanks to plenty of search filters, you can find who you are looking for effortlessly.
Also, the registration process is just as easy – there are a few forms to fill, and email verification is needed.
Besides email verification, you can also verify your income, so your profile gets a badge and your visibility is higher.
With higher visibility, you can expect more matches!
When it comes to features, Marry Doctor offers only basic ones:
Winks are unlocked for everyone – they are similar to links, so when browsing you stumble upon someone attractive, send them a wink.
Each member has an unlimited number of winks, so you can flirt as much as you want.
The Messaging feature is one of the features of Marry Doctor.
When somebody sends you a wink, and you send the wink back, you can start chatting.
Keep in mind that this feature is only for premium members – standard profiles can't either send or respond to messages.
Marry Doctor is another website considered pricier – however, the membership is worth every penny, since it gives you full access.
The membership can cost you $40 or even more – all prices are based on the duration of the membership.
Yes, this is a safe doctor's dating site – verification is required, and members can verify their net worth as well.
Doctors, dentists, and nurses are all welcome to the Marry Doctor dating website.
This website got an overall score of 3.375/5.
The design is great, and you will only meet people from your branch.
However, limited access to almost all features will negatively affect dating.
Signing up – 3.5/5
Making Contact – 3.5/5
Profile Quality – 4.5/5
Overall Rating – 3.875/5
Each member gets five recommendations per day
Zero fake profiles
All members have to link social media accounts
Quite an elegant website design
Discrimination toward non-Caucasians
Too expensive membership plans
The League is another website for educated singles, among which are doctors.
Some of the members have even attended Ivy League schools, and they describe themselves as ambitious, successful, and career-driven.
It is an international dating platform, with 50 thousand American members.
The League is quite popular in New Zealand, the UK, Canada, and some European cities, mostly France and Germany.
The gender distribution on this website is a bit different than on others on this list – women are more active, and 52% of users are female.
Furthermore, most members fall in the 25-34 age group.
Ease of use "mobile and desktop version"
Now, let's talk about the registration process.
The League is quite selective, and it isn't so easy to become a member.
The registration process is quite lengthy, and you will have to provide a few social media accounts besides general info.
Once you get in, you will be amazed by the website's design and features.
It is modern, looks expensive, and easy to use because it is so intuitive.
Both mobile and website versions have the same black and white theme, with a fancy font.
Even though the memberships are pricey, the app is free to download.
Here are some of the League's best features:
This feature (as well as any other) has to be bought.
Firstly, you will have to buy the League Ticket, and then invest a few more bucks to get the League owner, which unlocks stats, VIP passes, and read receipt.
League Groups are similar to clubs – these are created by members, and only a certain number of people are allowed to join.
In clubs, members talk about interests, hobbies, or often about business ideas and stocks.
League offers three membership plans, and you can also purchase Tickets and Owner plans.
Membership
1 month – $99.00
6-month – $199.00
12-month – $349.00
Tickets
5 credits – $25.00
15 credits – $60.00
50 credits – $199.00
300 credits – $999.00
Owner plans
1-month – $199.00
12-month – $999.00
Yes, by linking LinkedIn, you won't get coworkers as recommended matches, improve your visibility, and verify your identity.
Amanda Bradford is the founder.
She created the app because she was unsatisfied with other dating platforms.
If you want to date some that are just as career-oriented as you, this is a great app.
It stands out from others, however, $1000 for one of the bundles and plans is a bit too expensive.
I gave it a rating of 3.875/5.