Ah, the challenge of dating a fiery redhead.
For many, it's like a moth to a flame.
Just like there are sites (like BeNaughty or Ashley Madison) dedicated to casual hookups and also those dedicated to serious relationships (like eHarmony), and because so many people want to date redheads specifically, there are dating sites dedicated to these firebrands.
So in today's article, we are going to look at a few of them with a few important characteristics in mind.
We'll consider:
And by the end, you will have a range of dating sites to pick from in your quest for redhead love.
Best Dating Sites for Redheads

Signing up – 4/5
Making contact – 4/5
Profile quality – 4/5
Overall quality – 4/5
A beautifully designed website
Limited free messaging
Profiles packed with information
One-month membership is pricey
There's nothing to hide here, this is a dating site for people that want to date redheads, primarily.
But of course, some redheads want to date other redheads just for a little more spark.
And while it proved impossible to find user numbers, I found a number of redheads near my location, which is a small town where niche datings sites tend to luck out in finding me dates.
From what I could tell in my searches on the site, there are redheads across the age spectrum to be found on Redhead Dates.
Ease of Use "mobile and desktop version"
Hearts and flames… as well as a beautiful redhead.
That's what greets you the minute you hit the Redhead Dates landing page.

The process to setup up your 100% free profile is a simple one.
It's important to note, however, that this website allows for men seeking women and vice versa.
It doesn't cater for gays and lesbians at this stage.
By providing your name, the gender you are hoping to date, your birthday, email address and password, you've completed the registration process.
That will gain you access to the site but your profile is only 5% complete.
I found filling in my profile on Redhead Dates a fun exercise because it's all a little different, just like us redheads, right?
For example, you get a range of questions to answer, like "what do you do for fun" and "what's an interesting fact about you".
It's refreshing to see a dating site that dares to be a little different.
Of course, there are also lifestyle and appearance parameters that you need to fill in as well as your interests.
Let's talk about the site design.
It's pretty funky, that's for sure.
You will navigate the site by the menus found at the top of the screen.
These are:
Home
Search
Profile
Inbox
Who's viewed me
Diaries
Encounters
Favorites
Most of those you would have seen before, but there are a few that I'd like to explain.
Diaries are dating diaries written by other members, or yourself and cover a range of topics.
Encounters is a roulette-style match game that shows you profiles near you.
You can say if you'd like to meet them or not.
If they would like to meet you, it's a match.
Redhead Dates' search engine is pretty basic for regular users.
You can adjust the age range and location and pick a hair color.
Of course, members get far more search options.
But what about reaching out to someone that you'd like to get to know better?
Is that possible without taking membership?
Well, yes it is.
Redhead Dates has recently allowed a message system where you can send messages to other users from their profile.
You can also send them a wink or favorite them as well as indicate that you would like to meet with them.
So usually, messaging would form part of the membership package of a dating site like this.
But now you have it for free.
So then you are probably wondering, what types of membership packages does Redhead Date offer and what are the benefits of taking one out.
Before we get those benefits, let's first look at the packages.
1-month membership – $44.95
3-months membership – $94.95 ($31.65 per month)
6-months membership – $139.95 ($23.33 per month)
12-months membership – $229.95 ($19.17 per month)
Benefits of membership include the ability to read and reply to messages from others, online chat with other members, see who has viewed your profile, dating diaries and more.
Ok, so while you can send messages to other users, you cannot read their replies.
So for that reason, you are going to require membership.
The monthly option is pretty pricey but not much more than other niche dating sites.
If you are going to use the site for a long period, it would be better in your pocket, in the long run, to take out one of the extended membership options.
1. Why is no one contacting me on the site? I think I am quite a catch.
The easiest answer to this is that you don't have a profile picture.
If you don't upload one, your profile will not show up in other users' searches.
2. Can I block or report someone on the site?
Yes, you report someone who is interfering with you on the site.
Simply go to their profile and click on the report user button.
If you are looking for redheads to date or are one yourself, this is a dating site that's worth your consideration.
It's not only simple to use but fun as well.
It's also well-designed, not cluttered with advertising and has a strong user base.
I give it a very impressive 4 out of 5.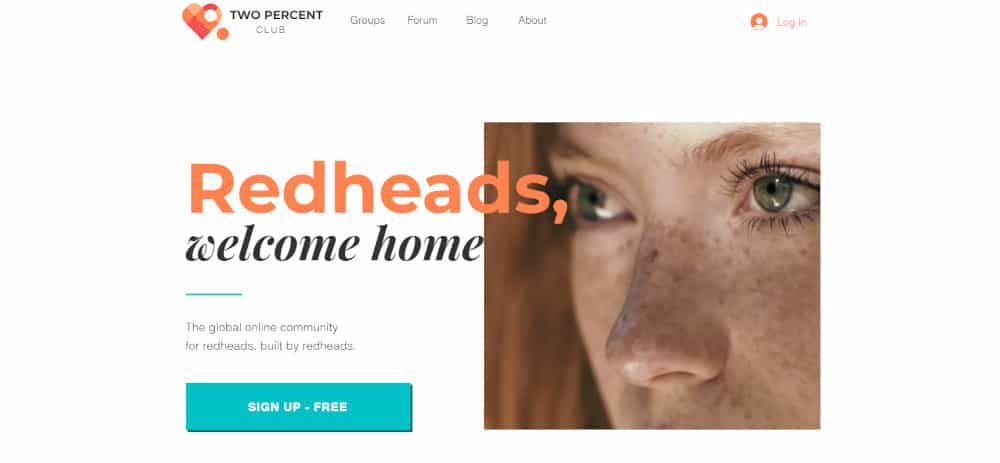 Signing up – 4/5
Making contact – 2/5
Profile quality – 3/5
Overall quality – 3/5
You can use your Google or Facebook account to log in
Various groups to join and forums to frequent
Not a dating site but more of a community
No surprises here, the Two Percent Club is for us two percenters.
Yes, redheads!
According to the landing page for the Two Percent Club, this is "the global online community for redheads, built by redheads."
The keyword here is community.
This isn't really a dating site but more of a social networking hub where redheads can hang out to shoot the breeze.
It's a community.
And that's pretty cool.
Initially, this site started out as a pure dating site called "Hot For Ginger" which quickly grew to 50 000 subscribers.
But it's evolved significantly since then into a thriving community but where you can still meet other redheads.
Ease of Use "mobile and desktop version"
So registering for the site is simple, especially if you use either your Facebook or Google details.
I used my Facebook login details and it was a simple, one-click operation.
If you'd prefer to use the traditional methods, you will have to provide a username and password and follow the rest of the steps to set up your account.
Now onto the website itself.
This isn't a traditional dating site in the sense that you can use a search filter to look for love.
But that doesn't mean that you can't meet up with awesome redheads from around the world.
The main thing that drives this community are the various groups that are run by users.
These cover a range of subjects, some serious and some fun.
Groups can either be open to all or private.
You can try to join a private group but obviously, it's up to those who run the group whether they will let you join or not.
There are also forums that you can browse which also cover a range of topics.
Or you can just say hi to others if you want to.
Each user has a profile and you can follow those that you'd like to get to know better.
When you visit their profile, you can see any forum posts they have made as well as forum comments.
Of course, you then free to comment on the forum post they have made but there really isn't a way to message them.
The site also features blog posts that relate to redheads and are worth reading through.
The Two Percent Club does not have an app either.
The Two Percent Club Cost
At this point in time, The Two Percent Club doesn't have any cost whatsoever.
Whether that changes at some point in the future, well, we will have to see.
Other than the forums and groups, there aren't many other features on the site.
1. Is this a redhead dating site?
While it's certainly possible to meet up with other redheads on The Two Percent Club, technically it's not a dating site.
It is more of a community for redheads.
Currently, The Two Percent Club is free.
You cannot message people as with other dating sites but you can make use of the forums, join groups or make your own.
I am a bit up in the air with this website for redheads because it may have started out as a dating site but now it's evolved into something more than that.
That's not a bad thing, however, and you still can get to know other redheads from all over the world but there is no way to search for profiles, for example.
There's also not a specific way to message people other than commenting on their forum posts or chatting to them in groups.
In terms of how the site looks and operates, it's top-notch, that's for sure.
The Two Percent Club is a fun website to spend time on.
As for a rating, I give it 3 out of 5.
It would be far higher if you were able to message other users.

Signing up – 3/5
Making contact – 3/5
Profile quality – 3/5
Overall quality – 3/5
Your profile will appear on other dating sites in the Online Connections dating network
Simple registration process
This is a well-established dating site
Messaging is only for members
The one-month membership option is expensive
There is no app
Chat, flirt, arrange dates with 1000s and 1000s of redhead girls.
That's how Single Redhead Girls operates.
This site, which is said to be the fastest-growing co-operative online dating site in the world (their words, not mine) allows males (not just redheads) who want to date redhead girls to join up.
And unlike some of the other sites we've already covered, Single Redhead Girls is gay and lesbian-friendly.
Despite some extensive research, I wasn't able to find out just how much those 1000s and 1000s of users come to but the site is very active and has profiles across all age ranges.
So let's look at how you can go about getting your own profile on the site.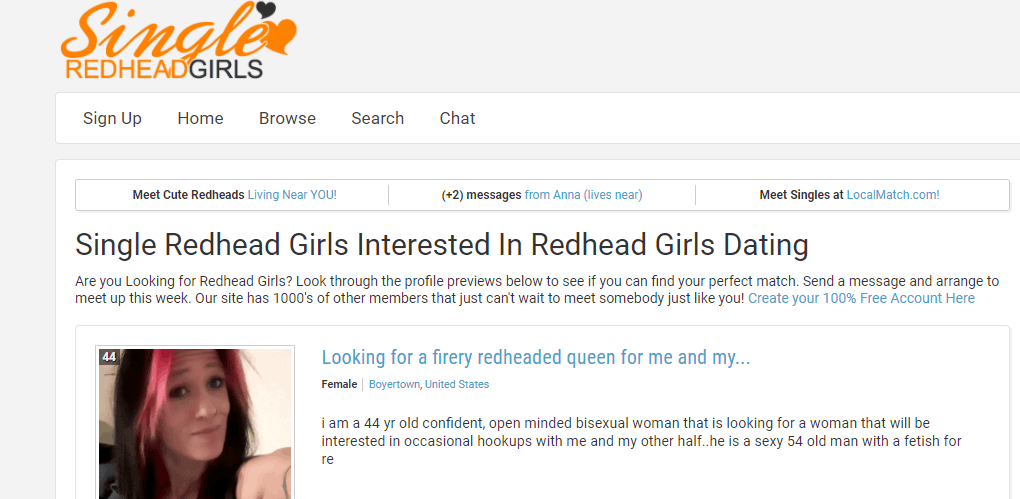 Ease of Use "mobile and desktop version"
Single Redhead Girls offers a simple registration process that initially needs five pieces of information from you.
Your gender and what you are looking for
Your age
Your email address
Your username
Your password
And no, there is no quick login here using your Facebook or some other social media account.
Once you've provided that information, there's a few more profile related things to complete before you are given access to the website for the first time.
The real advantage of Single Redhead Friends is that your profile is also used on all the other dating sites in the Online Connections dating network, the owners of the site.
Single Redhead Girls has everything you'd expect from a dating site and finding your way around is a breeze.
For regular users, the basic search criteria are:
Gender
Age range
If they are currently online
If they have a photo or not
Advanced searches include many more parameters which are taken from user profiles but this is only available to paying members.
As for messaging someone, well that's a feature for paying members too.
Regular users are free to browse the profiles of others, but the only way of showing them interest is by sending a flirt.
Members can also stand out from the crowd by having their profile priority listed.
This means it will feature near the top of other user searches which gets far more exposure.
Other features include a group chatroom where you can meet up and speak to other users, member profile videos, and webcam chat.
Single Redhead Girls Cost
With messaging and advanced searches behind a paywall, you would need to consider membership of Single Redhead Girls if you want to use the site effectively in your search for love.
But there are many other cool features that membership brings too, for example, priority listing of your profile or profile videos.
Luckily, you can try out the site for five days with a trial membership of Single Redhead Girls
So here's a breakdown of membership costs:
5-day trial – $7.25
1-month membership – $45
3-month membership – $70 ($23.33 per month)
12-months membership – $145 ($12.00 per month)
Please note, these prices were converted from another currency into dollars so are subject to slight change.
I would suggest the trial membership to see just how effective the site is for you.
Five days is more than enough time to work that out.
One month membership is pretty pricey but the longer membership options give huge discounts, even the three-month option works out 50% per month cheaper.
So if you think you are going to use the site for an extended period of time, the extended options are what I would aim for.
1. What are the benefits of signing up as a member on the site?
Well, other than unlimited messaging there are many other benefits to a membership of Single Redhead Girls.
For example, you can have your profile appear at the top of other member searches and your profile also receives a special badge indicating you are a member.
Just those alone will bring more action as it shows others that you are a serious user on the sight.
2. How can I block a user on the site that keeps on messaging me?
Sometimes people will harass others on dating sites and it's important that you block them in a situation like that.
To do this on Single Redhead Dating, you need to click on their profile and find the block user button.
If their behavior warrants that they should be reported, then instead of blocking them, report them.
If you want to meet redheads then, by all means, start a profile on Single Redhead Dating.
It's an active site filled with users from all over the world.
And trial membership will tell you if this is the right redhead dating site for you to find love.
Just like all other dating sites out there, you will need to take out membership on the site to message those matchups you'd like to get to know better.
One-month membership is expensive, however, so the three-month option might be a better choice, especially if you plan on using the site for a long period.
As for a rating, Single Redhead Dating gets 3 out 5.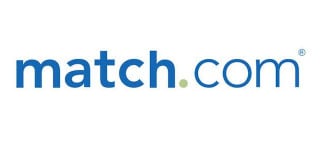 Signing Up – 4/5
Making Contact – 3/5
Profile Quality – 4/5
Overall Quality – 4/5
Match has over 20 million users
It's popular the world over
Match has a mobile app for both Google and Apple handsets
As one of the biggest dating sites on the internet, it makes sense that turning to a site like Match is a clever way to find redheads to date.
That's because Match has around 20 million users.
And with redheads making up 2% of the world's population that means that in theory, around 400 000 members are redheads.
That's probably more users than you would find on a dedicated dating site for redheads, right?
So if Match.com appeals to your, just how do you go about starting a profile?
Ease of Use "mobile and desktop version"
The great thing about Match.com for those of us who love to use our phones on dating sites is that no matter if you have an Apple handset or an Android one, you can download the Match app.
The signup process can be done through the app or online and it takes a few minutes of your time.
Following the sign up process, you will get access to the site for the first time and that means starting to populate your profile.
So you will need to upload a profile picture, fill out appearance and lifestyle parameters and other information.
I did find it a little strange however, that a massive dating site like this didn't have an email verification process.
That means there are a few fake profiles on the site, but they aren't that difficult to spot.
Overall the design of Match is pretty simple and you only need a few menus to find your way around.
Searching on Match allows you to make use of various parameters including hair color.
And that's how you can make sure that your search returns only turns up redheads.
Chatting to them, however, is difficult if you are a regular user.
That's because to message someone on Match, you would need to be a member of the site.
You can "like" their profile but that's not going to cut it at the end of the day.
So to reach out to someone on Match, you are going to have to think about getting one of the membership packages the site offers.
Here's a breakdown of the costs of both the standard plan and the premium plan.
3-months – $12.99 per month ($38.97 once off payment)
6-months – $9.99 per month ($54.94 once off payment)
12-months – $7.99 per month ($95.88 once off payment)
3-months – $14.99 per month ($44.97 once off payment)
6-months – $11.49 per month ($68.94 once off payment)
12-months – $8.99 per month ($107.88 once off payment)
1. What is "Match Phone"?
Do you want to talk to a potential matchup?
Well, "Match Phone" allows that.
It's a feature only available to premium members, however.
2. Is Match a new dating site?
No, not at all.
Match has been around for ages.
In fact, it dates back to around 1993.
Match is one of the first-ever internet dating portals.
While Match isn't a dedicated dating site for redheads, it's well worth your time checking out.
That's just because there are redheads to be found amongst the 20 million users that have register for profiles on Match.
Match also is extremely easy to use, has an impressive search engine and offers some excellent features.
In terms of a rating, I give Match 4 out of 5.