You've heard of all the gorgeous women from Russia and other parts of Eastern Europe, right?
They drive a very specific online dating scene in which men from the West try to find their soul mate on any number of Russian dating websites.
These sites are filled with beautiful Russian women, Ukrainian women, and other Eastern European women.
One of those is Russian-Dating a place where Russian singles are hoping to turn into Russian brides.
OFL Top Recommendations based on 100,000+ Survey

"Serious Relationships"
"Discreet Hookups"
"Best Course for Men"
"Quick Flings"
"Normal Hookups"
"Our Quiz"
In this review of the site, we will be looking into several critical aspects, for example:
Without a doubt, you will have all the answers you are looking for by the time you are finished with this in-depth review.
Is your dating app giving you the best chance for success?
Make sure to take our online dating site/app quiz to find out.
It's a fact that people who follow our dating site suggestions have on average 2 extra dates per month.


Ease of Use 3/5
Effectiveness –2/5
Key Features – 2/5
Pricing – 5/5
It's free to use
Comprehensive profiles
Excellent search engine
Your profile can be viewed by anyone
Only 60 000 users, both male and female, on-site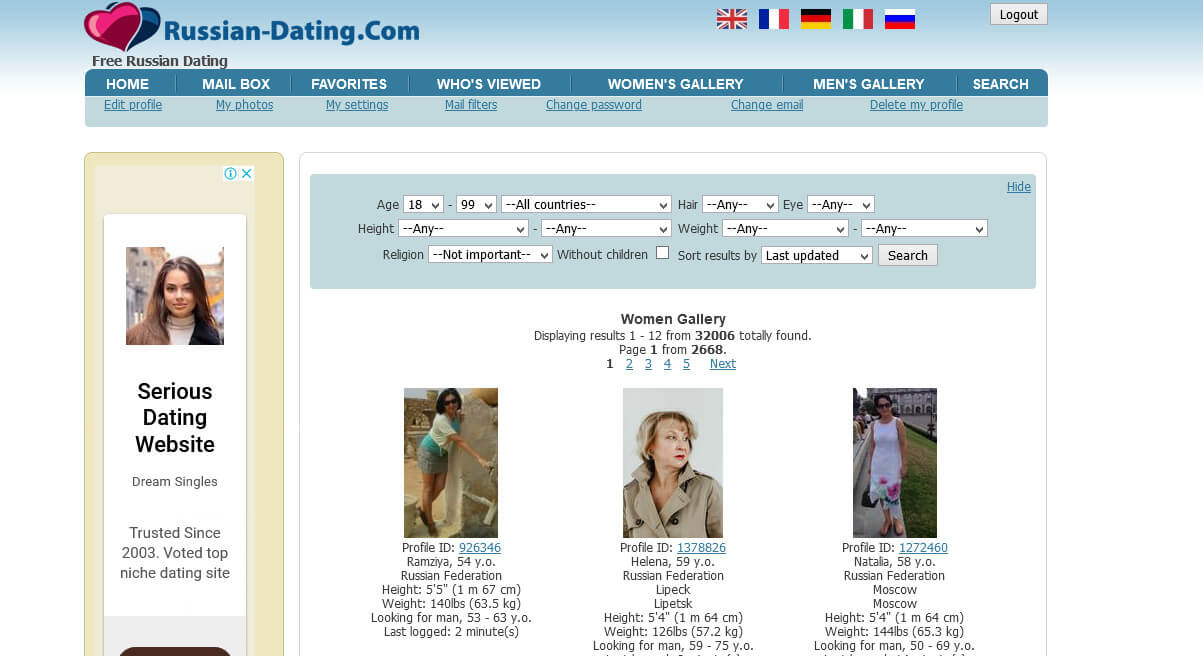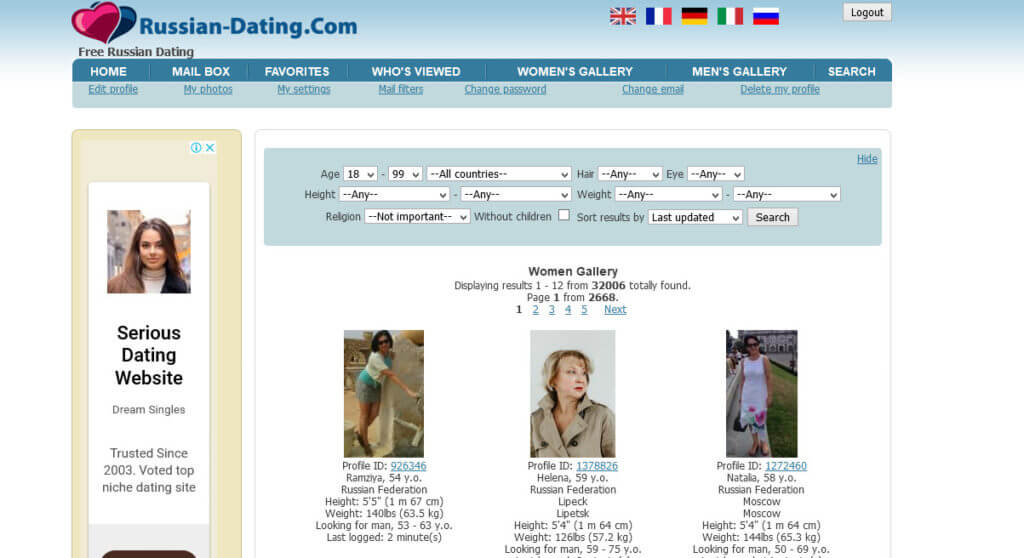 Who Is It For/Demographics
We've touched on this a little in our introduction but let's just refresh.
Russian-Dating is a site aimed at men who want to meet women who are mostly from Russia and Ukraine.
These men are generally from the West but you can register a profile from anywhere in the world.
Most of the women are looking for someone to have a long-term relationship with (like on Tinder or eHarmony), which leads to marriage and them leaving their country. They are not looking for casual hookups, like persons visiting BeNaughty or Ashley Madison.
OFL Top Recommendations based on 100,000+ Survey

"Serious Relationships"
"Discreet Hookups"
"Best Course for Men"
"Quick Flings"
"Normal Hookups"
"Our Quiz"
But sites like this also have a bad name because of scams in which gullible men have sent money to a prospective love interest.
But scams and fake profiles are found on almost all dating sites if we are honest, right?
Russian-Dating | By the numbers
This isn't the most popular Russian dating site out there.
And it's not as well known as RussianCupid.com or LovePlanet.ru.
So finding user numbers was challenging, that's for sure.
The site itself doesn't have much information at all, not even an "About Us" page.
So I had to do a little detective work.
On the registration page, you can look through galleries of male and female users who have signed up for the site.
And that gave me an idea.
Let's count the users in each.
This wasn't as difficult as it sounds either, thankfully.
The numbers that came up confirmed my suspicion that in terms of user numbers, this was a relatively small dating site.
Here's a breakdown for you:
32 016 female profiles
30 145 male profiles
That's not a lot, is it?
Of course, as I've said before, this is a niche dating site but when compared to the over 1.5 million members of Russian Cupid, it pales into insignificance.
What is in its favor, however, is the almost 50/50 gender ratio.
Normally on sites like this, you get more males than females, for the most part, although sometimes it is the other way around.
I just prefer a site that has as close to a 50/50 ratio as possible.
That means for every male there is a female and vice versa.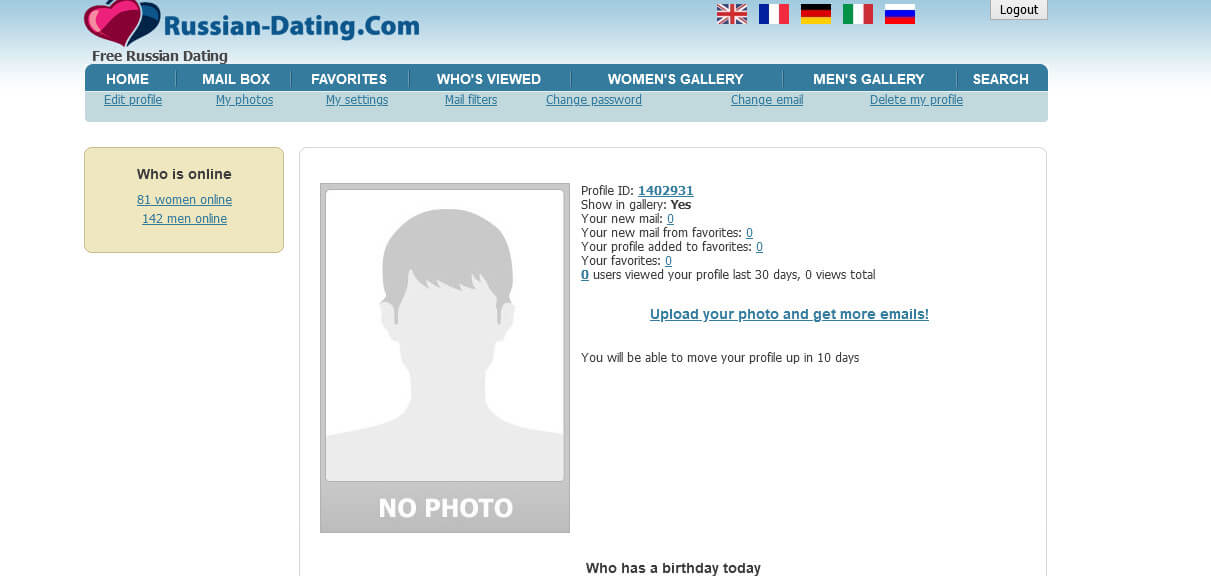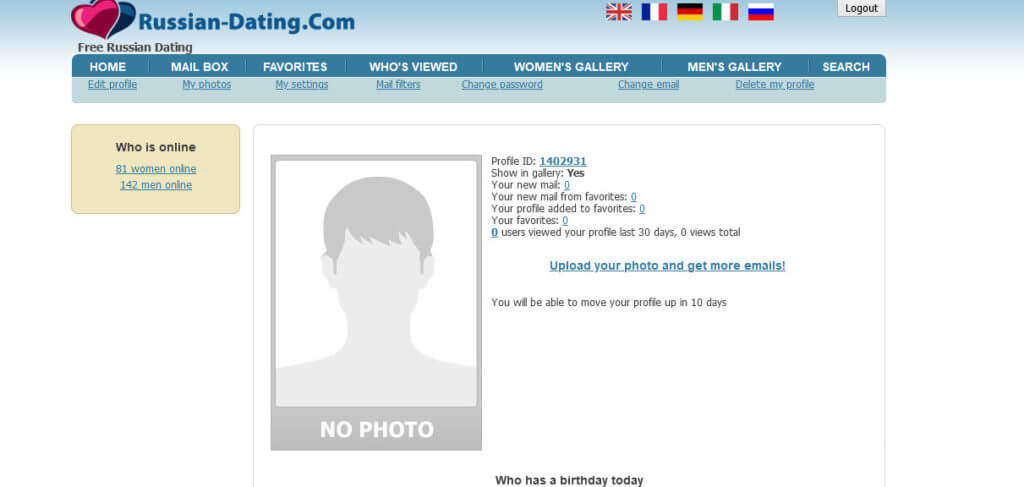 With its orderly design and inviting color scheme of various shades of blue and white, Russian-Dating.com is enticing to a new user, that's for sure.
And you will be further drawn in by the fact that you can see the profiles of some of the beautiful women you will find on the site.
You are free to click on them if you'd like to find out a bit more too.
But let's get to registering on the site and starting your own profile.
If you'd like, you can use a social networking account, in this case Google, to speed the process up a little.
To begin, you will provide:
Your gender
Your location
Your username
Your email address
There's a little more to do in the second step.
This includes filling in your profile.
There are only a few compulsory sections:
Your marital status
Your birthdate
If you have children
Your religion
The languages you speak
Those are pretty random, right?
I suppose I can see how marital status and if you have children or not might be important, but why religion?
What's that got to do with anything as a compulsory field?
I would highly suggest that you do fill in your profile just to get it done.
It consists of pull-down menus and will take no more than five minutes.
If not, at least give the age range of the types of person you will be looking for onsite.
But your registration isn't complete yet.
You will receive an email with your login identity number as well as a password.
Log in for the first time and then you will need to provide your phone number to get a verification code.
And that's it… finally.
Navigating your way around Russian-Dating
Once you've validated your number, the site takes you first to your home page.
Now on just about every other dating site, I have ever used, this normally is a page with tons of user profiles to look through as potential matchups.
Here, your profile is weirdly enough what you will find if you click on the home page menu.
If you haven't completed it yet, maybe now is the time to do so.
Before I get into how you are going to find your way around the site, let's first talk a little about its design.
I'm impressed with it, I tell you that.
This is a free site and most of them I've encountered during my time reviewing dating sites look horrid.
But that's not the case here.
And you know what else?
While there is advertising on the site, it's subtly done and not pushed at you every five seconds.
Advertising is either found on the left, right or top of the page and it never interferes with the area of the website that you are currently viewing.
And there are no pop-up ads, which is a godsend.
If you've ever come across them before, you will know just how annoying they are.
The beautiful color scheme of the registration page, with its various shades of blue and white are carried through to the site itself.
It really is one of the best-looking free dating sites I have ever seen, that's for sure.
But let's get back to what you can find here and how the menu system works.
It has quite a few, some of them are far more critical in your quest for a gorgeous Russian woman than others.
The main menu system is found on the top of the screen and then secondary menus are under that.
Let's look at the main menus first.
They are:
Home: This takes you back to the home page which is your profile
Mail Box: This is where all communication on the site is found. That includes any messages you've sent and those you've received.
Favorites: Any profiles that you favorite will appear under this menu
Who's Viewed: You can see if anyone has viewed your profile
Women's Galley: See all the female members of the site here
Men's Galley: See all the male members of the site here
Search: This is where you can launch searches for potential matchups on Russian-Dating.
These are pretty standard menus and most of them are found on every other dating sites.
The three critical ones are Mail Box, Who's Viewed and the Search menu.
The secondary menu system includes the following:
Edit profile: You can make changes to your profile by clicking here
My photos: If you'd like to upload more photos to your profile, you can do it via this menu
My settings: Click here to change a few site settings related to your profile and more
Mail filters: Here you can change several filter settings regarding who you receive mail from including both countries, age ranges and more.
Change password: If you want to change your password on the site, you can do it here
Change email: Click here to change your email address associated with the site
Delete my profile: If you want to delete your profile just click here.
You aren't really going to be using the secondary menus that often.
Well, certainly not as often as you would use the main menus and particularly the search menu because that's going to find you all the Russian women that you can approach.
You will also notice that this site is available in five different languages: English, French, German, Italian and Russian.
Again, I find that pretty amazing for a free site.
Is there a Russian-Dating app?
Well, if you are someone who always has their mobile phone close to them, the chances are you would love an app for this dating site, right?
But, because it's a free site with limited users, you can probably understand that at this point, there is no app available for Russian-Dating.
Don't worry though, the design of the website is mobile-friendly.
So you can still load it up in your mobile browser and work your way around, just like you would have done on the regular website from your laptop or PC.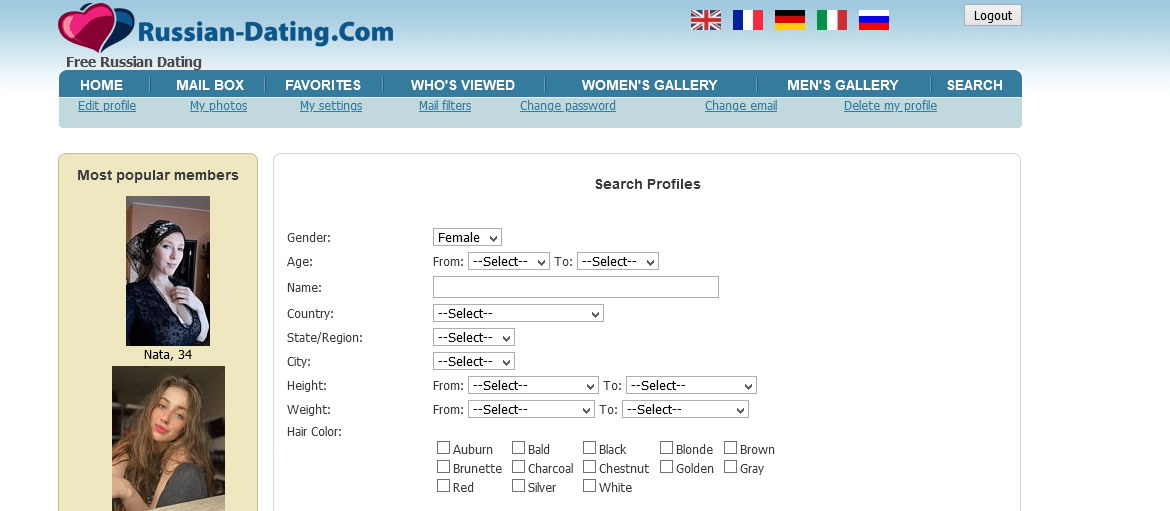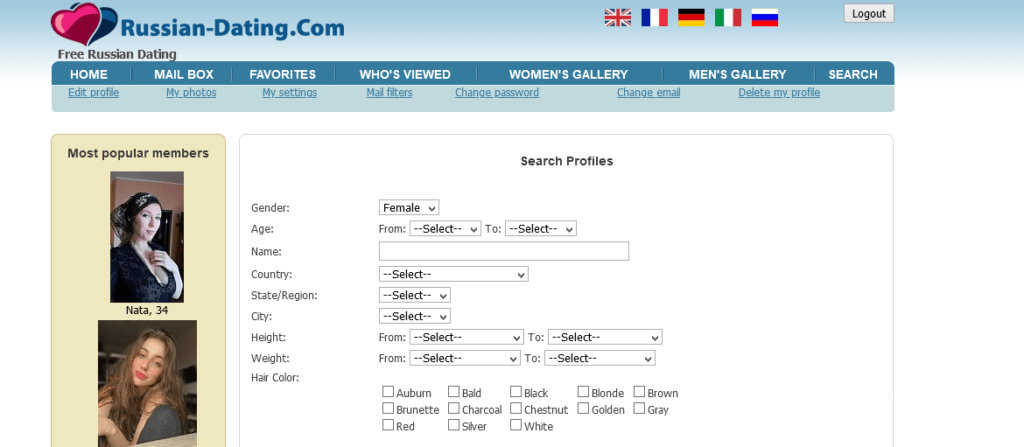 The quality of ladies on Russian-Dating was well above average, that's for sure.
I looked through many profiles from all age ranges and I didn't find any obvious fake profiles at all.
I am not saying they aren't out there though.
Because this is a free site, I am sure there are people running fake profiles trying to pull scams.
The younger women, between the ages of 25 to 35 were particularly stunning.
But that's often the case on sites like this.
Russian and women from Ukraine and other Eastern European countries are revered for their unique features and incredible beauty.
There was a lot of that on show here.
So how do you go about finding the perfect match up then?
Searching for your Russian bride
While you filled in your profile, gender and the age ranges of the kind of matchups you would like to find, Russian-Dating doesn't really do anything with that information.
With most other sites, the matching algorithm will provide you with profiles to look through based on those factors and often from the moment you first get onto the site.
That's not the case here.
But why?
Well, as it is a free dating site, perhaps it doesn't even have a matchup algorithm.
I would guess that's one of the main reasons.
Instead, it uses a search engine to just bring back profiles for you to look at based on what parameters you are searching for.
But I think there is another reason.
And that's that location isn't a key requirement here.
You aren't looking for a matchup near you, they are all in a foreign country.
Most matchups that dating sites provide are location-based first and foremost.
But it isn't a train smash thanks to the fact that Russian-Dating has a very effective search engine.
It includes tons of advanced filters that you can add to fine-tune your searches just how you want to.
These are all taken from the profile parameters of each user.
You could search for a specific appearance parameter and add any number of them if you'd like.
For example, you wanted to only see search returns of women with blonde hair and blue eyes.
You can also search:
Location
Height
Weight
Religion
If they have children or not
Lifestyle and habits
Marital status
Zodiac sign
Languages
You can also specify that your returns must have a photo, should be online now and if they are specifically looking for a partner of your age.
These are powerful search tools, that's for sure and you can really use them to your advantage.
A word of warning though.
Don't add too many parameters as the user base is already pretty small.
If I was searching, I would select that returns must have a profile picture, must be online and must be looking for someone my age.
That's a good place to start.
See what comes up in that and then maybe add a few parameters.
If you'd like to see more returns, simply uncheck the tickbox that says they must be online now.
Users on Russian-Dating are excellent when it comes to filling out their profiles, so you can really use these parameter searches efficiently.
Reaching out to others on Russian-Dating
Here's the good news.
Russian-Dating really is free.
You can add users to your favorites and send messages, all for free.
Also, the messaging system isn't like sending emails to each other.
It has more of a private chat room feel to it, which is nice because it speeds up the process of getting to know someone.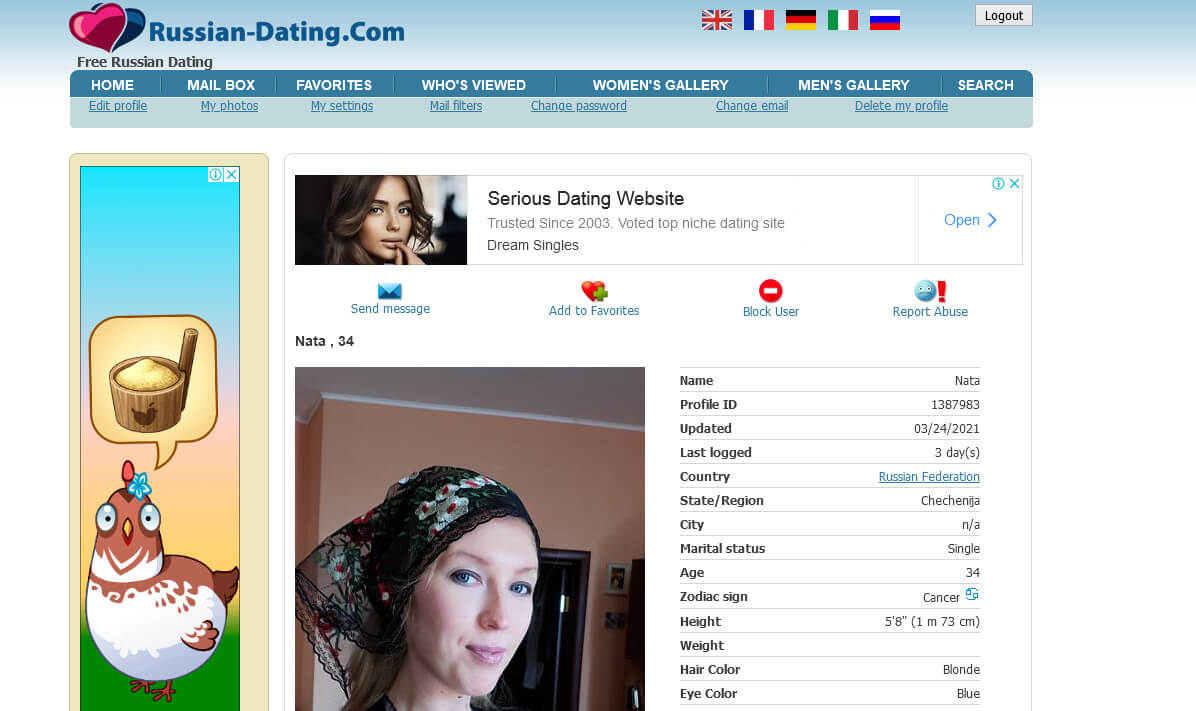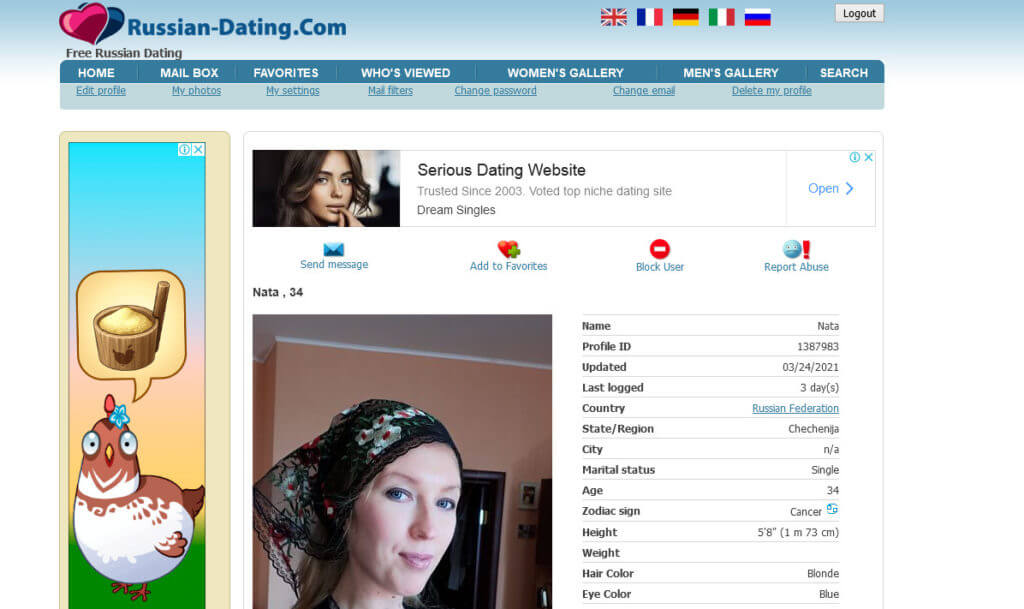 Without membership, there aren't extra key features on the site that you would receive if you pay a monthly fee.
But there are a few things that I would like to highlight as key features of the site.
Because I've already spoken about this at great length, I am only going to touch on it here.
It's not often that a free site will have a search engine that's is as impressive as the one you will find on Russian-Dating.
While the user base is small and can hamper very specific searches, there are still options here that you can use to your advantage.
For example, searching for members that are online now eradicates those profiles that haven't been active in a while.
But the option I really like is to be able to search for potential matchups that are looking for other users in your age range.
When you do this, you know those that are returned will want to chat with you.
And that's very useful.
Don't underestimate how powerful a simple tool like who has viewed your profile can be.
In fact, this is often a key feature you will find as part of a membership package on other dating sites.
That's because it can give you some leads into other users that might be worth approaching.
Do you just click on random profiles when on a dating site?
No, you click on someone you might like to get to know better, or someone you find attractive, right?
So if someone has clicked on your profile and not sent you a message, there is no harm in testing the waters and sending one of your own, right?
Use the Who's Viewed feature to your advantage.
Again, this is something that's often hidden behind a paywall.
Upload more photos than just your profile picture.
The more you can get yourself across visually to others, the better.
Sure, your profile information is important, but without an "About Me" section, your photos are the first thing that's going to speak for you.
No, you won't have to reach out for your credit card.
Russian-Dating.com really is a free site.
At no point while using it was I asked to sign up for membership.
Also, all the features I have covered are free as well.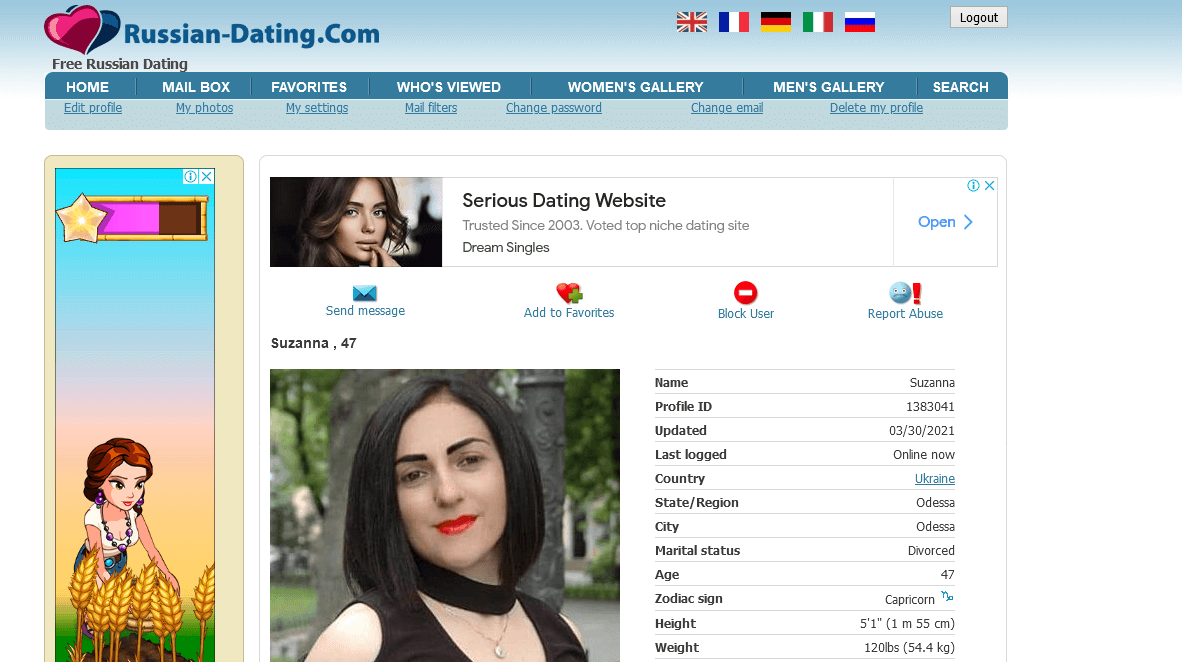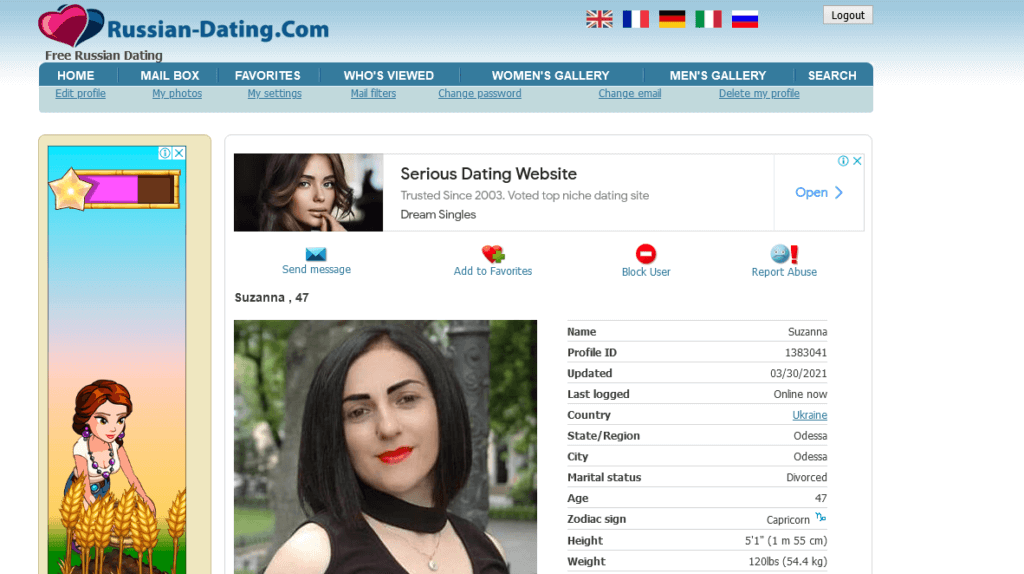 Conclusion and Overall Rating
So where do we stand on Russian-Dating.com?
Is this a scam website filled with fake profiles of gorgeous Russian women trying to fleece you of your money?
Well, I didn't find anything like that.
Normally, if that was the case, you'd be flooded with messages of women trying to contact you and while I had a few reach out to me, they seemed genuine.
I am not saying you won't come across fake profiles or scammers, it is a free website after all.
But I think that most of the people who have made profiles here are looking for love.
The only real problem with the site is that there aren't that many of them.
Just over 60 000 users, in fact, of which 30 000 are female.
Can you find what you are looking for here?
Yes, I do not doubt that you could.
I just think there probably are better websites out there for you to find your Russian bride on.
Should you not even try Russian Dating?
No, you are more than welcome to give it a shot.
It's free after all, so what do you have to lose?
As for a rating, Russian-Dating gets 3 out of 5.