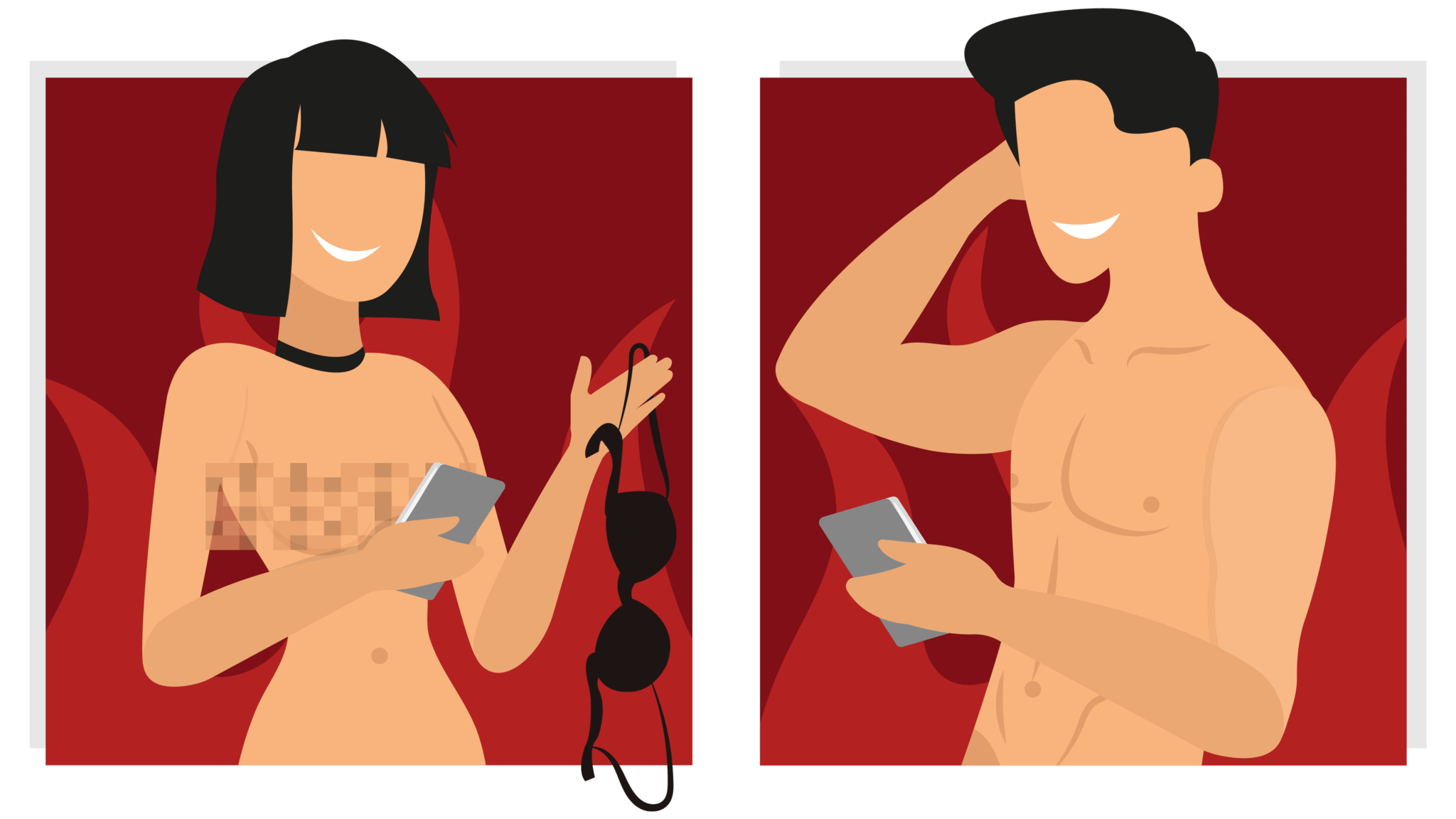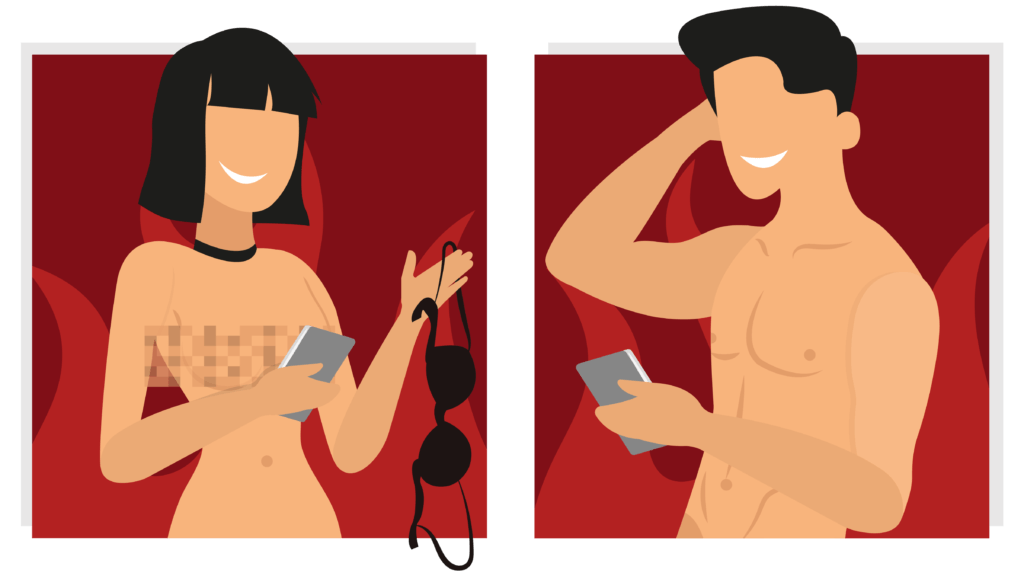 Sometimes, dating is the furthest thing from your mind.
Yes, there are sites (like BeNaughty or Ashley Madison) that cater to physical hookups and others (like eHarmony) that are for serious dating only.
But what if you just want to hook up with someone online and get a little naughty?
Well then, the great thing about that is there is no need to meet physically, but both parties can still have tons of fun.
OFL Top Recommendations based on 100,000+ Survey

"Serious Relationships"
"Discreet Hookups"
"Best Course for Men"
"Quick Flings"
"Normal Hookups"
"Our Quiz"
And that's achieved through sexting.
Luckily, there are many free dating sites that cater to casual online hookups.
Today, we're going to look at a few of them based on the following considerations:
So let's jump straight in then.
Best Sexting Dating Sites in Video Form
Audio (podcast) form for those of you on the go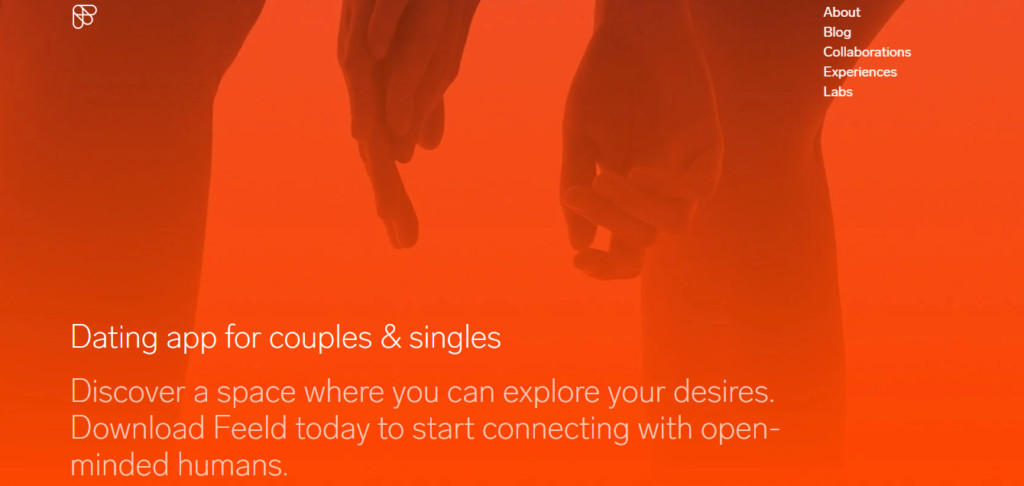 Signing up – 4/5
Making contact – 4/5
Profile quality – 4/5
Overall quality – 4/5
Feeld has a user base of over 2 million people
It caters towards many different dating criteria
If you match with someone, you can chat with them for free
It includes a range of LGBTTQ + options as well
The app design is a little different and might take time to get used to
Feeld is an extremely popular dating app that's grown immensely over the past couple of years.
OFL Top Recommendations based on 100,000+ Survey

"Serious Relationships"
"Discreet Hookups"
"Best Course for Men"
"Quick Flings"
"Normal Hookups"
"Our Quiz"
At present, it boasts user numbers of around 2 million people, so that's a good start when you are looking for an app where you can have casual online relationships, right?
And of those 2 million users, at least a quarter are active on the app each week.
But what about a gender split?
Well, it's not exactly even.
At this point, it's about 2:1 in favor of men.
And when it comes to age ranges, close to 40% of the users on Feeld are from the 25 to 34 age group while almost another third are between 18-24.
The remaining 30% of Feeld's users incorporate the other age groups, including 55 and older.

Ease of Use "mobile and desktop version"
So it's critical to note from the outset that Feeld is an app.
There is no website here.
And that probably explains why it is so popular with users from 18 to 34 years old.
Signing up for Feeld is a simple enough process.
There are two ways to go about it.
Either you can use a social media account – in this case, Google or Facebook – for a quicker registration process, or you can provide an email address.
Of course, in both cases, you will also need your mobile number, because part of the registration process means you will receive a confirmation code which is sent to your phone and must be inputted into the Feeld app.
Other information that Feeld requires includes:
Your username
Your gender (21 options available including all the LGBTTQ+ options you can ever want)
Your sexuality (20 options)
The kind of relationship you are looking for
A profile picture
So from the outset, Feeld will provide you with matches for you to browse through.
It's a little different from other dating apps because if you pass on one of these matches, they will appear again in your searches and not disappear completely.
I like that.
If you don't want to see them in future searches, however, you can click on the minus button and they will be removed.
If you find someone that you'd like to chat to you can "like" their profile.
Should they "like" you back, you can then begin messaging them.
And that opens up the door to sexting, right?
The great thing about this format is that it's completely free!
All you need for them is to like you back, so make sure you upload your best picture and fill out your profile so they have all the information they need about you.
As for finding your way around, well it's simple enough really.
You use these menus at the bottom of the screen to navigate:
Rectangle icon (Matches): This provides you with location-based matches. You can change your location to search further afield.
Chatbox icon (Connections): If you match with someone – you like them and they like you back – a link to their profile will appear here
Heart icon (Likes): When someone likes your profile they will appear under this menu
Profile: You can edit your profile here
While it's free to chat with other users with whom you have formed a match, Feeld does still have membership options.
This brings a few added extras that you might consider.
You can see when someone was last online
You are immediately alerted when someone wants to connect with you
These aren't massive features and you don't need them to use the app effectively but you might consider them at some stage, so here's a price breakdown.
1-month membership: $15.99
3-month member: $31.99 ($10.66 per month)
1. I accidentally swiped past someone I'd actually like to reach out to. Will they show up in my matches again?
Yes.
Feeld doesn't operate like other dating apps when it comes to swiping.
Swiping past someone doesn't mean they will never appear again.
2. Can you explain Feeld's "Ping" feature?
If you'd like to send an alert to someone, you can ping them.
This means they get an alert straight through the Feeld app to their phone.
You can only send a few pings as a free user, so use them sparingly.
Feeld has so much going for it.
It's got a strong user base, is accessible to all genders and people of different sexualities and it's free if you match with someone.
This is a great starting point if you are looking for a casual online hook up that's going to involve sexting.
As for a rating, Feeld gets an impressive 4 out of 5.


Signing up – 4/5
Making contact – 5/5
Profile quality – 4/5
Overall quality – 4/5
It's free!
A well-designed website that's so easy to use
Offers flirting rooms for a one-on-one chat
Fast Flirting doesn't have an app
Only started in 2018, so the user base is small but growing all the time
Fast Flirting is a dating site with a difference.
And it certainly lends itself to casual sexting with users in a one-on-one situation but I will explain more later.
Fast Flirting is aimed at singles who want to mingle, that's for sure.
The site has only been around since 2018 and runs out of Australia.
It has around 170 000 visitors each month
That's around 6 000 per day and 40 000 each week
Over half of the user base comes from the United States
While it has a smallish user base, it's growing all the time.
Also, when it comes to sexting, it's not like you need people to be close to your location, right?
It's something you can do with people all over the globe.
Ease of Use "mobile and desktop version"
At this point in time, Fast Flirting doesn't have a mobile app.
To register, you will have to proceed to the website to start the sign-up process.
One of the first things you will notice about the site is the fact that it looks very similar to Facebook, even down to the color scheme.
When you start the process of registering for your profile, you will have to give the following information:
The first part of the registration process sees you inputting only two bits of information.
An email address
Password
A nickname
Your age
Your gender
The gender you wish to search for
Complete that and you are taken to the website where that Facebook similarity becomes more apparent.
And it's such an awesome design that finding your way around is a lot of fun.
After completing your profile, which should always be your first task, it's time to learn a little more about Fast Flirting.
To find your way around, you are mostly going to be using the panel of menus that are on the left-hand side of the page.
These include:
Home: Return to the home screen here
Flirt with girls/guys: Click here to find matchups the site provides for you
Inbox: All messages, both sent and received will appear here
Friends: If you choose to add someone as a friend, a link to their profile will appear here
Who likes me: If another user likes your profile, their details appear here
Hot photos: A selection of user photos. You can few them by day, week and month.
Search profiles: Launch your searches from here
Settings: Here you can change various settings
Help
Logout
These menus are again repeated on the main home page in the middle again.
Underneath that, the members currently online on the site will appear.
While it's fun to look through these profiles, from time to time, you probably want to launch your own searches.
To do that, click the search menu.
There aren't that many parameters that you can change when launching your searches, but what there is, works well.
Your search parameter options include:
Gender
Age
Country
Language
With profile photos
Online now
Now what about getting into contact with someone, I hear you ask.
Well, let's start with the best part.
It's all free!
And yes, it's perfect for sexting.
To start, you can go to someone's profile and click the "send message" button to compose your message.
But if you want to unlock a one-on-one chat room, you need to click the "flirt" button.
If they accept your "flirt" you can then open an instant messaging chat room with that user.
I am sure you can see how this private chat room between you and another like-minded individual who wants to sext is the perfect place to do so, right?
Zip, zero, nada, nothing!
There are no costs involved with Fast Flirting.
Will that always be the case, well, who knows.
But for now, take advantage of the fact that the site is free.
1. Is this a safe dating site?
Yes, it is a safe site.
Because it's free, you don't ever have to worry about your banking details but your messages are secure too as Fast Flirting uses SSL security technology to ensure that others cannot read them.
2. Does Fast Flirting have an app?
Not at this point in time.
If you'd like to register for a profile and use the site, you will have to do so through the website.
From its looks to its overall ease of use and the fact that it is free, there's so much to like about Fast Flirting.
But in terms of sexting, it's the perfect site thanks to its one-on-one private chat rooms.
The small, but growing user base isn't a problem either, especially from a sexting point of view because that can be done with people in any part of the world.
As for an overall rating, Fast Flirting scores 4.25 out of 5.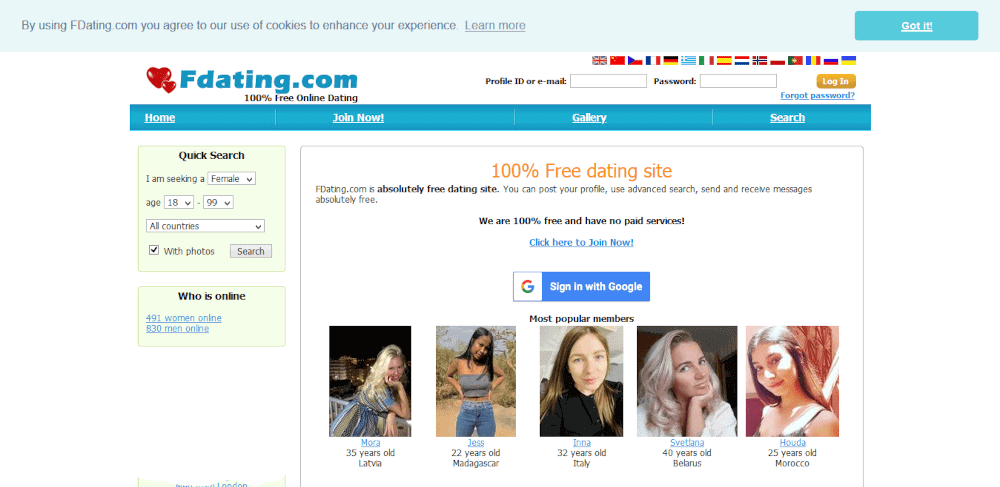 Signing up – 4/5
Making contact – 5/5
Profile quality – 5/5
Overall quality – 4/5
An active site with a host of users
Easy to sign up for a profile and get online
It is free
Some fake profiles
The overall design looks a little dated
FDating, established in 2009 is a popular free dating site on the web.
Users come from across the globe and the site is used by those looking for long-term love, those who want to hook up and of course, those who just want an online casual relationship where sexting is the driving force.
Before we get into the site, signing up for a profile and how everyone works, let's first take a look at some facts and figures behind FDating.
Many of the users come from Europe although around 150 000 Americans have registered for profiles on FDating
The site is active with 30 000 people online each week
That's over 4 000 per day and 120 000 each month
55% of FDating users are male and 45% are female
The two most popular age groups on the site are the 25-34-year-olds and the 35-44-year-olds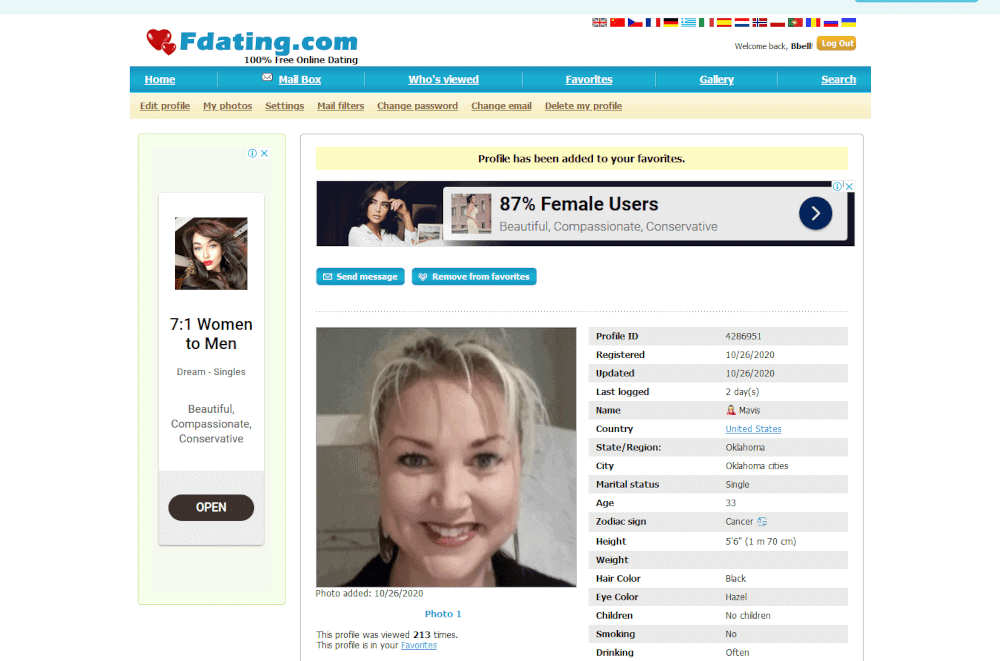 Ease of Use "mobile and desktop version"
FDating registration process takes a fair amount of time.
That's because as part of it, you will fill in most of your profile.
So what can you expect when you sign up to the site.
Well, it starts with the usual.
That's the following:
Your gender
Your username
Email address
Where you are located
And then comes the profile questions which include:
Current marital status
Height and weight
Hair and eye color
If you have children
If you smoke
If you drink
Your education
Your occupation
The languages you speak
You will also need to:
Describe yourself
Select the age of your potential matchups
Describe your future partner
That's going to take about 10 minutes to complete but at least your profile is done and you don't have to worry about it when you log into the site for the first time.
Before you access the site, you will need to click on a confirmation email from FDating, so yes, make sure the email address is a valid one and that you can access it to click the link.
In terms of the overall design, FDating isn't going to win any awards, that's for sure.
You are going to find your way around the site by using the main menus situated at the top of the screen.
These include:
Home: Click this to go back to the main page of FDating
Mailbox: Here you will find all messages
Who's viewed: Want to know who has looked at your profile, then click here
Favorites: If you favorited a user profile, it appears here
Gallery: A selection of profiles on the site that take into account your basic search parameters
Search: Launch your matchup searches here
If you are searching for matchups, you can either use the Gallery menu which provides a few search parameters like gender, age, location and some appearance options.
Or you can use the Search menu which has many extra parameters linked to profile categories.
For example, parameters that can be adjusted here are marital status, appearance parameters like hair and eye color, if they have children, their habits (drinking and smoking) and more.
You can also save various searches if you'd like to use them at a later date.
Now, what about messaging.
Well, it couldn't be easier.
Click on the profile of someone that you like and send them a message.
It's totally free and therefore perfect for sexting.
True to their word, there is no cost associated with using FDating.
You can use the site for free and that includes messaging other users.
For sure, it is.
Over a decade old now, FDating is popular across the world.
The user-base is mainly from Europe but more and more Americans are finding the value in joining up as FDating is free.
2. Can I delete my FDating profile at any time?
Yes, and it's easy to do so.
Log onto the site and near the top of the home page, you will see a tab called "delete my profile".
Click on that and your profile is removed from the site.
What's not to like about FDating?
It has a strong user base, lots of cool features and it's free!
It is the perfect site for you to find like-minded people who want to engage in sexting with you, that's for sure.
And because of that, FDating gets a strong 4.5 out of 5 as an overall rating.
The only thing I didn't like was the outdated design.
It is functional though and if I am honest, the design doesn't play a part in how effective or ineffective a dating site is, right?
Signing up – 4/5
Making contact – 3.5/5
Profile quality – N/A
Overall quality – 4/5
Includes translation tools so you can chat with people from across the globe
Won't cost you a cent
2.7 million people have registered for the site
Shagle is a website driven chat site that's perfect for sexting.
That's because over and above the ability to chat with others for free, you can also view them and vice versa using a webcam on your laptop.
So that certainly brings an added aspect to sexting, right?
Of course, if you don't want the visual part of it, you can use an avatar instead but the option is there which lots of people seem to like.
Before we get into how the site works, let's talk first about some demographics behind Shagle.
2.8 million people have created accounts on Shagle
Around 3 million logins take place each month
Those users come from 70 countries around the world
237 000 are from the United States
68% of the user base is male
32% of the user base is female
40% of the users on the site are aged between 25-34 years-old
Ease of Use "mobile and desktop version"
Registering for Shagle can only be done online, there is no app as of yet.
You can use your Google or Facebook to start your Shagle registration or you can provide a username, password and verified email address.
It takes less than a minute for you to be up and running on the site.
And straight away, you can start browsing through other users and opting to chat with them if you want.
There are a few menus that you should be aware of including:
Settings: Set your intro message that other users see here and change various filters
Camera: You can switch your camera on and off here
Mic: You can switch your volume control on and off here
Volume control
Most users have their cameras on, so that dominates the page.
The chatbox where you can talk to them can be found on the right-hand side of the screen.
Find someone you like to chat to and start, it's that simple.
And it's easy to scroll through users as well until you find the right person.
One of the great advantages that Shagle has is that it allows you to speak in your home language and that will be translated into the home language of the user you are speaking to.
While Shagle is free to use, there are some added benefits that you can receive if you opt to become a paying member of the site.
For example, you can add a gender filter, so you will only see other users of your selected gender.
Or, if you'd like to reconnect to a previous user that you scrolled past, then membership allows that as well.
Of course, you can use the site for sexting without these features but I am not going to deny that they can be useful.
So what's the pricing like?
Well, it's pretty fair, to be honest.
Weekly membership – $6.99
Monthly membership – $19.99
Again, you don't need to be a paying member of Shagle to use the site effectively.
1. Tell me a little more about Shagle?
Shagle is a popular social media and dating site that was established in 2017.
It's often called the best live chat site in the world and has over 2.8 million user accounts.
2. How can I block a user on Shagle?
You can't.
But that doesn't mean you aren't able to do anything if a user is harassing you.
There is a report option in situations like these.
Shagle gives a whole new dimension to sexting if that's your thing.
And yes, not every user you come across is going to be into that, but many are, that's for sure.
Of course, there is the visual element that has been added, although if that's not your thing, you can use an avatar or switch off your webcam.
As for a score, Shagle gets 3.8 out of 5.