With the rise in the number of populist leaders and conservative voters who don't value human rights and democracy, it seems like it is becoming harder and harder to find a potential partner who shares our political beliefs.
Physical appearance can't help you to fall in love with someone if you have no common interests or have a completely different perception of the world, so these dating sites will offer you to find your perfect partner who shares the same political and life beliefs with you.
We will rate these Best Liberal Dating Sites according to:
Is your dating app giving you the best chance for success?
Make sure to take our online dating site/app quiz to find out.
It's a fact that people who follow our dating site suggestions have on average 2 extra dates per month.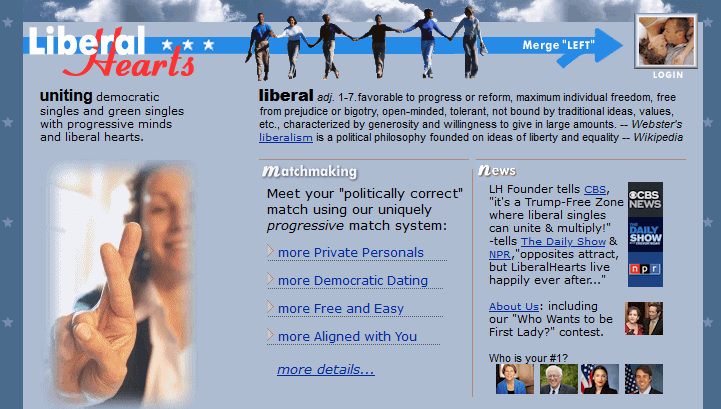 Signing up -4 /5
Making contact with people – 4/5
Profile quality – 2/5
Overall quality of the platform – 4/5
All of the people on this dating site are liberal
Completely free
Has tens of thousands of active users
People take some time to answer messages
Very bad profile quality
Liberal Hearts is one of the best dating sites for all people who value democracy and freedom way more than anything else.
It has gained a large number of users during the last 5 years, and most people started using it after Donald Trump became the president of the USA.
The Demographic Makeup on this platform are very heterogeneous and you can find people of all ages and races here.
Over 60% of Liberal Hearts daters are white people who are members of upper-middle-class, and more than 85% of users have a college degree or are completing it at the moment.
One thing that is very interesting about this dating website is that most of its users, especially Black and Asian people, are the first people to go to college in their family, and usually none of them have a political science degree.
Most users work in health care, accounting, or law firms, and 60% of registered users are men.
Ease of use (mobile and desktop version)
Liberal Hearts is a very simple free dating service and its website is extremely easy to navigate through because it only has the basic menus and options.
Unfortunately, the quality of dating profiles is pretty bad and you can upload only one or two pictures.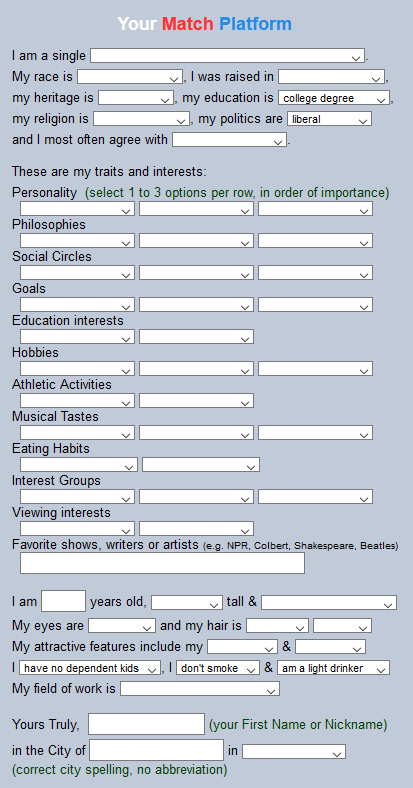 It still doesn't have its own dating app, and probably never will because it is an online dating platform that has a small niche and everyone seems to be just fine with it.
OFL Top Recommendations based on 100,000+ Survey

"Serious Relationships"
"Discreet Hookups"
"Best Course for Men"
"Quick Flings"
"Normal Hookups"
"Our Quiz"
The whole sign-up process might take you some time because you will have to state your political and philosophical beliefs, share the information about your education, eating habits, musical and other cultural interests, and your favorite singer, authors, or filmmakers.
However, even though it might last a bit longer, it will be extremely beneficial and help you connect to like-minded people in a second.
On this website, the algorithm completely depends on your interests and it will show you people who have the largest number of common interests with you first.
Liberal Hearts is a completely free platform and it doesn't require you to pay any type of membership or subscription.
However, it encourages its users to donate a dollar or two from time to time because 70% of the money that is earned through this platform goes to different non-profit organizations like PETA or Green Peace.
1. What type of people can I meet on this online dating site?
The userbase of Liberal Hearts is very interesting, and you can be sure that all of the people using it have liberal, libertarian and democratic views on life and politics.
However, you can also find plenty of vegan or vegetarian users, as well as animal-right and human-rights activists, people from green parties, and anti-war organizations.
2. Is Liberal Hearts safe?
This is probably the safest liberal dating website and there were never any scandals or problems linked to it.
The whole platform works smoothly and thousands of people are very satisfied with it, so it is pretty much safe.
3. What is the Liberal singles platform?
Liberal Singles is the old name of this platform and some people still know it by that name.
Liberal Hearts is one of the first matchmaking sites based on political preferences and it has become very popular during the past year, and each political event drags more people to it.
Here you can be sure you will find a person who has the same interests and opinions about life and society as you, and you will never come across people who don't value freedom and human rights.
It is completely free for use and pretty successful. which made it one of the most famous and popular progressive dating sites.
This platform is very similar to traditional dating platforms like Elite Singles or apps like Hinge and it is the best place for people who want to find a partner who shares the same political beliefs as themselves.
Even though the quality of your profile is pretty bad and there are little to no photos on it, I would still give it a 4 out of 5 because its algorithm is really great and it will help you schedule the first date in a very short time.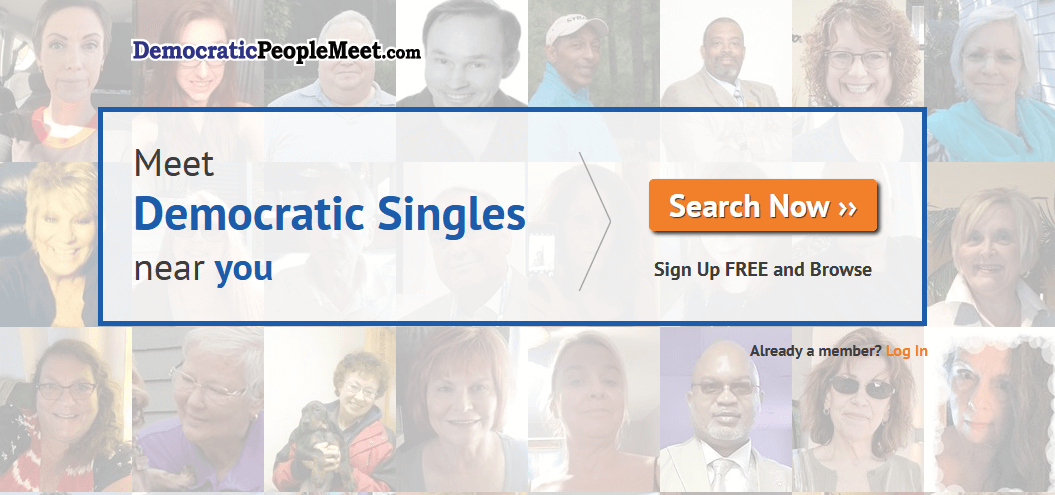 Signing up – 4/5
Making contact with people – 2/5
Profile quality – 2/5
Overall quality of the platform – 3/5
Connects you with democratic singles in your state or city
Very hard to navigate
Full of ads and bugs
Very bad profile quality
Democratic People Meet is also a pretty popular democratic dating site, but its userbase is a lot different than that of Liberal Hearts.
Most of their users are people who are over 40 years old, never married or divorced, looking for someone they will spend the rest of their lives with.
The white race is dominant on this platform, and although its name is Democratic People Meet, it seems like a large number of registered users are not democratic at all, or just don't understand what democracy really is.
You won't find any LGBTQ members on this platform, nor married men or women because for some reason, most of its users are very conservative when it comes to their love lives and dating in general.
Even though the number of male and female users is almost the same, it seems like a lot of them are not able to establish successful relationships because most men are way over 50 years old, while women are usually around 40 years old.
Ease of use (mobile and desktop version)
This is also a democratic dating site that only has a desktop version, but since it doesn't have millions of active users, that's completely fine.
While it is very easy to use and the sign-up process won't take you more than 5 minutes, their website is full of bugs and pop-up ads and you really need to be patient if you want to use it successfully.
The profiles are so simple and basic that you will barely be able to find out more about your potential partner than their city or state, which can be pretty bad because just because both of your share democratic values doesn't mean you agree on everything.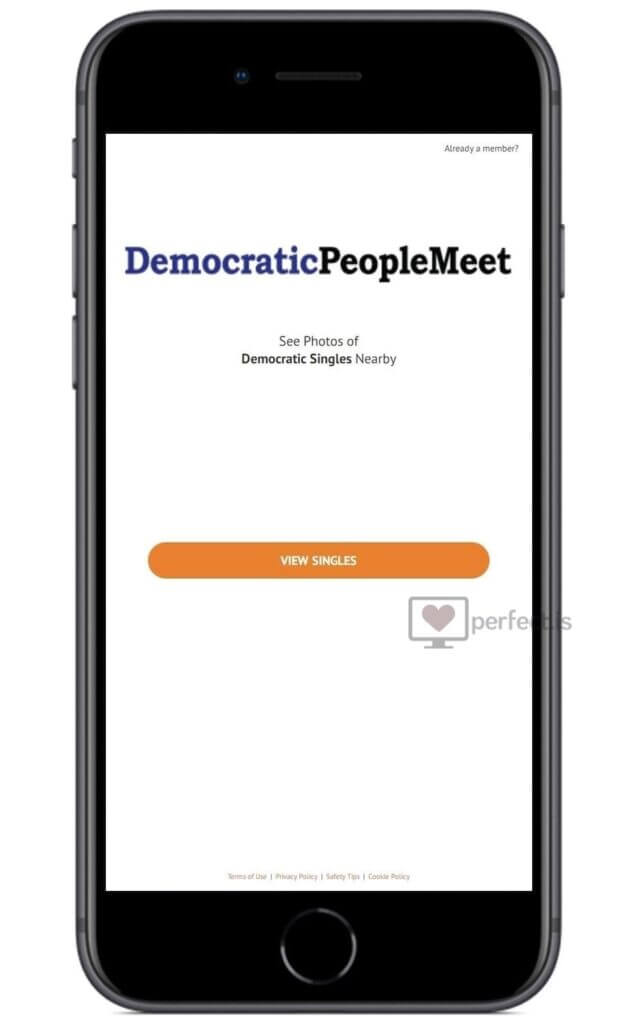 It also doesn't support pictures, so you really won't know anything about your potential date before you meet in person.
This is also a completely free dating platform, however, if you want your profile to perform better and pop up on more people's homepages, you will have to pay a small subscription.
The subscription is usually around 10 dollars per month, but I believe it's not really worth it because people usually choose those who live the closest and seem to have common interests.
1. Is this platform safe for use?
Even though it can look a bit suspicious because of its outdated and poorly made website, it still is very safe, especially because it doesn't have too many users.
Scammers never target people on platforms like this so you can make your first move and approach the person you find interesting without any fear you will get scammed.
Even though it's quite popular among the bit older population, I still believe that Democratic People Meet is not that great of a dating platform and that you can find many better services based on political beliefs in the dating world.
The people on this site actually are not that liberal or democratic at all, and most of them are looking for deep and serious relationships, not a casual hookup.
Dating profiles are of very bad quality and you can't really find out too much information about another person, so I wouldn't really recommend it to anyone.
However, it is not that bad of a platform and it can be useful in case you don't find the perfect match on other ones.
For that reason, I would give it a 3 out of 5.
Signing up – 4.5/5
Making contact with people – 5/5
Profile quality – 4.5/5
Overall quality of the platform – 5/5
Free dating app
Fast sign-up
Available for both Android and iOs users
Does not have a desktop version
CandiDate is a very popular dating app that is very similar to traditional dating apps or websites like Bumble, Hinge, Tinder, or eHarmony. Except, it allows you to choose people based on their political preferences.
Almost 90% of its users are under 35 years old, looking for like-minded people who are willing to engage in fun and adventurous relationships.
Some of them are also looking for a casual hookup (like BeNaughty or Ashley Madison), but that's usually the case with those whore up to 25 years old.
Women make up 60% of the users, so it can be a bit hard to find a man, but if you have a very interesting and well-written profile, that won't be a problem for you.
80% of its users have finished their bachelor's or master's degree, so we can say that their userbase is very educated and interested in social justice, politics, and similar things.
Ease of use (mobile and desktop version)
CandiDate is available only as an app, and it is available both for Android and iOs users for free.
It is very fast and easy to use, and its design is pretty simple, allowing you to browse dozens of profiles in a minute.
The sign-up process is also pretty fast and simple, and you can register through your Facebook and Google accounts too.
At the beginning of the sign-up process, you will have to answer a few questions that will help the app's staff determine your main characteristics and political orientation, because their algorithm is completely based on this.
Once you have finished all of your personality tests and filled out your profile, you will get plenty of like-minded people recommended to you.
Unlike many dating apps millennials use, CandiDate doesn't offer the swipe-up option, but rather allows you to enter each profile and read through it carefully before you actually reach out to someone.
You will also be offered a few new personality tests from time to time, and when you have finished answering them, you will get connected to people who have chosen answers similar to yours.
This doesn't mean that you have to approach only people the app recommends to you, but their choices are usually great and well-thought-out.
Their interface will help you find out a lot about other people and see whether your compatibility is good or not.
CandiDate is completely free and there are no subscriptions or memberships to pay for.
Also, you can't boost your profile like you can on OkCupid or similar platforms because all of the recommendations are based on your personality.
1. Are profiles on CandiDate verified?
All dating profiles on CandiDate are verified and the verifications process usually differs from one account to the other.
Some will need to connect their profiles to their Facebook or Instagram pages, while some will be required to answer a video call.
This app really works on safety and tries to eliminate all the potential fake profiles.
2. What are CandiDate games?
CandiDate allows you to play Question and Answer games that will help you connect to people with similar interests.
CandiDate is one of the best dating apps for all young people who are looking for like-minded people, especially for those who have the same political beliefs as them.
Being completely free and having an amusing and fast interface, this app is really one of the best dating sites for liberals and democrats, and even if you don't find your soulmate, you will gain many valuable friends and acquaintances.
It is very interesting, allows you to play different games and personality tests that will connect you to your best matches and help you meet people not only from your state or city but from the whole world.
Even though it's not perfect, this is definitely the best dating site for people of all political preferences and I would always give it a 5 out of 5.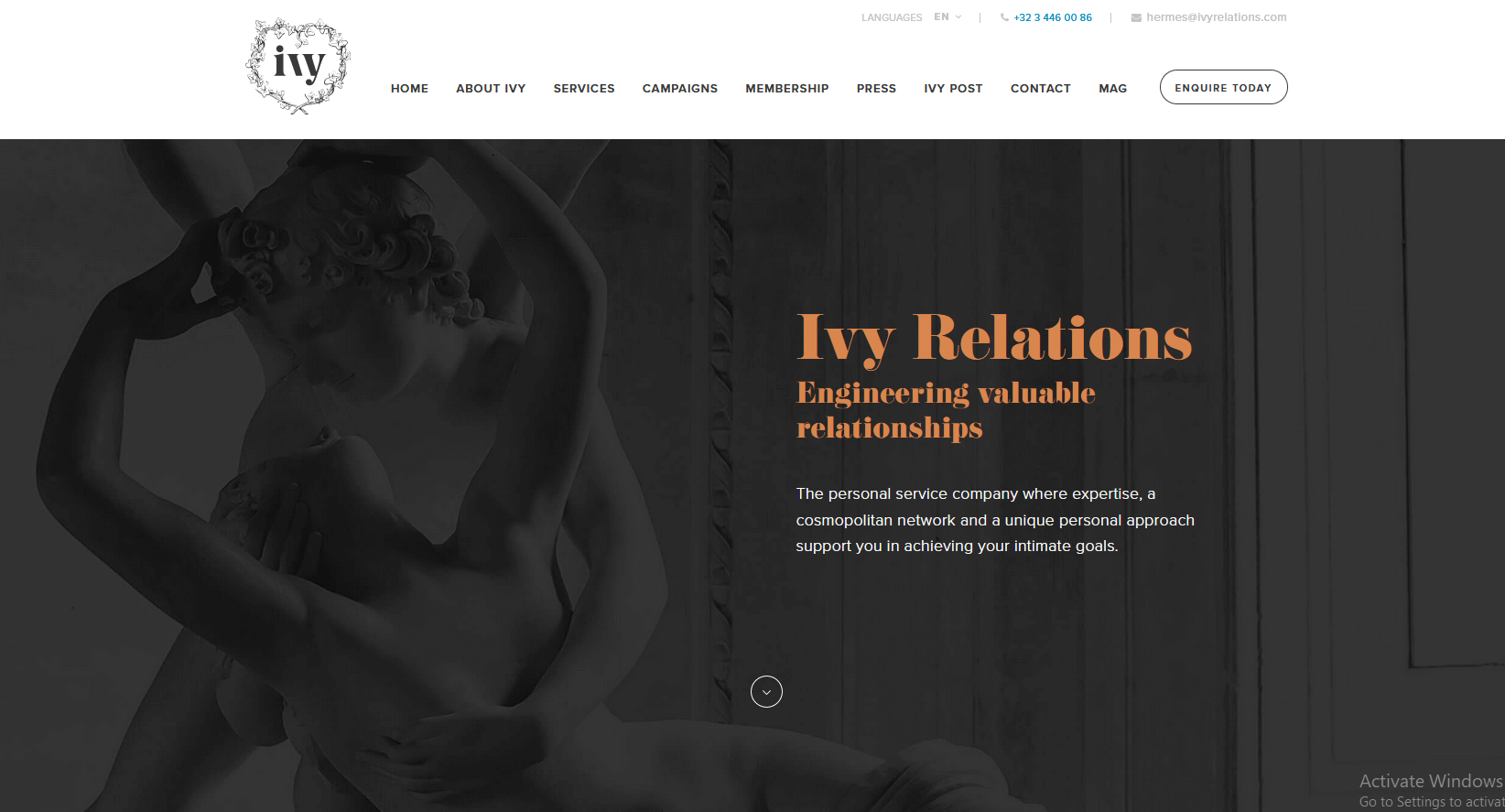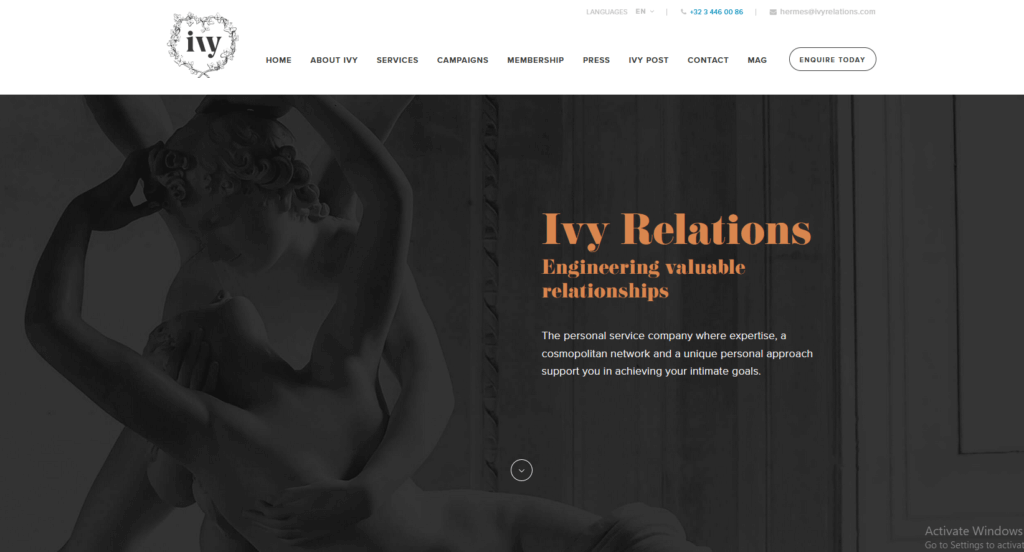 Signing up – 5/5
Making contact with people – 5/5
Profile quality – 5/5
Overall quality of the platform – 3/5
All the people are very educated and successful
Beautiful website
Millions of users
Not everyone gets approved
The membership can be very pricey
Ivy Relations is a dating platform that claims to be the exclusive matchmaking service connecting people from higher social classes with others.
Its Demographic Makeup is pretty basic, and more than 90% of its members are very rich white people who have graduated or are currently attending college.
Not everyone gets approved on this website and you have to provide them with evidence, like the college diploma or your employment contract because they want to make sure all of their users are financially stable and very educated.
It is not strictly a democrat dating site or a dating site for liberals, but most of its users political beliefs are pretty similar, so we can say that all of them are very liberal.
Their users are also very young, with the age range being somewhere between 20 and 30 years old.
Ease of use (mobile and desktop version)
Ivy Relations only has a website, but it doesn't make it any less popular because it has loyal users.
The design of their website is impeccable, rich and beautiful shades of gray and pink, and its drop-down menus are also very easy to use.
You will have to fill out your profile completely if you want to get accepted, and you will be able to upload dozens of photos, link your workplace or the university you have been attending because it will make people more interested in you.
However, don't have too much fun, and don't put too provocative or arrogant things in your description box because people may find you to be a bit crazy.
The sign-up process will for sure take a bit of your time, but I believe this website is very useful for many different things, not only establishing romantic relationships.
The membership on Ivy Relations can cost you up to 200 dollars per month and it really is not worth it if you are only looking for a romantic partner because that is something you can find on many other dating sites that work on similar principles and they are completely free.
How big is the subscription fee is something we can't really be 100% sure about because rumor has it that every user gets offered another amount and it usually depends on their education or workplace.
However, even though it's great, it's not worth spending money unless you are looking both for a romantic partner and educated, rich people with whom you can build friendships.
1. Are only people who went to Ivy League schools eligible to join the website?
Everyone can join this website as long as they have completed higher education and have a regular job.
The main purpose of this website is to connect successful people who know what they want in life and have opinions on important questions.
Ivy Relations is a pretty expensive dating website and it is certainly not made for everyone, nor everyone will get accepted, but it can be very useful for people who have some spare money and are willing to spend it on platforms like these.
The interface is beautiful and very fast, all the people you will meet on here are very successful and ambitious, but they also have different opinions and beliefs.
You will be able to find people of all orientations, but more than 95% of its users declare themselves as democrats or libertarians.
It allows you to search for people with many different filters and features, so you will for sure be able to find your soulmate.
Even though it has many disadvantages and it is pretty expensive, it is the best option for all people who have a lot of spare money and want to find their partner through a da ting site.
For that reason I would give it a 5 out of 5, but in general, I really do not recommend it to everyone.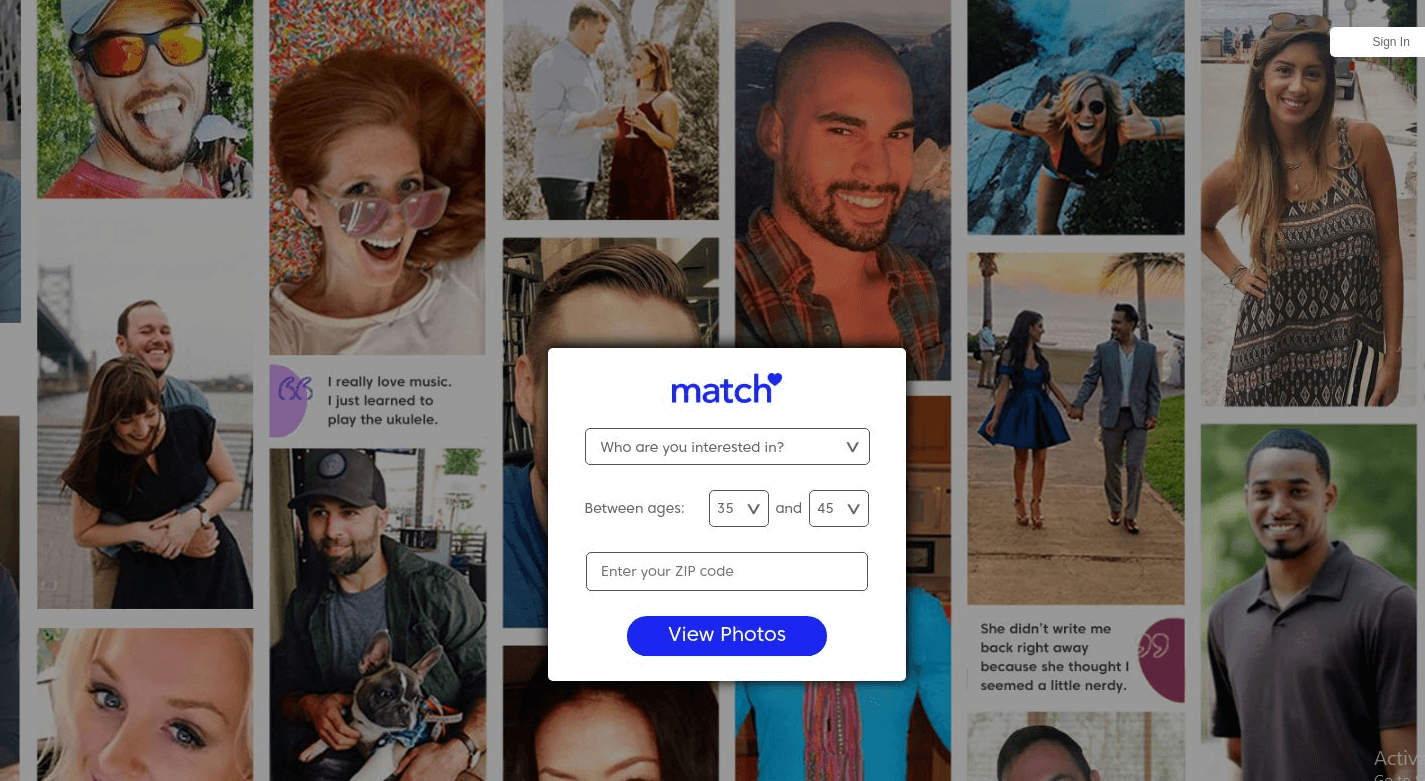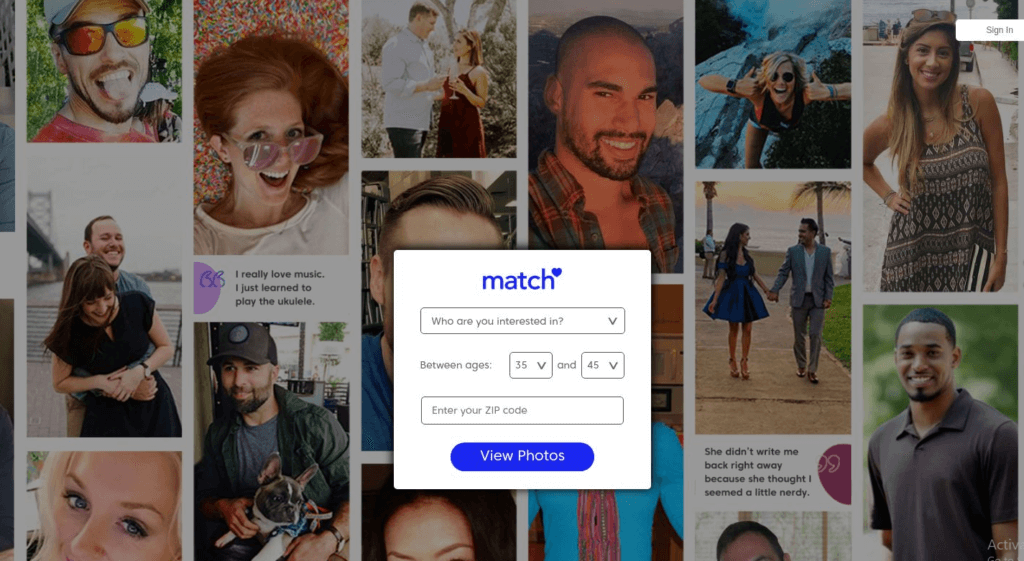 Signing up – 5/5
Making contact with people – 4/5
Profile quality – 4/5
Overall quality of the platform – 4/5
Avilable in more than 50 countries
More than 5 million users
Hundreds of potential matches
Many free options and filters
Free members can't message everyone
Membership is very expensive
Match is a very diverse platform and more than 70% of its users are living in the USA, even though its available in more than 50 countries, which makes it the best dating sites for all Americans,
There are members of all ages and races, but the largest number of them are men and women between 27 and 39 years old.
Some of them are very open about their political orientation and beliefs, while others do not feel comfortable sharing that until they establish good communication with someone.
The research has shown that 70% of their users who are under 30 years old consider themselves to be democrats, while both men and women who are older than 40 declare themselves as conservatives or even radicals.
Ease of use (mobile and desktop version)
Match.com has both the desktop version and its own app that is available to all smartphones you can find on the market these days.
Both their website and their app are free for use and you can create a free profile in just a few minutes.
The sign-up process is very simple and all you need to do is add all the information you are comfortable sharing with other people on this platform.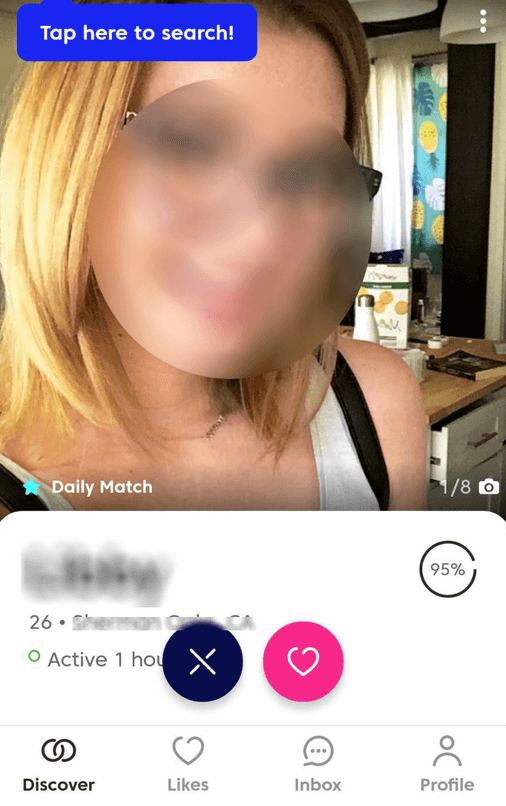 It also allows you to upload as many profile pictures as you want, and you can choose which information will be hidden for some users, and which ones will remain private, or reserved for premium users only.
Their whole interface is very simple and both the website and the app work without any issues and all the filters and advanced search options are very easy to use – you just have to tick off things you are looking for.
Match.com offers plenty of free services and in those terms, its pretty similar to websites like EHarmony.
Free users can like other peoples profiles, view them, get recommendations and receive messages from other users.
Unfortunately, they won't be able to reach out to anyone and they will have to wait until someone sends them a message before they can pursue a contact with anyone.
On the other side, premium users can send messages to everyone, see who has viewed their profile and even hide their profile from some people.
However, their subscription is not too expensive and it goes from 9 dollars per month to 14 dollars, which is a pretty reasonable price for a dating website that has millions of active users.
1. Are Match.com and EHarmony the same website?
They are not the same dating website, but they have the same mother company – InterActive Group.
This is the reason why their websites and apps look pretty similar and they have many similar features.
2. Can I cancel my Match.com subscription anytime?
Yes, you can cancel your subscription whenever you want, and if you have enough luck, you may even get a refund.
Match.com is a great dating app for people of different beliefs and orientation and it is also very cheap for all people who decide to pay a premium membership.
They offer a variety of different filters that allow you to explore people of many different political orientation and beliefs.
This is also the best option for all people living in the USA because they have hundreds of registered users in every single city.
Offering both an app and a website that work perfectly, this is a great option for everyone who wants to try out their luck on a dating website.
I would give it a 4 just because there are some little things that can be fixed and free members can't really reach out to anyone.