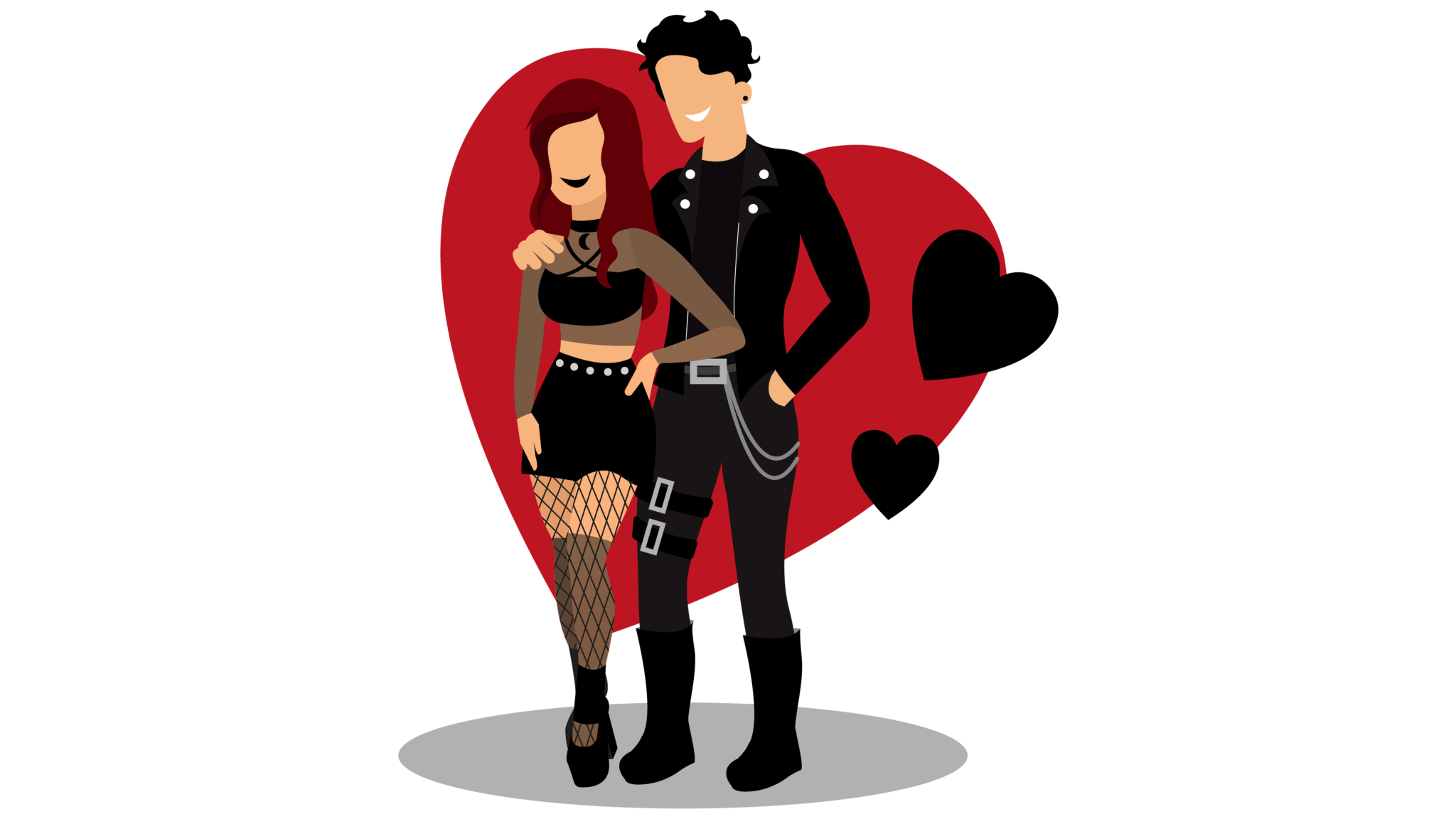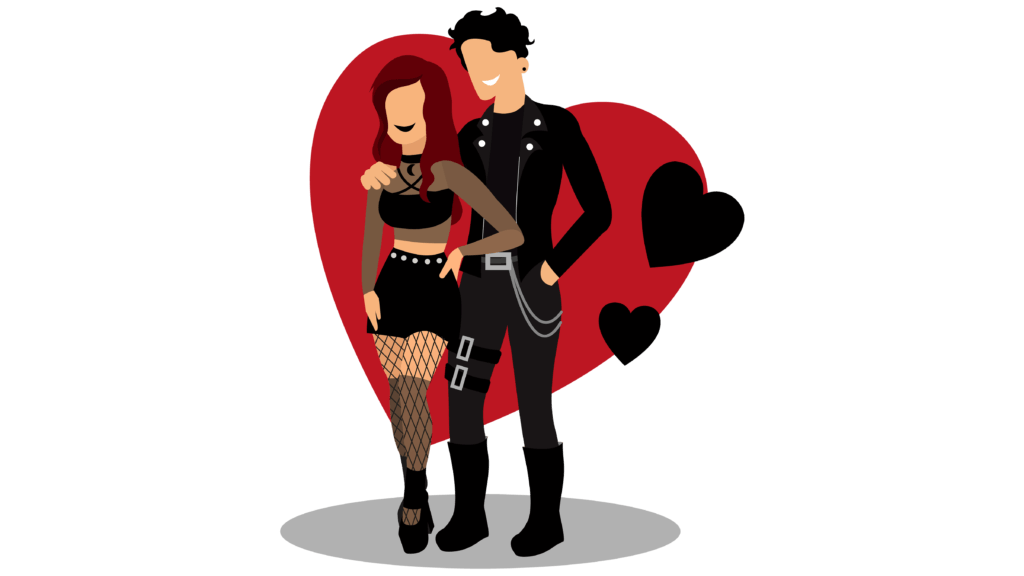 No, the Goth culture wasn't a passing fad left in the '80s as many people believe.
And you know that.
As a Goth, you're part of a small, niche minority, but one that's taken very seriously by those who live the Goth lifestyle.
And let's be honest, Goths are on the lookout for love just like regular folk and may also be interested in quick flings like Ashley Madison or BeNaughty offers.
OFL Top Recommendations based on 100,000+ Survey

"Serious Relationships"
"Discreet Hookups"
"Best Course for Men"
"Quick Flings"
"Normal Hookups"
"Our Quiz"
While a mainstream dating website (like eHarmony) might be something that you could consider in that quest, wouldn't it be far easier to find an online portal where you can meet like-minded people?
Luckily, there are quite a few online dating sites that are just for Goths, and in today's article, we are going to look at some of the best.
These sites have been carefully selected based on certain considerations:
Well then, let's get down with it!
Is your dating app giving you the best chance for success?
Make sure to take our online dating site/app quiz to find out.
It's a fact that people who follow our dating site suggestions have on average 2 extra dates per month.
Best Goth Dating Sites in Video Form
Audio (podcast) form for those of you on the go
Best Dating Sites for Goths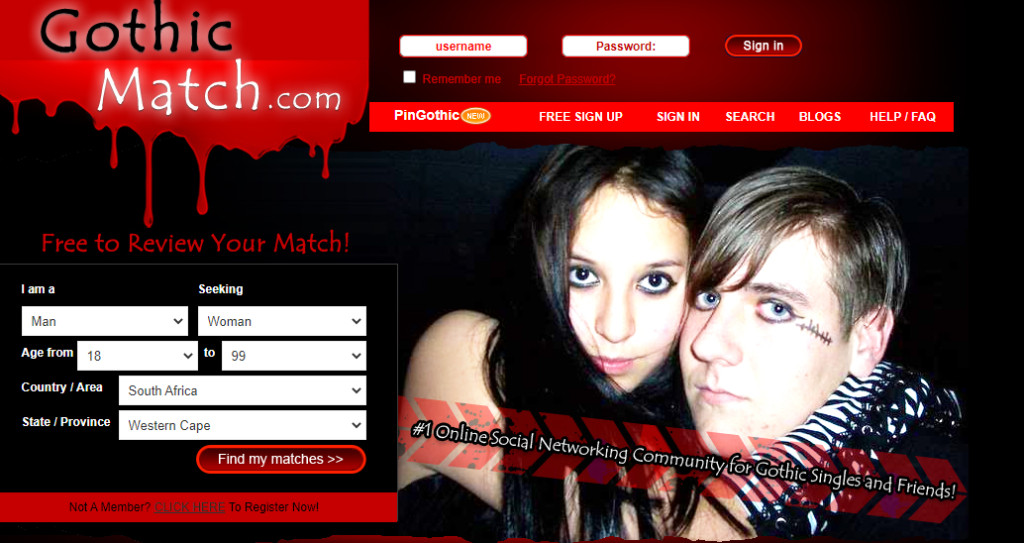 Signing up – 3.5/5
Making contact – 3/5
Profile quality – 4/5
Overall quality – 4/5
Filled with Goths and other like-minded users
Simple registration process
Extensive profile with tons of Goth specific information
Membership options are well-priced
There is an app for Gothic Match but only for Apple devices
The name is a dead giveaway, right?
This is a dating site for Goths.
OFL Top Recommendations based on 100,000+ Survey

"Serious Relationships"
"Discreet Hookups"
"Best Course for Men"
"Quick Flings"
"Normal Hookups"
"Our Quiz"
And that's the type of users you will find here.
It's not one of those mixed sites where punks or those into heavy-metal will sign up for a profile.
No, the users here are Goths with the occasional emo lover thrown in.
That's why we have it right at the top of our selection for Goth dating sites that you should consider.
So just how big is the user base.
Well, that's not a figure that's readily available and despite a valiant effort in trying to find it, I wasn't able to.
But those behind Gothic Match call it the first but more importantly largest online website for Goths.
They also claim that thousands and thousands of their users have met up and dated.
Listen, because of the target market, you know that this isn't going to have the user base that a regular dating site has.
But that's not a problem when it can provide you with the kind of matchup you want.
Everybody here is just like you.
What could be better than that?
Before we get into how the site works, there's something more to know about the site.
This is not just a dating site, it's a Goth community.
Yes, you will have access to blogs (or you could write your own) as well as forums where thousands are of fellow Goths post daily covering a range of subjects like tattoos as well as share pictures.

Ease of Use "mobile and desktop version"
Let me just start off by saying that if you'd prefer to access Gothic Match using your smartphone, you are going to need to be an Apple user.
That's because the app is only available for Apple handsets and not Android devices.
If you have an Android device, you can still view the site through your browser as it is optimized for mobile phones.
The registration process allows you to sign in using Facebook should you choose to.
If you don't you will need to have a valid email address as well as provide your gender, the gender you'd like to match with (and yes, the site open to the LGBT community) and your age.
That's followed by the start of your profile creation.
This includes providing:
Your first name
Username
Password
Location
Height
Ethnicity
Relationship status
Profile picture
The final step in the registration process requires you to provide a profile headline and complete an "about me" and "about my match/friends" section.
Once you've completed all of that, and it doesn't take long (a maximum five to 10 minutes), you are sent an access code to your email address which you need to enter to gain access to the site initially.
Just a word of warning, this can take a fair bit of time to come through.
I had to wait at least 10 minutes for mine.
Make sure you check your spam folder as it might end up there as well.
I would suggest that the first thing you do when you access the site is complete your profile.
What I love about it is that it contains tons of Goth-specific information that can help you find that perfect match and vice versa of course.
That's why it's so important that you complete it as best you can.
Once you've used the site for a while, you will notice that it's not that colorful.
But is that really a problem?
It's a dating site for Goths, right, it doesn't need to be colorful, just functional.
And that it is.
You are primarily going to find your way around the site using a menu system that you will find at the top of the screen.
This includes:
Home: Returns you to the main home screen
Discover: Here you can search for potential matchups
My lists: There are many sub-menu to be found here including your likes and favorites, who viewed your profile, who liked a picture and more
Community: Remember those blgs and forums I mentioned. You will find them here
Messages: All your messages you receive as well as those you send are found here
You will also notice on the home page that Gothic Match includes a list of new members as well as those you might like on the right-hand side of the page.
This is useful to look through but you are going to want to conduct your own searches too I guess.
This can be done with the quick search bar you will find in the top middle of the screen under the menu system.
It only has a few parameters, however.
As a paying member, you can include more advanced search parameters but I will discuss that a little later.
Lastly, Gothic Match has a social media style newsfeed where you can see any changes users have made to their profiles including pictures they have uploaded.
Let's talk a little about contacting someone.
If someone messages you as a free user, you can reply to them.
And while this is a viable way to use the site, it becomes a waiting game as you wait for people to send you messages.
With membership, you can send messages yourself.
You can also make advanced searches, see who has viewed your profile, browse new members who have joined the site, see when last someone has logged in, browse incognito, view reverse matches the site suggests and more.
But what does membership of Gothic Match cost?
Niche sites can get quite expensive when it comes to membership.
That's because it's a trapped audience mentality.
Those behind the sites know that because they offer a specific dating service for a particular type of group, they can push the prices up a little.
Luckily, Gothic Match has well-priced membership, especially with the extra features that I've already mentioned.
While there is no trial membership option, you do have three packages to pick from.
1-month: $29.95
3-months: $59.85 ($19.95 per month)
6-months: $95.70 ($15.95 per month)
Payment options included credit cards as well as Paypal which is very convenient if you aren't someone who likes to input banking details online.
1. Can I register and browse Gothic Match on my smartphone?
Yes, you can.
Although the app for Gothic Match is only available for Apple devices only at this point.
2. As a free user, can I message others?
No, you cannot.
To message other users, you will need to be a member of the site.
You can reply to messages if you receive them, however, but that doesn't allow you to be proactive in your search for love.
So let's get to a rating for Gothic Match straight up.
It gets a very solid 3.6 out of 5.
If you are a Goth and on the search for online love, start a profile here for sure.
From my experience, you should be able to find a host of matches in and around where you live, unless it's a very small town.
And yes, while Gothic match has a decent user base, it also provides you with non-expensive membership and a range of tools to help you in your search.
So don't go quietly into the night, use Gothic Match to help you find the love of your life.

Signing up – 4/5
Making contact – 3/5
Profile quality – 4/5
Overall quality – 4/5
Simple sign-up process
Extensive profile
5-day trial membership
Anyone can see your profile, even if they aren't a user on the site
No app for either Apple or Android devices
Goth Scene is another niche dating site where the primary focus is on helping Goths find friendship and love.
It's not exclusively Goth, however, but the majority of the users are.
You will find a sprinkling of those who love the punk and emo scene as well.
For the most part, Goth Scene doesn't seem to have as large a user base as Gothic Match and certainly don't claim to be the biggest Goth dating site online.
But that doesn't rule it out as a place that you should consider hosting a profile on, that's for sure.
And try as I might, I wasn't able to find user numbers for the site at all.
That said, there were a number of matchups for me to consider in the small town that I live in, so if you are in a bigger city, you really shouldn't have any problems finding someone to chat to.
And who knows what that can lead to later on down the line.
Ease of Use "mobile and desktop version"
Simple and efficient.
That's the way to describe the signing on process for Goth Scene.
And you have to do it all through the website because, at this point in time, there is no app for Android or Apple devices for the site.
The registration process starts with a few simple bits of information provided from your side.
This includes:
Your email address
A username
Password
Birthdate
Your gender and the gender you'd like to match up with
Your location
With just those few things, you get access to the site but there's still work to do.
You still have to provide:
Your first name
A profile pic
Your height
Your ethnicity
Your body type
A profile headline
A description of yourself
And that's it.
Now you have access to the site.
Overall the design of the site can be a bit overwhelming because it's super busy.
But in time, that's something to get used to.
You will immediately notice that Goth Scene uses a modular design.
As with most sites, there are a few basic menus at the top of the screen.
These include:
Home: Takes you back to the homepage
Search: Here you can search for matchups
Browse photos: View photos of other users here
My profile: Click here to go to your profile to edit it
Settings: Change various site settings here
Mailbox: Her you will find all your messages, both sent and received
The modular design I talked about earlier is easy to see underneath this.
It divides Goth Scene into three sections on the home page.
On the left is a summary of your profile, how many messages in your mailbox, your favorites, if you are a favorite of others, how many times you've been viewed and more.
In the middle, you will be presented a bunch of matchups in the roulette-style "Rapid Match" game.
On the right, you can launch quick searches and access other similar sites.
Talking about searches, the quick search just includes a few parameters like gender, age-range and location.
Clicking on the main search tab allows you to enter a few more parameters to narrow down your search for the right person.
There are two ways a free user can interact with others and the first is by sending a "flirt".
These can be chosen from a host of examples, for example, "Have you always been this cute, or did you have to work at it?"
A bit corny, but at least you can get your interest across.
You can send 30 flirts as a free-user.
You can also opt to use the "Ask If She is Interested' option on their profile page.
This alerts them to your interest and they get the option to show interest back or to ignore it.
You also one icebreaker that you can send to all users up to 500 km away from you.
You should use this because it gets your profile out there.
If you want to message someone, well, you need to be a member to do so.
Lastly, just a reminder that you will need to take some time to fill in your profile as the registration process covers none of this.
Profiles are quite extensive and will take around 15 minutes to complete.
If you are interested in Goth Scene but would prefer to get to try the site out for a while, you are in luck.
That's because one of the options when it comes to membership is a five-day trial which costs around $4.
Goth Scene also has a one-month and three-month membership option.
Their prices are:
1-month membership: $29.99
3-months membership: $39.99 ($13.33 per month)
Note, these prices were converted to dollars from another currency.
1. What is "Rapid Match"?
Rapid Match is a roulette-style matching game that's just like those found on so many other dating sites.
You are presented with a picture of other users and you either click the "x" to pass or the "heart" to like.
If they like you back, you have a match.
2. Does Goth Scene have a trial membership?
Yes.
You can sign up for a five-day trial to check the site out at a cost of around $4.
It's the perfect way of finding out what the site is all about and whether it will work for you in your quest for Goth love.
Goth Scene might not have the same amount of users as Gothic Match but it remains an active site.
Although it can be a little intimidating at first once you've spent time on the site, it's easy to find your way around.
I love the fact that you get an icebreaker to announce yourself to other users around your location while the "Ask If She/He is Interested" is a great tool to gauge exactly that.
Perhaps the best thing about Goth Scene, however, is the fact that it includes a five-day trial.
In that time, you can really test out the site to see if it is a dating site where you should consider membership.
Today, Goth Scene gets a solid 3.75 out of 5.


Signing up – 4/5
Making contact – 5/5
Profile quality – 3/5
Overall quality – 3.5/5
Alt Scene is free
Simple registration
Alt Scene is well-designed
Not only a site for Goths
Alt Scene is a dating site for those of us who feel a little different from the crowd.
This is not only a Goth dating site.
Here you will find punks, skaters, the occasional metal head and others from the alternative scene.
If you want to exclusively date Goths, then maybe it isn't the site for you but that doesn't mean you won't find thousands like yourself here.
That said, finding just how many users have registered for profiles on Alt Scene was impossible.
As for the gender split, that's wasn't something that I could determine either.
What I could find out was that the biggest user group on the site was between 18 to 34 years old.
What I like about Alt Scene is that it's not a new dating site for alternatives.
In fact, Alt Scene has been in existence since 2004 so during that time, the user base would have grown quite extensively.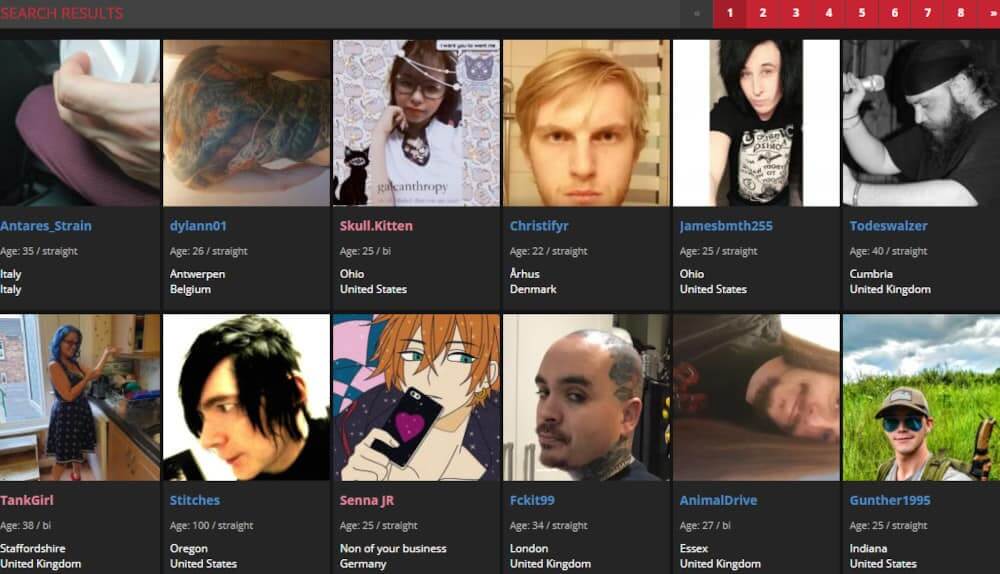 Ease of Use "mobile and desktop version"
The first thing you notice when you log into the Alt Scene registration page is that it's filled with the profiles of other users already on the site.
It's a novel way to show you the types of people that you might find on the site and I think it works in getting people to see Alt Scene as a site that can help them in finding what it is they are searching for.
But let's get to the registration process.
It starts with a user providing:
Name and surname
Email address
Password
From this point, most sites verify your email but not Alt Scene.
That's can be a problem and lead to fake profiles but in reality, even with validated emails, other sites have fake profile problems.
The registration process and your access to the site is not quite complete.
There's still other information to provide that pertain to your profile:
Username
Sexuality
Your date of birth
Where you are located
And more
Don't worry, it won't take more than five minutes of your time.
Before you are allowed on the site for the first time, you have to complete certain profile details.
I also like the fact that during this process, you get to select privacy and email options which ultimately puts you in control of your profile.
Finally, before you can access Alt Scene, you need to upload a profile picture.
And then you are in!
The site itself looks awesome.
It's dominated by the colors black and red.
The overall design is pretty clean and while there is advertising, it's well-placed and not intrusive.
You will navigate the site thanks to the five menus that are found at the top of the screen.
These are related to messages, profile, searching for matchups and more.
The search menu, which is called "Find People" has a few sub-menus as well including friends you have made on the site, the profiles that are most popular as well as a list of users who have taken a look at your profile.
For a regular user, there aren't that many options available when it comes to search parameters in your quest for that perfect match.
You can change the following:
Age range
Gender
Sexual orientation
Location
For me, having the option of a location is critical.
That allows you to find matchups that are close to where you live.
And my searches on Alt Scene turned up plenty to follow up on.
If you've found someone that you'd like to get to know a bit better, you have a few options.
You can add them as a friend, flirt with them using the "wink" option or message.
And here's the good news.
All of these options are totally free.
That's because, at Alt Scene, there is no form of membership at all and that means you are free to send as many messages as you like to as many users as you like.
How amazing is that!
We've already determined that Alt Scene is free to use.
And no, there are no hidden costs here at all.
It's just a community for alternatives with no paywall at all.
You can set up your profile, search for other users and message them without paying one dime.
Yes, it is.
Everything on the site is free.
You can even send messages for free.
2. How can I block a user on Alt Scene?
If you need to block a user that's bothering you, Alt Scene makes it so easy.
Go to their profile, locate the button and click on it.
That user is now blocked.
While Alt Scene isn't strictly a dating site for Goths, there are plenty who have registered and use the site in their pursuit of love.
Some of you might prefer to use Goth only dating sites but the benefit that Alt Scene has over those is the fact that it's free.
And it's literally going to take around 10 minutes to register and set up your profile, so you'd be missing out if you didn't consider Alt Scene in your search for your Goth partner.
Today, Alt Scene gets a score of 3.9 out of 5.