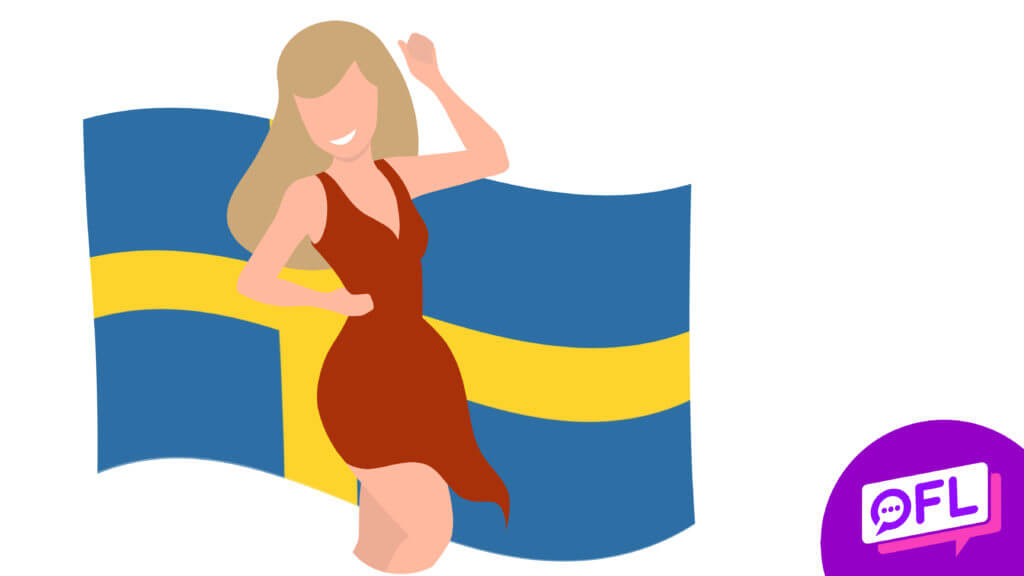 Today, we look at dating in Sweden.
Just like the rest of the world, online dating has become a popular way for singles to find potential partners, either for long-term relations (like Tinder), hookups (like BeNaughty or Ashley Madison), friendship or casual dating.
There's a number of sites that are extremely popular in the country and we are going to provide a mini-review on each of them.
They will be judged on the following:
Let's start then.
Is your dating app giving you the best chance for success?
Make sure to take our online dating site/app quiz to find out.
People who follow our dating site suggestions have on average 2 more dates per month.
The Best 4 Dating Sites in Sweden in Video Form
Audio (podcast) form for those of you on the go
Best Dating Sites in Sweden

Signing Up – 4/5
Making Contact – 4.5/5
Profile Quality – 4/5
Overall Quality – 4/5
Photos and messages are constantly reviewed to improve security and remove fake profiles
Close to 1 million members
All kinds of singles looking for a variety of relationships
The site is free
There is no English version of the site
Happy Pancake is a popular Swedish Dating site run in the country.
It's not new either.
In fact, Happy Pancake was founded all the way back in 2007.
It's even branched out to include a Finnish and Dutch version.
On Happy Pancake Switzerland, you can find close to a million singles searching for love.

They are found across all the various age ranges from 18 to over 55+ but for the most part, it's the younger generations who have the most representation on the site.
Ease of Use "mobile and desktop version"
Happy Pancake is both website and app-based.
So you can use whatever medium you prefer when it comes to dating sites.
The sign-up process is simple enough and means you will have to provide all the regular information that dating sites want.
For example, a username, password and of course, an email address and all the other bits and pieces of info that's required, including more information about you so that Happy Pancake can match you with the right kinds of people.
Once you access Happy Pancake, you will already be provided with matchups based on the information that you have provided.
That can be found in the Quick Matching section.
These are worth going through of course, especially if you have tried to be as accurate with your information as possible related to your profile inputs.
If you are received tons of profile visits, it's good to check out just who is viewing you under the "My Page" section.
Of course, you can search for matchups of your own.
Best of all, communicating with any other user is totally free.
You also like profiles to show people you are interested in them.
It's also easy to learn more about other users.
All you need to do is click on their profile to find out more.
There is no cost at all.
Happy Pancake is free to use for all.
Of course, they have to generate revenue somehow, so that means from time to time, you will see advertising on both the site and the app.
It's not in any way annoying though.
1. What is an "Ideal Match"?
This is a section on the app and website that you must fill in to help Happy Pancake provide you with the best types of matchups.
You can do so when you log in for the first time and it really doesn't take much time.
2. Is Happy Pancake free?
Yes, it is free to use.
The site generates income through advertising.
3. What's the primary way in which I can find potential dates on Happy Pancake?
Through matchups.
Happy Pancake will provide you with 40 matchups at a time.
it's therefore critical that you completed your profile as well as your "ideal match" section to ensure these matchups are what you are looking for.
What more could you want than a free website or app for dating in Sweden?
That's Happy Pancake for you.
It really has everything you need to find just the type of relationship you are looking for.
Plus, it has close to 1 million members which makes it one of the most popular dating sites in the country.
Happy Pancake scores a well-deserved 4.1 out of 5.
You should try it out.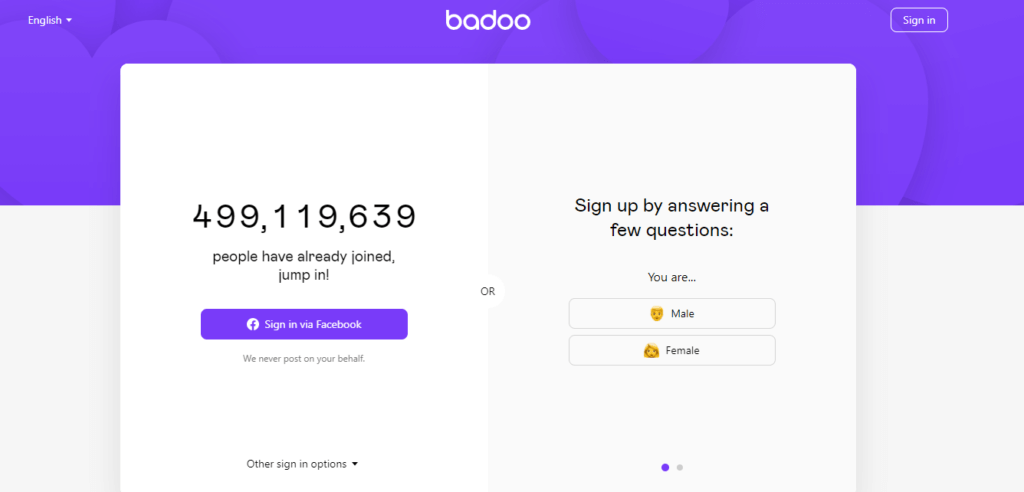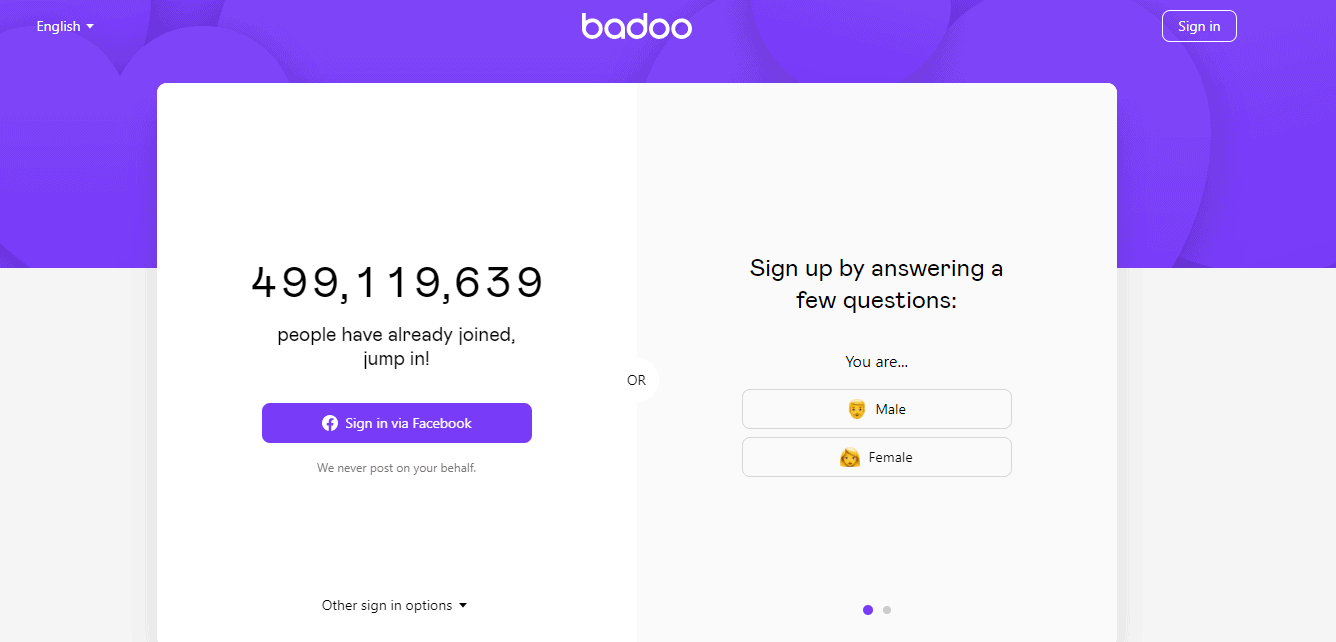 Signing Up – 4.5/5
Making Contact – 4.5/5
Profile Quality – 4/5
Overall Quality -4.5/5
One of the biggest dating sites/apps in the world
Popular in Sweden too
You don't need a membership to use it effectively
You can verify your profile
No email verification on signing up
Badoo is extremely popular in Sweden, especially with users between 18 and 34 years old.
It's one of the world's most popular dating apps as well, so that's not difficult to understand.
I was unable to find exact user numbers but in terms of matchups, well there were more than enough returns while I tried the site out.
While a user ratio for Sweden wasn't specifically available either, the global percentages see Badoo's gender breakdown showing 60% of users as male and 40% as female.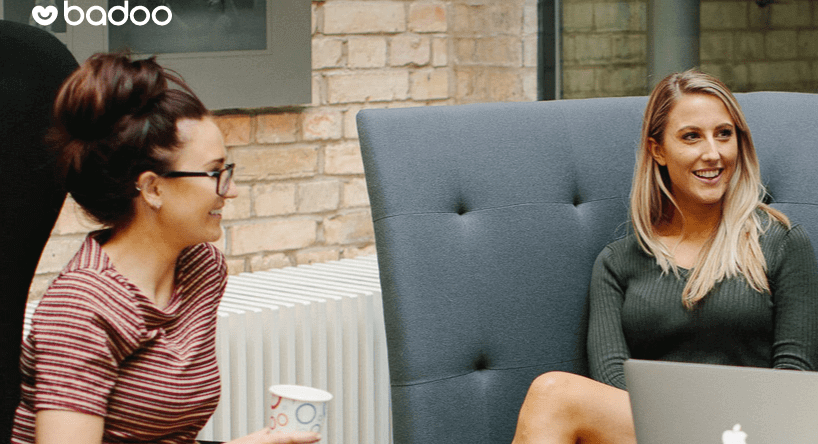 I am pretty sure that while it might not be exactly the same, you can apply those numbers to Swedish users on Badoo as well.
Badoo is so simple to use.
Ease of Use "mobile and desktop version"
Badoo is so simple to use.
Either download the app off the Google Play or Apple Store or head on over to the Badoo website to register as a user on the platform.
For the purposes of this article, I will be talking about Badoo from the app perspective.
First up, Badoo is for everyone.
Yes, it covers every single LGBT classification there is.
Registration on the app takes a matter of minutes.
You will need to provide the following:
Your gender
Your name
Your birthdate
Your email
A profile picture
Where you stay
A valid email address
That's it.
You can also complete your profile at this point, which I strongly recommend to get it out of the way.
It also means that Badoo can help provide you with accurate matchups if you do this.
The process of completing your profile, should you choose to do it during registration or later, will take around 10 minutes of your time.
It's pretty detailed as well and includes appearance and lifestyle parameters but also questions about what you are looking for in a match as well as the type of relationship that you want.
Also, you can choose to verify your picture to show that you are a verified user.
Following all that, you can start using Badoo to find love.
Of course, as with any dating app, Badoo presents your matchups and then you can choose to swipe one way or the other to either dismiss their profiles or to like them.
Swiping left to move onto the next profile and right to like someone.
You can also do this using the two icons that you find on the screen below their picture.
There are four menus at the bottom of the screen that you will use on the app as well.
These are:
Location icon: See a range of potential dates and click on those you want to know more about. You can also message these users without matching up.
Two rectangles: This takes you back to your matchup screen
Chat icon: This is your mailbox
Human silhouette: You can change your profile here
If you'd like to make changes to the types of matchups Badoo returns for you in terms of gender and age range, you can do so by clicking the settings toggle at the top of the screen.
You can even find advanced search filters here based on profile entries to make matchups even more specific.
So what about messaging once you've found someone you want to get to know a little more?
While messaging is free, there is a certain way in which it works.
If you match with someone, you can message them as much as you want.
That's just like similar dating apps, right?
Badoo also lets you message other users as well even without a matchup.
There is a slight catch, however.
You can only send two messages.
After that, they have to reply before you can message them again.
But that's not too bad at all.
If someone doesn't reply, you can just move onto the next person that you'd like to meet.
Badoo Cost
While you can use Badoo for free, there are many features that can benefit you if you become a member of the site.
For example, members of Badoo can:
Browse the app/site in private
See which users have liked or favorited your profile
Send virtual gifts
Have your profile boost to appear at the top of other users' matchups
See new users to the site before regular members
And so much more
So what's the membership cost then?
1-month – $12.99
3-months – $31.99 ($10.66 per month)
6-months – $47.99 ($8.00 per month)
For all those added features, $12.99 per month is extremely well priced in my opinion.
If you don't want to buy into membership, you can purchase credits to use some of the features found on Badoo.
100 credits – $2.99
550 credits – $9.99
1 250 credits – $19.99
2 750 – $39.99
Say you like how someone looks on Badoo but they aren't replying to your messages.
Use the "lookalikes" function to find other users who look similar to them.,
2. Can users verify their profiles on Badoo?
Yes, they can.
And it's easy too.
Badoo will ask you to send a photo to the app or site with your posing in a certain manner.
When you do so, your profile is verified.
3. How can I contact Badoo?
In the app, click on your profile and then the cogwheel on the upper left-hand side of the screen.
From there, select the help center and follow the instructions.
There are a number of reasons why Badoo is such a sought-after dating portal in Sweden and the world over.
That's because, provided you fill in your profile in full, it will return excellent matchups for you to browse through.
Of course, it also helps that you can use Badoo without needing to pay membership fees.
I would, however, because it's cheap and you get so many added features to help you find the perfect date.
When it comes to an overall rating, Badoo gets a stellar 4.3 out of 5.

Signing Up – 4/5
Making Contact – 3/5
Profile Quality – 3/5
Overall Quality – 3/5
Signing up takes around 5 minutes
One of the biggest dating apps online
Can be used for free
Tinder does have fake profiles
Tinder is popular the world over and naturally, in Sweden as well.
In fact, estimates put the number of users across the globe at around 50 million people.
It's impossible to find exact user numbers, but according to Statista, in 2019 alone, the app was downloaded well over 350 000 times in the country.
That gives a good indication of just how popular it is.
When we look at gender ratio as well as user age ranges on Tinder, studying global figures will give us an idea of what Sweden might offer too.
For example, male users make up 63% of users worldwide.
Females make up the other 37%.

As for age ranges, Tinder is most popular with users between 18 and 34 years old.
Worldwide, that accounts for 65% of all tinder users.
Ease of Use "mobile and desktop version"
While Tinder is certainly most popular in its app format, there is a website too if you'd prefer that.
Registering for a profile on Tinder is simple enough.
And there's tons of way to do it.
You can sign in using your Facebook or Google account or by using your phone number.
Part of the signup includes receiving a verification message from Tinder but all-in-all, within about five minutes you will be using the app in your search for love.
It's also important that you take time to find some excellent photos of yourself to upload.
This is a very visual medium of course.
Most users on Tinder are going to want to message people that they are physically attracted to.
That doesn't mean you shouldn't worry about your profile.
Take the time to fill that out too to show that you aren't a fake user.
You will notice that most fake profiles have only one photo and no information at all.
Other users know that as well.
Of course, Tinder was one of the first apps to bring in the swiping system when you are presented with matchups.
Tinder will present you with matchups based on your location and other parameters.
You can go through these profiles by swiping.
Swipe right and that's a like but they won't know that.
At some point, your profile should feature in their matchups and if they swipe right, well then that is a match and you can communicate with them.
A swipe right doesn't mean that they will receive a notification that you have done so.
So while they may eventually swipe right on your profile, it could take some time.
You can use one "Super Like" per day.
This highlights your profile in their matchups so they know you "Super Liked" them and hopefully, they like you back to open up communication.
That's why considering membership on Tinder can open up communication with others and make it far easier to find potential dates.
Tinder has a range of pricing structures depending on a user's age.
Tinder Gold (for those under 28)
1-month – $14.99
6-months – $52.99
12-months – $82.99
Tinder Gold (for those over 28)
1-month – $29.99
6-months – $112.99
12-months – $149.99
Tinder Plus (for those under 28)
1-month – $9.99
6-months – $34.99
12-months – $54.99
Tinder Plus (for those over 28)
1-month – $19.99
6-months – $59.99
12-months – $79.99
Of course, Gold membership gives you access to all the extra features Tinder has to offer.
That means you can see members who like you and initiate messaging more easily, you can also swipe right as many times as you'd like and reverse swipes.
There are tons more extras too.
Boost helps to promote our profile.
It moves it to the top of other users' matchups for a period of 30 minutes.
2. Can I change my location on Tinder?
Yes, you can.
But you need to be a member to do so.
3. I've swiped left instead of right, can I rewind?
Yes, you are able to.
Again, this is only a feature for members.
Without a doubt, Tinder is one of the most popular dating apps in the world.
And that means it's more than worth trying in Sweden where it is easily in the top 10 dating apps used in the country.
While you can use Tinder for free, to use it effectively, you are probably going to have to sign up for membership.
It's interesting to note that Tinder has different payment options depending on your age.
It's the only dating app I have seen that does that.
One negative is that Tinder does have many fake profiles, so it's important that you take note of who you are swiping.
But for a rating, Tinder gets 3.25 out of 5.


Signing Up – 4/5
Making Contact – 3/5
Profile Quality – 4/5
Overall Quality – 4/5
Match has a dedicated site for Sweden
It's one of the countries most popular dating services
Match has an excellent matching algorithm
Messaging is for Match members only
Why Match?
Well, this huge online dating site has its own dedicated Swedish dating page.
In fact, it's one of the most popular online dating services in the country.
According to Match, Swedes send over 1 million messages every month on the platform.
Also, it's estimated that close to 200 000 Swedes have actually met their partner using the platform.
Now can you see why we have included Match?
There's another advantage here as well.
While gender ratio's for Match specifically related to Sweden, worldwide the dating site sees almost equality in the number of male and female profiles.
In fact, 55% of profiles on Match are men and 45% are female.
The numbers in Sweden, I believe will be close to that as well.


As for age ranges, we can go on the worldwide stats there too.
50% of all users on match around the globe are between the ages of 25 and 44 years old.
Ease of Use "mobile and desktop version"
Prefer to date using your phone?
Match has you covered with an app for both Android and Apple devices.
Of course, you can use your log-in credentials on the Match website too, if you like to do that from time to time.
The same can be said if you log in on the website and would like to use the app occasionally too.
Whatever your preference, Match has you covered.
Signing up for a profile isn't too difficult and includes filling in sections of your profile.
Match also available for all to use, including those who are straight or gay.
You will notice that although you must provide an email address, Match doesn't send you a verification link, which to be honest, I found a little strange.
Both the Match app and the website will provide you with matchups based on the information that's contained in your profile and from the registration process.
Of course, these will be based on your location in Sweden.
But you can also search around the country if you'd prefer that using the Match search engine which you will find under the "Discover" menu.
How you find your matchups is totally in your control.
Messaging them as a regular user is out, however.
That's only for members.
If you'd like to show your interest as a regular user in someone's profile, you can only click the like button.
Here's an idea of what Match is going to cost you.
Standard plan
3-months – $12.99 per month ($38.97 once off payment)
6-months – $9.99 per month ($54.94 once off payment)
12-months – $7.99 per month ($95.88 once off payment)
Premium Plan
3-months – $14.99 per month ($44.97 once off payment)
6-months – $11.49 per month ($68.94 once off payment)
12-months – $8.99 per month ($107.88 once off payment)
You can see that there are two membership plans.
Of course, Match provides you with all the features the site has to offer if you take out the Premium Plan.
Match doesn't offer a one-month membership option.
1. Is Match available in Swedish?
Yes, while you can set up a profile on the regular Match site, there is a dedicated site for Sweden.
And that is available in Swedish too.
2. Does Match have a free trial so I can check out the site?
No, it doesn't.
Match does not offer a free-trial and strangely, doesn't have a one-month membership option either on any of its payment plans.
"Real Talk" is a service offered by Match to help you initiate a conversation with others.
It's perfect for those of us who are a little shy and will suggest topics of conversation that you can have with others.
Trying out the dedicated Swedish Portal for Match is a must in my book.
Based on the stats alone, this is an app/website that Swedes are using all the time, that's for sure.
If I have one major criticism of Match, it's that it doesn't have a one-month membership option.
If you aren't going to include that, at least have a trial membership for a couple of days.
Other than that, Match has plenty going for it, that's for sure although you would have to sign up as a member to get the best out of the site.
Match gets an overall rating of 3.75 out of 5.