At OFL, we have determined the best plus size dating sites of 2023.
We picked out the most important factors that people look out for in a plus size dating website, so you can sign up on the sites confidently.
By the time you are done reading this review article, you will clearly understand what to expect from each site, including ease of use, the cost, pros and cons, and ultimately be able to decide which one is best for you.
Based on our personal dating experiences (we are plus-size women and men who prefer plus-size women) and the over 2,000 people in the plus-size dating population we surveyed in our research, we have determined the best BBW dating sites,
OFL Top Recommendations based on 100,000+ Survey

"Serious Relationships"
"Discreet Hookups"
"Best Course for Men"
"Quick Flings"
"Normal Hookups"
"Our Quiz"
Below we have outlined for you the best plus size dating sites and we have detailed the major selling points for each of the sites.
We outline a short description of each site, just to give you an idea of what to expect.
Overall, site ratings are based on success rates, overall site quality, ease of signing up, and just how quickly you can find a match.
The demographic makeup, ease of use, and cost.
Who is it best suited for?
Finally, we also cover the pros and cons, and how you can use these site's qualities to find the one.
Is your dating app giving you the best chance for success?
Make sure to take our online dating site/app quiz to find out.
People who follow our dating site suggestions have on average 2 more dates per month.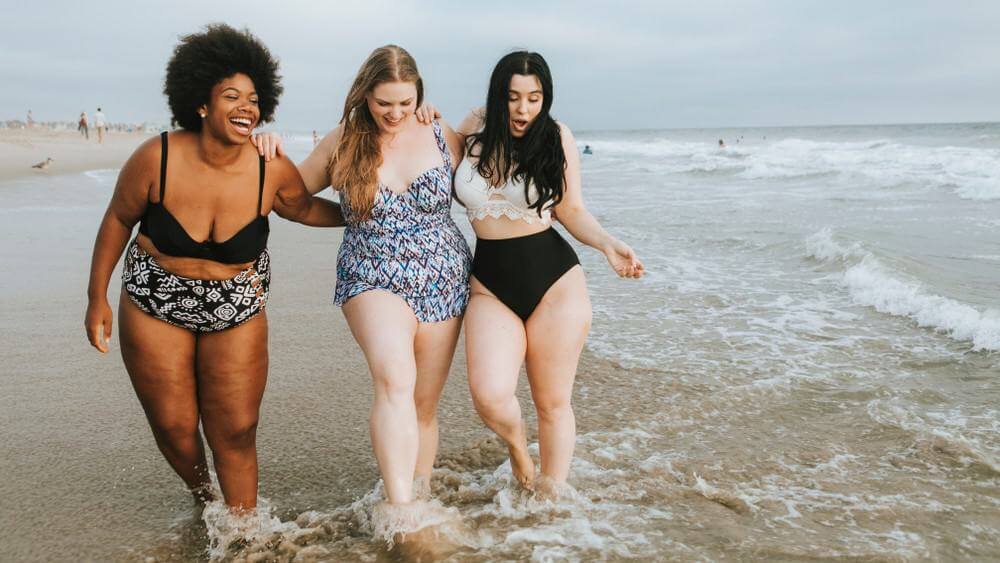 We hope that this list helps you decide which plus size dating site to use.
Let's jump right into our best 6 BBW dating sites.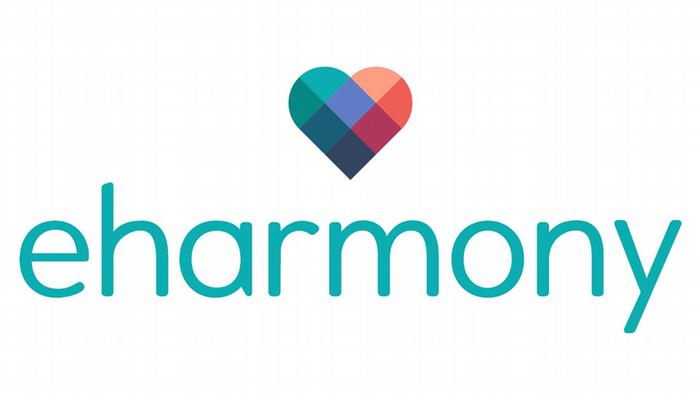 Rating
Signing up – 4.5/5
Making Contact – 5/5
Profile Quality – 5/5
Finding Love – 4.8/5
Overall Quality – 4.9/5
If interested, be sure to take advantage of the special sign-up deal for eharmony we've found after some digging.
Description
eharmony is one of the most highly rated plus size dating sites with a very good reputation.
The two biggest statistics that made it easy to rank eharmony as the best dating site for plus sized people is:
eharmony has the greatest population of plus size people and people who prefer plus size partners.
eharmony has the greatest success rate of finding love for the plus size community.
Based on our survey results of over 2,134 plus size Americans, the success rate of finding love was significantly higher on eharmony (71%) versus the next best site with a 65% success rate.
Refer to the graph below for the success rates of all the top dating sites for Plus size Americans.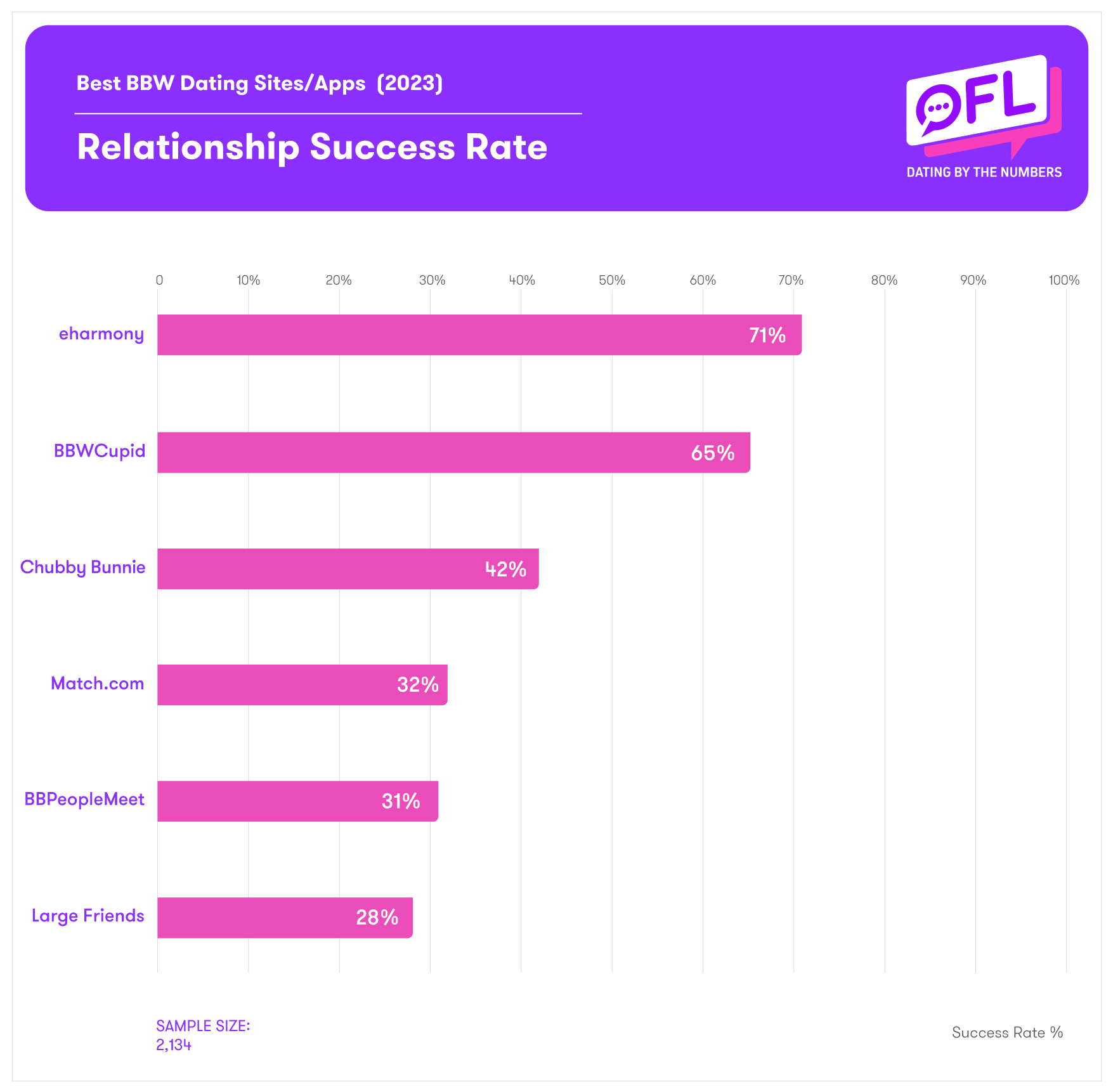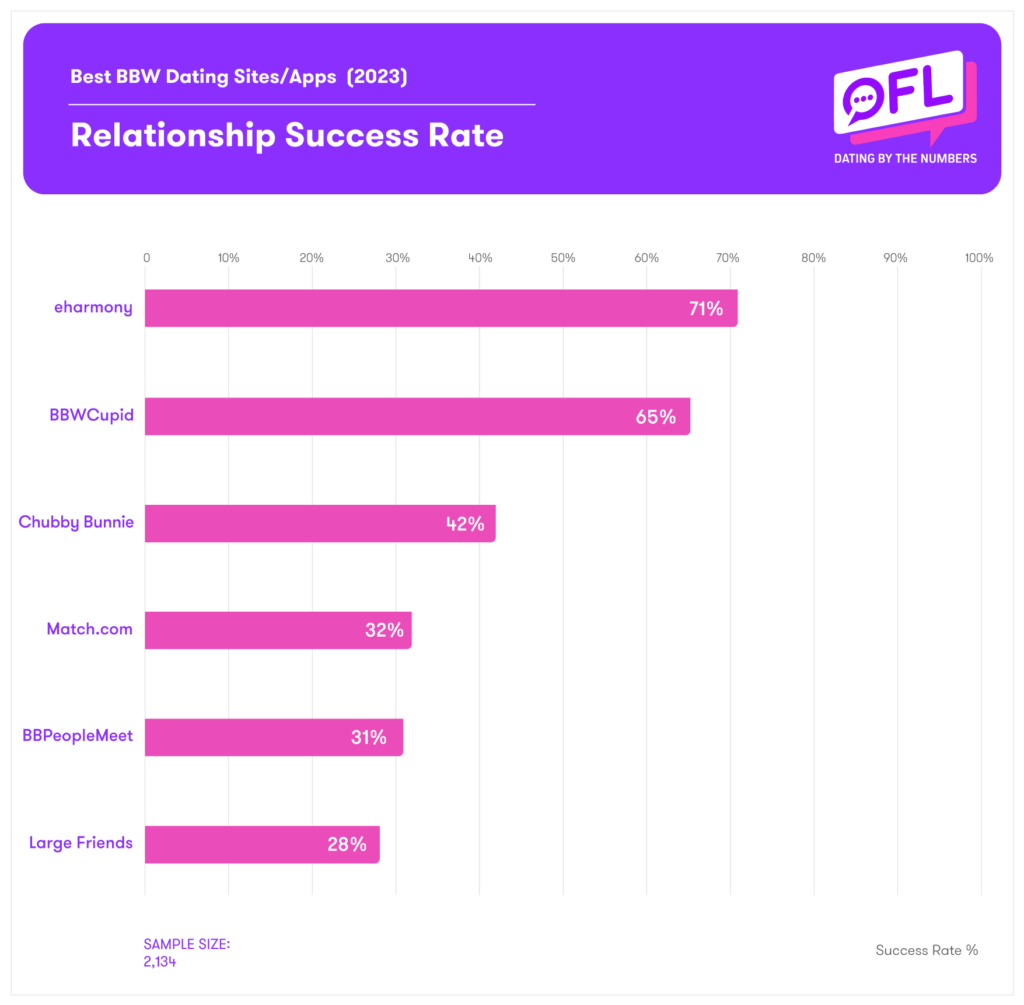 eharmony is one of the best dating sites for anyone seeking a long term relationship.
They do emphasize serious dating as opposed to hookups and casual dating.
A majority of the registered users are both men and women in their 30s.
Clearly, adults at this age are looking for long term commitments.
The site will allow you to send automated questions to potential matches when you don't know what to ask them.
Besides, you can send a smile to initiate a conversation.
Video chat date is another cool feature that you can use to break the ice and get to know someone before you meet them, while the what-if feature allows you to explore beyond your typical preferences.
OFL Top Recommendations based on 100,000+ Survey

"Serious Relationships"
"Discreet Hookups"
"Best Course for Men"
"Quick Flings"
"Normal Hookups"
"Our Quiz"
Their advanced matchmaking system makes it easier to find compatible matches within your state, county, or locality, and since 67% of American women wear a size 14 or larger, it shouldn't be hard to find 'the one' quickly.
Their secure communication system makes it possible to chat with other users without sharing personal information.
You can choose either the free or paid version, but the paid version comes with added benefits such as access to other users' photos and profiles, in addition to the ability to send and receive messages.
The "Book of You" is another great feature that helps outline your personality.
It refines your profile and helps you define your own expectations as you find the one.
Pros
They have the largest plus size population
Very good long term relationship success rate
They emphasize high quality profiles, an elaborate algorithm, and a compatibility matching system
Simple to use system
Cons
More expensive than other sites
Doesn't encourage casual dating
The signup process can be tedious
Who is it for
eharmony is ideal for any person seeking a long term, plus size relationship.
Considering its vast network, your chances of finding the one are significantly higher than other sites.
If you are looking for a fling or casual encounters, this might not work for you.
The lengthy signup process makes this BBW dating site even easier to find that person, since patience is tested, ultimately creating the best matches.
Be sure to take advantage of the special sign-up deal for eharmony we've found after some digging (bookmark it!)
FAQ
Is eharmony good for older people?
Yes, it is good for older people. eharmony is a great option for all users, especially older people since they emphasize serious relationships.
Is the site safe?
This is one of the safest dating platforms that we have on the internet today.
Everyone goes through multiple verifications before a profile goes live.
Besides, they do pay a lot of attention to spammy looking or suspicious profiles that look like bots, making it a safe dating space.
How much does it cost?
While you can sign up free of charge, you will need to get a paid subscription to get the most out of the app.
The premium services cost more than other sites, ranging from $29.90 to $59.95 per month, but the 3 day free trial enables a new user to access all the premium features and determine if it is worth keeping.
Contact
For any inquiries or suggestions, you can reach customer support 24/7, and you should be able to get a response within hours for most inquiries, at the longest, 24 hours.
You can also reach them on the phone by calling 1-855-290-5575 (USA) or 1-844-696-4819 (Canada).
Their customer support email is [email protected]

Rating
Signing up – 5/5
Making Contact – 4.5/5
Profile Quality – 4.5/5
Finding Love – 4.5/5
Overall Quality – 4.6/5
Description
BBWCupid is one of the most trusted dating websites for plus size personals.
They have a no fat or body shaming policy making it safe to date away from any form of bullies.
To enhance security even more, the members are required to take a personality test during the signup process, in addition to photo verification to eliminate fake profiles.
this is one of the reasons why signing up takes a little bit longer and is more extensive, but it is worth it since you are sure that there are no fake or spammy profiles.
There are several interesting and fun features you can use to meet your perfect chubby gal or guy.
BBW Cupid is largely international, with a majority of the signups being in the USA, and across the country from New York City to the west coast region, but you can still meet individuals from other countries like Germany and a large part of Asia.
There is a translator option for non English speakers so that you can read e-mails from users of different nationalities, including Asian languages, and into your own language, and get down to communicating with each other effortlessly.
Another useful feature that will essentially help find what you want is, for example, the "I Match Their Criteria" feature.
The profiles are quite detailed, with multiple forms filled out, and while this may be a setback for some, it is advantageous to most users.
This enables you to check how compatible you are with a potential date, check if your values match, and you can use it to check how well you match before you take things a notch higher.
To chat with or message other guys or girls, you need to be a premium member to contact even free users.
The site layout is easy to navigate and intuitive, making it even easier to find the one.
Compared to other larger dating sites, their user database is somewhat lower, but with a decent success score.
Pros
Extremely detailed profiles
A functional, user-friendly mobile app
Free membership offers a lot of paid features
The website has a lot of affiliate sites to visit
Cons
A video call option is not available
The member database is smaller than in some of the other BBW websites
Who is it for
BBWCupid is ideal for plus size singles who want a safe online dating environment.
Their no nonsense approach to fat shaming bullies makes this site stand out as a safe haven for chubby singles.
While they have a smaller audience, it also means that you have a smaller pool of profiles to weed through, making it easier to find your match.
FAQ
1. Does the mobile version have all the features of the website?
The mobile dating app version is user-friendly and has most of the features provided by the website version and some additional ones.
It offers you protection from inappropriate contact and a safe place to be exactly who you are.
2. Since free membership offers almost all the same features as a paid membership, should I bother?
Yes, there are lots of paid membership features that you can use even if you are a free user.
However, paid membership offers you the ability to contact anyone, regardless of their membership status.
Also, the search is still more extensive for the thousands of paid members (appearance, character, lifestyle…), and your profile will get a premium badge that will help you stand out.
Contact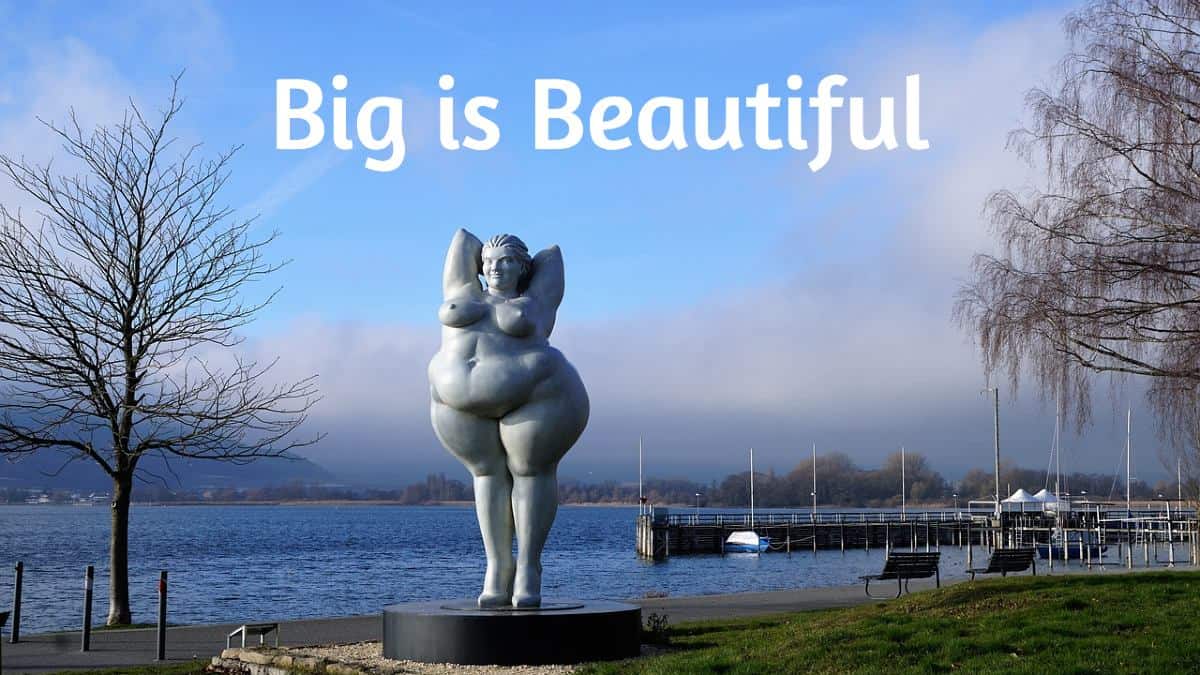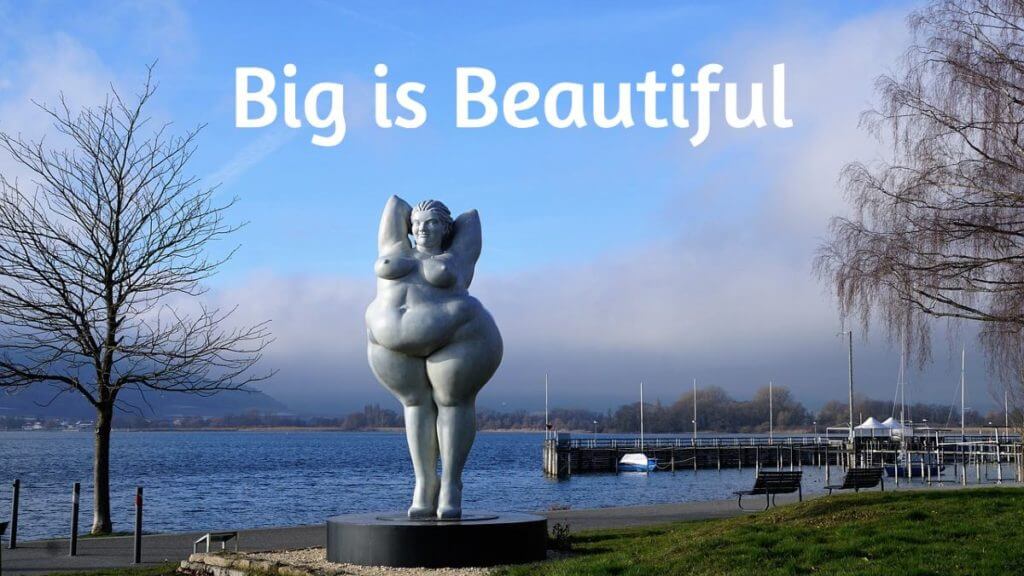 If you want to contact their customer support with any issues that might rise up use these: US and Canadian Customers (toll-free): 1-800-787-0838, UK Customers (freephone): 0800 056 9427, Australian Customers: (07) 5571 1181, Other International Customers: +61 7 5571 1181.
Or you can write to them: BBWCupid.com, Cupid Media Pty Ltd, PO Box 9304, Gold Coast MC QLD 9726, Australia.

Rating
Signing up – 5/5
Making Contact – 4/5
Profile Quality – 4.7/5
Finding Love – 3.9/5
Overall Quality – 4/5
Description
Chubbybunnie.com is one of the best plus size online dating sites and is an affiliate of the large friends network with a huge user base.
They have been around for well over 18 years, and have over a million active members.
This large membership base makes it one more reason to sign up.
Whether you are a BBW (Big Beautiful Woman) or a BHM (Big Handsome Man) or if you belong to a large number of regular size ladies and men who consider themselves chubby chasers, this site is right up your alley.
As a standard member on this site, you can upload your photos.
They will help verify your profile, making it a trusted one and essentially raising your odds of finding a partner, sending winks to other members to show them you like them, and using the basic search depending on your interest (sex, location, and age).
With a Gold membership (paid), you will get access to various special features and will be able to connect to both standard and premium members.
Other tempting features are writing and reading members' blogs, which will allow you to get to know a person you fancy a little bit better.
The connections you make on this website can be romantic or platonic.
The choice of partners is yours.
For all of you who have been out of the dating world, or just want to make the best out of your dating experience, you can use the services of a mentor to help you improve your profile and give you dating advice.
Pros
Strict verification process
High chance of getting a date
There are many special features
Dating tips and mentor's advice
Cons
Not mobile-friendly
Membership is a little costly
Who is it for
This site is ideal for plus sized or full-figured singles who are looking for both longterm and casual relationships.
Coming in 2nd place in our survey after eharmony, this site is quite popular and ideal for most people.
The fact that is it open ended, makes it easy for someone who is not sure exactly what they want to sign up and figure it out while there.
Who knows, they might just find .that voluptuous date
FAQ
1. How secure am I on this dating website?
According to the website's Privacy Policy, everything required has been taken to protect the personal and private information you share on the website.
However, regardless of the measures taken, every website is potentially a target of hacking, so reveal your information moderately cautiously.
On the other hand, you are safe from catfishing as members go through the verification process.
So do not worry, the members are all either chubby or chubby lovers.
2. As a standard member, can I chat with premium members?
As a standard member, you cannot initiate messaging with a premium member.
You can, however, reply to their messages as long as the premium member was the one who initiated the contact.
3. What is the difference between hiding and blocking a member?
When you block a user, they are no longer able to see your profile, communicate with you, or see/comment on your blog.
On the other hand, hiding a user will remove them from your search list but you will still be able to communicate with them, and your profile will still be visible to them.
You can also hide your profile from the search if you want a break.
Contact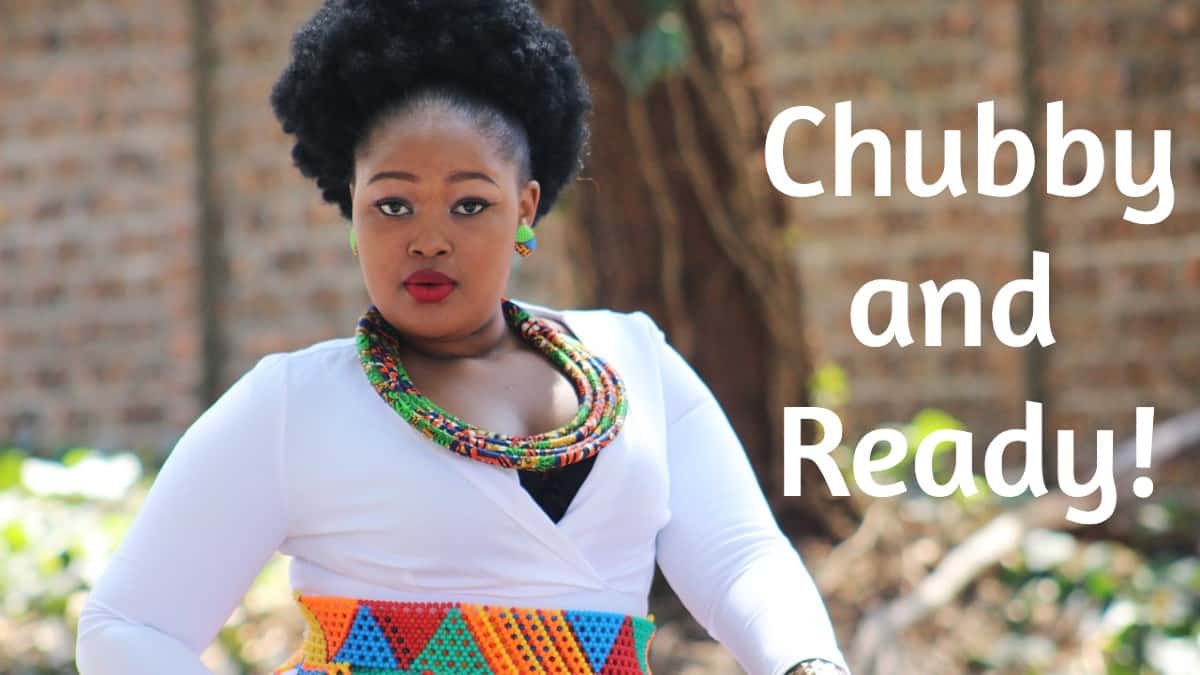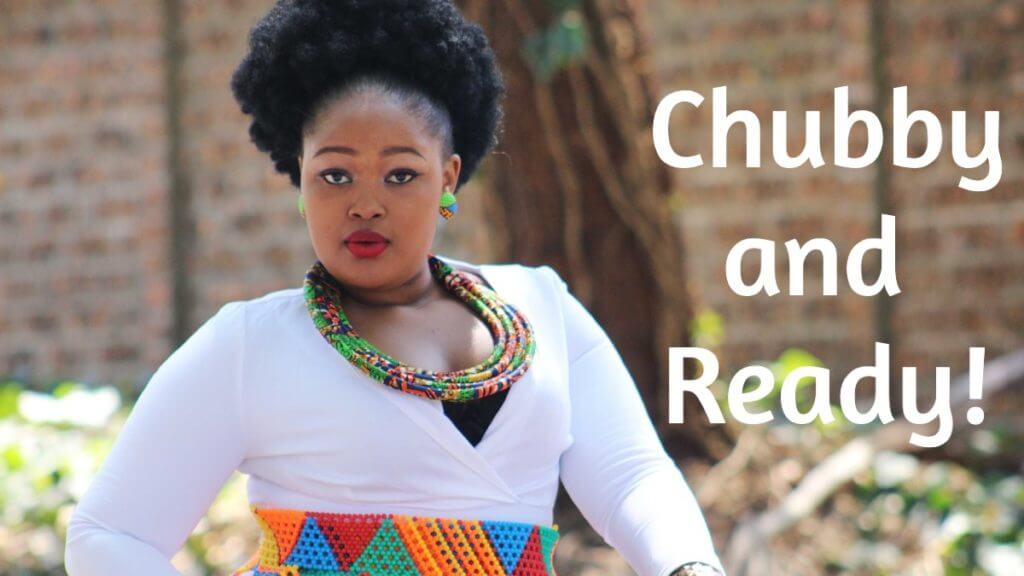 To make contact with the website's moderators, it is recommended that you visit the FAQ page of their website (we revised and answered some of the most common questions for you), but if you still have some questions, you can select a subject that interests you on their website as well.
Every single thing you need to know is at the click of a button!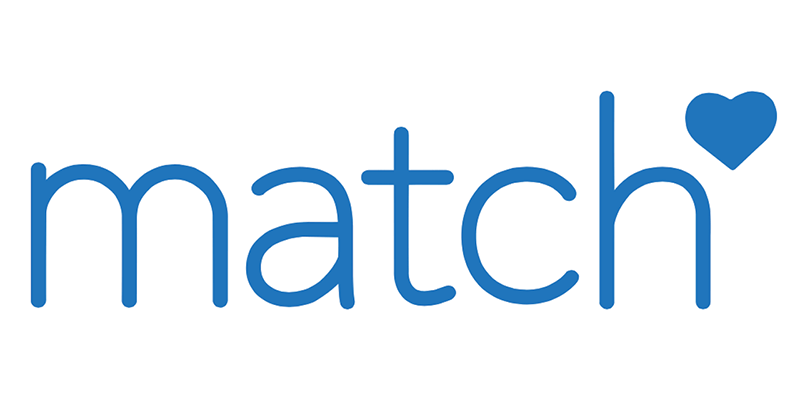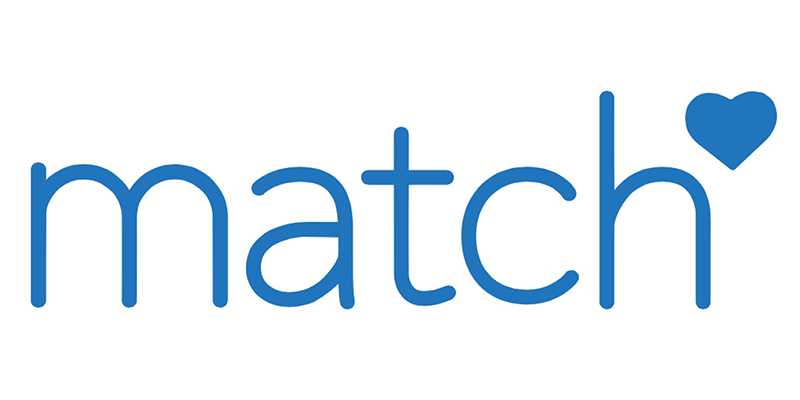 Rating
Signing up – 5/5
Making Contact – 4.3/5
Profile Quality – 4.2/5
Finding Love – 3.8/5
Overall Quality – 3.7/5
Description
Match.com differs from other websites and dating apps on this page as it does not cater to BBW and BHM users only.
It is a regular dating site.
However, it offers filters and detailed search options so you are sure to find your plus size partner.
The website prides itself on the rate of its success stories and the extent of its members' database.
There are over 12 million user accounts on this site and a majority of them are not plus size singles.
However, according to other reviews, a third of them claim to have relationships that last more than 4 months.
The website is LGBTQ friendly and offers a variety of dating lifestyle options.
The signup process is significantly longer than on other websites (it takes about 30 minutes to complete).
It is detailed and every user must undergo the verification of photos, phones, and e-mails.
If you are verified, you rank higher in the search list, which raises your options to find a perfect plus size single to mingle with.
The process can be sped up by using your Facebook account to sign up.
There are real-life events organized for the members of Match.com where you can meet other eligible singles face to face and develop a new friendship.
Each day you will receive 7 matches according to the criteria you used (curvy, BBW, non-smoker…) and the website is confident that you will find your perfect match within six months, regardless of your preference.
Pros
Detailed search options
Large user database with
6-month guarantee that you will find your perfect match, otherwise, there is a 6-month free subscription waiting for you (with paid features)
3-day new member trial period
The mobile version is user-friendly, and there is an app in the App Store
Cons
Only users on paid membership can use messaging
You may end up sending a message to an unpaid member (status is not shown) and they cannot answer you back
The membership base includes people who are neither chubby nor chubby lovers
Who is it for
Match.com is an ideal community for anyone, more so those who feel chubby, and who don't want an exclusive plus size dating website, you are in good company here.
This would be perfect when someone is working on their physique, and who knows that they would probably look different in a few months.
The reverse also works, where someone adds weight and wonders how to fit into the dating scene, this website is for you.
So, if weight is an ongoing concern, feel free to sign up for this chubby dating friendly community.
FAQ
1. What is a Private mode?
Private mode is a paid feature (which could be purchased additionally) that allows you to choose who sees your profile and who does not.
In order for a member to see your profile, you have to have made a connection before you initiate private mode.
Once you make any type of connection (wink, like…) you are visible to that member.
There is a 'she/he can't/can see me' badge on the users' profile, so you are sure to know when you are visible.
It is a great feature if you want to chat with people that you are already interested in.
2. Do my matches receive me as well?
Your matches will not be notified when they are a match for you, and you will not be notified when you appear as a match for somebody else.
The processes are separate.
There is, however, a Mutual Match feature that allows both sides to appear on the other user's match list.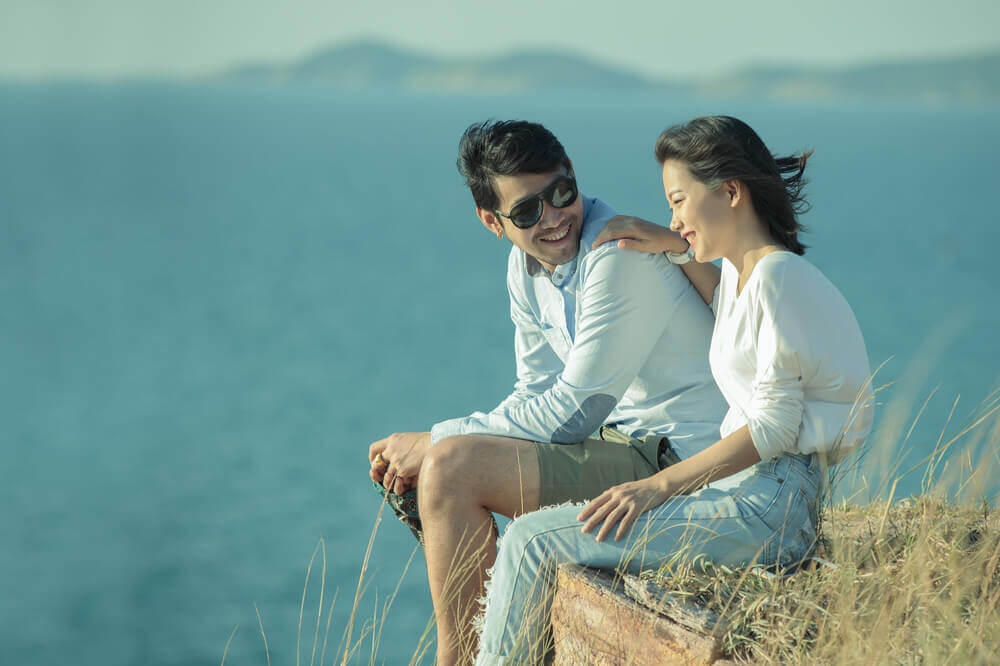 Contact
For any problem or questions that may arise, you are able to contact Match.com's customer service via e-mail during the weekdays.
If it happens to be a weekend when you need assistance, their Help/FAQ page is helpful, detailed, and extensive.

Rating
Signing up – 4.2/5
Making Contact – 4.3/5
Profile Quality – 5/5
Finding Love – 3.5/5
Overall Quality – 3.5/5
Description
BBpeoplemeet is a part of the People Media platform, owned by Match.com, and it has different affiliate programs all over the world.
As opposed to Match.com, this plus size website caters to the BBW and BHM and their beauty admirers alike.
What characterizes this website is the members' diversity – different ethnicity from your local society, sexual orientation, education, occupation, and so on, so there must be someone right for you there.
The signup process is really easy and it will take you only about a minute or two.
You can, however, extensively fill in the boxes in your profile such as personality questions and top interests.
We recommend that you do, as most of the other members do since this increases the chances of finding someone who is just perfect for you.
Your profile will not be visible to other members until the verification process is completed, but you are free to browse through the photos and see what BBW or BHM awaits you.
You get 5 matches daily from the member base, and you can contact (flirt, like, favorite, and message) other members unconditionally once you are on the paid membership plan, and collect your favorites.
The membership payment is well worth it since plenty of the website's features are available only if you are a paid member.
After upgrading your profile to their Best Value plan, you can take advantage of their highlighted profile feature which will place your profile at the top of the search rank.
If you are looking to pass some time and play a game you can potentially find someone for you with "Who do I like?" game. You will get 2 pictures of two different profiles to choose which one you like better.
Use filters such as hunky men, fat female admirers, plus size romance, and many others to find the right plus size partner for a happy, long term relationship, and maybe even marriage, and ultimately, enjoyable lives for both of you.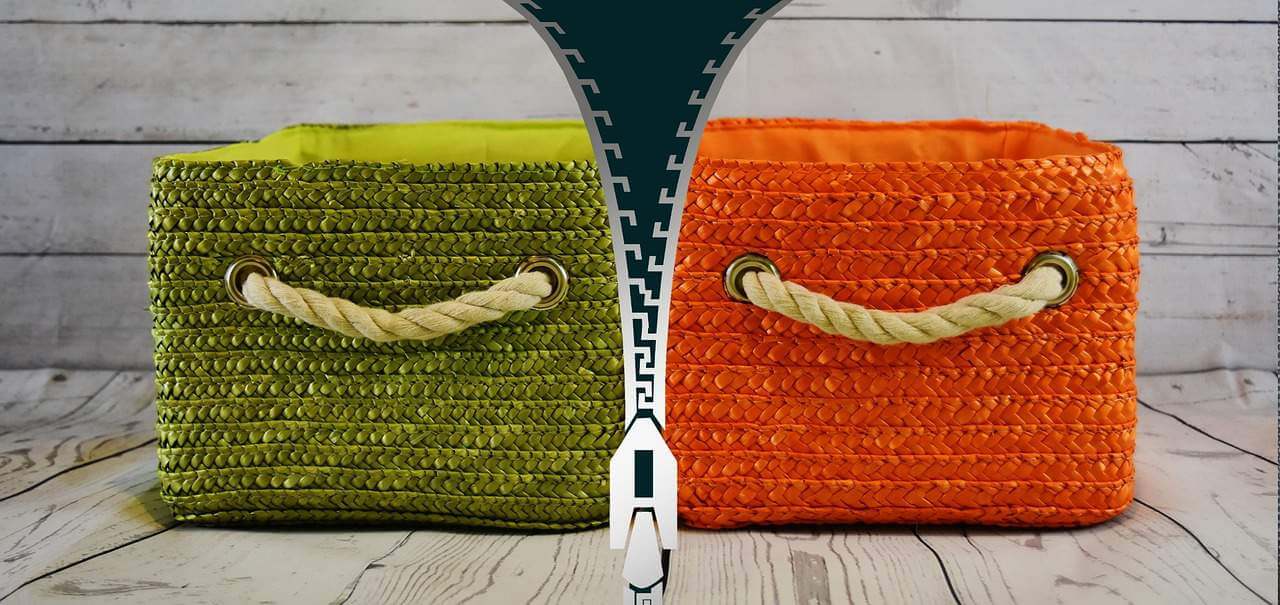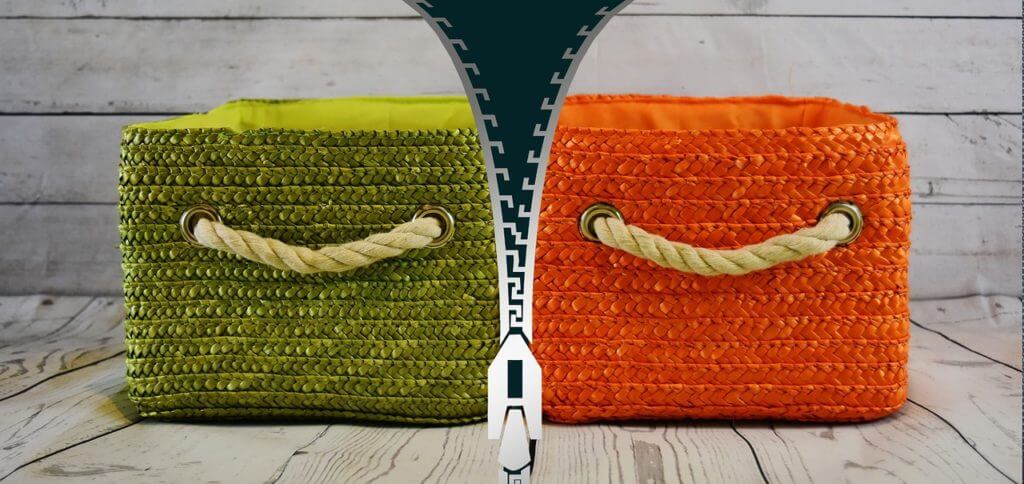 Pros
Diverse member's base
Extensive profiles
Detailed search options
Cons
Only paid members can enjoy chatting and messaging
Few free features
Who is it for
BBpeoplemeet is ideal for chubby or chubby feeling people and their admirers.
People who would otherwise feel insecure or intimidated on other sites where the larger population is less chubby, or have other body types will find comfort here.
In addition, it is great for singles who want a lower priced platform since they charge less than the competition.
FAQ
1. Is there an automatic subscription renewal option?
Yes. In order to keep you from having to stop chatting with your match, there is an automatic renewal option, so you do not have to worry about the subscription end date.
If you want to deactivate this option, you can. Just go to Settings and check Remove Automatic Renewal.
2. Is there a BBpeoplemeet app?
There is a very user-friendly app with all the same website features.
Contact
To contact the website's customer support, you will have to find that section on the website or in the Google Play app, ask your question, and provide a phone number and an e-mail address to which they will answer you.
If you need more help, feel free to call Customer Care at 866-320-0106 from 7:00 am to 7:00 pm CT, Monday – Friday.

Rating
Signing up – 5/5
Making Contact – 3.9/5
Profile Quality – 4/5
Finding Love – 3.4/5
Overall Quality – 3.4/5
Description
Larger Friends is one of the largest and famous, and most trusted plus size dating websites.
There are several affiliated websites, such as Chubby Bunnie, and others that we have not discussed in detail, like Wooplus and Tinder, that are very similar to it in terms of features and overall online dating conditions.
Larger Friends prides itself in the fact that there are almost. 2.1 million BBW and BHM singles using the platform to find either a partner or a friend.
The member's database is so large that there is surely somebody for everyone – a date, a chat, a person interested in a serious relationship that may lead to marriage.
The signup and connecting process are really easy, you can even sign up using your Facebook account.
The profiles on this plus-size dating site are detailed as you have the option to write up to 2000 words describing who you are and just as much as describing your ideal dates.
Use other members ' videos or blogs to get to know them better and present yourself in the best possible way, leaving nothing unturned.
Large Friends offers forums where you, as well as other members, can chat about dating ideas, issues, and anything that interests you.
The upside to this is that you are able to share your opinion with a larger number of users by chatting with a few of the matches.
If you want to let another member know that you appreciate their form and are interested in them, you can send them a wink to initiate contact.
To make connecting even easier, there is a "Spark" feature.
If you place a member in the 'heart' box and they do the same for you, both of you will get an encouraging e-mail letting you know that the sympathy is mutual.
Gold (paying) members can access advanced search options (including filters like a smoker, wants babies, body type, and many more).
Pros
Very specific search options
Responsive customer service- they even have a live support feature in case you need something clarified or have an issue to report
Featured blogs and videos that help you to Get to know your interests, or present yourself authentically
Cons
Only paid members can initiate contact with other members
Who is it for
This is a specialty dating service website for plus size singles, everywhere across the US and across all sizes.
It is ideal for any plus size person who wants to meet their ideal mate without judgment for socializing, and networking, and who would prefer a platform where everyone has the same main characteristics and needs.
It narrows down the dating pool and makes it easier.
If you are looking for a serious relationship, then most of the users are legit, and serious about finding a relationship.
FAQ
1. Why aren't all my photos available to everyone?
Although you are allowed to post up to 27 photos (The more the better, as other members will have more data).
There is an option of keeping your photos private in the 'Private Album' option, and you can group them.
Those photos you may share with a member of your choosing. It is all about your privacy.
2. How do I pick the best photo for my profile?
You want to present yourself in the best, clearest, and most relevant way to the hundreds of potential suiters, no matter how chubby you look.
This is why you should pick a recent photo, probably better than you would post on Instagram for added confidence if you want to win the other person's heart at first sight.
Preferably a headshot, and then include another photo of your full figure that highlights your high self-esteem, as the website is for people who love them, some chubby loving.
Pick a photo where you are alone and do not hide behind glasses or hats.
Body positivity goes a long way in plus size dating, show off those curves girl, even when you are SSBBW.
Contact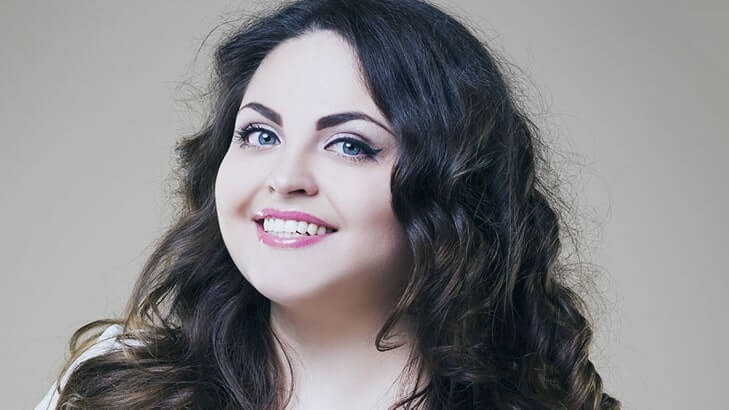 The information you might require upon registration and the answers to the most common questions can be found in the Help or FAQ section of the website.
It has fairly extensive content in the form of articles.
However, if you require more information and want to ask a more personalized question, you may do so by sending a letter to SuccessfulMatch/ LargeFriends.com; 10 – 8707 Dufferin St, Suite 160, Vaughan, Ontario L4J 0A6, Canada
Best Plus Size Dating Sites in Video Form
Audio (podcast) form for those of you on the go