Are you an athlete or a fitness fanatic?
Do you want to meet fellow like-minded people online, get to know them better and possibly date them?
If the answer to that is yes, did you know that instead of using regular dating sites to find a potential matchup, there are those dating sites that are for athletes and those who value their fitness?
And in today's article, I am going to look at these sites and evaluate just how effective they are.
OFL Top Recommendations based on 100,000+ Survey

"Serious Relationships"
"Discreet Hookups"
"Best Course for Men"
"Quick Flings"
"Normal Hookups"
"Our Quiz"
That call is going to be made using the following:
So let's get started.
Best Dating Sites for Athletes in Video Form
Audio (podcast) form for those of you on the go
On your marks, get set, go!
The Best Dating Sites for Athletes
Signing up – 4/5
Making contact – 3/5
Profile quality – 3/5
Overall quality – 3/5
Like-minded users interested in fitness (and dating)
Three-day trial
Profiles are public (can be seen by non-members)
No verification of people who sign up
From its muscular bodied model on the registration page to calling it the "#1 fitness dating community on the net", it's easy to see that Fitness Dates takes fitness seriously.
This is a site that's slowly building a community of people who are not only wanting to date but who look after their bodies too.
OFL Top Recommendations based on 100,000+ Survey

"Serious Relationships"
"Discreet Hookups"
"Best Course for Men"
"Quick Flings"
"Normal Hookups"
"Our Quiz"
At present, Fitness Dates has around 3 000 active users each day with a user ratio where male profiles are in ascendence over female profiles at a ratio of about 2:1.
Not everyone is wanting to date though.
Some are looking for fitness partners to cycle, for running or other activities.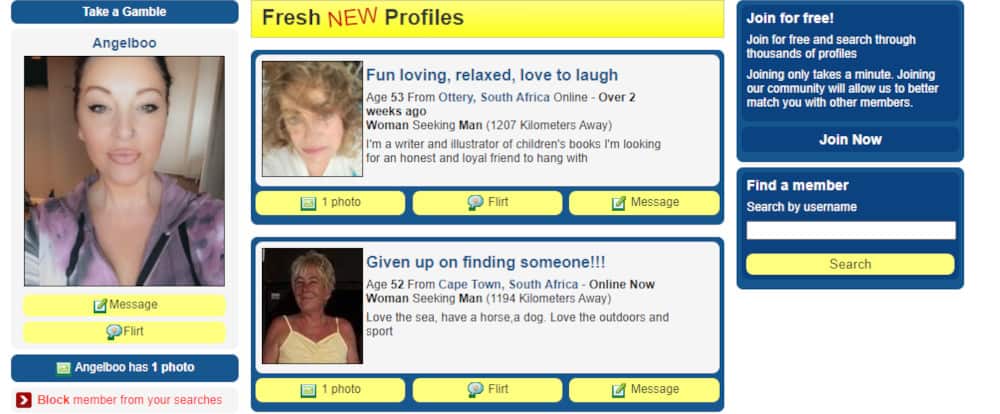 Ease of Use "mobile and desktop version"
Sadly, Fitness Dates doesn't have an app, so if you register for the site, it has to be through the website.
That's such a quick process, however, that will have you browsing for your partner in fitness (and love) in next to no time, that's for sure.
Registration means you have to provide all the regular details that dating sites require.
You also have the option of having your profile on DatingVIP.com for free.
As for your profile, well, it's pretty standard but yes, does include information about your fitness and your favorite sports, of course.
The site itself looks a little dated but overall it's well designed and had limited navigational menus.
You are presented with a range of profiles from the start, these won't always match your exact criteria and are new members to the site.
To find what you are looking for, you can launch your own searches where you can select from a range of parameters to refine the search as much as you like.
Contacting other users can either be done using the message system on the site or by instant messaging.
You cannot instant message just anyone, however.
Some people will adjust their settings to accept all instant messaging while others will only accept messages from people who have are friends with on the site.
If you haven't decided on membership, there is a way that as a free user, you can interact with other members and that's by using the "flirt" option that you will find on their profile.
So that's a rundown of the site but there is something that I want to talk more about.
If you sign up for a profile on Fitness Dates, your photos and other details are public and for all to see, even those who haven't signed up for the site.
In fact, profiles of other users are displayed on the front page and can be accessed.
If you are ok with that, then fine but some people might not be at all.
Now let's look into the pricing of membership of Fitness Dates.
Remember, it's something that every user who wants to make contact with others, either by sending them emails or by using the instant message system, will need.
First, though, it's important to note that if you want to get a feel for the site, Fitness Dates offers you a trial that takes place over three days.
And that's brilliant.
Three days is more than enough for you to try the site out properly, launch searches, get into contact with potential matchups and just get a general feel of the site.
And if you want to continue, this is what membership to Fitness Dates will cost.
You have two options:
1-month membership – $29.99
3-months membership – $39.99 ($13.33)
Without a doubt, if you've tried out the free trial and you like the site, then it's a no-brainer to go for the three-month option.
Even if the three-day free trial falls away at some point, I would jump all over the three-month option such as the value for money that it offers.
1. Does Fitness Dates offer real-time chat over and above their email message system?
Yes, Fitness Date does have an instant messenger system in which you can talk to other members.
Who you allow chatting with is totally in your control.
It can be anyone or just people that you are friends with on the site.
2. I've tried uploading my profile picture on the site but it's not working. I need it up there so people can see my buff body!
Pictures uploaded to Fitness Dates need to be bigger than 230×200 pixels.
If not, they won't upload.
My overall rating for Fitness Singles is 3.25 out of 5.
It's a solid dating site if you are looking for someone who loves sport and fitness as much as you do.
Because it's quite a niche site, the user base isn't that big, so if you are in a smaller city, it's the luck of the draw in finding others that use Fitness Singles.
In bigger cities, you should be far more successful.
If I am honest, however, it does bother me that Fitness Date has public profiles.
Other than that, this a solid dating site for fitness freaks.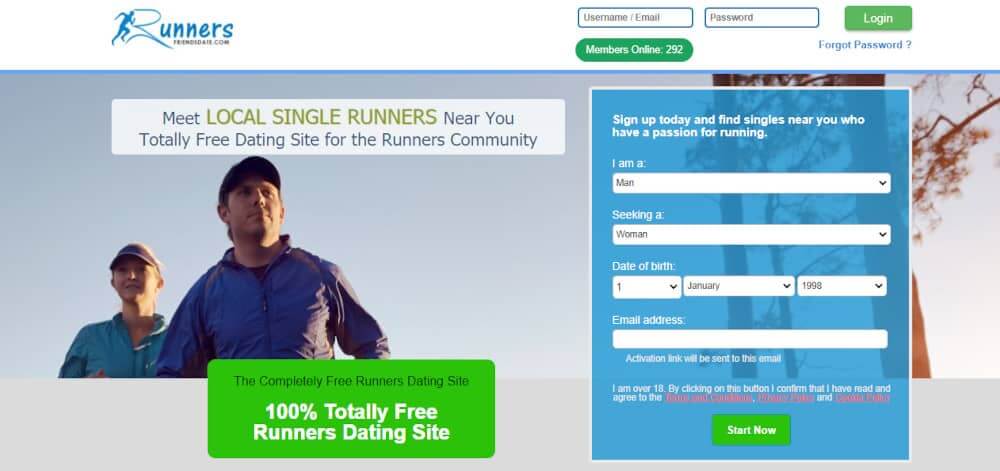 Signing up – 5/5
Making contact – 3/5
Profile quality – 3/5
Overall quality – 4/5
It's free
Signing up for a profile takes just a couple of minutes
Easy to navigate website
Finding user numbers for this site proved impossible, there was simply no information about it.
As it's a niche site, the numbers are never going to be massive like a regular dating site, however.
For the most part, the site had around 300 to 400 users maximum online at any one time.
From a gender ratio point of view, there were certainly more males than females, but it's hard to make a call on the overall ratio for both groups.
And in terms of the age of users, well they were across the board but certainly more in their 30s and 40s than other age groups.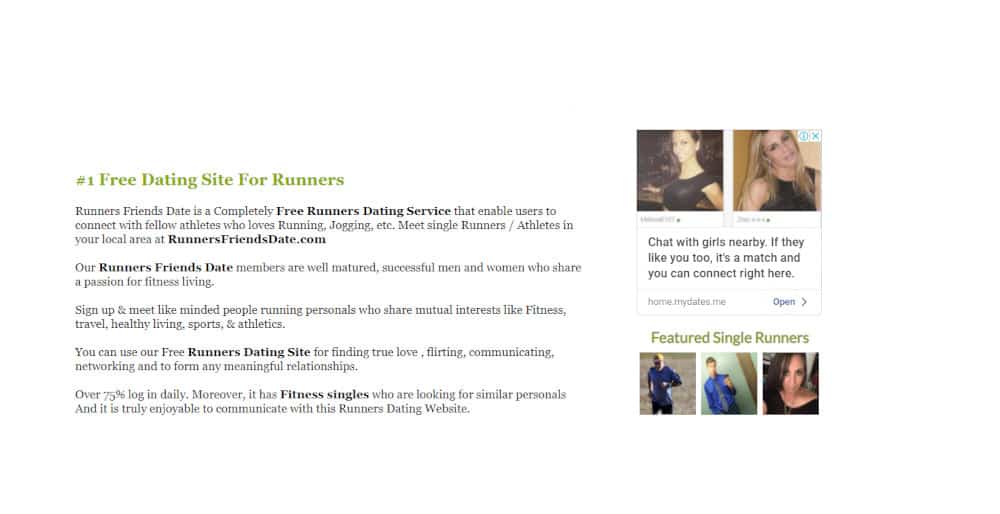 Ease of Use "mobile and desktop version"
Runners Friend Date doesn't have an app at the present moment, neither for Android devices or Apple phones.
Registering for a user profile can only then be done through the website where all new users have to provide their gender, the gender they are looking for (which include same-sex options), a birthdate and email address.
The next step sees users filling in login credentials (username, password) as well as their location and the age ranges that their matchups should be.
Every profile requires a photograph and a 10-word minimum bio as well as what the user is looking for in a match.
There are other profile parameters to fill in as well, for example, appearance, background and values and those related to your lifestyle.
All in all, the process takes around 10 minutes.
Once you have access to the website, you will notice that it has a simple design.
This makes it easy to find your way around simple enough, although you will see there are quite a few menus (14 in total).
They aren't confusing though, as it's pretty self-explanatory what each of them does.
I also like the fact that the site has a user counter.
This tells you how many people are online at any one time and by using the site at different times, you can see when they are at their busiest.
When it comes to contacting users, you have a few options.
First, you can send them a wink from their profile page.
Or you could send them a meet me request.
And messaging, I hear you ask?
Well, that's totally for free and yes, you can send messages from any user's profile page.
There are a few things that bother me about this page, however.
If you scan each member profile at the bottom, you will see that some of them originate on other dating sites that for part of the Friends Date family.
And there are a few of them.
Some are from affiliate sites, for example, fitnessfriendsdate.com.
You can control this in your settings, however, and it's easy to add or remove sites.
Runners Friends Date Cost
You won't have to pay a dime to user Runners Friends Date.
It's totally free for you to use.
Whether it will stay that way in the future is anyone's guess but for now, it is.
1. Can I block someone who is harassing me on Runners Friends Date?
You can block them but better still, if they are harassing you and won't stop or engage in behavior that goes against the terms and conditions of the site, then you should report them.
Both the option to block or report a user is found by clicking on their profile page with the option to report them up and to the right of their profile picture and the block option near the bottom right.
2. This site can't be free, can it? There has to be a catch.
No, there isn't a catch.
You only have to be ready to have some intrusive advertising from time to time but it's nothing that's too difficult to handle.
While this is a free website targetting runners, I still can't help the feeling that whoever runs all these is pulling the wool over users' eyes.
The thing is, how many profiles on the site were actually made by runners?
Clearly, the site does include a cross-population of users from other sites?
But there are runners to be found, that's for sure.
You might only get lucky in finding them in larger cities, however.
If anything is going to be a letdown on this site, it's a lack of users.
But it's free, so well worth your time taking a punt.
My overall rating for Runners Friends Meet is 3.75 out of 5.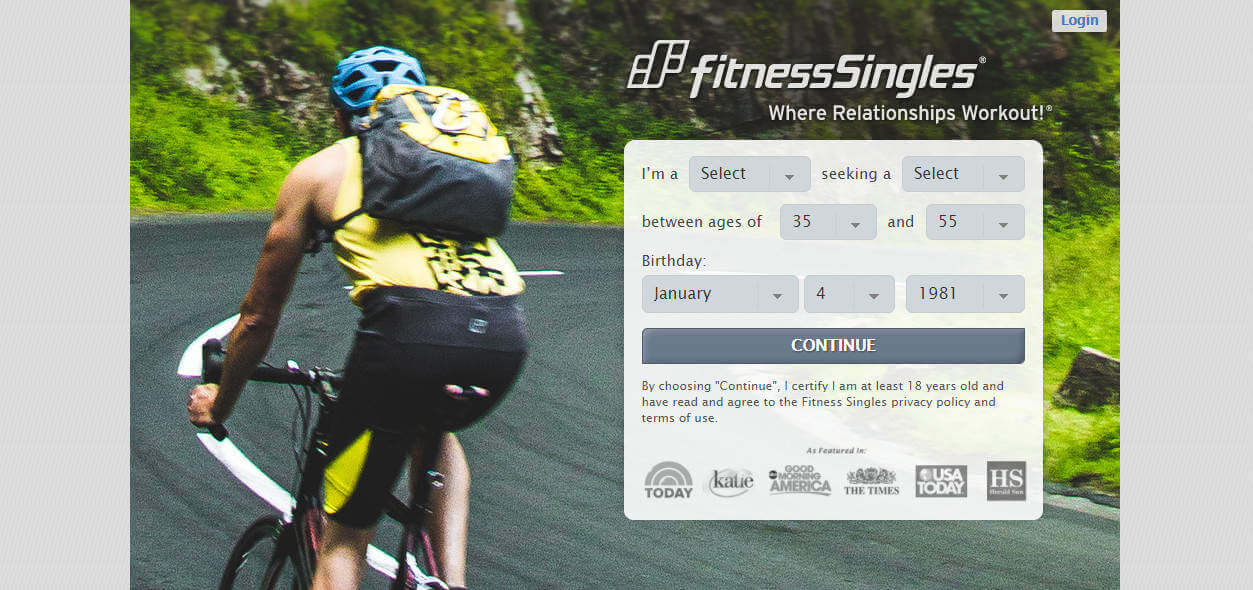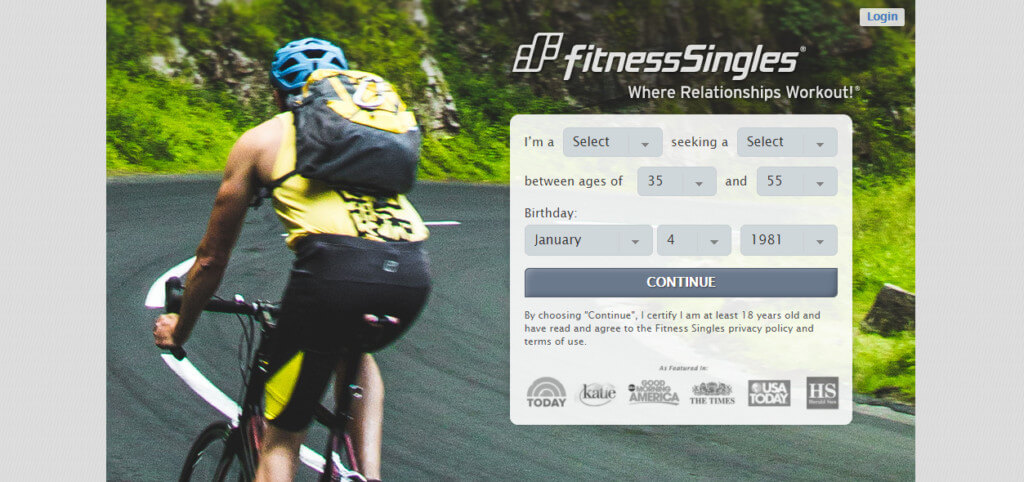 Signing up – 5/5
Making contact – 3/5
Profile quality – 4/5
Overall quality – 4/5
Extensive profile
Well-designed site
You can look for like-minded people in over 100 sports and fitness categories
Few fake profiles
Membership needed for messaging
Not many key features
A site for fitness freaks no matter what the discipline, Fitness Singles calls itself the number one fitness dating site on the planet.
It's not difficult to see why either.
This is one slick setup, that's for sure.
From registering for a profile in a matter of minutes to a stunningly designed website, Fitness Singles has a lot going for it.
And while user numbers around the globe weren't available, Fitness Singles boasts around 2 million users in the United States alone.
Around 40 000 users are active on the site each week which sees a gender split of 58% male and 42% female users.
By far the most active age group on the site are 55 years and older and they make up 28% of all users.
The next most active age group is 25-34-year-olds who account for 22% of the users on site.
While I first found it a little strange that the 55+ group would be the most active, many users that age would have retired already and therefore would spend more time working on their fitness, so it does make some sense.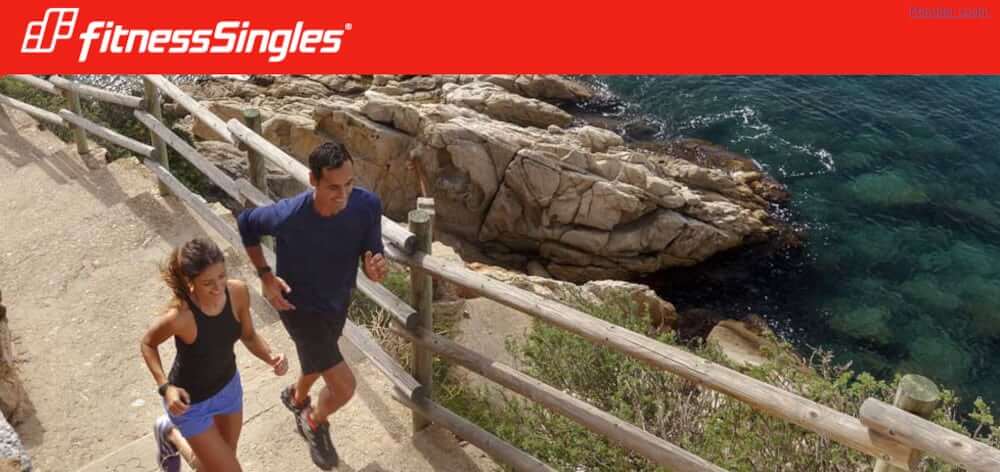 Ease of Use "mobile and desktop version"
To register for Fitness Singles, you need to go through the website because as of yet, there is no app.
That process is slick and quick.
If you've used a dating site before, it will all be familiar but you will need to provide a username, password, email address, your gender, the gender you are searching for and a few extras.
One of those extras plays a key part in how the website works.
And that's selecting the fitness activities that you enjoy.
There are well over 100, everything from roller hockey to disc golf, snowboarding to soccer, rope skipping to rugby.
Single sports, team sports, sports that take place on a field, to watersport, nothing is left out here.
Once you've made your selection – and you can pick as many as you like – you need to select your three favorites along with your skill level in all three (beginner, intermediate or advanced).
Then follows the rest of the registration process which helps build your profile.
This includes appearance parameters, lifestyle parameters and more.
In fact, it's pretty in-depth and I was impressed with what was covered although it does take about 10 minutes to complete everything.
While you are free to search for and view profiles, contacting someone who you have an interest in means that you need to consider membership.
Because messaging is a member-only feature.
You can, however, click the "show interest" button which allows you to send a short message.
But this isn't an effective way to communicate, so you are going to have to consider membership.
To contact others on Fitness Singles, you will need to pay for membership.
Here is a breakdown of what it will cost you:
1-month membership: $39.99
3-month membership: $65.99 ($21.99 per month)
6-month membership: $89.99 ($14.99 per month)
12-month membership: $119.99 ($9.99 per month)
For the ability to message a potential matchup and the chance to view private photo galleries (that's the perks of membership), $39.99 per month is too steep.
Of course, that's probably the option you would take just to try the site out, but just for $26 more dollars, you can try it out for three months.
The extended membership options are very well priced and if you want to see if Fitness Singles can help you find a fit better half, then you've got to decide which is best for you from a money point of view.
1. Is Fitness Singles a US-only site?
While the bulk of the users on Fitness Singles come from the United States, Fitness Singles is a global site.
It's popular in Canada, the United Kingdom, Europe, and Australia.
2. I am keen to sign up for Fitness Singles but want to pay using PayPal. Is this possible?
There are a number of ways to sign up for Fitness Singles.
Of course, the most popular way is by using your credit card but if you don't want to do that, then you can use PayPal to pay for your subscription.
Without a doubt, Fitness Singles is one of the top websites online for those who want to meet like-minded individuals who love to be fit and get their fill of exercise each day.
It's a slick site that works just as it should.
I was particularly impressed with the extensive sign-up process that helped get your profile up and running even before you have a chance to launch your first search.
My overall rating for Fitness Singles is 4 out of 5.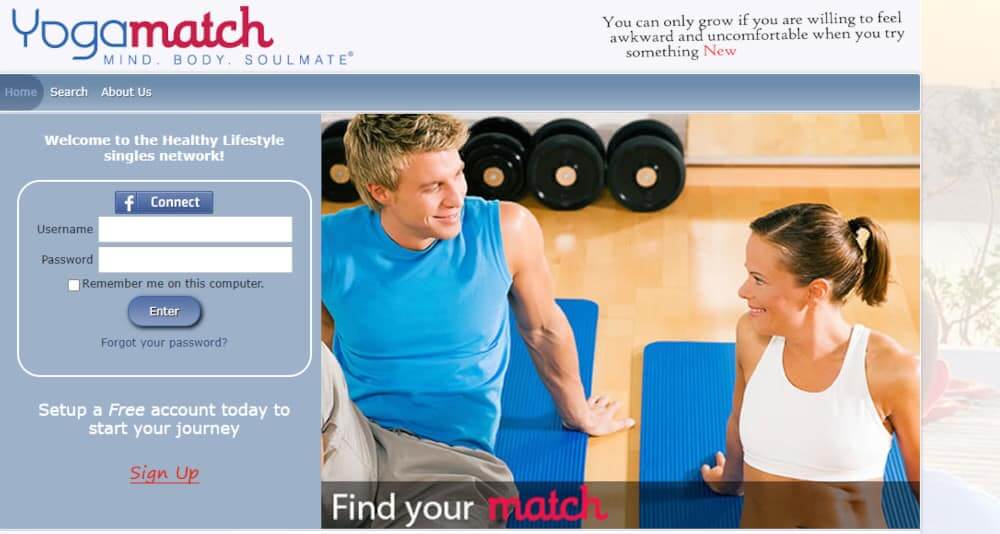 Signing up – 4/5
Making contact – 5/5
Profile quality – 3/5
Overall quality – 3/5
Yogamatch is free to use
Easy to register for and set up your profile (it takes 10 minutes)
Has a chat room
Not a massive user base
The website is a little dated
As many athletes and people into fitness love their yoga, here's a look at one of the top Yoga fitness dating websites online.
The idea behind Yoga match is to put a dating site together for lovers of the art of Yoga.
I love the fact that they have chosen "Mind.Body.Soulmate" as their pay-off line.
Very clever indeed.
The thing is, this isn't the busiest dating site in the world but that's understandable because it is pretty niche.
But there are users online and it's growing all the time.
And if you love yoga and want to date others that do too, then you cannot go wrong here.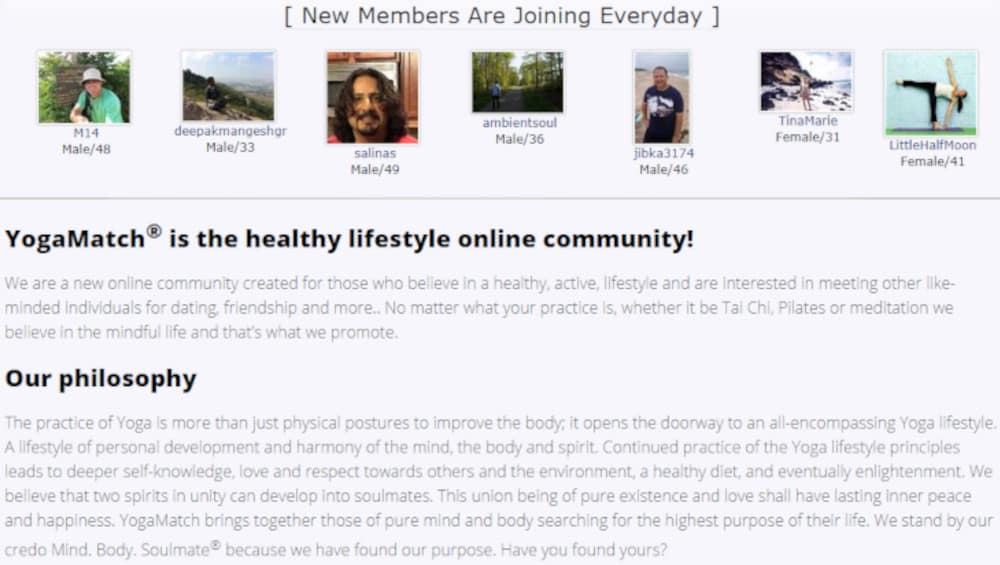 Ease of Use "mobile and desktop version"
The site itself isn't one of those corporate dating sites that all look the same.
And while it looks a little dated, its got it's own unique appeal which fits in with the yoga background, I think.
Registration is simple enough but things get a little different when Yogamatch has you fill in your profile.
It starts with all the regular appearance and lifestyle questions.
You will also have to come up with a profile headline and describe yourself (4000 characters max).
Then come the Yoga related questions including the style of yoga, how often you practice and whether you are an instructor.
That's followed by more questions on interests and hobbies where you can select from a number of sports or other fitness pursuits that interest you before you upload a photo.
On the whole, the site is functional and it's easy to find all you need by simply using the menus including search, mailbox, profile and chat.
The best thing about Yogamatch is that it is totally free.
Yes, you can use the chat rooms and message any person that you've found and would like to get to know better for free.
How awesome is that?
Well, there's nothing much to discuss here because as we have already said, Yogamatch is completely free.
That's right, you can contact anyone one of the matchups you would like to get to know better using the messaging system on the site.
And you never have to take out a membership to do so.
1. How do you contact potential matchups on Yogamatch?
There are two basic ways to contact a potential matchup on Yogamatch.
First, you can send them a message from their profile.
Secondly, you can send them an e-card of which there are a few different types to choose from.
Best of all, these options are all free.
2. Can I block users on Yogamatch?
Yes, you can.
If they have sent you a message, simply find it in your inbox and then select the "block user" tab to the left of it.
You can even report them if you have to.
While the user base isn't the biggest around, Yogamatch is a great little website that athletes that incorporate yoga into their training schedule can meet other athletes that like yoga, or just regular guys and gals who practice the art too.
This is a pretty basic site, no bells and whistles at all but it gives you the tools to set up a profile, find potential matchups and talk to them.
For our rating, Yogamatch gets a solid 3.75 out of 5.