If you are a Seventh Day Adventist that's considering using dating sites to find love, the chances are that you'd prefer those that cater to your beliefs.
And in today's article, we are going to evaluate a few options.
Yes, Adventist dating services provide a dating platform for Seventh Day Adventist singles to find partners and hopefully their soulmates.
In this article, we will take the time to review these Adventist dating websites and evaluate them.
OFL exclusive offers - Check all of them

"Serious Relationships"
"Discreet Hookups"
"Best Course"
"Quick Flings"
"Normal Hookups"
"Our Quiz"
In doing that, we hope to determine which is the best dating site for you in your search for a life partner.
In looking at these Best Adventist Dating Sites, we will look at:
Is your dating app giving you the best chance for success?
Make sure to take our online dating site/app quiz to find out.
It's a fact that people who follow our dating site suggestions have on average 2 extra dates per month.
Best Adventist Dating Sites in Video Form
Audio (Podcast) Form for those of you on the go


Up first we have Adventist Dating, a true Seventh Day Adventist dating site for single adults.
This site aims to help set up long-term relationships for members of the Seventh Day Adventist church (like eHarmony or Tinder). Those who seek casual encounters should search for partners on another website (like BeNaughty or Ashley Madison).
SDA singles here want to find true love through the site's matchmaking service.
Signing Up – 3.5/5
Making Contact – 3.5/5
Profile Quality – 3.5/5
Overall Quality – 3.5/5
If you prefer to use dating apps, Adventist Dating has both Android and Apple versions
Profiles have to be approved before they go online
Naturally, the user base is pretty small so you might not find matchups near your location
With niche datings sites like this that have a smaller user base than a commercial dating site, analyzing the numbers is virtually impossible.
I can confirm that most members are from the United States, however, and that around 10000 users have downloaded the Android app for the site.
The best way to see if potential matchups are near your location is to start a profile.
Ease of Use "mobile and desktop version"
As mentioned above, you can download the app for either Android or Apple devices or register your profile through the website.
That process requires a few basic pieces of information, including your gender and the gender you'd like to date.
Interestingly, it does allow for LGBTQ options.
The registration process includes filling in basic profile information too.
I am not going to go too much into this but it's good that it gets this out of the way.
While long-term relationships are the primary goal here, you can sign up if you are looking for a friend or prayer partner.
Of course, there are questions about religion, particularly about how often you go to church, the type of Adventist you are, your faith activities, and the religious organization.
This helps to detect people who are trying to start fake profiles on the site.
I can also reveal that while you can browse the site, you cannot do anything until your profile is approved.
I can understand why online dating sites do this but if you want to get going straight away, it is a setback.
Luckily, I only had to wait for a few hours before I was up and running on the site.
The design is pretty straightforward and you won't be surprised that the dominant color here is white.
To navigate there are two menu systems.
The first you will find below the site banner picture and it includes:
Dashboard: Click here to return to the homepage
My matches: The site provides you with potential matches to look through
Photo: Here you can look through photos of other users
Search: Launch your own searches for a potential matchup from here
Groups: There are numerous groups on the site you can join up with
Forum: You also have access to a forum that helps give the site a community feel.
A secondary menu system can be found at the top of the page.
This includes:
Messages: All messages are stored here
Notifications: Any important notification you need to be aware of will display here
Your name: Here you can access your profile, preferences, matchmaking preferences and more.
As already indicated, the site does provide you with matchups based on your location but if you want to search for your own, you can.
Here you can search via various parameters including:
If the returns should currently be online
If they must have a photo
How far the maximum distance from your location they can be
And various other profile parameters
The advanced search filter is free for all users to make use of.
As for making contact, well that's only a feature that's available for members.
There are a few packages available to those who want to sign up as a member of Adventist Dating.
These include a one-week, one-month and six-month option.
Here's a breakdown of what they will cost:
1-week: $7.99
1-month: $13.99
6-month: $34.99
While it obviously has a small user base that will affect if you can find matchups near you, you should at least try out Adventist Dating if you are looking for an Adventist dating website.
Not only can you do so via their app but the site algorithm will provide you with matchups to browse through and you can search for your own.
It's also really cheap to become a member.
Today, we are giving it a rating of 3.5 out of 5.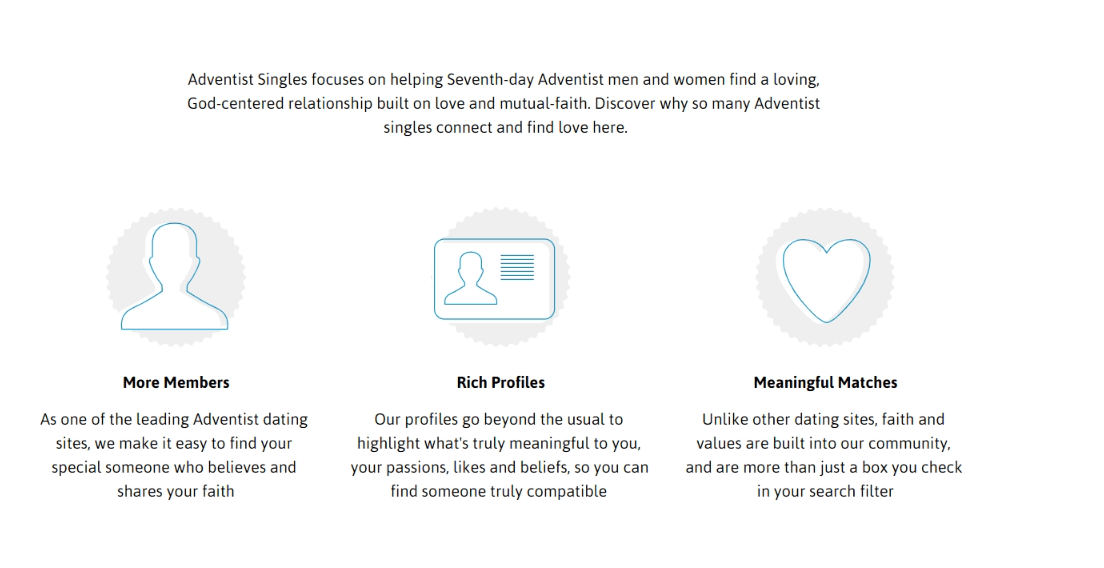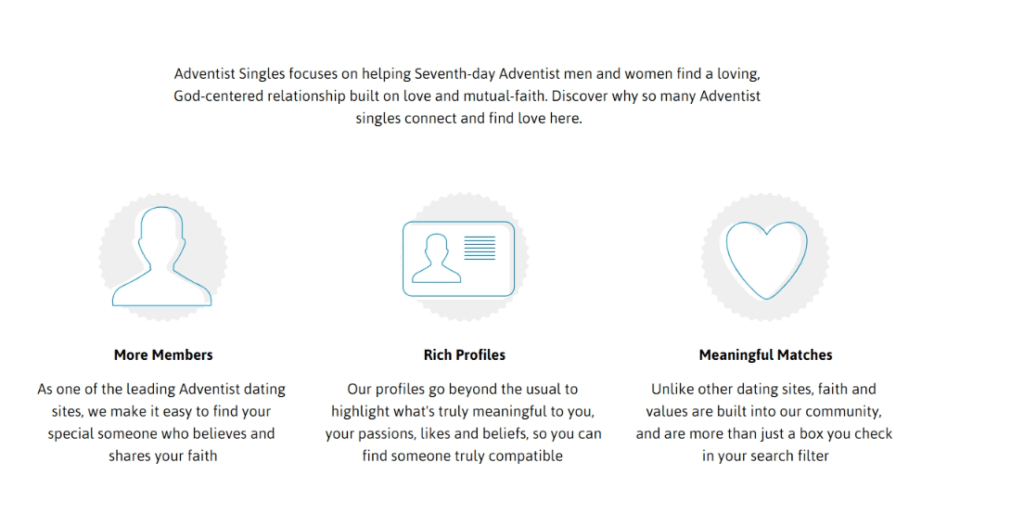 Adventist Singles is probably the biggest Seventh Day Adventist Christian Dating Site on the internet.
It's run by Spark Networks and has been around for several years.
Let's explore it a little more and identify what it has to offer as part of our Adventist Singles review.
Signing Up – 4/5
Making Contact – 4/5
Profile Quality – 3/5
Overall Quality – 4/5
Simple sign-up process
Some messaging for free users
No fake profiles
You might not find matchups near you depending on where you live
Like Adventist Dating, the user base for this dating site is small.
Again, that's totally understandable when you are dealing with a niche dating site like this.
Obviously, however, it affects your chances of finding people near your location.
With large metropolitan cities, you obviously stand more of a chance of finding a potential matchup that lives close to you.
Let's look at some facts and figures we've collected about the site:
Around 1500 are active on the site each day
That's about 45000 active on the site each month
30000 users are from the United States
54% of users are female and 46% are male
Over half of all the users who have registered for the site are between the ages of 25 and 44 years old
Ease of Use "mobile and desktop version"
If you compare the registration process for Adventist Singles over Adventist Dating, it's not as lengthy.
But all accounts are checked so to stop anyone who wants to create a fake profile.
Perhaps the easiest way to ensure that your profile is created by using your Facebook account as this is an option.
Otherwise, you will need a valid email address to complete the process as well as one photo that has to be uploaded.
This cannot be skipped and make sure that it clearly shows your face.
Lastly, fill out the About Me section and you are good to go.
As you haven't done much of that during the registration process, that should be the first thing that you do.
Information that's needed here includes:
Education
Professional
Marital status
It won't take long to complete and it seems like most users on the site take their profiles pretty seriously.
The primary way in which you will find matchups on Adventist Singles is via the matchup system by which the site provides them to you.
Profiles can be fully viewed by regular and paying users.
As for finding matchups, the site uses an excellent matchmaking algorithm to do so but this can only work effectively enough if you take the time to fill out your profile.
As for communicating with them, well there is limited messaging.
If you'd like to send unlimited messages, however, you would need to consider becoming a member of the site.
Before we look into the cost of membership of Adventist Singles, let's just quickly go through the extras you can expect from that.
Unlimited messaging
Profile boosting in other users' matchup returns
Incognito browsing
See who has read your messages
Access to all user photos
The thing is because niche dating sites offer a specific target audience, they often tend to be a little on the expensive side.
That's the case here too, but if you think about it, this is a very specific niche audience, so it's probably justified, although I think the month-to-month membership pricing is a little too expensive.
Here's the breakdown:
1-month: $49.99
3-months: $104.97 ($34.99 per month)
6-months: $149.94 ($24.99 per month)
My suggestion, if funds allow, would be to aim for the three-month membership off the bat, especially if you do find the chance of numerous matchups near your location.
If spending over $100 seems a bit much, then try the one-month option and see how the site works for you.
You can always cancel if you don't have much luck.
I would like to see the one-month price dropped a little, for me it's a little expensive.
In terms of a user base, Adventist Singles probably has the largest one of all the Seventh Day Adventist dating sites.
If you live in the United States, you can start a profile here and see just how many of the 30000 American users are near your location.
Of course, with niche sites like this, you stand more of a chance of finding other users in larger cities but with a registration process that doesn't take long, it's worthwhile getting online to see what's on offer.
Ratings-wise, Adventist Singles gets 3.75 out of 5.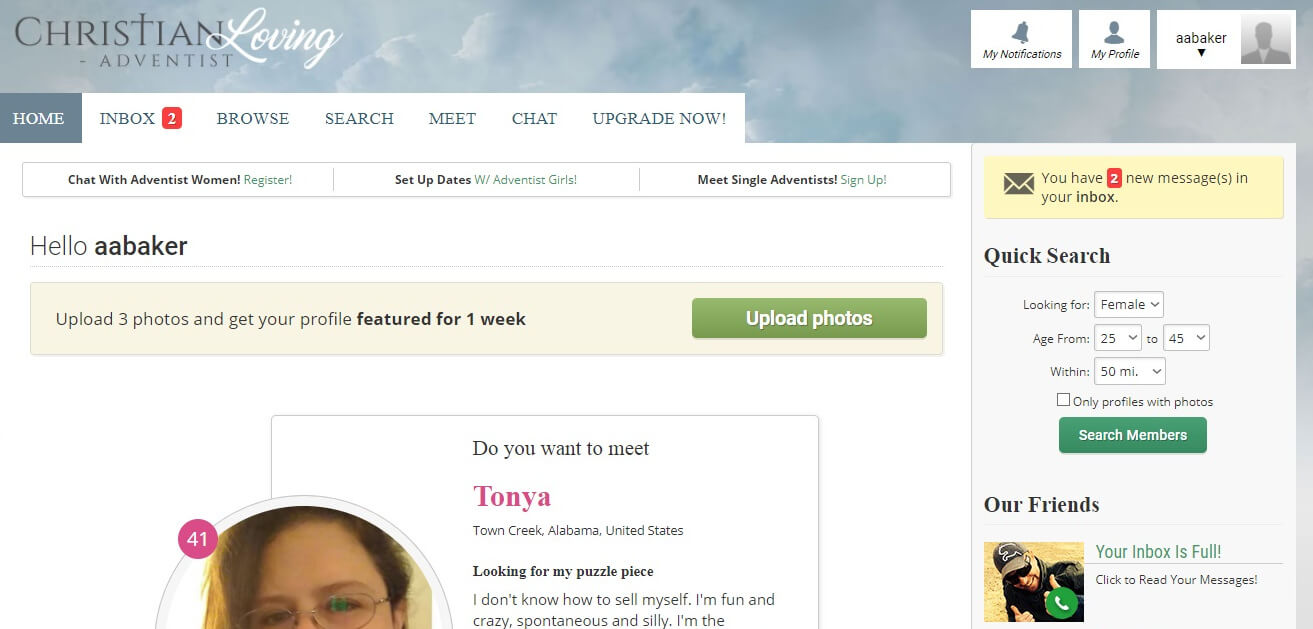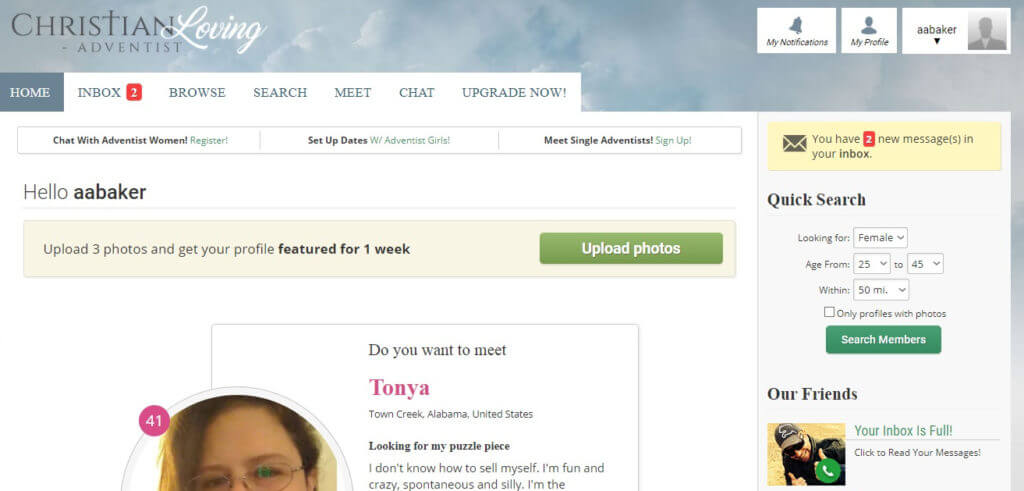 Christian

Loving Adventist
Christian Loving Adventist is perhaps not as well-known as the first two we've spoken about, but it's an option worth checking out.
For one, you will be online and looking for potential matchups in literally one minute, that's how fast the registration process is.
But a little more on that later.
Signing Up – 5/5
Making Contact – 3/5
Profile Quality – 3/5
Overall Quality – 3/5
Registration is fast and you will be online in less than a minute
Well-designed and easy to use website
Messaging is for members only
Very small user base
FInding overall user numbers for this site provide impossible.
I can tell you, however, that there were around 10 matchups for me within 50 miles of my location.
And with the speedy registration process, you have nothing to lose in trying out the site to see just how many will be near you.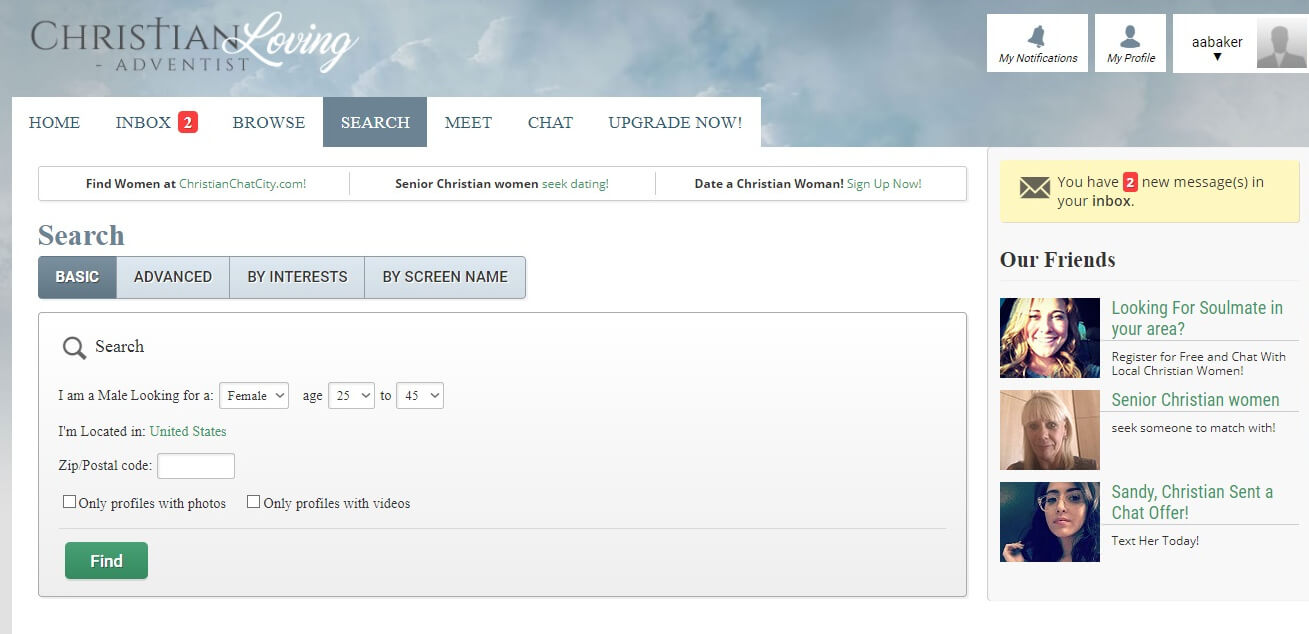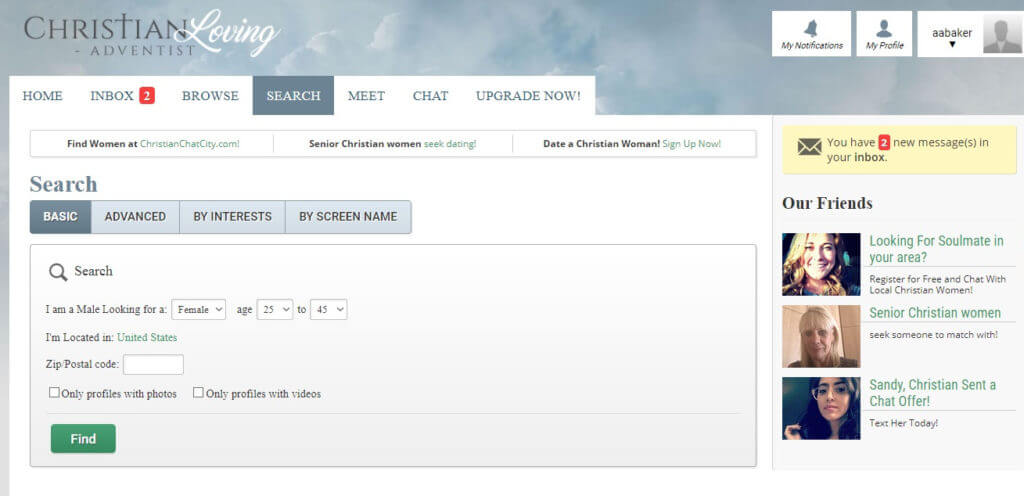 Ease of Use "mobile and desktop version"
As I've already mentioned, to register a profile and get onto the Christian Loving Adventist website takes around a minute.
Just provide your username, age, gender you want to meet and email address and you are taken straight to the site.
From there, you will spend another five or so minutes filling in the mandatory profile but it's always good to get that out of the way, right?
You will also be taken to a membership sign-up page but just click on the logo at the top left-hand side of the screen to go back to the homepage if you don't want to sign up.
The site itself is beautifully designed and super simple to use.
Navigation is achieved through a menu system that includes the following:
Home: Takes you back to the homepage
Inbox: The messages you receive from others will be found here as well as sent messages
Browse: This allows you to see the matchups provided by the site and can be sorted into users near you, new users, all users as those who have been recently active.
Search: This includes a basic and advanced search
Chat: Here you can chat with other users
In collecting information about the site, I found that in terms of looking for matchups, you have two options.
You can first search through those that are highlighted for you by the site itself or you can easily search for your own.
There is a basic as well as an advanced search engine that all users can try out.
With the advanced engine, you can include various profile parameters, such as appearance and lifestyle but you also have various religious parameters too.
This includes importance of faith if they attend church and others.
This is one of the things they have right with the search engine, especially if religion plays a big role in your life.
In terms of reaching out to others, I can reveal that messaging is for paying users only.
The only way you can show interest to another person is by sending them a flirt.
Christian

Loving Adventist Cost
As we've seen, messaging is behind a paywall on this dating site.
But there is good news because Christian Loving Adventist does offer a 5-day trial.
So you can get a good feel for the site before you opt for a longer membership package.
Here's a breakdown of all the membership packages on offer here:
5-day trial: $3.49 (rebills at $29.99 if not canceled or if you don't take out a different option afterwards)
1-month: $20.99 per month
3-month: $27.99 ($9.33 per month)
Here's what I would do faced with these packages.
I would trial the site first up and see if it provides the kind of matchups I am looking for.
If it does, I would jump straight into the three-month membership option.
It's a no-brainer at just $27.99 per month.
What I love about this site is the fact that membership is so cheap and that you are literally online in about a minute.
That's how quickly the registration process takes.
The user base is smaller than some of the other sites we've looked at but you'd be silly not to at least give Christian Loving Adventist a tryout, that's for sure.
It scores 3.5 out of 5.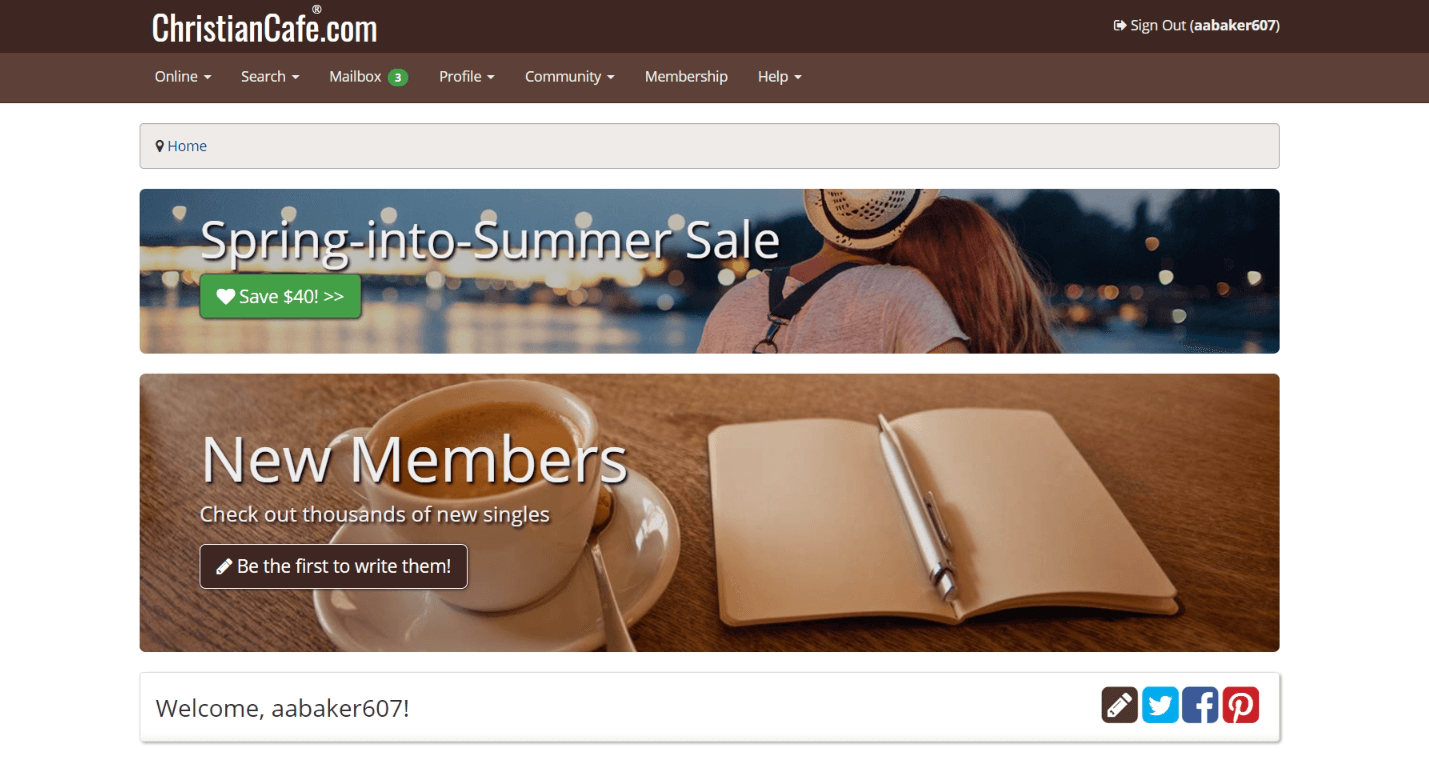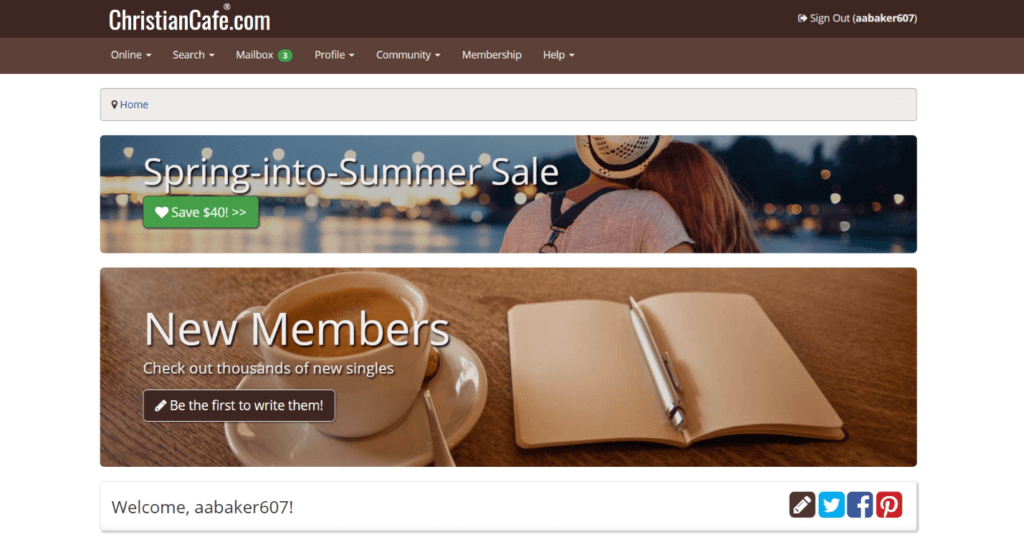 While Christian Cafe is not strictly a dating site for Seventh Day Adventists only, it is one of the bigger Christian dating sites and allows you to register by denomination.
Signing Up – 4.5/5
Making Contact – 3/5
Profile Quality – 5/5
Overall Quality – 4.5/5
One of the biggest Christian dating sites on the web
Over 2 million users of which many are Adventists
Real-life contact details can be exchanged between members
10-day free trial for new members
Once your 10-day free trial is over, membership is needed to contact others
Christian Cafe is a long-standing dating site for Christians all over the world.
In fact, it has been around since 1999.
In that time, those behind the site claim that it has helped facilitate 25000 marriages!
Not bad, hey?
At present, around two million users have registered profiles on the site with around one million based in America.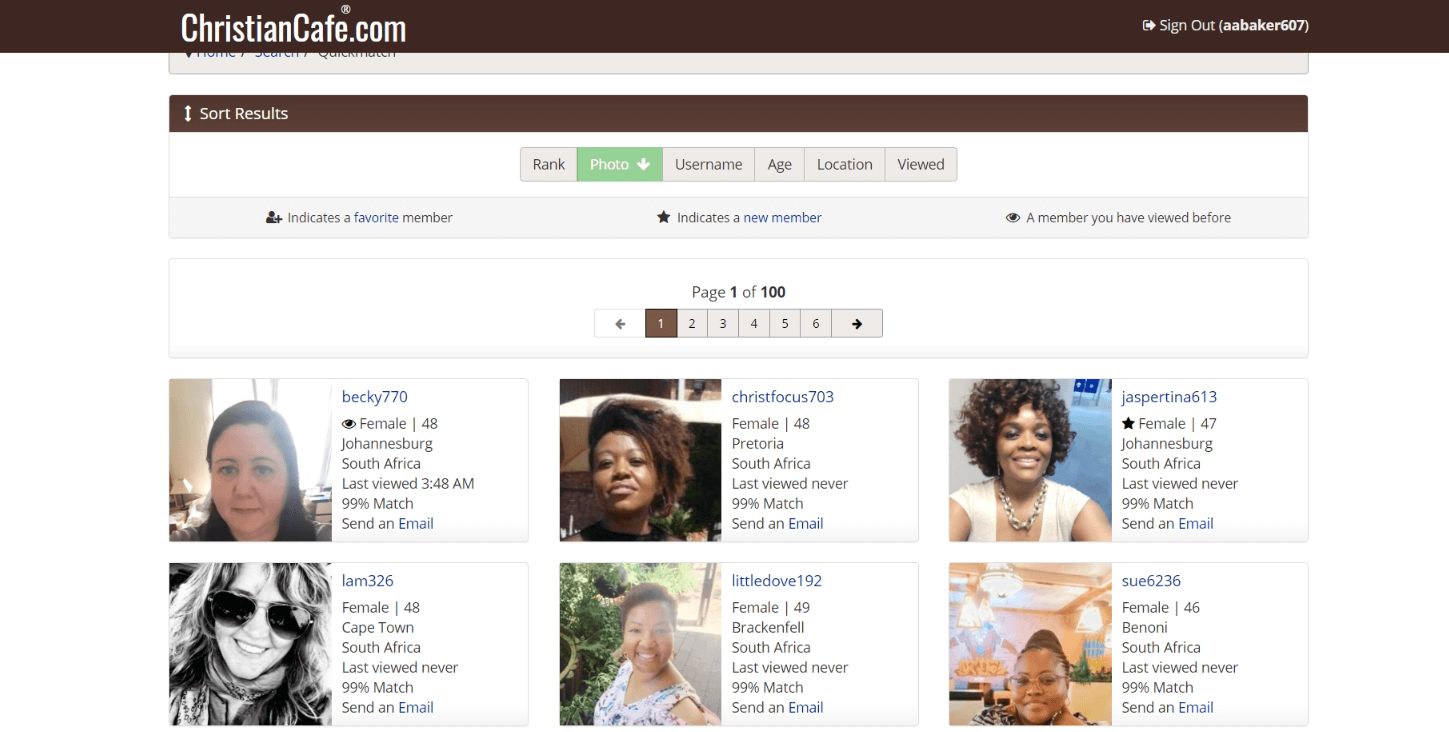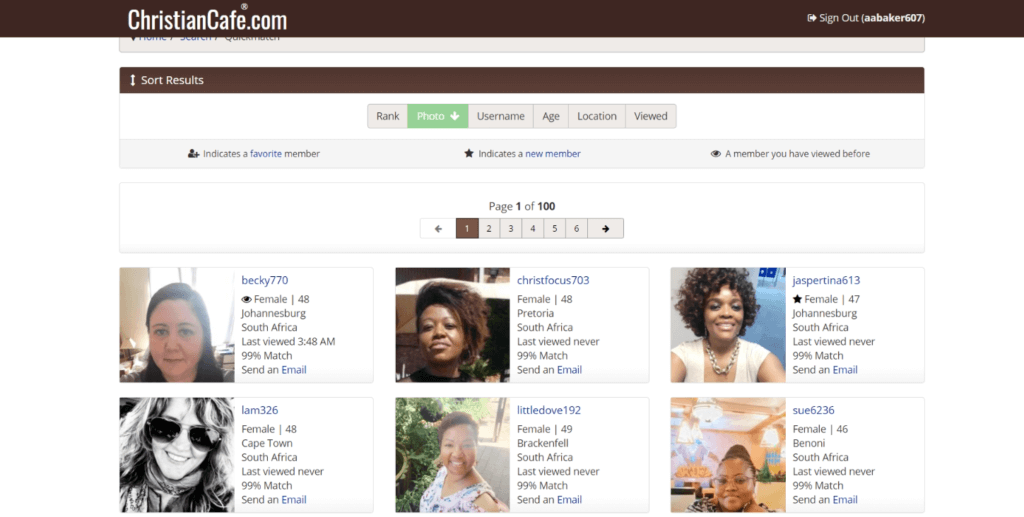 Ease of Use "mobile and desktop version"
While the sign-up process for a profile on this site isn't the quickest, you do fill in a profile packed with information while you do it.
So it's good getting that all out of the way so you can use the site from the word go.
Christian Cafe is beautifully designed and I loved my time on the site.
It's just super easy to navigate and use.
And to do that, you will use this menu system:
Online: This is a list of online users and is split into males and females.
Search: Here you can find several search options
Mailbox: All messages can be found here
Profile: Access your profile as well as account settings here
Community: Blogs, forums and prayer requests can all be found here
Membership: Click here for all your membership needs
Help
In terms of finding potential matchups, well there are numerous to do that.
The site will provide you with matchups based on your location but these aren't all necessarily people that are Adventists.
So if you only want to see potential matchups that are, you are going to need to use the advanced search engine.
One of the many parameters you can adjust here is what denomination the matchups should be and one of the selections is Adventist.
So you can be sure that if you check this box, all returns will be the same faith you are.
You are free to message other users during your 10-day trial but when that is over, you will have to sign up for membership to continue reaching out to others.
Other than messaging, one of the key features that membership brings is the ability to exchange real-life contact details with other users.
That can be really useful in taking your conversations off-site.
Here's a breakdown of the membership costs:
1-month membership package – $44.97
3-month membership package – $69.97 ($23.33 per month)
6-month membership package – $109.97 ($18.33 per month)
1-year membership package – $149.97 ($12.50 per month)
Although not the most expensive of the sites we have looked at in this article, one-month membership is not cheap.
But at least you do get a free 10-day trial, right?
That will help you decide if Christian Cafe could work for you and from there you can decide on the best package for you.
To summarize our look at Christian Cafe, I would start by saying that its longevity and size of the user base make this an excellent dating site to try out.
And the fact that you can search for Adventists only as well means you don't have to look through profile after profile to see if someone is one.
This is a brilliant website, that's for sure and it's one you should have a profile on, even if it's just to try out the 10-day free trial to see how well you do in terms of potential matchups.
It scores 4.25 out of 5.
Onlineforlove's review team looked for the best Adventist dating sites for this piece.
Our choices were tested extensively over a long review period.
That evaluation process used various important factors that helped us to score each site and provide an overall rating.
That rating was based on the following factors: registering for a profile, messaging, how successful the matchmaking algorithm was, ease of use, key features and more.