If you love fast hookup, then your heart is in the right place with this OneNightFriend Dating Site Review.
You'll get to learn:
By the end of it, you will know if OneNightFriend is worth a try or not.
OFL Top Recommendations based on 100,000+ Survey

"Serious Relationships"
"Discreet Hookups"
"Best Course for Men"
"Quick Flings"
"Normal Hookups"
"Our Quiz"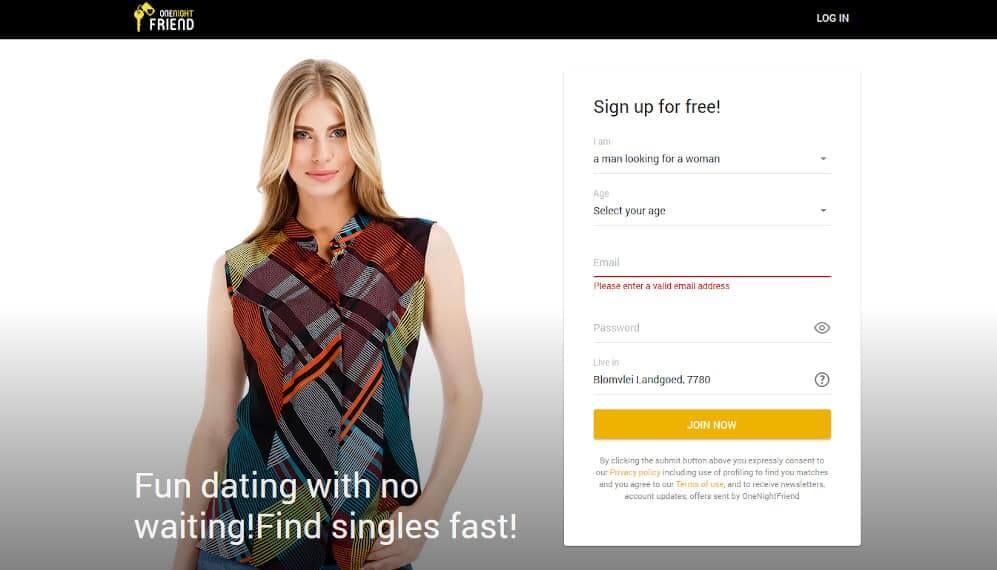 Not so much a dating site as a place to find a fast fling, OneNightFriend is one of the hundreds of new niche dating sites that you can find online lately.
While I am sure you probably can find long-term love here, that's not what it's all about with most users joining to find someone to hook up with.
So if that's the kind of site you are looking for, make sure you read our full interview on OneNightFriend to find out more.
Is your dating app giving you the best chance for success?
Make sure to take our online dating site/app quiz to find out.
People who follow our dating site suggestions have on average 2 more dates per month.
One Night Friend in Video Form
Audio (podcast) form for those of you on the go
Effectiveness 4/5
Ease of Use 5/5
Key Features 5/5
Price 3/5
OneNight is so easy to use
Profiles can be set up and ready to go in under 5 minutes
It's an active site with many users
You can narrow down matches to within a 50-mile radius
Online support is available
Discounted 3-day membership available for new users who want to see what the site offers
There seem to be a few fake profiles on the site
OneNightFriend has a very basic search algorithm based on various parameters that you input
The OneNightFriend app is available but you cannot download it off the Google Play store.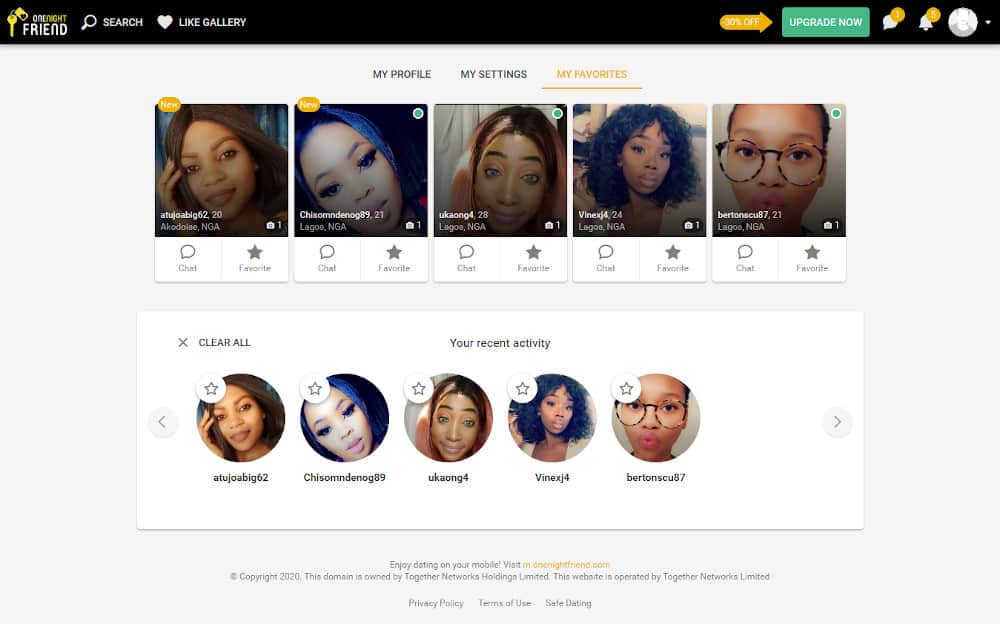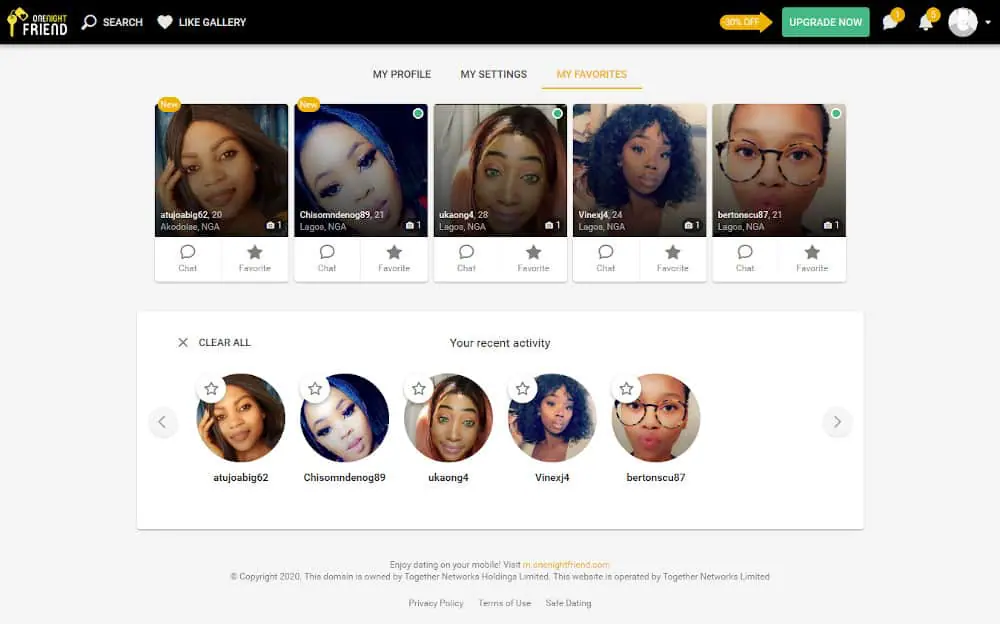 Who is it for/Demographic Makeup?
OneNightFriend.
Just the name alone tells you 100% what to expect from this site.
Yes, it's a hookup site first and foremost for people who want to have flings.
They could be single, married, divorced, young or old.
But let's get into the demographics a little more because that's the first critical factor you should compare sites by.
The who's who of OneNightFriend
The first thing that struck me when it comes to the users OneNightFriend is that the gender ratio is heavily in favor of male users.
That's not something that's not unusual on dating sites, however, but the difference here is massive.
In fact, you are looking at 76% of the users on-site being male.
That leaves only 24% of the profiles as female.
So if you are a male, you've got lots of competition but if you are a female then you have plenty of choices when it comes to who you want to chat with and who not.
That's depending on your preferences of course.
This doesn't make the site any worse than others that might have a better male versus female gender ratio but yes, as a straight male, it might be finding that perfect match a little more difficult.
And when you do, you are probably going to have to work so much harder for their attention.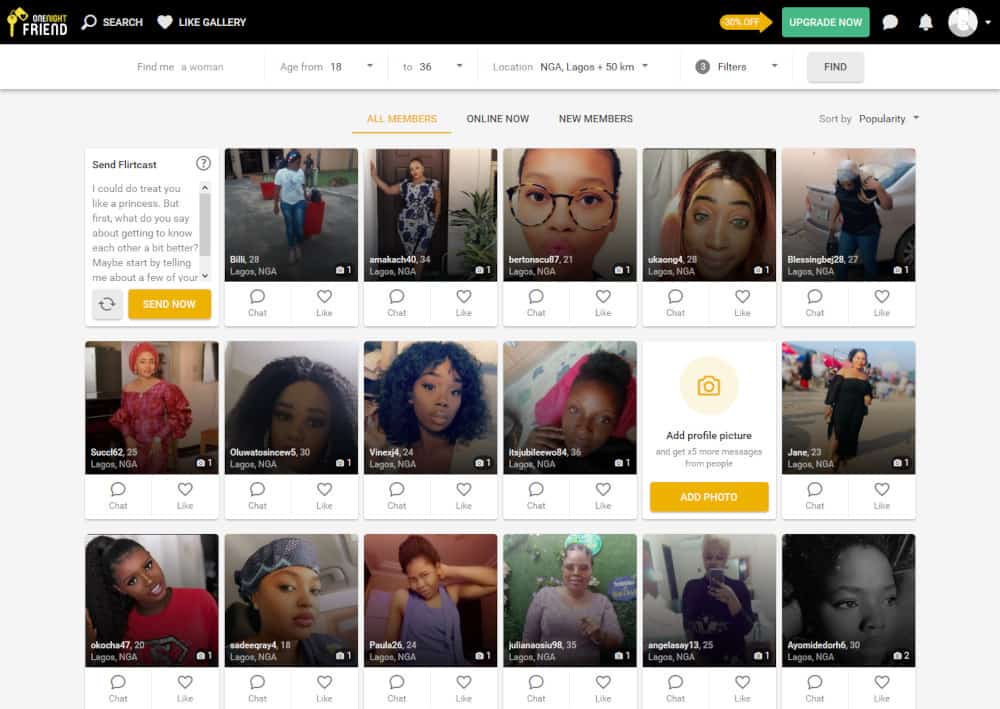 The next question to ask is how active are those users are.
I mean, if you log in and you cannot find anyone online to interact with, what's the point?
Well, it seems that OneNightFriend doesn't have any problems there at all.
Every time I was online, I could see many users around whenever I searched for matches.
And they were not just profiles of people that had logged in years ago.
No, these were users that were online at the time with me and who I could interact with.
Here's a quick breakdown of some critical figures in terms of the user base.
Just over half-a-million people from the United States have profiles on OneNightFriend.
The site has close to 20 000 people logging in daily
That's close to 140 000 people online per week
And the age of users?
Well, without a doubt the most popular age group found on the site is from 25-34 years old.
This group makes up almost 25% of the total users on the site.
So now you know the numbers, how easy is it to find that one night friend?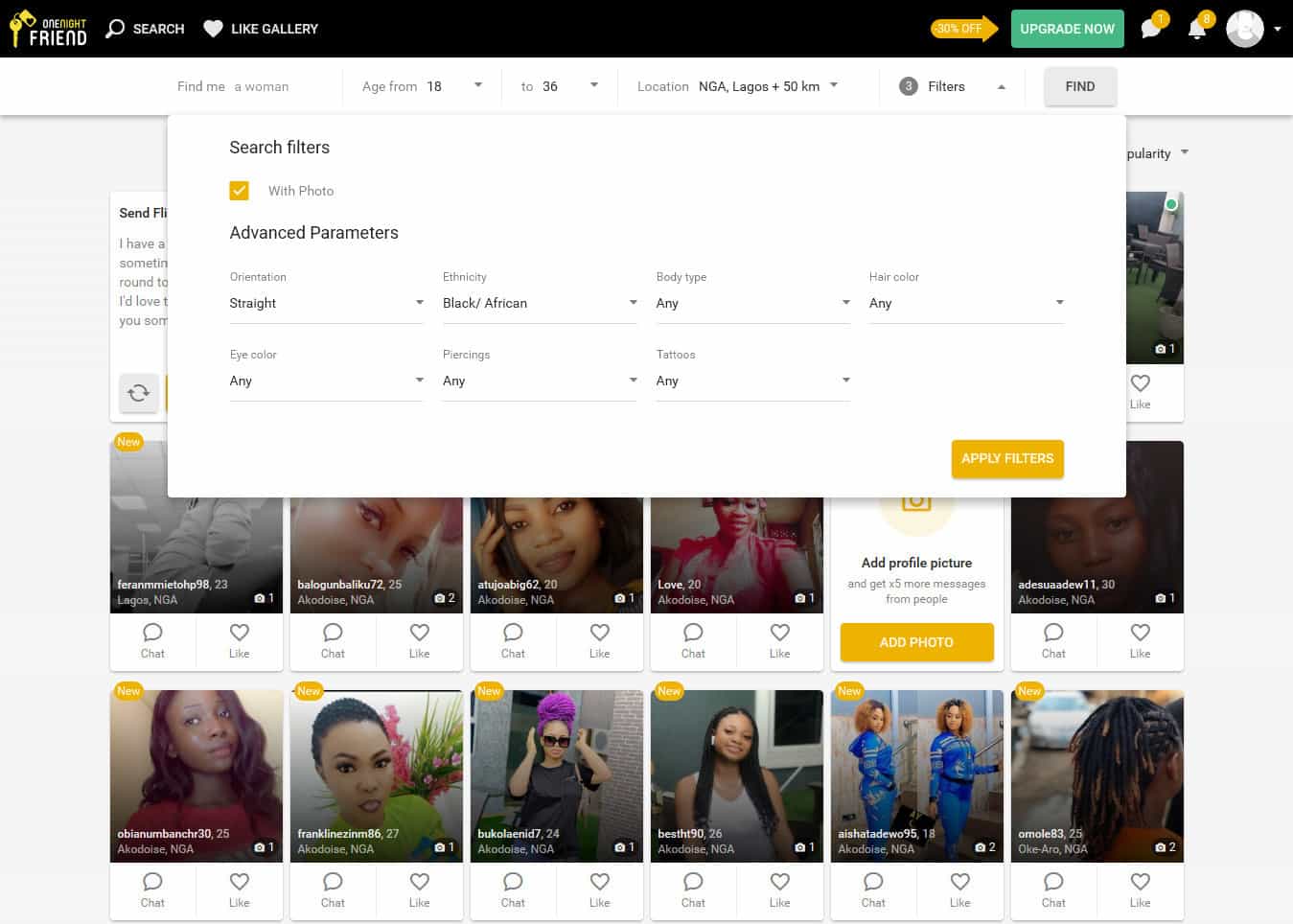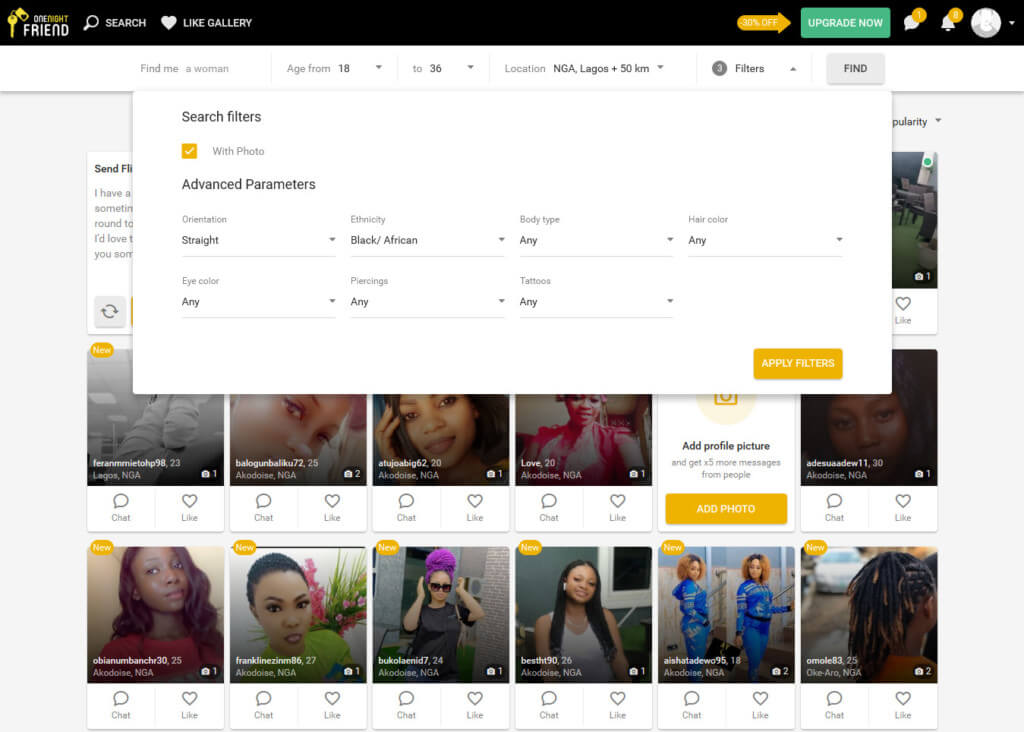 A dating site or a hook up site in the case of OneNightFriend is always going to be judged on just how effective it is in helping you meet people, right?
OneNightFriend offers you enough search parameters to let you fine-tune your search to your heart's desire even though it has a very basic search algorithm.
The bigger the city you live in the better for fine-tuned searches, however.
If you are struggling to get hits, simply lose some search parameters and you will have more success.
The fact that there are so many to choose from really puts you in control of your searches.
A word of warning, however.
Because OneNightStand doesn't have the massive user numbers of some of the bigger sites on the internet, if you live in an extremely small city, finding numerous matchups might be tough.
In those situations, just use the three basic search parameters to find people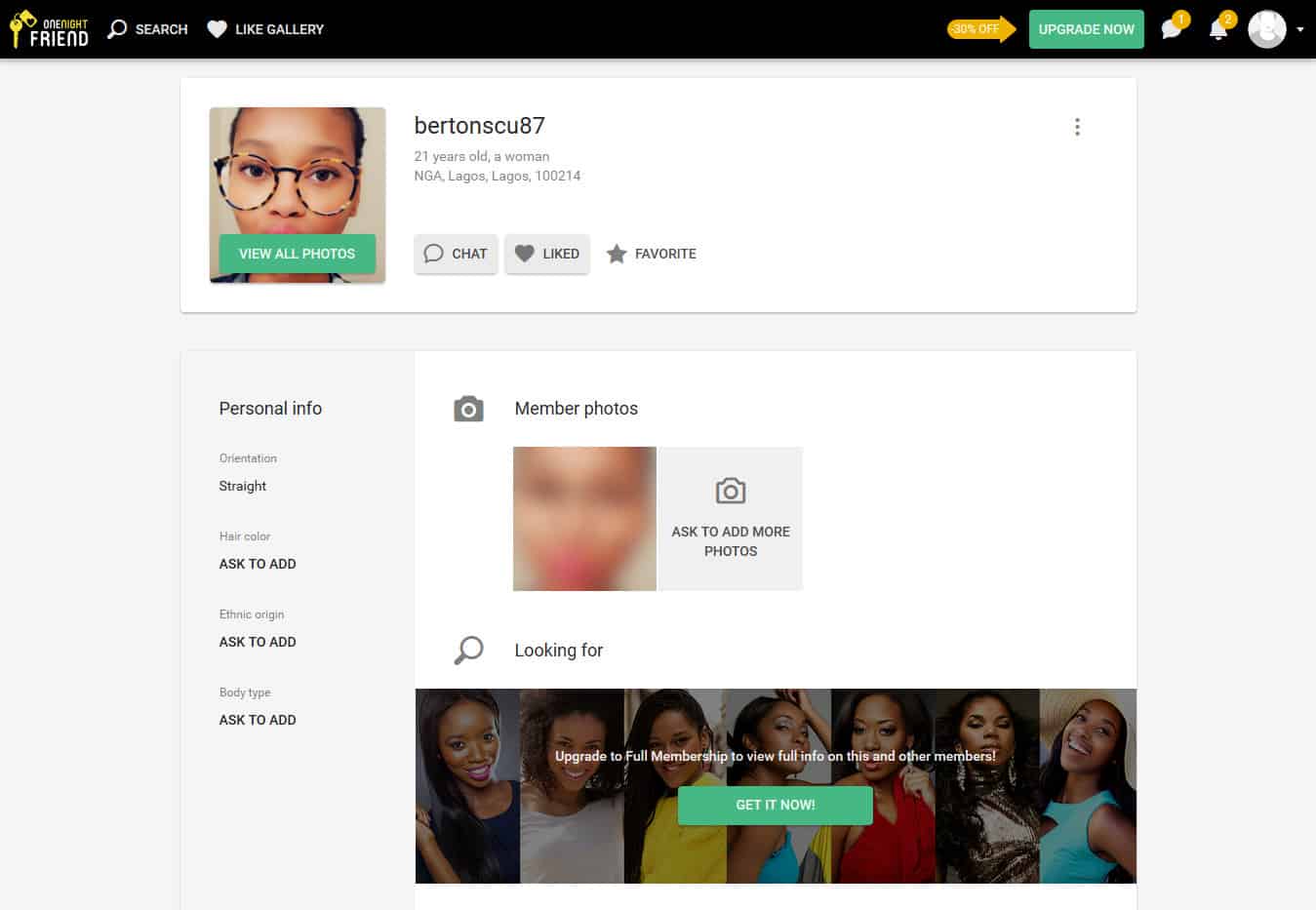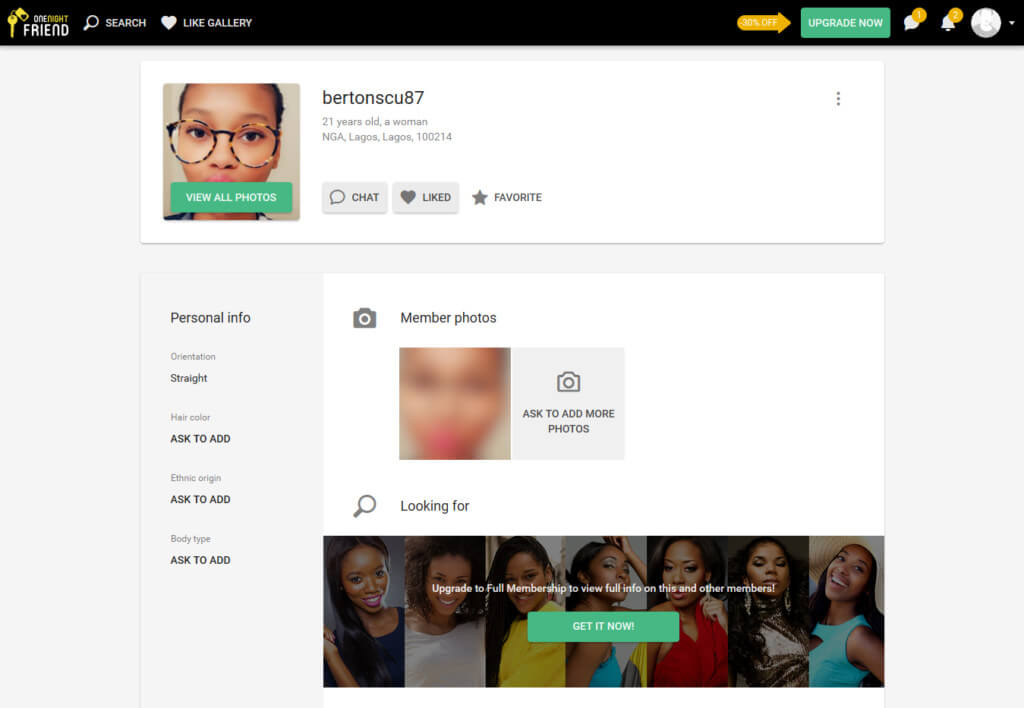 Searching and making that connection
Starting with the basic search, let's take a look at the breakdown of search parameters available to you when you look for your first matchup, .
You only need to input the following parameters for the basic search.
Location: This is usually set to within 50 miles of your location but can be adjusted to even further afield
Age: Here you can adjust the age range of your search
Type of search: For example, you are searching for only women
You can finetune it even more with the following filters.
If the potential matchup has a profile picture or not
Sexual Orientation
Eye color
Ethnicity
Body type
Hair color
Piercings
Tattoos
As you can see, from those additional parameters you can really refine your search if you want to.
Starting out, however, you are probably want to keep your search as broad as possible to provide you with a variety of matches to look through and to find a few favorites that you can go back to.
But what happens once you have found a match?
Well, that's where you are going to have to decide to pay or not to message them.
Because messaging is a member's only feature and pretty much the only way you can contact them efficiently.
There are other, less effective ways to interact with a potential matchup.
You could "like" someone's profile to show your interest or even better, add them to your favorites list and they will be notified.
Dating sites want you to sign up for membership and OneNightFriend is no different from the others you will find out there.
Membership is where it's at if you want to make a success of contacting a potential match.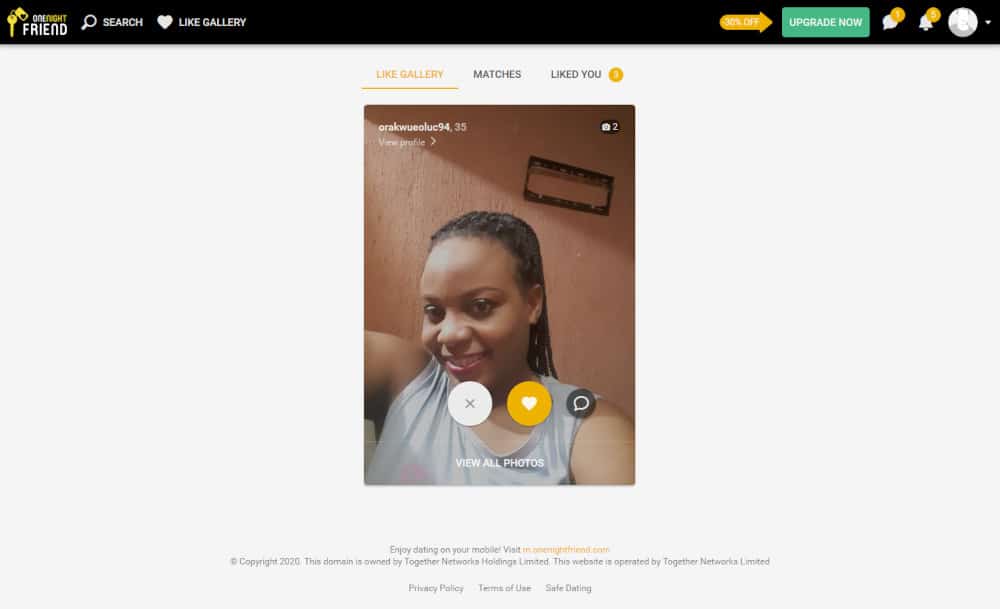 Speaking of membership, let's look at some of the key features that OneNightFriend offers to users who sign up as a paying member.
The most obvious perk for members is unlimited chat and messaging.
This allows you to fire off as many messages as you want per day to any number of potential matches.
However, if you'd like to get to know someone even better, you can chat with them using the chat function that's available to members.
It's far easier than sending and replying to messages.
2. More search parameters
While we have already seen that OneNightfriend offers a range of parameters to those users who don't opt for membership, should you choose to do so, you can refine your searches even more.
This can help you to find that perfect match that has everything you want.
3. Video and photo sharing
All paying members of OneNightFriend are allowed to add videos or share photos while chatting to another member.
Another added extra when it comes to photos is the ability to view full-sized pictures that other users have uploaded and not only have them available in the smaller thumbnail size.
What's the "Like Gallery"?
Well, it's an added feature available to all users that gives OneNightFriend a modern dating aspect so familiar on other dating apps.
If you go to the "like gallery" you will be presented with profile pictures of other OneNightFriend users.
Then you have to vote if you think they are cute or not.
It's all just a bit of fun.
Don't feel like typing and sending a message to the 53 people that came up in a refined search based on your parameters?
Well, send them a "flirtcast" then.
What's that, I hear you ask.
Well, a "flirtcast" is a single message you have typed up beforehand that you can send to a host of people all at once.
It can come in useful, that's for sure.
Just a reminder, of all these features, only the "Like Gallery" is available to users who don't pay for membership along with: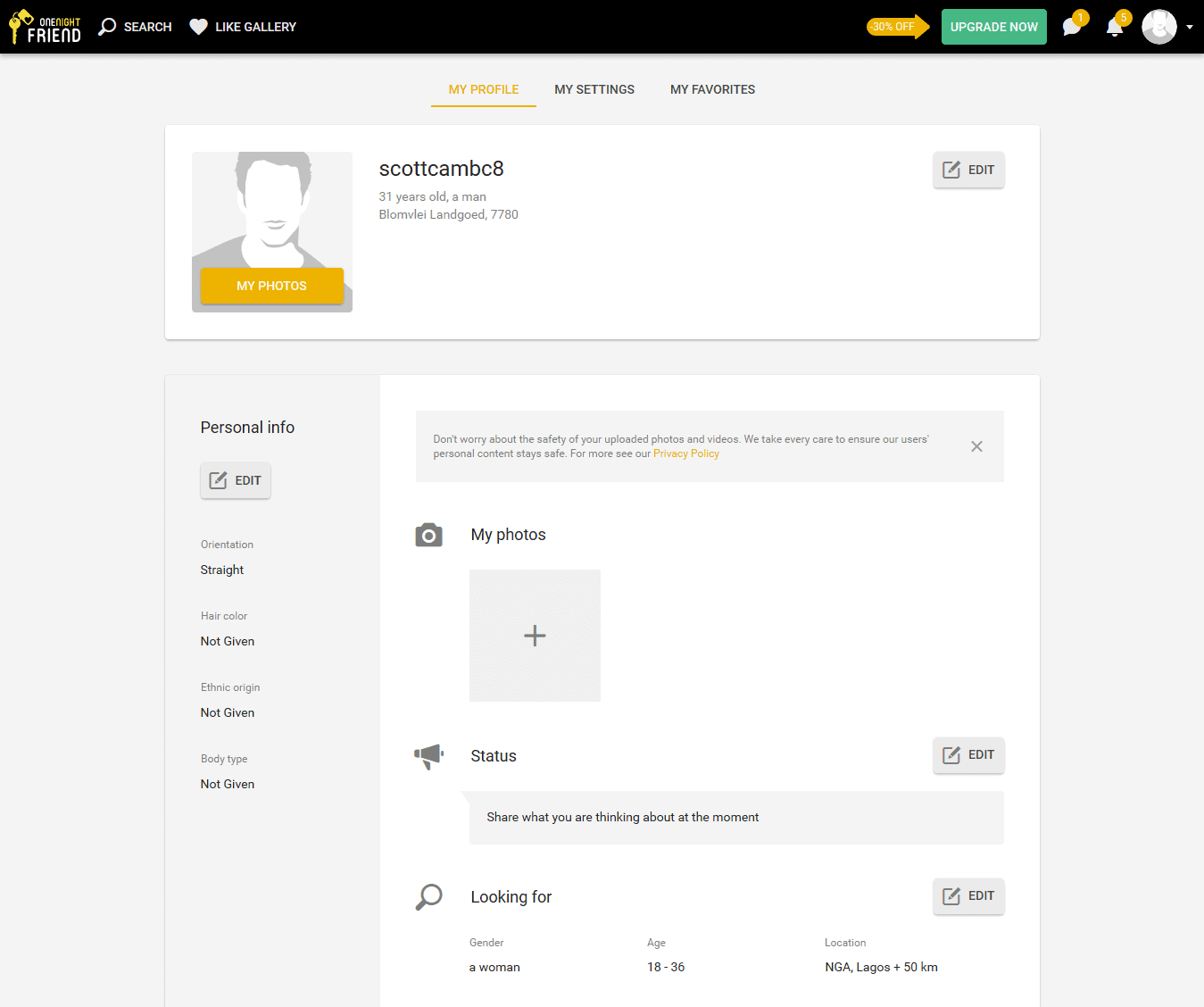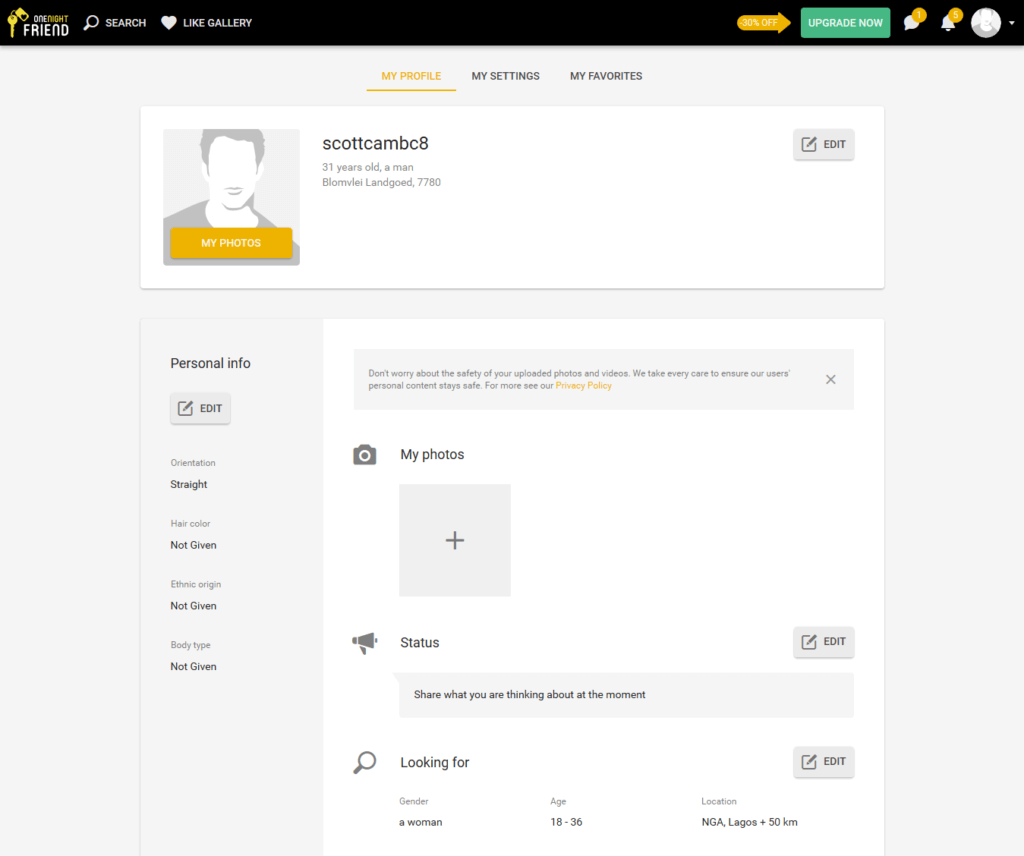 One that immediately struck me about OneNightFriend was its design.
It's extremely simple but effective and navigating my way around the site was so easy.
Within five minutes of trying all the tabs and links, I knew where everything was.
Signing up for a new profile on OneNightfriend was simple enough.
It's much like all other dating sites you will find on the web.
It doesn't offer the chance of a social media signup using Facebook, for example, as other sites do but you can enter an email address, a password and you are almost good to go.
Once you've verified your email, you are taken to the site and where you can fill out your profile in more detail and upload a picture.
I didn't upload a picture till I took out trial membership but that didn't stop the messages coming in.
I like that the site has verified emails.
This is one of the first lines of defense when it comes to trying to stop fake profiles, although that's something that you will never fully eradicate.
So yes, it's simple to sign and very easy to browse for matches.
Everything you need is on the screen in front of you, from messaging to searching to your profile if you want to make changes.
Does OneNightFriend have an app?
When it comes to an app for OneNightFriend, a word of warning.
Yes, there is an app available.
But you won't find it on the Google Play Store or Apple iStore.
OneNightFriend's app is downloadable off an independent APK site which you can find here.
This is only available for Android users but to be honest, because it's not available on the Google Play Store, I would steer clear of downloading it here.
If you would like to use OneNightFriend on your mobile, rather point your browser to the website.
It's smartphone-optimized so you can browse for potential matchups easily enough.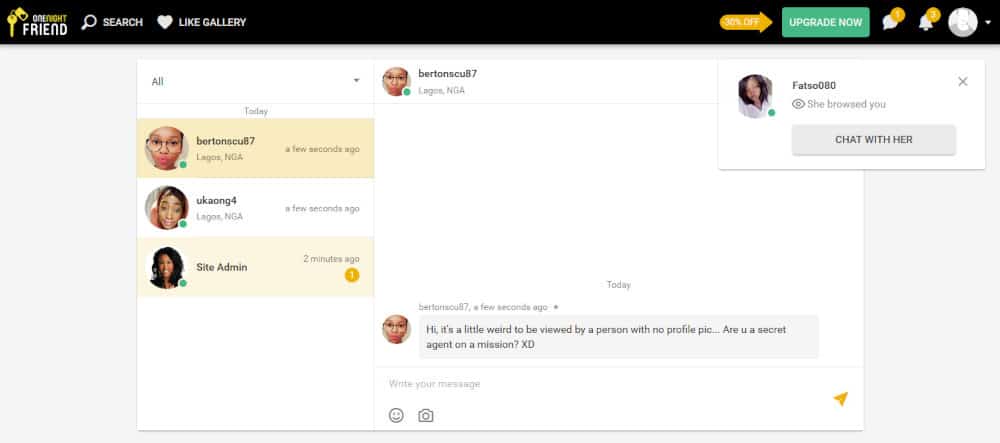 Now that we know what key features OneNightFriend offers members looking to hook up with someone, let's look at what you can expect to pay for those features.
But before we get into the full cost of membership, there's something that OneNightFriend allows new users to do that I think all dating sites could learn from.
And a 3-day membership at a reduced cost.
I think this is a fantastic idea.
Three days is enough time to familiarize yourself with the site and see if it has everything you want before you commit to a monthly (or more) payment.
And the cost of that 3-day-trial?
Well, it works out to just $3.00 ($1.00 per day).
If you are not satisfied and won't be upgrading to a longer membership afterward, make sure that you cancel on your credit card, otherwise, you will be automatically billed for a new 1-month deal once the 3 days are over.
Now let's look at a breakdown of the full membership packages:
1-month membership – $39.00
3-month membership – $67.50 ($21.90 per month)
6-month membership – $106.20 ($17.70 per month)
As you can see, there are benefits to signing up for membership over longer periods, especially if you can afford it.
Overall, when it comes to pricing OneNightFriend isn't cheap.
When compared to similar, it's mid-range in price and is more expensive than Uberhorny but cheaper than Victoria Milan.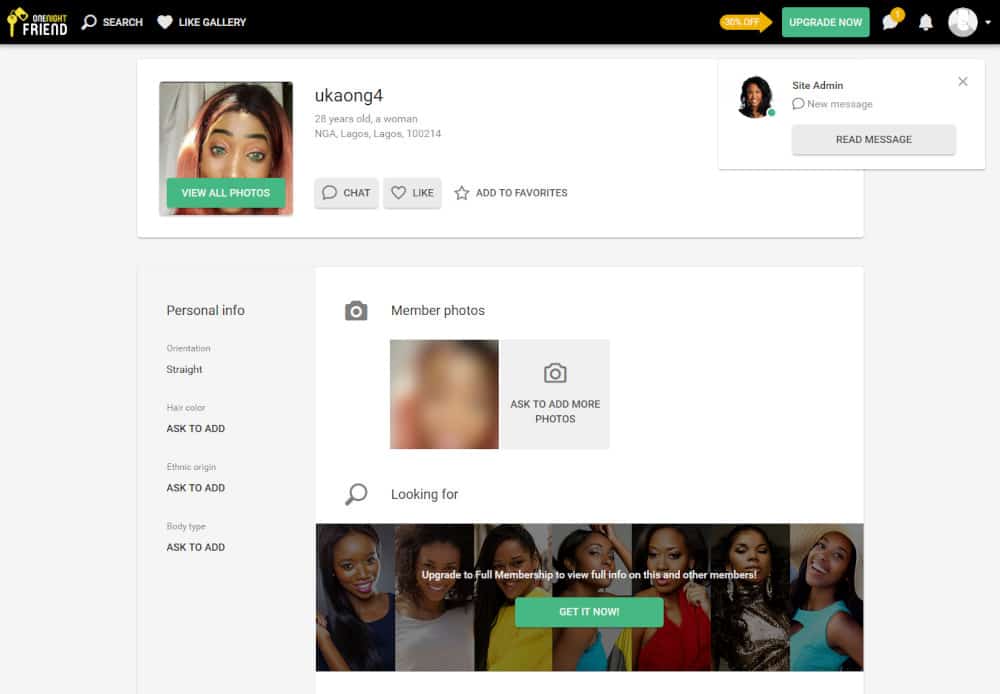 Conclusion and Overall Rating
So what's my overall impression of OneNightFriend?
Well, this is a typical site for hooking up with people that don't necessarily want to do the whole dating thing but want more of a fling.
That's exactly what OneNightFriend does.
And it does it well.
Other than the fact that it's pretty pricey – but luckily it does offer a 3-day try out – I score it at 4.25 out of 5.
That said, the site quickly has you thinking that you are going to be speaking to a potential fling in a matter of minutes.
Within three minutes of joining I had my first message.
It's frustrating when you can't reply straight away.
I would like that option that other dating sites give where you can reply to someone's message, or at least read it.
In some cases, I couldn't even read the message I had been sent but on other occasions, I could.
I am not sure why this happened.
Once I trialed the site, however, I was free to chat away to whoever messaged me, either using the message system or through unlimited chat.
Also, the fact that there is an app but it's not available on the Google Play Store or the Apple iStore is a letdown.
You are going to have to decide if you want to download the APK for the app or not.
So if you are looking for a new hook up site that's got a fair amount of users as well as localized searches and you are willing to pay a little more than most sites, OneNightFriend is worth checking out.
Frequently Asked Questions