Welcome to our comprehensive review of Daily Telegraph dating.
Yes, it's a dating site that forms part of the Telegraph media group.
It's something a little different from other online dating sites or dating apps then, that's for sure.
But perhaps it's just the site for you to find that perfect hook-up (like on BeNaughty or Ashley Madison) or a serious relationship (like on Tinder or eHarmony), right?
OFL Top Recommendations based on 100,000+ Survey

"Serious Relationships"
"Discreet Hookups"
"Best Course for Men"
"Quick Flings"
"Normal Hookups"
"Our Quiz"
This review of Daily Telegraph dating is going to look at many aspects of the site including:
There's a lot to cover in the Telegraph dating review, so let's get started.
Is your dating app giving you the best chance for success?
Make sure to take our online dating site/app quiz to find out.
It's a fact that people who follow our dating site suggestions have on average 2 extra dates per month.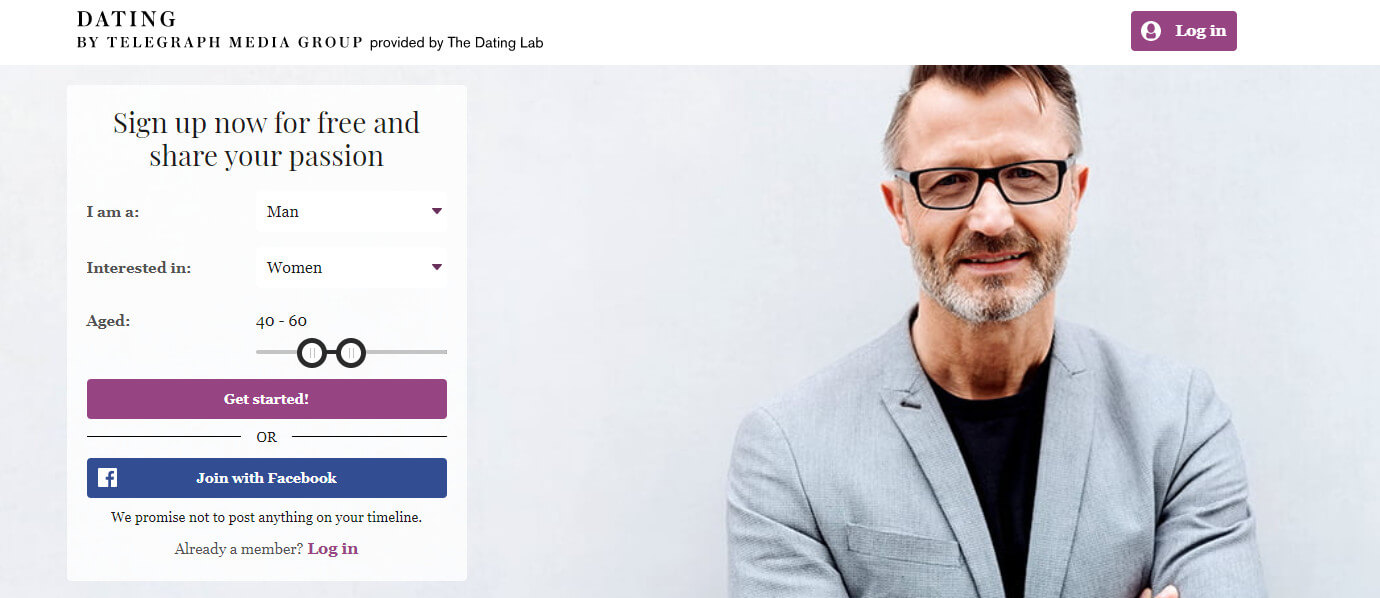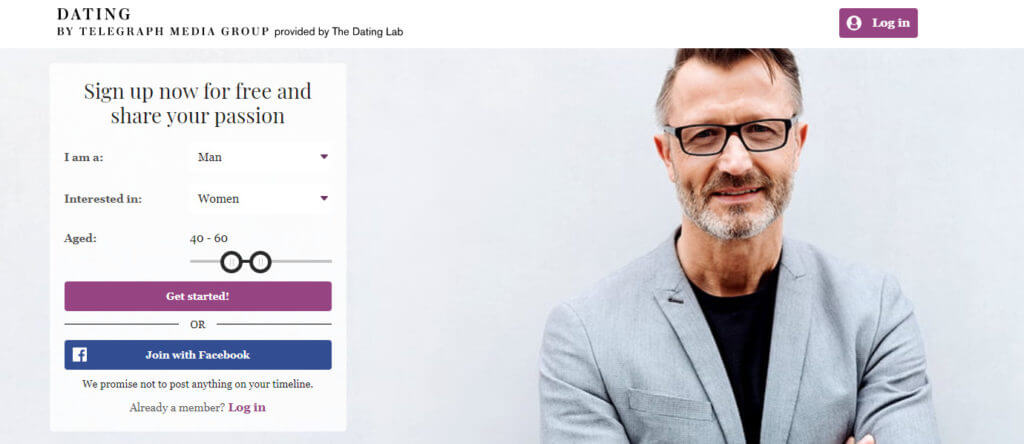 Ease of Use 4/5
Effectiveness – 3.5/5
Key Features – 3/5
Pricing – 3.5/5
Users well spread across all age ranges
Comprehensive profile
Excellent matchup service


Who Is It For/Demographics
The Telegraph Media Group Limited operates the well-known British publication, the Daily Telegraph in the United Kingdom.
And a dating site.
It's a little random, right?
But yes, they do own it.
OFL Top Recommendations based on 100,000+ Survey

"Serious Relationships"
"Discreet Hookups"
"Best Course for Men"
"Quick Flings"
"Normal Hookups"
"Our Quiz"
So this site is aimed more at people living in the United Kingdom than anywhere else.
Dating tip: Most of the users are from England, Wales and Scotland, so if you called Britain home, perhaps it's worth trying out.
Daily Telegraph Dating | By the numbers
Obviously, as this isn't a large commercial dating site, it's never going to produce user numbers like one of those would.
The template here is for a dating site that's aimed at readers of the Telegraph, plain and simple.
Here's a breakdown of some numbers associated with the site although total user numbers were unavailable:
Around 250 000 users on the site are from the United Kingdom
400 000 people are active on the site each month
That well over 10 000 per day
Those are super impressive.
The Daily Telegraph dating site sure is busy!
Gender ratio and user age breakdown
Before you sign up for a site, it's nice to know what percentage of the user base your gender is going to make up, right?
Also, if you can find out the age ranges of users on-site, you have an idea of just how many potential matchups you are going to find.
Well, looking at the gender ratio, it's fairly close which is what you would want.
55% of users are female
45% of users are male
It's interesting that female users are the leaders on the site.
Often with dating sites, you find males profiles that are more abundant than female profiles.
As for age ranges, well they make for interesting reading.
While 45 and older (which includes 45-54-year-olds and 55 and older) make up 40% of all users, it's interesting to note that the 25-34-year-old group with 30% of all users, is the biggest group on the site.
Here's a more in-depth look at the age ranges you will find on Daily Telegraph dating:
18-24-year-olds: 15% of all users of which 10% are female and 5% male
25-34-year-olds: 30% of all users of which 15% are female and 15% male
35-44-year-olds: 15% of all users of which 10% are female and 5% male
45-54-year-olds: 25% of all users of which 15% are female and 10% male
55 and older: 15% of all users of which 5% are female and 10% male
That does make for interesting reading, I am sure you will agree.
The only age group in which you will find more male users than female users is 55 and older which is to be expected considering many of these people would be Telegraph readers.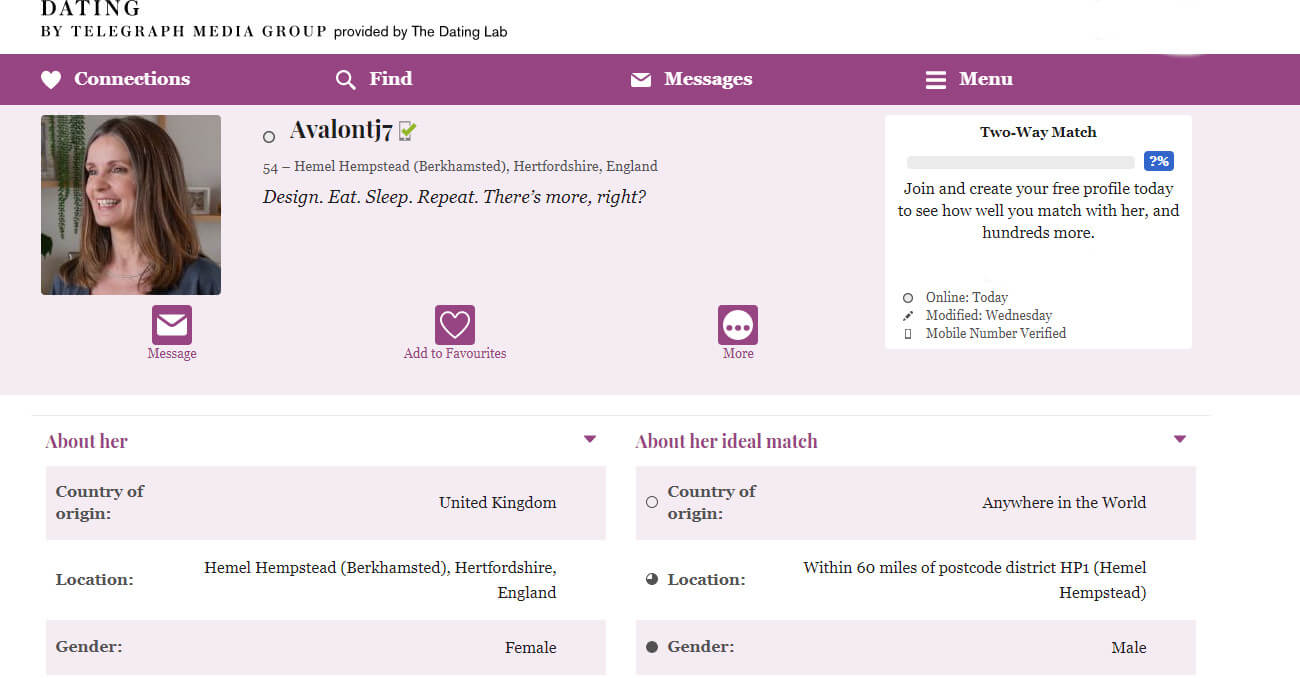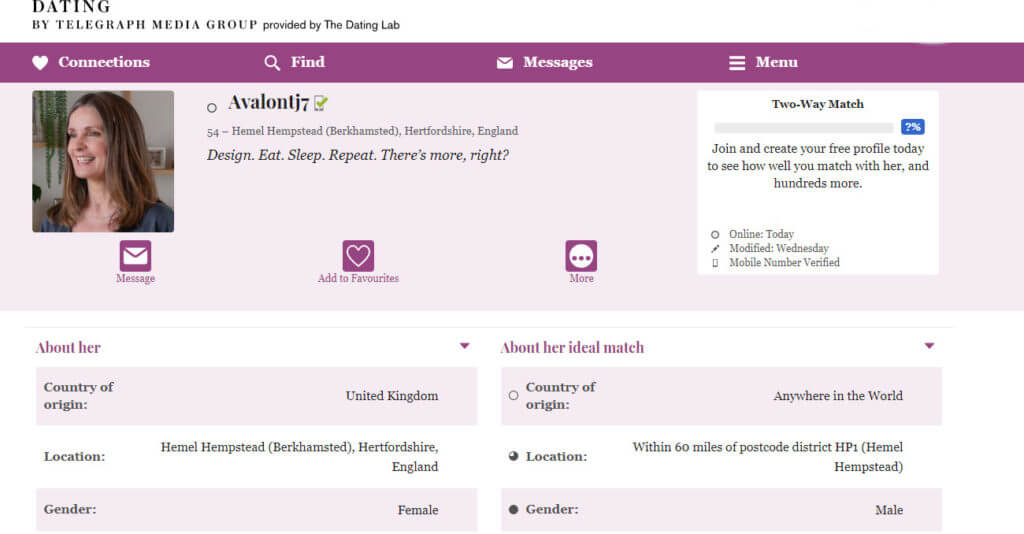 You are welcome to register your profile using social media, in this case, Facebook.
So you have to head on over to the registration home page to start.
The site is LGBT friendly and the whole process is simple enough.
You'd notice too that you Telegraph Dating is not just for people from the United Kingdom, but as we have seen, they make up the majority of members.
Interestingly, if the country you come from doesn't have enough profiles on the site to serve as matchups, you cannot start a profile on the site.
This is the information that you will need to provide to get the ball rolling:
The gender you are interested in
Their age range
Your date of birth
Your location (just the country)
A username
A password
Your email address
And that's just the beginning.
You will also fill in much of your profile while signing up as well as a personality questionnaire to help find the best possible matchups.
It's going to take some time to get this all done, around 30 minutes in total but it's worth it.
You can also upload up to 10 pictures for your profile.
And it's here that Telegraph dating is pretty strict.
In an effort to stop fake profiles and scammers, your location will be checked.
If your IP address doesn't correspond with the location you put in your profile, you won't be allowed to sign up as a user.
Your photos too will be verified.
After you've complete everything you can gain access to the site.
And straight away, you will be presented with matchups based on the questionnaire filled in during the registration.
Note, you will need to validate your email address to be able to use the features available.
Impressions of the Daily Telegraph Site
First up, you are going to immediately notice the color scheme on the site.
In my time of reviewing various dating sites, I don't think I have ever seen purple as a predominant color.
But it works.
The site itself is nothing really to write home about but looks aren't the important thing at all.
It's what it can deliver when you are online and looking for someone to date or have a relationship with.
What I do like about the overall design is that it is well organized.
Some dating sites have menus, menus and then still more menus.
That's not the case here at all.
There are just four that you will make use of in your time on the site.
These are:
Connections: Here you will find matchups that the site suggests. You can also see who has viewed your profile, who has favorited it, who you have favorited and if there are any mutual matchups
Find: Want to search for your own matchups? You can do that from here.
Messages: This is where you can find your inbox and outbox
Menu: This includes links to your profile, site settings and more.
And that's it!
They get the job done though and prove that you don't need hundreds of menus to make a dating site successful.
Daily Telegraph dating profiles
So let's take a little about profiles on the Telegraph dating site.
They are packed with information and really can tell you tons about a potential matchup that can help you decide if they are the person to reach out to.
In fact, I am not sure I have found a dating site profile that has so much information packed into it.
But what is there?
Well, to start a profile picture and a profile headliner can give you some idea if you should read further.
That's handy.
The profile is then broken down into the following sections:
About him/her: This includes all the information you'd expect in a dating profile like appearance and lifestyle parameters, relationship status, what they are looking for, religion, occupation, income and more.
What they expect in a match: This will tell you if you are a potential matchup for someone using all the information found in the above section but just relating to their match. It includes a two-way match indicator which gives you a matchup percentage. Obviously, the higher the better.
In his/her own word: Here users can describe both themselves and their matches in a few short sentences.
More about her: Another huge section of the profile filled with even more information about a person like their type of humor, what rules them, personality traits, music preferences, TV habits, what food they like and more.
Comprehensive.
That's the word that you will use to describe this website, that's for sure.
Is there a Telegraph Dating app?
Yes, there is.
It's not available in all countries, however.
The Telegraph Dating app works in much the same way as the website does and is available for both IOS and Andriod handsets.
The app offers you exactly what you can find on the website.
It's perfect to use when you have your phone handy and you have some time to spare, like on a train trip to work, for example.
It's also free.


So let's take about just how you can go about finding the right kind of matchups on the Daily Telegraph dating site.
Well, the site will provide you with potential matchups that you can browse through straight from the moment you get access.
That's because, during the registration process, you would have filled in that very detailed questionnaire.
And while it might have seemed time-consuming while you did it, this is the obvious benefit.
I found these matches more than worthwhile, especially when you delve a little deeper into each of them.
Remember, you can see exactly what each person is looking for in their matchup by looking on their profile.
Also, don't forget the matchup compatibility score.
If you don't feel like reading through a whole profile, then you can just see how much of a matchup you are with someone and then decide if you want to contact them.
You can also find if you have any mutual matchups.
That's where you like someone's profile and they do the same to you.
All of this can be accessed through the Connections menu.
But what happens if you want to search for your own?
Searching for love on Telegraph Dating
While matchups are great and can lead to finding the perfect person to get into contact with, searching is something you are going to do as well.
There are a few ways that you can do this.
If you click on the Search menu, you can:
Launch a search of your own
See who is currently online
View member galleries
Search by username
View new members
View the most popular members
View who has recently changed their profiles
Search by keyword
For regular users, you can only search using the regular search tool.
This includes:
Those prepared to become members of the site will have access to an advanced search engine.
This obviously includes all those parameters you can find in user profiles.
That means very specific searches are possible.
Reaching out to others on Telegraph Dating
Your options for reaching out to someone are pretty limited on the site.
There are no chat rooms.
There is no video chat.
It's just messaging, plain and simple.
But that's all you need I guess.
Messaging isn't for regular users although you can reply to a message that a paying user sends you.
So if you are prepared to wait for people to come to you and reach out, you could use the site for free.
Typically, however, dating sites work better when users reach out to others as well.
To do that, you are going to have to be able to message them.
As a regular user, you can add someone to your list of favorite profiles as well as like their profile.
But that's the extent of your interaction with them.


Let's just recap on what it is a regular user is allowed to do on Telegraph Dating.
They can:
View messages they receive
Reply to messages they receive from members
View full profiles
Add favorites and like profiles
Membership brings these added extras.
The one thing everyone on a dating site needs, messaging is unlimited for members of Dating Telegraph.
So there's no worry about counting how many messages you've sent, like on other dating sites.
If you think you could connect with someone, then fire off that message.
While Telegraph Dating provides matches for users and members alike, there is a perk for members.
And that's the fact that all members will have access to 1 000 matches in total that the site provides to them based on their profile and what they are looking for.
Members are allowed to upload private photos.
They can also choose who gets to see them.
4. See who has liked and favorited your profile
Want to know who your fans are?
Well, members can see who has visited, liked or favorited their profiles and act on that.
5. Search messages for keywords
This is a useful tool.
If you can't find a message then you can search for keywords that you know are in it.
Some membership features are more useful than others, but that's always the case on a dating site.
Often, what one member finds useful another one won't.
But here, I am sure you will find features other than messaging that will make you consider signing up.
But at what price would that be?
Well, Telegraph dating includes four different packages that you can choose from: 1-month, 3-month, 6-month and 12-month.
Here's a breakdown and note, the price is in British Pounds.
1-month: £33.95
3-month: £62 (£31.00 per month)
6-month: £90 (£15.00 per month)
12-month: £144 (£12.00 per month)
That's a huge 66% saving if you opt for the 12-month option over the one-month membership.
Of course, you have to pay $144 upfront.
And what happens if you find the matchup of your dreams in the first few months?
But it's always a conundrum in these situations and for each individual, certain packages will make sense over others.
Ultimately, we can't make the decision for you but I will say that overall, a month-to-month membership package isn't cheap.


Conclusion and Overall Rating
I've never seen a dating site that's part of a newspaper group but there are always new firsts in the online dating world, that's for sure.
Daily Telegraph does a more than solid job of providing a platform for you to meet other singles.
It's a well-designed and easy-to-use online dating portal.
What I love about it are the comprehensive profiles.
Some people may be put off by the fact that there is so much information to fill in here but it just takes 20 to 30 minutes of your time.
And when you are looking for potential matchups, you can learn so much about them from their profile.
While this site does take users from all over the world, it's obviously aimed at people from the United Kingdom.
But let's get onto a rating.
Daily Telegraph Dating gets 3.5 out of 5.
Frequently Asked Questions