Right off the bat, let us just say that Fairytrail is the perfect dating app in this precise day in age.
Why? In the world lockdown state, both IRL dating and traveling have become nearly impossible.
Fairytrail offers an opportunity to meet like-minded people – adventure seekers anywhere in the world. So, let's dig into this dating app review.
We will check out:
OFL Top Recommendations based on 100,000+ Survey

"Serious Relationships"
"Discreet Hookups"
"Best Course for Men"
"Quick Flings"
"Normal Hookups"
"Our Quiz"
Is your dating app giving you the best chance for success?
Make sure to take our online dating site/app quiz to find out.
It's a fact that people who follow our dating site suggestions have on average 2 extra dates per month.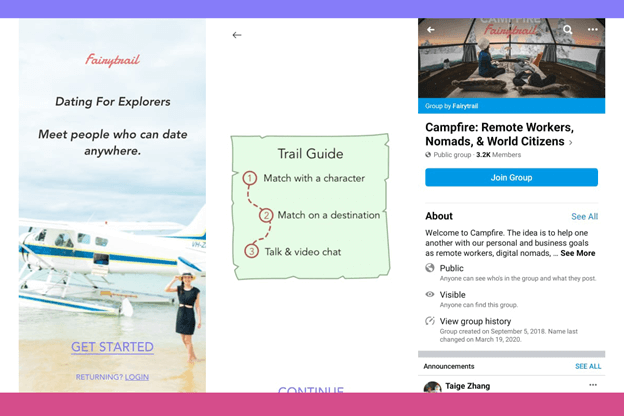 Effectiveness – 4/5
Price – 4/5
Ease of use – 4/5
Key features – 4/5
Overall – 4/5
Active membership base
No fake profiles
An innovative approach to online dating
Uses interests and personality types to match
Available worldwide to English-speaking people
Available for both iPhone and Android
Available to use on iPad
Besides profile browsing, all features require a subscription
You need to do the work to find a match – no match recommendations
Virtual tours require additional payment
Who is it for/ Demographic make-up
This dating app is perfect for young people who are looking for any type of adventure.
It connects people with the same travel interests and compatible characters based on fairytale characters they pick (more on that later).
It is especially suitable for the more and more present type of young working professionals who have the option or the desire to work remotely – i.e. the digital nomads.
If COVID – 19 epidemics has taught us anything is that human connection and travels are what we miss the most in life.
Hopefully, this will change soon, however, why skip out on adventures and possibly meeting someone who shares your beliefs while you are waiting for the world to start moving again?
Many people have decided to become remote workers and stay that way even after the crisis has passed.
Besides the digital nomads, people who can benefit from this app are those who like adventure and any kind of exploration as well as dating beyond their own ethnicity and culture.
OFL Top Recommendations based on 100,000+ Survey

"Serious Relationships"
"Discreet Hookups"
"Best Course for Men"
"Quick Flings"
"Normal Hookups"
"Our Quiz"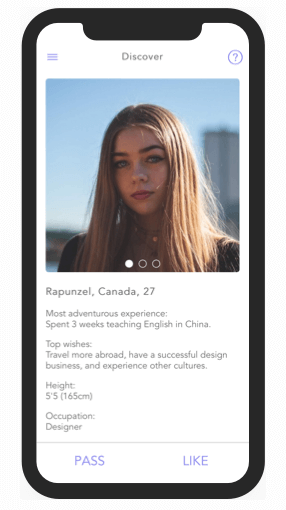 It is a dating app available for everybody as long as they speak English.
So, if you are a remote worker or an explorer if you speak English and are up for an adventure that can change your life but you haven't managed to find somebody who shares your passions so far this is the best dating app to help people of your interests find what you are looking for.
Also, if it is important that your matches are based on personality and not only the love for adventure, let us tell you that there is plenty of that going on in the app as well.
The majority of the user base in the Fairytrail are location-independent people from the USA aged mostly 25-44, looking for friendship, long-lasting relationships (like Tinder or eHarmony), or casual hookup (like BeNaughty or Ashley Madison).
Since it is a niche dating app you will find that all of the people there are adventure-loving individuals or digital nomads.
Compared to other dating apps and websites out there – Fairytrail has a significantly smaller member base – about 50 000. (It was created only back in 2019 so it is quite young and is expected to grow.)
The good thing about this is that they are active and there are over 1000 daily log-ins.
The members are mostly from the USA but other, English-speaking individuals from any ethnicity and background are welcome to join and share an adventure or two.
It is great for both guys and girls since the see distribution is 50-50.
Another great thing about this app is that there are no fake profiles, so if you match with someone it is bound to be a real-life person.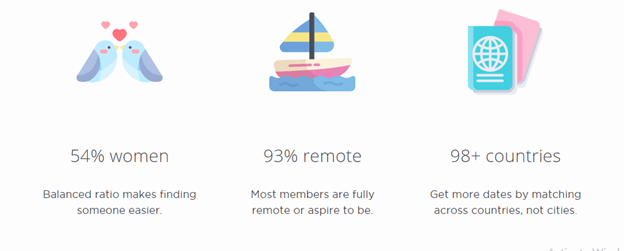 Profile quality is also quite good.
There are mandatory three photos that you need to provide, as well as a fairytale character photo you chose to represent you.
You also need to answer at least one of the questions to complete your profile – however, the majority of members choose to complete their profiles fully.
In an interview from April 2020, Taige Zhang, the founder of this innovative dating app said that this is the app for future generations that are going to be less fixed by their location and jobs.
At that time, the retention rate was 40-45% in the first week and 30% in the next month which is quite solid numbers.
Despite the pandemic, the numbers have not decreased in the last year, and it is expected that they will grow once traveling is allowed again.
The app was now giving only virtual tours and a chance to chat with people who like the same things as you. That was the only option.
The app is quite effective since its membership base is active and proactive.
A user suggested that the fact that you have to be actively involved right from the start is a great way to start some interesting experiences.
She also says that there is a huge difference in the quality of conversation that has to be much better when you match based on personality and interests and not just based on physical attraction and nice photos.
Other user reviews also suggest that the Myers Briggs analysis of the characters is on point and that you can learn a lot from the users' choice of character.
Another thing the founder has said is that they are looking to form a community of people who share the same interests and values and can connect online regardless of the part of the world they are located in.
There are user reviews talking about the actual real-life trips organized by Fairytrail.
They claim that the organization is secure, timely, and fun and that you can even go with a friend.
The fact that you do not make any arrangements by yourself ensures that you will go where you wanted to go and with whom you wanted to go.
It is safe to say that Airbnb or Tripadvisor would not partner with a company that does not deliver.
The app does not have scammers since they are usually unwilling to pay for a service, so people you connect with on the app are actual people sharing some of the interests with you.
Being filled with actual and active members, even though not that many of them comparing to other dating apps – Fairytrail gives you a realistic chance to meet someone- be it for friendship or relationship regardless of your sexual orientation, ethnicity, or current living location.
Here are some of the key features of this dating app that make it stand out from other dating apps.
You are required to choose a fictional character to represent you and your personality.
All the characters are determined by the Myers Briggs test (which you can take yourself) and find out what is your personality like and who you would be most compatible with.
Here is an example: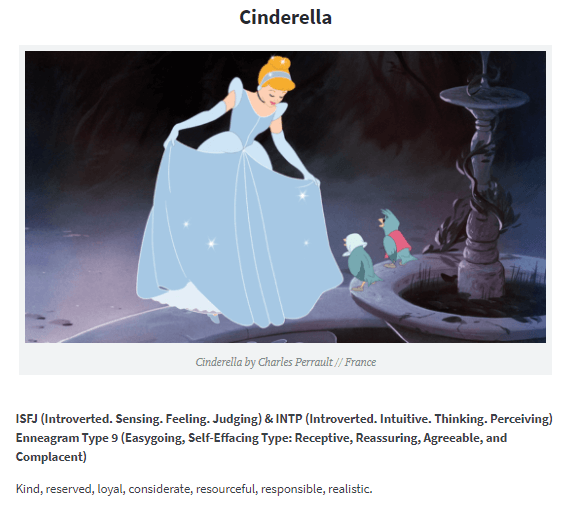 And, they are not only Disney characters – there are characters from Native American folklore, Chinese myths, African fables, and German fairy tales
You are presented with a number of results and you can go through the users as when you are using Tinder, swiping to either skip or adore.
You will match another user if you both adore each other.
Find the people who adore you on your "Adore" list.
In that case, you will be able to book a virtual tour and later a live one if you desire.
The most innovative and the most exciting feature of this dating app is actually this – since it is an app based on a mutual love for travel, you can pick a virtual tour of a location and join or match in it if you pick the same one.
You will do it via video chat.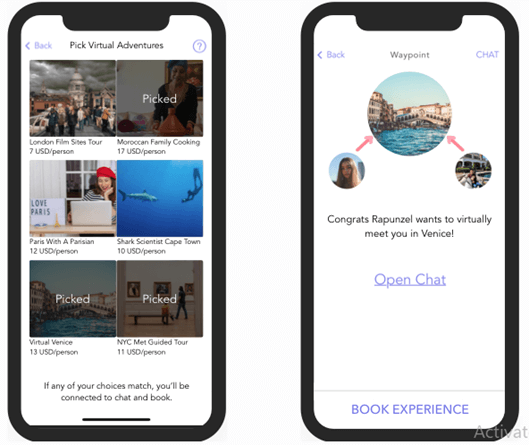 This could be a great first-date option, especially now when IRL traveling is not that possible.
It also gives you a safe space to meet a person a see if you are actually compatible without spending too much money on meeting in person.
After your video chat date, you can agree to meet up in person as well and as you are both either adventurers or remote workers you can meet up at any place in the world.
Those virtual tours require you to pay for them.
If you decide to meet your match in real life, there is some more good news for you.
Namely, the app partnered with worldly renowned companies such as Tripadvisor, Booking.com, Airbnb, nomads, Viator, and Draper to help you set up travel arrangements as easy as possible.
This allows you to be safe when you are traveling since the app will have all the information on where and who with you matched.
Your payment will go to the app first where they will wait for the other person to deposit their money, once both of you have paid you will be able to get tickets which eliminate the risk of getting stood up in a different part of the world.
The Truth Serum is a feature that allows you to discover your "adorability" i.e. the ratio between adores and skips.
You can get this feature upon making a one-time payment of $8.99.
Aside from using the app you can read a blog covering the subjects of dating, traveling, and the digital nomadic way of life.
You can find anything from tips and tricks for remote working or dating, and traveling information to some interesting facts about the app and the idea behind it.
There is a special page called "Stories" dedicated to this.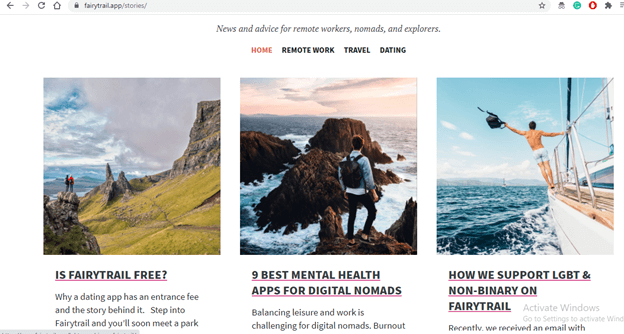 Another feature for all of the travel enthusiasts, as well as those who found their match on the app and have no more use from it, there is a Facebook group called Campfire community.
You can exchange more photos or interact with members freely even when you are not on the app.
When it comes to the ease of use of this app it is pretty straightforward.
First, you would need to download the app from the desired app store depending on the device you are using.
The next thing you would need to do is sign up.
Now, comparing to other dating apps this one will take you more time – about 15 minutes – if you want to do it right.
You can sign up if you are over 18 years old.
The information you need to provide is general information about you as well as an answer to the question about your remote engagement or past adventure.
You are required to submit 3 photos – preferably one of each: face, full-body, you in an adventure.
You will then have to pick a fairytale character to represent your personality.
How do you pick?
The source material that is used for the description of the characters is the Myers Biggs Personality Types.
What you can do is read up on the characters and pick one that is most like you – to figure this out read the character description or do the test yourself and find the same personality among the characters.
The very last thing you do is connect your account to your Facebook or Google account.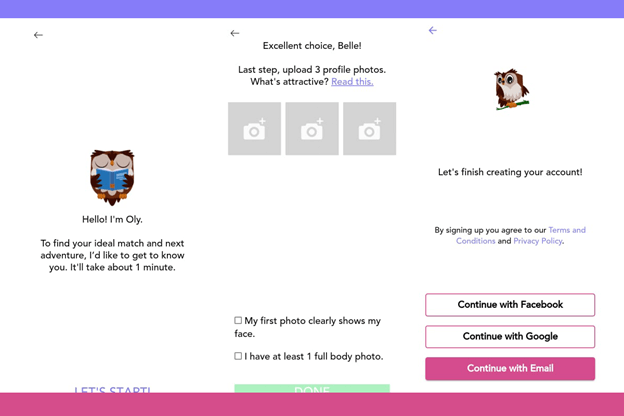 This ensures that there are no scammers that use the app.
The matching process goes in a similar manner as when you are on Tinder – you will swipe left or right to "skip" or "adore" the match suggestions.
You can see the list of people who adored you and you can adore them back.
Only then will you be able to start contacting that person – you can message back and forth, and match on the virtual tours.
When it comes to payment there are three options – each with similar perks.
The paying subscriptions include the entrance fee that you otherwise need to pay separately – for early birds it is $2.99 and the regular price is $9.99.
Subscriptions differ in one aspect and that is the number of results you get per search.
If you choose the least expensive option for about $14 you will get 50 results per search.
Your next possible payment plan includes 75 results per search for just short of $25.
The most expensive subscription plan – about $50 – comes with 100 results per search and the added bonus of your profile being seen first in the results.
You will notice that the subscription names are Amber Amulet, Sapphire Amulet, and Diamond Amulet.
The names are in keeping with the app's fairytale adventure theme connecting the names to video-game-type perks.
The payments are monthly and you can make them via credit card or mobile phone.

The user reviews of the app are quite favorable – the only thing the users are complaining about is the fact that you need to pay to use the app.
On the bright side, scammers will not use the app when they are expected to pay right away.
Conclusion, Overall Rating, and CTA
Overall, we say that this app is the future of dating for people who like to travel and work remotely.
It has an interesting and innovative approach to matching and online dating that encompasses actual social science, love for travel and other cultures, a contemporary working concept, and the appreciation for the restless adventurers.
And although it has IRL travels as the core idea, it managed to adjust to the ongoing situations just by offering virtual tours.
Acknowledging that no matter how free-spirited and adventurous we are, we all want that special somebody to share the experiences with – be it a friendship, mere companionship, or a deeper, romantic connection.
This is yet another reason why the travel-based app stayed in business and even grew in the midst of a pandemic.
So, did you start feeling wanderlust yet?
Did a door open for you, welcoming you into a new world of dating and working while having an adventure?
If it speaks to you at any level, just go for it. Grab a chance to experience something completely new!
Frequently Asked Questions