Collarspace prides itself on being a safe, sane, and consensual place on the internet for those interested in the BDSM lifestyle.
This Collarspace review will provide you with everything you need to know to have an enjoyable experience online in the BDSM community, regardless of your previous experience.
Pros:
Free to use
Access to graphic content
No messaging limitations
500,000 unique visitors per month
Discrimination is not tolerated
Cons:
Limiting regulations on kinks and fetishes
No mobile app available
Prone to fake profiles
Member Information
The information about members on the Collarspace website is left entirely up to them and how much they want to share. There are very few demographic questions required to be answered when creating a profile, limiting the required information on the userbase. However, all is not lost as many members share a great deal of information. Most members include information about their interests, what they are looking for in the BDSM community on Collarspace, and their level of interest in a relationship. You will find that some members are interested in a long-term relationship, while others are purely seeking the opportunity to engage in a sexual fantasy or one-time fling. Most members are upfront in their desires, which tempers expectations from the onset.
OFL Top Recommendations based on 100,000+ Survey

"Serious Relationships"
"Discreet Hookups"
"Best Course for Men"
"Quick Flings"
"Normal Hookups"
"Our Quiz"
Sign Up Process
RATING
2.5/5
While the site is free to use and provides easy access to graphics, it can be cumbersome at first. The Collarspace website will take you to a BDSM Personals website that looks entirely different from the main home page. Because of this, you may wonder if you are still accessing the same community. Rest assured that you are.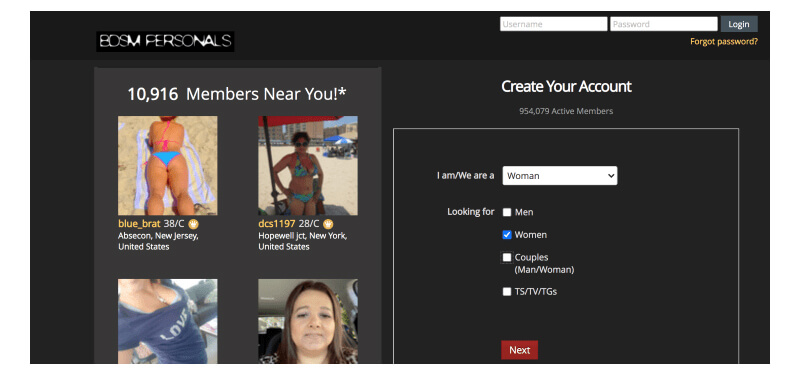 It is easy to sign up. You will be prompted to enter your birthday, zip code, and a few other demographic tidbits. Once through, you will be prompted to confirm your account via email.
Contacting People
RATING
4/5
Contacting people on Collarspace is quite simple. Once you create a profile, you have access to graphic images and videos. Profile photos do not have to be a photo of your face. In fact, most photos are related to fetishes, sexual prowess, or BDSM. Once you find something or someone of interest, you can click on the thumbnail photo and contact the member. It is important to note that you should avoid utilizing the website around small children as the content is graphic and sexually explicit.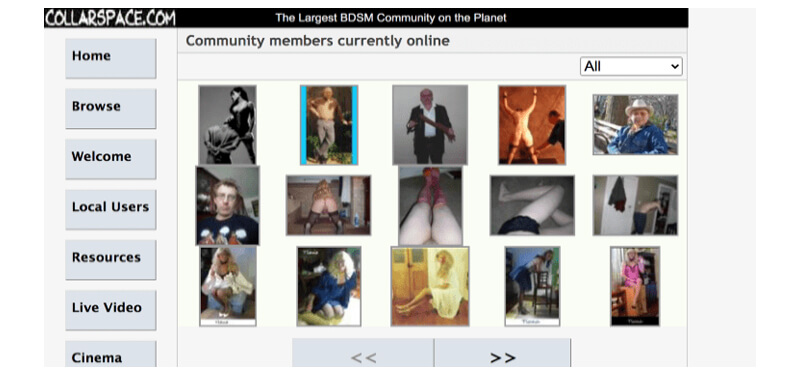 Contacting people on Collarspace is the easiest of all platforms, which is why it scored so well on our rating scale. To contact people, you simply click on their username. Once you click on a user's profile, you can learn more about them, see photos, watch videos, and even read journal entries if they have some posted. Another perk to being a member of the Collarspace community is that you will see whether someone is online in real-time. This will give you more of an opportunity to connect with someone because if they are offline, it is easy to miss a message.
Profile
RATING
3/5
When you create a profile on Collarspace, you can share as much or as little as you want. There are some standard demographic questions that you are prompted to answer, such as sexual orientation, body type, race, marital status, and interests. You can also upload photos and videos showcasing your interests or allowing people to see what you have to offer.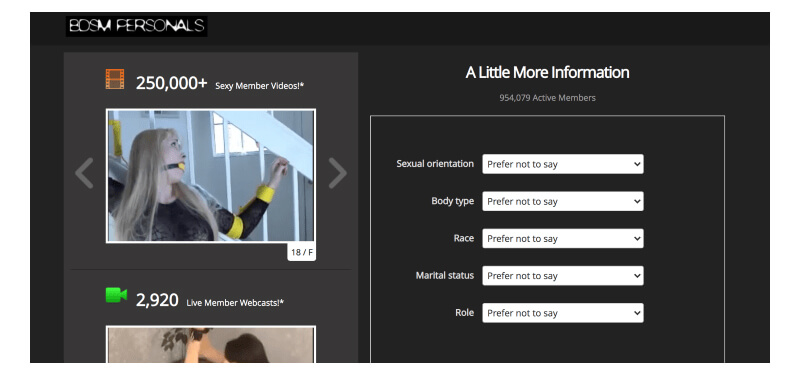 Collarspace requires that you enter the demographic information; however, you do not have to be honest. Nobody at Collarspace is checking your information to verify the accuracy of what you are contributing to the community.
The profile on Collarspace is average in comparison to other dating websites of the BDSM genre.
Mobile App
RATING
2/5
Collarspace on a mobile phone is limited in functionality. This is because Collarspace does not offer a specific app; however, they encourage members to access the Adult FriendFinder app to engage in relations with others while on the go. To download access to the Collarspace app advertised on their website, you will be directed to the iTunes store and will be prompted to utilize the Adult FriendFinder app.
OFL Top Recommendations based on 100,000+ Survey

"Serious Relationships"
"Discreet Hookups"
"Best Course for Men"
"Quick Flings"
"Normal Hookups"
"Our Quiz"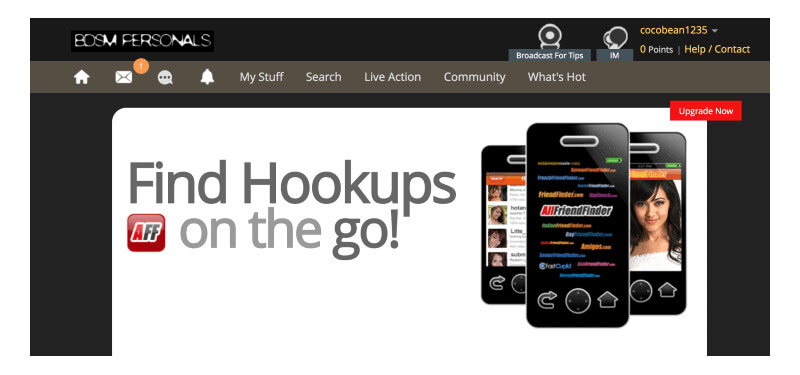 While the app is not bad, it is only available for iPhone at this time. It is combined with another app, making it challenging to decipher between Adult FriendFinder and Collarspace. It is important to note that the Collarspace website can be easily accessed from a desktop computer or mobile device. The website is optimized for mobile use, which is ideal for those on the go who do not have access to the app.
Membership Options
RATING
3/5
Collarspace is free and easy to use. However, if you want to invest in premium features, you can upgrade to an affordable paid membership plan, or you can purchase a small add-on feature to draw attention to your profile. Doing so is affordable and will allow you more access than the basic, free version.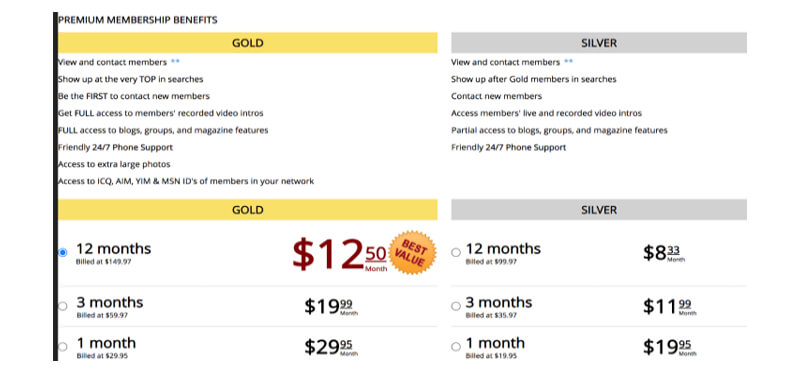 The best value is $12.50 a month for 12 months, and it is billed at one time. The gold membership will allow you to access customer service 24 hours a day, seven days a week, automatically make your profile show up at the very top of a search and allow you unlimited access to viewing profiles and contacting members.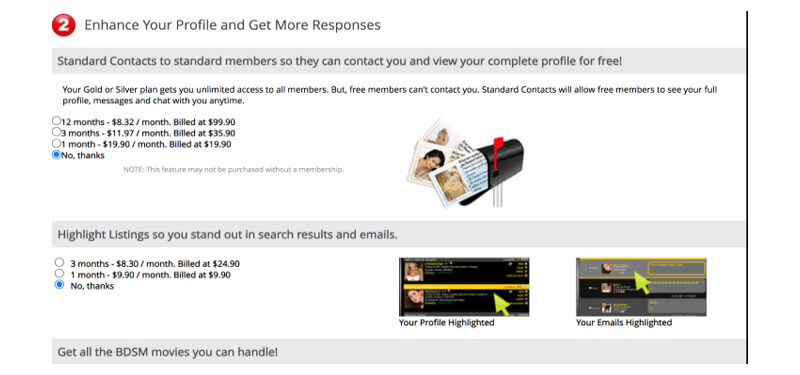 Another way to improve your Collarspace website experience is to purchase small add on features such as highlighting your listing so that you stand out amongst the crowd. For a small monthly fee, you can rise to the top of the page and draw attention to yourself with a profile highlight.
The Bottom Line
Collarspace is free and easy to use by anyone. Many choose to use Collarspace in conjunction with other online communities to supplement their options and BDSM activities. Whether you are new to the BDSM community or are a seasoned professional, Collarspace is a great environment to explore. It offers variety, is affordable, and is easy to use.
Frequently Asked Questions
Does Collarspace offer special features?
Yes. Collarspace offers events, resources, and access to admirers.
Resources are considered guides or informational works that help you get acclimated to the community. When you first join the Collarspace community, it is normal to be at a loss for what acronyms mean or shorthand slang. To help overcome this challenge, Collarspace has created resources to help you understand the community norms, LGBT issues, and how to properly treat a transgendered person with respect.
Admirers is a unique feature in that it allows you access to who has added you on their favorites list. While this is a great benefit, it is important to remember that this feature is reciprocal in that other users can see if you have favorited their account. You can remain anonymous, but you will need to take an extra step to do so. To remain anonymous, you will need to utilize the 'notes' portion to keep track of favorites.
Events are public and put together to attract the BDSM community. Past events have included fancy, casual, and laid-back experiences that strive to be inclusive for all. In addition to social events, there are orchestrated gatherings for community subsets as well. An example of this is the organized support groups put together for doms, swingers, and women.
Is Collarspace a global community?
Yes. Collarspace is a community that is well known as being the biggest BDSM space on the internet. It attracts thousands of users from all over the world. However, the most prominent representation of members tends to be from the United States and Europe.
Is Collarspace affordable?
Yes. Collarspace is affordable and does not require you to obtain a membership to be successful at accessing members. In addition to offering several payment options, Collarspace also offers affordable profile enhancements that are most often utilized to draw attention to your profile.
How to delete a Collarspace profile?
There comes a time when you feel like you have exhausted your ability to utilize a social platform any longer. When this happens, it is quite common to find yourself wanting to delete your profile. Once you have decided that you want to delete your account, you will need to log on to your account. Once logged in, you will need to use the 'main menu' to click on 'your account', and from there, you can choose to close your account.
How can I get in touch with Collarspace customer service?
Collarspace customer service is available to assist when a problem may arise. The best way to contact Collarspace customer service is to review their FAQ page. There, you will find a variety of resources to help you answer a question, report negative activity, or request that a member be removed from contacting you. While you will most likely need to fill out a customer service request form, you can expect to hear back within 48-72 hours.