People who have been in the cougar dating world for some time know how hard it can be to find a cougar you really like and cherish, and it is even harder to establish a relationship with her.
These days there are a variety of different cougar dating sites that promise to connect you with your cougar soulmate, and Dateacougar is certainly one of them.
This platform has been around for quite some time now, and it seems like older women really love using it to meet younger guys who will be able to satisfy all of their needs.
If you are a cougar searching for your next victim, or a younger man who is looking for the cougar of his dreams, this may be the right dating website for you.
OFL Top Recommendations based on 100,000+ Survey

"Serious Relationships"
"Discreet Hookups"
"Best Course for Men"
"Quick Flings"
"Normal Hookups"
"Our Quiz"
Our dating review will identify the following information that you should know about the DateACougar:
Cougarlife.com is running a deal right now, and we suggest that you don't miss out on this limited offer. It's the biggest Cougar/Cub site online.
Is your dating app giving you the best chance for success?
Make sure to take our online dating site/app quiz to find out.
It's a fact that people who follow our dating site suggestions have on average 2 extra dates per month.
Effectiveness 4/5
Features 3/5
Ease of use 3/5
Pricing 3/5
Audio and video chat features
Easy to use
Age gap search filter
Expensive membership
Doesn't have too many users
Mostly people from the USA
Date A Cougar is a cougar online dating site that was created in 2005, and since then, it seems to be connecting cougars with younger men all around the world.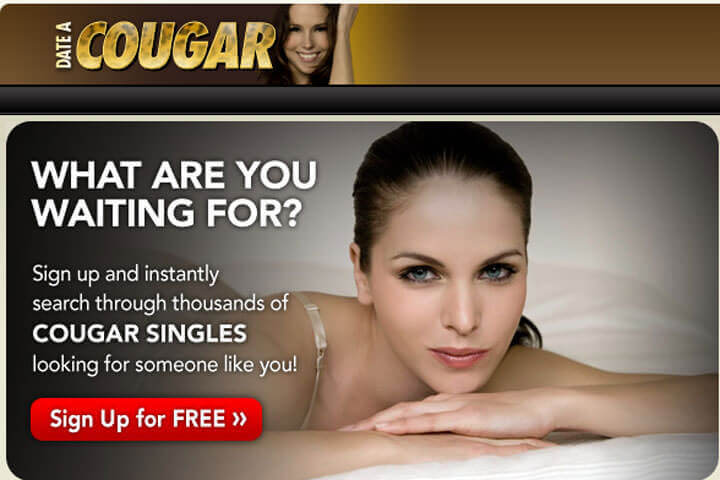 However, this older women dating platform is really not that popular, and it is something you should know upfront because it will certainly determine your whole experience on the platform.
With only 10 000 active users weekly, this is definitely not one of the best cougar dating sites, and unless you are living in a very big city in the USA, you probably won't have too much luck using it.
Even though it has over 2 million registered users, most of these profiles are not active anymore, so you will really need to invest time and energy in order to find those who are active and willing to exchange messages with you.
On the other hand, over 70% of users on this platform are young men, so you will really need to compete with other users if you want to impress a cougar lady on this platform.
OFL Top Recommendations based on 100,000+ Survey

"Serious Relationships"
"Discreet Hookups"
"Best Course for Men"
"Quick Flings"
"Normal Hookups"
"Our Quiz"
This is also the reason why so many women are already taken, and the fact that more and more men seem to be registering on this platform doesn't really sound too good.
You should be aware that over 95% of users are located in the USA, and they are usually in cities like New York, Los Angeles, or Chicago, so if you are from a much smaller place, you may be able to find only a match or two for yourself.
Overall, this website is really not that active, so we can't really provide you with too much information about their demographics because the truth is, most of these profiles may be inactive, and you may not be able to make a match for weeks.
However, since many people use it as a hookup app (like BeNaughty or Ashley Madison) and not so much for finding serious relationships (like eHarmony or Tinder), you will probably be able to find someone for casual sex from time to time, which is not a bad thing if you are looking for that sort of relationship.
When talking about the design of this website, we can say that Dateacougar.com is a pretty outdated platform, and its design and software haven't been updated since it was created.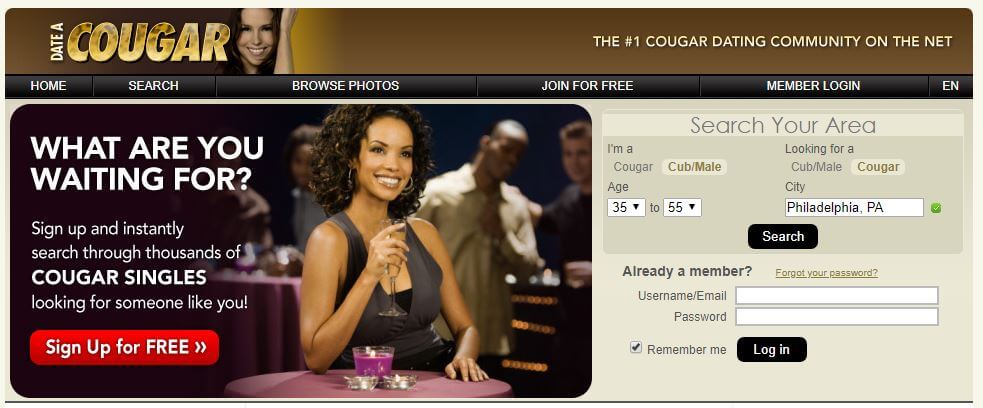 In terms of design and usability, it is mostly similar to Cougar Life, but this one, even more, looks like those old dating services we have been using at the beginning of the 2000s.
Although it is able to work well and it really doesn't have any sort of bugs and crushes which many cougar dating websites tend to have, so your whole experience should be pretty smooth, and you will probably be able to create a profile and find your rapid match without too many problems.
The homepage is quite simple, and it presents you with all the menus and options, so you will be able to navigate through it easily, just like you would through any other regular website.
Unfortunately, it doesn't offer any advanced search options, which is a pretty bad thing for online cougar dating, and it can really make the process of finding your partner a lot harder.
You also won't be able to see whether the person you find interesting has been active lately or not, which is a pretty bad thing and can lead to a lot of pointless messages sent to people who are not even using the platform anymore.
Users claim that it really doesn't have any bugs and that you will be able to use both the chat room and the instant messaging feature without any problems, but you should still be very careful.
It tends to have a lot of ads, so make sure you don't catch some sort of virus that can harm your device.
Ease of Use (Mobile and Desktop version)
Using Dateacougar.com is quite easy, even for people who have never used a dating platform before, and it really doesn't have too many features or options that can make things complicated.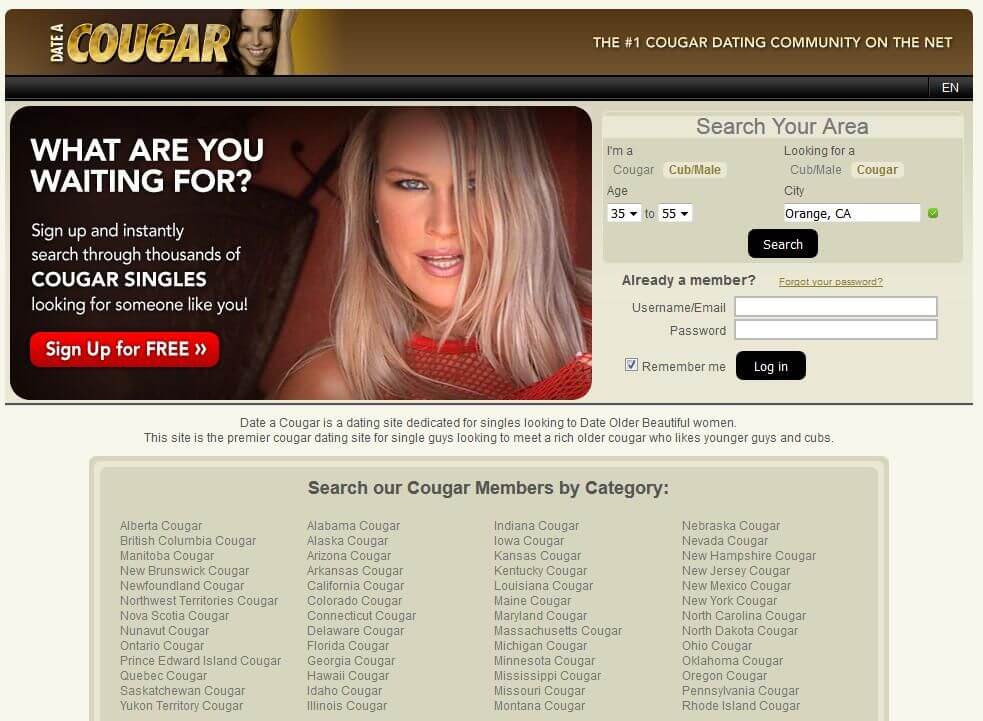 In order to make things easier for you, we will cover all the things you may need to know when using this platform and make sure you don't make any sort of mistake.
The registration process on this platform is pretty easy, and just like on most other dating websites, you will have to upload your basic information and connect your account to your e-mail.
Once you have confirmed your account, you will be able to open the platform and see other active profiles.
You will also be able to search through all mature women on the website, but you should be aware that you will not be able to see whether someone is active or not.
The platform doesn't require you to upload a profile photo, but it is recommended to do so in order to show you are not a part of any sort of scam.
Before your profile photo gets uploaded, it will have to be confirmed by the website's customer support, so make sure your photo is not offensive in any sort of way; otherwise, you may get banned from the platform.
The quality of profiles on Dateacougar is pretty much similar to that on Tinder, and you will be able to browse through all these milfs without any problems, but you probably won't find out too much about them.
You choose how much information you want to display o your account, and you are also the one who chooses whether everyone will be able to see them or not.
However, I believe the more information you upload, the higher is your chances of getting in touch with other people on the platform because profiles with little to no info always look suspicious.
Users are not really required to fill out any kind of questionnaires or leave any sort of information besides their name and location, so if there are some things you want others to know, you should leave them in your description box.
Everyone on the platform will be able to read it when they open your profiles, and in case there are some things you believe other people really wouldn't stand about you, you should always include them in your description and spare both of you of lost time.
Most people use it to show how much of an age gap is recent for them, and it is probably the easiest way to push off a milf who you consider to be way too old or not suitable for you.
You can also use it to describe your perfect partner because there are no special search filters, so this is probably as far as you can go.
Unfortunately, you will not really be able to differentiate between a real and a fake profile easily, but there really aren't too many problems with scam profiles on this platform.
The good thing is that you can set up sort of a block to protect yourself, and by that, I mean that you will be able to block messages coming from people of a certain age or from people who don't have a profile picture.
This can save you from many scammers but also help you to stop wasting your time on stupid bot messages that can be sent through these websites.
Connecting with other users
When it comes to connecting with other users on the platform, Dateacougar really provides you with a variety of different options, and you can choose the ones that seem to be the most suitable for you.
If you don't have a paid membership, you will still be able to send messages to other users, but they will not be written by you, and you will have to choose from some of those the platform recommends to you.
Dateacougar allows you to choose between 5 different types of messages – Ice Breakers, Humorous, Passionate, Expressive, and Sorry messages.
If you are trying to reach out to someone for the first time ever, the best choice for you is probably the ice breakers or humorous message.
I believe this is a really good feature because it will allow you to explore the platform and connect with many different people without spending a dime, even though you won't really be able to form an authentic bond with them.
The other great feature is the "Ask If She's Interested" option that will allow you to click a button next to your potential cougar's profile, and she will respond back if she finds you interesting.
You can do this with as many women as you want, and some of them will definitely be ok with messaging you back, so I believe it is a very good option for those who don't have enough confidence to be the first one to message.
However, unless you have a paid profile, you will not be able to send custom messages to anyone, so be aware of this.
Even though Dateacougar is quite a simple dating platform, it still offers some pretty useful features that can't be found on other ones.
These are some of the best features Dateacougar offers to all of its users, and you will really be able to get a lot of use out of them.
Video chat is available to everyone on the platform, and it allows people to start exchanging video calls before they even meet in real life.
This is a great way for getting to know someone you find interesting but still staying in your safe zone and not scheduling a real-life date.
Not too many dating websites and apps offer this kind of feature, so I believe Dateaocugar has really done a great job with it, even though there are not way too many people on it.
If you are shy and don't really want to show yourself on camera, at least not the first time you are chatting with someone, you can always use the Dateacougar audio chat option.
It allows you to talk with someone while doing whatever you want, and it can be a great way to establish contact with someone you find interesting on this platform.
3. The "Ask If She's Interested" button
This is an amazing feature that allows you to break the ice without actually sending any kind of message to your potential cougar.
By clicking on this button, she will see that you have an interest in her, and in case she likes you back, she will respond.
In case she ignores you, everything is fine, and you will avoid unpleasant situations because there will be no contact at all.
Dateacougar doesn't have a mobile app, so you will have to stick with their desktop version if you plan on using it.
When it comes to pricing, Dateacougar is really not that expensive as most other dating platforms, and you can start using it for a very decent amount of money.
Even though you can create a completely free account, you will not be able to send messages to other users without a membership, so at one point or another, you will have to spend some money on this platform.
Dateacougar offers you a 3-day trial that costs only 8 dollars and will allow you to explore all this website has to offer before you decide whether you will spend some money on a membership or not.
One month membership on Dateacougar will cost you 35 dollars, but you can choose to pay three or twelve months in advance and save some money.
In case you pay 3 months in advance, you will have to spend only 17 dollars per month, while those who pay a whole year in advance will have to spend only 5 dollars a month on their Dateacougar membership.
These are pretty good deals, but I would definitely recommend trying out this 3-day trial first if you want to make sure you are making the right decision by registering on this website.
However, this website is really not that popular, so unless you have really managed to find someone interesting during that 3-day trial, I would suggest saving up this money and investing it into some other dating platform.
As you can see from our Dateacougar review, this website really is not that bad, but the biggest problem with it is the fact that it is pretty inactive.
It doesn't have too many users, and even though there is a decent number of active users, they are usually located in bigger cities in the USA, and it doesn't really provide you with too many opportunities.
The website is very easy to navigate through, and it has some cool features like video chat, but unless you were able to find someone interesting while using your 8 dollar trial, I really wouldn't recommend investing in membership on this one.
There is far better cougar dating websites, and I believe you should give a try to some of these and completely forget about Dateacougar.
We hope you have managed to find enough useful information in our Dateacougar review and that you will be able to make the right decision after reading our little guide.
In case you believe Dateacougar is the right place for you to meet a perfect cougar, we highly encourage you to create a profile on this platform and get into the world of cougar dating.