Welcome to today's dating service review where we are going to evaluate something a little different from the norm, and regular dating (like Tinder or eHarmony) and hookup (like BeNaughty or Ashley Madison) sites to which we are accustomed.
That something is SawYouAtSinai.com and it's not strictly an online Jewish dating site but more of Jewish matchmaking service.
It's about finding you the perfect match using the personal touch of a matchmaker before the dating process begins.
It's clearly something that works because SawYouAtSinai's dedicated matchmakers have helped facilitate over 3000 success stories in the Jewish community around the globe.
OFL Top Recommendations based on 100,000+ Survey

"Serious Relationships"
"Discreet Hookups"
"Best Course for Men"
"Quick Flings"
"Normal Hookups"
"Our Quiz"
Now that's pretty impressive.
During this review, we will analyze and then clarify how different this matchmaking site works when compared to the algorithms used on other regular dating sites.
We will demonstrate:
There's much to analyze and explore, so let's jump straight in.
Is your dating app giving you the best chance for success?
Make sure to take our online dating site/app quiz to find out.
It's a fact that people who follow our dating site suggestions have on average 2 extra dates per month.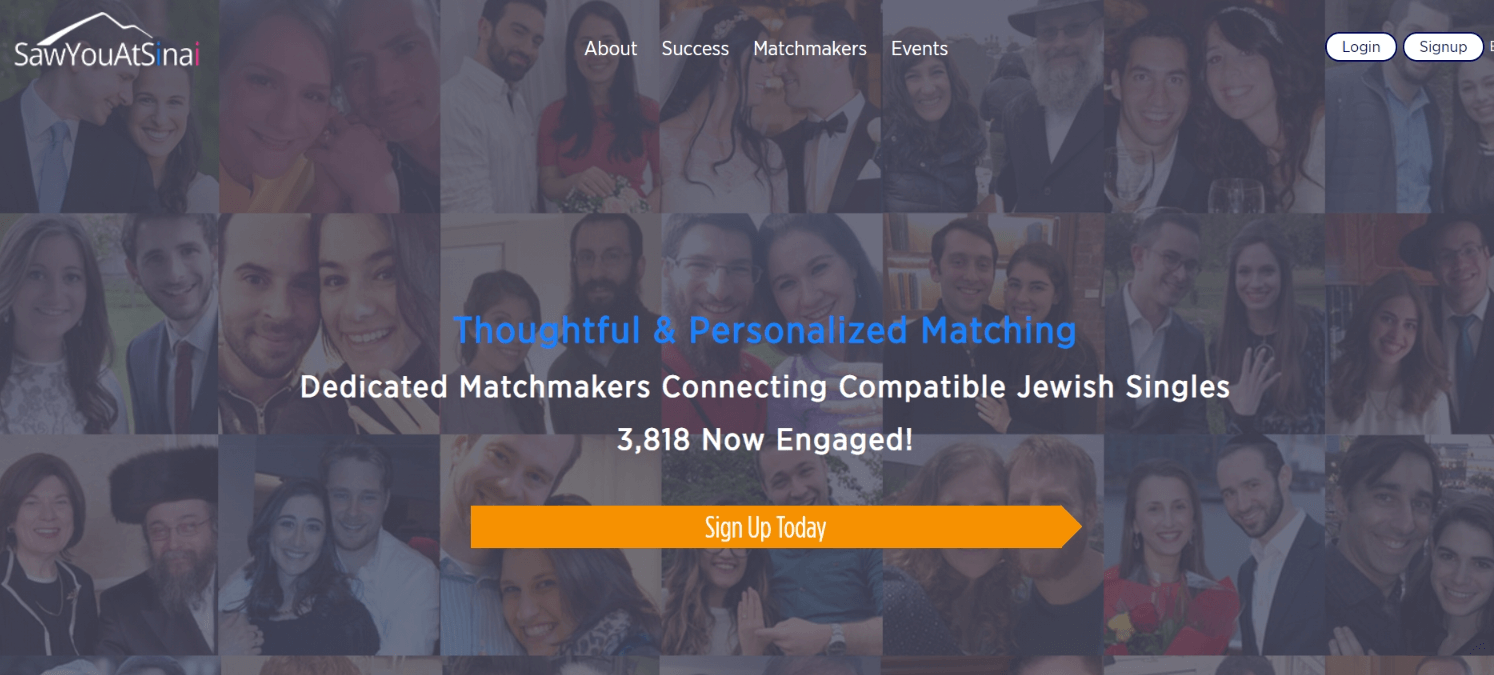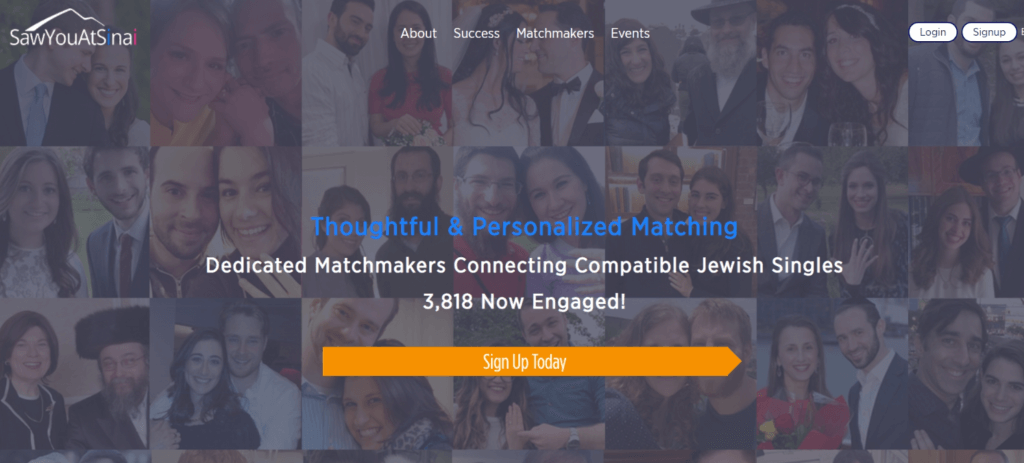 Ease of Use – 4/5
Success Rate – 4/5
Key Features 4/5
Pricing – 4/5
Matchmakings services send potential matches to each user
Comprehensive profiles packed with information
Surprisingly cheap
Website design is a little dated


Who Is It For/Demographics?
This is a site for Jewish Singles and Jewish matchmakers (often called Shadchans or Shadchanim).
While the custom of Shidduch (or arranged marriages) is still popular in the Jewish community, for other single men and women, using matchmaking services is the norm to help find that perfect partner.
That's why a site like this exists.
OFL Top Recommendations based on 100,000+ Survey

"Serious Relationships"
"Discreet Hookups"
"Best Course for Men"
"Quick Flings"
"Normal Hookups"
"Our Quiz"
If people didn't use it, it wouldn't be popular, right?
Of course, this isn't a regular dating site so it's never going to produce the user numbers that they would.
But here are some demographics, facts and figures behind the site to give you some more insight in SawYouAtSinai.
Around 30000 users are based in the United States
More than 3000 users log into the site each day
55% of users are female and 45% are male
Close to a third of all users are between the ages of 25 and 34 years old
Most age ranges are well represented, however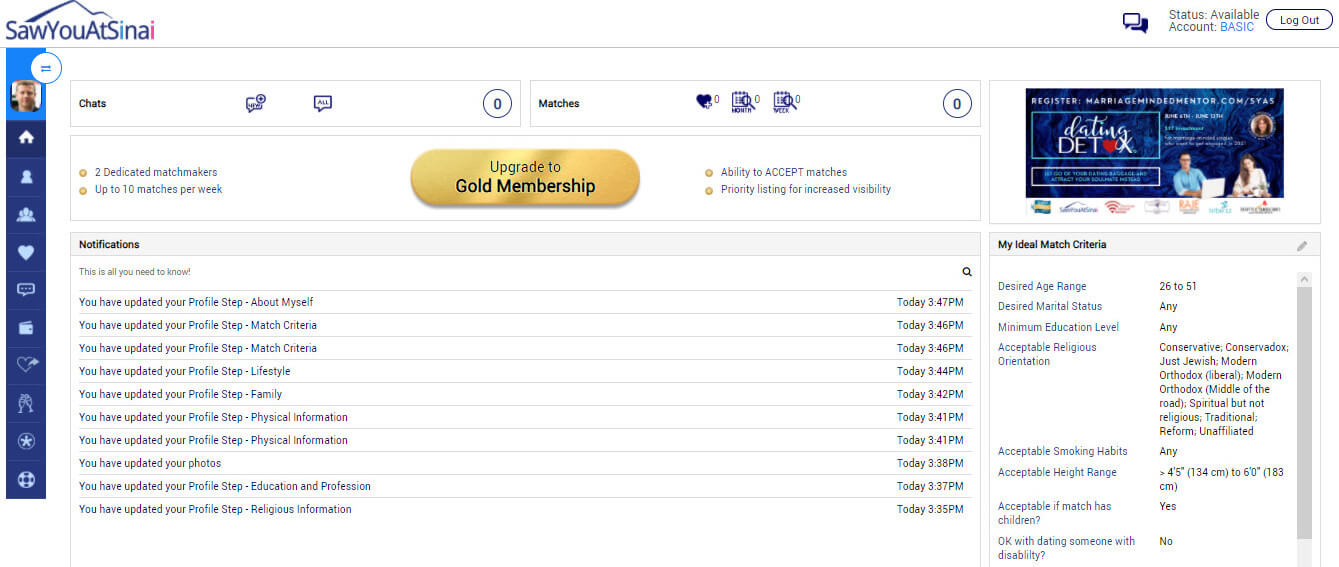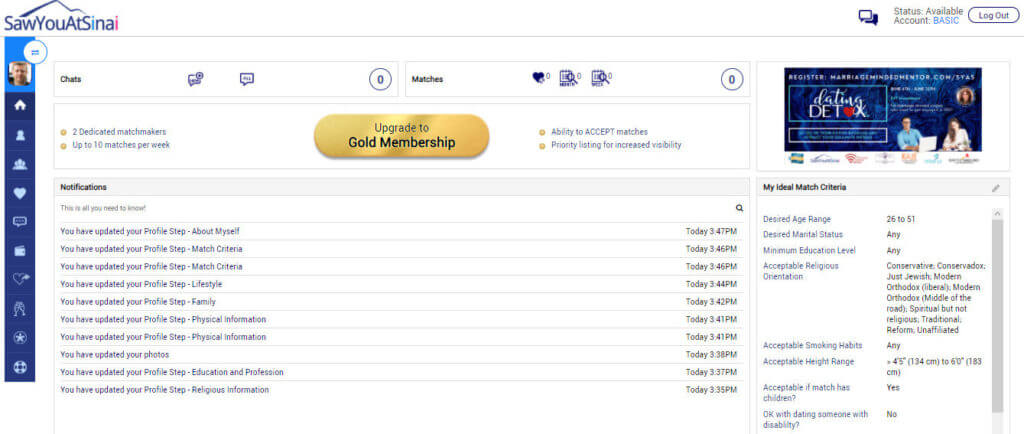 While SawYouAtSinai does have an app for both Android and IOS devices, I would suggest that you register as a user through the website.
The main reason for this is that the registration process is intensive.
There's tons of information that you will need to provide and it's going to be far easier to do so sitting at a laptop.
Once you have your login credentials, then you can explore SawYouAtSinai via the app if you'd prefer that.
Here's the information you will need to provide to start your registration process on the site.
Screenname
Password
Email
First Name
Last Name
Title
Country
Street Address
Zip Code
Mobile Phone Number
DOB
Current Religious Orientation
I can confirm that you have to fill in all of this information.
Yes, that includes your full address which I guess some might find a little off-putting.
Following that, your start the long process of filling in your profile.
This will take anything from 20 to 30 minutes and includes the following sections and questions:
Religious Information
Religious orientation (Conservative, Modern Orthodox, etc. )
Ethnicity (Ashkenazi, Sephardi, Mixed/Other)
Cultural background (for example, American)
Did either of your parents convert before you were born?
Are your mother and maternal grandmother Jewish?
Describe your family's religious background
Kosher (Always, At home, To some degree, never)
Education and profession
Secular education
Name of High School
Jewish Education
Profession
Job Description
Frequency of Synagogue attendance
Physical information
Profile photo
Appearance parameters (hair, eye color, height, body type, if you have any disabilities)
Family
Marriage status
Grew up in (New York, for example)
Number of siblings
LIfestyle
Political orientation
Smoking habits
How active you are
Are you willing to relocate?
Are you a pet person?
Languages (English, Yeshivish, for example)
My Matches Criteria
Age range
Height range
Marital status
Minimum education level
Can they have children?
Religious orientation
Will you date someone with a disability?
Kosher observance
Acceptable places for a matchup to live
Advanced search match preferences (body type, cultural background, ethnicity)
About Myself
What are you looking for in a person?
Short description of yourself
References
Despite the fact that all of this is compulsory, you can skip the About Myself section which seems a little bizarre.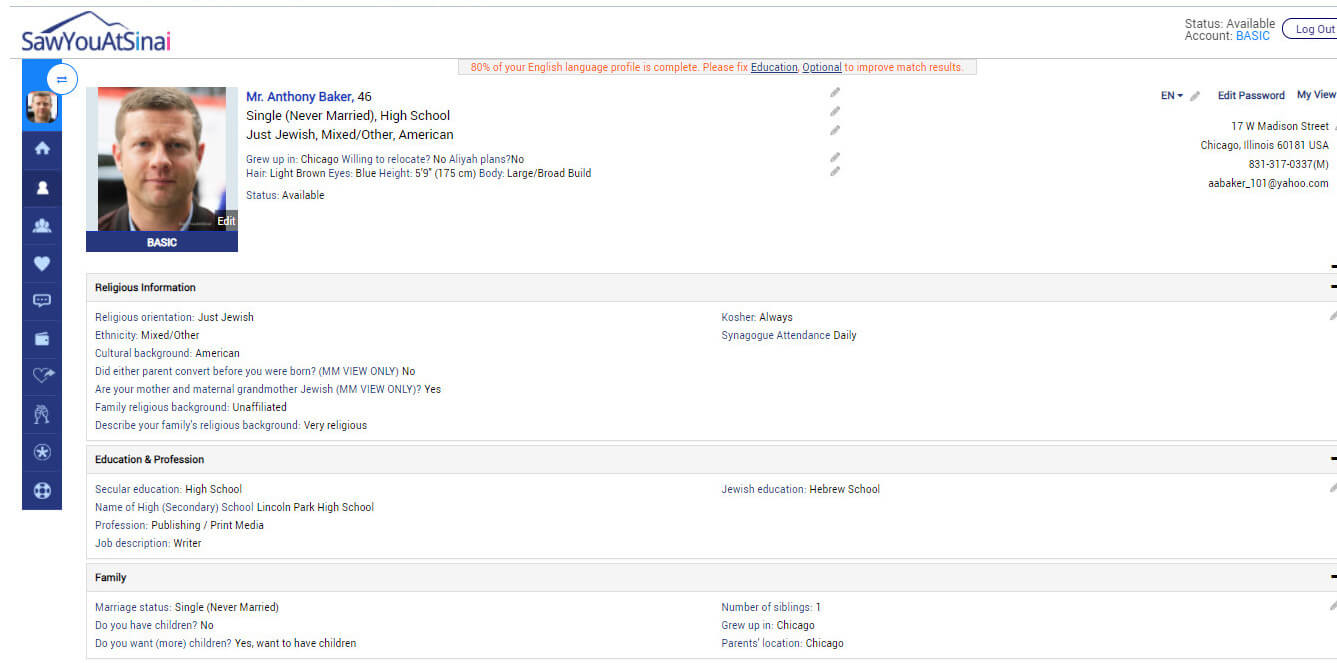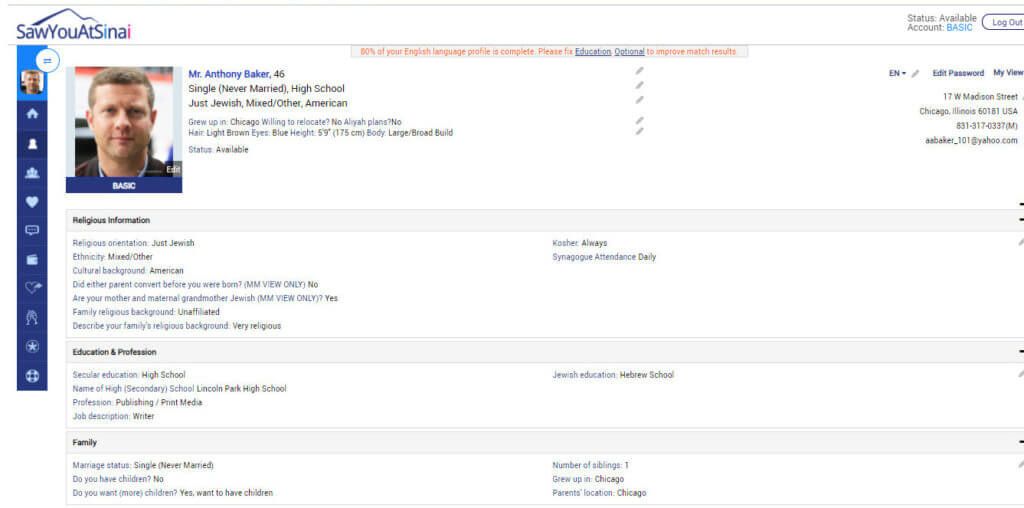 Once you've completed the full registration process, you are free to access the site.
There are some additions that still can be made to your profile, however.
You are welcome to edit it at any point and you can upload more pictures which is highly recommended.
As mentioned earlier, the app is available on both the Google Play Store and the App Store.
It seems that some people do prefer using it but it has only had around 1000 installs on Android devices.
It scores a rating of 4.0 on the Play Store and 3.6 on the App Store.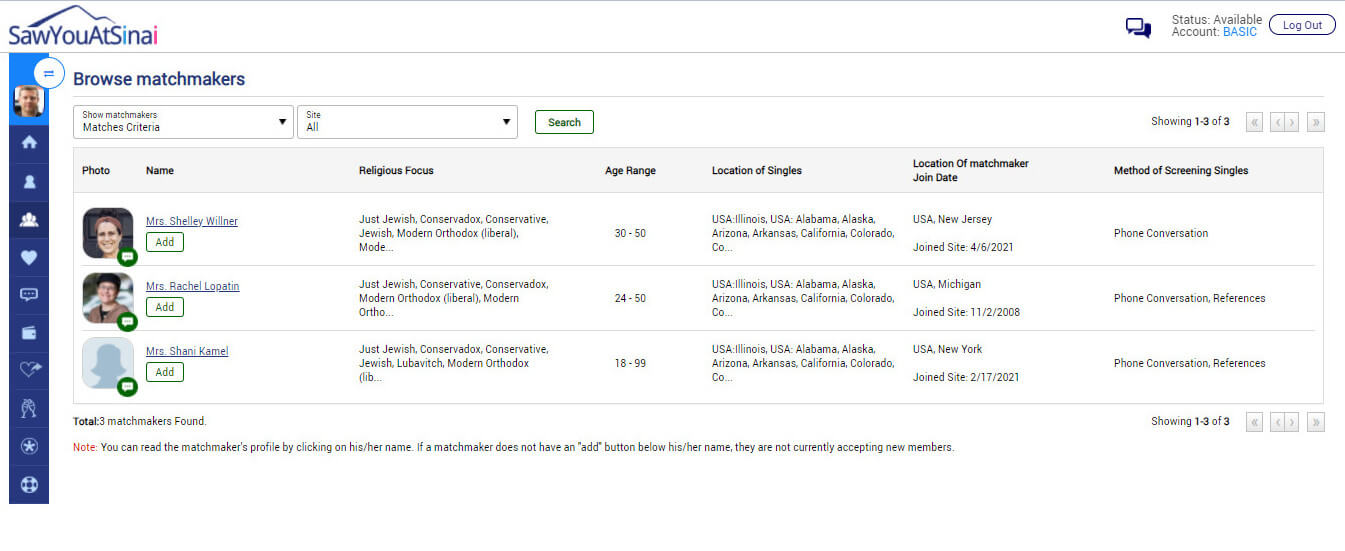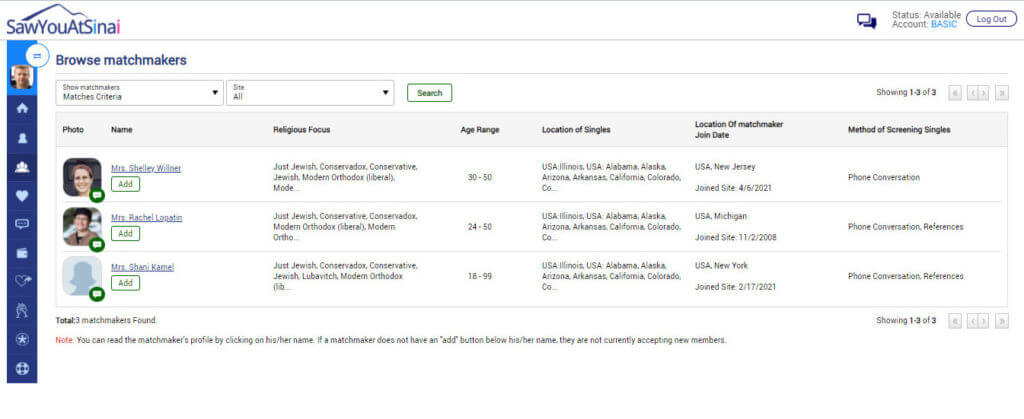 While observing what SawYouAtSinai has to offer, it's always important to remind yourself that this is not a dating site.
And it works very differently from how they operate.
The initial registration process which included filling in that comprehensive profile is perhaps the only similarity with a regular dating site.
Well, that and having to pay membership fees.
So let's get into how the site operates and what you can expect.
SawYouAtSinai is pretty bland when it comes to design.
It's not horrible to look at but it does come across as a little dated.
Once your registration process is over, you are taken to the home page.
This includes a link to upgrade for membership, a list of your ideal match criteria as well as any notifications that you should take note of.
You will immediately notice a menu system on the left-hand side of the page and two arrows above your profile picture.
Click on those to expand the menu system to easily see what each icon does.
And this is what you will find:
Home: This will take you back to the main page
Profile: If you'd like to make some changes to your profile, click here. There are a few optional questions to answer here and a five-question personality test to take. This gives matchmakers a little more information about you.
Matchmakers: This is a critical menu on the site and plays a large role in how it works. Here you will find potential matchmakers that you can use to help you find love.
My Matches: As soon as those matchmakers have found you some matches, they will start appearing here.
Chat: Here you can interact with matchmakers and potential matches
Membership: Click here to sign up for or to upgrade your membership. You can also see membership benefits to help you make your decision.
Suggest a match: Here you can suggest potential matches to matchmakers on the site. These can be people not even registered on the site.
Events: SawYouAtSinai holds events across the United States and the United Kingdom where you can attend and meet new people
Information: There are quite a few options that you will find under this menu. For example, you can get some profile tips, see who was recently engaged, read dating articles and get advice and more.
Help: Click here for the site FAQ, terms and conditions and contact details.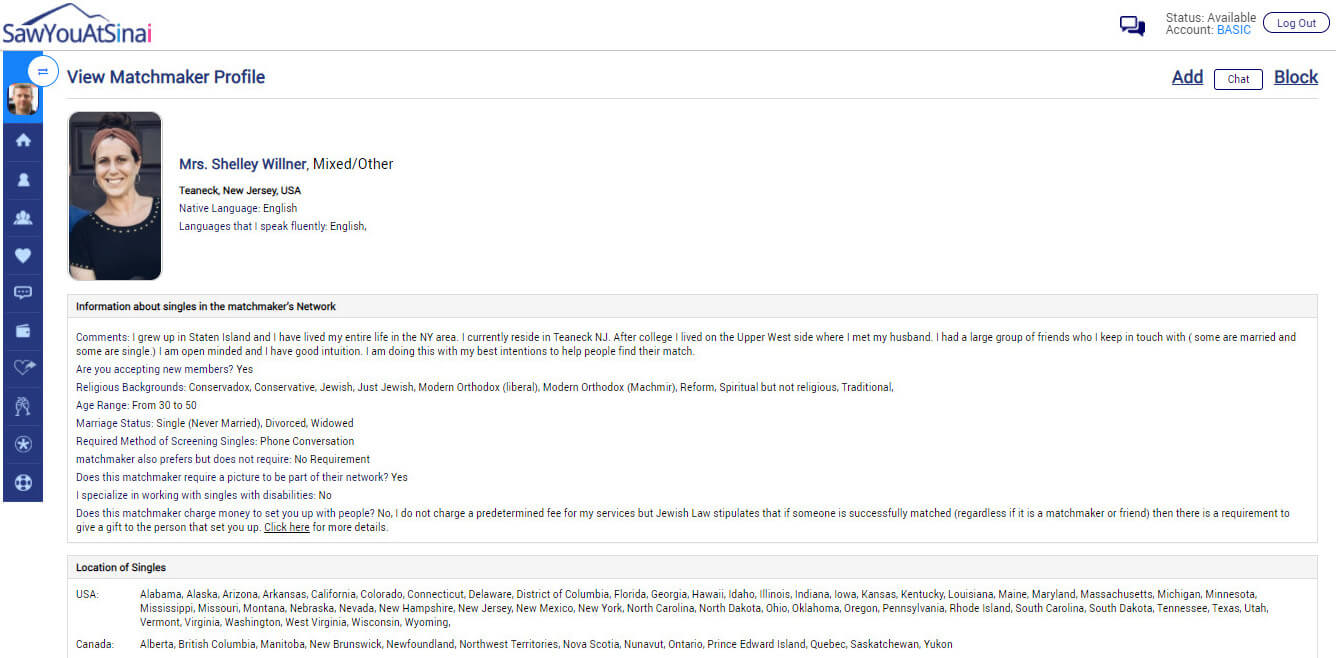 So how does it work then?
Well, you are not going to go searching for love, that's for sure.
In fact, by filling in your profile, you've done much of the hard work.
But to get the process rolling, you will have to take the time to find a matchmaker that will help you in the quest for the perfect match.
To do that, go to the Matchmaker menu and you will see a list of those in your city.
They too have profiles that you can examine in trying to find the one that is best for you.
When you find one, you can sign them up.
It's now their job to find a potential match for you, screen them and pass their information on to you.
Once you receive those matches, you can accept those that you like, hold on to those that you are unsure of and decline those that don't meet your tastes.
If you'd like to get to know someone a little better, you can chat with them through the chat feature on the site.
And then you take it from there.
While it may be very different from other dating sites, it clearly is a system that works, that's for sure.
Of course, the site does offer membership but what are the key features you can expect if you sign up?


There is no doubt about it, getting more potential matches is something that will happen if you sign up as a member of SawYouAtSinai.
And in this section, we are going to look at the key features that come with that membership.
But before we do, let's just remind ourselves of what a regular user can achieve on this Jewish matchmaking platform.
As a regular user you can:
Register for a profile on a site
Complete that customer profile and be listed on both local and global databases
Have access to excluding articles as well as the SawYouAtSinai dating blog
Be allowed to go to exclusive SawYouatSinai networking events
Receive one free match every week
If you are patient enough, it's possible to find excellent matchups without paying a membership fee.
But finding the perfect match is definitely going to be enhanced through membership
Here are the extras you can expect for your membership fee.
Members receive not one, but two personal matchmakers that are always working behind the scenes to find the best possible matchups.
These dedicated matchmakers will take into consideration exactly what you are looking for in your matchups but also make sure that you are a prized target for them as well.
This added personal touch goes the extra mile and is one of the reasons that SawYouAtSinai boasts so many success stories.
Note that Platinum members get three matchmakers helping them out.
Not only do you get two personal matchmakers that work with you side-by-side to try and find the best potential matchups, but your initial contact with them is a 15-minute conversation via phone call.
This just adds to their ability to get to know you a little better instead of just learning about what you are like from your profile and the questions you answered in it.
Your profile will receive priority listings with all matchmakers that are signed up to the SawYouAtSinai site.
4. Up to 10 matches a week
Gold members will not only receive one match per week like regular users on the site but 10.
That's going to significantly increase your chances of finding Mr or Mrs. Right.
If you sign up for Platinum membership, this increases to 12 matches per week.
If you see someone that you think might be the perfect match, you can quickly approve them to open some channels of communication to get to know them better.
While regular users won't get to see the full name of their matches, as a paying member of SawYouAtSinai, you simply don't have the issue.
All matches that are sent your way will include their full names.
7. Direct contact with your

matchmakers
If you need advice or any other input at any time, you can contact any of your matchmakers directly.
They are the experts after all and having this direct line of communication can really be an invaluable tool in helping to pick the best matchups, especially as each week you receive 10 of them.
8. Basic members can accept matches for your profile
This is only available to those who sign up for Platinum membership.
It's an excellent added extra because your profile will be exposed to those users who have signed up for the site but not taken out membership as yet.
Again, this is only for Platinum users.
The ability to override matches gives you full control of the matchmaking service on the site.
If you don't feel a matchup is right, you can override that.
That's a lot of added extras and they certainly exceeded my expectations.
I particularly like the fact that members receive 10 matches a week.
Within a month you would have had 40 quality matchups to look through and decide who to meet.
Also, you are in control, not anyone else, thanks to match approvals.
That's of course if they approve from their side as well.
Another highlight is the fact that you have two matchmakers actively looking for matches for you.
There's personal contact with them as well, which is critical for a matchmaking service, I feel.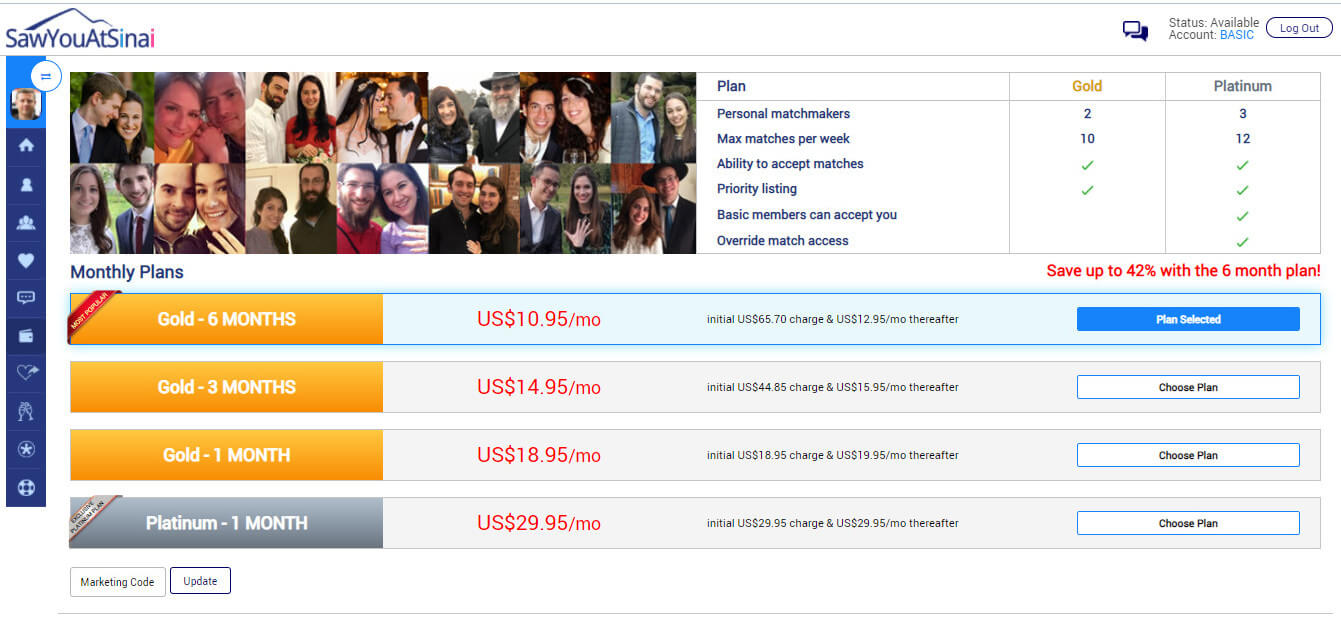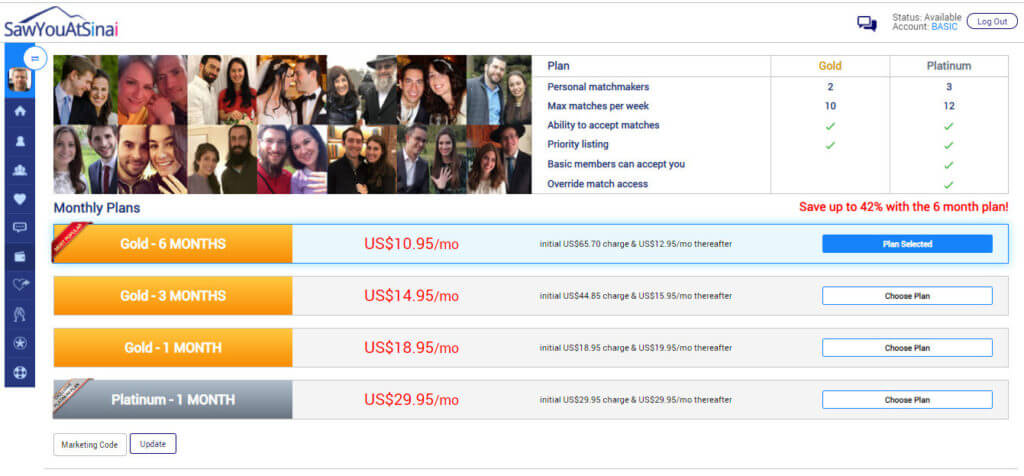 So we've established that there are two membership options on SawYouAtSinai: Gold and Platinum.
But how much are you going to have to pay for them?
Well, both offer a few options in terms of length of membership and pricing.
Here's a full breakdown for you to consider.
Gold membership
1-month: $18.95 per month
3-months: $44.85 ($14.95 per month)
6-months: $65.70 ($10.95 per month)
Platinum membership
1-month: $29.95 per month
If you analyze these prices against a regular dating site that has no personal matchmakers, for example, they are unbelievably impressive.
From my perspective, for what you will receive in terms of key features, $18.95 per month is a steal.
Especially on a site that's generated so many success stories.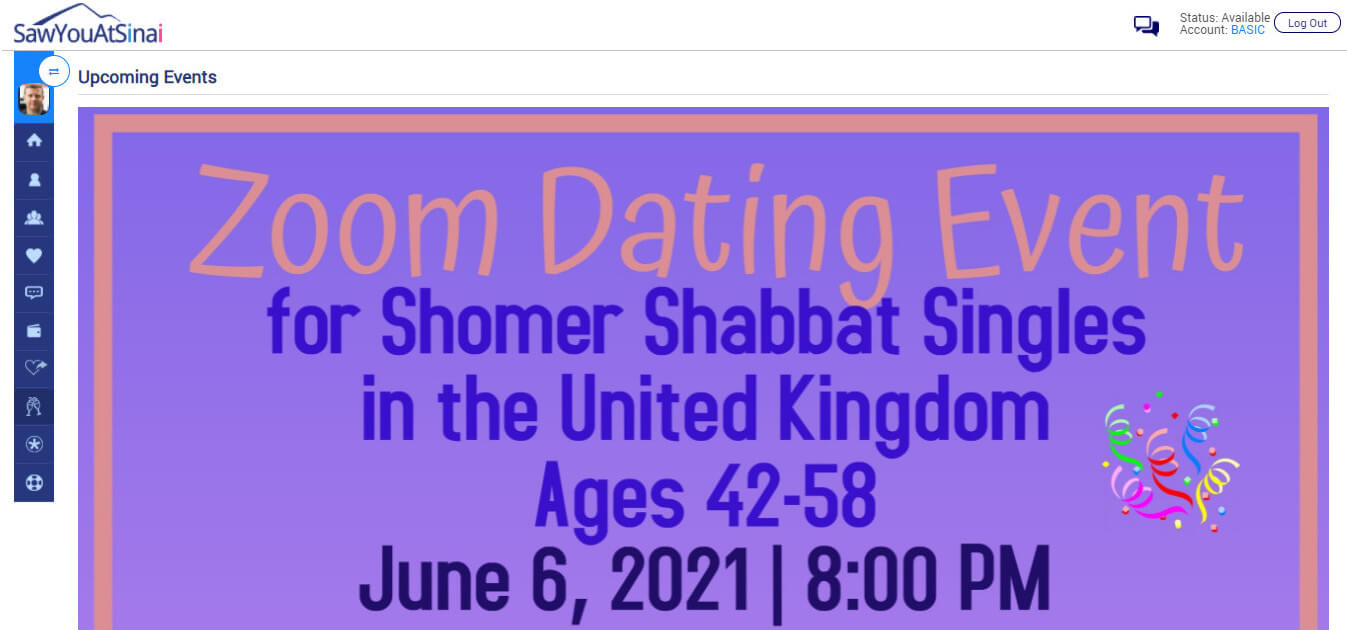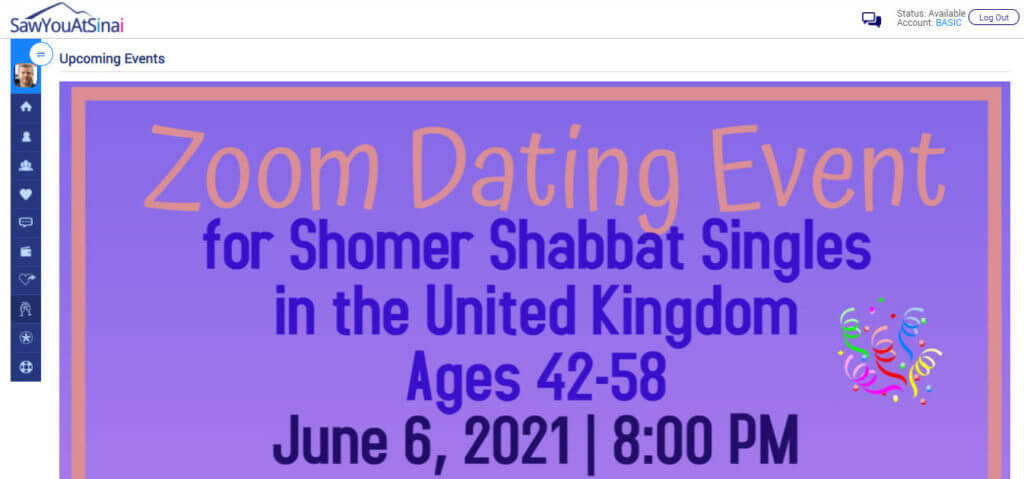 Conclusion and Overall Rating
That's it for our SawYouAtSinai review today.
To summarize, this is a site that, while very different, really does have something to offer Jewish singles, that's for sure.
You can only be impressed by the success stories that have come from people trying out its matchmaking services.
And while it's so different from the dating sites you may have used before, you won't have any trouble figuring out just how it all works.
If I have one critique, however, it's that some users may feel a little aggrieved at the detail the site goes into when you register your profile.
Is it really necessary to get someone's physical address?
I am not sure it is but I guess those behind SawYourAtSinai have their reasons for asking for information like this.
I was impressed with how easy the site is to use, even though it's something I'd never experienced before.
Also, there are tons of key features for those willing to sign up for membership.
For me, the extra matchmakers and the personal contact they offer help to confirm why people have success in finding their life partners here.
The matchmakers certainly know what they are doing but at the end of the day, you as a user are always in control.
Finally, because of what the site is and that it is different from traditional dating sites, you could have expected membership fees to be pretty expensive.
But I was astounded to see that they were so cheap.
It makes using the site and signing up for membership a no-brainer in my book.
To conclude, if you are Jewish and looking for love, SawYourAtSinai is worth your attention.
It gets a rating of 4 out of 5.
Onlineforlove's review team has tested SeeYouAtSinai for a long period of time.
We have concluded that this is an incredibly successful matchmaking service for Jewish singles and it has helped facilitate over 3700 engagements.
The full evaluation of the services offered by SeeYouAtSinai was based on the following critical factors: pricing, how easy the site was to use, the success rate of the matchmaking services, and key features, amongst others.