While it's got an interesting name, according to Wildspank.com, this is a place "for singles to meet lots of affectionate like-minded… If you enjoy a wild spank".
So what is it?
A BDSM or fetish site, or just a dating site that's chosen an interesting name to help generate some interest?
Well, you can rest assured that we will assess and evaluate all that Wild Spank has to offer in the online dating website review.
OFL Top Recommendations based on 100,000+ Survey

"Serious Relationships"
"Discreet Hookups"
"Best Course for Men"
"Quick Flings"
"Normal Hookups"
"Our Quiz"
Along with that, this WildSpank review will find out:
So if you've come across this site and wondered what it is all about, then this review of WildSpank is a must-read.
Is your dating app giving you the best chance for success?
Make sure to take our online dating site/app quiz to find out.
It's a fact that people who follow our dating site suggestions have on average 2 extra dates per month.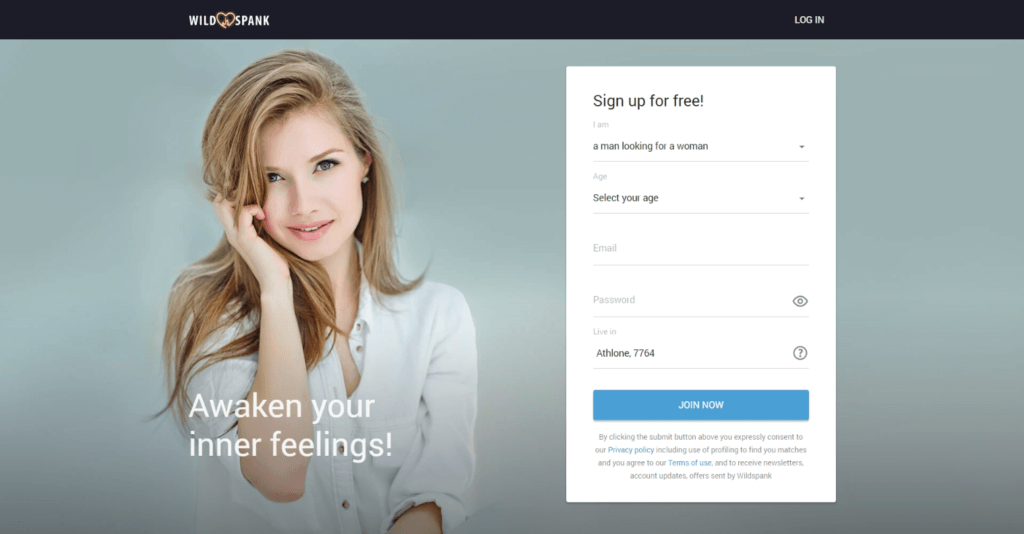 Ease of use – 5/5
Effectiveness – 1/5
Key Features – 3/5
Pricing – 3/5
Well designed
Simple to use
Well priced membership
Bot messages sent by the site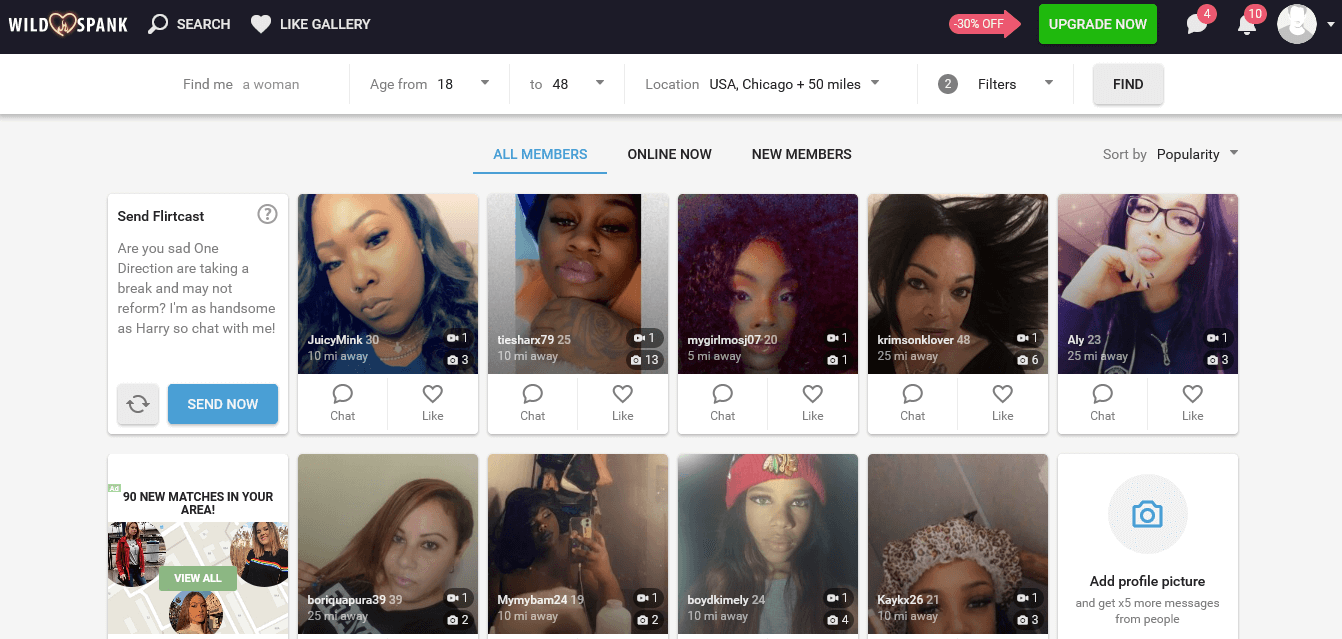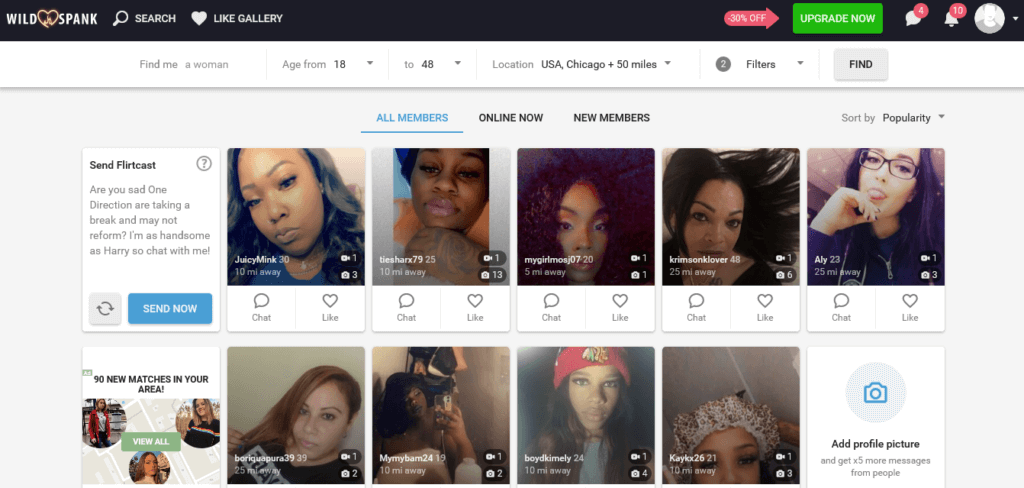 Who's It For/Demographics?
While it's certainly not a bondage or fetish site, Wild Spank is marketed as a casual dating site where hookups are the name of the game (like BeNaughty or Ashley Madison). If you are looking for something more serious you should choose a different website (like eHarmony or Tinder).
It clearly is a smaller hookup site because nowhere is there any indication of just how many users have signed up for profiles here.
I guess that, if you live in a larger American city as I do, you are going to find people using WildSpank.
And I am pretty sure that there are few similar sites all run by TimeSpace Holdings that are set up in the same and that share profiles.
That's because I have seen this dating site template on many occasions.
OFL Top Recommendations based on 100,000+ Survey

"Serious Relationships"
"Discreet Hookups"
"Best Course for Men"
"Quick Flings"
"Normal Hookups"
"Our Quiz"
As for user age ranges and the gender ratio of the site, again, there was simply no information to find these kinds of stats.
Emailing the admin team didn't help either.
With no app for either Android or IOS devices, to register for your profile on WildSpank you will need to start at the website.
Although there is no quick social media log-in option either, the process isn't very time-consuming, even if you choose to fill in parts of your profile.
This can be skipped, but it's better to get it done, although it seems that even without filling in your profile first up, you will get messages anyway.
But more on that later.
As with just about every other dating site out there, you will need a valid email address if you want a profile on the site.
Provide your gender, the gender you want to meet (WildSpank is LGBT friendly), a password and you are good to go – well, once you have validated your email anyway.
As mentioned earlier, you are then given the chance to upload a profile picture as well as fill in a section of your profile.
I will cover that later in the review if you want to know how long it's going to take as well as the information you will need to provide.
I do just want to highlight one thing first, please.
From the time you hit the site, you will notice pop-up messages of people wanting to talk to you.
Now while this mostly is actual users, these are fake messages.
They are not written by these people.
That's because, when you are initially asked to include your profile picture and partially fill in your profile, there is another checkbox to tick at the bottom of the page.
This promises to promote your account, sending messages on your behalf, and "like" other users' profiles.
It's all controlled by the site itself and it is deceitful if I am honest.
Luckily, if you uncheck the box you can stop this.
And if you go to the My Settings menu (by clicking on your profile picture when on the site), you can deactivate the Promote My Account feature if you missed it in the beginning.
From the moment you are on the site, these messages will be coming flying into your inbox.
For me, it's just a way to get you to sign up for membership because you have no way to reply and if you didn't know they were autogenerated, you might be keen to reply.
Who wouldn't, especially if a beautiful woman or handsome man has messaged you.
Just type "WildSpank scam" into Google and you can read more about this.
I am not saying there aren't real users here, not all.
I spoke to quite a few of them myself, but the automated messages leave a lot to be desired.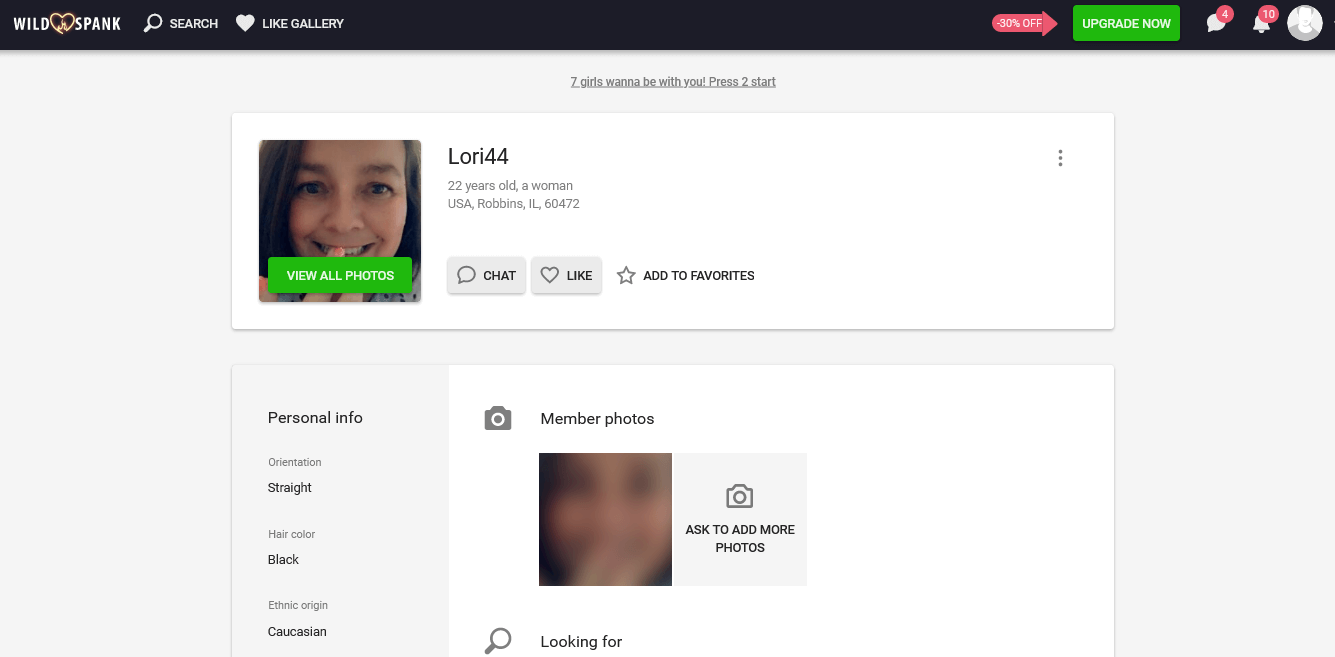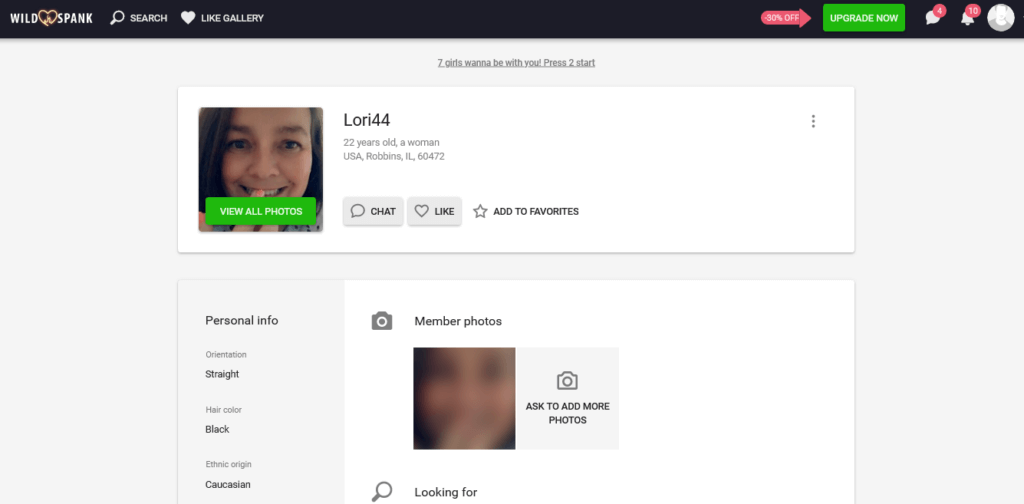 Finding your way around the site
Ok, so with my rant out of the way, let's talk a little more about the site.
You will notice that it is very well designed and uses the main viewing area with the menu system above it.
This is my favorite configuration for dating sites.
On the left-hand side of the screen at the top are two menus which you will use often:
Search: This basically is the home page for Wild Spank. If you click this menu or the WildSpark logo, it brings you to the matchup returns the site has found for you near your location. The default setting is within 50 miles where you live. This is something we will talk about more later in the review.
Like Gallery: If you prefer to see those matchups one at a time, click Like Gallery. Now you can view them in a larger picture format. You can then either pass or like each individual. You can also send them messages from this page.
There is also a menu system on the right-hand side. There are three menus here but now they take the form of icons.
Speech bubble: This is your message menu. And you will get lots of them. You can read some of them here but for others, you will need to be a member.
Bell icon: These are notifications that you can read as soon as you click the icon.
Profile picture: There are several sub-menus that you can access here. Of course, you can edit your profile as well as check out site settings, log off if you'd like to, see activity on your profile, access your messages and enter the help portal.
Actually, the menu system and the overall simplicity of it all is something I like about this site.
It really isn't confusing at all.
If you fill it in at the beginning or after you've looked around the site a bit, you should take the 10 minutes needed to complete your profile at some point.
Start by uploading a picture as the admin team at Wild Spark says that profiles with pictures get two times the views.
I am not sure if that means two times the bot messages, because that would be a bad thing.
Here's the information that profiles on WildSpank contain.
Sexual orientation
Hair and eye color
Ethnic origin
Body type
Tattoos and piercings
Habits like smoking and drinking
Your income level
Your education level
If you have or want children
Your living arrangements
Your religion
You can also upload more photos if you wish, although only members can see them plus you can give your profile a status message.
You can also upload a profile video which is a new feature on the site and so far, it doesn't look like many people have jumped at the opportunity to do so.
I didn't keep track of all the profiles I looked through on the site but when I ran a quick test later for this Spank dating review, I can tell you that in 50 profiles viewed:
Around 15% had filled them in completely
25% had filled in some sections
60% had just the bare basics that come from registration (sexual orientation, age, etc).
So it doesn't really look like people take profiles that seriously on Wild Spank, that's for sure.
But that's what you often find on hookup sites, I am afraid.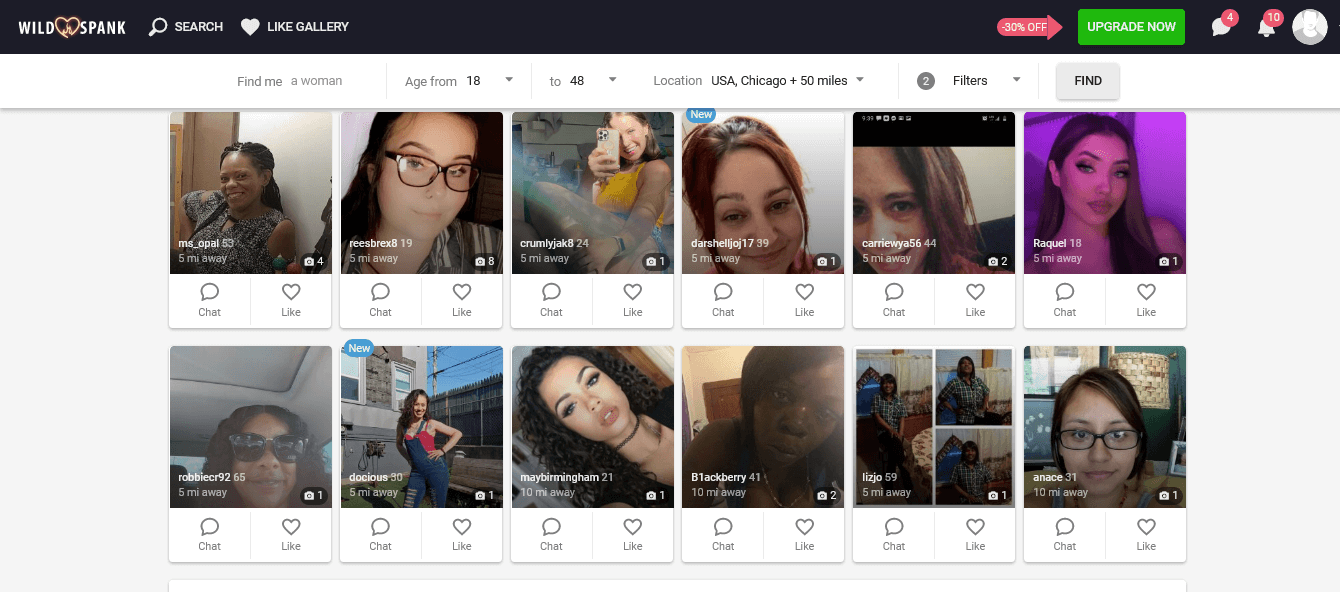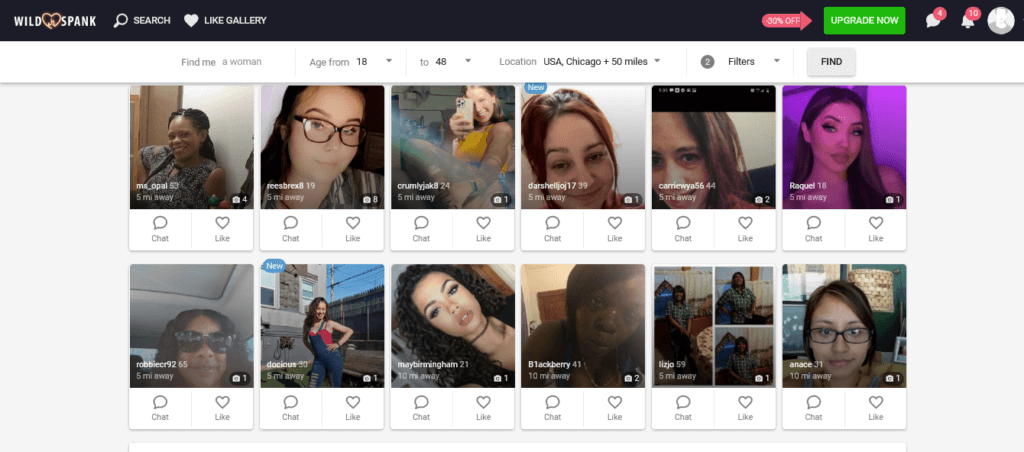 Wild Spank you several ways that you can go about finding a potential match to hook up with.
In this section of the review, I am going to take you on a detailed look at how you can go about it.
Bear in mind, however, that many people will be seeming to reach out.
Luckily, you can easily spot the generated messages that the site produces because many of them are just plain silly.
As with most dating sites these days, the matching algorithm will provide you with matchups based on the few basic pieces of information you gave during the registration process.
The most critical of these are location, age, and sexual orientation.
So when you see those first matchups appear on the screen when you log in, it's those basic criteria on which they are based and it's not a bad thing.
I want people that are close to my location when I am looking to date and within a certain age range.
You can easily adjust the age range from your profile at any time you want as a default or by launching searches of your own.
The profiles presented to you are displaced in rows of five with two rows on every screen.
Profile pictures are well-sized, so you can get a good look at a person when you click on their profile.
But don't expect them to be able to view full-sized pics, because that's for members only.
The default display for these matchups is showing you all the members on site.
But you can change that to people that are currently online by clicking on Online Now or to New Members if you want to see who has recently joined up at the site.
The default is All Members for a reason and that's the way I would keep it.
Sure you are going to find some profiles of people that may not have logged in for a while, but there's a way around that too.
On the right-hand side of the screen, you can sort your returns in four ways:
Popularity
Their last activity
Distance
Age
By using the last activity option, you can see profiles that were recently active amongst and keep the matchups on All Members.
That way, you won't find someone that you may like but who last logged in a year ago.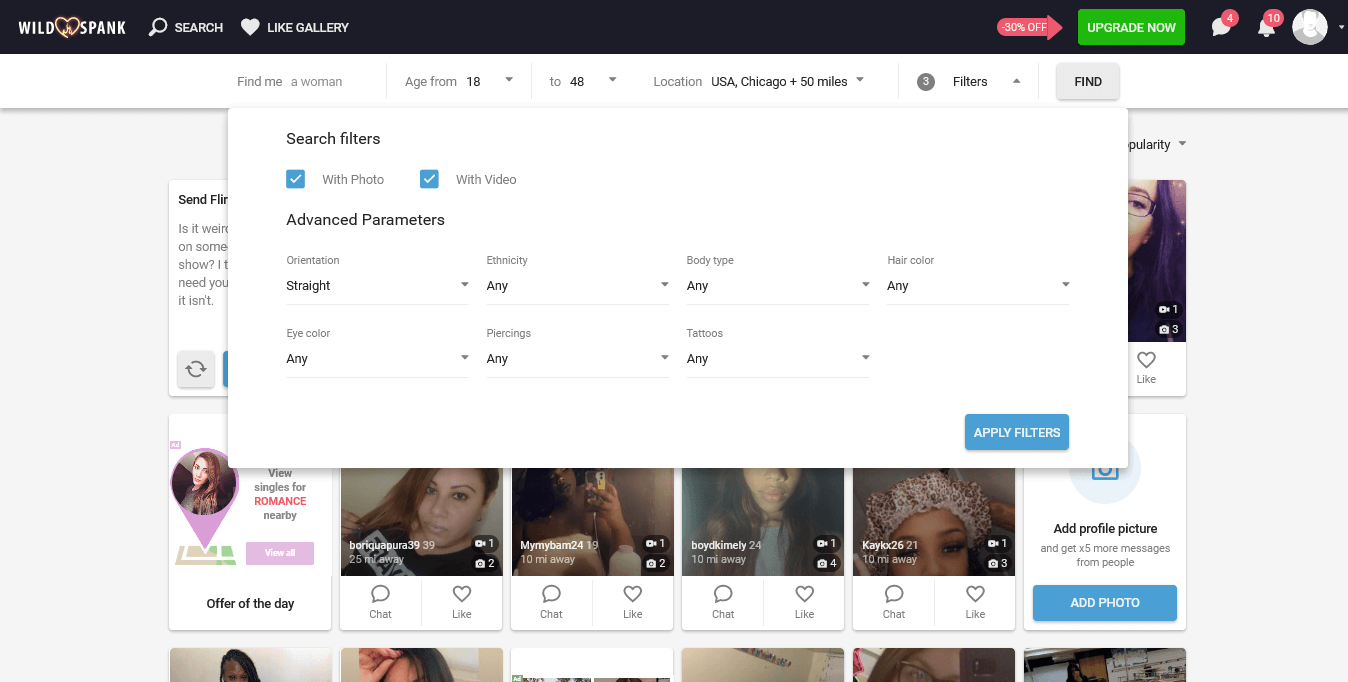 Searching for your own matchups
The search bar at the top of the screen allows users to search for their own matchups.
As mentioned earlier, while you are stuck with the gender you put in, you can change the age range of matchups returns as well as their location.
The default is 50 miles from where you live but this can be changed to up to 100 miles away or down to 20 miles.
You can also change the location itself, so say you live in the United States, you could search in any city if you wanted to.
You can add filters to your search too.
For example, you could look at profiles that don't have profile pictures (the default is with profile pictures) or you can look for profiles where users have added a profile video.
And then there are the filters that are taken from profile parameters, for example, habits, hair and eye color, and more.
These aren't a great help if people don't fill them in on their profiles.
But from time to time you could add and few and see what comes up.
Lastly, if you want to see bigger pictures of each user, you can use the Like Gallery.
The problem here is you have no control over who you are looking at.
Users who fit your basic required parameters are shown in carousel fashion and you can then either like them or skip to the next one.
You could add them to your list of liked profiles or your favorites or you can even send them a message if you are a member.
Speaking of messaging, let's see how that works.
Reaching out to others on Wild Spank
Before we look into sending single messages to individuals, I just want to talk about the opportunity to send a broadcast message to users that meet your credentials.
If you are on the matchup page, on the left-hand side, there is something called a Flirtcast.
And this is a pre-generated message that you send to others.
It's something that regenerates from time to time, but it makes sense to use it when you have first finished your profile and are ready to look for hookups.
You have no control over the content, but there are quite a few to choose from.
Most are really pretty silly but I am sure you can find one that you like.
The site provides you with five regular messages a day that you can send for free as a regular user.
These are close to useless because if someone replies to them and you want to reply back, you are taken straight to the member sign-up screen.
Yes, they are only for sending and not for replying.
That means membership is a necessity on the site if you want to communicate properly.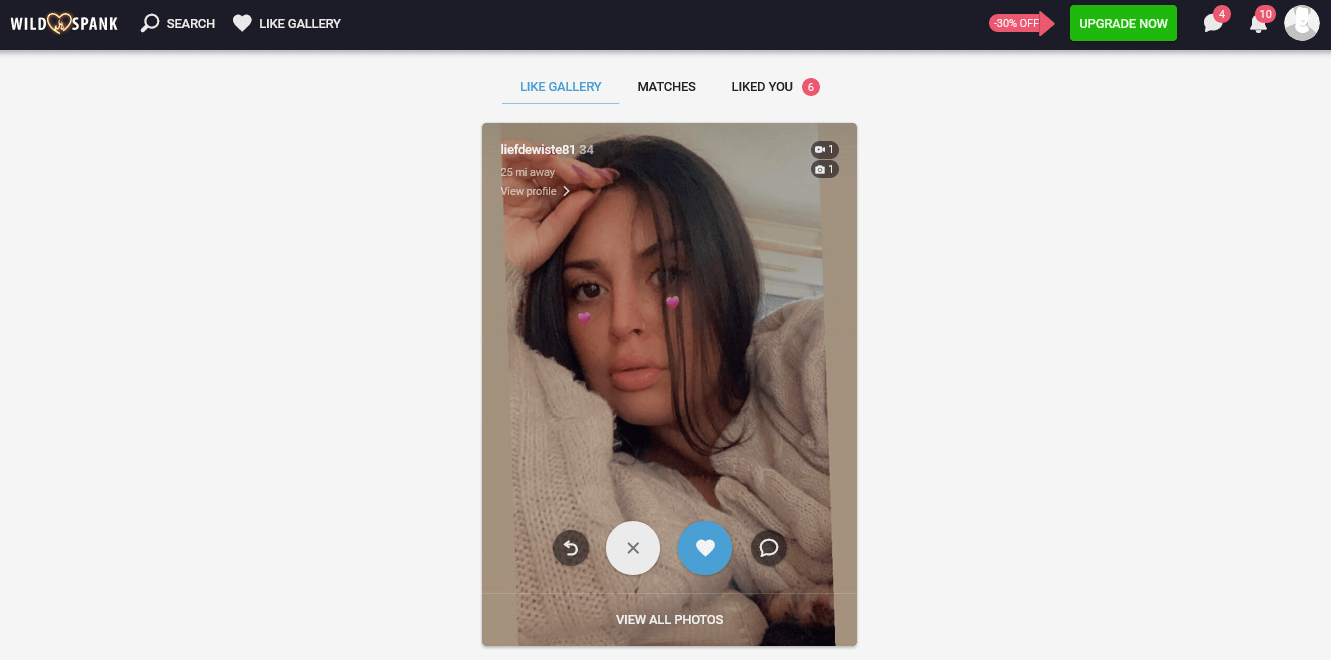 1. Send and reply to messages
The lifeblood of any dating site, the fact that you get five free messages a day seems useful at first.
But you will soon learn that you won't get anywhere on the site with them.
For members, however, messaging is not a problem.
You are free to send and receive as many messages as you want.
That means you can reply to those messages that might seem automated but you aren't too sure if they are or not.
They could just be your perfect matchup.
And thanks to the fact that you have unlimited messages, you can reply to as many as you like.
2. See the bigger picture
It's frustrating not seeing someone's profile picture in full size.
Wild Spank is not the first dating site to do this and it won't be the last.
But yes, if you pay for a membership, you can see full-sized profile pictures.
3. Access to other pictures and video
It's not only full-sized profile pictures that you will have access to as a member.
All other pictures that users post on their profiles will unlock as well.
While some people post only post one picture, you will find others that post gallery after gallery.
Also, while user's videos are pretty new on the site, you will find some that have posted one or two to their profiles.
These can only be viewed by paying members as well.
All members have access to 24/7 support on the site.
All paying members will receive more matchup returns than regular users.
I am not sure how this works if you live in an area that only has a few matchups anyway.
I guess in that situation, the extra matchups will be further from your location then.
All paying members are allowed to attach photos and videos in any chat session with another user.
So if you want to share photos of yourself that do not appear on your profile, you can easily do it this way.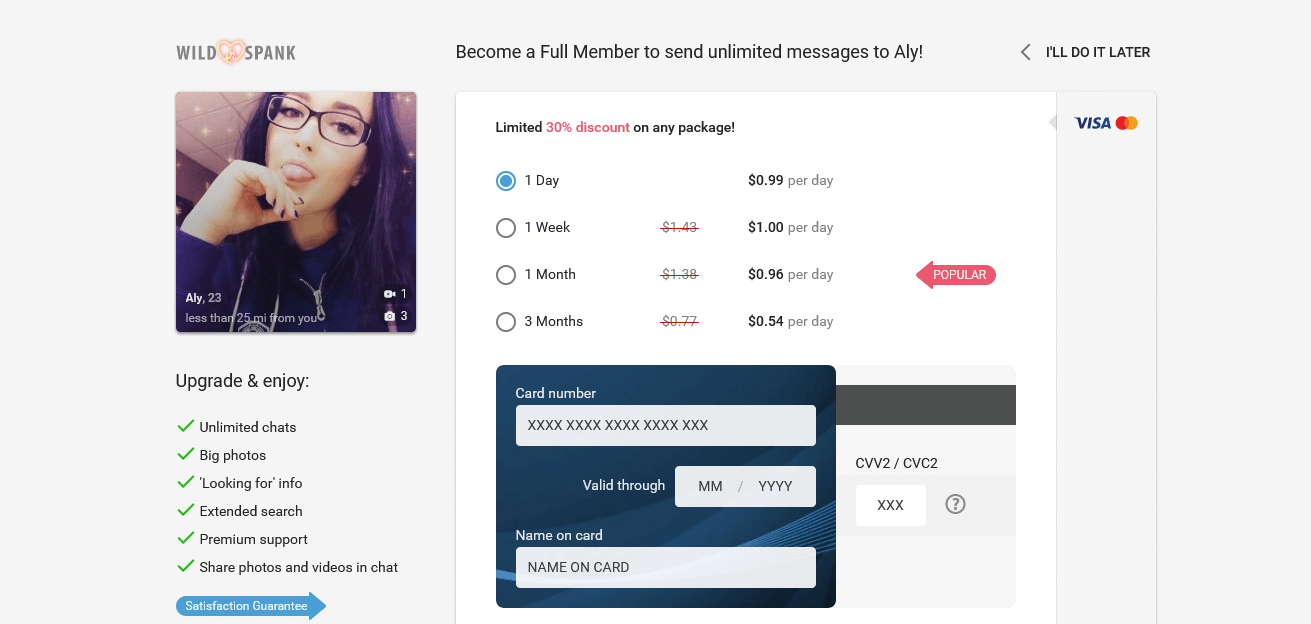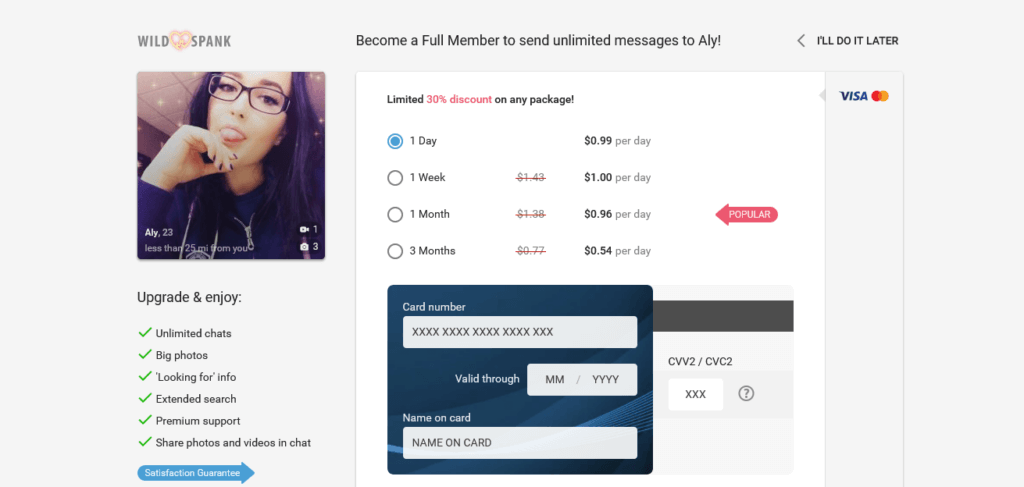 If you are wondering what membership cost for the site, I am going to provide you with a full breakdown.
1-day: $0.99
1-week: $7.00
1-month: $29.99
3-months: $49.99
Overall, the pricing isn't too bad.
It's important to note, however, many people are calling this a scam site because of their cancellation policy.
It takes three days to cancel your credit card payments for membership, so don't do it on a day before the next automatic debit is going to come off.
Adhere to the rules and you won't have to complain.
Also, if you don't cancel the 1-day membership, you will be charged $39.99 per month.
So if you've tried it but don't like the site, then cancel.
If you tried and like the site, cancel as well and then sign up for another membership type.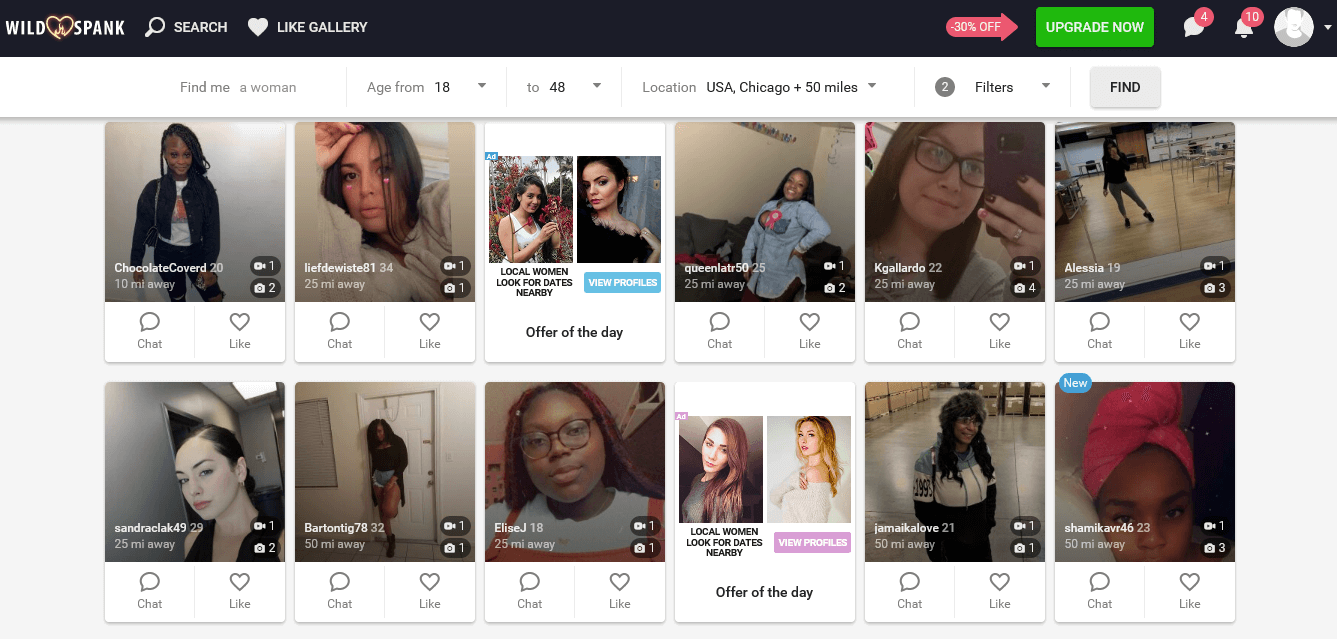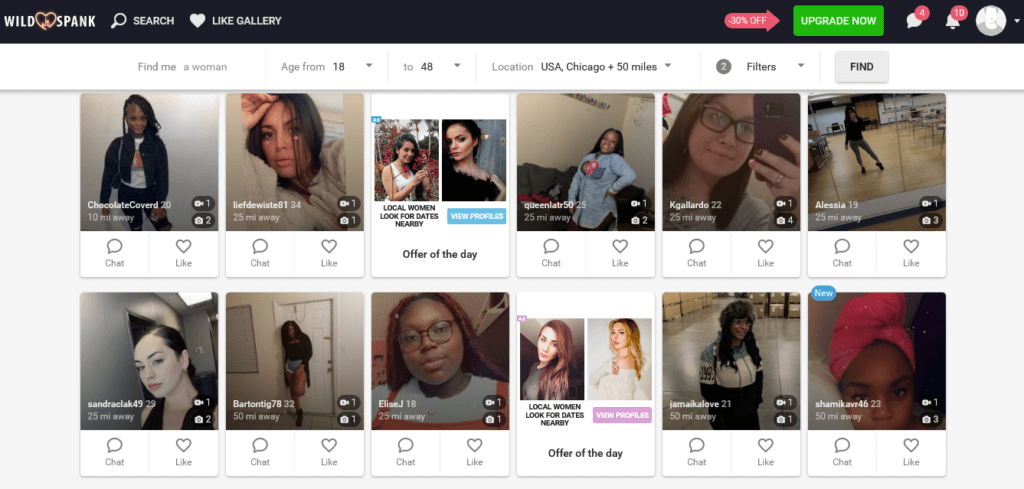 Conclusion and Overall Rating
Thanks for looking through this comprehensive WildSpank.com review.
Is this one of the best hookup sites out there?
Well, no, I don't think so.
I hate the fake messaging and really don't feel that there is a need for that.
It really does also make me question if all the profiles on the site are real or if some of them are actually run by the company itself.
Look, there are lots of good things here and if you can find a legitimate person to speak to, by all means, go ahead.
You are not going to achieve that without membership, however.
I just don't like the way WildSpank uses automated messages to try to get people to take out a membership.
If your site has what it needs in terms of a user base and excellent features, people will do that naturally.
As for a rating, Wildspank gets 3 out 5.