Some dating sites are not aimed at dating at all.
For sites like these, it's all about getting people together for a casual hook up instead.
There are no long term love plans in place when a user makes a profile on these kinds of sites.
And one such site that operates like this is FriendFinder-X.
OFL Top Recommendations based on 100,000+ Survey

"Serious Relationships"
"Discreet Hookups"
"Best Course for Men"
"Quick Flings"
"Normal Hookups"
"Our Quiz"
But just how good it is at getting people together to hook up for a one-night stand or a casual fling.
Well, that's what we will explore in this lengthy review, along with:
So, read on and find out if FriendFinder-x is the hook up site of your dreams.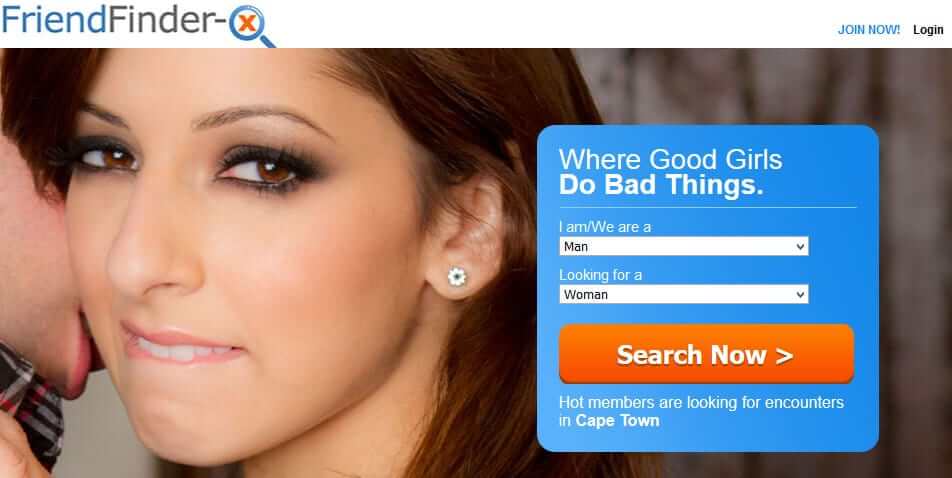 Is your dating app giving you the best chance for success?
Make sure to take our online dating site/app quiz to find out.
People who follow our dating site suggestions have on average 2 more dates per month.
FriendFinder-X Review in Video Form
Audio (podcast) form for those of you on the go
Ease of use – 4/5
Effectiveness – 3/5
Key Features – 4/5
Pricing – 3/5
Lots of users on site
FriendFinder-X offers many ways to search for the perfect hook-up
You can watch live webcam shows for free
No official app, only an APK download
FriendFinder-X pushes membership at you all the time
Membership options are not cheap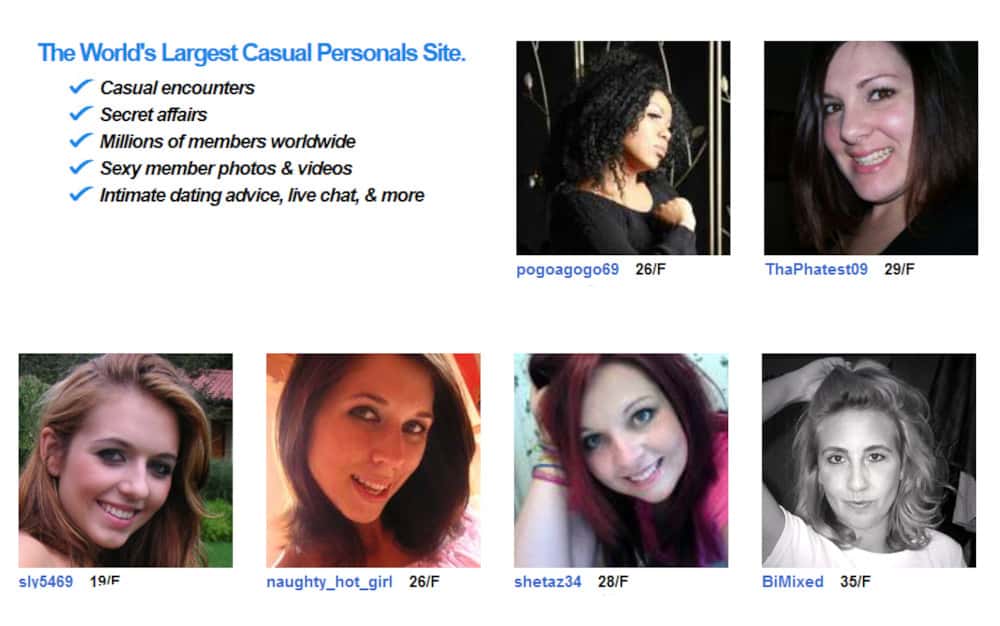 A range of dating sites exists online.
You've got those that are all about encouraging people from all over the world to find their perfect matchup, meet up and see where their journey goes.
You've got niche sites aimed at certain ethnicities, gay men and lesbian women or even military personnel and people who want to date them.
And then you have sites like FriendFinder-X .
These are all about a casual hook up, one-night stands, affairs and just having fun (like BeNaughty or Ashley Madison) and not for those seeking serious relationships (like eHarmony) would offer.
There's certainly nothing wrong at all with that either.
It takes many different types of people to make the world go round, right?
And FriendFinder-X isn't aimed at only individuals either.
No, it also offers couples ways to hook up with an individual or even with other couples.
Is it?
Hell, yes!
FriendFinder-x claims to have millions and millions of users all over the world.
In fact, the site calls itself "the world's largest casual personals site".
And that's probably true.
FriendFinder-x is now two decades old having started way back in 2000.
And those millions and millions of users are heading towards the 100 million mark.
Well, that's at least what the site claims.
And what's the gender split?
For the most part, casual hook-up sites like FriendFinder-x always have a higher number of male users than female users.
But that's not the case here.
In fact, it's the females that are searching for something a little more casual than the males.
Although the breakdown isn't that too far apart, it still caught me by surprise.
Here it is:
60% of the users are female
40% of the users are male
What about the age ranges?
Looking at the most popular age ranges of users on the site, over half of them are between 25-44.
Here's a full breakdown:
25-34 years old
35-44 years old
45-54 years old
18-24 years old
55 + years old
That breakdown makes complete sense to me, especially that 50% of the users on the site are between 25-44.
Just think about it, many people in that age group are married or divorced.
For those that are unhappily married, they might be looking for a fling on the side, while those that are divorced might not want to commit to a relationship again, but still want to have some fun in their lives.
For the next section, we are going to determine just how easy or hard it is to get a profile set up on FriendFinder-X.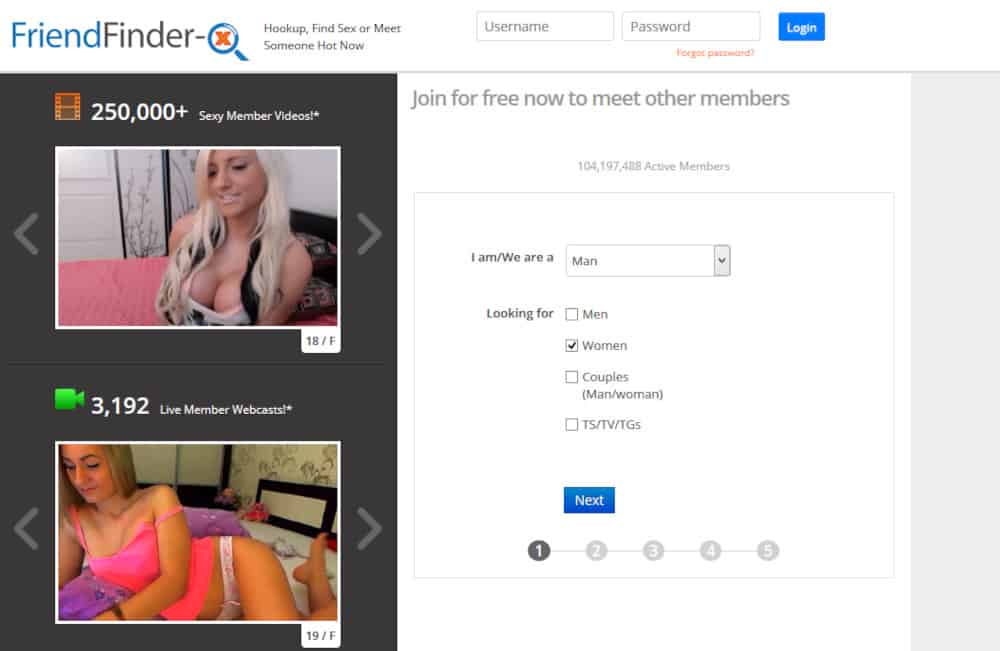 Just a word of warning.
If you are not into seeing nudity, then FriendFinder-X is not the hook up website for you.
It's all over.
In the ads, the site runs to the promotions for live models webcam shows.
And it's not just nudity it's in your face, body parts are too!
Now that's out of the way, let's get to the signing up process that you will go through to get a profile on FriendFinder-X.
It's pretty involved when you compare it to other similar sites.
In total, it's a five-step process.
While it includes the regular stuff you would expect like putting in your username, a password and an email where FriendFinder-X can send you verification mail, there are other steps that need to be completed to.
For example, before your profile is activated, FriendFinder-X wants to know:
What you will be searching for (male, females, couples, transgenders, etc)
What your ethnicity is
Your sexual orientation
Your marital status
Your body type
Some of those are pretty random, I mean, what's body type got to do with anything?
Once you completed all the steps, you will need to reply to the verification email you receive and then you are good to go.

The site has a basic design with a bunch of navigation menus across the top of the screen.
These are:
Home: Takes you back to your home page
Mailbox: You will find all your messages here
Instant message: Here you will find any instant messages you receive
Notifications: This alerts you to any notifications you need to know about
My Stuff: There's a bunch of information here, from editing your profile to your favorites, profiles you've viewed, flirts sent, favorite photos and videos and much more.
Search: Launch all your searches here
Live action: Here you can watch a host of live action cams
Community: Here you can find blogs, groups, erotic stories and more
There's a ton to go through, that's for sure.
While it might seem a little overwhelming at first, especially with so many menu items and then secondary options under those menus, it doesn't take long to get the feel of the site.
While FriendFinder-X has a pretty basic design, it's not that bad to look at with its mostly blue and white color scheme.
But there are lots of adverts on site
After a while, they really do get a bit much, but that something you have to live with.
Once your profile is set up and you've worked out how the site operates, you can begin your first searches.
But just how effective are those?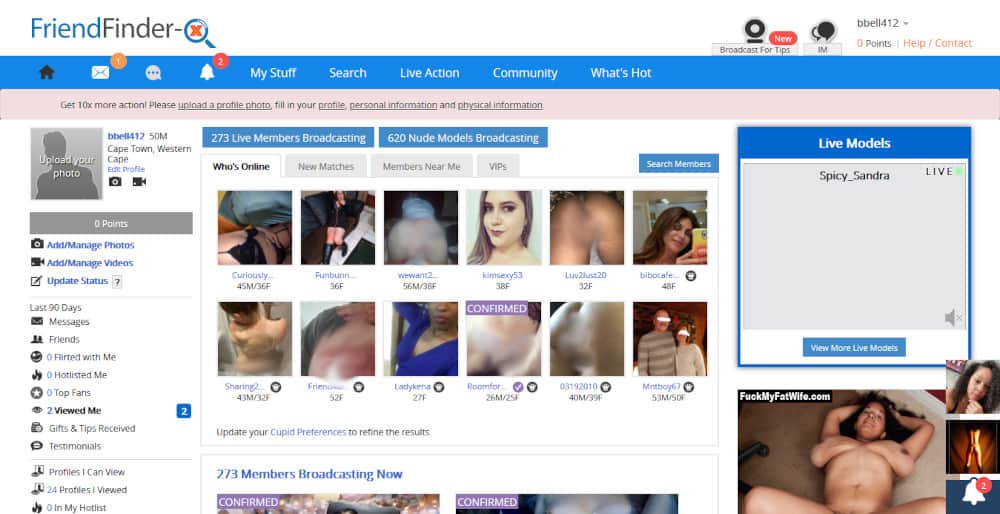 For most people, a dating or hook up site like FriendFinder-X needs to be able to turn up the kind of matches they are looking for.
With over 90 million members all over the globe, FriendFinder-X should be able to return at least a few good matchups, even if you love out in the backwaters, far away from a crowded city.
In theory yes, it should but of course, that's unique for each user.
I can only talk about my own experience while using the site.
While FriendFinder-X has the traditional way of searching, where you set a number of parameters and then the search engine returns the closest profiles to that, it also has other options at your disposal.
For example, you can search via:
Who is online at the moment
Who is online and using the instant messaging options
New matches (based on your initial criteria of gender, age-range and location)
Members near you
VIP members
Kink search (31 different search options are found here)
Without a doubt, FriendFinder-X has the biggest variety of search options I've ever seen on a dating site.
There's so much to work through here and certainly something for everyone.
But let's stick to the advanced search because that's what you probably will use the most.
To use it, you simply enter your gender and what you are looking for as well as the age ranges the matchups should be.
You can then adjust a whole range of options such as:
Location
If you looking for people who are live broadcasting
If you only want returns with photos
If you want your returns to have videos as well
If you want the returns to be members
Ethnicity
Body Type
Male endowment (3 categories for this alone)
Breast size
Physical aspects (hair and eye color for example)
Do they drink
Do they smoke
Do they do drugs
Marital status
Children
Astrological sign
And much more
This is an impressive search engine, that's for sure.
I was blown away by the sheer number of parameters you can tweak.
And after it returned several excellent potential matchups it was time to move on to contacting them.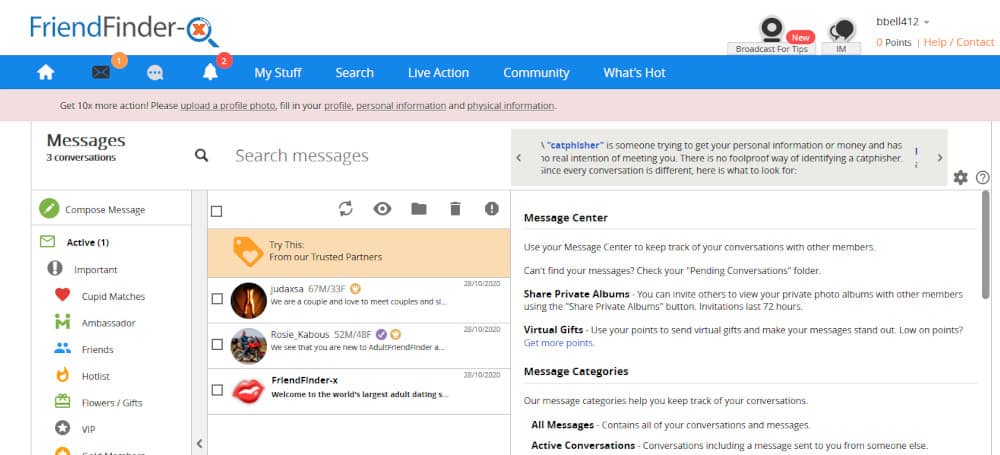 Getting your message across
Sadly, that's where all the good work that FriendFinder-X had done before came crashing down.
If you'd like to message someone, it's a no-go area unless you are going to look into becoming a member of the site.
But as you probably know, that's not unlike 99% of the other dating sites out there on the web.
It's how they make their money.
So to send messages, you are going to need to sign up for a membership package.
That also means you will get access to a host of other key features that FriendFinder-X offers.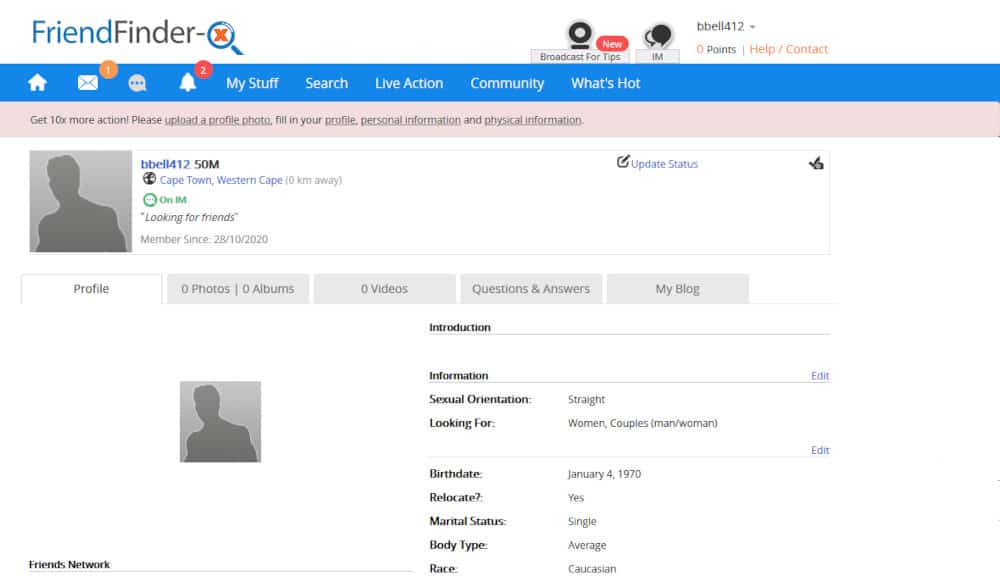 While FriendFinder-X doesn't allow you to message someone as a regular user, there are a few things that you can do on the site for free.
So before we look at key features, let's see what you can do around the site as someone who is still thinking about membership.
You can join the various groups on the site
You can read user blogs
You can join some chatrooms
You can watch some webcams
On the whole, that's not too bad and certainly a way to try out the site before you jump into membership.
Now onto those key features that membership brings.
1. Send and receive messages
The most important reason as to why you would sign up for membership is the fact that it allows you to not only send messages but read those you receive as well.
It's frustrating to get message after message in your inbox but see them blurred because you aren't a member and for that reason cannot read them.
Without the ability to send and read any messages you've received, it's simply not possible to communicate effectively with anyone.
Normally, send "flirts" or "liking" someone's profile costs nothing on other dating sites.
On FriendFinder-X, however, you are going to need to be a member and have credits available to send them.
Credits are part of the membership package and used in this situation as well as to send virtual gifts to other users.
3. View full-sized photos
As a member of the site, you can view the photos of regular users as well as other members in full-size.
4. View full-length videos
There are tons of videos to be found on FriendFinder-X.
Most of them are user made and if you are a member, you can watch them in their entirety.
As a member of the site, you have the ability to comment on other user's photos and videos.
FriendFinder-X includes a section called Sex Academy.
Here you can partake in a host of courses as a Gold member of the site.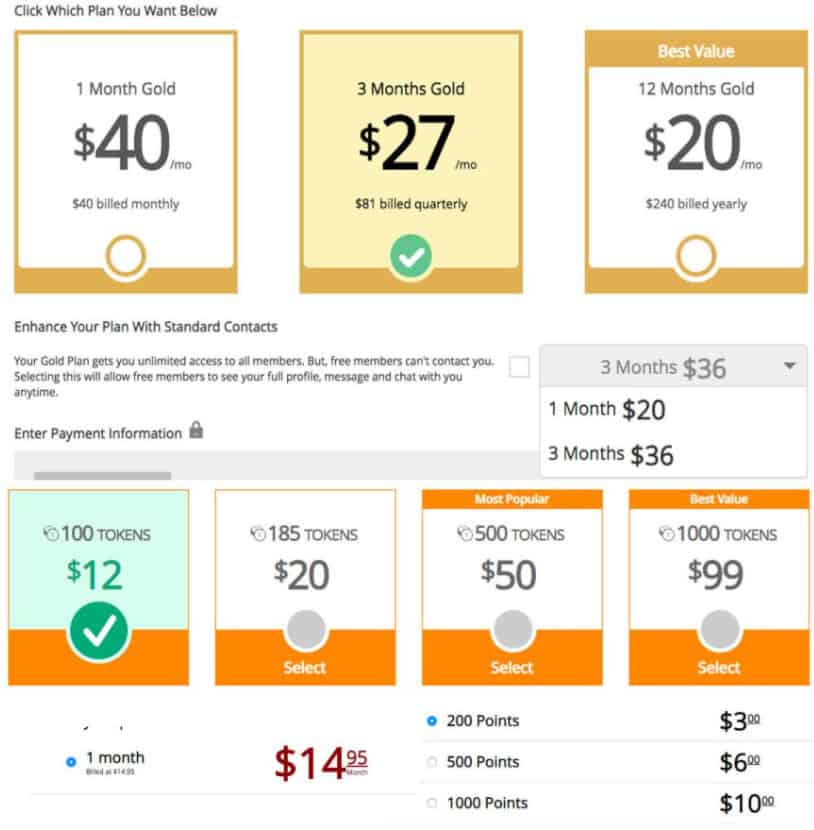 I am sure you will agree, there are some interesting key features to be found on FriendFinder-X, particularly the Sex Academy, for example.
But how much is membership going to cost.
And if you want to purchase credits, are they seperate or built into a membership package?
Well, here's a breakdown of what you can expect.
The first form of membership is the standard option.
This gives access to most of the key features, but not all of them.
1-month membership – $20.00
3-months membership – $36.00 ($12.00 per month)
Gold membership unlocks FriendFinder-X for you.
You can use all the features it has to offers as I've outlined above.
1-month membership – $40.00
3-months membership – $81.00 ($27.00 per month)
12-months membership – $240.00 ($20.00 per month)
As I've explained during this review, for certain actions you are going to need credits.
This is what they cost.
100 credits – $12.00
185 credits – $20.00
500 credits – $50.00
1 000 credits – $100
Gold membership prices are on the expensive side I feel but they do give you access to everything FriendFinder-X has to offer.
At the end of the day, if you want to contact a potential matchup, then having some sort of membership is vital.
Perhaps you could start with a standard membership at $20 per month and see who everything works out for you before upgrading.
Of course, those who run the site do want you to purchase longer memberships and make it enticing to do so by offering them at a discounted rate.
I would only opt for these if I was sure that I would use the site often, otherwise, even though they are discounted, it's a lot of money for you to pay upfront, that's for sure.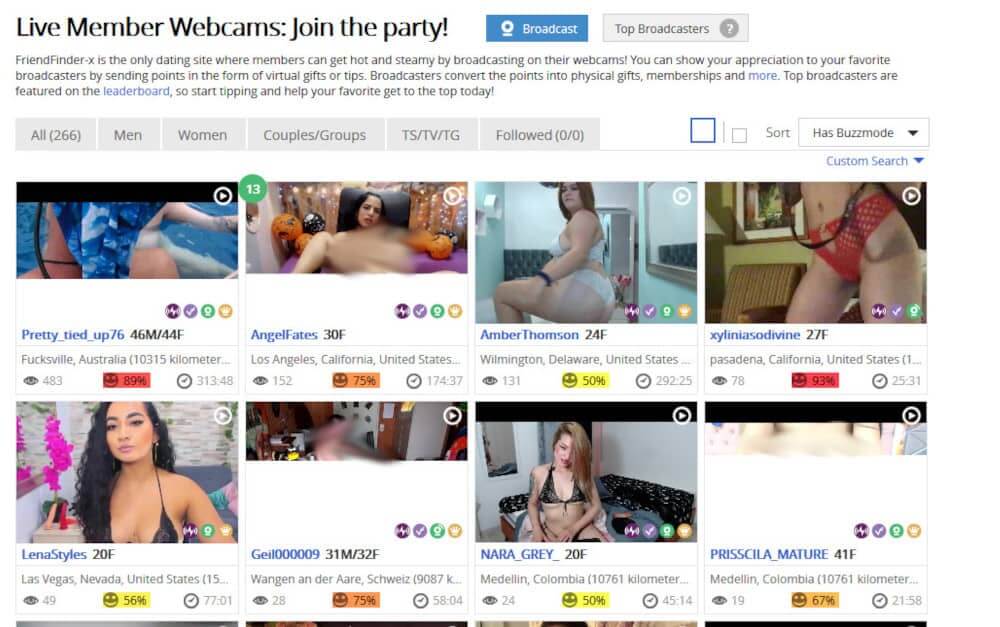 Conclusion and Overall Rating
The first thing that I want to mention as we end this review which I didn't cover earlier is the fact that FriendFinder-X doesn't have an official app.
If you are on an Android phone, you could download the APK file for it but that's not authenticated by Google Play.
To be honest, I would steer clear just to be on the safe side.
But onto the conclusion of this review and my overall rating.
FriendFinder-X is one of the biggest hook up sites on the world wide web, that's for sure.
And it has over 90 million users from around the globe, so they claim.
Of course, dating sites like to inflate their numbers a little but this site is busy and from the searches I conducted both for cities and smaller towns, there seems to be a widespread user base all over the world.
If you are easily offended by porn images and videos, you are not going to like the site at all.
And also be ready to get blasted by advertising at all times.
In terms of the overall look and how it works, I would say that FriendFinder-X is functional.
People aren't visiting it to see if it won any design awards, right?
It's got a number of effective search options that can help you find potential hook ups, but of course, to contact them, you are going to have to become a member.
The standard membership prices aren't that bad, to be honest, but the Gold membership, which gives you access to all the key features on-site is a little pricy.
Speaking of features, FriendFinder-X doesn't have the greatest I've ever seen on a dating site, but they are not too bad.
So onto my rating.
I give FriendFinder-X a rating of 3.5 out of 5.
What do you think?
Have you used the site before?
And how did it turn out?
Comment below and let us know.
Frequently Asked Questions