Ambitious people often have trouble finding similar partners online. Swiping and chatting endlessly with strangers online just isn't their cup of tea.
Thanks to the Inner circle dating app, they can now find people with the same goals!
Wondering how does inner circle dating work? What is inner circle dating?
We covered everything you need to know in this Inner Circle Dating App Review – sign-up process, success rate, and all of the pros and cons of the Inner circle dating app.
OFL Top Recommendations based on 100,000+ Survey

"Serious Relationships"
"Discreet Hookups"
"Best Course for Men"
"Quick Flings"
"Normal Hookups"
"Our Quiz"
Is your dating app giving you the best chance for success?
Make sure to take our online dating site/app quiz to find out.
People who follow our dating site suggestions have on average 2 more dates per month.
Inner Circle Review in Video Form
Audio (podcast) form for those of you on the go
Ratings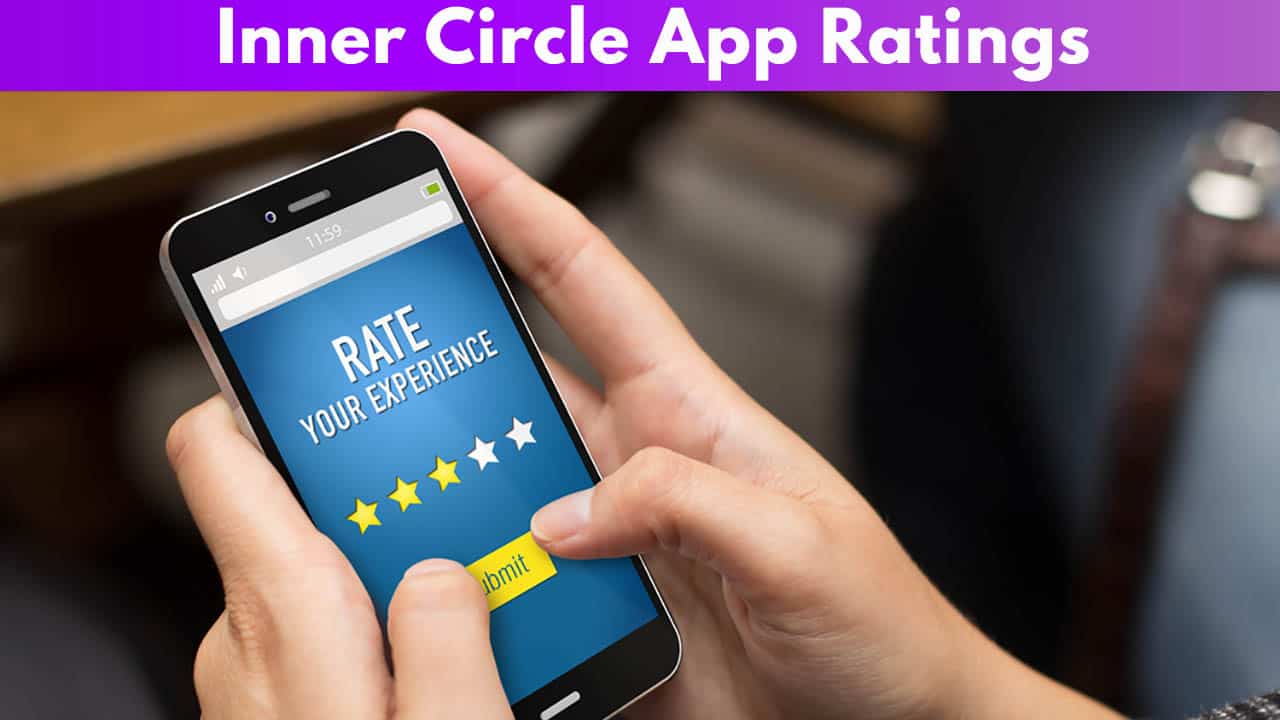 Effectiveness – 3.5/5
Features – 4/5
Ease-of-use – 3.5/5
Price – 3/5
Pros
Only professional singles can join the app
The app is available worldwide
Detailed and authentic profiles
Viewing profiles is free
The sign-up process is guided, so only relevant information is displayed
Cons
The app doesn't have many members
Sending messages is a fee-based service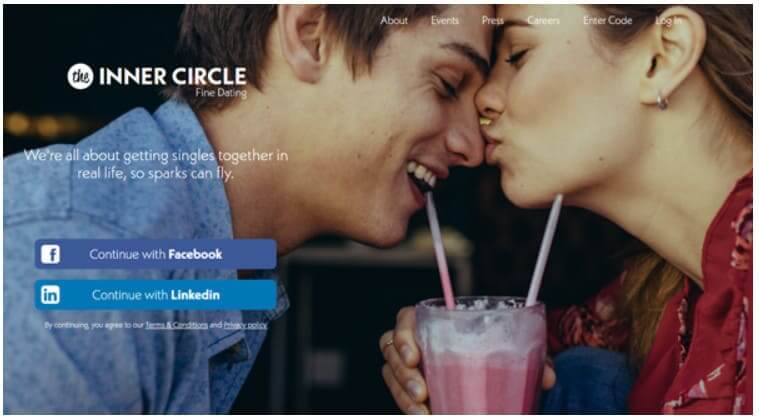 Who is it for/Demographic makeup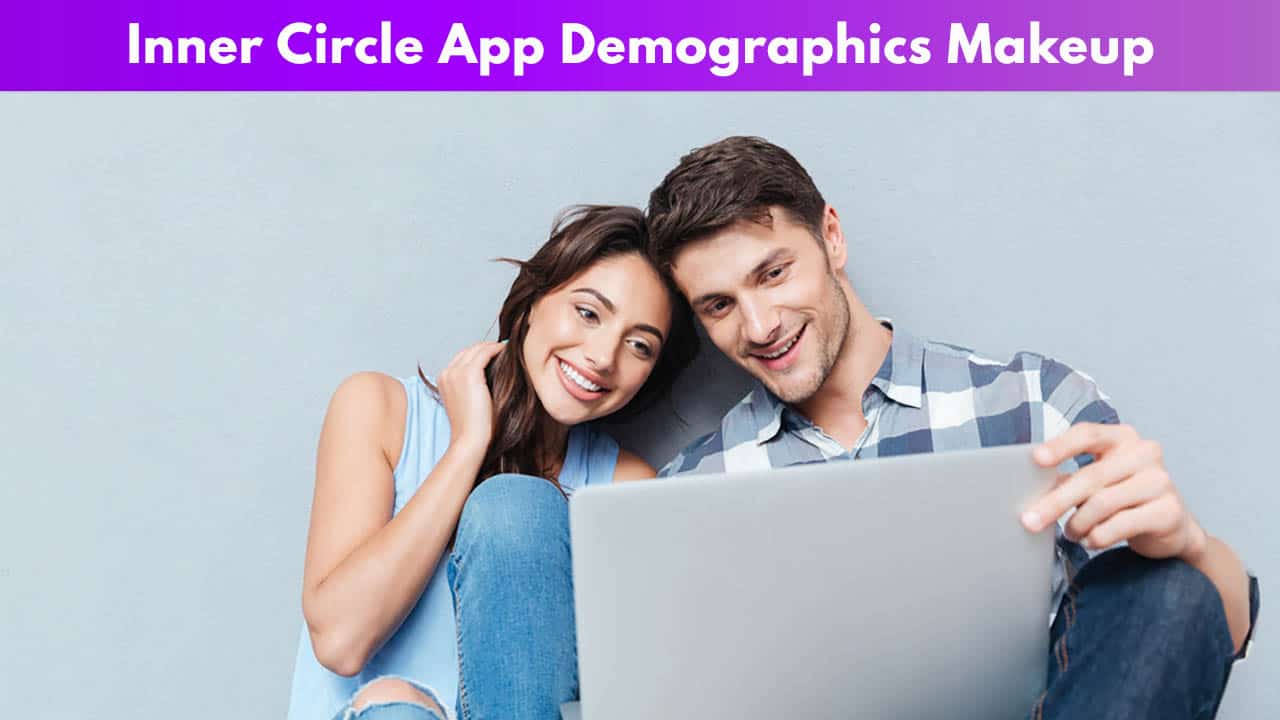 This isn't a dating app reserved for supermodels, CEOs and influencers. However, not everyone can join the app.
The main goal of the app is to bring together smart, ambitious people that don't really have plenty of time to date.
Firstly, all members need to have an active LinkedIn and Facebook profile. In this way, the creators made sure that access to the app has only professionals.
Since this is the main criterion, the app has a small number of members – currently, only 50 000 people are using the app. About 10 000 members are active each week, so you still have pretty good shots of meeting someone new.
Also, even though it has barely 50 000 users, it is available in the biggest cities around the world and it is still expanding, so if your city is not yet on the list, it will probably be soon.
Women are outnumbering men on the app, but the difference isn't big – about 55% are female users.
Most of the users are young adults, between 25 and 34 years old. People under 25 and seniors are barely present on the app.
If you work in medical health, marketing, or consulting, you will easily find people with the same interests. These are the most common professions, but others are welcomed as well.
Effectiveness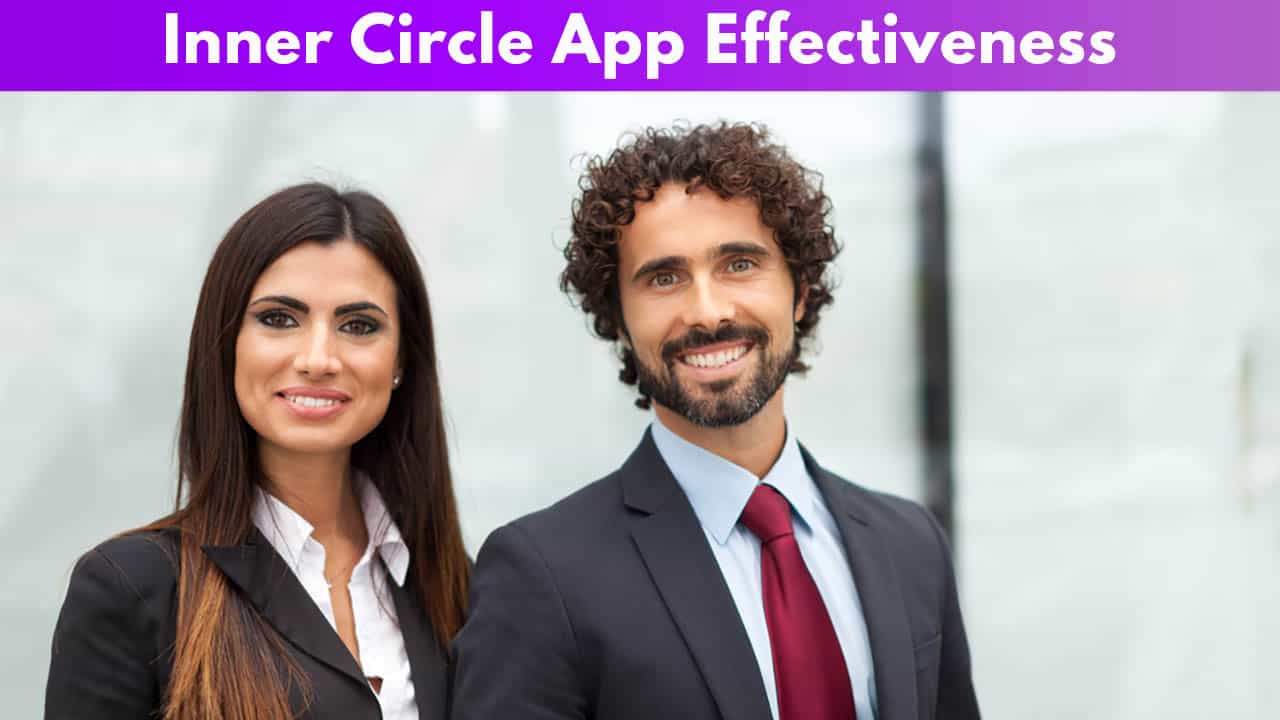 Since most users on the app are workaholics, they don't have a lot of free time and online dating (especially modern dating apps) is quite exhausting for them.
This dating app is designed for professionals and works well for its target group.
Even people that aren't working in the same field get matched because they share similar personality traits and goals.
Let's dig deeper into how inner circle dating works and how you can find your future partner on the app!
Initiating a contact
The app doesn't have many features – it is all about simplicity.
Members don't want to waste time trying out different options or swiping endlessly to get just a few matches.
That is why starting a conversation is so easy!
OFL Top Recommendations based on 100,000+ Survey

"Serious Relationships"
"Discreet Hookups"
"Best Course for Men"
"Quick Flings"
"Normal Hookups"
"Our Quiz"
To show interest, there is a "Wink" option. It is the best way to initiate contact with any of the members. Also, the feature is free, so everyone can try it out.
When you send a Wink to one of the users, they receive a notification. After that, they can decide whether they want to chat with you or not.
Unfortunately, sending messages is only for premium members. If you decide to upgrade your profile, you might still be unhappy with this feature.
Only texts can be exchanged while sending photos, videos or video chatting is impossible. This is quite frustrating to most users because they aren't able to get to know the other person that well online.
That is why many users only send welcome messages and start sending out invitations for private gatherings offline.
These groups are private and only accepted members can see the details about the meet-up.
Also, whenever you go on a date with one of the users, that information will be displayed on their profile.
As you can see, it is more about using the app to find people and meeting them offline rather than doing it online via texts.
The success of Inner circle dating
Since users are mostly meeting offline, the success of inner circle dating is high!
The users don't have to worry about getting catfished and thanks to group meet-ups, they can meet plenty of people at the same time.
Also, in-person it is easier to decide whether someone is attractive or not, or does somebody's personality match yours.
The success of inner circle dating depends on a few things.
Firstly, the number of users in your area could affect dating. If the app isn't popular in your city, you probably shouldn't expect many meet-ups and matches.
Also, the success of inner circle dating depends on the user's expectations.
Just because somebody is ambitious, doesn't mean that they are ready to settle down.
Many users are only looking for hook-ups or someone to casually date for a few months, just to break the monotony.
Because members are open about their intentions, you don't have to worry about being lied to.
If you aren't into flings, that is fine!
Some members are hoping to settle down, so you should just get an invitation to another gathering.
Your lawyer, doctor, or computer genius is out there!
Key features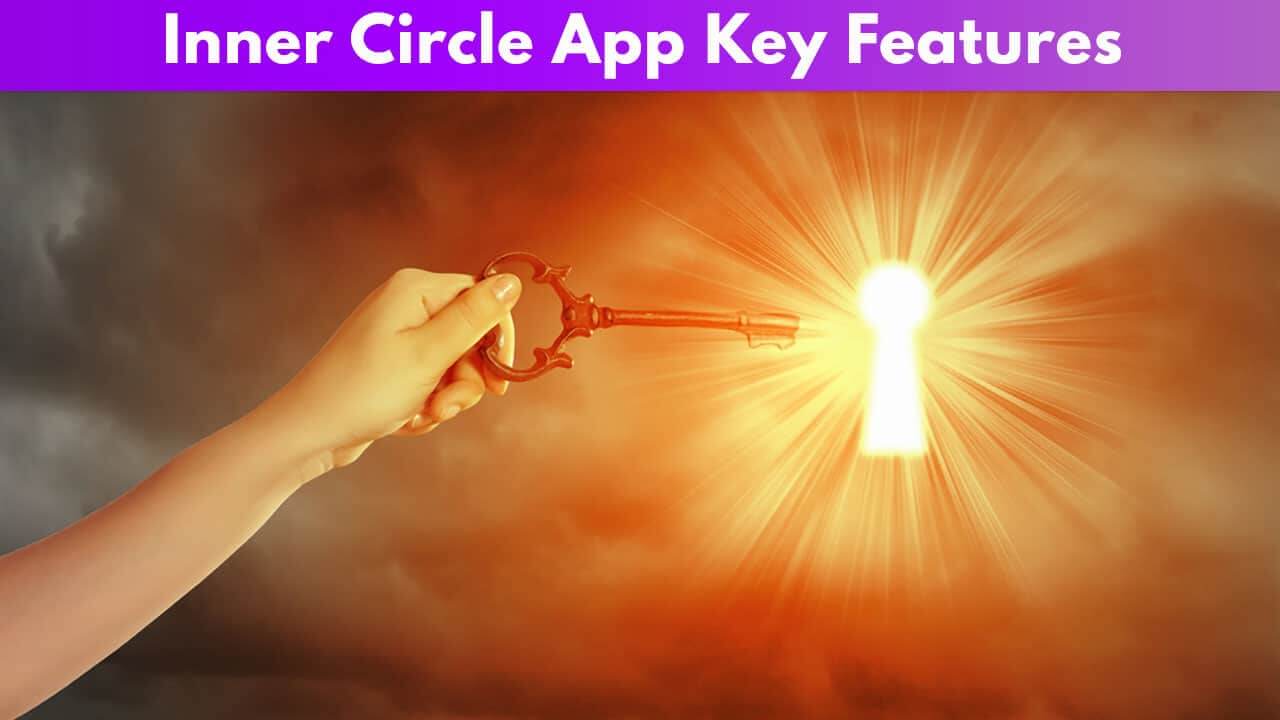 As mentioned, the Inner circle dating app doesn't have plenty of features. It is more about the quality of features and not quantity – available features are quite useful for meeting new people.
Unfortunately, not all of them are free – some of them require an upgraded account.
Here are all of the features you can try out:
1. Likes
Likes are similar to swiping.
If you don't want to explore different events to meet people, you can always just browse through the profiles and initiate contact by liking.
Multiple profiles are displayed in a grid mode.
When somebody catches your eye, you can like their profile.
Mutual likes unlock the messages and you can start texting.
2. Winks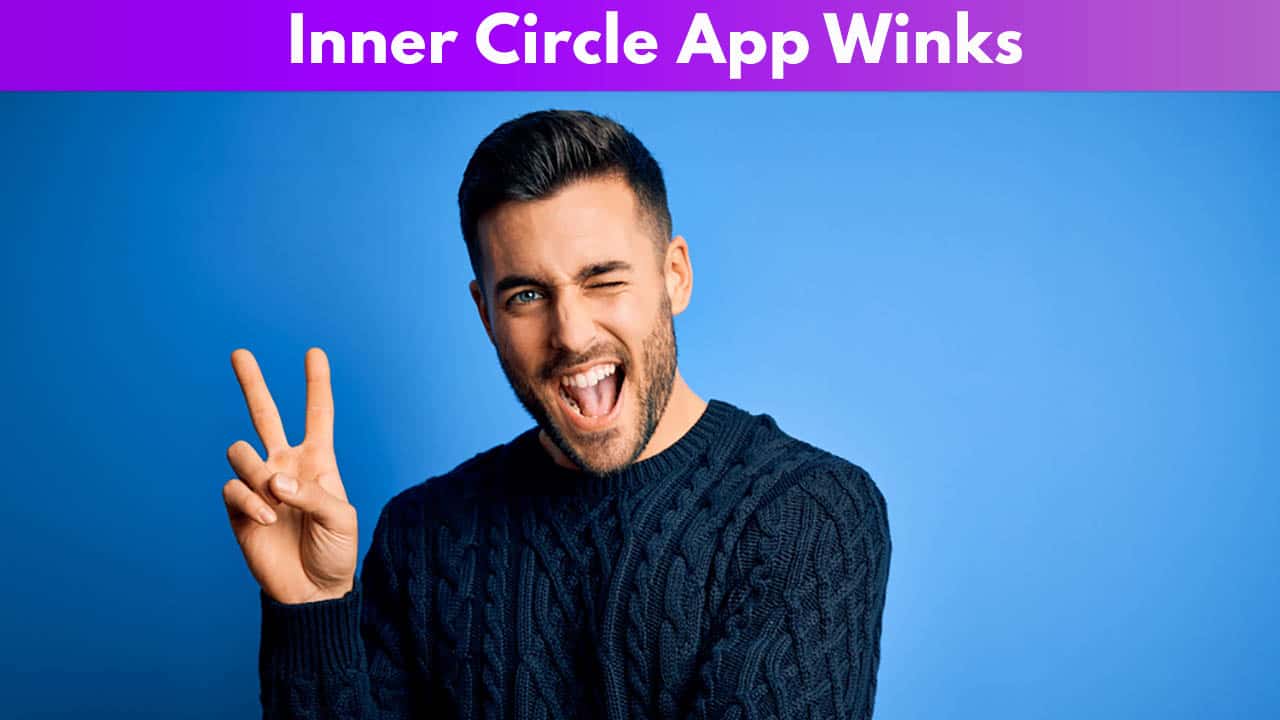 Winks are similar to likes. This is one of the most popular features of the app.
Thanks to winks, you can show interest in other members and start communicating with them.
This is one of the easiest ways to make contact with other users.
3. Favorites list
All of the profiles you are interest in can be saved on the favorites list.
These profiles don't necessarily have to be the ones that you are currently texting. You can add profiles you just found interesting but don't plan on contacting them.
The favorites list allows you to track the activity of other members. Whenever somebody posts something new, it will appear on the list.
4. Ghost mode
Exploring profiles is much better when you do it anonymously. By doing it incognito, most users don't feel pressured to decide whether they like somebody or not.
With this option, you can view any profile on the website and avoid being spotted for doing it.
5. Events
As said, members often meet offline during different group gatherings.
These gatherings are planned online through an Event feature.
If you want to attend an already organized meet-up, you will have to get an invitation first.
You can also create your own events and invite people to come. Just decide where would you like to meet-up with other users and when.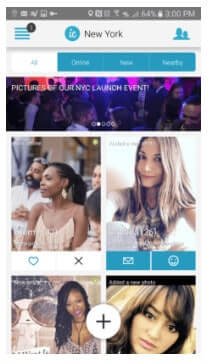 6. Trips
This feature enables you to spy on other users.
You will be able to see where your matches are going and what are they doing. Are they going on a date with somebody else? Maybe attending an event you didn't get an invitation for?
With Trips feature, you will know all of the details.
7. Spots
Thanks to the Spots, you can create a more detailed profile.
Spots is used for naming the favorite spots in your city such as restaurants, bars, clubs and coffee shops.
Users can list their most visited places, so you will know where they often hang out. Maybe another member likes some bar just as much as you do.
8. Tickets
Some events are more exclusive than others and an invitation is not enough to join them.
Most popular members attend these meet-ups and they are usually organized at some popular spot in the city.
To attend these meet-ups, you will have to buy a ticket.
Keep in mind that tickets for these events aren't a part of premium membership and even users with upgraded accounts will have to spend a few more bucks to join them.
Ease-of-use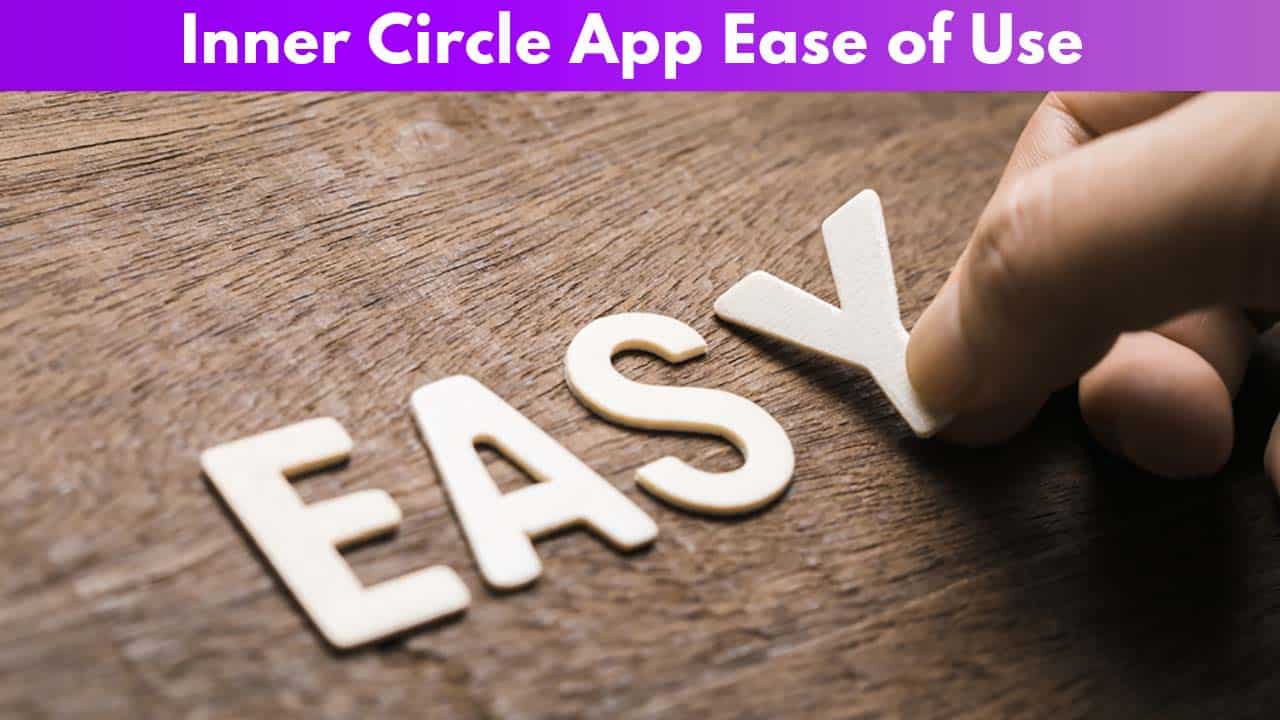 So, how to join the Inner circle dating app?
Here is everything you need to know about the registration process and website design.
How to sign up for Inner circle dating?
Signing up isn't as easy as many think.
Even though this isn't an app for celebrities, there a few criteria members have to meet to join the app.
Signing up is a two-step process.
Firstly, there is a screening test each member has to pass. Thanks to this screening test, the number of fake profiles is low.
As mentioned, each member needs to have a LinkedIn and Facebook account. Keep in mind that you have to an active member on both profiles.
Just having a profile isn't enough, so if you haven't posted for a while on Facebook, start doing it.
Besides these social media account, members have to provide some basic information such as gender, date of birth and ethnicity.
Once you fill the form, your profile will be investigated to determine whether all of the information is real.
This means that you might have to wait for a few weeks or months to get accepted. Don't worry – legit profiles are rarely turned down, so just be patient. If you are lucky, you might wait only for a few days.
When you pass the screening test, you can move on to the second step.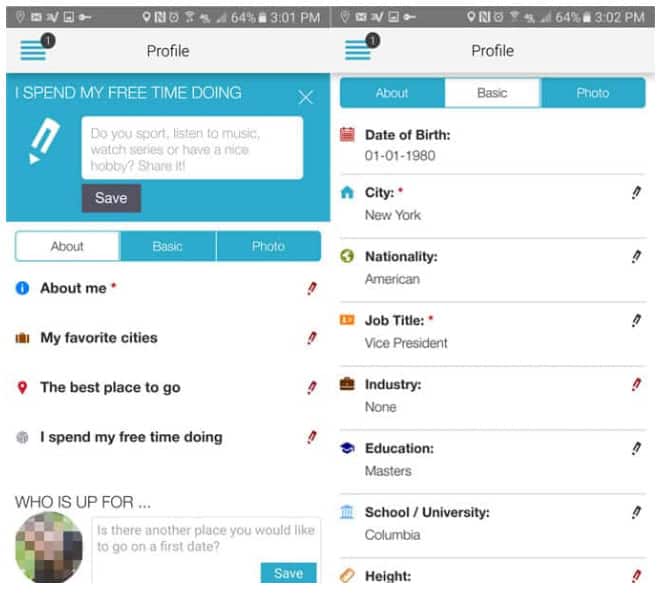 The second step is a personality test.
You will have to answer multiple questions about your preferences, habits, etc.
Since the wait for approval is often long, you can complete the personality test while you wait for the results of the screening.
When your profile is approved, you will have a complete profile.
Also, during the registration profile, you will be able to upload one picture. This is the main photo of your account, so be careful about which one you are posting. After you create a profile, you can upload additional photos.
Are profiles detailed?
Most profiles on the app are quite detailed. This is probably due to a mandatory screening test.
Users provide a lot of information to make their profile seem authentic and improve their chances of passing the test.
The app is focusing on information about profession and education, but there are also details about the user's height, some preferences and location.
When somebody visits your profile, they will see where you currently work and the position in the company. Details about your education are placed right below it.
To find out anything else, members will have to dig a bit deeper.
Keep in mind that any information can be changed whenever, and some members tend to hide certain details.
Usually, users have at least three photos uploaded, so you have a great insight into how they look.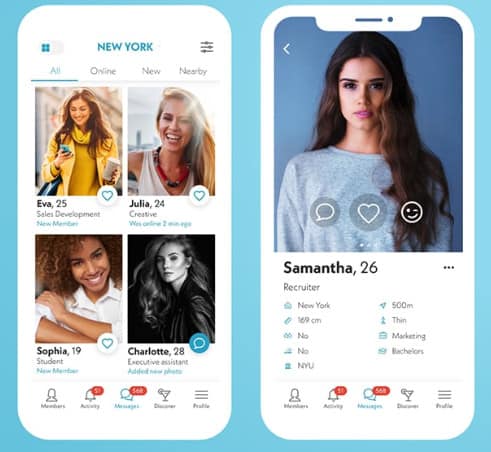 Help with setting up the profile
If you aren't sure which information is relevant and which details you can hide, you can follow the Inner circle guide for creating a profile.
This guide is probably responsible for so many detailed profiles.
When you start a personality test, the guide will tell you which questions to focus on.
These are usually the details other members find the most interesting and with the right answers, you can improve your chances of getting a match.
Design of the mobile app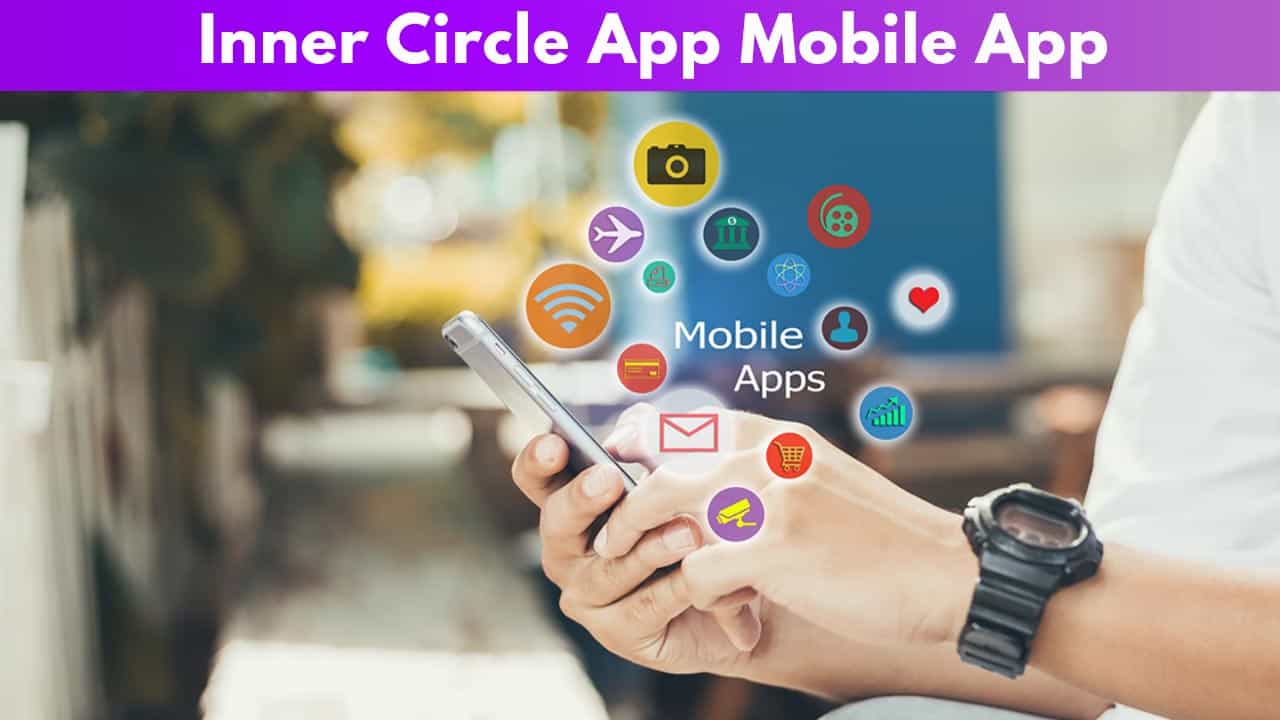 Since this is an app for professional singles, creators made sure that the design of the website and app look professional as well.
Most users are most satisfied with the app than the desktop version, and when they install the app, many of them don't use the browser for accessing their profile.
The app is available for both Android and iOS users. It is free to download, but there are in-app purchases, so you shouldn't consider the Inner circle for a free dating app.
Of course, none of these purchases are mandatory, but they are quite helpful for finding matches and contacting members.
When it comes to the design of the app, it is simple and straightforward.
One the first page, you have options for creating an account or logging in.
Everything you need is placed in five different tabs: members, activity, discover, options and messages. A small red circle will indicate whether one of these tabs have any updates (new messages or updated activity on the activities page).
When you go to the discovery page, profiles are organized in different categories: online, new and nearby.
There are also additional search filters you can apply to narrow down the search.
Users claim that the biggest disadvantage of the app is the constant location update. Many of them don't feel comfortable sharing information about their last location with strangers online.
If you have the same privacy boundaries, you can turn off GPS settings on the Options page and the app will stop updating your location. It won't happen entirely – your location will probably be updated every few days, but won't show where you are all the time.
Besides this, members haven't complained about anything else on the app.
Pricing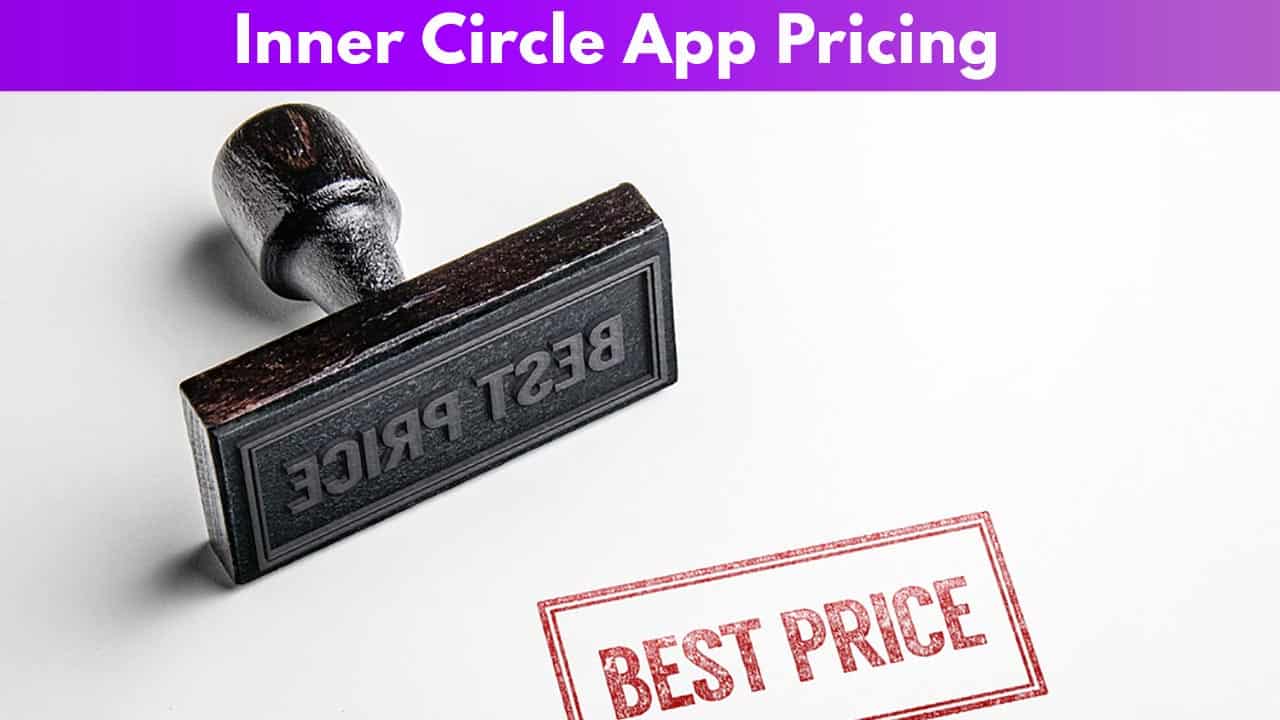 Compared to other dating apps, the Inner circle is quite pricy.
You can only purchase a one-week subscription which costs $5 and the price stays the same no matter how many times you renew the payment. In one month, you will spend $25.
Once you subscribe, the subscription is automatically renewed. Keep in mind that after one week, your subscription will be extended for one month, not just another week.
If you aren't happy with the upgraded account, unsubscribe to avoid spending more money than you have planned.
Credit cards and PayPal are accepted for payments.
So, what do you get with a premium membership?
Firstly, premium members can send direct messages. Also, these members can see who visited their profile and enter a list with received winks. These features are quite helpful for finding new people.
Remember those exclusive events that require tickets? Only subscribers can purchase the tickets and attend these events. Keep in mind that the price of these tickets isn't included in your weekly subscription and those are paid for separately, which means spending a few more bucks.
Conclusion and Overall Rating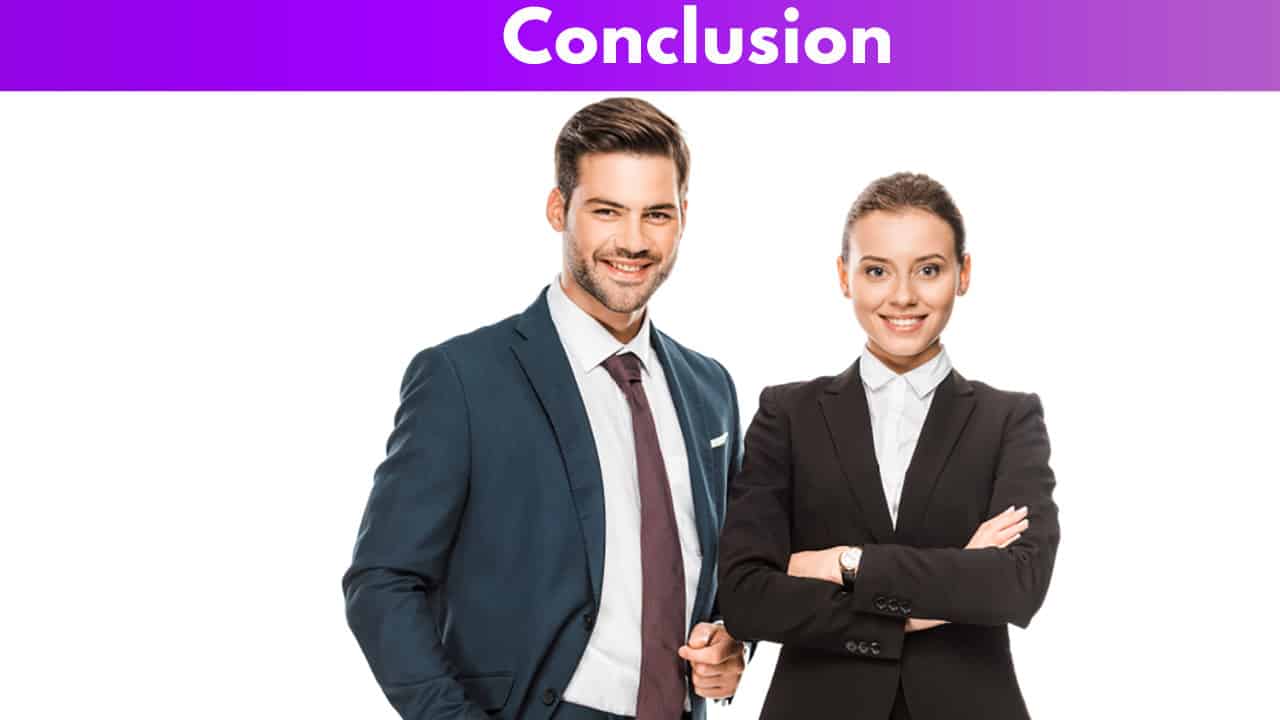 Overall rating – 3.5/5
If you are a workaholic and feel like you don't have enough time to date, this a great app for you!
You will find like-minded people, with similar habits, which will make dating significantly easier.
Since the subscription is a bit pricier, even if you decide to use only the free version, your dating experience won't be affected.
Plenty of features are available for free members so they can find their significant others just as easily as subscribers.
After reading the article, do you plan on giving the app a shot? Write your thoughts in the comments.
Frequently Asked Questions