Welcome to our review of Gleeden.com.
This is an online dating site where married people can look for other users to hook up and have extramarital affairs with.
Therefore, those seeking a serious relationship should visit another site (like Tinder or eHarmony).
And while these sites are a dime-a-dozen, as an online dating platform Gleeden does things a little differently from the likes of AdultFriendFinder, BeNaughty, or Ashley Madison.
OFL Top Recommendations based on 100,000+ Survey

"Serious Relationships"
"Discreet Hookups"
"Best Course for Men"
"Quick Flings"
"Normal Hookups"
"Our Quiz"
In this Gleeden review, we will take the time to analyze the site by conducting a thorough look into everything it has to offer.
We will assess and evaluate all the key things you need to know if you are considering making this your extramarital dating site of choice.
This includes:
As the details above indicate, once you've read through this Gleeden review, you'll have all the information you need to decide if the site is for you or not.
So let's get going then.
Is your dating app giving you the best chance for success?
Make sure to take our online dating site/app quiz to find out.
It's a fact that people who follow our dating site suggestions have on average 2 extra dates per month.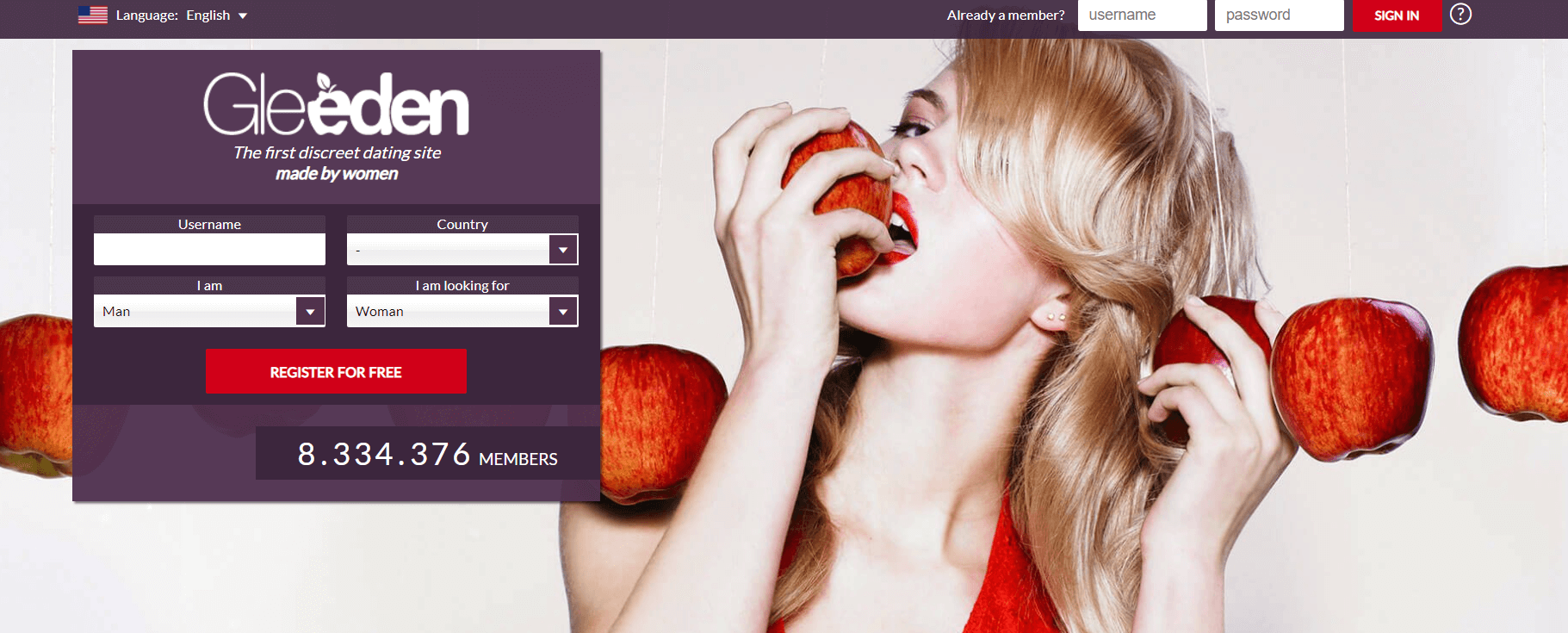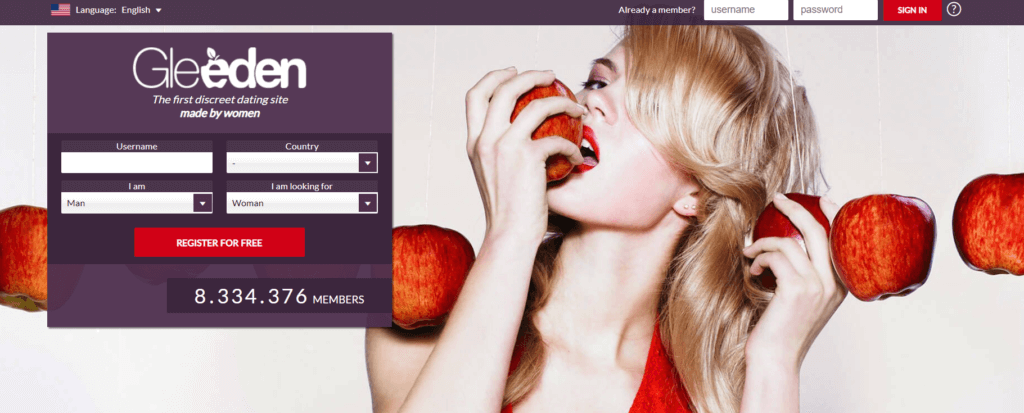 Ease of use – 5/5
Success rate – 3.5/5
Key features –2/5
Price – 2.5/5
Gleeden has millions of users around the globe
Female users don't pay anything to use the site
Both the website and app are well-designed and easy to use
There are not that many key features on offer
Buying credits is expensive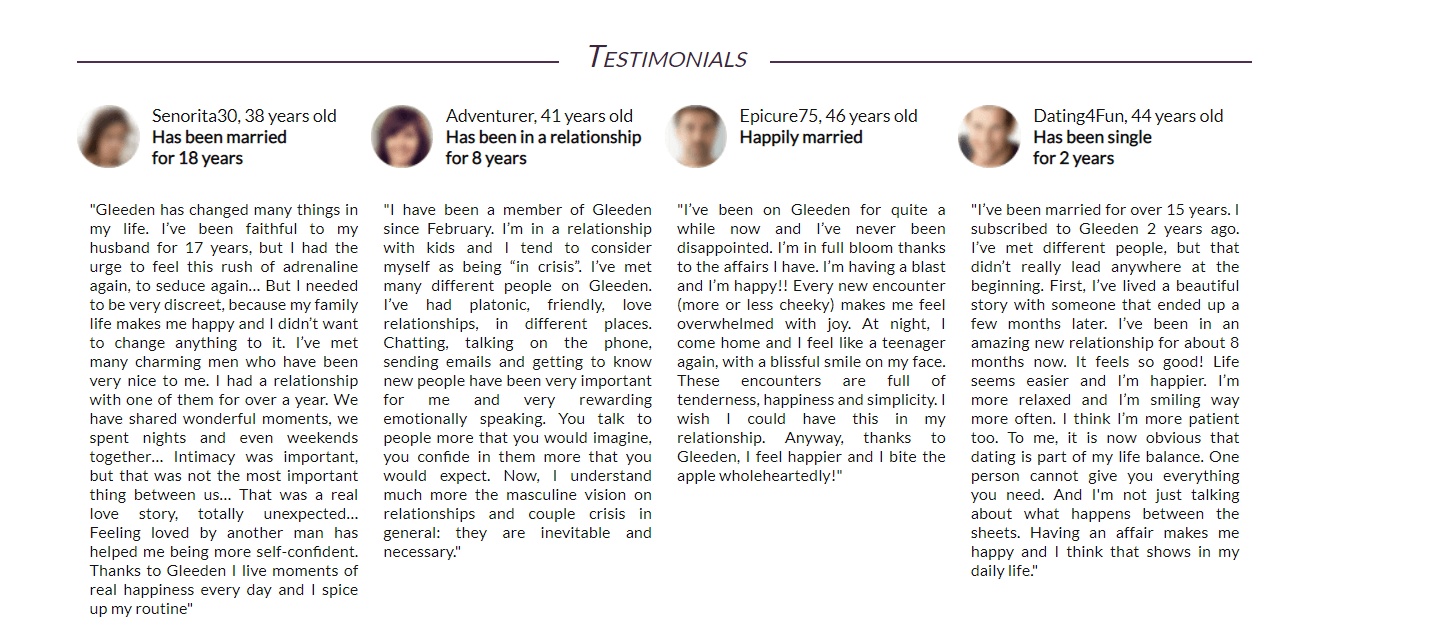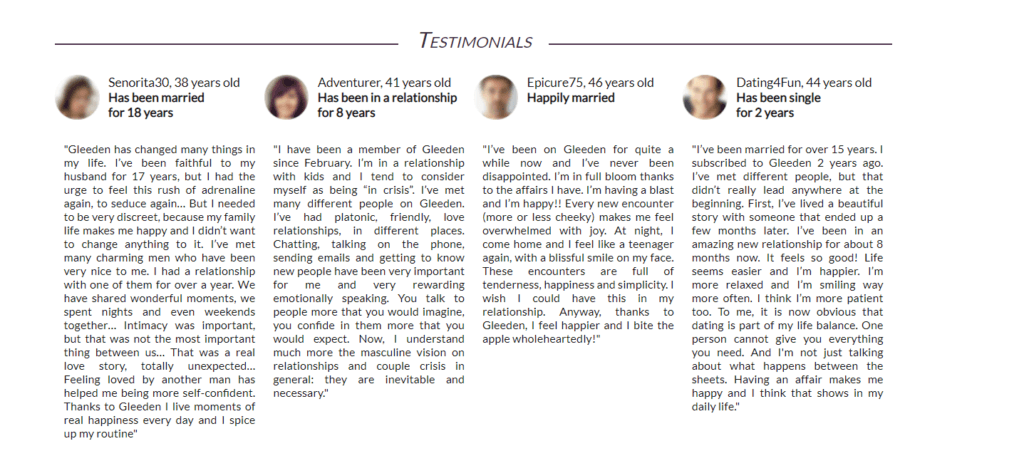 Who's It For/Demographics
Gleeden is not a new dating service.
In fact, it's been around for a decade now.
OFL Top Recommendations based on 100,000+ Survey

"Serious Relationships"
"Discreet Hookups"
"Best Course for Men"
"Quick Flings"
"Normal Hookups"
"Our Quiz"
And as I mentioned in the introduction, it does things a little differently when it comes to what it offers compared to its rivals.
This is a site that's run by an all-female team and if you are a female, you can use the site for free.
This is something we will explore a little later in the review.
First, let's dive into some demographics.
Starting with users, well Gleeden proudly claims over 8 million of them!
And while you will find these users from all over the world, many are based in Europe, particularly France.
Here's a breakdown of some other facts and figures that I can highlight.
Around 250000 users are from the United States
The Gleeden dating app has had over 1 million installs on Android devices
It has a rating of 4.2 on the App Store
Around 100000 users are active on the site each month
That's 25000 a week and over 3000 each day
Gender ratio and user age ranges
Collecting information about user age ranges turned up some interesting statistics.
Even though the site is free for women, there are still more male users here.
The ratio is 60:40 at present.
It's a far closer ratio when you compare it to a site like AdultFriendFinder where the ratio is more than 80:20 in favor of men.
Determining the most popular age range shows that 57% of users are aged between 18 to 34 years old.
The smallest group is 55 and older at 9% of the total user base.
That's still around 800000 people, more than other extramarital affair sites have in total.
Here's a full breakdown:
25-34 year-olds: 32% of all users of which 12% are male and 17% are female
18-24 year-olds: 25% of all users of which 14% are male and 11% are female
35-44 year-olds: 20% of all users of which 12% are male and 8% are female
45-54 year-olds: 14% of all users of which 9% are male and 4% are female
55 and older: 9% of all users of which 5% are male and 4% are female
From my perspective, the immediate thing that stands out here is the fact that in the 25-34-year-old group, it's the females that provide the most users.
Why?
Well, your guess is as good as mine but it's probably reveals something about the site being free for them to use.
Having said that, then you'd expect a few more age ranges where females outnumber males, right?
But it is an interesting observation.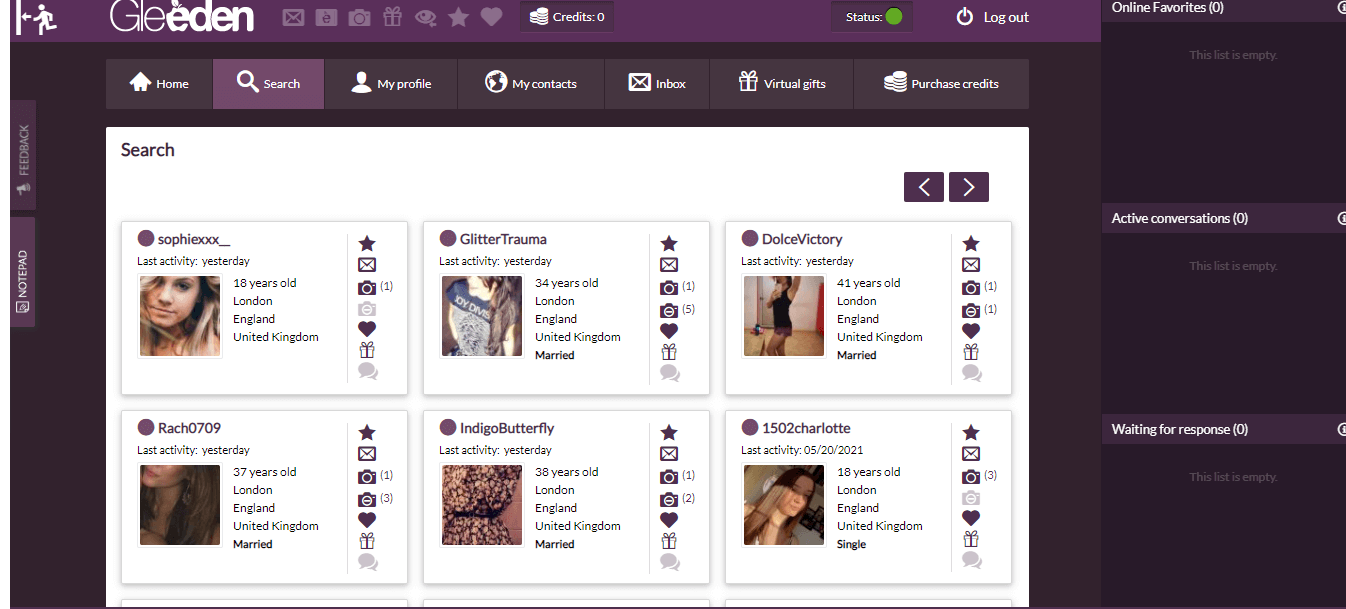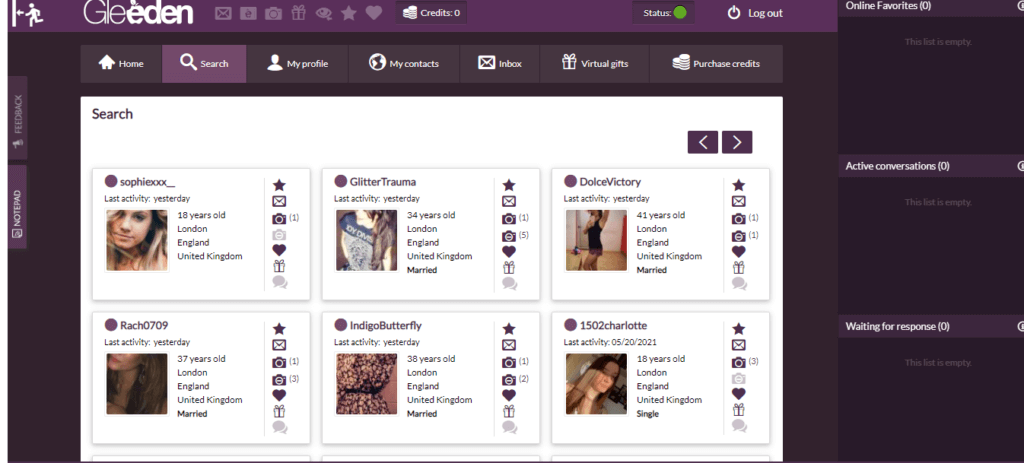 Starting your Gleeden profile is easy enough.
Either download the relevant app for your mobile phone or head to the Gleeden homepage to signup there.
That's the route I took which required the following information to start the process:
A username (not your real name of course)
The country you live in
Your gender
The gender you are looking for (with LGBT options)
City
Email address
Password
Once you've validated your email address, you are free to enter the site.
Gleeden immediately takes you to your profile, so let identify everything you will need to complete that.
The team at Gleeden clearly wants you to fill in your profile.
The moment you hit the site for the first time, you are immediately tasked with filling it in.
Of course, you can choose to look around the site if you want, but may I suggest that completing our profile should be a priority.
While hookup dating sites often don't have profiles that have a lot of information in them, Gleeden is a little different
So what's the information you are going to have to provide?
It includes:
Date of birth
Sexual orientation
Marital status
If you have children
Your occupation
Income
Physical information (height, figure, ethnicity, eye and hair color, etc)
If you smoke or not
That's the basics but there is more as well which involves ticking checkboxes to describe your personality for example.
Of course, if you don't feel like filling in these sections, well that's totally up to you, but because it's only checkboxes, it doesn't take much time at all.
Set aside 10 minutes and you will easily finish everything.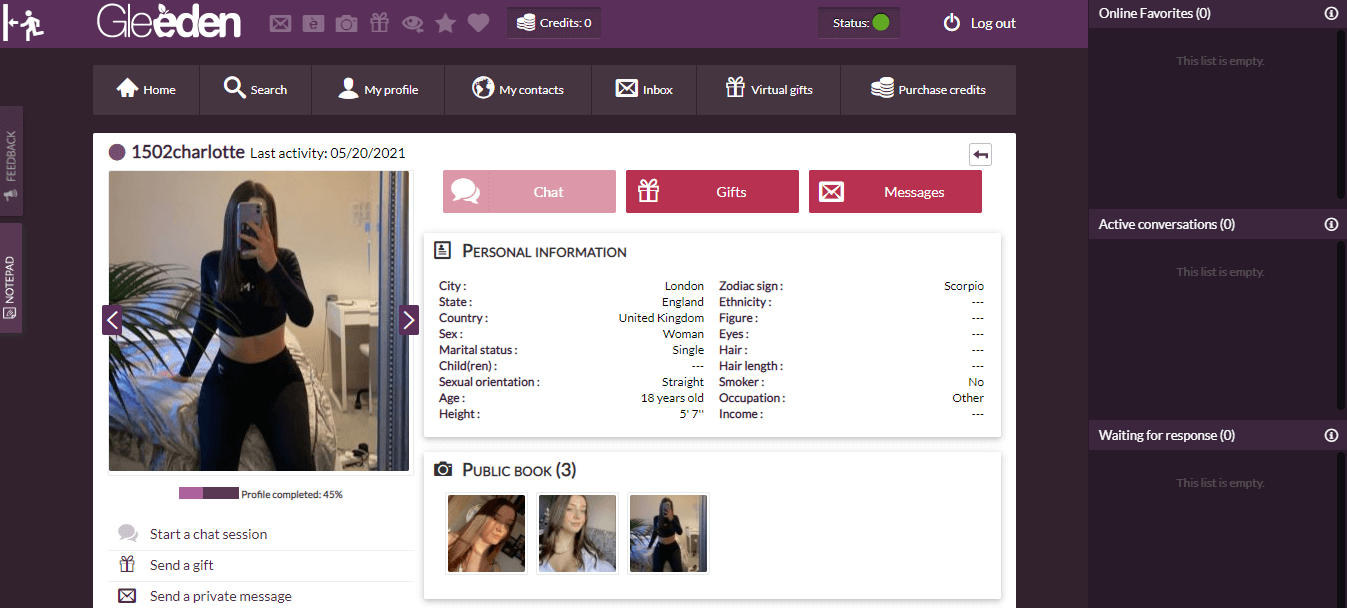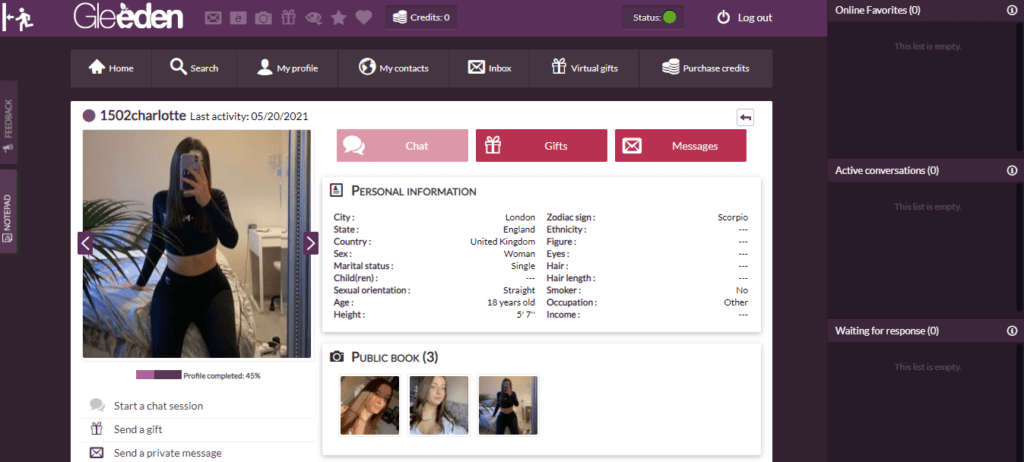 Finding your way around the site
The Gleeden dating site has an interesting design.
The first thing you are going to notice is the prominence of the color purple.
It's everywhere.
I feel that while it's very different and gives Gleeden a unique look, it does work well.
One thing I couldn't understand, however, was the need for two menu systems on top of each other.
This isn't necessary from a usability point of view.
Let me explain.
First up, you will notice the main menu system which includes the following:
Home: Takes you back to the homepage
Search: Here you will find all the search options on the site, including the advanced search engine as well as browsing new members, for example.
My profile: Click here to access your profile and site settings
My contacts: If you favorite a profile, it will appear here.
Inbox: Find all messages here
Virtual gifts: If you like to send virtual gifts to other users, you can do so from this menu
Purchase credits: Gleeden operates on a credit system. To purchase them, click here.
Above that, however, you will also see a row of icons.
Clearly some of these double up like the envelope icon for messages and the camera for your profile.
It's almost like they are trying to make the site look more of a dating app design overall.
But that's what the app is there for, it doesn't need to transfer through to the website I feel.
But it's not a major thing I guess.
Last, in this section, I want to talk about the homepage.
I love the way it's set out in a modular design.
There's lots of information that you can find here as well.
For example, you will notice the member of the day who is always near your location or you can launch a quick search for potential matchups if you'd prefer.
You can see any new members that have joined the site and you can even read some of the latest dating news which is a cool feature.
On the left-hand side, you will notice the Daily Information box.
Here you can:
Send private messages
Read messages you receive from the admin team
See the new virtual gifts you've been sent
See who has visited your profile
See who has favorited your profile
See if you have received any crush alerts
View your own private photo album (this is called your private book and you can give access to other users)
See the profiles you have recently visited
For me, it's nice having critical information like this neatly presented and easy to see every time you log into the site.
It's a real strength I feel and something they've got right on the site.
You will also notice on the left-hand side of the screen that you can access a handy notepad if you'd like to write a few notes.
Lastly, on the right-hand side of the home screen you can track your messages via conversations that are active as well as those that need a response.
If you have favorited some profiles, you can also see if they are online as well.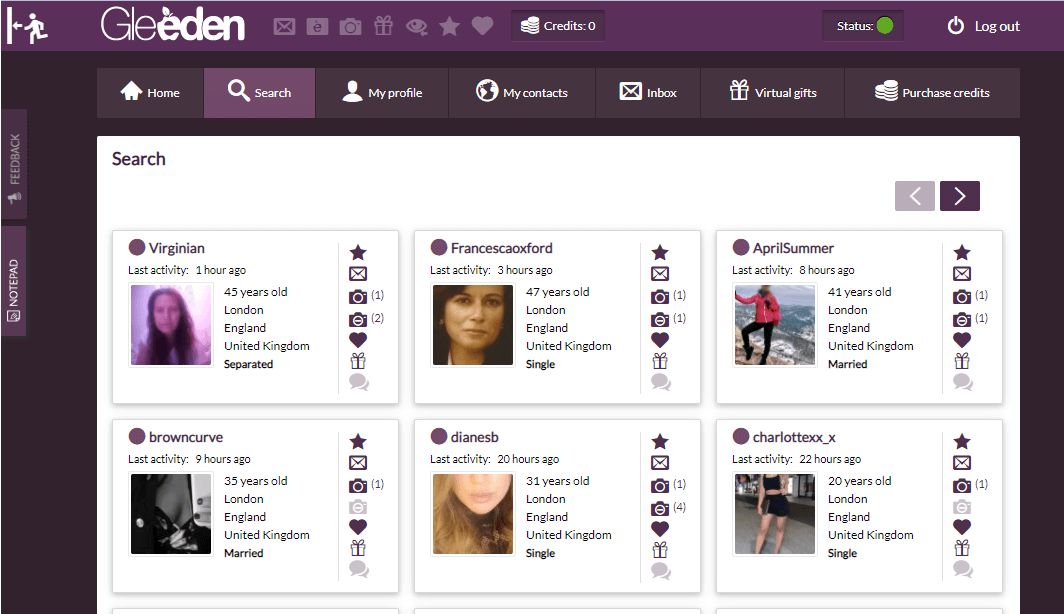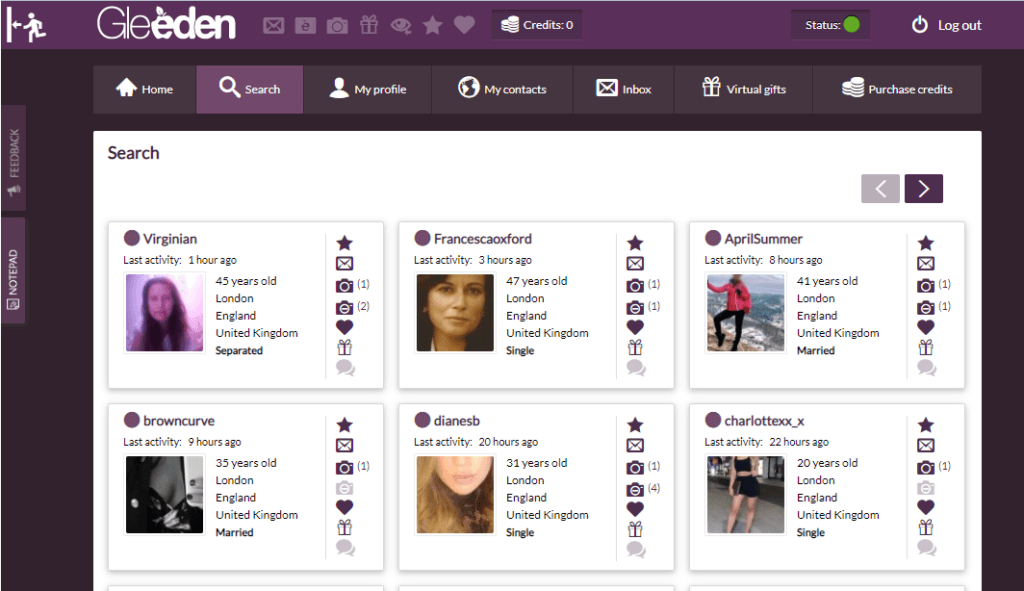 It goes without saying that if you are a female, Gleeden really does benefit you.
You won't have to worry about paying a cent for anything.
The site is totally free to use.
Males, however, will need to pay if they hope to get anywhere on Gleeden.
And that means buying credits.
But before we get to that, let's talk about how you can go about finding matchups on the site.
There are several ways to do this.
Browse the new members on the homepage
Check out the new member of the day
Search for your own matchups
In my experience on dating sites, while it's always fun to look through new members or even matchups suggest to you on some sites, ultimately, searching for your own is usually where you end up.
Gleeden provides an advanced search engine where all those profile parameters we spoke about earlier in the review come into play.
Of course, when a site has over 8 million users and you live in a city where many users are on the site, you can add extra parameters to turn up your perfect matchup.
Messaging is easy if you are a female, a little more difficult if you are a male.
To send messages as a male, you will need credits.
Initiating contact is five credits but if the person messages you back, you are free to carry on the conversation without having to worry about paying more credits.
It's just initiating it that will cost credits.
As a male, however, you can send some free virtual gifts and also a crush alert.
This is like the flirt option you will find on other dating sites and just shows someone that you are interested in them.
Luckily, Gleeden does give all male users 10 credits to use on the site.
So at least you do get to try it out.


While there isn't membership on the site like most other dating portals, here are some of the key features that Gleeden provides.
Always the key feature on any dating site, without messaging you cannot communicate with other users.
Hookup sites are big on private photos and Gleeden is no different.
Each user can make some of their photos private and store them in their private book as it is known.
If you'd like, you can then share these photos with someone that you've been chatting to.
For me, this isn't much of a key feature but there is no denying that virtual gifts must be popular.
You just find them on so many different dating sites.
I guess if you need to impress someone and hopefully hook up with them, sending them a virtual gift might be necessary.
Overall, the key features that Gleenden offers are far worse than I would have expected.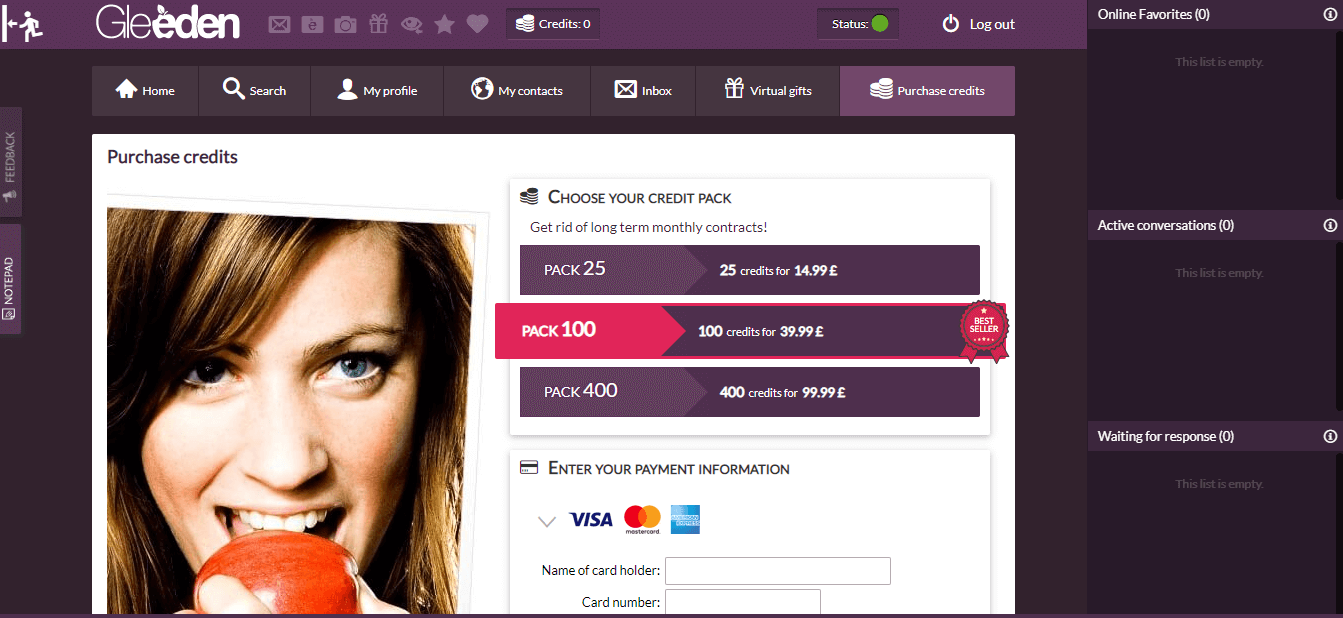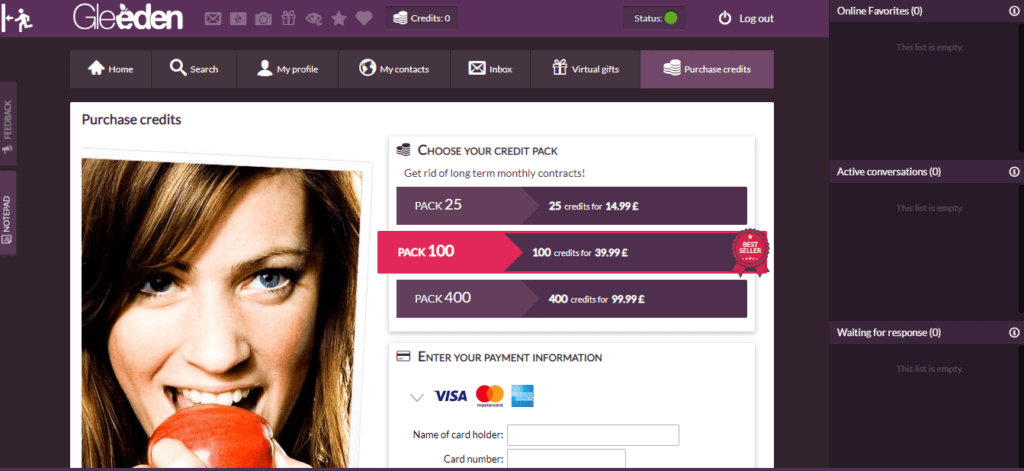 As already mentioned, Gleeden works on a credit system for male users.
You will need credits for messaging as well as sending virtual gifts to impress a potential matchup and more.
But how much do these credits cost?
And are there different packages that you can buy into?
Here's a full breakdown:
25 credits – $14.99
100 credits – $39.99
400 credits – $99.99
The more credits you buy the cheaper they are but on the whole, they are pretty expensive.
But I would try to aim for more, that's for sure because 25 credits are only going to initiate five conversations.
You can only pay for Gleeden credits with your credit card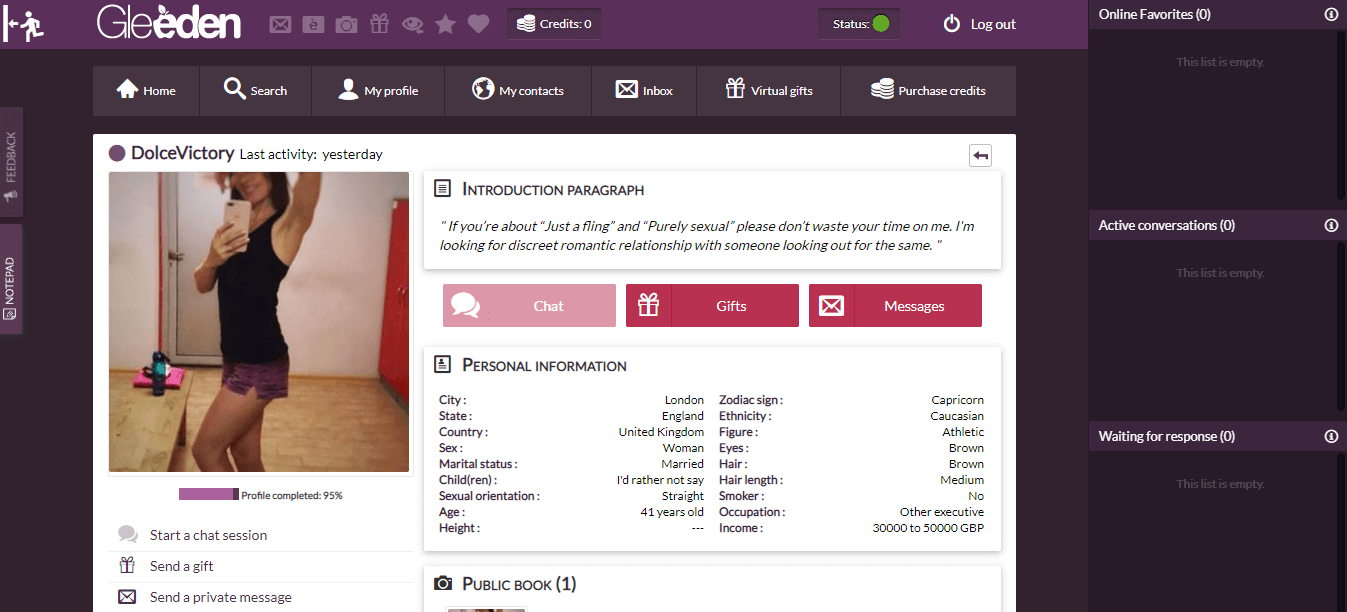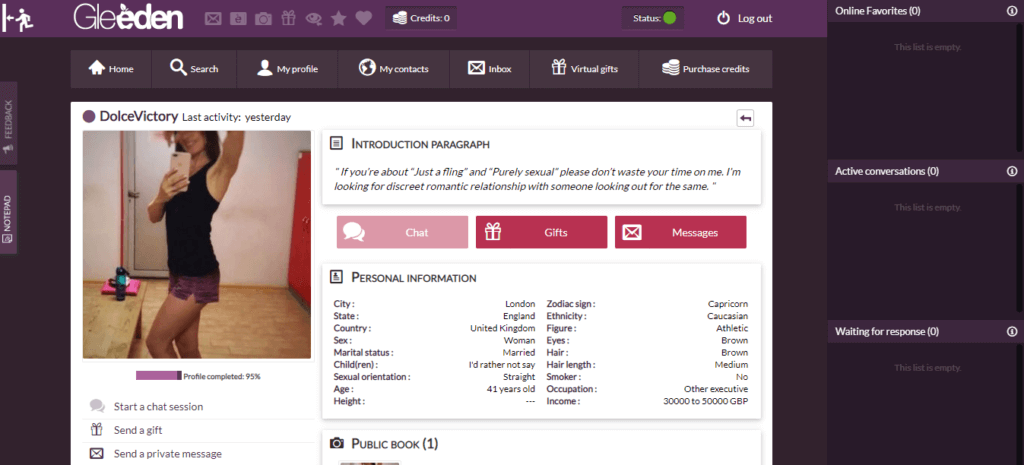 Conclusion and Overall Rating
So let's summarize what we have learned about Gleeden in this review.
If you are a female, there's every reason to try this site.
It's not often that you get things free in real life but women are allowed to use all Gleeden's key features and they don't pay anything.
So by all means, take the time to check out what it has to offer, especially if you are looking to have an extramural affair.
After all, that's what Gleeden is all about.
For men, it's not that simple.
You will need to pay if you hope to get anywhere on Gleeden.
Overall, pricing is a little expensive I feel, especially as key features could be a little more impressive.
That's certainly one area that I feel Gleeden can improve on.
Unlike other sites that use a credit system, at least you aren't charged per message.
It's just five credits to initiate contact and you won't have to pay more as long as the person carries on talking to you in that message thread.
Overall, Gleeden does what it promises.
And that is to provide a platform for people all over the globe to hookup.
In terms of scams or fake profiles, I can say that during my time on the site, I wasn't contacted by users that tried to scam and all profiles I viewed seemed legit.
So today, it gets a rating of 3.25 out of 5 and this would have been higher if the key features were a little more impressive and pricing not so high.
Gleeden is a hookup site for people around the globe and was tested and reviewed by the Onlineforlove team over a period of many weeks.
This dating site is all about helping people find partners to have extra-marital affairs with and our approach saw us use a star rating system for criteria through which we rank all dating sites that we reviewed.
The overall evaluation of Gleeden was based on the factors listed below.
The overall cost of membership
How easy or difficult the site is to use
The features that paying users can expect
How big the user base of the site is
How effective the site is in matching users up