Welcome to our FlirtNextDoor.com review.
This is one of the hundreds of hookup adult dating sites you will find online.
Focused on casual dating, this is where people come for no-strings-attached encounters, not long-term relationships.
Well, that's the general idea behind this dating service.
OFL Top Recommendations based on 100,000+ Survey

"Serious Relationships"
"Discreet Hookups"
"Best Course for Men"
"Quick Flings"
"Normal Hookups"
"Our Quiz"
In this in-depth review, we take the time to analyze the site, compare it against its rivals and collect all the information you need to know about FlirtNextDoor.
As we gather that critical information, we also:
At the end of this review, we will conclude our research and summarize our findings to help you decide if this best dating site for you.
Let's jump straight in then.
Is your dating app giving you the best chance for success?
Make sure to take our online dating site/app quiz to find out.
It's a fact that people who follow our dating site suggestions have on average 2 extra dates per month.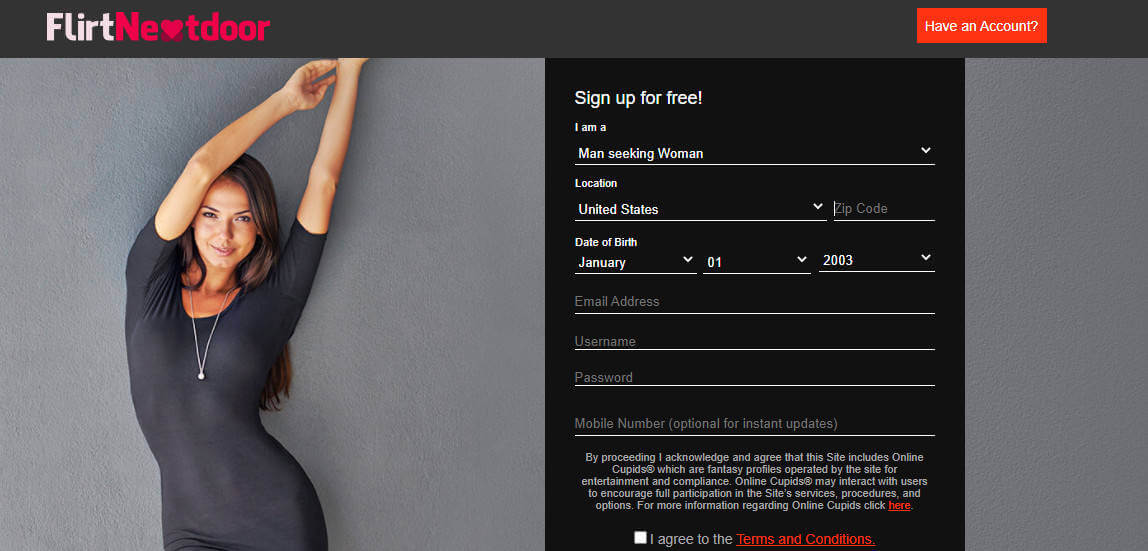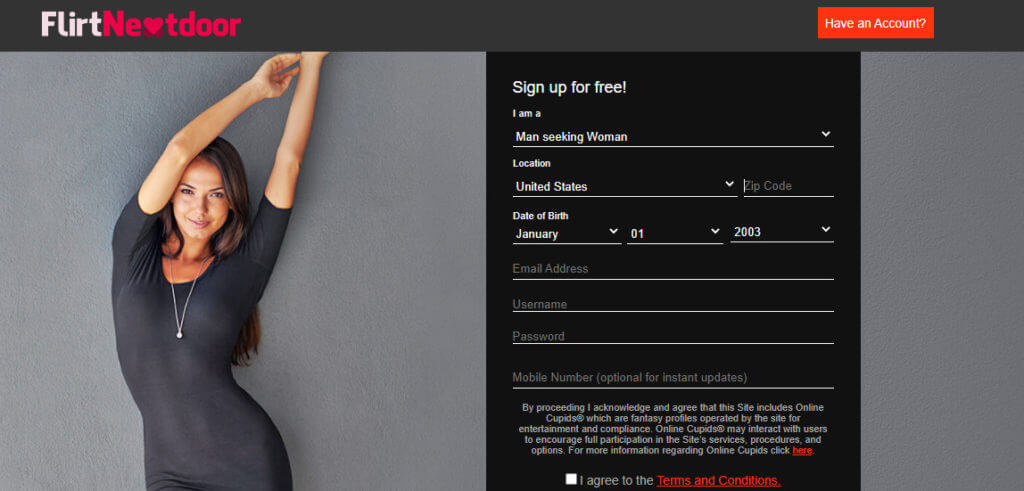 Ease of use – 3.5/5
Success rate – 2.5/5
Key features – 2.5/5
Price – 3/5
Superfast registration process that has you online in less than five minutes
An interestingly designed website that's pretty unique
Constant pornographic advertising
80% of profiles on the site are males
It's expensive for the limited key features on offer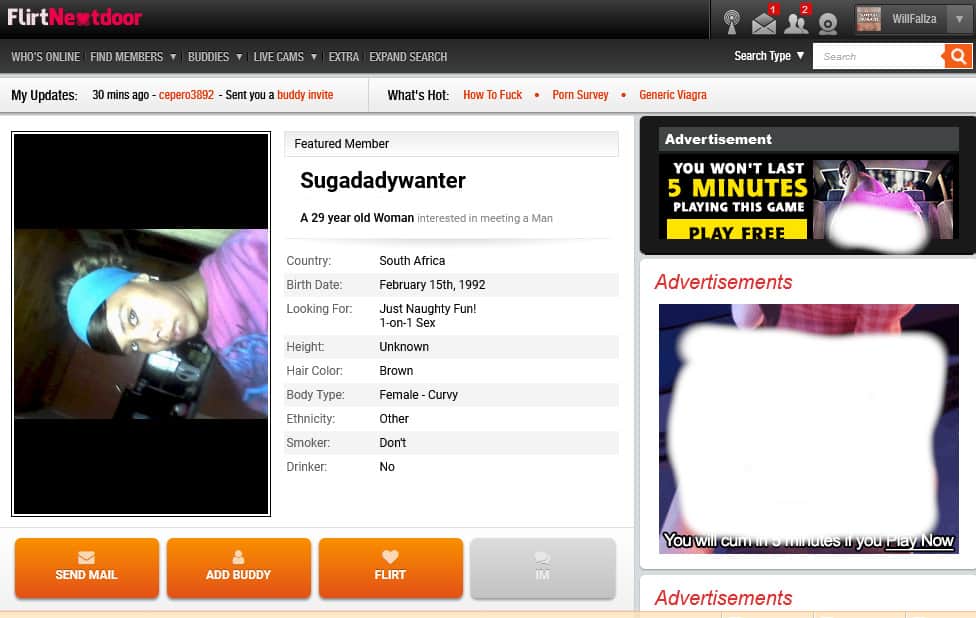 Who Is It For/Demographics?
For many who look to online dating sites, it's not about finding long-term love (like Tinder or eHarmony).
They want to focus more on casual dating or hookups (like BeNaughty or Ashley Madison).
You know, finding people that you can meet with to have a physical encounter with no emotional attachment whatsoever.
OFL Top Recommendations based on 100,000+ Survey

"Serious Relationships"
"Discreet Hookups"
"Best Course for Men"
"Quick Flings"
"Normal Hookups"
"Our Quiz"
That's where hookup dating sites come in.
Sometimes, they are aimed at older women or milfs and younger men.
That's a casual dating dynamic that you'll often come across.
The thing is, it's not only a milf of 45 years old and younger men that are into hookups.
You'll find adult dating sites for people of all ages wanting to have an affair, for example.
And that's the type of site FlirtNextDoor is.
It caters to all kinds of people who want a legit hookup.
​The numbers behind

FlirtNextDoor
First up, I want to clarify that FlirtNextDoor is a relatively new dating site and was only established in 2019.
Of course, the Covid-19 pandemic would have seriously affected its growth.
While I could confirm several demographics about this dating website, final user numbers weren't forthcoming.
But here are some other facts and figures I collected.
Around 50000 users from the USA have started profiles here
Each day around 1000 unique users log into the site
That's around 7000 each week and close to 30000 a month
Over 80% of the profiles on FlirtNextDoor are males
The remains 20% of the profiles are female
The biggest group of users on the site are aged between 25 and 34 years old.
They make up around 35% of the total user base
The smallest group of users on the site are aged between 55 and over
They account for 10% of the user base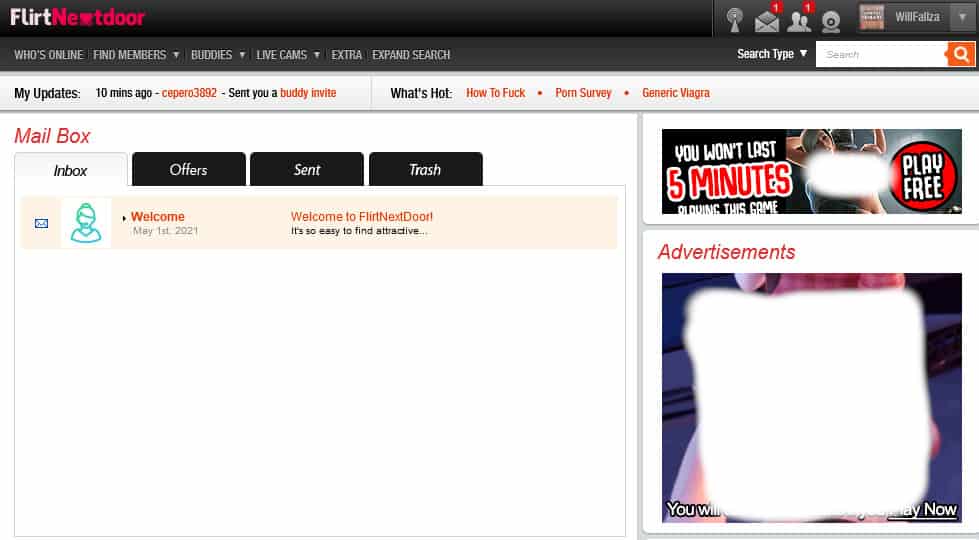 With smartphones taking over the world, most of us spend so much time on our phones that we like to have our dating apps on them too.
There's no chance of that with FlirtNextDoor, however.
At this point, there is no app for the site and I was unable to find out if there was set to be one in the future.
That means you are going to have to start the sign-up process through the website and without the chance to use one of your social media accounts.
To begin, each new user must provide the following:
Your gender and the gender you'd like to hookup with
Your date of birth
Your location
Your email address
A username
Your password
From those initial pieces of information, you are taken to FlirtNextDoor to begin the process of completing your profile on the site.
What's needed here is:
A title for your profile
An "About Me" section
A "Describe Your Ideal Matchup" section
That's all you need to access the site and once you've completed that, you are taken right there.
Straight away, however, I did not like the fact that so much of the how much pornography was on show in the advertising.
I know that this is a hookup site, but it's really in your face.
My major critique is that it's literally everywhere.
Although I eventually found an option in the settings to turn it off, that didn't work at all.
So just be warned about that.
FlirtNextDoor

site design and finding your way around
Overall, if you can get past the constant pornography, the design of the site is pretty appealing.
It's laid out in a modular style with a series of menus at the top of the screen.
The basic colors here are black, grey and white with flashes of color provided by user profiles.
While it is a little different from other hookup dating sites, it won't take long to get a feel for FlirtNextDoor.
The first set of menus is all about helping you to find a potential matchup and they are:
Who's online: Click here to see users online now and not only in your location
Find members: This is the site search engine and you can look for matchups of your own here.
Buddies: There is a social networking aspect to the site in the fact that you can make buddies with other users. You can view, approve or block them here.
Live cams: All hookup sites have live cams and this one is no different. If that's your thing, click on this menu
Extra: Here you will find links to porn computer games
The second set of menus are found on the right-hand side of the screen and takes the form of icons.
They are:
Broadcast icon: This is a notification system. For example, if someone sends you a buddy request, you will find it here. It will also notify you of status updates buddies make, who has viewed your profile and more.
Envelope icon: This is where you will find all messages
Two people icon: Go here to approve any buddy requests that you receive
Webcam icon: This is another link to live webcam models
Your username: This is where you can access your profile, setting and galleries. You can also find the FAQ here if you have any queries.
We will get a little more into how to use these menus to find matchups a little later.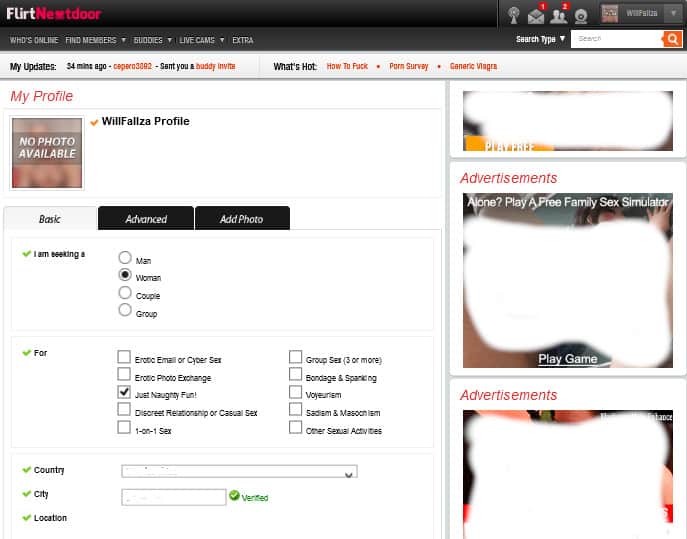 Your

FlirtNextDoor

Profile
Even though this is a hookup dating site, you've still got a profile with information that needs to be completed.
Yes, you've done the basics, but there is still more to add and it won't take more than 10 minutes to complete.
You can add the following:
What you are looking for from a hookup (with 10 options)
Your height
Your weight
Your body type
Your hair color
Your eye color
Your ethnicity
Your habits (do you drink or smoke)
Marital status
If you have children
Your level of education
Your profession
Of course, your profession and level of education don't really factor in as critical information on a hookup site, but people might be interested in the other profile parameters.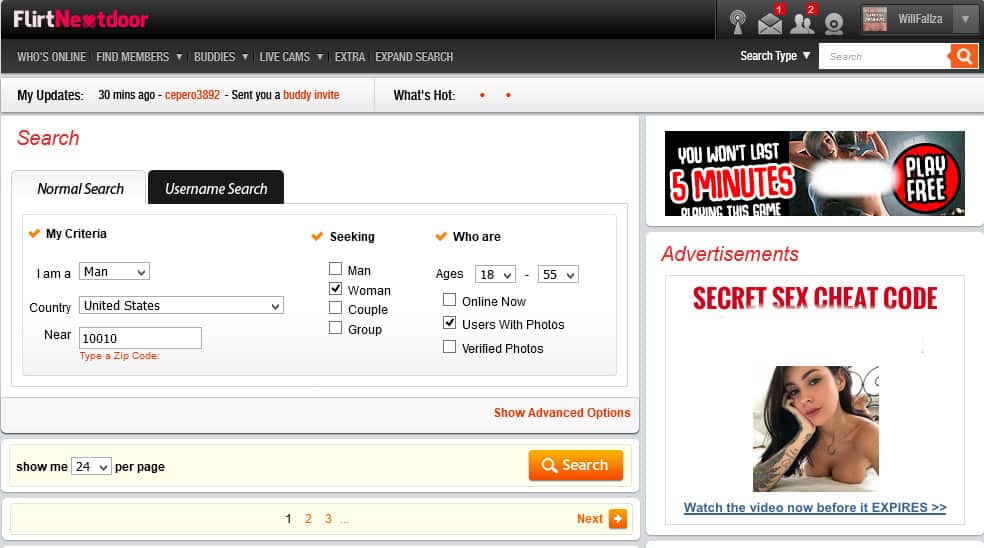 There are a few ways that you can find a potential matchup on the site.
Remember, you can reach out to anyone no matter how far away they are thanks to modern technology.
And yes, lots of users here will look to cybersex as a way to get a little bit of fun.
If you just want to see users that are currently online, you can easily click on the "Who's Online| menu.
You can also see the hottest users on the site as well as various user galleries.
Of course, these won't all be near your location.
Searching for local

hookups
To find other users that are close to your location simply click on the "Find Members" and then choose the "Member Search" option.
Regular users can make searches with the following parameters:
What you are looking for (male, female, couple, group)
Age range
If they are online now
If they have a profile photo
If they have verified photos
Location
That's going to be enough to provide you with potential matchups near you if there are any.
For those users who upgrade their accounts, there are a host of added parameters that you can add.
These include:
The type of relationship they are interested in (10 options including 1-on-1 sex, bondage, group sex and more).
The ethnicity of the matchups
I believe that they've missed a trick here by not adding those profile parameters related to a user's appearance as a search parameter.
It really doesn't make sense as to why they wouldn't have done so.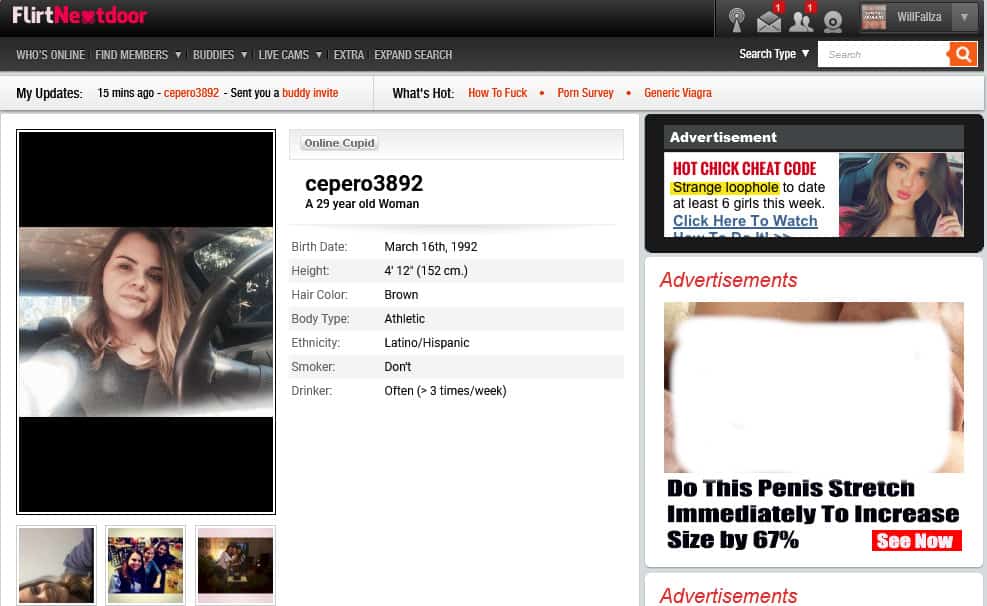 I observed two main ways that you can interact with other users.
Both of them, however, are behind a paywall.
First up, you can send a message to them from their profile.
Simply click on the send mail option to do so.
This system of communication is much like you would find on other dating sites.
It's like sending an email and then waiting for a reply and can be pretty slow.
There is also the option of an instant messager.
This is the equivalent of a one-on-one chat room where you can speak to a potential matchup in real-time.
As a regular user, you can flirt with someone and they will receive an alert that you have done so.
But reaching out to others, that's going to mean you have to pay towards membership on the site.
As a FlirtNextDoor member, you can expect the following extras for you to explore.
While the advanced search options are worse than I expected, they do allow for a few extra parameters that you can set.
For me, the best of these is the fact that you can search for the type of hookup someone is looking for, which I believe is critical on a site like this.
Members can send as many messages as they want.
And that's for both the regular form of email messages as well as the instant messenger system.
Without messaging, you aren't really going to be able to communicate with other members.
Members also get access to video messaging which is perfect if you want to have an online hookup with someone that's not near your location.
3. Send unlimited buddy requests
Useful?
Maybe.
important?
No.
This is a hookup site.
Does it really need a social networking aspect?
I guess some people will love that kind of thing but for me, I am pretty skeptical about the need for it at all.
But yes, members can send as many buddy requests as they want.
Free users cannot even send one.
I believe this is something that you want on a hookup site.
Members have the ability to see the private photos as uploaded by other users.
And it seems like many of the users on FlirtNextDoor like adding private photos to their profiles.
Overall, the key features that you can expect as a paying member on the site are a little underwhelming.
Of course, the ability to message other users is critical to success on this site so that's more than useful.
Also, an advanced search engine is something that comes in handy as well, except this one only allows for two extra parameters over and above what the normal search engine offers.
From my perspective, leaving out the profile parameters related to a users' appearance and others is a massive oversight.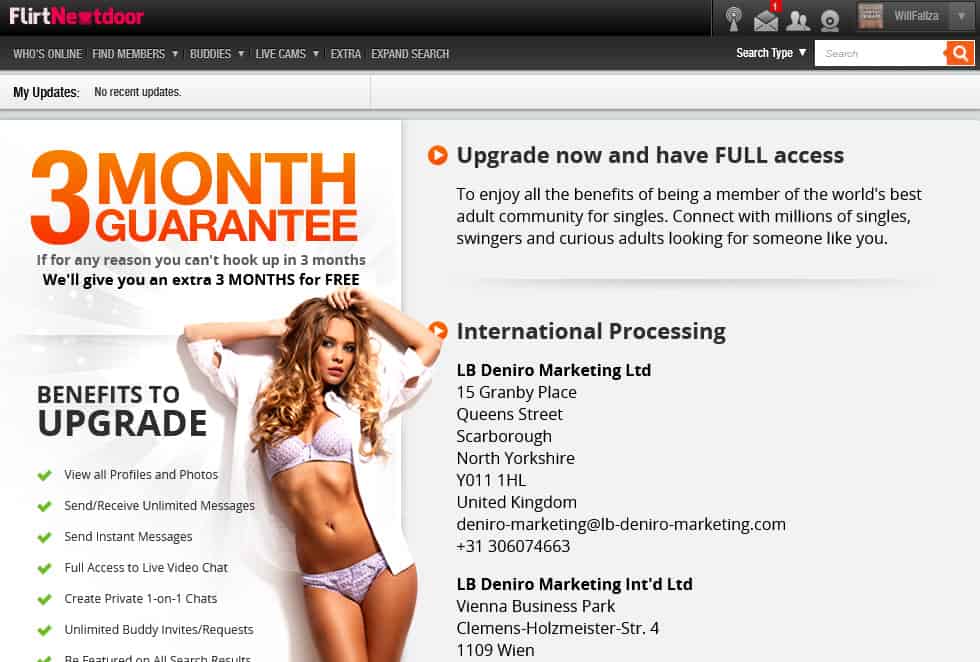 There are three pricing options available to you should you want to sign up for a membership on FlirtNextDoor.
Here's what they will cost you.
1-month membership: $29.95
3-month membership: $49.95 ($16.65 per month)
6-month membership: $60.60 ($11.60 per month)
If we compare that to other hookup sites, FlirtNextDoor is cheaper with their month-to-month offering than many of them.
For example, AdultFriendFinder charges $39.99.
But again, that has millions and millions of users worldwide.
I believe that on the whole, for what's on offer, FlirtNextDoor is a little too expensive.
Membership can be paid for by credit card among other options.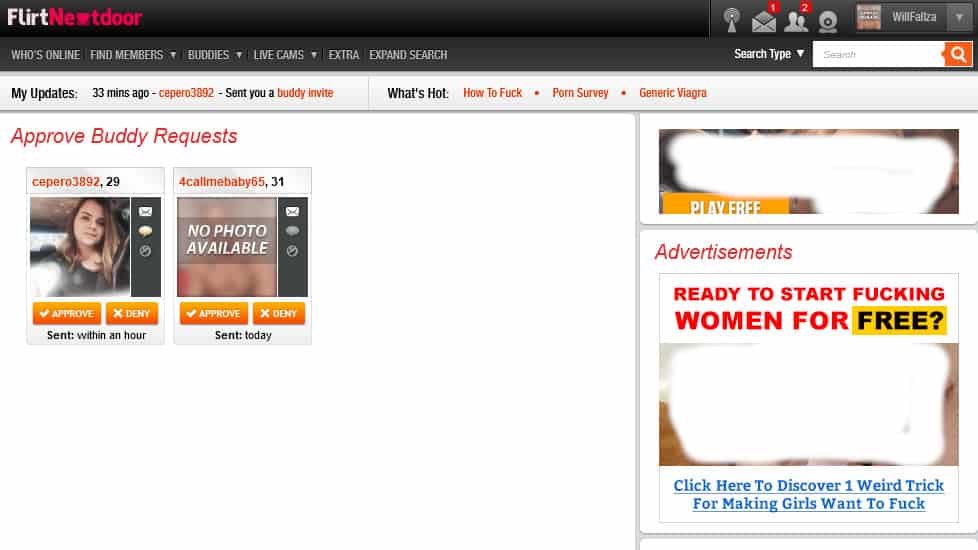 Conclusion and Overall Rating
It's come time to report my findings and deliver a verdict on FlirtNextDoor.
New to the hookup website game, first up, it's not going to be the busiest dating site you've ever seen.
So it really depends on where you live as to whether it could help you find the kind of hookup you are looking for.
In other words, you are going to have a greater chance in a massive city than some small town away from metropolitan areas.
And that's because the user base is small, but growing.
I am not a prude but I did not like the constant pornography in the advertising either.
Each page has anything from four to six adverts and all of them are pornographic and very blatant.
Membership to the site doesn't even take this away.
There's no harm in trying out the site because you will be able to register a profile and search for matchups around you to see how viable it is.
But, as with all of these sites, should you wish to message someone, you will have to pay for a membership.
FlirtNextDoor seems to be pretty big on the fact that they have a social networking appeal too, although that's just the ability to add friends, or buddies as they call it.
I can't really see any advantage in this at all.
As for fake profiles and scams, you have to verify your email address, so there is some security in place.
I came across no obvious fake profiles and no one asked me to send them money during my time using the site.
But you will always find people scamming on dating sites, so always be careful.
For an overall rating, FlirtNextDoor gets 2.8 out of 5.
We at Onlineforlive generated a user profile and explored and used FlirtNextDoor as a dating site over a long period of time.
During that testing phase, we have come to the conclusion that this is a dating site were users are looking to hookup with others.
You can find people looking for several different types of relationships here, from casual encounters, BDSM hookups, cybersex and more.
To rate FlirtNexDoor, we took the review approach of giving a star rating for those areas that we deem critical parts of a dating site.
Our final evaluation of FlirtNextDoor took these areas under consideration in coming up with that rating: how many users the site has, overall ease of use, success rate when it comes to finding the types of matchups we were looking for, the price of membership and the key features that brings.