If you are a gay man that's looking for the ultimate gay dating site to suit your needs, you are going to want to take the time to read this review of Squirt.org.
Online dating for gay people can be a bit of a minefield at times.
That's because there are just so many dating websites out there offering a range of options and catering to different popular ages.
As we assess and evaluate the Squit, we look at:
OFL Top Recommendations based on 100,000+ Survey

"Serious Relationships"
"Discreet Hookups"
"Best Course for Men"
"Quick Flings"
"Normal Hookups"
"Our Quiz"
So what are we waiting for?
Let's get this Squirt dating review underway.
Is your dating app giving you the best chance for success?
Make sure to take our online dating site/app quiz to find out.
It's a fact that people who follow our dating site suggestions have on average 2 extra dates per month.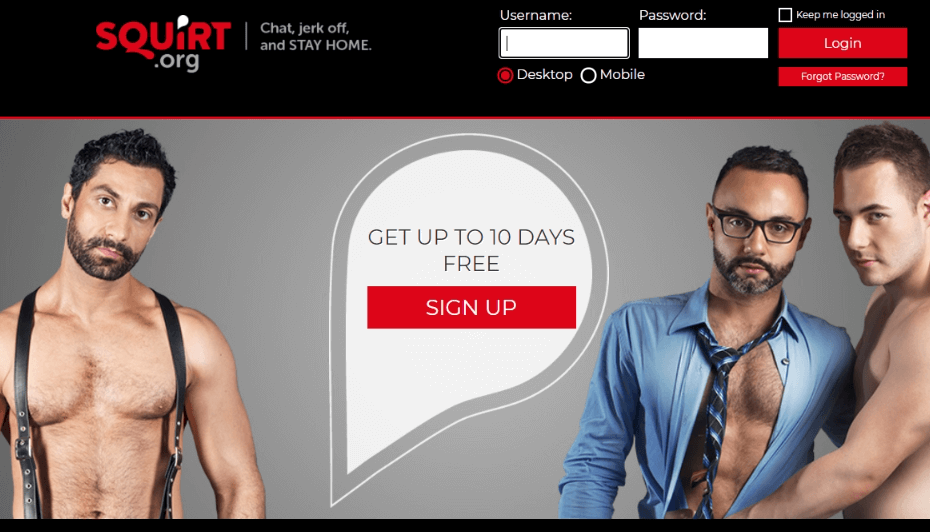 Ease of Use – 3/5
Effectiveness – 3/5
Key Features – 5/5
Pricing – 5/5
Membership is super cheap
A user base of into the millions
Includes cruising locations for hookups
Lots of member features
Some fake profiles
You won't find people looking for serious relationships here
Lots of advertising
Who's it For/Demographics?
Believe it or not, Pink Triangle Press, the team behind Squirt first started the site in 1999 out of Toronto, Canada.
That's two decades of providing gay males with a dating site that's mainly all about casual sex and hookups (like BeNaughty or Ashley Madison). No one here is looking for a serious relationship (like eHarmony or Tinder).
When you compare it to similar sites, you will find that a large portion of the user base is American and Canadian.
While Squirt is primarily an online dating site, it has a community side to it as well.
As an example, it includes messages boards as well as information about the best cruising spots in large cities where you can meet other gay men.
OFL Top Recommendations based on 100,000+ Survey

"Serious Relationships"
"Discreet Hookups"
"Best Course for Men"
"Quick Flings"
"Normal Hookups"
"Our Quiz"
But just how many users does Squirt have?
Well, that was particularly difficult to find.
In fact, in hours of research, I came up with a bunch of different numbers, anything from 1 million to 2 million users and often somewhere in between.
I think it's safe to say that as a hookup site that's been around for over 20 years, you can rest assured that Squirt doesn't have only a handful of users.
From my time on the site and the various search options I tried, this is a site that has a user base easily in the millions.
As for the most popular age ranges, well Squirt users are found across the board when it comes to age.
A large majority, however, are between 25 and 44 years old.
That said if you are an older guy looking for a young stud or vice versa, Squirt has you covered, that's for sure.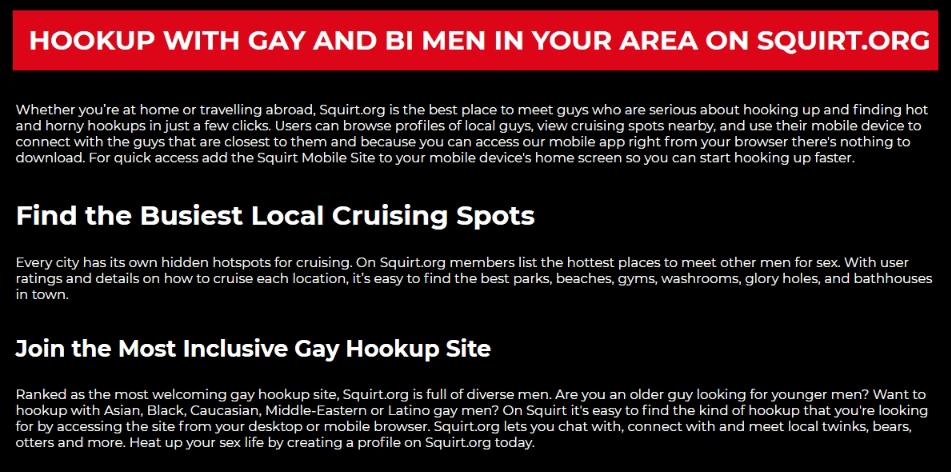 The Squirt sign-up process is extremely user-friendly.
While there is no mobile app for Squirt, the website does include a mobile version that's pretty slick in its overall design and super easy to use.
In fact, that's how I signed up for my profile.
To get the ball rolling, point your browser at Squirt.org and provide the following information:
Username
Email address
Password
The email address does need to be valid as you will have to click a confirmation link that Squirt sends you to confirm your account.
If you use the regular website, you will notice various links to all the extras Squirt offers.
These include message boards, live cam chat, member videos, cruising spots, and more.
It can be very overwhelming actually because Squirt is very busy design-wise.
It is also filled with NSFW adverts and pics, so bear that in mind as well.
For me, the mobile version of the site is far less cluttered and I prefer that.
The design is simple to use too, with the menus found at the top of the screen and the black and red coloring making it good to look at.
But how do you navigate around Squirt when finding a gay sugar daddy?
Well, just use the simple menu system.
There are just five menus here:
Guys: Click here to see a host of other real-life Squirt users. You can adjust this to show users online near you now or to also show other user profiles who aren't currently online. Obviously, while searching, you'd want to use both of these but more on that later.
Mail: If you send or receive messages from other Squirt users, you will find it all recorded under this menu system.
Chat: This menu will give you chat room options that are available to premium members of Squirt
Cruise: If you want to know the top cruising locations for gay men in your city, you can click here.
Search: Instead of looking through matchups presented to you by Squirt, you can launch your own search for the perfect hookup here. This allows you to adjust various parameters, for example, sexual preferences and more.
On the top-left-hand side of the screen, there is another menu with three horizontal lines.
This will give you access to your profile and site settings amongst a few other options.
You are going to have to deal with your Squirt profile a lot sooner than I've indicated.
In fact, you won't get to access the site and see all the menus I have described above before you provide Squirt with some information about yourself.
I must say, I am a big fan of dating sites that do this.
Although this is a hookup site mostly, I still feel it is necessary to fill in your profile so people can get more of an idea about you, and vice versa, before reaching out.
Squirt profiles are actually packed with a fair bit of information when comparing it to other gay hookup sites.
This includes:
Details about your physical appearance
Your particular tastes
Your sexual experiences
And much more
While there's a fair bit of information to provide here, it really won't take more than 10 minutes for you to complete everything.
You will also notice that you can add more photos and even put them in a private gallery.
While browsing through the profiles of other users, it seems that many of them took the time to complete their profiles, which is nice to see.
You will also see that a fair percentage of users also uploaded more than a single picture.
Again, there's often plenty of nudity on offer, so be aware of that.
So now that you have a little more background on just how Squirt operates, let's take a little about how you can use the site to help you find a hookup.
First, however, I want to start with the good news.
The moderators at Squirt give all new users up to 10 days access to premium membership.
That's awesome because it really lets you try out everything that Squirt offers before you decide on buying into the membership.
Obviously, to see the reply rate of members and to justify spending money on membership, you are going to have to find people to message.
So what's the best way to go about that?
Well, Squirt does give you plenty of options.
You can look at potential matchups the site provide to you that are near your location
You can search for your own
You can go more hands-on and try out the cruising site that Squirt suggests
Finding the right matchup on Squirt
Let's start with the first option from those that I have listed above.
First prize is always about finding a potential matchup that lives near your location, or at least in the city you reside in, right?
To find those, simply click on the Guys menu to have them presented to you.
What I love about the overall design of Squirt, especially while browsing it on your phone, is the fact that you see up to 16 profiles at a time.
That allows you to quickly scan through profiles, see which you like of the current 16 shown and then add them to your buddy list.
Now you can come back to them at a later point as you scan for more.
And yes, if you want to find out more about a specific person, you will need to click on their picture to view their profile.
That's because, in the default view of 16 profiles at a time, you can only see their username and how far they are from your location.
To be honest, it would be nice to have more information indicated in this view, even if it was their age for example.
But how does Squirt know what types of profiles to display here?
Well, of course, location is the main factor in play as Squirt will show you people near where you live first and foremost.
But it will also take into account other critical bits of information, for example, your preferred age range.
And if you've looked through potential matchups but would like to search for some of your own?
Well, you can use the Squirt search engine.
And this is where the comprehensive profiles can help too.
But let's talk about the basic search first.
This includes the following parameters:
The age range you prefer
If they are currently online or not
If their profile includes photos or not
For many people, this would be enough to search by.
It also will provide you with profiles outside of your location if you are don't mind a virtual hookup or something that's long distance.
But you can add many more parameters to your searches if you'd like by using the advanced search engine.
Now you can search via:
A specific location
Profile parameters (like physical appearance filters, sexual preferences and more)
Safe sex options (like the use of condoms, PreP or both)
And many other parameters
When a dating site has an advanced search engine, I always like to advise you to be careful in how many parameters you add to a search.
Too many can prove detrimental and cut down significantly on search returns.
Rather just add the parameters you find non-negotiable.
Lastly, I want to talk about cruising sports.
I don't think I have even seen a gay dating site that has something like this.
Squirt lists around 15000 locations around the globe it says its users can go to find other like-minded gay men for a hookup.
I guess that's the way it was done before online dating came along, right?
While this might be useful to some users, I think you need to ensure that if you want to meet men like this, you've always must keep your safety in consideration.
It's definitely something you should always consider.
Reaching out to other users
Once your trial membership is over and you don't sign up for a membership package, your options in reaching out to others are restricted.
You can still send emails to other users, but just five in total.
You can only view up to 20 profiles a day as well which is a pretty heavy restriction.
You are still free to add users to your buddy list, however.
But even then, you are faced with restrictions after a while.
So for me, membership is a must on the site.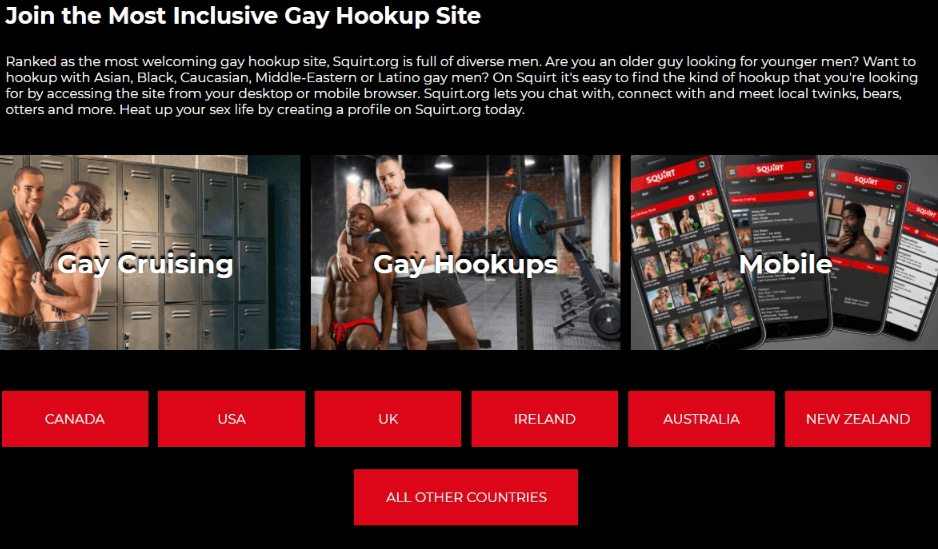 Before we look into the key features that membership brings, let's recap on everything a free member on the site can do:
Access up to 5 cruise listings
View 20 profiles a day
Send 5 email messages a day
See 20 profile pictures a day
Buddy list limited to 100
For a member, there is no limit to the options listed above.
Here are the extras that are for paying members of Squirt
If you love reading or writing erotic stories, as a member, you will have access to the aptly named Cocktales.
This is a section of the site that allows users to contribute erotic stories or simply to read thousands of contributions from other members.
2. See who viewed your profile
If you are tired of scanning through hundreds of profiles looking for the ultimate hookup, perhaps it's time to see who might be interested in you.
The simple way to do this – and it's something you will find on all dating sites – is to see who has viewed your profile.
If they haven't reached out to you yet, perhaps you could strike while the iron is hot, as they say.
It really is a useful tool and it's easy to see why it is placed behind a paywall.
3. Send unlimited messages
Once your 10-day trial is over, you aren't going to enjoy the messaging restrictions imposed on regular users.
Paying members simply don't have that problem as they can send and receive unlimited messages.
4. Unlimited profile viewing
As a free user, only viewing 20 profiles a day is a massive restriction.
That's not a problem for a paying member on the site, however.
Click on as many profiles as you like and view until your heart's content.
That's going to help you find that perfect hookup, that's for sure.
Don't worry about any restrictions when it comes to adding users to your Buddy List.
There are no restrictions unlike the 100 face by non-paying membership.
6. Unlimited Cruise Listings
As part of the fan club membership, you have unlimited access to cruise listings as well.
This is excellent news for users who travel often and who would like to know the best gay pick-up locations in the cities they are traveling to.
Of course, it can help you find locations in your city that you perhaps didn't know about as well.
7. Unlimited photo/video viewing
Other than viewing photos in their full-size, something a free member cannot do, you can also see unlimited photos.
This is for profile pictures as well as picture galleries a user may have added.
Also, if they have videos on their profiles, which many do, you can watch them too.
8. Webcam and group video chat
Often a massive part of hookup sites, Squirt offers webcam and group video chat to all paying members.
Advertising is everywhere on Squirt and some of it is pretty in your face in terms of nudity.
If you sign up for membership, you won't have to see any of this.
Once your 10-day trial is over, you will have to make the decision if you are going to sign up for a membership on Squirt or not.
And you will have a pretty good idea at this point if it is a site that can work for you or not.
But what is membership going to cost and what kind of packages does Squirt offer?
Well, the good news is that there are five different package options, so that gives potential members a wide variety to choose from.
That's always a good thing in my book.
These options cover anything from a week to a year which is more than many other dating sites offer.
Here are your options:
1-week membership: $9.97
1-month membership: $14.97
3-month membership: $39.97
6-month membership: $69.97
1-year membership: $109.97
Without a doubt, one of the strong points of this site is pricing points for membership.
$14.97 per month… that's excellent especially when you consider what's on offer for those that sign up.
And you can make even more savings should you choose a longer package option, which is something many who use hookup sites do.
Let's be honest, no one is looking for a serious relationship, so jumping from hookup to hookup is something that often happens.
So buying into a year's membership makes sense, especially if it costs just over $9 per month.
Ultimately, whatever package each individual decides to go for is up to their unique circumstances and what they hope to get from the site.
When it comes to payment options for Squirt, there are a few including using your credit card and mobile pay.
Conclusion and Overall Rating
That's it for our review of Squirt.org.
To summarize, clearly, this is no flash in the pan gay dating site, that's for sure.
And if it didn't work, it would have been around for the best part of 20 years.
During that time, Squirt has built up an impressive database of active users.
But that's not the only thing going for it.
From the cool member features to the cruise listings, there is something for everyone who is looking for a gay hookup, that's for sure.
While it doesn't have a mobile app, it is optimized for mobile use through your browser and that's the way I used it 90% of the time.
What I do like a lot about Squirt is that although it has lots of key features for members, it hasn't gone and priced itself out of the market.
Most people would consider paying $14.97 per month to use a hookup site and that's all that Squirt asks.
As far as scams and fake profiles go, yes of course you will find them here, just like you do on any other dating site.
Squirt is no different in that regard, so always keep your wits about yourself when dealing with people who might be trying to scam you.
If you think they are trying to, trust your instincts.
Squirt is worth a try if you are looking for gay hookups and today it scores a solid 4 out of 5.