eHarmony is one of the most popular online dating sites that has managed to gather millions of active users worldwide and establish itself as a top-tier dating app for all people looking for a serious relationship.
However, just like you would do with any other dating platform, I would recommend you do a good check-up on this dating site and realize how it works and what it offers.
For that reason, we have decided to provide you with an eHarmony review in which we will explore:
Is your dating app giving you the best chance for success?
Make sure to take our online dating site/app quiz to find out.
People who follow our dating site suggestions have on average 2 more dates per month.
The sign-up process on EHarmony doesn't differ too much from those on other dating platforms, especially from the sign-up process on a bit more severe websites like OkCupid or Zoosk, so that you won't have too many problems with it.
You will need to add your essential information like your email address, name, surname, and date of birth when joining, but you will need to answer more questions as you create your dating profile.
The first thing you will have to verify your identity by connecting your phone number to your EHarmony profile.
This is the main step you need to take to verify your identity, and before you do it, you will not be allowed to start using the platform or connecting with other matches.
After you have confirmed your identity through phone number verification and the unique code you have received, you can proceed to complete all those questionnaires and personality tests that are required for everyone to create their personality profile on EHarmony.
Even though no one will force you to complete these things, if you want to meet a lot of other subscribers and find compatible partners, you will need to complete all of those tests and questionnaires; otherwise, you will not have much success while using it.
All premium members will be able to do the same quizzes, and if you want to get a stable number of daily matches or even succeed on EHarmony, you will need to invest your time and energy into this.
This is the longest part of the sign-up process and a requirement if you want to have a good dating experience.
Unless you are willing to spend an hour creating and curating your EHarmony dating profile, you shouldn't even be joining it because, with a blank profile, you will not be able to attract anyone or find compatible matches.
It is crucial to do all of this before the matchmaking process even starts, so keep in mind that this is a dating website you need to dedicate some time to.
As you probably know, EHarmony is based on a compatibility matching system that will always take into consideration all the information you have shared with this dating service and make sure to match you with the most compatible person on the app.
EHarmony dating app is aimed at people looking for a serious relationship, and if you want to make sure you will find someone who will fit you both in your love and personal life, you will need to explore all of its features, filters, and guided communication options.
The EHarmony app is full of testimonials of people who have had a lot of success with it and even managed to find their future spouses while using it, but the key to becoming so successful on the app is in making the most out of everything it has to offer.
You will need to complete the biggest EHarmony questionnaire you will be offered initially because that is an absolute gamechanger that will impact your whole future experience on the platform.
This is the longest part of the sign-up process, but once you complete it, you will be set for good, and you will be able to experience the EHarmony website to the fullest.
How EHarmony works is that it will consider all the information you have shared with the platform. It will allow you to set the filters and features perfectly so that you can find the person who fills out all of your criteria.
When you set all those features, choose what kind of person you are looking for, and set your preferences for everything from religion to their favorite movie.
These things may seem trivial, but they are an absolute gamechanger, and you will see how easier it will be for you to meet like-minded individuals.
If you are into Christian dating, you can choose that; if you only want to date people of your race, you can choose that too, and you can set your preferences.
Eharmony will perform a compatibility quiz with each individual on the platform, and if you want to make sure you will get quality EHarmony matches, you will need to dedicate some time to all of those questionnaires, personality tests, and quizzes.
This is something that doesn't seem too important at the beginning but shows how crucial it is in the rest of the matchmaking process, so never ignore it.
EHarmony can help you schedule your first date after just a few days of using it, so it is essential to get the most out of these features and make sure you are always sincere when using the app.
Its functionality is fantastic, and if more people knew how to use it the right way, they would experience a much better overall performance and a more significant number of dates or successful relationships.
During the matchmaking process, EHarmony will take into consideration all of your preferences, and it will also make sure that the results of your personality test match with those they recommend to you because if your personality doesn't work well, they wouldn't recommend those people to you and they won't allow you to start some connection with them.
As you can see, EHarmony cares about its users, and you don't have to worry about your matches being completely random or getting ghosted on the algorithm – everyone has the same chances, and the EHarmony membership is the same for all people who are using it.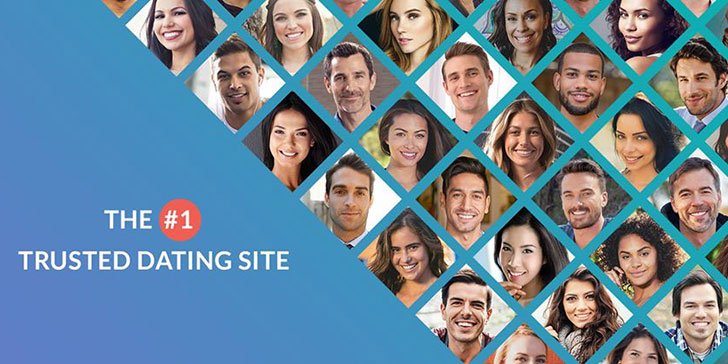 You will be able to curate your whole dating experience, list all the traits you are looking for in a partner, and then start looking for them.
In terms of search options and filters, there is no online dating platform that could outdo EHarmony, and as soon as you start using it, you will realize how important it is to make use of all recommended features.
The matchmaking process is fantastic, and I would tell you to immediately step up your game if you want to meet your soulmate this year.
EHarmony is also known for having detailed dating profiles which are some of the best in the dating niche.
Since you will need to complete several questionnaires, do personality tests, and different quizzes, you will be able to update your profile with all the most essential information about yourself.
Even though you will be required to add all of this information from the start, you will also need to complete their specific questions if you want to create a profile that will be interesting to other daters.
Once you have completed the basic steps in the registration process, you will need to answer several questions that will appear in sections on your dating profile.
You will need to complete your About me page with a short description of yourself, which should consist of a creative description and where you should avoid any crucial questions that will appear in the rest of your dating profile.
After that, you will see profile sections with different questions, and you will be able to leave a 200-character answer to questions like "What kind of relationship do you have with your family," "Who is the person you look up to" "What are the things that keep you going in life.." etc.
There are hundreds of potential questions, and EHarmony tends to give different combinations of questions to all of its users, so don't be surprised if you see that other individuals on the platform don't have the same questions as you.
I would advise you to be 100% sincere while answering them and never feel scared to share your honest thoughts and opinions because differences are what make our lives and relationships so beautiful.
Of course, if you have dealt with a serious problem or some sort of trauma, it shouldn't be the first thing you mention, but make sure you can represent your personality fully through these short answers.
Most people tend to match not with those who look the best but with those who have real life experiences like them, so this EHarmony questionnaire should be a window to your soul.
From many EHarmony testimonials, we have seen how big of an impact these questions have on people's overall experience, so make sure you complete them carefully!
EHarmony has many amazing features that will allow you to search the EHarmony app easily and find like-minded individuals after just a day you have spent on the platform.
These are some of its most popular features to help you stand out and see why there is such a high EHarmony success rate.
Video date is one of the latest and the best EHarmony features that has helped people a lot, especially during the pandemic.
With the video date feature, you will be able to start a video chat with any of your matches and communicate with them through a video call.
This is a great feature because it will help you establish a more meaningful relationship with your match and allow you to feel safe, and make sure you are dealing with a natural person.
Winks are an easy way to initiate a conversation, and they are an icebreaker.
Whenever you have no idea what could be the first message you will send to a person, you can send them a wink and wait until they respond.
What if it is a fun feature you can use when you are not really in the mood to connect with any of those matches that seem to be your true love, and you want to have some more fun.
This feature will allow you to explore all the people on the platform you have nothing in common and match with them without any obligations.
There were even success stories of people who have met their partner through this feature, so you never know what can happen!
EHarmony will never connect you with random people, and you will always see the compatibility score next to someone's name.
You will be able to open the compatibility tab and see what the things you two have in common are, and what are the most significant differences between you, so you can decide whether something is a dealbreaker or not.
EHarmony has an online dating app that can be downloaded both to Android and iOS iPhone devices without any problems, even though it originally was created as a dating website.
The apps are a bit outdated, and they are not designed beautifully, but the most important thing is that they work and that you will be able to find plenty of matches easily.
You will be able to create your profile through the app too, and there won't is any problems uploading profile pictures or other information.
EHarmony dating app reviews are pretty good, and if all you need is a good match and a functional messaging feature, this is the app for you.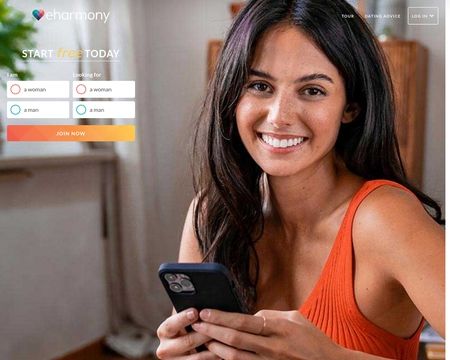 OFL exclusive offers - Check all of them

"Serious Relationships"
"Discreet Hookups"
"Best Course"
"Quick Flings"
"Normal Hookups"
"Our Quiz"
Even though most people prefer the EHarmony dating website because it is easier to use and it is much better designed, the EHarmony rating and success rate stay the same no matter which way you are using it, so at the end of the day, it is not even necessary as long as it keeps on working.
EHarmony is owned by the same company that owns Match.com, and since it was launched a decade ago, it is designed in the most basic way, and it is easy to use even if you have never used a dating platform before.
All of the features and filters will appear in the main menus, and throughout the whole sign up process, you will be guided by the platform that will tell you what to upload and where.
Reviews of EHarmony are pretty positive when it comes to ease of use, and it is an excellent option for a bit older people who don't have too much experience with dating apps.
You will easily upload EHarmony pictures and do personality tests and questionnaires, and you will be able to scroll through your homepage without any problems or obstacles.
Both the app and the dating website are easy to use, and in case you don't know how to find a particular feature or filter, you can always click on the Help circle in the upper right corner and choose the things you need some help with.
As you probably know, EHarmony is one of the most expensive online dating platforms, and most people tend to avoid it for that reason, even though they may be looking for a long-term relationship.
Since it has a unique algorithm and compatibility matching system, and it pays a lot of attention to its users and their safety, EHarmony is often the first choice for many people, even though the price is very high.
A monthly membership on EHarmony will cost you 65 dollars per month, making it way more expensive than platforms like Bumble, Tinder, or OkCupid.
Since EHarmony.com offers a unique experience to its loyal users, most people will say that this much money for membership is worth it, especially if you are eager to find love and don't want to waste any more time.
It is also free of fake profiles and scammers, which are some of the most essential things for all daters out there.
However, just because a month membership is this expensive, it doesn't mean that you are not eligible for any kind of discount on EHarmony, and it is a thing that all loyal users know.
Even though the price of the membership will still stay pretty high, you can choose to purchase a 6-month or yearly membership that will provide you with a significant discount.
If you choose Premium light and purchase a membership that will last you for 6 months, you will pay 45 dollars per month for your EHarmony account.
In case you believe that you will stay there for a more extended period of time and you decide to purchase a yearly membership, you will only pay 35 dollars per month which is the best deal you can get.
Although most Eharmony members don't plan on spending this much time on EHarmony.com, they never know in advance how long it will take them to find the right significant other, and this can sound like the best option while searching for potential matches.
I would recommend you to purchase a 6-month membership for the start because you never know how many compatible matches you will be able to meet during that time, and it will be of much better use than a regular month subscription.
If you know that you are someone who needs a lot of time to explore other member profiles and pays attention to every questionnaire, personality test, and everything EHarmony has to offer, I would recommend you to purchase this one because it will pay off the most.
Yearly subscriptions are rarely purchased, and they are mainly used by people who want a serious relationship but would also like to stay casual dating (like BeNaughty or Ashley Madison) for a bit longer period.
Also, everyone has access to the same premium membership, and there are no differences among people who purchase it, so you can be sure everyone with a paid subscription will get access to the same features and filters.
The price is high, but it is a high-quality website, and you don't have to worry about scammers and fake profiles.
Keep in mind that the cancellation process can take quite some time even if your contact their customer support, and they can never guarantee that you will get a refund, so if you are not sure that you will keep on using it, then you definitely shouldn't be spending hundreds of dollars on a membership.
EHarmony is known for being a dating app with the highest success rate out there, and even though many people still keep asking if is EHarmony worth it, its results are showing that it is.
Even though it was launched a decade ago, it still has millions of active users who decide to search EHarmony with a mission to find their soulmate.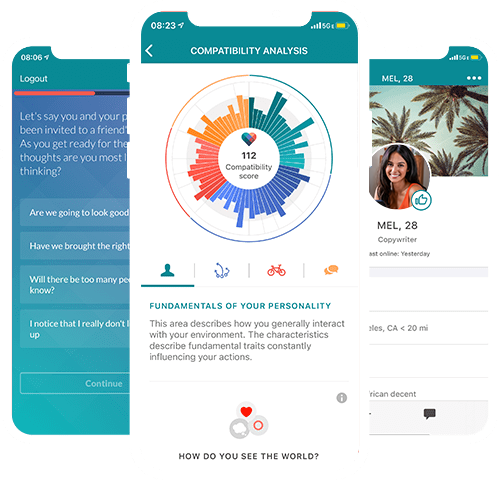 Is EHarmony good and successful is something that depends mostly on you, and if you keep using all of its features, completing questionnaires and personality tests, you will see a lot of success in a short time.
Research has shown that 71% of female EHarmony users were able to find their perfect match after just a few days on this platform and that those matches they went out on a date with turned into something bigger – whether that be a relationship or even marriage.
The experience is the same for 69% of men on EHarmony too, and it seems like everyone can schedule a date and find a potential boyfriend or girlfriend on this app.
How is EHarmony working is that it always connects you with the most compatible people, which is definitely the reason why people were able to establish such meaningful relationships with other daters all of a sudden.
The success rate is very high, and all the people who put in the effort to create their EHarmoy profile, add profile photos, description and answer all of those questions will be rewarded and meet their significant other quickly.
As you can see, even though the EHarmony cost is relatively high and it is certainly not available to everyone, it is also one of the most successful and safest online dating platforms out there.
While using EHarmony, you don't have to worry about becoming a part of some scam, and you can be sure their algorithm will do everything possible to connect you with the perfect match.
It has millions of users worldwide, and the matchmaking process is so extensive that there is no way you will not be able to meet someone and experience amazing success within just a few days!
You don't know how to worry about how good is EHarmony because everyone has experienced its fantastic performance and you should join it as fast as you can!