Now in the world of dating, you are going to come across niche sites aimed at a specific target group all the time.
But there certainly aren't many dating sites online that cater to bikers, in particular.
Biker Planet, however, is one that does.
It's open to single bikers looking for love, be they straight or gay.
And in this comprehensive review, we are taking a look at what kind of job it does in helping bring bikers who are searching for companionship together.
We will cover:
So if you are a biker and you'd like to meet other likeminded bikers who are looking for some kind of relationship, then make sure you read this review in its entirety.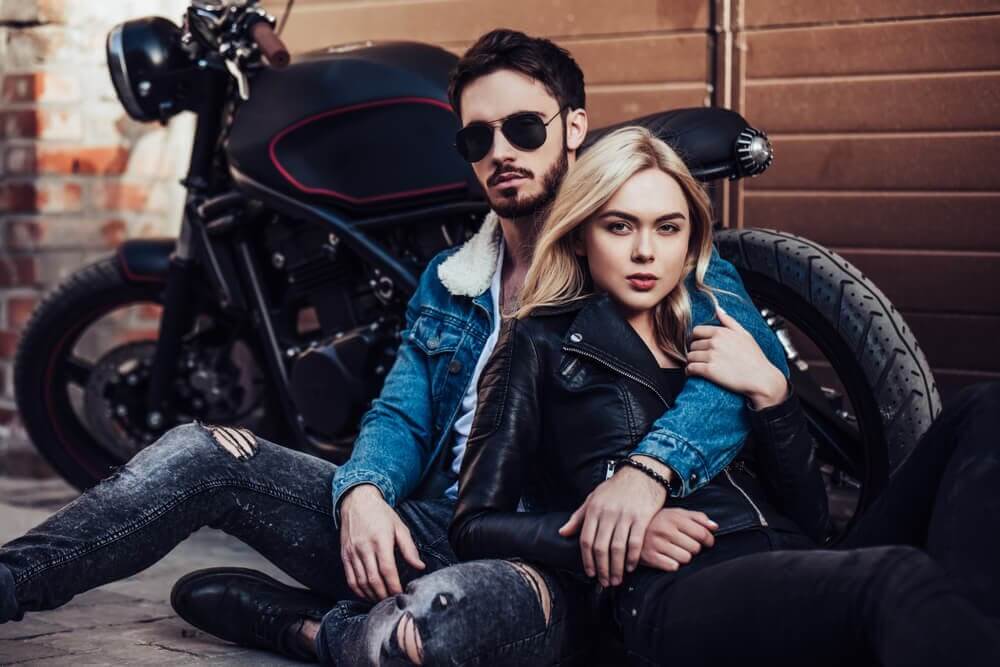 Biker Planet Review in Video Form
Audio (podcast) form for those of you on the go
Ease of Use – 4/5
Effectiveness 3/5
Key Features – 3/5
Pricing – 4/5
While it's a niche site, it has a surprising number of users the world over
Simple to set up an account and get busy looking for your bike soulmate
The age ranges of users are fairly well spread
Detailed profiles mean you can learn a lot about a potential matchup
Caters for the biker community, no pretenders here
Includes an app
Not that many key features to write home about
To message effectively you will need a membership
Plenty of onsite advertising, even with membership
Who Is It For/Demographics?
This is a dating site for bikers.
If you aren't one, there is going to be little value in you setting up a profile on Biker Planet.
It is not solely hookups (like BeNaughty or Ashley Madison) or only for serious relationships (like eHarmony) – it is for Bikers.
Of course, if you are one and you'd like to get into contact with other male or female bikers, then by all means, start a profile here.
What are Biker Planet's user numbers like?
You'd probably guess that a niche site like this will have fairly limited user numbers.
It is a site that's for bikers only and while there are plenty of them in the world, how many of them are looking for love online?
Well, I think you'd be very surprised then.
According to Biker Planet themselves
Over 600 000 bikers have signed up for profiles on the platform
Around 500 new users sign up each day
Around 1 000 users log in each day
That's 30 000 users per month
Users come from all over the world including the United States, Europe, Australia and other countries.
Male to female ratio and age ranges of users
More males than females?
Yes, if you'd guessed that, you would be right.
But that's not a surprise really.
It stands to reason that there would be more male users than females because more men ride bikes than women.
But what is the breakdown exactly?
It's not as far apart as you'd think.
55% of the users are male
39% of the users are female
6% of the users are couples
But what about the age ranges?
Well, for most dating sites, we cover up to 55+ but for Biker Planet, we go even older.
Here's a breakdown of the age group breakdown starting with the most users:
45-54 years old
55-65 years old
35-44 years old
65+
25-34 years old
18-24 years old
Over 35% of all the users on the site are between 45-54 years old.
25% are 55-65, 20% are 35-44 and 19% are 65 and older.
The last two age groups only around 6% of the users.
To me, that stands to reason because often people buy their first bikes in their 40s or even older, perhaps when they've retired.
Before we get onto how to make your profile on Biker Planet, here's a little bit of fun.
We are going to look at a breakdown of users and the bikes they ride.
Which brand is most popular, do you think?
If you guessed Harley Davidson, you'd be right.
Over a third of the bikers who have profiles on the site ride Harley's.
Here's a breakdown:
Harley Davidson: 35.32%
Honda: 15.33%
Triumph: 7.25%
Indian: 7.19%
Victory: 6.78%
Ducati: 6.38%
BMW: 5.16%
Yamaha: 4.33%
Suzuki: 2.44%
Yamaha: 2.16%
Other brands combined: 7.66%
Biker Planet's sign up page looks pretty inviting.
And registering for your profile is just as you probably expect it to be.
Other than signing up using your email address and then generating a user name and password, you have two other options to speed up the process – not that the traditional method is slow, mind you.
And those are to sign in using your Facebook account or your Apple account.
I generally steer clear of using these but as something different, I opted to sign in using my Facebook account and it was a simple, painless operation.
The first thing that happens once you have registered on Biker Planet is that you are offered a discount on membership.
This is a 20% off offer and only a once-off.
I am not sure how many people jump right into buying a membership on a dating site but if you re anything like me, you'd want to have a look around first.
Also, due to Biker Planet's membership options which we will look into later on, I don't think it's necessary to sign up as a member straight away.
So onto setting up your profile.
If you've used a dating site before, there's nothing that you will find here that you haven't seen before.
It's standard fare, really.
Don't forget to fill it all in, however, because without a doubt, a completed profile with a profile picture is critical to get other people to view what you have to offer.
Even if you message someone, they often won't reply back if someone doesn't have a completed profile, let alone a missing profile picture.
Getting around Biker Planet
So before we get into how to find your way around Biker Planet, I first want to talk about the overall look of the site.
I really like it a lot with its black and red design and you can see the motorcycle influence, that's for sure.
Navigating the site is simple.
All you need to use are the menus that are found right at the top of the screen under the Biker Planet logo.
These are:
Home: Takes you back to the home page
Search: Here you launch all your searches
Who's online: Want to talk to someone who is online with you, then simply click here
My profile: Here you can tweak your profile or upload new pictures, for example
Settings: Here you can change various settings
Upgrade: Click here if you want to sign up for membership
Your mailbox: Any message you send or those that you receive from others are found here
All of these need no explanation really.
They do exactly as they say and getting around Biker Planet is effortless using them.
So, without a doubt, the tools are built into Biker Planet that you can use in your search for love.
But does this niche website live up to its promise that it can help you find perfect biker love?
Once you've set up your profile, it's time to start that search for matchups in the hope of finding your other biker half!
For regular users, you have access to quick search options with a few parameters that you can fiddle with.
These are:
The gender you are searching for
Their age ranges
Their location
Set how far they are from you
Select if they have a profile picture or not
If you are a member, however, you can extend these search parameters.
In fact, there are up to 31 more options, most of which are based on parameters taken from a person's profile.
For me, as long as the location option is available and not tucked behind a membership fee, I am happy.
That means I can try to locate potential matchups that are close to me and not hundreds of miles away (although that might mean a bike trip, which isn't too bad, right?)
Reaching out on Biker Planet
So once your search has turned up potential matchups, it's time to get hold of them.
I probably don't have to tell you that to have access to unlimited messaging, you are going to have to sign up for membership.
As a regular user, you can "flirt" with someone to show your interest but this isn't that effective, well for me anyway.
One other way of getting into contact with other users is by using the chat rooms available to all or by checking out the forums.
The forums, however, tend to be focussed more on bike-related topics than finding that someone special, which is understandable because that's what the site is there for, right?
Other than unlimited messaging, what are some of the other key features that Biker Planet offers?
It seems that dating sites can't be considered to be modern and up to date if they don't have some kind of Tinder-style roulette match game.
And yes, Biker Planet has one in the form of "Rapid Match".
This works exactly the way that you would expect it to work and you can swipe through profiles, rejecting those you don't like and liking those that you do.
Should two people like each other, then a match is made and of course, that's worth following up, isn't it.
While regular users cannot see all the photos posted by others, that's not the case for members of the site.
Members can also make certain photos private from normal users but other members are able to see these as well.
Instead of sending messages in the traditional manner and waiting for a reply (almost like an email), members can instant message each other when online.
While this isn't a member-only feature, the live chat and forums found on Biker Planet are certainly a key feature of the site and extremely popular with users and members alike.
This feature is a sidebar that appears for members.
Here, a list of other members of the site appears and you can easily send them a like or a message based on their profile picture.
I suppose that's why it's called "Take a gamble".
From my point of view, there are not that many features here.
Of course, messaging is paramount if you want to use the site to find potential matchups, so at the end of the day, you are going to have to sign up for membership.
That's especially true if you've found a matchup that you want to get to know better.
I do like the "Rapid Match" game because if you match with someone and they match back to you, then you know that there is a strong mutual interest and that's worth exploring.
Now the question is, just how much can you expect to pay for membership of the site and what type of packages has Biker Planet made available to users who might want to sign up?
Do you remember when I spoke about the initial 20% off offer that you will receive when initially signing up for Biker Planet?
I said that while it was a good deal, it's better to not opt for it.
And I am going to get into why I said that, other than the fact that at that point, you didn't know enough about the site to make a good judgment call.
You see Biker Planet has a membership option that I strongly feel all dating sites should offer, or at least something similar.
Let's call it a trial membership.
In the case of Biker Planet, this trial option allows you to sign up for five days for $1 per day.
So that's $5 and close to a week for you to really check the site out.
Note, however, that you will then be rebilled at $29.95 per month until you change to another membership option or if you cancel.
The chance to get a feel for the site is invaluable and this is certainly how I would go about it.
Of course, there are other options and they are:
1-month membership – $24.99
3-month membership – $49.98 ($16.66)
And that's it.
Biker Planet doesn't offer the big discounts you would get from a six or 12-month membership.
But I feel like the 5-day trial membership more than makes up for it.
Just remember to cancel or opt for another membership should you wish to continue otherwise you will pay $29.95 per month.
As for the prices?
Well, I don't think they are too expensive, to be honest.
They are reasonable but the monthly fee, I feel could be a little lower, perhaps $19.99 for the key features a member gets.
For me personally, only the "Rapid Match" and the ability to send unlimited messages are useful.
If the chat features and forums were member-only features, that would justify $24.99 in my book.
Conclusion and Overall Rating
So if you are a biker looking for a companion or new friendships, then there is no denying that Biker Planet is a brilliant website and one that you can really make use of.
It's filled with people that love their bikes and the open road and it has users and members online from all over the world.
All-in-all, Biker Planet is effective because it has the user base to service it effectively and it's easy to use.
Like other dating sites, to get the most out of it, however, you are going to need to think about membership, just for the messaging aspect alone.
While I think the pricing is a little bit too much for a monthly membership, the three-month option is value for money and the fact that you can effectively trial the site over five days is something I love.
That certainly makes up for a lack of member features, I feel.
Having said that, as a free user, you have access to chat options and forums.
As a dating website for bikers, you simply cannot get better than Biker Planet.
And so I give it a score of 3.5 out of 5.
Are you a biker?
Would you or have you tried to find love using a website like Biker Planet?
Let us know in the comments below.
Frequently Asked Questions
Biker Planet has just sprung up overnight.
It's over a decade old and has been used by bikers all over the world to find that someone special that loves bikes just as much as they do.
The great thing about this site is that you can rest assured that everyone on it is real.
There are no fake profiles here.
In fact, there are systems in place so that every profile is checked as well as that all the personal information you give or your credit card details are kept secure.
There are lots of things you can do on Biker Planet for free.
For example, you can visit the chat rooms as well as the extensive forums.
You cannot effectively send messages, however, so if you are serious about looking for a companion, that's going to hinder you unless your take out membership to send unlimited messages.
As the most popular dating site for bikers on the web, Biker Planet is indeed legit.
The site itself is run by the Dating Media Group.
Biker Planet first came into existence in 2006 and has grown from there.
To date, over 600 000 users have signed up for profiles on the site.
Biker Planet has a 55% male to 39% female split in terms of users.
The other 6% on the site are couples.
How do I join Biker Planet?
You have a number of options when trying to join Biker Planet.
You can either download the app for Android or Apple phones or you can register online.
To do so, head on over to the Biker Planet website, and start the process.
If you don't want to do it the traditional way, simply log in with either your Facebook or your Apple account.
How do I delete my Biker Planet profile?
If you'd like to delete your Biker Planet profile you will need to first log into the site to do so.
Click on your profile and scroll down to the bottom of the screen.
There you will find the "delete account" button.
Once you click that, your account will be deleted and you cannot get it back.
How do I contact Biker Planet?
If you'd like to contact Biker Planet the easiest way to do so is by filling in this contact form.
How does the Biker Planet algorithm work?
As with most other dating sites, Biker Planet's algorithm is search-based.
As a regular user, you can only search using a few parameters.
If you upgrade to a membership, however, there are a further 31 search parameters based on user profile inputs that you can incorporate into your searches.
How do I block people on Biker Planet?
If you feel that you need to block a certain user on Biker Planet, it's simply a case of clicking on their profile.
Once you are viewing their profile, you need to find the "Block Him/Her" button.
Click on that and the user is now blocked.
How do I report people on Biker Planet?
If you come across someone violating the terms and conditions as set out by Biker Planet, it is your duty to report them to the moderators.
Write down all their details and use this contact form to do so.