If you have ever heard of Evan Marc Katz, then you definitely know that the Love U course is his signature course that is extremely popular in the dating pool.
This is an online dating course that is focused on helping you understand the pyramid of love and improve your love life in all aspects and areas.
In case you want to go through the dating experience step by step and implement all the best techniques into real life, this is something you must check out because it has the most useful dating advice you will ever hear.
This review will tell you all about:
OFL Top Recommendations based on 100,000+ Survey

"Serious Relationships"
"Discreet Hookups"
"Best Course for Men"
"Quick Flings"
"Normal Hookups"
"Our Quiz"
Is your dating app giving you the best chance for success?
Make sure to take our online dating site/app quiz to find out.
It's a fact that people who follow our dating site suggestions have on average 2 extra dates per month.
What to expect from the Love U course?
If you are completing a dating course for the first time, then you probably don't know what the right way to do it is and how you should access it.
The Love U course by Evan Marc Katz is one of the best dating courses you will find online, and it has pieces of advice on anything and everything – from the way you should act on a first date, how to attract people for hookups (like BeNaughty or Ashley Madison), and how to maintain a romantic relationship (like eHarmony or Tinder).
This course is also known as Pyramid of Love that explores everything you need to know in order to engage in successful romantic affairs.


Evan will first teach you how to exude confidence, become a feminine and high-value woman; then, it will teach you what the things you need to do and say when meeting a man if you want to keep him are.
Then you will learn all there is about dating, and there is a special chapter for single women who haven't been active in the dating pool for a while.
Evan also explores male psychology and helps you understand what are the real thoughts behind his actions and why they do the things they do.
Even though he can't really help you change a man, he will still provide you with a lot of valuable advice, which can be extremely helpful for women who have not been that active in their dating life.
Also, if you are someone who is scared of commitment and was never able to maintain a healthy relationship, I believe there is a lot of amazing things you need to adopt and make a part of your dating life; otherwise, you will not really succeed no matter how hard you are trying.
When I first came across this dating course, it didn't look any good to me, and I thought it was just a regular course that is trying to sell you an amazing love story and convince you that you need it in order to find a boyfriend.
However, when I heard women praising it and when I saw what kind of knowledge it offers, I was pleasantly surprised, and I decided to check it out.
In my opinion, this is one of the best courses I have ever come across, and it can even be helpful to men because it really explores a lot of different topics and helps you understand the dating scene a little bit.
Even I was surprised how much insight I have gained from reading through this course, and there were several assessments I believe should be included in male courses too.
This one also has a special workbook that will allow you to do exercises and see how well you handled the material, but if you purchase a premium version of the course, you will also be able to make a phone call with Evan Marc.
OFL Top Recommendations based on 100,000+ Survey

"Serious Relationships"
"Discreet Hookups"
"Best Course for Men"
"Quick Flings"
"Normal Hookups"
"Our Quiz"
Since it explores all areas of dating life, you will be able to realize why ghosting happens, how you can recognize your true love and how you should act on Tinder.
It is really a course that was able to gather all the most important information into one place and help you realize everything by providing you with brief and detailed chapters and lessons.
Most dating courses tend to sound way too complicated, even though they are focused on things as simple as love, and that is something Evan Marc was able to overcome easily.
All the customer reviews I have read are also amazing, and it seems like every woman was able to get the things she needed to know from this course; and if you believe you are lacking knowledge from a certain topic, you can always revisit it and go through the lesson all over again.
However, it is a bit longer, so it is certainly not a one week course and you will need to invest a lot of time in order to get through everything.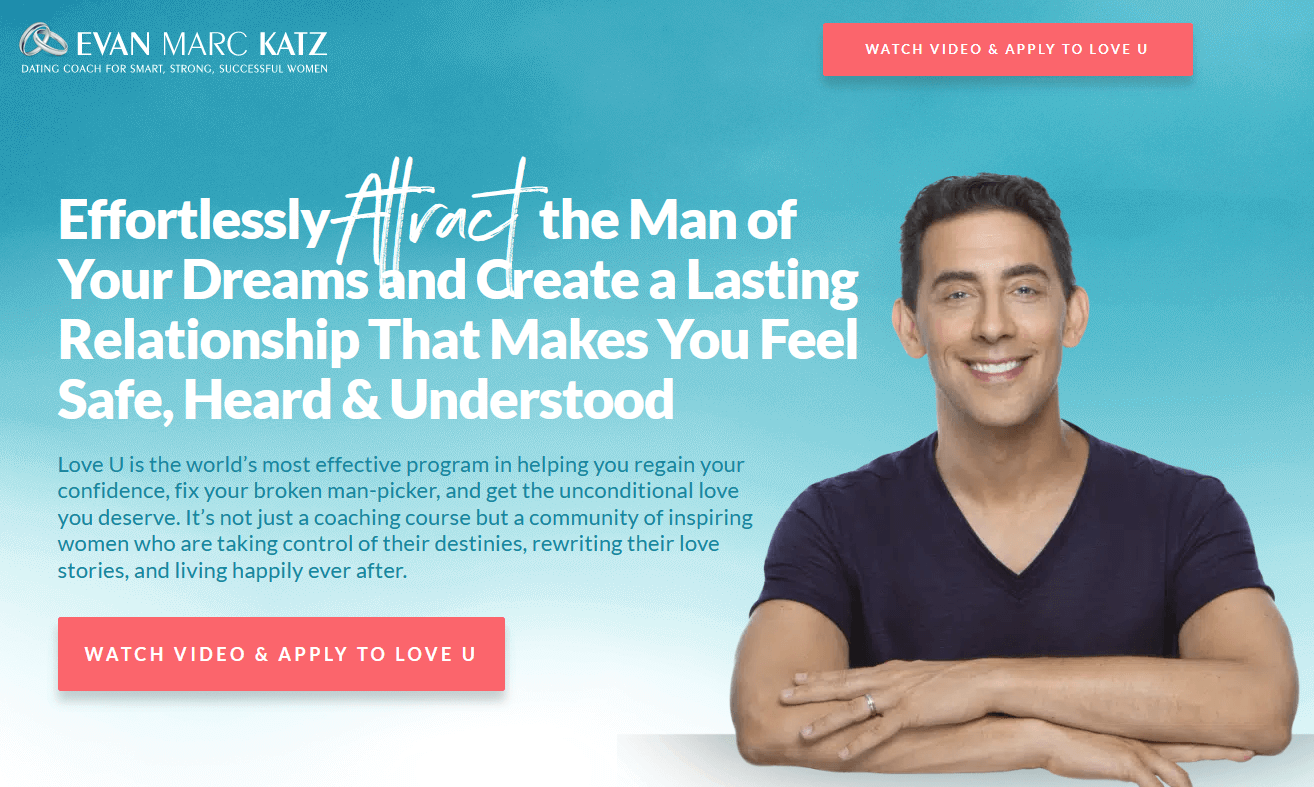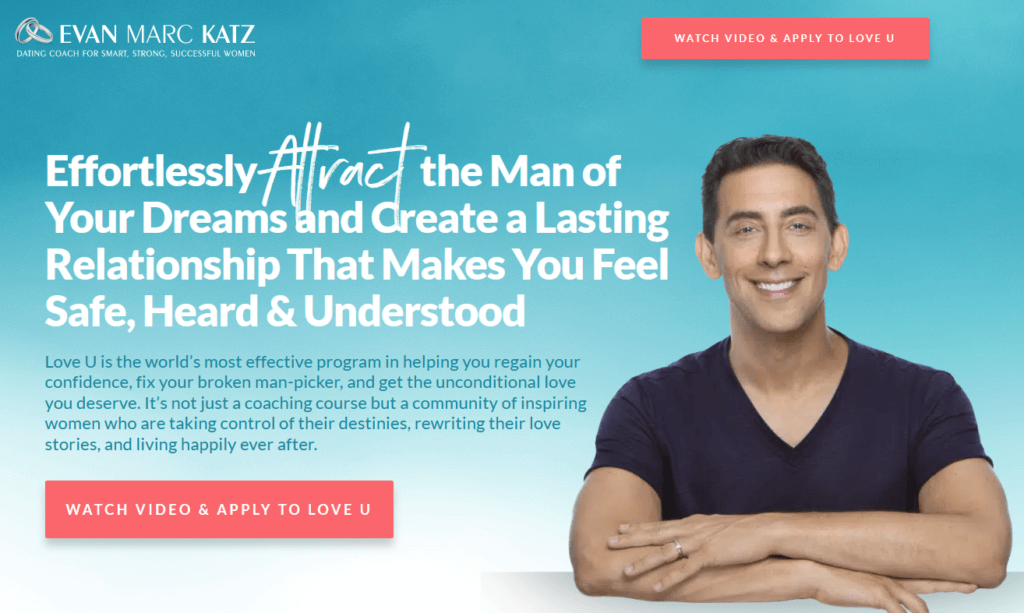 Many people are not ready for this, and they don't have time to invest in it, which is a great mistake, especially if you spend a thousand dollars on a dating course.
It is really a course full of amazing knowledge you won't really find in other courses or dating books, so make sure you don't waste your time or money by simply skimming through it.
Prepare yourself for the fact that you will have to invest some time in it, and gather the will and patience, because going through it, eliminating all the negative beliefs and experiences will take some time, and you can't expect results immediately.
For that reason, this is really not a course for people who are not patient and don't have the will to dig deep into their previous love life experiences and connections with other people.
Even though Evan Katz usually labels every course and dedicates it to a specific group of women, this one is quite universal, and anyone who purchases it will be able to get a lot of use out of it.
It covers all the relevant topics and is able to really get in depth, especially when it comes to male psychology and behavior because those are the things that are always overlooked in this sort of dating course.
I believe it will be a valuable course and source of knowledge for all women, both those who have a lot of luck in love and in general don't have a problem with creating a meaningful relationship, and for those who have lost faith in love and just don't have the guts to try anymore.
It will teach you a lot about relationships in general and help you build deep and nurturing bonds with everyone, not just men, which is the reason why I believe it can be valuable for both genders and can even be a great gift for your brother, sister or best friend.
Overall it is really a source of amazing knowledge, and I believe it will help everyone who is in the dating pool to adopt some amazing techniques and behavior.
I have even read a few testimonials of men who have used it and were extremely satisfied with the results, so I believe that a guy who wants to learn more about love could use it too.
In case this seems to be the thing you were looking for, then definitely go for it, but make sure you dig deep into the course and explore everything it has to offer.
If you are not ready to explore yourself and all the things that may have been holding you back, then ignore this one and opt for something much more simple and less expensive.
Pros And Cons From The Experts?
Great pieces of advice
Covers all relevant topics
Great both for men and women
It comes with a workbook
Way too expensive
Doesn't have a how-to for dating
In order to make sure you will succeed in the dating pool, you will need to complete the course and make sure you understand all the tips and tricks Evan shares with you.
Most people tend to spend hundreds of dollars on these dating courses, but they never really implement that knowledge in their real life, which is such a shame.
I would recommend you to take your time with this course and go through everything thoroughly, and even write the most important parts down in some kind of journal.
You will see that a lot of things repeat and that you need to pay attention if you don't want to make the same mistakes again.
Since this is a course that covers all topics regarding dating life, I believe everyone should take their time and make sure to read through it like a book and try to recognize their own behavior and mistakes they may have made in the past.
Make sure you follow the steps Evan has recommended, and I am sure that you will be able to stand out on the dating scene and find yourself the right man as soon as possible.
Since this is a highly popular and extremely expensive dating course, Evan Marc Katz and his team decided to measure the success rate and see whether it can really help people on their dating journey or not.
When you pay a few thousand dollars for a dating course, then you will definitely stick to pieces of advice and lessons that are shared in it, and you will follow religiously everything they say.
Evan and his team came to the conclusion that the success rate is around 93% and that every woman was able to improve her dating life and experience easily.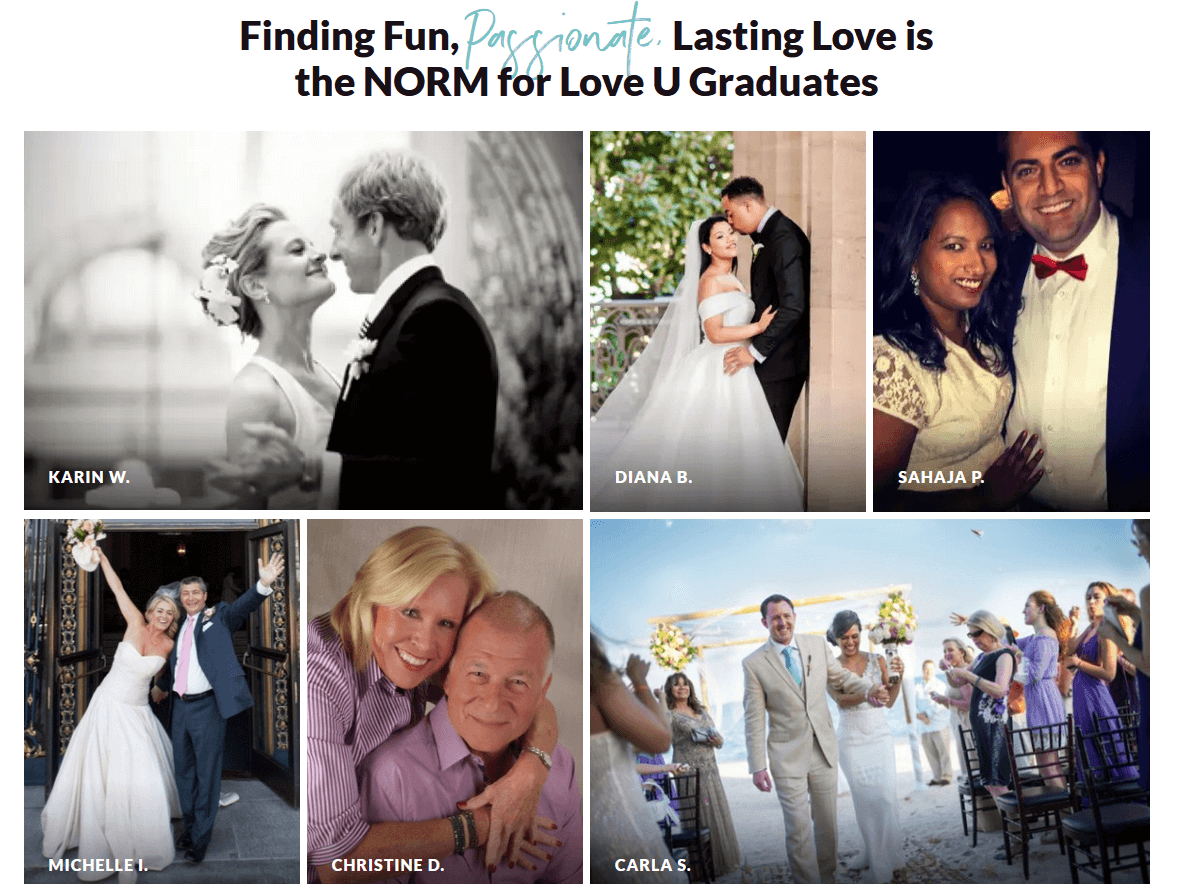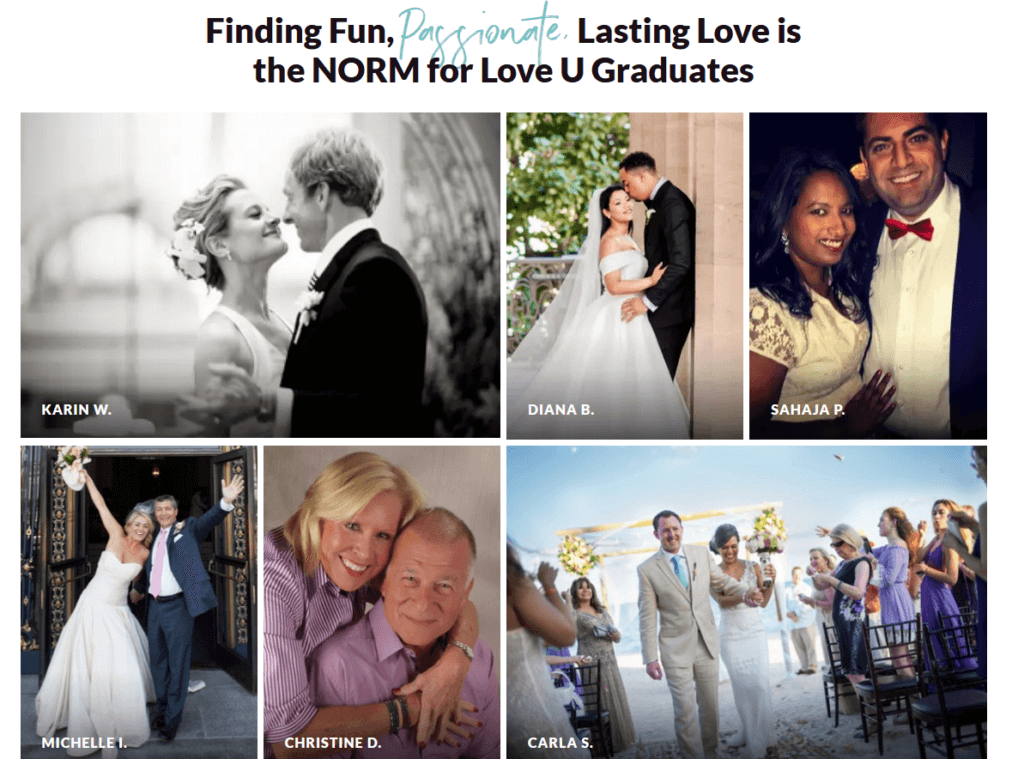 Since they are providing you with a brief guide on how to exude confidence and how to be the best version of yourself, every woman will want to follow this and create her best self.
I believe that the reason why this course seems to be so successful is that you need to spend a thousand dollars on a course, and once you have cashed out this much money, you definitely want to reap all the knowledge and benefits for it.
If you are looking for an affordable dating course, then this is definitely the right choice for you because the Love U course will cost you around 1500 dollars, and that is just the basic membership.
This is Evans extremely popular but also an extremely expensive course that has been around for a while and provides you with hundreds of different benefits and lessons.
Even though it is crazy expensive and people are complaining all the time about the price, it seems like it managed to sell well throughout time, and plenty of women across the world are highly satisfied with it.
However, I still believe this is a crazy amount of money for a simple dating course, no matter what kind of exclusive content and knowledge it may be offering.
Also, he usually targets smart and successful women who don't have too much luck in love, so this amount of money is not even that crazy for them.
If you want to go premium and gain access to messages and phone calls to Evan Marc Katz or someone from his team, you will need to spend even more money, which is absolutely ridiculous, in my opinion.
I believe that this is the kind of content you should receive the moment you spend 1500 dollars on the course, but of course, if there are people willing to buy it, it will continue to sell at this price in the future too.
As you can see, the Love U course by Evan Marc Katz is a very popular course, and even though it is very expensive, women absolutely adore it and continue buying it even nowadays.
Even though it is very useful and it was able to explore all the topics and lessons you need to know about dating and love life, it is very expensive, which is the reason why I believe you don't need to spend your time or money on it.
If you are someone who has a lot of money and doesn't have a problem with spending 1500 dollars on a dating course, then definitely go for it, but if you want to get real knowledge and don't spend a whole fortune on it, I believe there are plenty of other great options on the internet for you.