Today we're going to review a solid dating app called Down which is yet to become popular.
Not a lot of reviews have been made about Down so I wanted to make my own and let you see what I think about the app and should you use it.
So let's not waste time and see what Down Dating App Review is all about.
Is your dating app giving you the best chance for success?
Make sure to take our online dating site/app quiz to find out.
People who follow our dating site suggestions have on average 2 more dates per month.
Down Dating App Review in Video Form
Audio (podcast) form for those of you on the go
Ratings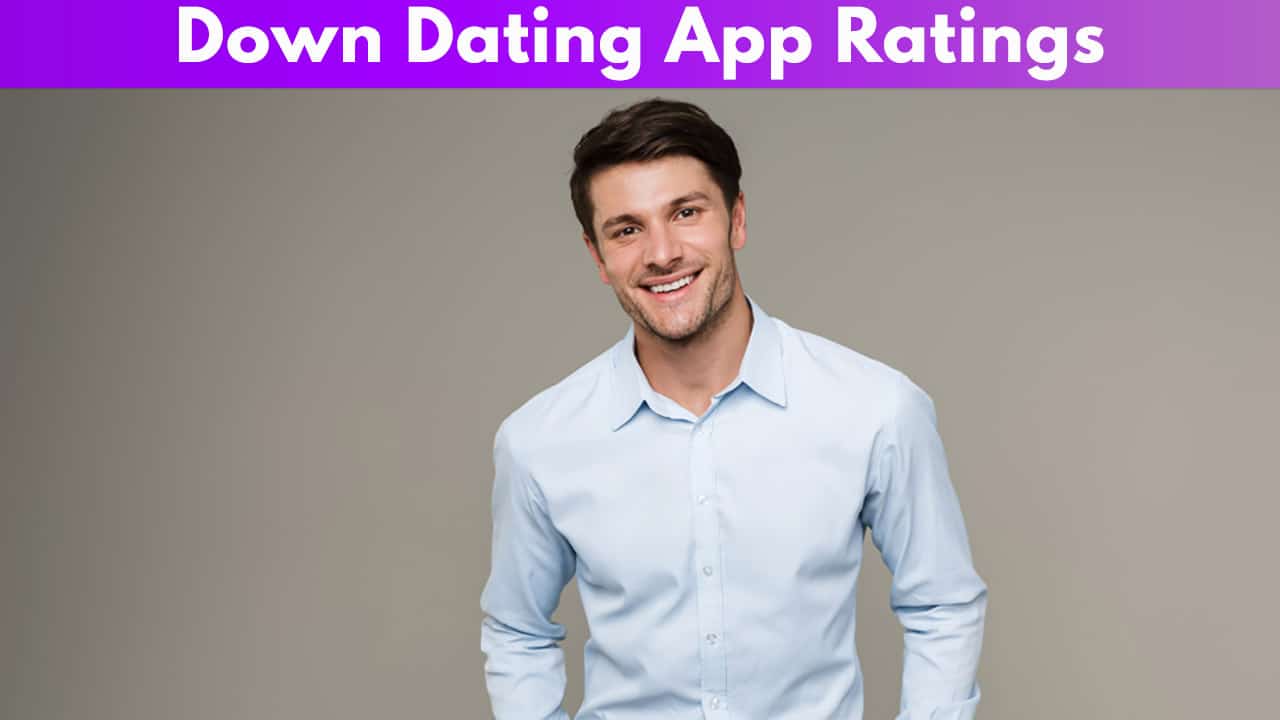 Effectiveness – 3/5
Features – 3/5
Ease of Use – 3/5
Price – 2/5
Pros
Easy signing-up process via a phone number or Facebook
Privacy as a #1 priority
You choose if you want to hook-up or date
Has a 7-day free trial
Simple user interface
Cons
You can't change your location without a Premium membership
A bit pricey
Not much info on profiles
Only 10 profiles per day
Who is it for/Demographic Makeup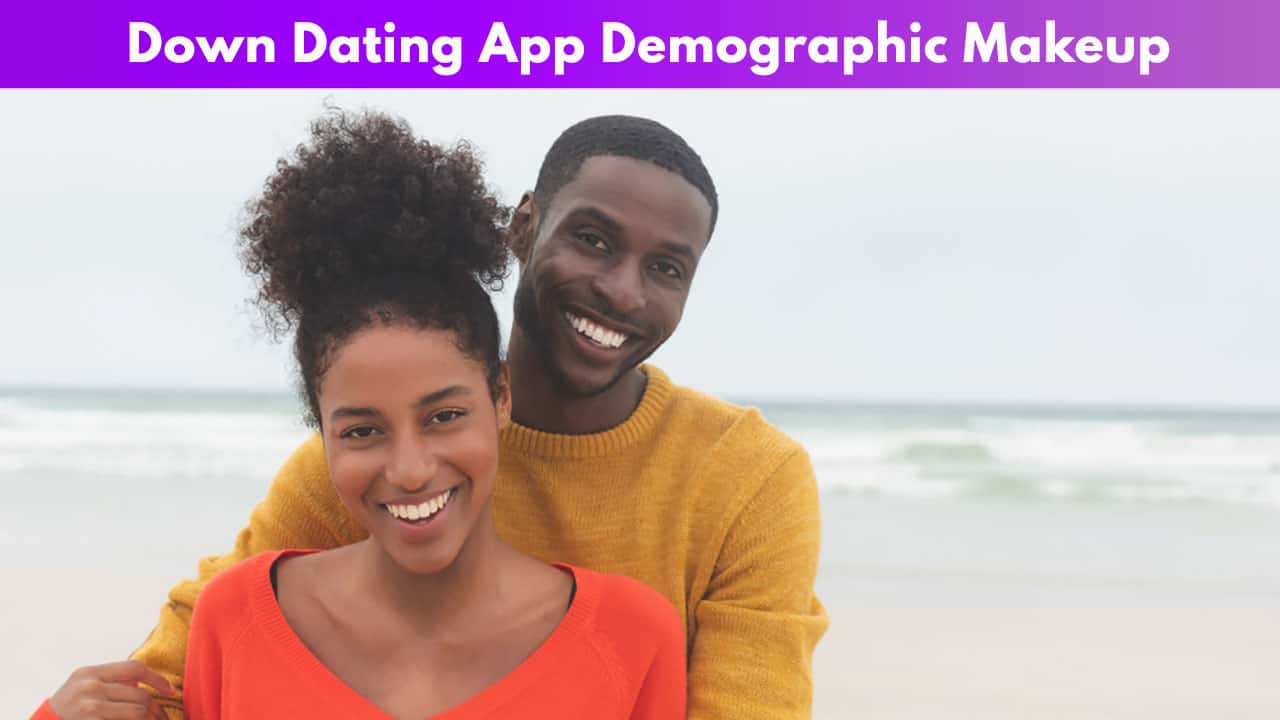 Down is one of the most recent hook-up apps that sort of looks and functions as Tinder but has a whole different approach when it comes to dating.
The app has over 7 million users from all around the globe and the majority of them are from the USA and the UK.
As with most hook-up apps, you can expect the majority of the users to be millennials but there are also older people, mainly in their 30s and 40s who also use Down.
Also, the app has a gender ratio that consists of 80% men and only 20% of women so the app is better suited for women.
Since we are on the topic of genders, you can also select "other" as gender and the app is quite LGBTQ+ friendly in that regard.
Since nowadays online dating can be separated into 2 groups – dating sites and hook-up apps, these 2 targeted audiences either want casual dating or just a one-night stand.
Because the Down dating app was created to be both a dating app and a hook-up app, it is marketed at both audiences.
However, the reality is that Down feels more like a hook-up app and the majority of the users view it as such but there are still a lot of members who are looking to date other members as well.
So I would say that Down is a great place to explore and find people who you want to date in real life and maybe start a relationship or just want to have casual sex which is also perfectly fine.
Effectiveness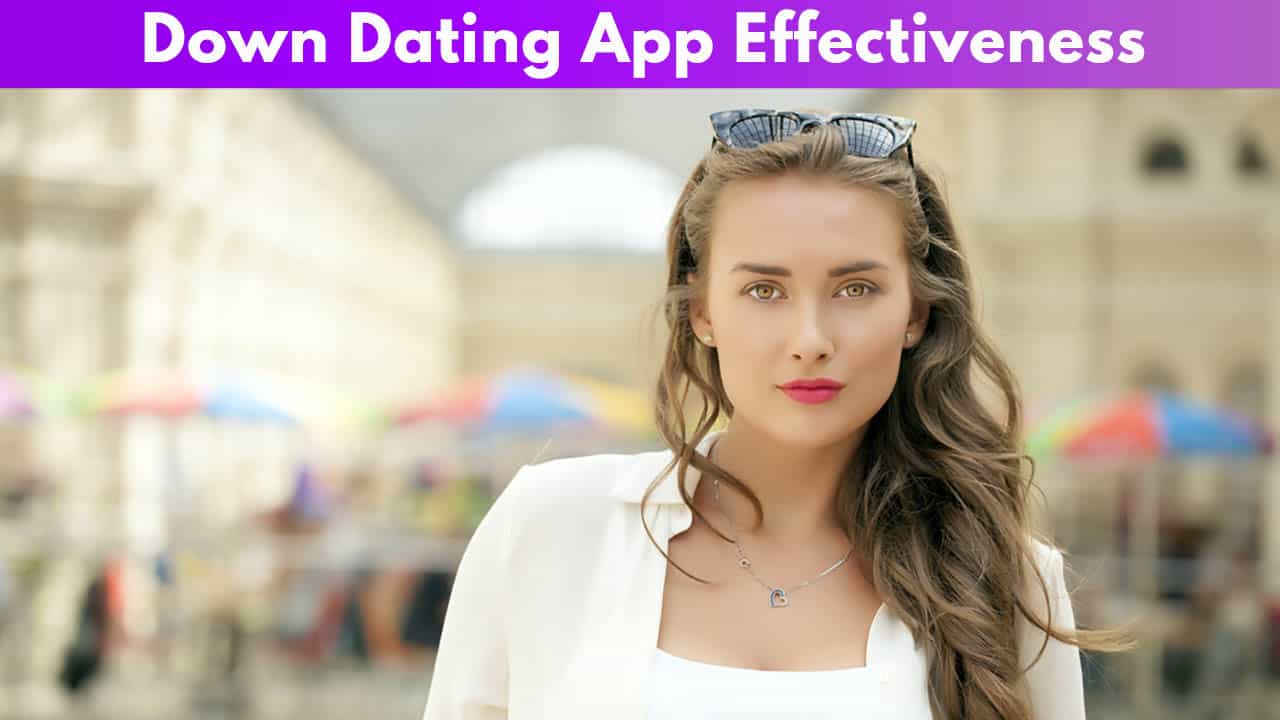 Down isn't as popular as some other dating apps which have tens of millions of active users each month, but it still has a fair amount of members who are eager to meet new people.
So how does Down work?
Well, it's hard to explain the whole experience of the Down dating app without comparing it to Tinder as these apps are quite similar.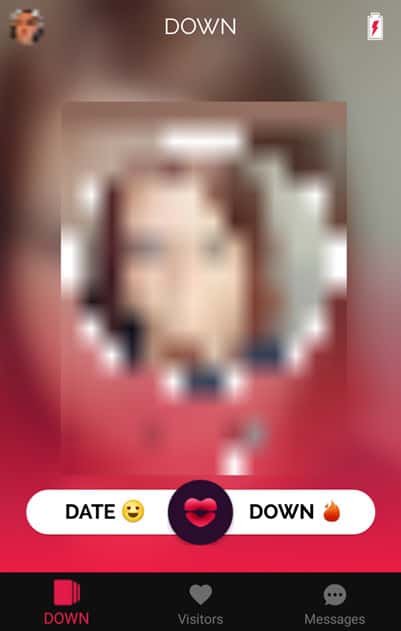 The Main Menu of the App
First of all, your main engagement with other members is done through swiping up or down which will be explained in the next part of this Down app review.
And just like with Tinder, you swipe the members you like and the ones you don't you can skip.
However, the free version of the app lets you only swipe through 10 profiles each day and your feed will refresh in 24 hours.
OFL Top Recommendations based on 100,000+ Survey

"Serious Relationships"
"Discreet Hookups"
"Best Course for Men"
"Quick Flings"
"Normal Hookups"
"Our Quiz"
So there's no swiping bonanza like you're used to doing on Tinder, but this might not be such a bad thing as it makes you choose wisely who you want to swipe.
The premium version, of course, lets you swipe through unlimited profiles and also offers you the feature to send people messages before they swipe you back.
That being said, your engagement with other members is a bit limited if you don't have a premium membership and you'll have to rely solely on the chat to make contact with members.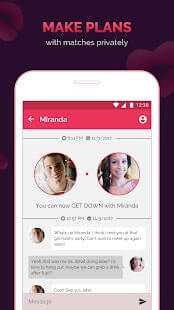 As it is with most dating apps, your best bet is to exchange phone numbers with your match and continue the conversation elsewhere.
Using your Facebook account to sign-up is also a great way to find more people with similar interests because you'll be shown mutual friends from your friends list.
And since there's really not an option to narrow down your search for other members, this is your best bet.
Besides all of this, Down has proven that it's not that bad of an app after all, and despite the majority of the users being men, a lot of people have been successful at finding dates or hooking up.
Some things that I would suggest that the developers should add is more options to engage with members, such as sending gifts or likes and also more options in the chat because you can only send texts.
It would be cool to see a dating app that implements sending photos and videos rather than following Tinder's main template – texts and gifs.
Also, there should be a desktop version of the app so that people who aren't experienced with dating apps could also enjoy Down for what it has to offer.
Overall, Down isn't that bad of an app if you want to meet other people, but it lacks a lot of features and it's up to you to make a good first impression and score that date.
Features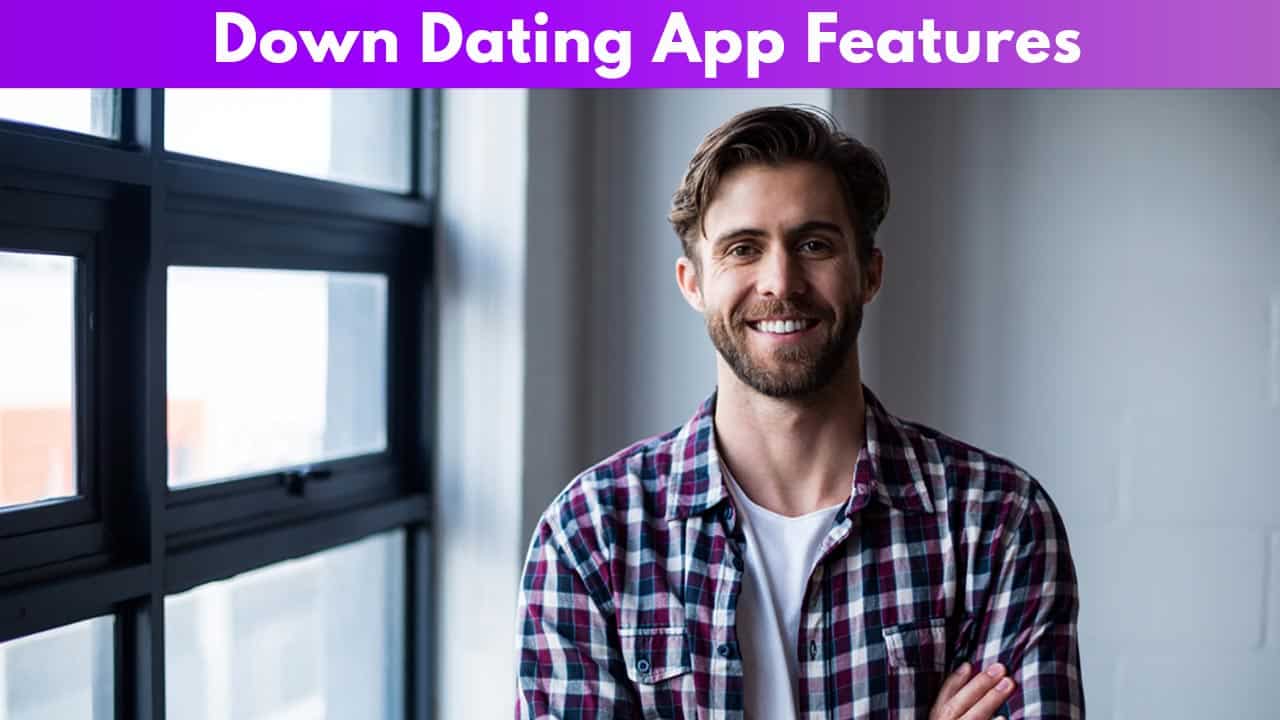 Down is quite a simple app to use if you're used to "swipe" dating apps such as Badoo and Tinder.
However, Down is a bit different from these apps as it doesn't have a skip button.
But let us see what else the Down app has in store.
1. Swipe Down
Swiping down is a play of words meaning that if you swipe down on someone it shows the person that you're "down" to hook-up with them.
When you swipe down on a profile, their profile will be colored with a red circle and you can view who you've swiped down on in the "Favorites" section.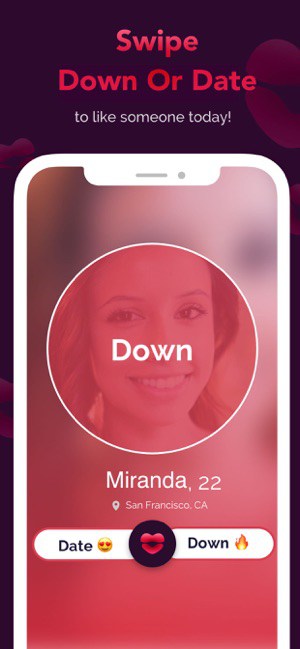 The whole point of swiping down is to let other members know your intentions before you even start talking and it separates the wheat from the chaff.
2. Swipe Up
Swiping up is the opposite of swiping down because it lets the members you've swiped know that you'd much rather date them than just hook-up with them.
When you swipe up someone, you'll mark them with a blue circle and you can view the profiles you've swiped up in the Favorites section.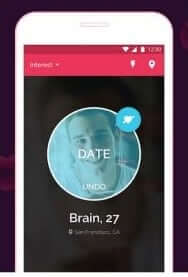 You can undo your swiping if you want by going to the "Likes" section and selecting the profile you want to swipe down on instead of up.
All in all, these two features are your bread and butter on the app, and even if you swiped down on someone and he/she "swiped up" on you, it will still be a match so you don't have to be that cautious about your choice.
3. Swiping Left/Right
Swiping left or right does the complete opposite on Down as it does on Tinder.
If you swipe right on a profile, it means that you're not interested in them but you can always swipe left to undo your swipe.
This feature is quite great as it lets you think about who you're going to swipe up or down to and you don't have to do it right away, instead, you can browse all of the 10 profiles you get every day and see which members you do or don't like.
4. Preferences Filter
The filter option for your preferences is quite simple.
You can only choose to change your location (premium membership only), set the age range, and search for either male, female, or users of both sexes.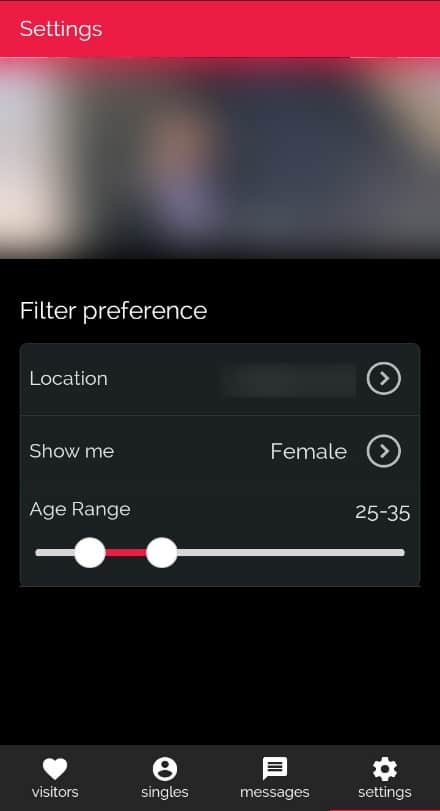 It's safe to say that this feature is basically the same as on Tinder and even though this is a hook-up/dating app, it would be nice to see some more options in the filter section.
Linking your Facebook account will of course narrow down your searches but there are simply too little things you can do to find people that might have similar interests to yours.
5. Messages
When you finally get a match with someone, you can start messaging them just like on Tinder.
The chat inbox has quite a simple interface and you can only send texts and not images nor gifs which is even worse than other dating apps so your best bet is to exchange phone numbers to start to engage with the person.
From the chat, you can view the person's profile and what's also great is that you can see when they've seen your message opposed to Tinder where you need to pay for that feature.
Overall, the whole point of the app is to get a date or hook-up with the person you've matched with, so you might as well continue the conversation elsewhere because the chat simply doesn't have a lot of features.
6. Profile boost
You can boost your profile to be in the top 10 profiles suggested for all members in your area by clicking on the battery icon in the far right corner of the main menu.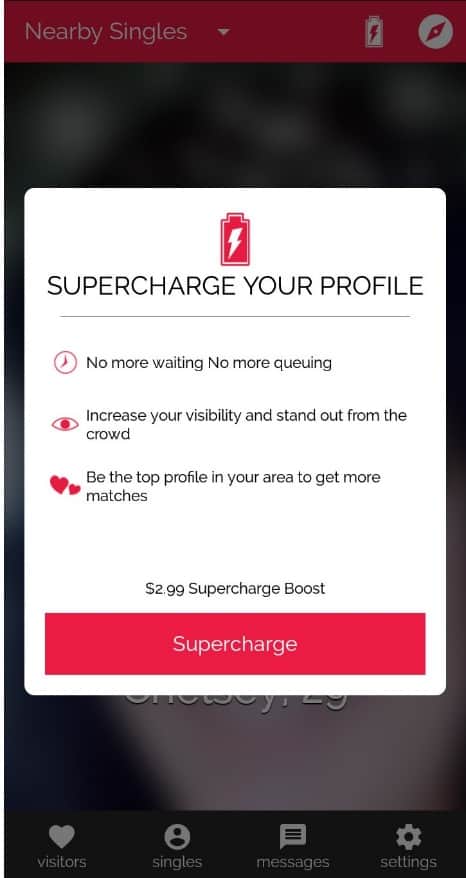 For just $3 your profile will be seen by all active users for a week which functions just like Tinder boost so it's not a new feature but it might help you to attract more members.
When you use the boost in the Private Members Only subscription, your profile will be viewed by the most exclusive members so it's not a bad idea to use it then since you're already paying for the app.
7. Visitors
The last feature of the Down dating app is the Visitors section.
When you click on the Visitors button, you'll be displayed the members that viewed your profile and if you swipe right, you'll see the members you swiped.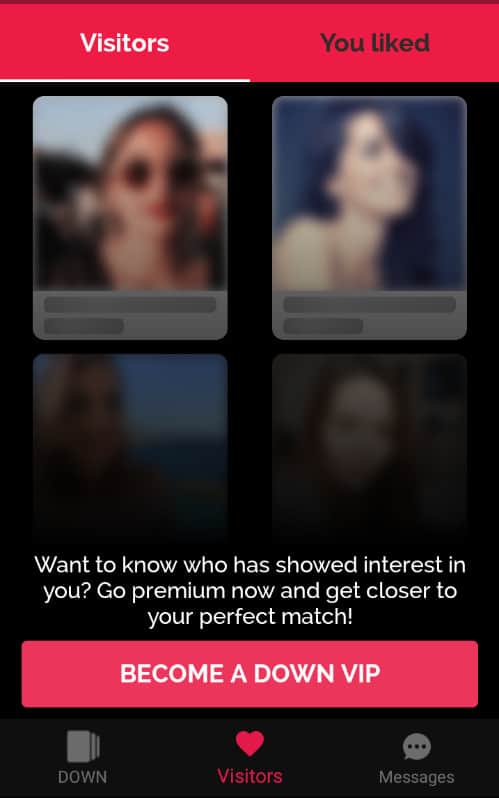 Please note that you need a Premium subscription to see the members that visited you but it's still a great feature to have included in the VIP membership.
Ease-of-Use
The signing up process on the Down dating app is pretty straightforward.
You can either sign up using your phone number or your Facebook account.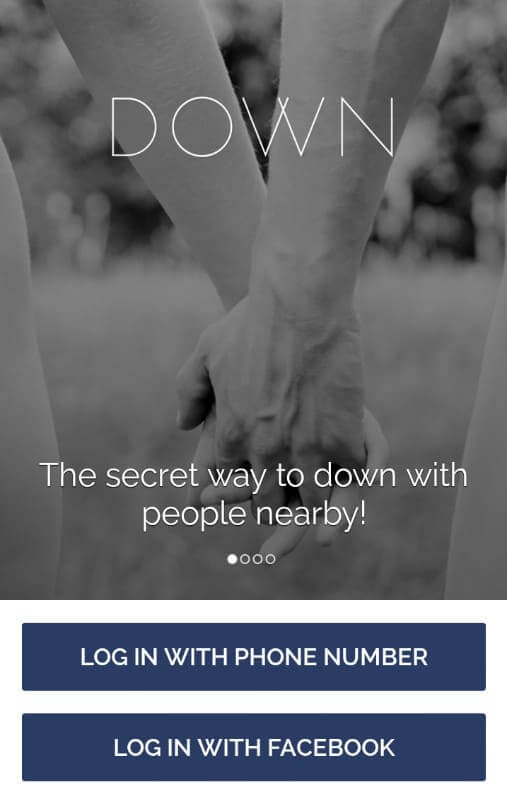 When using your phone number to create an account, you'll first be asked to enter the 6-digit verification number you'll receive via text message from Down.
Then, you'll need to enter your first name and birthday.
You don't have to enter your real name if you don't want to, but if you log in through Facebook, your Facebook name will automatically appear as your username on the app.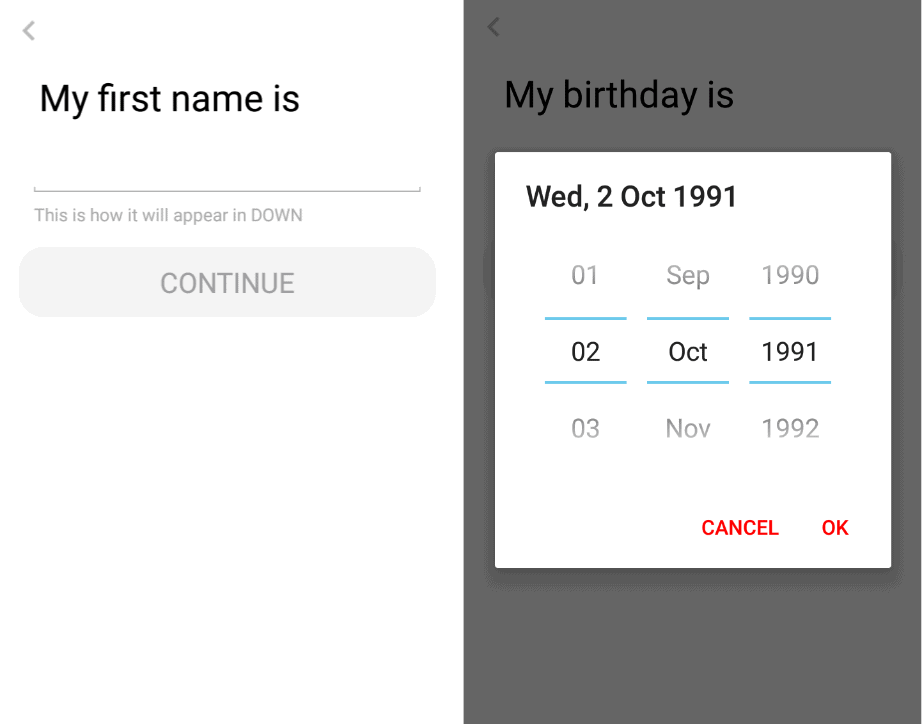 Do note that you need to be at least 18 to use the app and that online dating isn't for minors because of the risk of scammers and cat-fishes.
After you're done with this part, you'll have to choose your gender and choose who you're interested in.
You can change your preferences later in the app.
Setting up a profile picture isn't mandatory and you can do it later, but if you're signing up using your Facebook account, you can automatically choose 6 photos from your profile to be imported into your Down profile.
Now, as far as the user interface is concerned, Down is quite simple to use despite you having more swiping options than you're used to.
There is a mini-tutorial on the app once you first log-in to the app.
Just swipe down to the profiles you want to hook-up with and swipe up to the ones you want to date.
And, as I already mentioned, if you changed your mind you can easily change your choice in the "Likes" section.
Other than that, the app interface is quite simple to master if you've already used dating apps before so it shouldn't be a problem for most people.
Pricing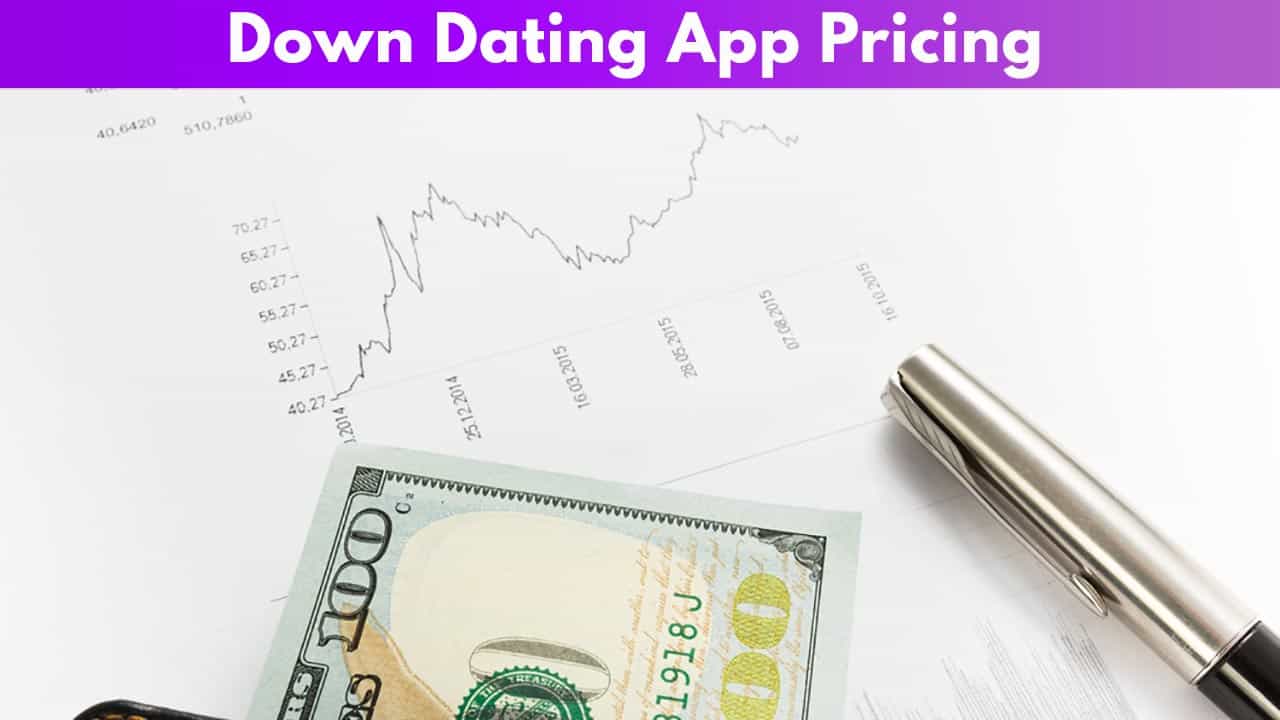 Price-wise Down isn't the cheapest dating app on the market and even with a monthly subscription you still have to pay for additional features.
The VIP Down cost is $19.99 but you can also pay for additional features such as boost, seeing who swiped you, and so on.
If you first activate the 7-day free trial, you'll get your first monthly premium subscription for "only" $16.99.
With the VIP premium membership you get:
Unlimited profiles each day
You can see people who swiped you
You can send people you like messages before you match them
You can change your location at any time
Round-the-clock support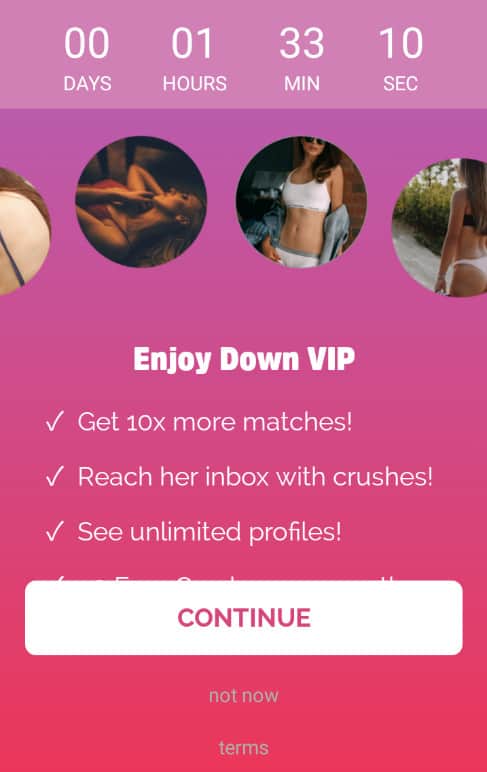 Some of the extra features you can purchase in the app include:
+10 nearby picks – $1.99
Profile boost – $2.99
Private Members Only – $19.99
With the Private Members Only subscription, you'll be able to view exclusive members and start chatting with them right away.
So overall, these features do sound great, but is Down worth it?
For such a steep price, you should be able to find a date in no time right?
Well, the hard truth is that Down simply doesn't have that many users and the demographics aren't on your side either.
However, the bottom line is that you never know who you'll end up meeting when you're dwelling deep into the world of online dating so it's definitely worth giving Down a shot.
Conclusion, Overall Rating and CTA Based on Down Dating App Review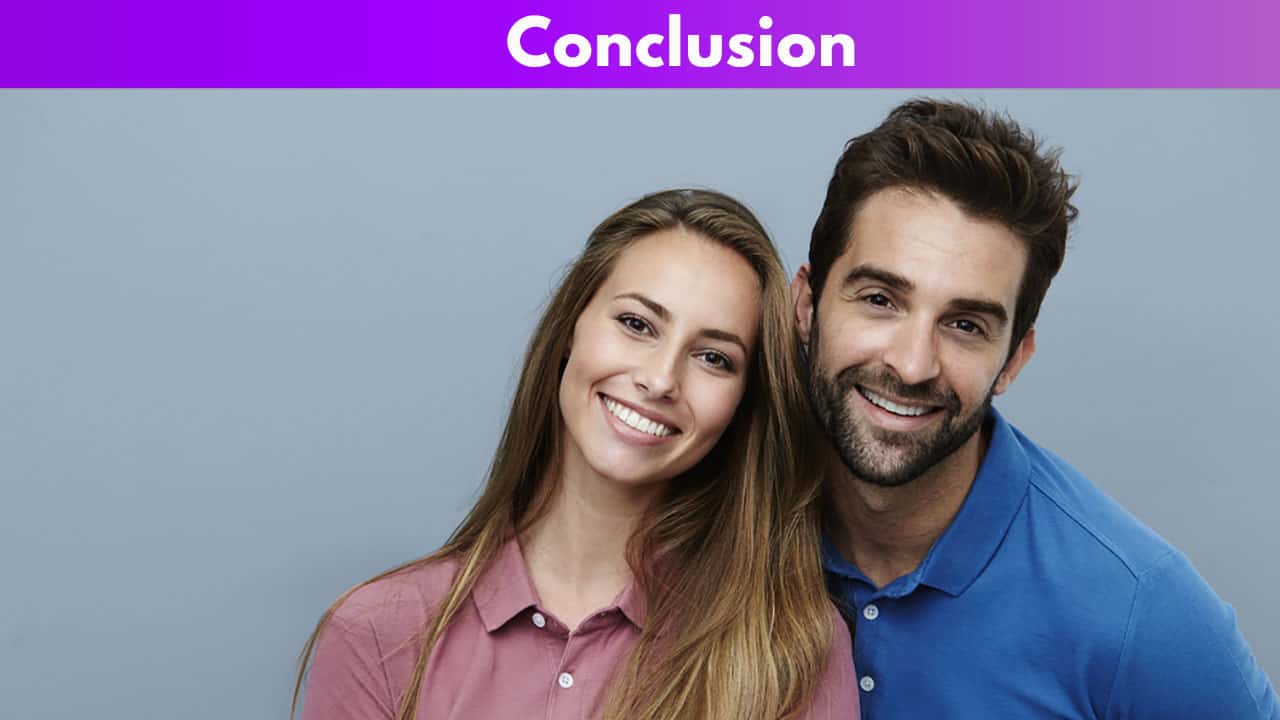 Well, we've come to the very end of this Down dating app review.
Now that you know what Down is all about and how it functions, it's time to give an overall rating.
Taking into consideration that Down isn't as popular as other dating apps and that it needs a lot of new features and updates so that it can be used to it's fullest potential, I would have to rate this app 3/5.
Even though Down has a steep price, not a lot of features, and isn't that different from a lot of dating apps, it still is a well-rounded dating app and people manage to find dates using it.
One of the things I do like about the app is that even if you sign-up using Facebook, your privacy is still respected and no one will know you're using the app.
On the other hand, the thing that bugs me about the app is that it feels more like a hook-up app than a dating one so the whole point of "swiping up" seems a bit unnecessary.
Would you try out the Down dating app just to see what's all the swiping up and down all about?
Please leave your comments in the comment section below, and since you're there you can also leave some suggestions or even success stories.
Also, sharing this review would be much appreciated and might find it's way to people who are interested in trying out the app.
Frequently Asked Questions