Are you a busy professional interested in spicing up your love life?
The League dating app has a lot to offer you!
Let me help you conduct a detailed analysis of the following:
OFL Top Recommendations based on 100,000+ Survey

"Serious Relationships"
"Discreet Hookups"
"Best Course for Men"
"Quick Flings"
"Normal Hookups"
"Our Quiz"
Why waste more time? Let's dive right into it!
Sometimes, a lack of time in our hectic work lives gets seriously in the way of people finding love.
And that's where The League Dating app comes in.
The brainchild of a professional and for professionals, The League is all about finding the perfect match for you.
The League Dating App Review scrutinizes in great detail whether it can pull off what it claims as well as just how the app ensures that fake profiles don't exist.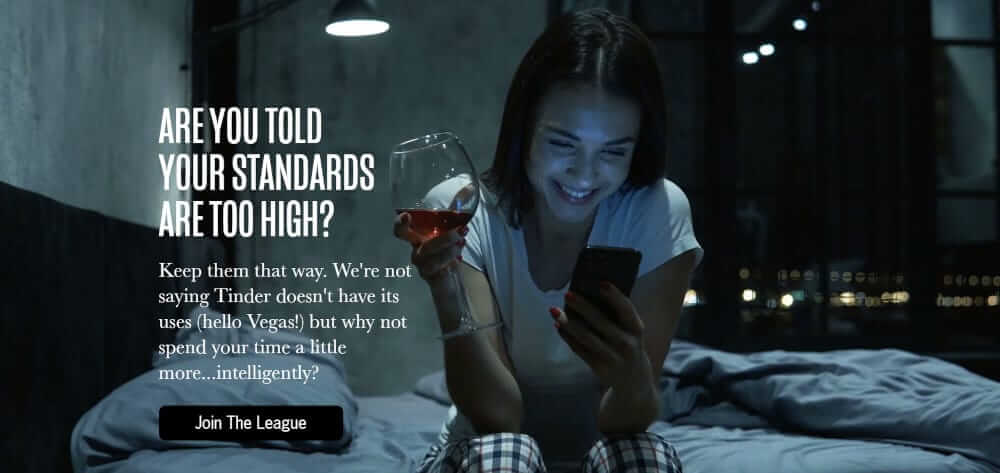 We will also look into a demographic breakdown of who uses the app, their age ranges, and gender.
By the end of this review, you will know all you need to decide if The League is the exclusive dating app for professionals that you have been looking for.
Is your dating app giving you the best chance for success?
Make sure to take our online dating site/app quiz to find out.
People who follow our dating site suggestions have on average 2 more dates per month.
The League Review in Video Form
Audio (podcast) form for those of you on the go
Effectiveness 3/5
Ease of use 3/5
Key Features 2/5
Price – 3/5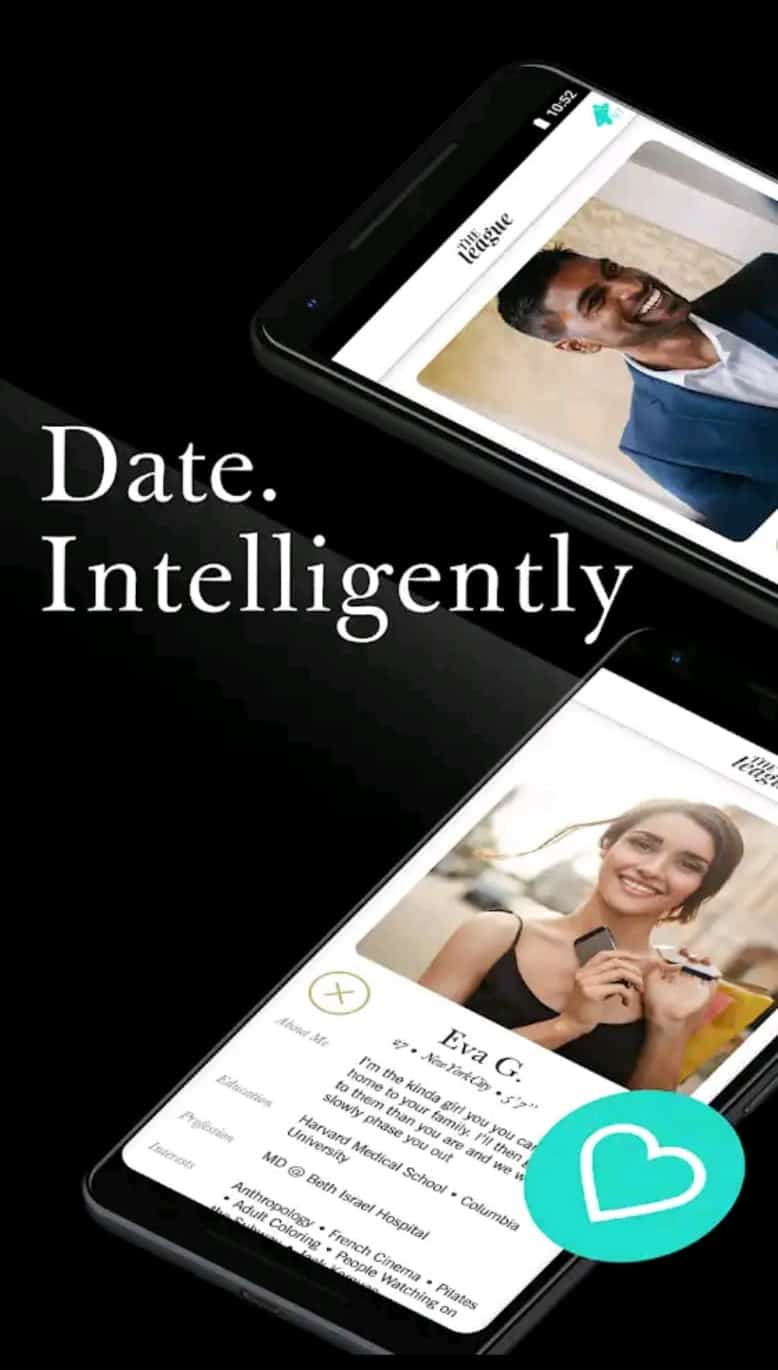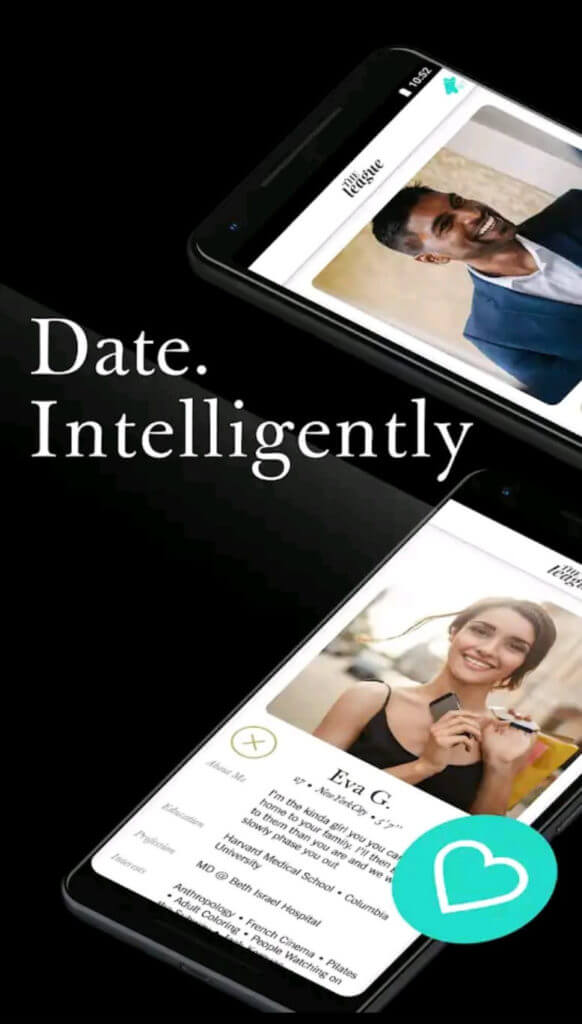 No fake profiles
The League offers a unique matching system
It takes ages for your profile to be vetted
The app is extremely easy to use
Membership is expensive
It all seems a little too exclusive
You don't receive many matches a day and to get more, you will have to pay up
Who Is It For/Demographic Makeup?
Elitist?
Possibly, but The League tells you from the get-go as to what they are all about.
This site is aimed at professionals around the world, those people who have hectic lives where work fills their days and their dedication to their jobs is clear for all to see.
But that commitment means that often, looking for love can be a problem, especially as these professionals have little free time on their hands.
And that's why so many of them are single.
The League helps to solve this problem by bringing potential partners to the attention of those who sign up for the service.
Before we look into whether they deliver on their promise, let's break down the numbers a little first.
How many users can this exclusive app have?
Listen, this isn't going to have as many users as the more popular dating or hookup sites out there, but that's obvious, right?
That said, for an app targeting professionals who are looking to date, the numbers are pretty impressive, especially with the intensive vetting service every user undergoes when they join.
It's exclusive, that's for sure
It's difficult to get exact figures for users of The League.
If you go by the download numbers on Google Play then over 100 000 people have used the app on Android alone.
But you also have to factor in the downloads from the Apple iStore which I couldn't find as well as how many people might have had the app sent straight to their phone through the option on The League's website.
There are some other important figures that I can tell you, however.
When you apply to The League, you are put on a waiting list as everything about you is verified.
This is something we will cover in more detail a little later.
The critical thing here is the waiting list.
It's not you and a few 100 people that have to wait to get the go-ahead to use the app.
It's not even 1 000 people.
No, The League says that the popularity of the app is rising so much that at some points, the waiting list to be verified can be as much as 100 000 people.
That's a staggering number.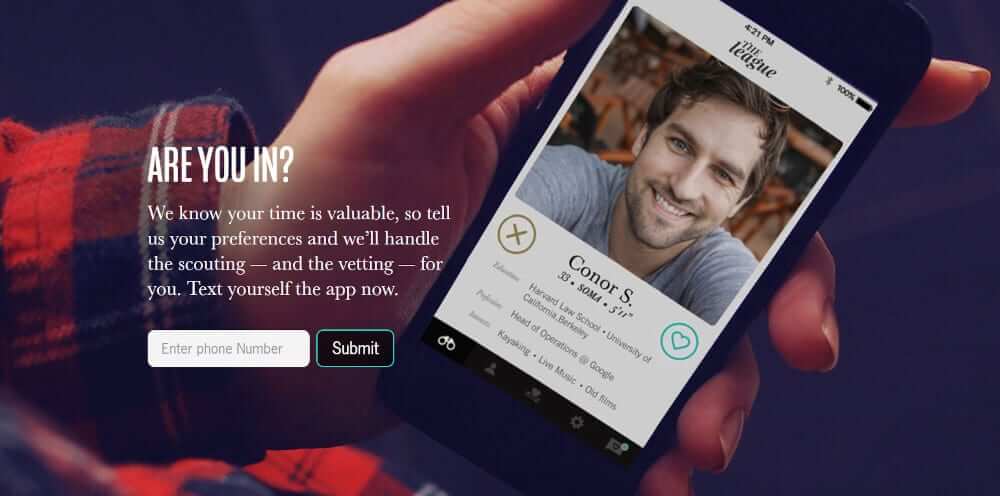 Here are three other critical numbers to think about.
Over 50 000 residents of the United States have signed up for The League
In terms of activity, The League boasts 10,000 users logging in each day
The gender breakdown of the site is pretty equal at 52% female and 48% male.
For how the site works and how niche it is, 10,000 users a day is impressive indeed.
Other than the United States, The League is popular around the world with professionals in several countries.
These include France, Germany, Austria and other European countries as well as Canada and Australia.
If you live outside of those countries, you might just not find The League as effective as you would like but that's just because of smaller user numbers.
What about the age ranges?
Finally, let's look at the age ranges of those who use The League for their matchup needs.
Professionals from the ages of 25-34 are by far the biggest users of the app.
The full breakdown is:
25-34 years of age
18-24 years of age
35-44 years of age
45-54 years of age
55 and older
I can understand that the professionals aged from 25-34 are the biggest users of the group.
That's because for the most part, at that age, they are settling into or are already settled into their professional lives and are also looking for a significant other to now settle down with.
The fact that the 18-24 years of age group is next is slightly puzzling.
Of course, you can be starting your professional career in that age range but you'd think that because of their age, they would still be making time to have a little bit of fun, right?
That's enough numbers and figures for now.
Let's move onto the next section and find out just how effective The League is in finding you a proper match.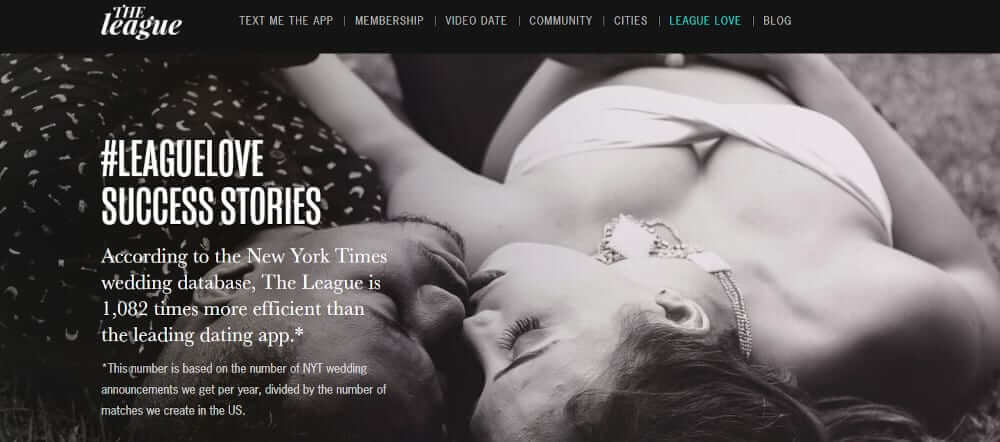 So it's important to note that this dating app works very differently from any other you would have used.
You will first need to be vetted before you can start looking for love.
That's something we look into in great detail further in this review.
Also, you don't actually search for a potential matchup.
All the work is done for you by the app as a way to save time because you are a busy professional, after all.
Every day, you will receive a number of matchups based on criteria you have filled out in your profile as well as the matchmaking offered by The League.
Because this app has a smaller user base than most, the number you receive could be very low, or sometimes even zero if you live in a smaller city where there might not be many users.
But even if you live in a metropolis like New York, don't expect that many matches.
That's because The League will only send a matchup to you that they think is close to a perfect fit for what you've outlined.
Not satisfied with the matches you are receiving?
Well, there is a way to get more, but it's going to cost you.
To receive more matches you can use League Tickets.
These can be purchased and then exchanged for more matches each day.
We will talk a little more about these League Tickets later in the review.
For a regular user, i.e. one that's yet to sign up for a membership, you can do the following:
Browse the matchups sent to you by The League
Create your photo profile gallery
Send friendship requests to matchups sent to you by The League
But what can you expect if you opt to become a paying member?
What key features does The League offer?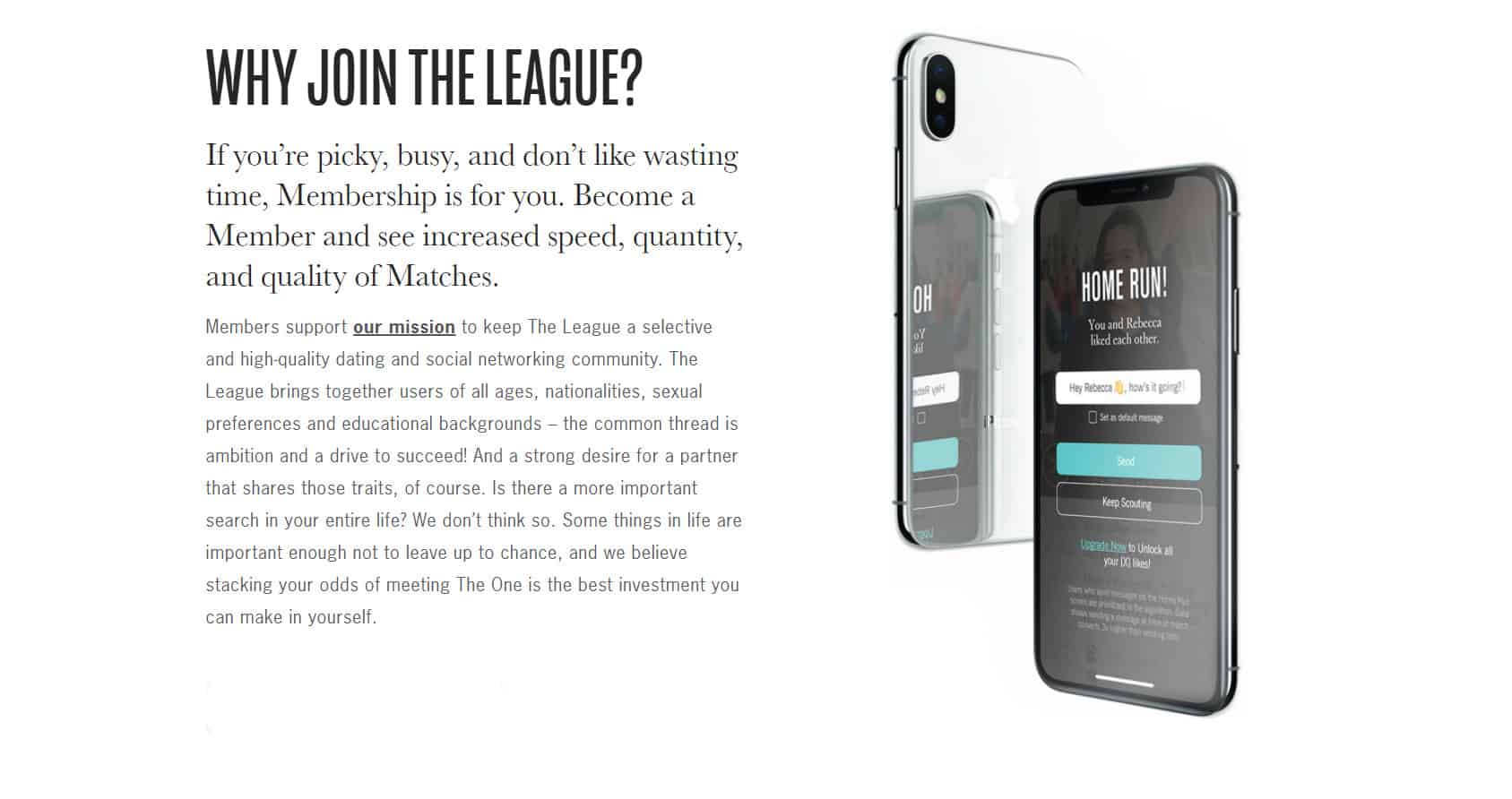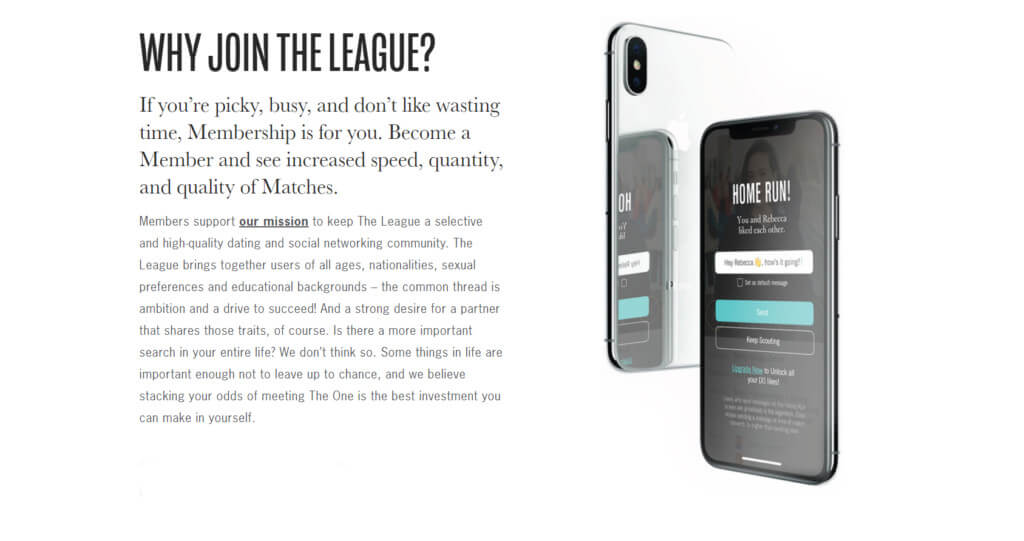 When you opt to take one of The League's member options, several key features become available to you.
We've briefly mentioned League Tickets and what they do for you as a member.
If you want to see more profiles than you are receiving as potential matchups each day, you will need to buy League Tickets to do so.
Note, however, that League Tickets are not an added perk for you as a member.
You will still need to purchase them over and above paying your membership fee.
So you are waiting and waiting for your profile to be vetted.
Yes, you can speed that up by becoming a member.
While it might seem extremely tempting, especially if it's been days since you first applied, to me this seems like a way to suck you into membership even before you've had the chance to see how the app operates properly.
Still, most people who chose this option want to get to use the app and don't mind paying for the chance to do so.
3. Customize your profile
When you opt to become a paying member, you get the opportunity to customize your profile and make it truly you own.
All members who have a problem of any kind with the app or have a question they need to be answered will get priority support from The League before regular users.
Members of The League can form or join groups.
Here people with similar interests can interact with each other.
While it's not aimed at matchmaking in general (they've already got that covered for you), who knows where meeting people with the same interests might lead.
This is the most prestigious membership plan available on The League and it's something you will need to buy into if you would like to be considered a league owner.
Basically, this gives you access to all the features already mentioned and a few more.
They are:
Daily stats from the app
Access to all groups
VIP access to events held by The League
Members have the chance of having video chats with a matchup over and above the regular ways of sending messages.
Video chats are a great way to interact with a matchup and get to know them better.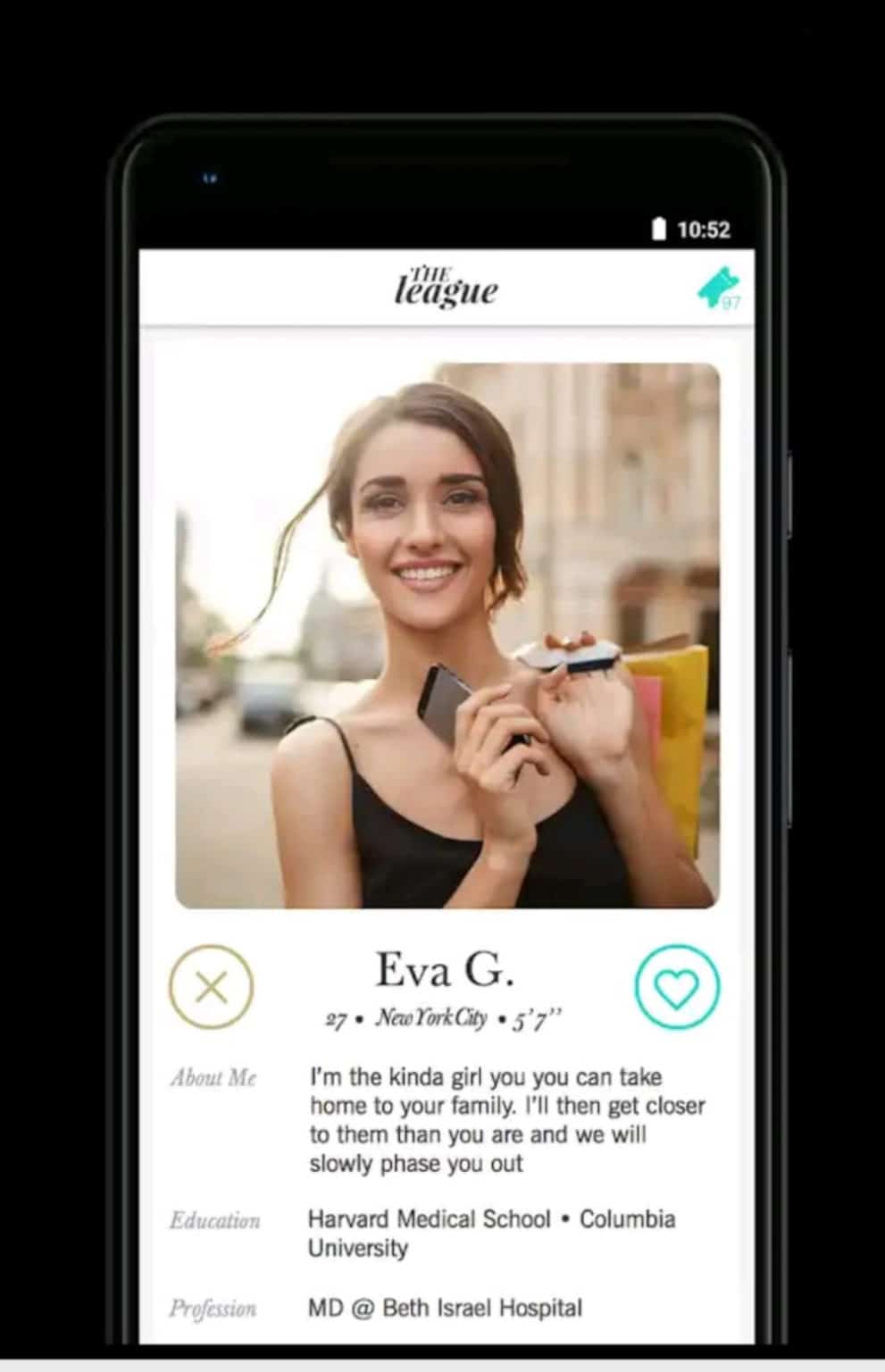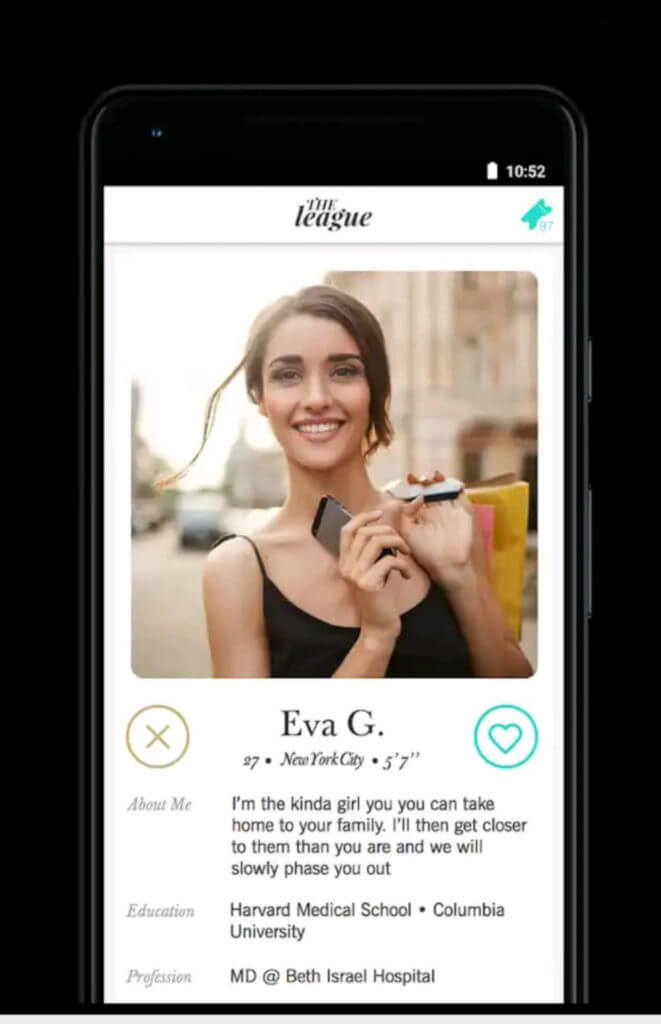 While things are a little different when signing up for The League, it's still quick and easy to do and you shouldn't have any trouble.
First decide if you want to be sent the app via your phone number left on The League website or download it from the relevant online store, depending on what type of smartphone you use.
Even though having the app sent to you is perfectly safe, I prefer the download route using the Apple iStore in my case.
The app is small and comes down in a minute or two, depending on your connection.
Things get a little more difficult from there on in.
Well, things don't get that difficult, maybe I used the wrong word.
They just take longer to get done.
That's because the brains trust behind The League has a strict no fake profile policy in check.
That means they make sure that you are who you say you are.
But how do they do that?
People lie on dating sites all the time, right?
Here's how they achieve their no fake profile policy – through the use of social media.
That's right, to make sure your profile is given the green light and for The League to start sending you matchups, they will want to links to your Facebook and LinkedIn profiles.
That's how they check that you are who you say you are.
It is a clever system and it's will take plenty of ingenuity to bypass.
But there is more to it than that.
The League also takes a look at your connections on LinkedIn and friends on Facebook.
The more you have, the greater your chances of quicker approval.
They will even take a look at what professional work you do as well as your education.
Hmmm, that's pretty shallow but that's how The League operates.
Can you bypass this all somehow?
Yes, there are ways to bypass the long wait.
If you know people who already make use of the app, they can endorse you and that can speed up the waiting process.
The more endorsements you can get, the faster the vetting will go.
You can also pay to not have your Facebook or LinkedIn account scrutinized.
I could find no evidence in the app for that, however.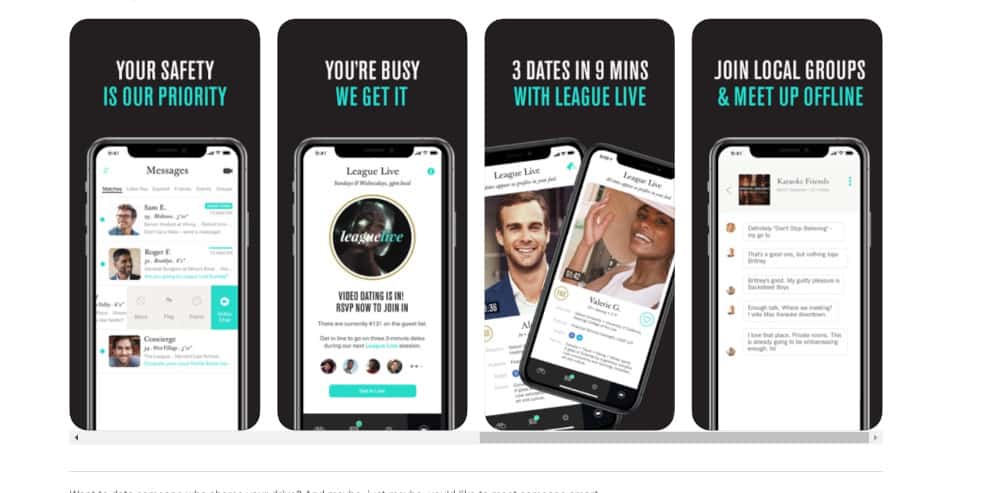 Before I deliver my overall rating and conclusion for The League, we need to go into the pricing structure that a member can expect to pay when they sign up.
We will specifically look at membership plans and ticket bundles.
Here is the costing for the League Tickets we covered earlier.
5 credits @ $5 per credit – $25
15 credits @ $4 per credit – $60
50 credits @ $3.98 per credit – $199
300 credits @ $3.33 per credit – $999
1-month membership – $99
6-month membership – $199 ($33.17 per month)
12-month membership – $349 ($29.08 per month)
1-month membership – $199
12-month membership – $999 ($83.25 per month)
As you can see from the above pricings, things certainly don't come cheap at The League.
It must be that exclusivity they offer, right?
Conclusion and Overall Rating
In closing out this review, I think it's important to say remember that The League is a very different kind of dating app from many others.
Its primary aim is to try to create matchups for professionals.
I think that's very noble as professional people are certainly pressed for time and sometimes love is the furthest thing from their minds because of it.
That said, I think they could go about it in a very different way.
While The League isn't cheap, especially if you want to become a member or make use of League Tickets for more matchups, for the exclusivity they are offering and their target market, those prices are realistic, I guess.
The thing I don't like about The League is that it seems like there is an elite agenda at play here.
For example, if you know someone who is already a member, they can get vetted faster.
Or if you are willing to pay money to become a member of the site before you've tried it, you can bypass vetting.
If I am honest, that's not something I think should be happening and it certainly promotes a feeling of some users being better than others.
That's also especially true if you read about how people have waited weeks to be vetted for the site and that only 20% ever do get vetted.
Is that true?
Who knows but if so, there is that elitism again.
But let's step aside from that and look at The League for what it wants to be.
And that's a dating app for professionals.
Overall, I would give it a rating of 2.75 out of 5.
It delivers on some levels but it not that cheap and I still can't shrug the feeling that it is elitist.
Have you used The League?
How long did you wait to get vetted?
Let us know in the comments below.
Frequently Asked Questions