Today we assess and analyze DatingForParents.com.
This is a single-parent dating website where you can meet people for a variety of reasons, from companionship to serious relationships or even finding true love.
In the Dating For Parents review, we will help you determine if this is a site that could work for you.
You could be looking for single men, single mothers, or perhaps even a same-sex relationship.
OFL Top Recommendations based on 100,000+ Survey

"Serious Relationships"
"Discreet Hookups"
"Best Course for Men"
"Quick Flings"
"Normal Hookups"
"Our Quiz"
As we evaluate the site and gather the information you need, it will become clearer to you whether DatingForParents would work or not in your unique situation.
Our research into the site will cover the following:
So if you've been looking for a single-parent dating site, let's see if DatingForParents is going to fit the bill.
Is your dating app giving you the best chance for success?
Make sure to take our online dating site/app quiz to find out.
It's a fact that people who follow our dating site suggestions have on average 2 extra dates per month.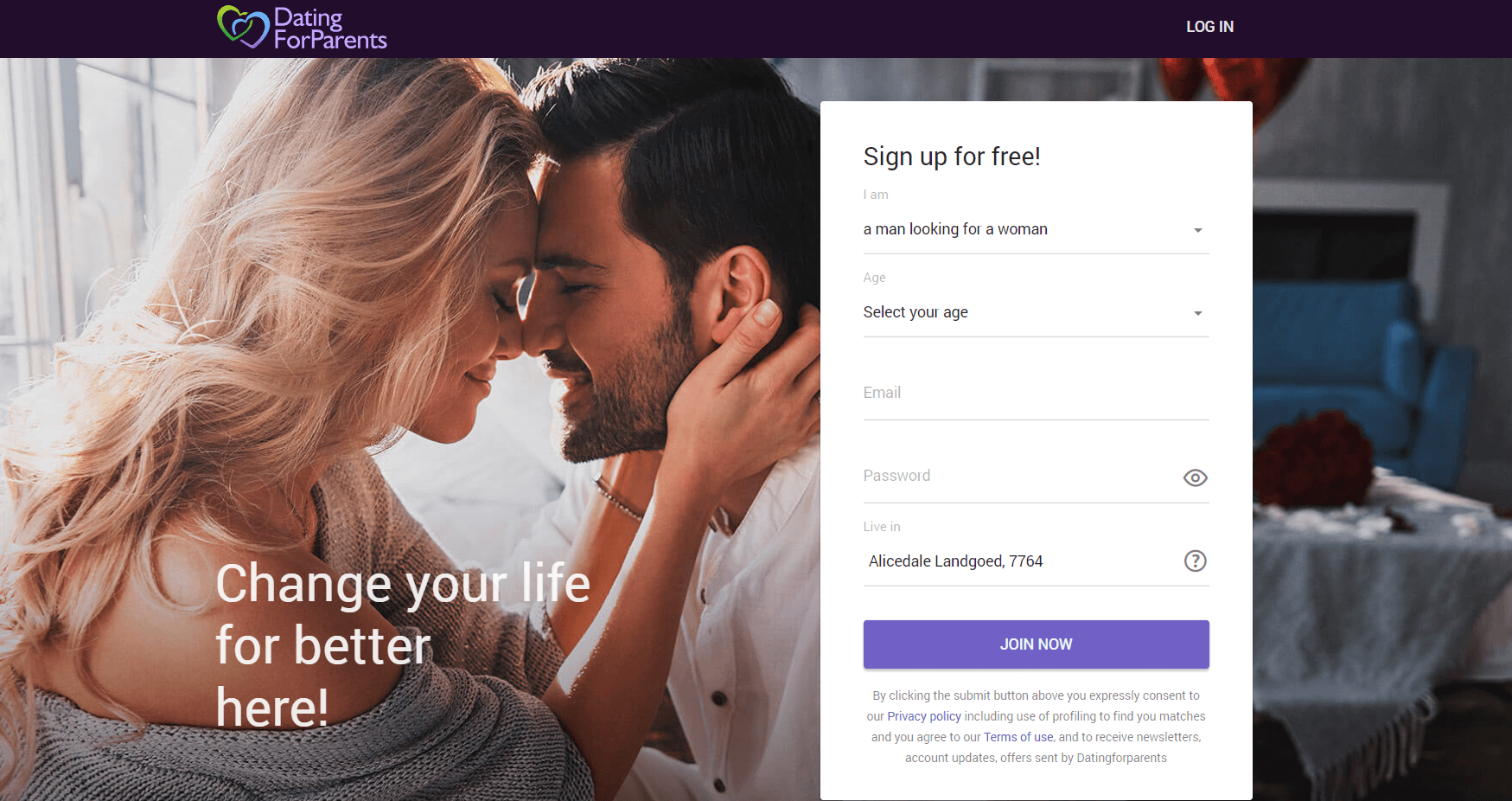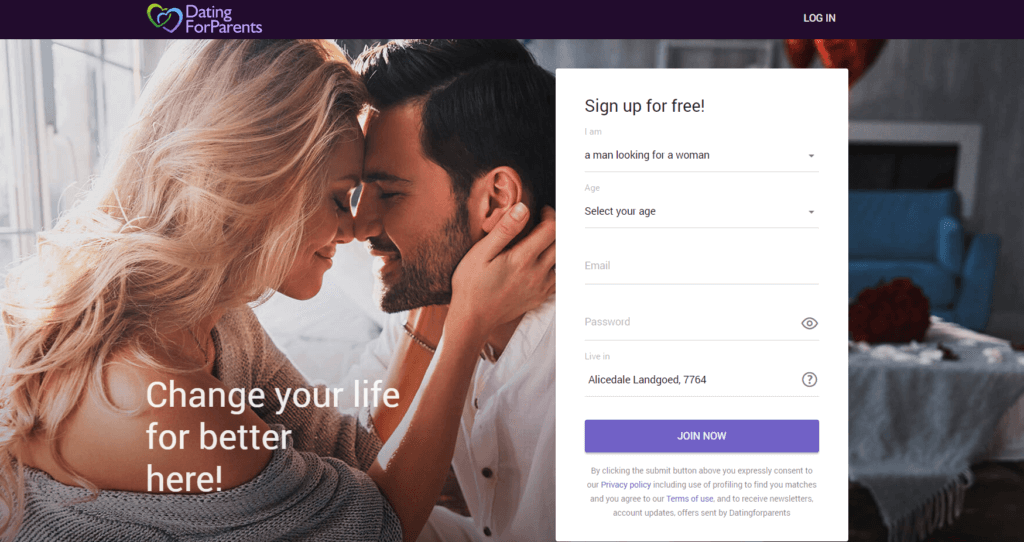 Ease of Use 4/5
Effectiveness – 3/5
Key Features – 3.5/5
Pricing – 3.5/5
Day-to-day membership option
All users are in a similar situation (single parents)
The site is so easy to register for and use
While this is a niche site, the user base isn't the biggest around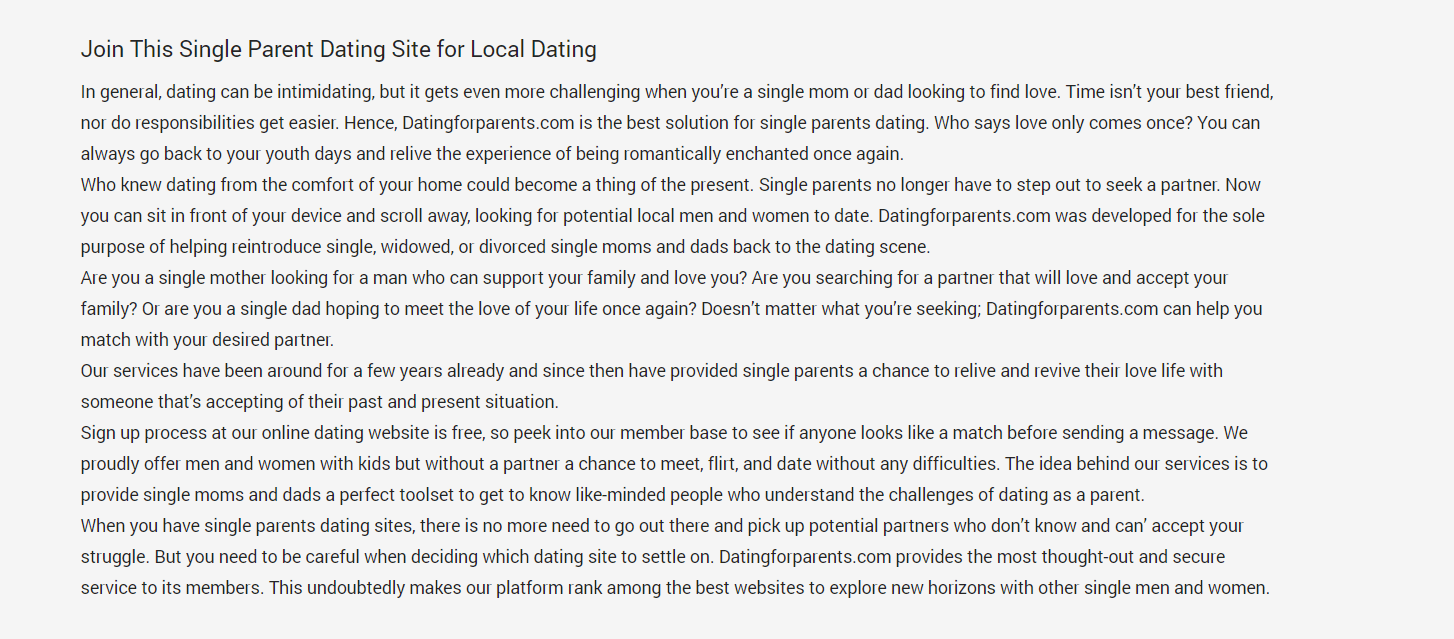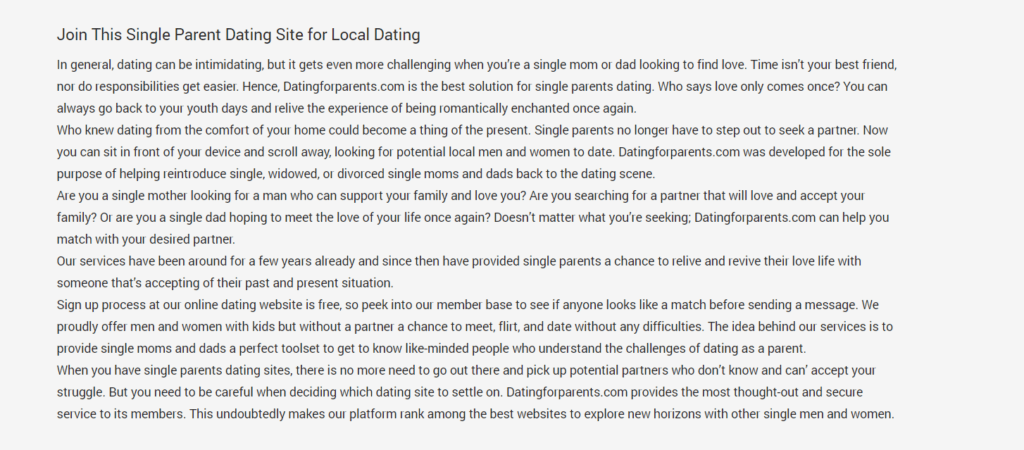 Who Is It For/Demographics?
Just like its main competitor SingleParentMeeting, DatingForParents aims to help bring together single parents together across the globe.
And while the majority of people who use the site are divorced and now looking for a new relationship (like eHarmony or Tinder) or casual dating (like BeNaughty or Ashley Madison), that's not the only people you will find here.
It's also a site where single parents who have lost their partner might turn to in the quest for companionship once their grieving process is over.
Or perhaps its someone who has a child but has never married.
OFL Top Recommendations based on 100,000+ Survey

"Serious Relationships"
"Discreet Hookups"
"Best Course for Men"
"Quick Flings"
"Normal Hookups"
"Our Quiz"
What I like about the site is that it provides the perfect platform for people who have had a failed marriage to find love.
There's often a certain stigma that these people suffer from because their marriages failed.
But they deserve love just like anybody else.
Why should cupid pass then by?
Most users are from Canada, the United States and the United Kingdom but you can start a profile from anywhere.
Although overall numbers weren't available, these were some facts and figures about the site:
Around 10000 users are from the United States
2500 users are active on the site each week
Males contribute more users than females
The biggest user group in terms of age is between 25 to 40.
You can't compare those numbers with a regular dating site, that's for sure.
But then again, a regular dating site cannot promise this exact target market, so it's a trade-off, right?
Despite that fact, the is no denying that from the figures above, this isn't a dating site that has a million users.
In fact, maybe just about 100000.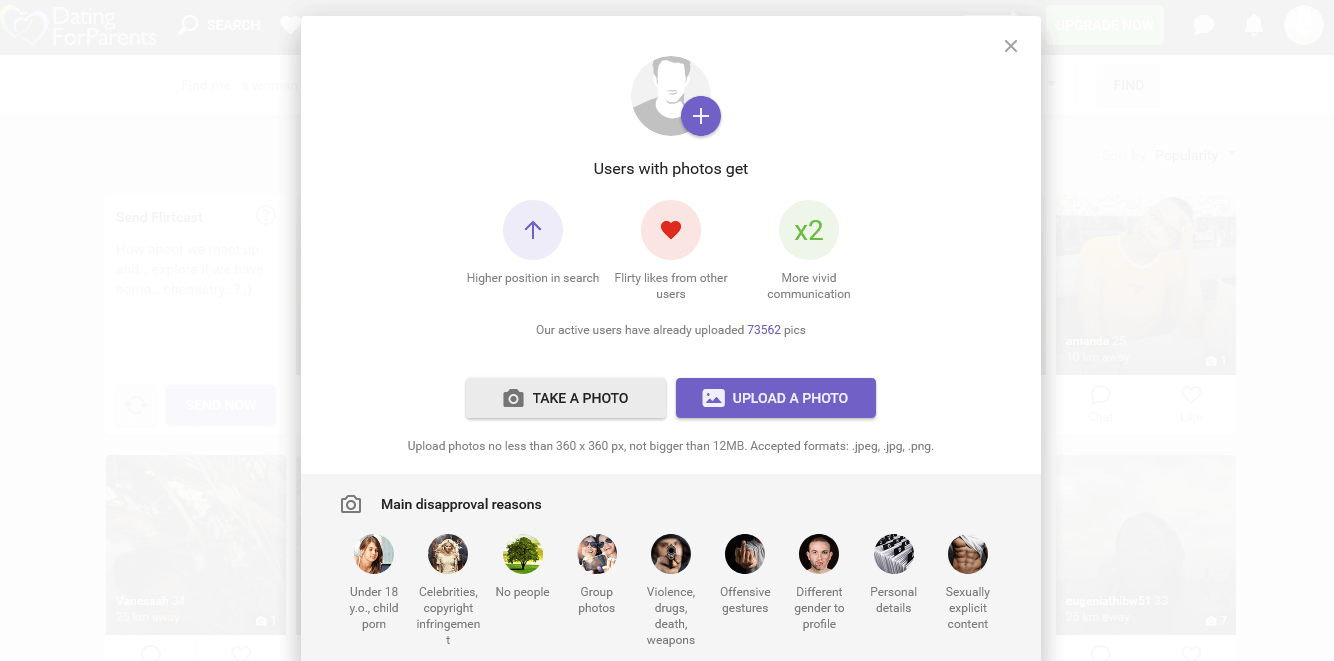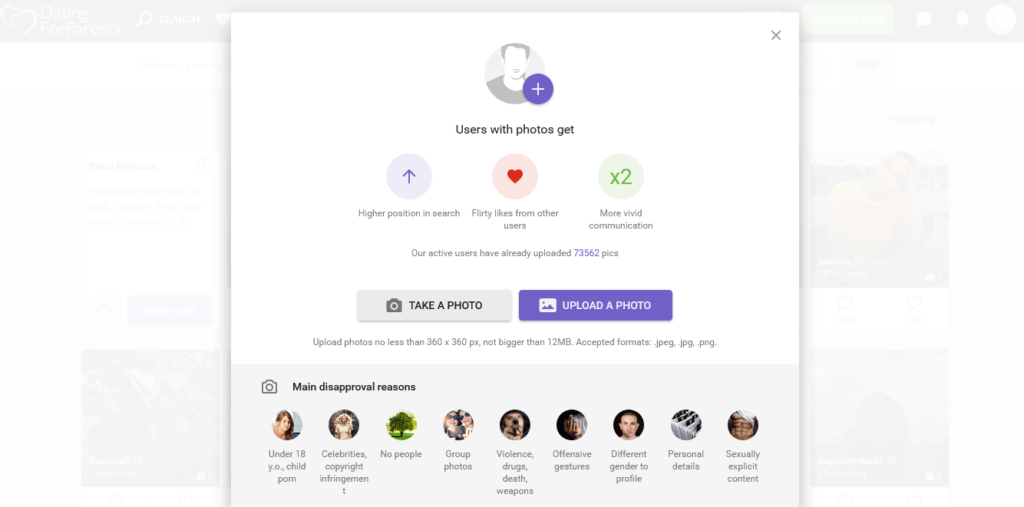 Because the user base here is small, you'd probably want to see if you can find matchups near your location that would make it worth your while to try out the site.
The thing is, while some dating sites allow you to see potential matchups in a certain location before you sign up, DatingForParents isn't one of those.
To do that, you are going to have to register your own profile on the site.
And that doesn't take too much time, so let's identify the process that you will need to follow.
First, head to the DatingForParents landing page and confirm the following details to start the process:
Your gender and gender you want to date (LGBT friendly)
Your current age
A secure password
Your location
Your valid email address
Once you confirm that email address through a code sent to you by the site, you are free to start using the site.
Upload a photo, fill in some profile details and you are ready.
I won't go through the profile details now but will cover what it entails a little later.
And it's important because filling in your profile properly gives you access to other users' profiles.
Note, the site will also offer to send an icebreaker to all users near your location with your profile status as the message.
You can either do that now or later, it's up to you.
Your Profile on

DatingForParents
During the registration process, you are not made to complete your profile for the site.
But I do suggest that it's something that you get to fairly quickly.
I can clarify that if you don't complete your profile, you won't see profile information from other users.
Yes, the main information will be there but appearance parameters and others that they might have filled in won't be displayed.
As soon as you have completed your profile, if those users you browse have filled in the relevant sections, then the information will appear for you to explore.
So let's review what information you will need to provide to finish up you profile.
Well, it's broken down into two specific sections:
Personal information
Additional information
Personal information includes the following:
Your sexual orientation
Your hair color
Your ethnic origin
Your body type
Additional information, which features towards the bottom of the profile includes:
Eye color
If you have tattoos
If you have piercings
If you drink or smoke
Your yearly income (low, average, well paid, can afford anything)
Education
Weight
Height
If you have or want children
Your living situation
Your religion
From my perspective, there is no need to split these two sections up.
It just makes no sense.
Also, you don't have to fill in one of the categories if you prefer not to.
You can simply choose the "Rather Not Say" if you feel uncomfortable disclosing your income, for example.
That's it for the information side of your profile.
If you want, you can add videos for others to watch or more pictures.
Note that regular users cannot view full pictures, that's a member-only privilege.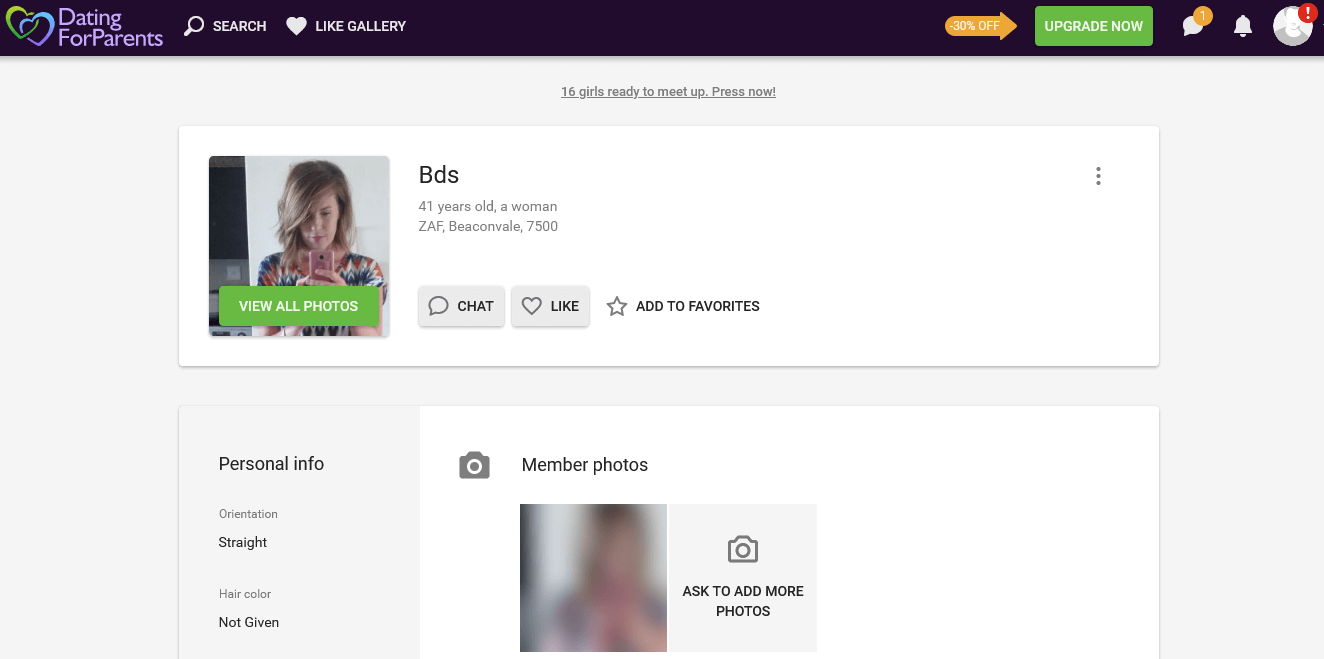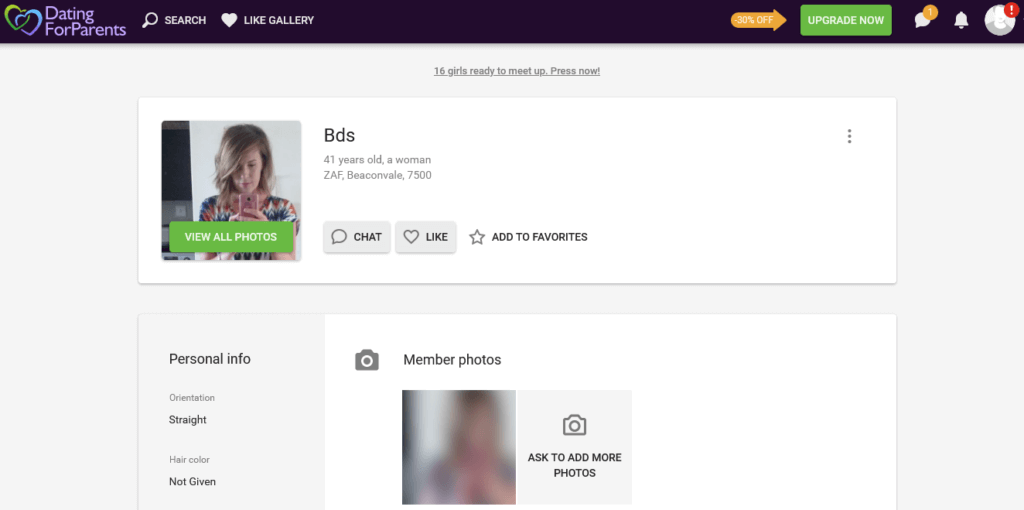 Finding your way around the site
One of the strengths of DatingForParents is the fact that it couldn't be easier to use.
Even if you've never seen a dating site before, thanks to the way it's laid out, you be navigating your way around the site in just a few minutes.
That's because the overall design of the site presents you with much of what you need on the home page.
And then, the menus are kept to a minimum to make things even easier.
So let's talk about those quickly:
DatingForParents logo: If you want to return to the homepage, simply click on the DatingForParents logo in the top-left corner
Search: For those of us who like to refine our searches to an exact art, you would use this menu to do so
Like Galley: Flip through profiles that the site has picked for you. You can either pass or like these profiles.
There are three more icon menus on the right-hand side of the page.
Here, you can see any messages sent to you (the chat icon), keep track of important notifications (the bell icon) and finally your picture (which gives you access to your profile).
And that's it.
Keeping everything super simple is certainly something they've done right on the site.
It just shows that menu after menu isn't necessary.
All it does is clutter up the overall design.
The most critical thing here is the profiles of users for you to look through as you try to find that perfect matchup.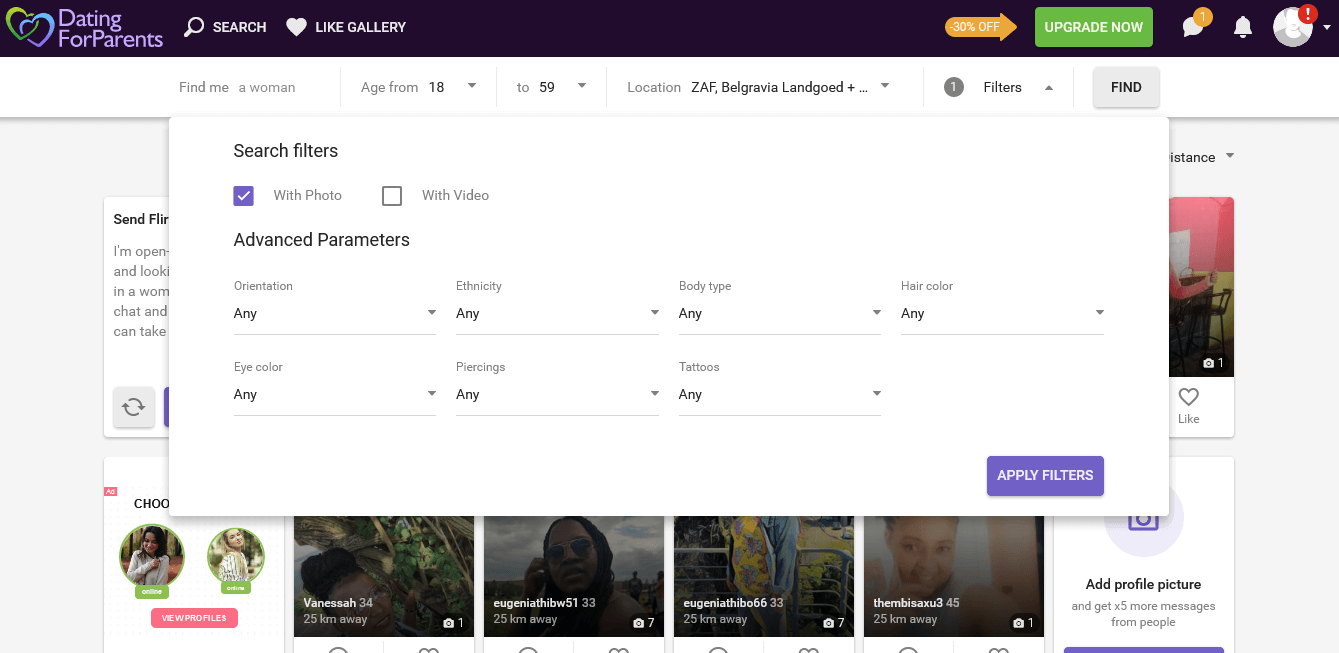 So just how are you going to go about finding someone to chat to, become a friend or perhaps even date?
Well, the tools you need are readily available to all users.
But communication is somewhat limited unless you are a member of the site.
Let's first look at how you will find someone to reach out to first.
Searching for a potential matchup
Potential matchups are front and center DatingForParents from the first time you log in.
In fact, the home page will show you matchups that fit in with the parameters you are looking from straight away.
So just browsing it will indicate whether you have other users near where you live.
And that's a good thing for a dating site that has a small user base so you don't waste your time if there aren't many matchups.
Unless you don't mind a long-distance relationship or you are just looking for people to chat to and become friends with.
Note, however that the profiles you will see here first are new members but you can change that view to:
All members
Those that are currently online
I prefer to start with all members as that reveals all the users near to me.
You can then sort these returns as well into four more categories: popularity, last activity, distance from your location, age.
To help me further collect the information I need about potential matchups, I changed this indicator to distance from my location first up.
Again, it's just handy to highlight potential matchups most beneficially.
If you use this approach, you can quickly tell whether there are single moms or dads that you can not only reach out to but that live close by.
That's because the distance they are from you is clearly marked on their profile below their username and age.
But what about the search engine if you'd like to make your search alone the parameters you'd most want in a matchup.
Well, at the top of the screen is your quick search bar with the following parameter options:
That's the most basic search you can perform.
You can quickly add parameters, however.
And to do that you need to click on the Filter button.
This provides the following options:
If search returns should have a photo
If search returns should have a profile video
There are advanced parameters as well:
Sexual orientation
Ethnicity
Body type
Hair color
Eye color
Piercings
Tattoos
So you can narrow that search down if you'd like.
The main downside of this on a dating site with a small user base is that you are cutting down on potential matchups.
So if your search returns are bringing up fewer profiles, drop the specific filters unless they are non-negotiables in your book.
Lastly, I'd like to point out the Like Gallery.
While it's an attempt to make the site fit in with dating apps by providing a roulette-style matchup game for users to look for a potential matchup, from my perspective, searching is far more effective.
That's not to say don't use it.
By all means, take the time to try it out and scan through users.
Of course, you just see their profile picture her, so if overall attractiveness is critical to how you choose a potential matchup, this might work for you.
But I certainly prefer searching myself.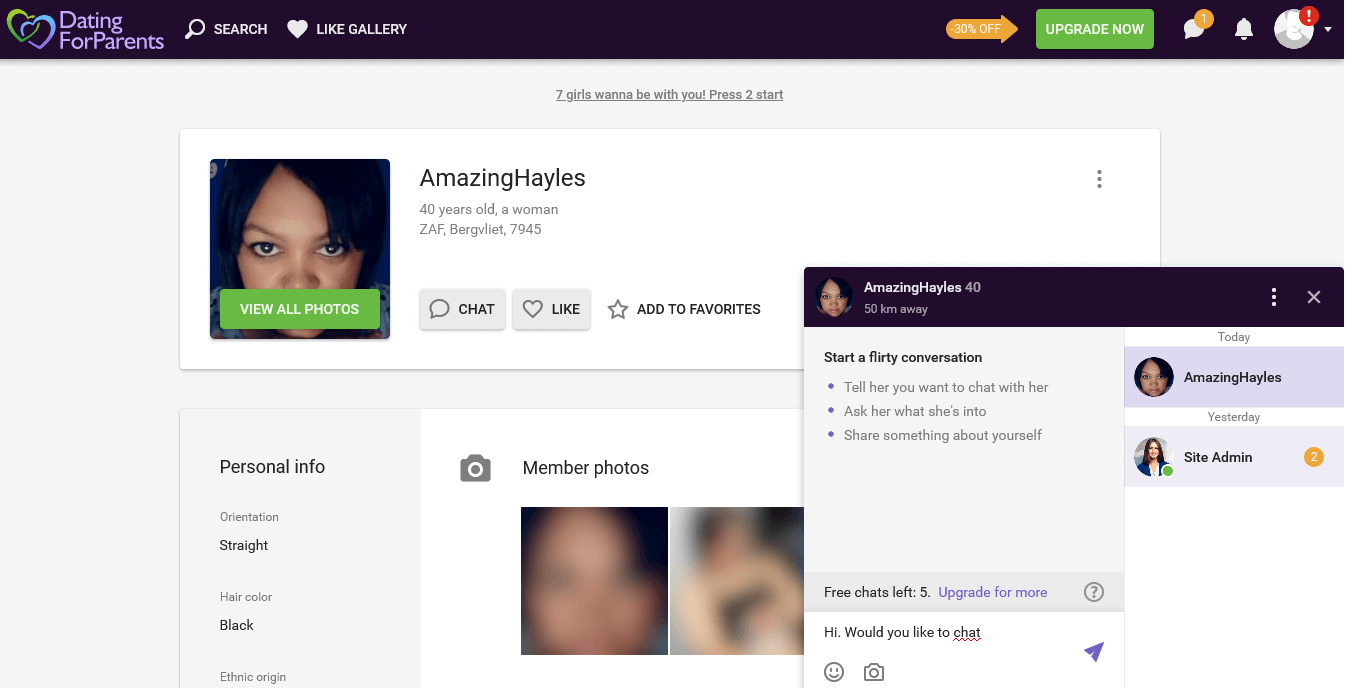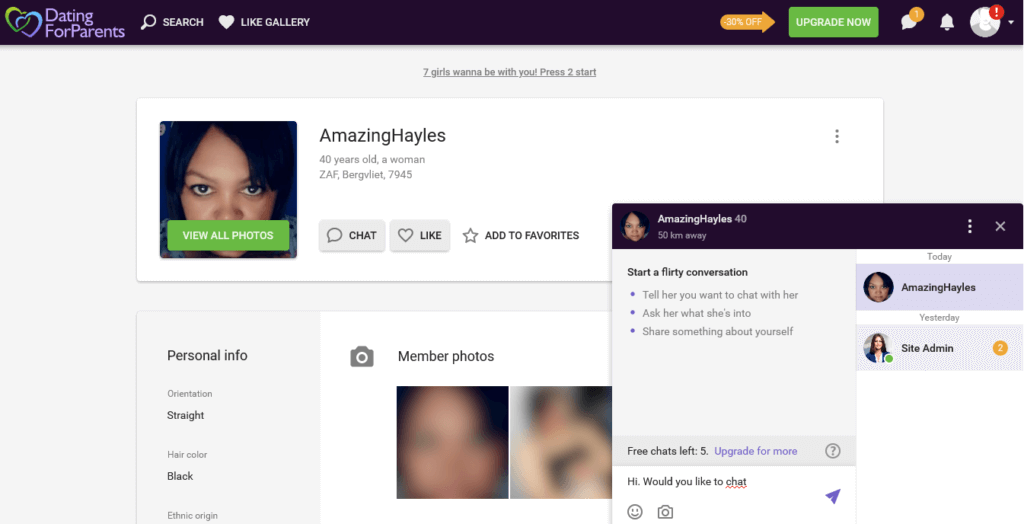 Reaching out to others on the site
Searching is one thing, but once you've found someone you'd like to chat with, as a regular user you are somewhat limited.
That's not to say you can't, however.
But you only have the option of just five free messages in total.
Once those are done, you are going to have to sign up to become a paying member of DatingForParents.
Also, a major critique for me is the fact that those five messages can only be those you send.
They cannot be in replying to someone that may have messaged you.
I don't understand the thinking behind that at all.
At the end of the day, your five messages will quickly be used up and to then reach out to others, taking out membership on the site is your only option.
But there's one more tool at your disposal.
All users can send one Flirtcast.
I mentioned it earlier in the review as you are first encouraged to send one when registering your profile.
I think it's far better to try your free Flirtcast once you've checked out the site.
But what is it?
Well, a Flirtcast is a pre-generated message that you can send to all users that match your preferred parameters of gender and age range.
If a user is near your location and you opt to send a Flirtcast, they will receive it.
It's a great way of getting your profile out there to others and hopefully having them reach out to you if they like what they see.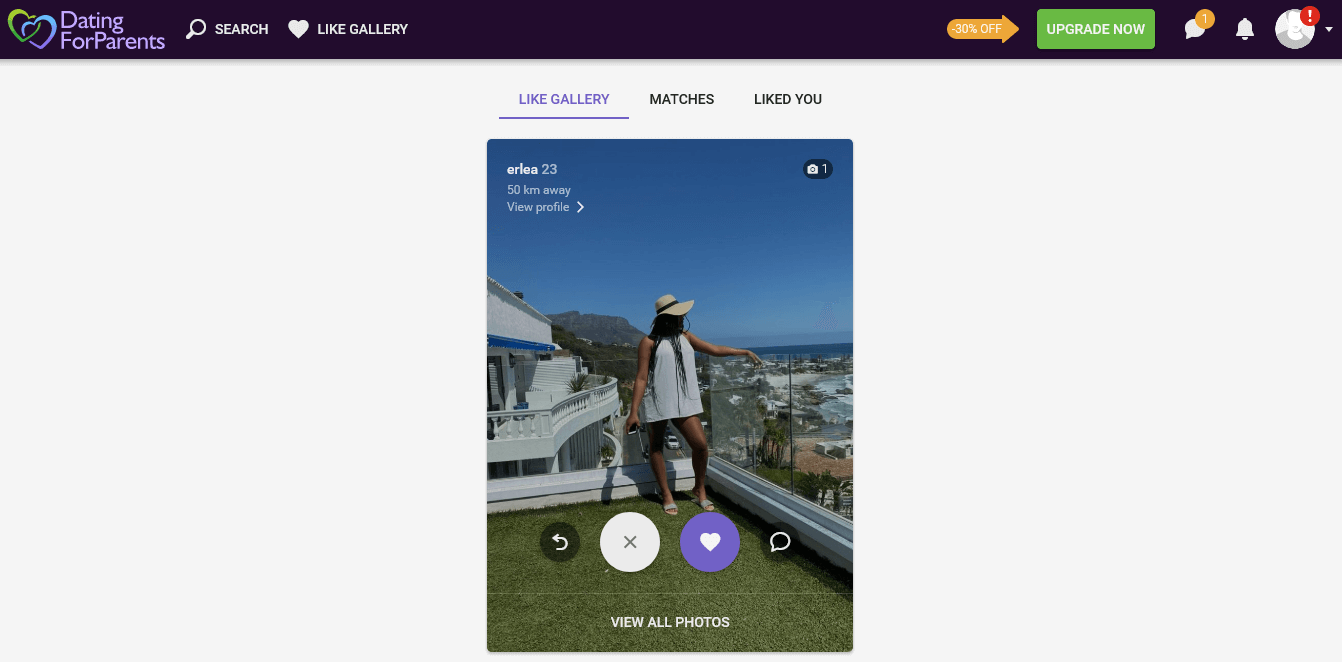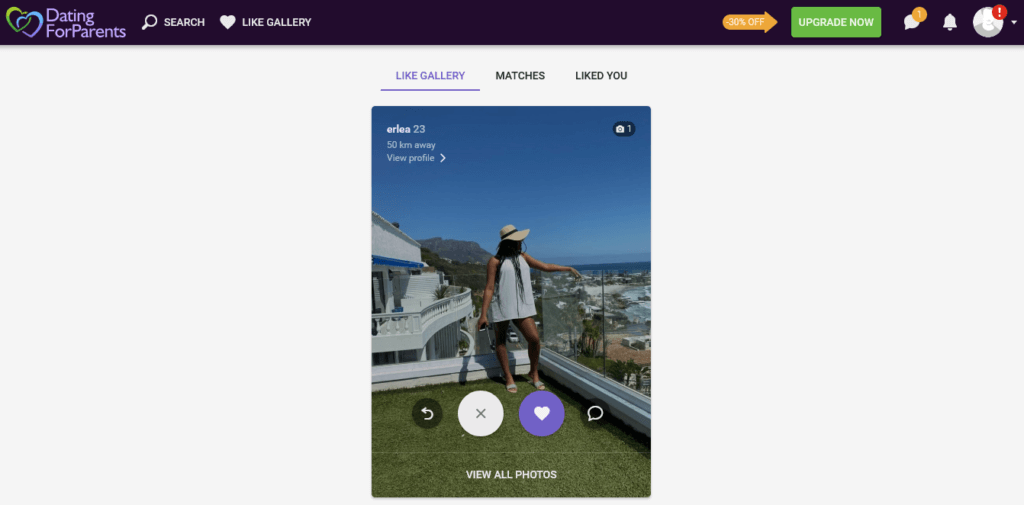 Should you choose to sign up for a membership on DatingForParents, these are the key features you will have access to.
Without a doubt, the main reason why you would consider membership, without messaging you simply cannot use the site effectively.
On some sites, if a member messages a regular user, they can respond to those messages but that's not how DatingForParents operates.
Only members can send messages, it's that simple.
2. Full-sized profile pictures
One thing I did not like while using the site was the fact that I could not see full-sized profile pictures.
It's a dating site after all, so you are going to naturally want to reach out to people that you find attractive.
And profile pictures play a big part in that, right?
But yes, those behind the site have decided that the only way you can see a full-sized picture of someone is if you are a member.
I am not sure I agree that this is the best idea, but it's one that they've taken.
3. See what type of relationship others are looking for
So not everyone on a dating site is necessarily looking for love.
You might find the perfect person in your quest for someone new in your life to find out that they are just looking for friendship.
As a member, you can quickly see what type of relationships people are looking for before you reach out to them in vain.
4. More search parameters
While having more search parameters is a good thing on a site with a large user base to start with, it might actually hamper you on a site like this.
I talked earlier about adding too many parameters and cutting down on your search returns because of it.
While added parameters are useful, just be careful how you would use them here if you take out membership.
5. Photo and video sharing
If you'd like to, you have the ability to share your photos and videos with someone you are messaging,
It's a pretty neat added feature in my book.
On the whole, messaging is the most critical aspect of becoming a member, although there are some other useful extras there.
How much will they cost and what membership options in terms of length will you find on DatingForParents?
Well, if you are one of those who prefer to try something out first, there are day-to-day options available.
There are also membership plans for one week, one month and three months.
Here's what they will cost you:
1-day: $1.29 per day
1-week: $1.19 per day ($8.33 for the week)
1-month: $1.09 per day ($33 per month)
3-months: $.99 per day ($30 per month)
Please note, the site was running a special during our review time.
On the whole, those prices aren't too expensive considering that DatingForParents is a niche site.
I love the fact that there is a day-to-day membership option which is the perfect way to see what membership offers.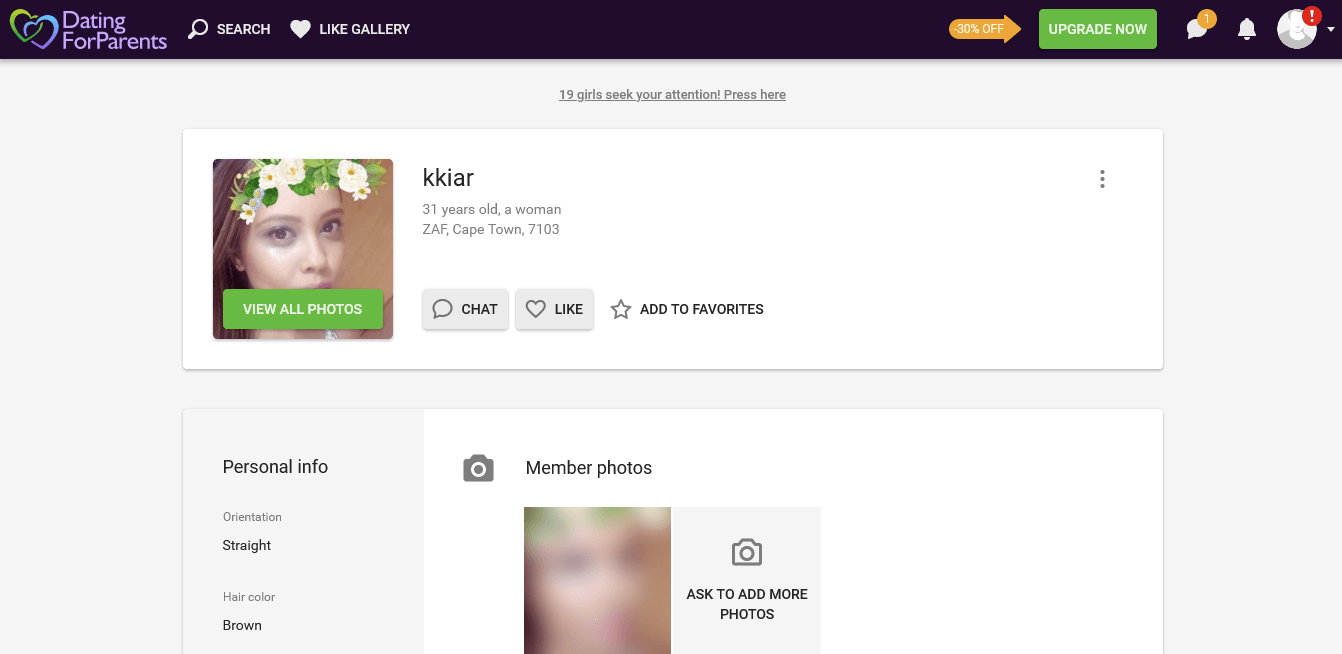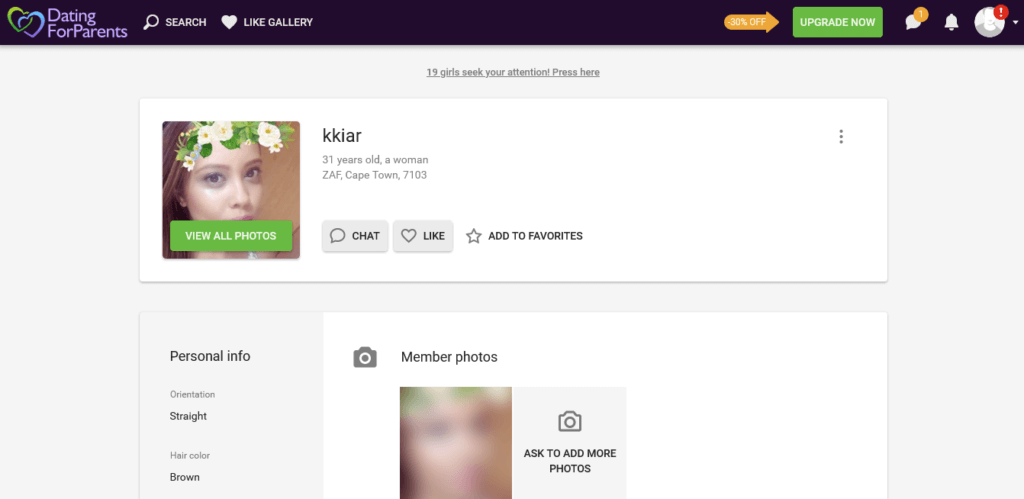 Conclusion and Overall Rating
Let's quickly summarize our DatingForParents.com review.
While there are many online dating websites for single parents, if you are a single mom or dad, this one is definitely a good site to try out.
Yes, there isn't a massive user base here but this is a pretty specific dating niche, that's for sure.
When it comes to membership, prices aren't bad but a major advantage here is the 1-day membership.
That allows new users to see just how the site could work for them without committing to membership for a month as other sites offer.
DatingForParents provides you with all you need in your quest to find companionship.
I believe that a single parent who is looking for new friends, like-minded people to chat to or even love should give it a try.
And during my time on the site, I saw not obvious scams or people with fake profiles.
It scores a solid 3.5 out of 5.
This comprehensive review of DatingForParents saw our Onlineforlove experts studying and using the site for weeks.
And we have concluded that this is a site for single moms and dads to meet others just like them for chat, friendship, casual dating and even long-term relationships.
During our review, we used the approach of identifying various key criteria to help provide an overall score for the site.
These key criteria included registering as a user, overall ease of use, profile quality and the overall effectiveness of the search tools.
Also, our evaluation focused on the pricing of membership packages, the success rate in matchups, the size of the user base and key features on offer.