Online dating can seem like the most straightforward way of meeting people.
All you need to do is just swipe right and soon enough, you'll get yourself a date, right?
Well, no, it doesn't necessarily work that simple.
To get more chances of having good matches on Bumble, you will need to put in some effort.
OFL Top Recommendations based on 100,000+ Survey

"Serious Relationships"
"Discreet Hookups"
"Best Course for Men"
"Quick Flings"
"Normal Hookups"
"Our Quiz"
Before we jump into explaining which steps you'll need to take to receive a lot of right swipes and amaze your potential matches, let's take a moment to see how does matching even work on the Bumble app.
Here, you will discover:
Is your dating app giving you the best chance for success?
Make sure to take our online dating site/app quiz to find out.
It's a fact that people who follow our dating site suggestions have on average 2 extra dates per month.
How Does Matching on Bumble Work?
If you've ever used other dating apps, then the Bumble interface won't confuse you much.
But, if Bumble is your first experience with online dating, then you might not be entirely sure how Bumble works when it comes to matching.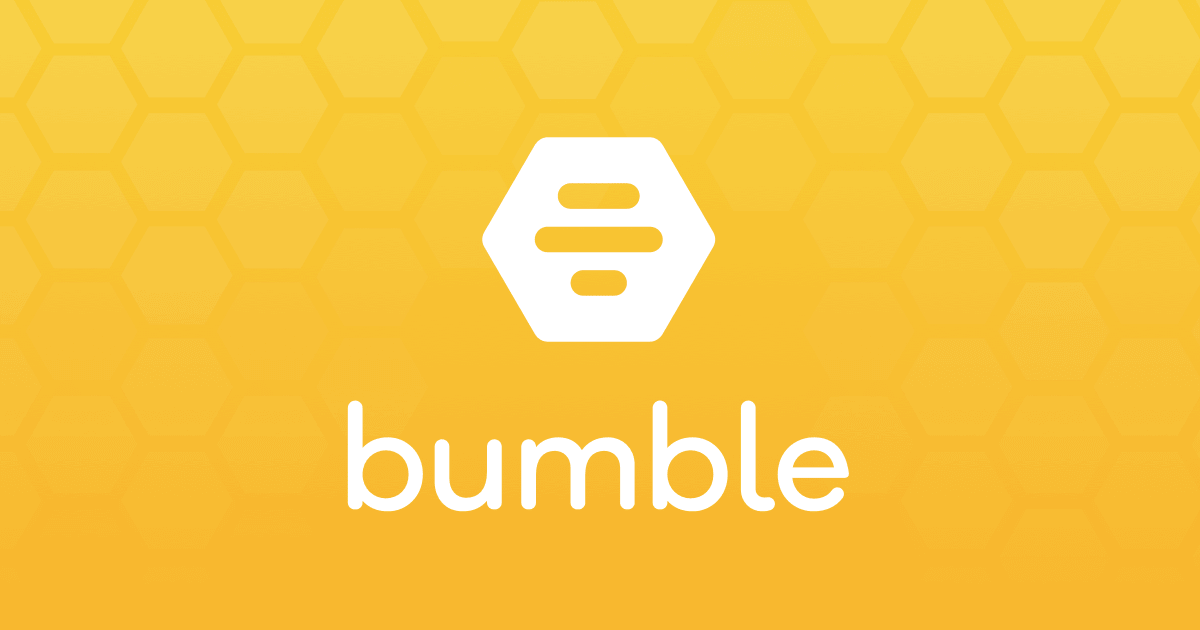 When you open your Bumble app, you will be met with your main swiping page.
Here, you will see your first potential match, and this is how you go on from there:
When Using Bumble Swipe Right or Left
Bumble swipe right means that you like the person that came up in your queue, so once you see a person that you like, swipe right.
Accordingly, when you come up to a person that you don't like, then you swipe left, and that's how you go through the match queue Bumble has to offer to you.
Which way do you swipe on Bumble depends on do you like the person that appears or not so much.
Swiping right is the first step for getting matches on Bumble, but whether you'll match with someone is not just on you.
Getting a match requires both you and the other person to swipe each other right.
When you swipe right and nothing happens, it can mean two things, the person either didn't bump into you yet, or they swiped you left.
OFL Top Recommendations based on 100,000+ Survey

"Serious Relationships"
"Discreet Hookups"
"Best Course for Men"
"Quick Flings"
"Normal Hookups"
"Our Quiz"
If it's the first option, and after some time that person also swipes right on you, then you will get a notification saying that you have a new match.
If you, however, swipe right on someone and you get a notification over your screen saying that you and this person are now a match, that means that they already had your profile in their queue and decided to swipe right.
And that's it!
That's the technical part behind Bumble matches explained.
The expected next step would be to make the first move and send a message to your match, and it is, but on Bumble first messages work a bit differently than on other apps, especially when the match is a heterosexual one.
How Does Bumble Work for Guys
When you are a guy and you are matched with a girl, you won't be able to send the first message.
For many reasons, Bumble has decided to have this policy. It mostly has to do with the safety and well-being of its female users, as many abusive situations tend to happen without this in place.
So, when you match with a girl you like, you will need to wait for her to initiate communication.
Once she does, you will be able to reply and keep on with the conversation regularly.
How Does Bumble Work for Women
As already stated, Bumble looks different for men and women when it comes to matching.
On Bumble women message first.
If you are a woman, and you match with a man, it's on you to initiate the conversation.
Men can't send messages first to you, even when they are your matches, so keep this in mind if you find someone who you really like.
Bumble users who are looking for a same-sex relationship don't have this barrier, and either person can make the first move after you match.
Probably the main thing that you need to know about Bumble matches is that they are not everlasting.
After you've matched with someone, you have 24 hours to start talking, or the match will disappear.
This feature on Bumble draws some additional questions, like how to retrieve an expired match on Bumble?
You can retrieve an expired match, but these are premium features.
If you are a Bumble Boost or Bumble Premium subscription user, then you will get these features with the subscription.
But if you're not willing to pay for these things, then you don't need to worry.
Once your match with someone expires, they will probably appear again on your main page, so you can swipe right when that happens and hope that things work out differently this time around.
Getting More Matches on Bumble
Now that you know everything about the technicalities of Bumble matches, let's go through some of the steps for making sure that you get as many matches as possible for relationships (like eHarmony or Tinder) or casual hookups (like BeNaughty or Ashley Madison).
1. Verify Your Bumble Account
In order to avoid situations like catfishing, Bumble has made a feature called Photo Verification.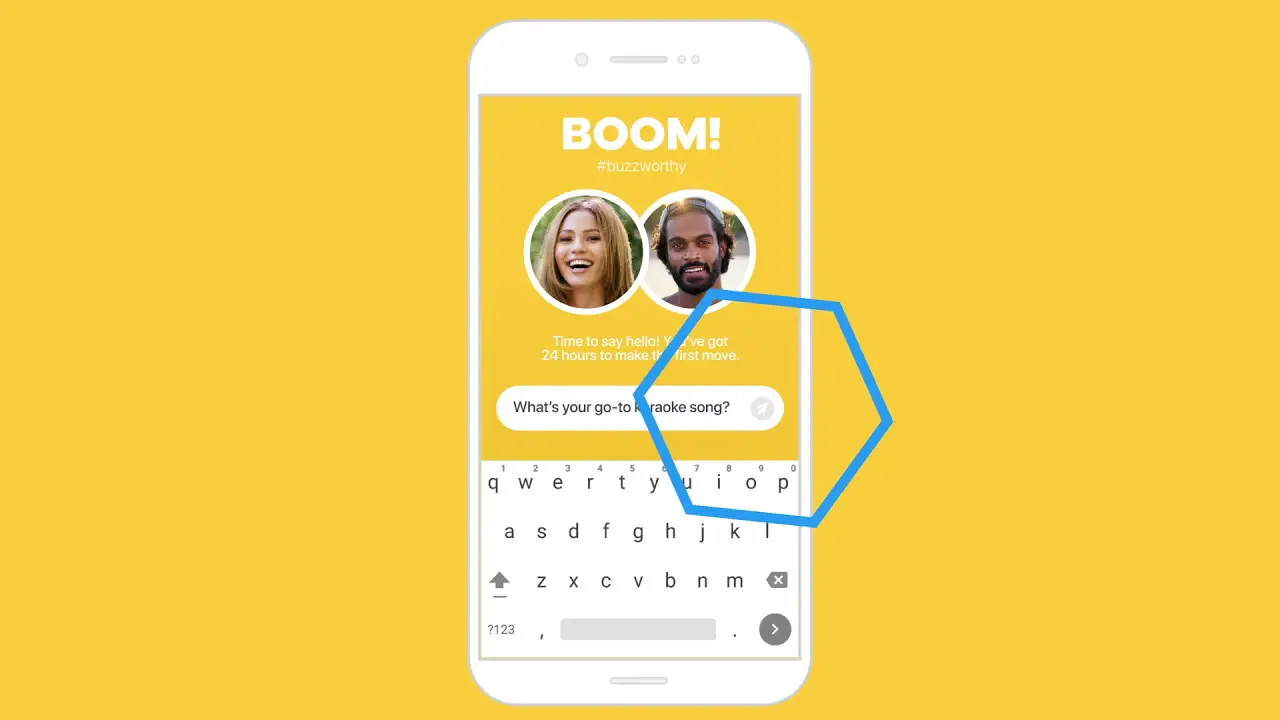 With this feature, you'll be able to request from your matches to verify their Bumble profile before you start talking or go on a Bumble date.
Here is how you verify your profile, step-by-step:
Tap on the Edit Profile button when you enter your profile page.
Among the available options, you should be able to find an option that says Verify Your Account. Tap on that.
Bumble will give you an example of a pose, and what you'll need to do is mimic that same pose and take a selfie.
After you've taken the selfie, Bumble will give you two options – you can either send the selfie you took, or you can try again. If you think the selfie is good, then you tap on I'm Ready, and if you are not quite sure if this one works, then you should tap on Back. When you tap on Back, you'll be able to redo the photo as many times as you need.
Once the pics are sent to Bumble, they are going to be reviewed by a real person from their team.
This process usually takes only a few minutes, so very quickly you will get your verification.
If something doesn't work or you don't get your verification as soon as you should, then don't worry, as you can try again until it works.
So, if someone happens to request verification from you, you have nothing to worry about, as this is a regular process that every popular dating app nowadays has.
This feature is not only a thing for the Bumble Dating mode, it's also available for Bumble Bizz and Bumble BFF.
2. Make Sure to Make the Most Out of Profile Badges
Bumble Profile Badges are a feature that has the purpose of introducing you to your potential matches.
Yes, the profile picture is what will draw attention to your profile, but the Badges are the things that could make people stay.
With these Badges, you can show people what you're into, and you should make sure to have as many as possible, as it's been shown that the more information you have about yourself in your Bumble bio, the higher are the chances of getting a match.
Here is a step-by-step guide on how to add Badges to your profile:
When you open the Bumble app, tap on the grey silhouette that's placed in the bottom-left corner of the screen.
Once you enter your profile's page, you should find a button that says Complete my profile and tap on it. It's right below your profile picture.
Here, you will see all the places for filling out the basic info about yourself, and under that, you'll see a lot of different badge options.
Choose the ones that are the most relevant for you, and fill them out!
Bumble Badges are available for all three Bumble modes, but they differ.
In the Date mode, you'll be able to fill in things like what you're looking for, preferred height, star signs, whether you mind drinking and smoking, as well as disclose your preferences regarding religious and political beliefs.
These specific badges are the Basic Info badges, but you can also fill in Interest Badges, where you can be a bit more specific about what you like to do in life.
Some popular Interest Badges are Coffee, Pets, Wine, Basketball, Pop Music, Positivity, Environmentalism, etc.
3. Link your Spotify and Instagram accounts
This is yet another smart way of giving people a bit more insight into who you are.
Sharing your Instagram is a great option because people could go and look at some more photos of you, but they can also see what things are you into – if you are the type of person who likes to share a lot on your Instagram then this is a great way to make the most of it. Of course, in order for this to work, you will need to have your Instagram profile set to Public.
This is also useful because people might just follow you and start a conversation through Instagram DMs, making the connection more straightforward from the get-go.
Another thing that is great for bonding through social media, and dating apps too, is your Spotify playlists.
Not only will people feel like they know you better by looking into your Top Artists, but this can also be a fantastic conversation starter. And as you probably know, good ice breakers are life savers when it comes to online dating.
Also, if you are not very keen on sharing your personal Instagram, then having at least the Spotify profile linked will be a very useful thing.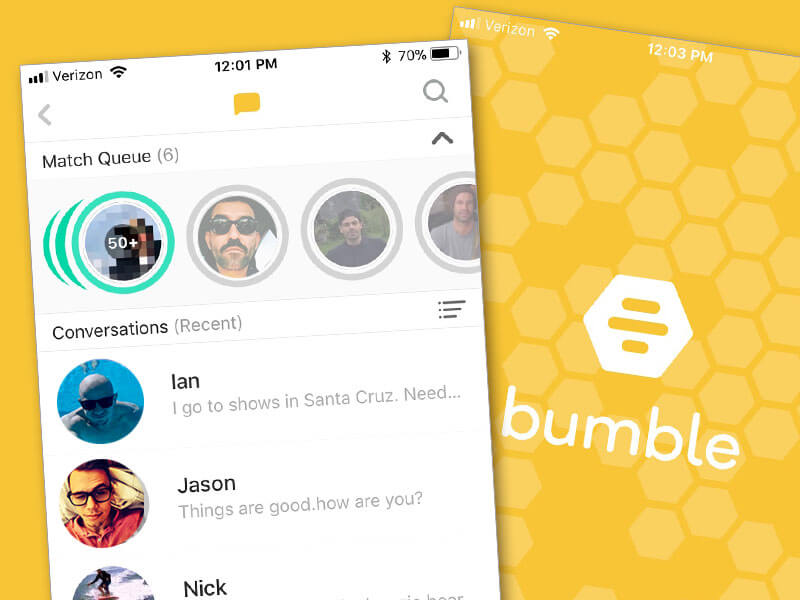 If you like how this sounds, you will be glad to know that it's quite easy to set everything up, just keep reading and you'll find step-by-step guides for both.
Adding Instagram to Your Bumble Profile
Open the Bumble app
Find the grey silhouette button in the bottom left of your screen and go to your profile
Find the Complete my profile option, and tap on it
Once you're in the editing menu, scroll down until you find the option that says Connect your Instagram
Once you choose this option, Bumble will ask you to log in to your Instagram profile.
When you finish this, the 24 latest photos on your Instagram profile will be shown at the bottom of your Bumble profile
Adding Spotify to Your Bumble Profile
Open the Bumble app
Tap on the grey silhouette button in the bottom left corner of the screen
Once you've entered this page, tap on the Complete my profile button
Scroll down until you find the option called Linked Accounts
Find a green bar that says Connect your Spotify and tap on it
Another tab will open, asking you to log in to your Spotify account, so once you type in the needed information, tap on Login
If you'd like to hide some of your favorite artists for some reason, then just find the bar that says Hide artist, placed under the circular photo of said artist. It's okay if you want to hide your guilty pleasures, we've all been there!
These three options are the best free ways to step up your Bumble dating game, and they are guaranteed to bring you at least a bit more matches.
However, if you're not opposed to paying for enhancements on dating apps, then there's one more thing that you can consider.
Bumble SuperSwipe is a premium feature that promises to get you twice as many matches.
What this one does is show your potential matches that you really like them.
As you know, you can't know whether someone has swiped right on you before you swipe right on them.
SuperSwipe is here to fix that.
To SuperSwipe someone, you just need to click the heart icon button that will appear next to the potential matches in your feed.
After you do that, they will see that you SuperSwiped them, making them more likely to swipe you right, which will end in you two matching.
You can purchase SuperSwipes with Bumble Coins, but if you choose to upgrade to Bumble Boost or Bumble Premium, then you will automatically get this feature.