If you are a Christian that's on the lookout for love, the chances are extremely high that you'd like to meet up with someone who shares your values.
Someone that's just as religious as you are, takes their spiritual life seriously.
And while this is possible on the bigger dating sites, it means so much more work on your part to pull off.
But that's where Christian dating sites and apps can help. These sites are for Christians looking for long-lasting relationships (like eHarmony or Tinder), so people interested in casual dating should visit sites like BeNaughty or Ashley Madison.
OFL Top Recommendations based on 100,000+ Survey

"Serious Relationships"
"Discreet Hookups"
"Best Course for Men"
"Quick Flings"
"Normal Hookups"
"Our Quiz"
This niche in the online dating game is growing rapidly and it's easy to see why.
Who wouldn't want to rather use a site where you don't have to worry if the person you are talking to is a Christian or not?
That's where newcomer Upward Christian Dating comes in.
In this full review of the app, we are going to look at:
So if you are looking to find a Christian dating app in your journey to find a soul mate, make sure you read this review of Upward Christian Dating.
Is your dating app giving you the best chance for success?
Make sure to take our online dating site/app quiz to find out.
It's a fact that people who follow our dating site suggestions have on average 2 extra dates per month.
Ease of Use 4/5
Effectiveness – 3/5
Key Features – 3.5/5
Pricing – 3.5/5
Well executed app with tons of potential
Well thought out membership pricing
Aimed at Christians who want meaningful relationships
All Christian affiliations welcome to sign up
A small, but growing user base
You cannot search by location or Christian affiliation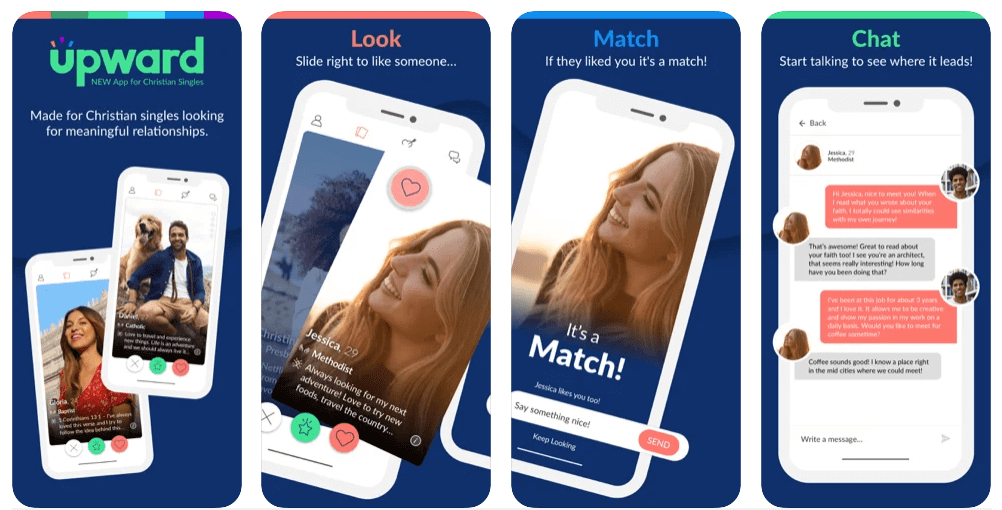 Who Is It For/Demographics?
Christians searching for love.
That's who Upward Christian Dating is for.
OFL Top Recommendations based on 100,000+ Survey

"Serious Relationships"
"Discreet Hookups"
"Best Course for Men"
"Quick Flings"
"Normal Hookups"
"Our Quiz"
But there's some interesting history here.
You see, Upward has only been around for about a year.
Before that, it was known as FTH (or Faith).
When the change occurred, Upward didn't start afresh.
No, all the users were carried over to the new app and from my research, it seems that the current user base is impressive for a niche dating app like this.
It's always difficult to get exact user numbers, however, so let's get an idea of just how busy Upward could be from the download numbers on both the Google Play Store and the Apple Store.
Upward has been downloaded over 100 000 times according to Google Play Store statistics
Upward has been downloaded over 40 000 times on the Apple Store according to the Sensor Tower tracking website
It's important to note that the Google Play Store amount is anything between 100k and 199k as they don't show pinpoint numbers until it ticks over to 200k
Of course, people install and delete apps all the time but this does help give an indication of just how busy the app is.
Currently, it's received over 12 000 reviews on Google with an average rating of 4.0.
On the Apple Store, Upward has over 23 000 ratings, scoring 4.4 overall.
All of these are good pointers to the fact that Upward is a popular app and Christians are making use of it.
That said, it is new and finding matchups near you really will depend on where you are located.
Lastly, before we get into how Upward works, it's important to note that you can only use this app in the United States and Canada.
So we've established that this is an app-only dating portal.
If you'd prefer to use Upward as a dating website, well you are out of luck.
I downloaded the app off the Google Play store, which wasn't bandwidth-heavy at all, clocking in at around 49 megabytes.
The Apple version (which is only available for the iPhone) is more than double the size at 123 megabytes.
Why it's bigger, I am not sure.
It probably operates in exactly the same way as the Google version, however.
Registering for a profile on Upward
Once you've downloaded the app, you are going to have to enter your cell phone number.
That's pretty standard with all dating apps these days.
Once you've done that, you start the registration process.
First up, you need to provide your cell phone number to receive a verification code.
Once you've put that in you provide:
Your name
Your gender
The gender you are seeking
Your date of birth
Your Christian denomination (15 options)
A statement about your faith of up to 500 words (this can be skipped)
An about me section
A profile picture
That will take just a few minutes of your time.
After that, Upward will perform a location check before you are given access to the app itself.
From the start, if there are potential matchups near you based they will display straight away.
I only had a few, but with some tweaks to the settings, that improved significantly but I will explain what I did a little later in this review.
Let's talk about how Upward operates.
If you've ever used a dating app, you've probably are going to have an idea already.
From the start, you are presented with matchups and you have to decide which way you are going to swipe to either like them or move on.
I will talk more about this under the next section of this review, however.
Now, let's talk about the overall look of the app and how you can navigate your way around it.
On the whole, Upward is a well-designed and easy-to-use dating app.
I really had no problem finding my way around it.
To navigate it, you will notice some menu icons at the top of the screen.
These are, from left to right:
Profile and settings (edit your profile and change various settings from this menu)
Matchups (returns you to the matchup screen)
Likes (see who has liked your profile, a member-only feature)
Messages (all messages with various other users can be found here)
These are very self-explanatory, right?
Before we move and explain exactly matchups work on Upward, I just want to get back to something that I mentioned a little earlier in the review.
And that was improving my matchups.
When I clicked on the profile and settings menu and then went into the settings, I notice that the app had selected a very narrow age band for matchup returns for me.
By widening that, to include both younger and older potential matchups, I was presented with many more matches.
Of course, that's my personal preference.
Other users might not want such a broad spectrum of ages in their matchups, but it is worth noting.
Now let's talk about the overall effectiveness of Upward and just how it works to provide you with quality matchups.
Matches are presented to you by clicking on the matchup menu.
You then have the option of passing them by or liking their profile.
If you'd like to know more about each potential matchup before making your decision, click on their picture to bring up their profile.
There lots of information that you can find out about someone that might sway you one way or another, for example, their religious affiliation.
And when you are ready to make your decision you can do that by simply swiping left or right, depending on your decision, or by clicking on the icons that you will find below their pictures.
Don't like what you see?
Then click the X.
If you do like them, then click the heart icon.
If they happen to click the heart icon when you appear in their matches, well then the pair of you have matched up.
That allows for you to message them and vice versa.
You will also notice a star icon in the middle between the pass and like buttons.
This is a Super Like
I will explain exactly what a Super Like is in the key features section of this review.
Sounds simple enough but there is one major problem with Upward in my book.
Depending on where you live and because the user base is still growing, matches can be a bit of a hit-and-miss affair.
So if you live in a small city, you might not get the kind of returns you want.
That's alleviated somewhat for those living in large metropolitan areas.
But there's another issue that I feel the powers that be behind this app need to look into.
And that's the fact that you cannot adjust your location at all.
Most other dating apps allow you to.
At Upward, however, you cannot.
There's another problem as well and for some, this actually may be a deal-breaker.
As I mentioned earlier, when you sign up for the first time, you have to give your religious affiliation, for example, protestant or catholic.
There are a few of these to choose from.
But this isn't an option when it comes to searching for a potential matchup.
That just makes no sense to me on a Christing dating app.
While many people wouldn't mind what affiliation someone is, just as long as they are Christian, there are just as many users who might want to date someone that has the same affiliation they do.
But you cannot sort matches in this way.
Making contact with other users on Upward
Now that we know how Upward operates, it's time to talk about communication.
Without it, any dating app is dead in the water.
On Upward, it's much like all other dating apps out there.
Match with someone and you can happily send a message.
But obviously, matching isn't as simple as it seems.
For example, if you like someone's profile, as a regular user, they will receive a notification.
Its members, however, who can see who has liked them.
Also, regular users can only like so many profiles a day.
There is a limit.
You could send a Super Like and that will allow someone to see that you have but that's limited to one per day.
That brings us to membership.
Although Upward will work for regular users, they've got to be a little more patient.
If you are impatient and want to be in contact with others more easily, then perhaps membership is for you.
Membership obviously brings tons of extra features with it, so let's look at a few of these now.
It happens often with dating apps that use a roulette-style match-up system.
You sitting there absent-mindedly going through profiles and for the past few minutes, you've seen no one that you like.
So you are swiping left all the time.
And then you do it to someone you'd like to know a little more about.
It's such an easy mistake to make.
Luckily, as a member of Upward, this kind of mistake isn't really a problem.
That's because you can simply rewind on a profile you've passed by.
And that's not just once.
In fact, you have unlimited rewinds.
Super Likes on a dating app are worth their weight in gold.
Why?
Well if you use a Super Like on someone, they get notified straight away that you have liked their profile.
Also, you will appear in their matches.
As a premium user on Upward, you get five Super Likes every day.
And they really can come in very useful in your search for your Christian significant other.
Want to make sure you've got one over your competition.
Then profile boosting can put you to the front of the queue so to speak.
Yes, as a member, you have the option of boosting your profile once every month.
That means that if you are a potential matchup for someone else who is searching near your location, your profile will appear in the first few profiles in their user returns.
If no one else is boosting, there is a good chance that it will be the very first profile that other users come across in the matches.
Other than five Super Likes a day, as a member of Upward, you get unlimited likes as well.
So you don't have to feel you need to hold back and second guess yourself if you should potentially like a profile of another user or not.
Go ahead, there is no limit at all.
I can't say that advertising on the Upward app bothered me.
But as a member, it's totally removed and you can just focus on finding matches.
And there you have it for the key features that Upward offers.
The question now is how much will they hit you in the back pocket.
That's always an important thing to get to grips with.
Upward offers two types of membership: Premium and Elite.
Elite is the most expensive but offers all of the key features we have talked about above.
Premium has fewer of them but obviously is cheaper.
Here's a full breakdown of what both forms of membership will cost you:
Premium membership
1-month membership: $9.99
3-month membership: $14.99 ($4.99 per month)
6-month membership: $23.99 ($3.99 per month)
Elite membership
1-month membership: $19.99
3-month membership: $29.99 ($9.99 per month)
6-month membership: $47.99 ($7.99 per month)
Now each individual will have to decide which membership it is they can afford.
Yes, you might want to take out one of the Elite offerings but simply cannot justify the expense.
Will a premium membership help you find love?
Of course it will!
For me, the difference between a one-month premium and one-month elite membership is a little excessive.
And if I had to choose a package (once I have found excellent matches worth following up) I would go for the three-month elite membership which works out to $9.99 per month.
That's value for money and the initial outlay is only $10 more than the elite membership one month option.
Of course, if you can afford even more and you are going to use the app extensively, then the six-month elite option is even better.
But what happens if you find love within the first month?
Again, the decision will be yours to make.
Overall, however, membership on Upward is very well priced and on par and in some instances better than its competitors.
Conclusion and Overall Rating
And that's the end of this comprehensive look at the Upward Christian Dating app.
While it's a newish kid on the block, it certainly has everything you need to deliver excellent matchups.
It might be lacking in terms of a massive userbase at this point, but as it becomes more well-known online and in the Christian community, it is going to grow.
The potential is there, that's for sure especially if the app is opened to Christians around the globe, not only in the United States, Canada, Australia and New Zealand.
It needs some refinement, however.
While it's a painless process registering a profile on the app, it did crash for me from time to time.
Also, the big problem for me as I mentioned was the fact that you could not set your matches by location and while you could input your religious affiliation, that wasn't a parameter that you could search by.
Both of those seem very counterproductive but maybe it is something that could be addressed in the future.
I really like Upward, I think it's a superb dating app that will continue to improve given time.
It will benefit if it becomes a global app, however.
So let's get onto a rating then.
Today, the Upward Christian Dating App scores 3.5 out of 5.
What are your thoughts on this app?
Would you consider trying it out?
Let us know in the comments below.
Frequently Asked Questions