Paganism is one of the fastest-growing religions in the world.
Naturally, if you are a pagan, chances are that you want to meet and fall in love with someone who sees life in the same way that you do from a spiritual point of view.
And yes, online dating does include pagan dating sites where you can meet people on the same page as you. You can find someone to date (like Tinder or Harmony) or hook up (like BeNaughty or Ashley Madison).
So in today's article, we are going to take a look at some of the Best Pagan Dating Sites and see what they have to offer.
OFL Top Recommendations based on 100,000+ Survey

"Serious Relationships"
"Discreet Hookups"
"Best Course for Men"
"Quick Flings"
"Normal Hookups"
"Our Quiz"
We judge them based on their:
In other words, we've done the research, now you can decide as to what dating site you'd prefer to sign up for.
Maybe it's all of them, you never know!
Is your dating app giving you the best chance for success?
Make sure to take our online dating site/app quiz to find out.
It's a fact that people who follow our dating site suggestions have on average 2 extra dates per month.
Signing up – 4/5
Making contact – 3/5
Profile quality – 5/5
Overall quality – 4/5
A beautifully designed website that's fun to use
The site provides matchups for you but you can search for them yourself as well
Small user base but enough to work with
You need to be a member to contact others
When you look at the various niche dating sites available online these days, those that are aimed at pagans are what I would consider extremely niche.
OFL Top Recommendations based on 100,000+ Survey

"Serious Relationships"
"Discreet Hookups"
"Best Course for Men"
"Quick Flings"
"Normal Hookups"
"Our Quiz"
That's why finding user number, gender ratios and what the most popular age groups on these sites are impossible to find.
Nowhere on the Pagan Singles registration page or in their frequently asked questions could I find any reference to these figures either.
From my time on the site and various tests run in terms of user numbers in various cities, you stand a better chance of finding other pagans in larger cities than you would in small towns or rural areas.
But that just stands to reason, right?


Ease of Use "mobile and desktop version"
If you are a pagan that's new to online dating, you will have to register as a user on the site (there is no app) before you can start your quest to find someone.
Pagan Singles is both gay and lesbian-friendly, so that's a plus, too.
The registration process is easy enough and quick.
It can be speeded up as well should you choose a social media account, in this case, Facebook.
If you go the regular route, after you provided a few bits of information like your gender, age, location and the gender you are looking for, amongst others.
Access to Pagan Singles is finalized with your username, password and email address.
That takes you to the process of finalizing your profile on the site.
To do that, provide:
Your name
Height
Ethnicity
Body type
The age range for potential matchups
The maximum distance they should be from your location
A section to describe yourself
A profile picture
If you've used dating sites before, they all look a bit same-same, right?
Pagan Singles, however, is refreshing in its overall design.
Other than a pleasing blue and white color scheme, it uses a modular design with three distinct viewing panels.
The one on the left includes various menus, the one in the middle initially had matchups located near you and the one on the right was the chat/message panel.
I was immediately presented with a few matchups based on my location, but also from further afield.
Click on one of them and that users' profile fills the middle panel.
I love the design of this site, it's so user-friendly.
Let me chat a little about the menus in the left-hand panel.
I am not going to go through them in great detail as they are self-explanatory but they include your matches, who likes your profile, a quick matchup game, a search option, your profile and more.
When it comes to your own searches, regular users get advanced parameters to work with as well as those based on profile parameters.
There's lots of scope here to find the right kind of person, that's for sure.
And despite the small town I live in, I was pleasantly surprised to find a number of matchups located very near me, which bodes well for those living in smaller towns and cities.
While you can flirt with someone using a pre-typed message, for example, "Hi, I like your profile", you cannot message anyone.
That requires membership.
Here are the membership packages on offer at Pagan Singles and yes, it includes a trial offer.
5-day trial – $4.95
1-month – $29.99
3-months – 39.99 ($13.33)
My advice would be to try the site first before you plunge into a longer membership.
And if you have some success in finding matchups and chatting to them during that trial, I would jump straight to the three-month membership option as it's just $10 more for two months more.
1. Can I search for potential matchups user extended parameters? I like to be pretty specific in what I am looking for.
Yes, you can.
While some dating sites hide this behind membership, you are free to make use of the advanced search engine on Pagan Singles.
2. How can I contact Pagan Singles?
Use the contact form on the site.
It's found under "Settings" and the "Contact Us" tab.
For pagans looking to get into the online dating site, I have no problem suggesting this website.
It's so much fun to use thanks to the beautiful design.
Thanks to a trial membership, you can really check it out properly before sinking any money into membership but that's very well priced too.
Today, Pagan Singles gets a superb 4 out of 5.
Signing up – 3
Making contact – 3
Profile quality – 3
Overall quality – 3
A very unique site
Cheap membership
Pagan Harmony calls itself the top meeting site for pagans from all over the world.
It's based in the United Kingdom where the practice of paganism is extremely popular.
Again, this is a niche site, so finding pagans near where you stay could be a complete hit-and-miss affair.
Luckily, starting a profile here costs you nothing and you can easily put the site to the test to see if it will work for you or not.
Ease of Use "mobile and desktop version"
There is no app for Pagan Harmony and the website isn't really smartphone-compatible either.
Sure you can use your phone to browse it but there is going to be plenty of zooming in and that's not ideal when you are trying to register, right.
Registration is not as simple as other sites and includes a fair amount of information such as your username, email address, password, location, first and last name and your search preferences.
It also allows you to set your profile to private, where others won't see it as well as an "about me" section.
It won't take too long to complete, however, probably around 10 minutes maximum.
Another thing you will notice is that the site is not only LGBT friendly, you can also register as a couple if you'd like to.
Also, make sure you use a proper email as Pagan Harmony will send a code that activates your profile on the site.
I'm not going to lie, Pagan Harmony was very different from any other dating site I've seen.
There is no pretending here.
Everyone on the site is certainly are pagans.
The design sees a large viewing panel in the middle of the screen where you can access your picture gallery, see your messages and check how many profile views you have.
Other menus appear on the left-hand side of the page, for example, your profile (which must be completed) and a search menu.
Finding potential matchups can either come from matches the site provides or via searching.
As a free member, you have 10 smiles a day to hand out to others but you cannot message them.
Full membership allows messaging, photo uploads, private albums and even more smiles a day.
Pagan Harmony has only one membership option.
That's for a 30 day period.
And what's that going to cost?
Well, the site is based in the United Kingdom where the charge is 3 pounds for 30 days.
Converted to dollars at the current rate, that's just over $4.
What a bargain!
I am sure you won't mind spending just $4 to test out the site for 30 days and see if you can find any potential matchups in and around where you live, right?
1. Does Pagan Harmony offer free messaging?
No, it doesn't.
That's for members only.
But you can show someone you are interested, by sending them a smile.
2. I would like to contact Pagan Harmony? What's the best way to go about that?
Sending an email is the simplest way.
To do so, send it to [email protected].
Pagan Harmony is unlike any other dating site I have seen before.
It is unique, that's for sure.
I would suggest it's more for people from the United Kingdom or Europe, however.
The fact that membership is so cheap, however, means you won't break the bank if you are from the United States and want to try it out.
It gets a commendable 3 out of 5 as an overall rating.


Signing up – 3/5
Making contact – 3/5
Profile quality – 3.5/5
Overall quality – 3/5
Two separate sites, one for the United States and one for the United Kingdom
Very cheap membership
Our next site is Pagan Partners.
It's a little different from the two you have already read about.
That's because it's exclusively for residents of the United States or the United Kingdom.
Yes, that's right, there are two separate sites here, one for the USA and one for the U.K.
If you are from anywhere else in the world, you aren't going to be able to make a profile.
And it's possible to see just how many users Pagan Partners has because you can search through them on both sites., even before you register for the site.
Whether this is all the users, or a select few to help entice you to sign up, I am not sure.
If it is the full range of users, then the site isn't that active but because it's U.S. and U.K. based, it's certainly going to appeal to people from those countries.
And of course, both are going to be growing all the time, just like all other dating sites.
So I wouldn't be put off by the fact that these are dating sites that seem to not have that many users.
The others in this article are much like that too and that's because of the type of dating public they serve, right?


Ease of Use "mobile and desktop version"
So let's just be honest here.
As you can see from the images above, Pagan Partners looks like it's sporting a design from around 20 years ago.
And it might well be seeing the site was launched back in 2001.
In fact, I doubt that little has changed design-wise.
Is that a problem?
Well, no.
Not if Pagan Partners can provide you with the right kind of matchup, right?
But both these websites don't have a "free" version for users, either.
When you register, you are going to have to buy into one of the subscriptions on offer.
We will cover this a little later, but it's an interesting idea and one that I've never seen before.
As I said, the site design is dated but you have everything you need here.
That means you have a profile that you need to complete.
Interestingly, it's called an advert, which I suppose is true because you are advertising yourself.
Also, you can conduct searches for other users according to your gender preferences.
You also need to answer various questions as the site puts it.
These are used for filling out your profile.
There are no real bells and whistles here.
You can search and then message whoever you'd prefer to talk to from your matchup returns.
You can send a virtual gift to someone if you wish but that's it really.
So you have to pay upfront before you can even access these two sites.
But what's that going to cost you and what membership options do you have?
6-month membership: 15 pounds/$20
Annual membership: 25 pounds/$35
That's not over-the-top membership prices, that's for sure.
I am not a fan of having to pay upfront though if I am honest.
1. Is this site only for pagans from the United States and the United Kingdom.
Yes, there are actually two different sites.
If you don't come from those two countries, however, you won't be able to start a profile.
2. I am not sure about paying upfront. Can I view some profiles on the site before I choose to do that?
Yes, you can.
Go to the registration page and you can click on a range of different options to view profiles on the left-hand side of the page.
Once that brings up a list of eight profiles, you can further click on each individual one to see a full profile view.
Today, for an overall rating, Pagan Partners gets 3.1 out of 5.
It's pretty interesting that it asks for membership payment right up and I am sure that it costs them when people look to sign up to that site.
That said, it's been around for over two decades.
Also, there are two sites here, one for the United Kingdom and one for the United States.
If you live elsewhere in the world, you won't be able to join up.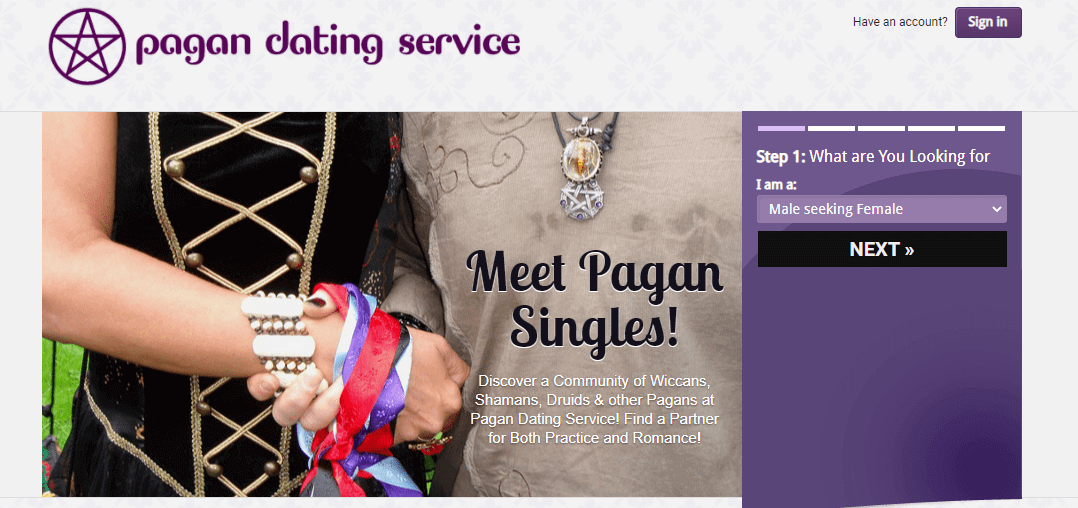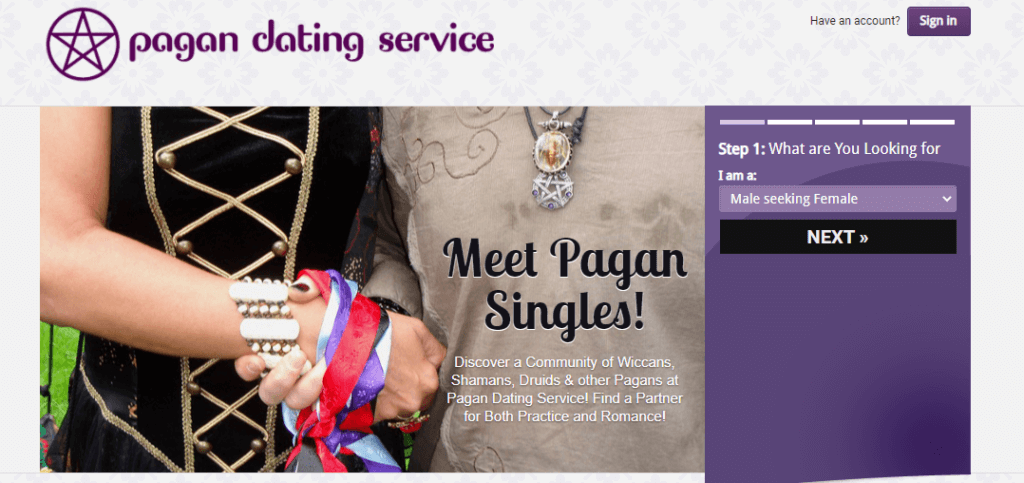 Signing up – 4/5
Making contact – 4/5
Profile quality – 4.5/5
Overall quality – 4.5/5
Easy sign-up procedure
Extensive profiles
"Happy Hour" communication for free users
Lots of extra features for members
Pagan Dating Services is a dating site that not only aimed at pagans but Wiccans, shamans, druids, and others.
Here, people get to know each other for friendship, dating and even perhaps long-term relationships.
It's a group of like-minded users where you won't be judged based on your spiritual beliefs.
Just like the other sites that we've already covered, there is no doubt that the user base is smaller than other dating sites, even other niche ones.
At the end of the day, it's free to register and start your own profile, so there's certainly no harm done in checking the site out to see what it has to offer.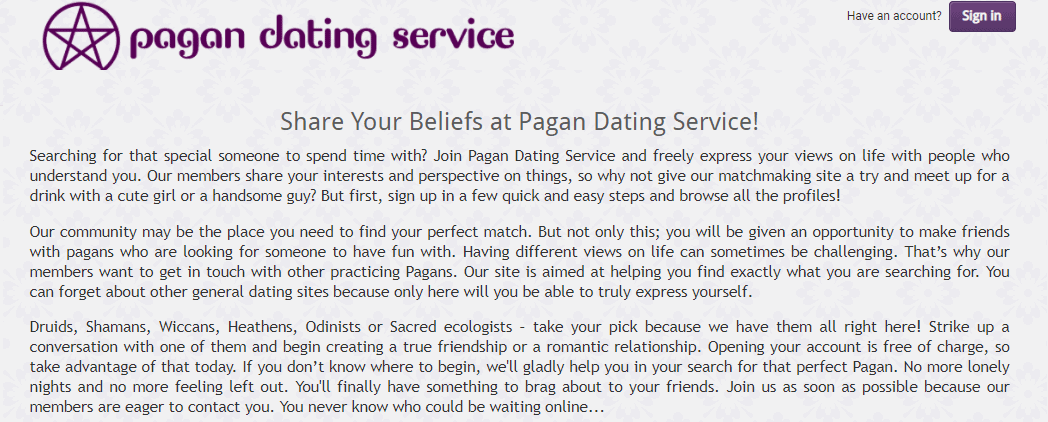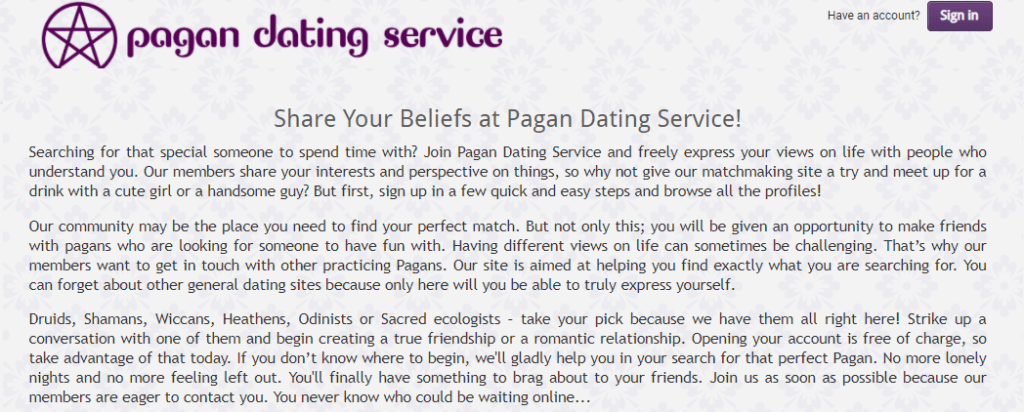 Ease of Use "mobile and desktop version"
Pagan Dating Service doesn't offer an app for either Google or Apple handsets.
It's easiest to point your web browser at the registration page and sign up for a profile in a quick and simple manner.
That starts with a five-step process where the following information is required from you:
Your gender and that of your preferred matchups
Your age
Your location
Your email
Your user name and password
During the signup process, by clicking a checkbox, you can also be added to the Date A Wiccan dating site if you'd like to be.
Access to the site is only possible if you click on an email that you will receive in your mailbox.
You don't get to search for pagan love straight away, however.
No, first the site has you complete your profile.
This includes all the information Pagan Dating Servies needs to provide you with quality matches.
And of course, some of the questions are pagan related.
There's also the regular stuff related to your appearance and ethnicity.
Without a doubt, out of all the page sites we've talked about in this article, Pagan Dating Service provides the cleanest dating interface to work with.
It's exactly what you'd expect from a dating site.
You've got everything you need here to help you find Mr or Mrs Pagan Right, that's for sure.
And that includes a roulette-style matchup game that presented me with a more than decent matchup first up that was no more than a few miles away.
Of course, you can search for your own using a search engine with both basic (for more widespread searches) and advanced features.
That includes 39 parameters!
Just a word of warning, your profile is not completed when you first log in, so make sure that's the first task you tackle.
It's very in-depth and I like that about the site because you can learn a lot about other users.
Also, if you want to message other users, to do so effectively, consider membership.
There is something called "Happy Hour" however, where you can message for free each day.
Pagan Dating Service Cost
While normal users do have an opportunity to communicate with others for a brief period, you really are going to want to sign up for membership of Pagan Dating Services.
But what are the costs behind that?
Here's a breakdown of the cost (please note, these were converted into dollars for another currency).
5-day trial membership – $4
1-month membership – $19.99
3-month membership – $29.99 ($9.99 per month)
Trial membership means you test the site out without having to pay for an extended membership.
That's always the go-to option first up, I believe.
If you think the site can work, then the other membership options come into play.
This is a time on Pagan Dating Service where you are free to message other users.
It's a way for regular users to get into contact with others but membership gives you unlimited messaging and is still the best way to go about things if you are serious in your quest for love.
2. How can I cancel my Pagan Dating Service account?
If you'd like to cancel your account on Pagan Dating Service, you need to go into the settings on the site.
From there you will find an option to deactivate your account.
In my book, Pagan Dating Service has everything you need to find other pagans to date.
It takes the dating side of things seriously, providing you with the relevant tools you need to find like-minded people for friendship, dating and even long-term relationships.
I like the fact that it includes an opportunity for regular users to send messages each day but effective use of the site needs a membership.
Luckily, that's very well priced, so worth your consideration but of course, the user base is smaller than most dating sites.
As for a rating, Pagan Dating Service deserves 4.25 out of 5.