While finding that someone special is something we all yearn for, it's critical that they have similar interests to you, right?
And if you are a dog person or perhaps a cat lover, you'd want those that you date to be like-minded people.
I mean, if you love to meet up at the dog park with other pet parents, you'd want the person you are seeing to be part of that.
Lots of animal lovers have ended relationships when their partners don't take pet ownership as seriously as they do.
OFL Top Recommendations based on 100,000+ Survey

"Serious Relationships"
"Discreet Hookups"
"Best Course for Men"
"Quick Flings"
"Normal Hookups"
"Our Quiz"
It can be a massive deal-breaker, that's for sure.
In this article, we are going to highlight the best of them to help bring you, puppy love.
Not only will we tell you what they are but we will analyze and evaluate them in great detail, providing you with useful information as to how they can help you find a potential partner that's a pet lover, just like you.
We do this by:
Is your dating app giving you the best chance for success?
Make sure to take our online dating site/app quiz to find out.
It's a fact that people who follow our dating site suggestions have on average 2 extra dates per month.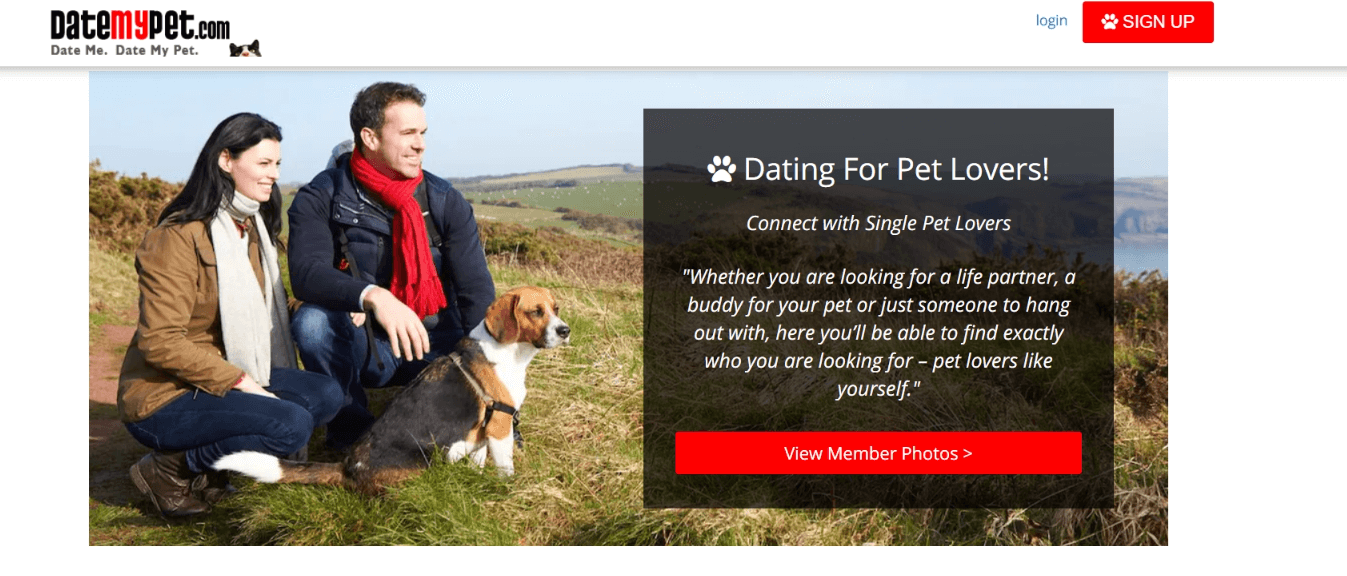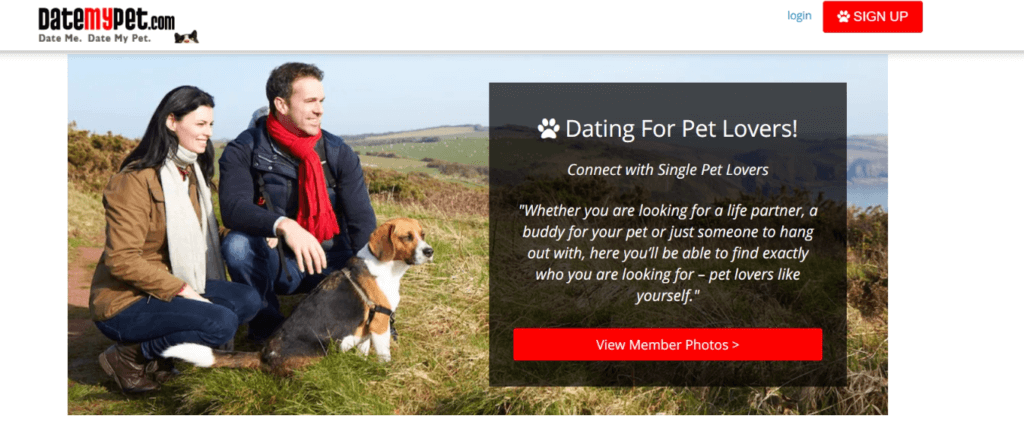 Signing Up – 4/5
Making Contact – 4/5
Profile Quality – 4/5
Overall Quality – 4/5
You don't have to pay to message other pet owners
You will find dog owners, cat lovers and other pet lovers on this dating site
Profiles have lots of information in them
The user base is pretty small
As a dog lover or cat lover, you can rest assured that you will meet other single animal lovers here that will love your best friend just as much as you do.
But because this is a niche online dating site, user numbers won't run into the millions, that's for sure.
You do have an advantage and that's in knowing that everyone that's signed up for a profile on this animal lover dating site is just like you in their love for animals.
So yes, while the user base may be small, your advantage here is that you don't have to look through profiles like you would on a commercial dating site, hoping by chance to find someone who loves pets.
Everyone here does so you'll have tons to talk about on your first date.
OFL Top Recommendations based on 100,000+ Survey

"Serious Relationships"
"Discreet Hookups"
"Best Course for Men"
"Quick Flings"
"Normal Hookups"
"Our Quiz"


Ease of Use "mobile and desktop version"
Without a dating app at present, to join up on Date My Pet, you will need to register as a user through their website.
That process starts with the following information that you will need to supply.
Gender
DOB
Username
Email address
Secure password
The gender you and your pet would like to me on this dating site for animal lovers
Date My Pet works a little differently from other dating sites because, at this point, you will be given a membership number.
Keep this handy as you will need it now and again while using the site.
Next up you must provide your location, reply to a mail sent to your email address and add a profile picture (don't forget to include your pet).
And that's it.
Once you access this animal dating site, take the time to complete your profile because, at this point, there isn't much filled in on it.
It won't take up too much time and getting it done and out of the way just sets you up to start viewing other users and knowing that when you reach out to them, they can find out more about you from your profile.
So how do you go about finding pet-loving singles to reach out to?
Well, the first way is through the Encounters menu.
This will provide you with profiles one by one that you can either like or pass on.
If you'd like to know more about the person, click on their picture to load in their profile.
Of course, there is a search engine and using it will allow you to find profiles of your own.
If you want you can use the advanced search engine where you can adjust a bunch of parameters if you'd like to add them, including searching by location.
It works pretty well and I found a few candidates who I thought would love my pets just as much as I do.
A word of warning, however.
Because this is a small user base, don't add too many parameters.
The main menu system also allows you to edit your profile, see who has viewed it, launch searches and more.
And now onto the best thing about the site.
Once you've found someone that you'd like to reach out to, you can easily message them.
And it's all for free!
Yes, this is a pet lovers dating site where you won't have to pay a cent if you don't want to
How awesome is that?
While there is no cost associated with reaching out and messaging other users, there are still membership packages available on Date My Pet.
These will provide extra features and the cost are as follows:
1-month membership: $19.95
3-months membership: $39.95
6-months membership: $59.95
12-months membership: $99.95
Extras include message receipts, chat rooms, your own blog and more.
If the person you want to date must love pets, then starting a profile on DateMyPet.com is such a simple choice.
Here, you will meet pooch and kitty lovers just like yourself for long-term relationships (like Tinder or eHarmony) or hookups (like BeNaughty or Ashley Madison).
It's like an animal people personals, that's for sure.
Date My Pet doesn't have a massive user base but that's understandable because it's a niche dating site.
As a place where pet people meet, it's worth checking out.
It scores a rating of 4 out of 5.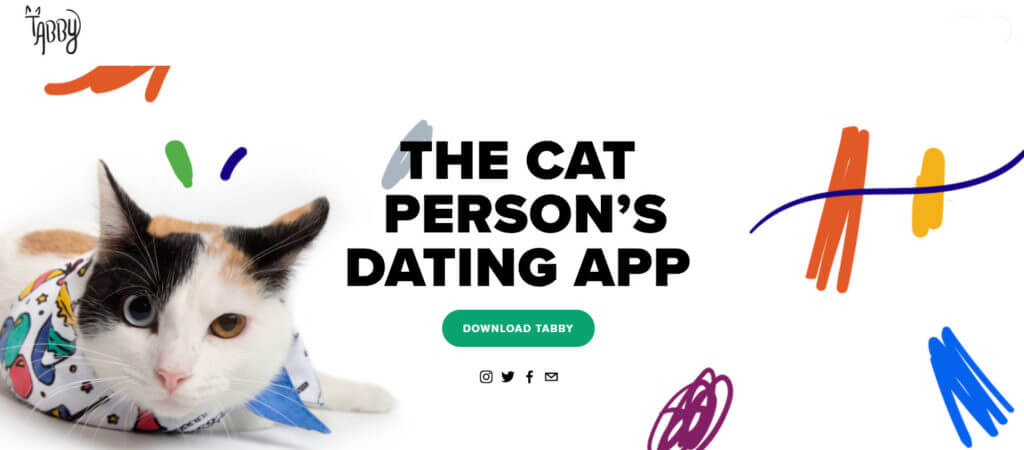 Now if you looking for a dating site for animal lovers that deals with those of the feline kind only, then Tabby should be on your radar, that's for sure.
Signing Up – 5/5
Making Contact – 3/5
Profile Quality – 3/5
Overall Quality – 4/5
Tabby includes a dating app as well as a website
It's fun to use and easy to find your way around, especially the app which is well-designed
There is limited messaging for users
Tabby has a small user base
Profiles aren't that comprehensive
Cats are where it's at on this animal lover's web-site.
So if you are a cat lover looking for a like-minded person, you'd probably want to start a profile here.
When looking at the demographics behind Tabby, you are never going to find 100000 users here.
But that naturally stands to reason, right?
That said, most of the users you will find are from the United States.
Here's a breakdown of some information I found out about Tabby:
Tabby Dating has around 10000 Americans that have signed up for profiles on the site/app.
The app alone has been downloaded over 10000 from Google play.
Each month close to 1000 new users register profiles on Tabby.
55% of users are male and 45% are female
27% of users are aged between 25 and 34 years old.
It clear to see that while this is a niche app, it's growing as cat lovers learn about it and try it out.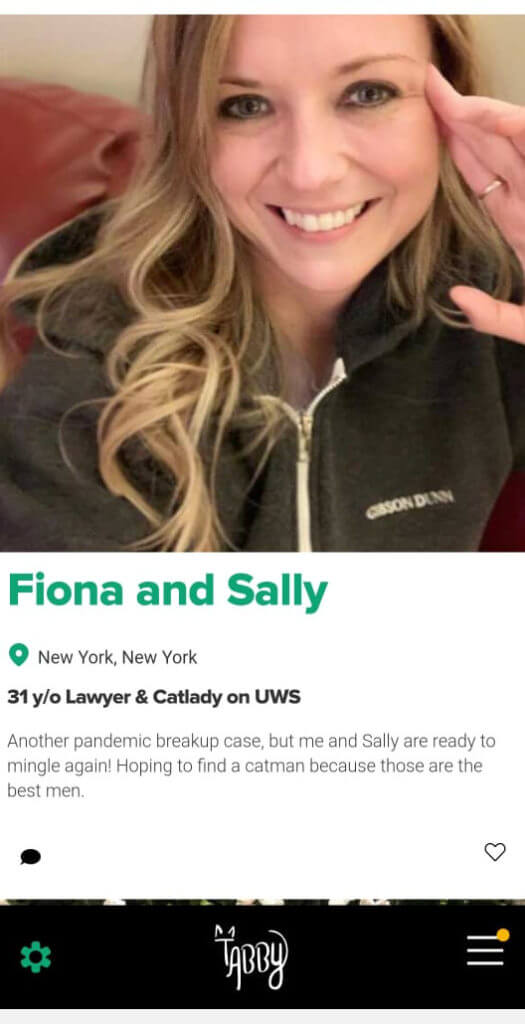 Ease of Use "mobile and desktop version"
Tabby couldn't be easier to use.
And while there is a website if you'd prefer to find other cat lovers that way, I would suggest downloading that app.
Why?
Well, you get lots of rubbish dating apps out there but Tabby isn't one of them.
Its slick overall design is fun to use and I loved my time on the app.
Registering for a profile takes a couple of minutes and you can start the process using a social media account if you want to.
There's no information that you'd have to provide here that you wouldn't expect too and yes, Tabby has LGBTQ options as well.
Once you receive a confirmation code sent to the valid email address you gave, you will have to input that into the app to proceed.
Now you will need to provide your location, a profile picture, fill in the About Myself section and write a profile headline.
If I have one critique of Tabby it's that the profiles aren't that comprehensive.
In fact, you fill in more information about your feline friend than you do about yourself.
Navigating Tabby super simple using the following menus:
Profile: Click here to see your profile and change it as well as site preferences
Notifications: If you get a notification from the app, it will appear here
Messages: Click here for all your messages
Likes: Keep track of profiles you have liked and mutual matches here
Catty: Resources for cat lovers
Search: Use the Tabby search engine to find a potential matchup
Meet: This is a roulette-style matchup game where you can view potential matchups one by one.
Cat Tree: See uploads of other users, like pictures for example. You can then comment on them if you'd like.
While you can use the Match feature to find someone to reach out to, I preferred to use the search engine.
You can change the following parameters when doing so:
Location: Here you can adjust the distance profiles can be from your current location
From: Here you can search in a completely different city if you'd like
Age range: Your preferred age range for matchups
Filter by: Here you can select profiles with photos only, for example
Once you've found a potential matchup, you can message them.
But it's only one message, that's it.
In other words, membership is needed for proper communication.
Other features that come with membership include:
Profile boosting
Unlimited messaging
See who liked your profile
Here's what Tabby's going to cost you:
1-month membership: $19.99
3-months membership: $29.99 ($10 per month)
6-months membership: $49.99 ($8.33 per month)
For what's on offer, I think Tabby is actually pretty well priced.
If you see it working for you, the three-month membership works out to just $10 per month.
That's pretty cheap I think.
There are lots of dating sites for pet lovers out there in cyberspace but if you want to meet those who love cats, Tabby's got you covered, especially in the United States.
I love the fact that you can decide between the app or website (or use both) and just how easy it is to set up your profile and get online.
Profiles, however, could use some more information in my book.
Although Tabby allows you to send one message to other users, you won't get that far without thinking of membership.
Luckily, that not only brings the ability to message but other key features too.
And it's not that expensive.
For a rating, Tabby gets 3.75 out of 5.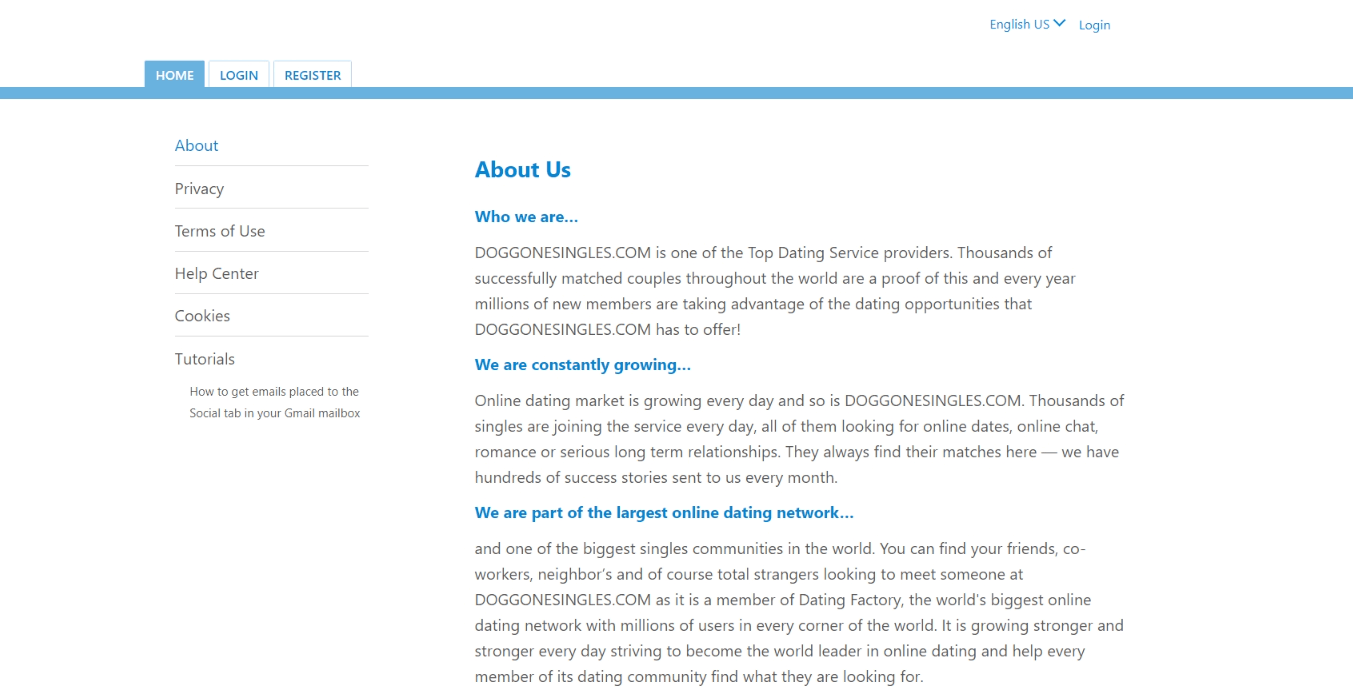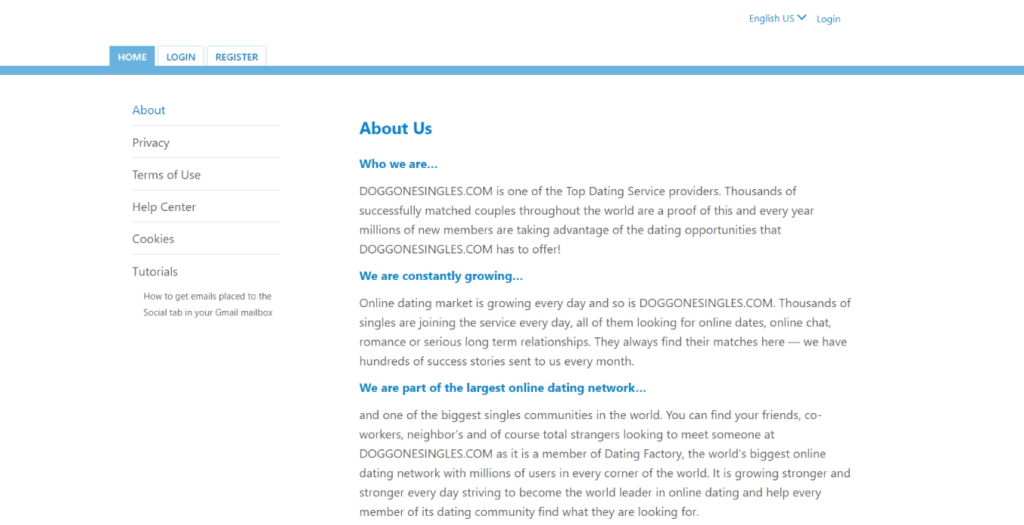 Our next animal dating site is DogGoneSingles, the perfect place to show off your new dog or an old trusty friend.
It should be an excellent place to find other users looking to go on a dog-friendly date, that's for sure.
But let's see what it has to offer.
Signing Up – 4/5
Making Contact – 2/5
Profile Quality – 4/5
Overall Quality – 3/5
While most users on the site have dogs, you can actually sign up if you own any pet
Profiles are filled with information about each user
An excellent search engine
You have to make a request to each user as to what kind of dogs they own or like which seems counterproductive.
Again, like the other sites we've already covered because dating sites for animal lovers are so niche, the user numbers are never going to be massive.
That's the case here as well but settling on an all-round estimate is impossible, despite intensive research.
The thing about this dating site is that it's not just for the United States and I saw users from all over the globe.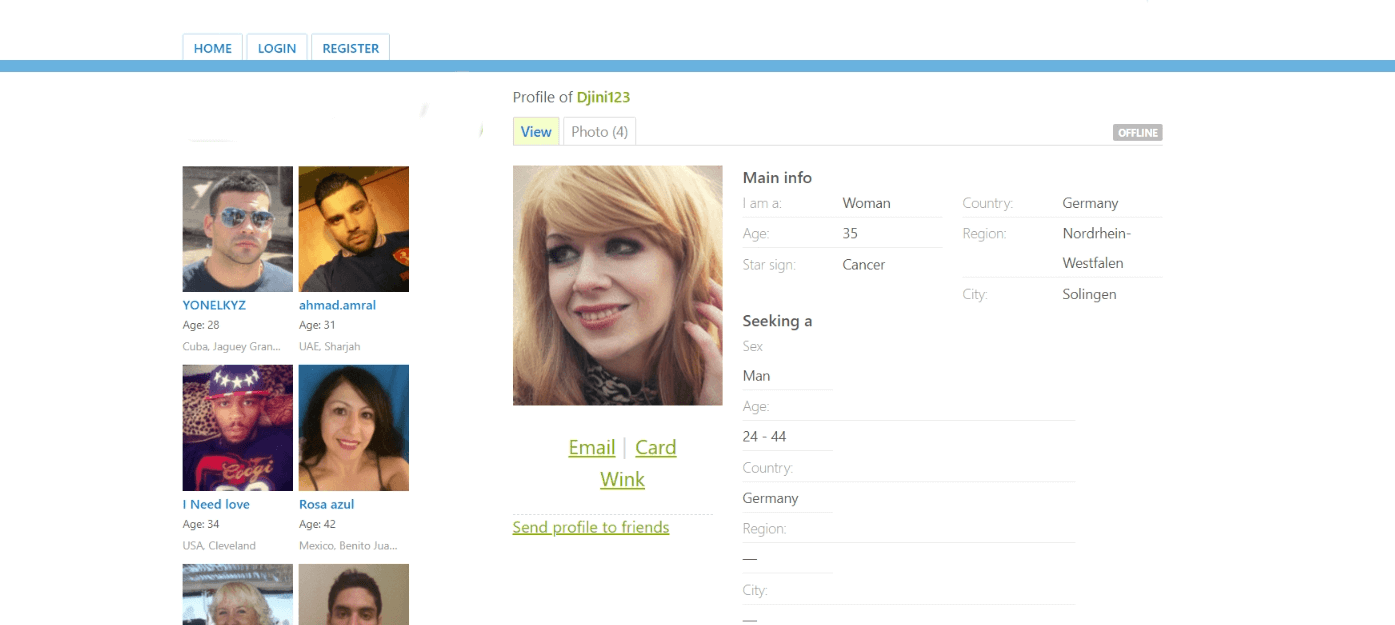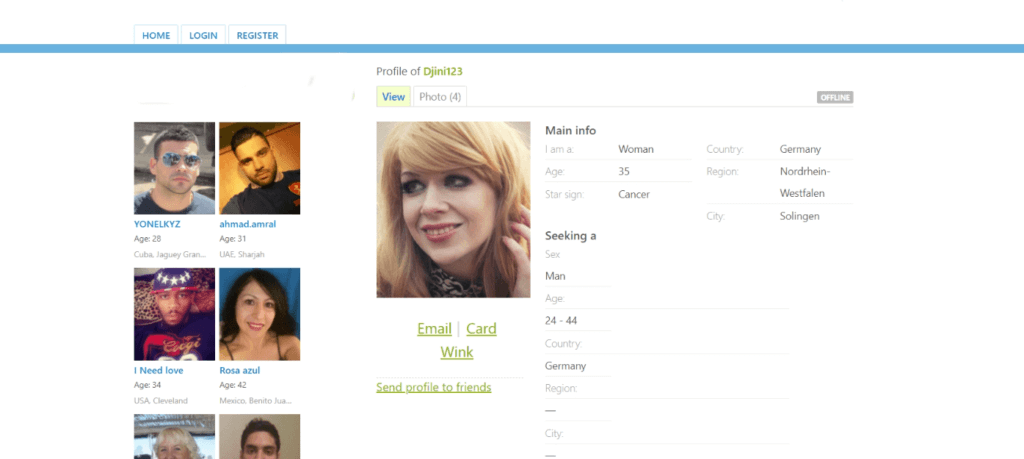 Ease of Use "mobile and desktop version"
DogGoneSingles has no dating app, only a website but you can quickly register as a user and it's LGBTQ friendly as well.
Once you've validated your email address, you are taken straight to the site.
As the registration process included filling in no profile information, that's where I suggest you start.
It's going to take at least 15 to 20 minutes too as the profiles here are packed with information.
The site itself has a simple, yet effective design.
Everything is neat, tidy and not cluttered up as you often find on these niche sites.
It will take you less than a couple of minutes to get the feel for how everything operates.
It's from the home screen that you can start your search for other dog lovers.
New members are presented for you to look through and of course, they are near your location.
You will notice the search tab on the left-hand side of the screen for you to launch your own searches.
Here you can adjust the following:
Gender
Age range
Pet type (yes, it's not only about the dogs here but they are the primary focus)
Country
If you take out membership on the site, you can add:
State/Region
City
If they must have a photo
If they have been online in the last day
The site will also present you with matches which you can find at the bottom of the homepage.
You will notice that each user has a section on their profile for favorite pet types and dog breeds.
To find this information out, however, you will have to request it from them.
For me, that kind of defeats the objective of the website for me but at least it is possible to send off a request without having to pay to do so.
Note, you can only send one information request per day to each member.
If you want to message another user, you will have to sign up for a membership on the site.
Other than messaging, this will allow you to have your profile receive priority listing, you can use the advanced search features and you can view photo galleries.
Here's what membership is going to cost on DogGoneSingles.
1-month: $39.95
3-months: $80.95 ($26.95 per month)
6-months: $119.95 ($19.95 per month)
In my opinion, membership to the site is too expensive, especially considering what's on offer and the fact that the user base isn't going to be that huge.
DogGoneSingles.com has all the tools for you to find dog lovers like yourself.
I love the profiles packed with information as well as the fact that you can not only search for matchups but they are presented to you as well.
But it is rather expensive in my book and that's a letdown.
it gets a rating of 3.25 out of 5.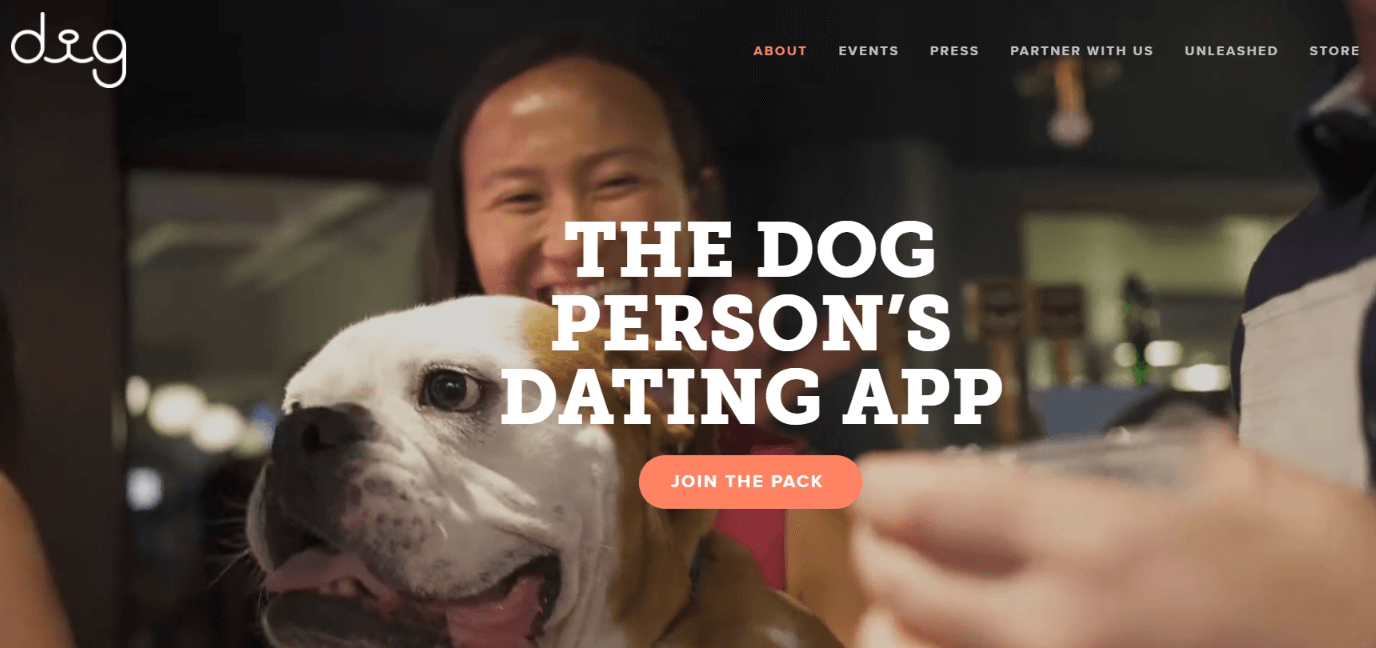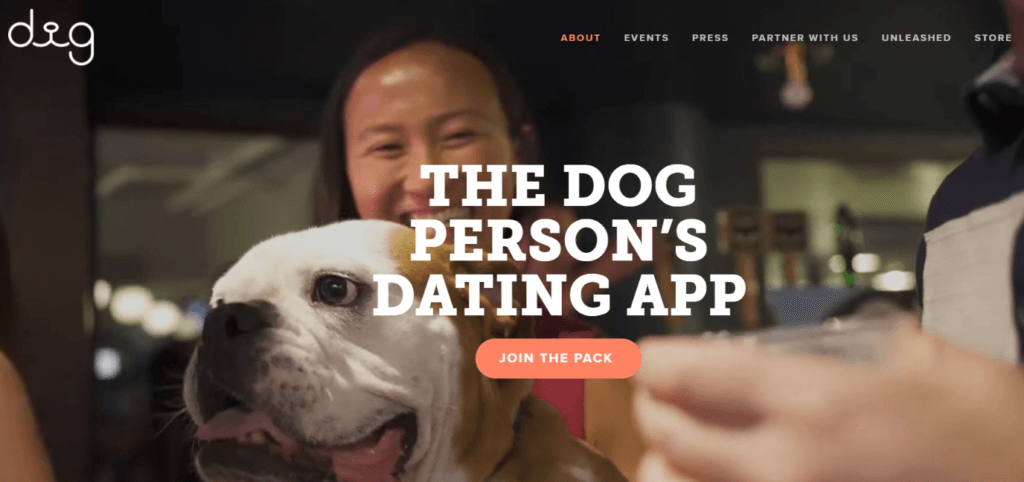 Leigh Isaacson and her sister Casey are the brains behind Dig, a dating site for dog lovers.
Launched in 2018, it's become quite popular in the United States.
Let's find out more about it.
Signing up – 4.5/5
Making Contact – 3.5/5
Profile Quality – 3.5/5
Overall Rating – 4.5/5
Dig is a slick app and super easy to use
You can message someone you match with for free
Treats are well priced and can aid matchups
Has an app
User base is still growing
Dig has grown well for a niche dating app in the few short years it has operated.
Here are some facts and figures I was able to find out about the app:
It has been downloaded over 50000 times on the Google Play store
Around 25000 users are based in the United States
2000 users are active each week on the app
45% of users are female and 55% male
Nearly half of the user base is aged between 25 and 34.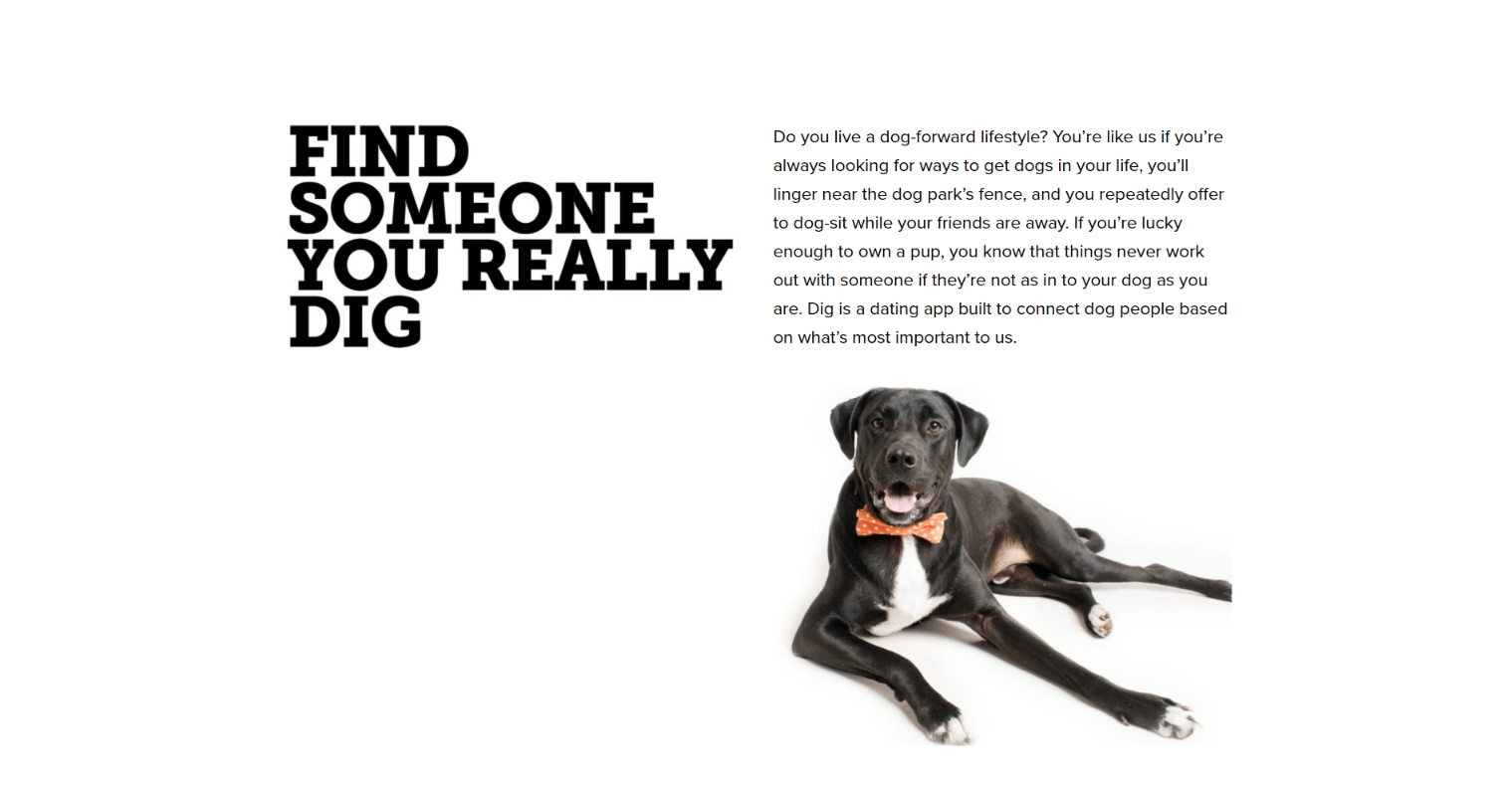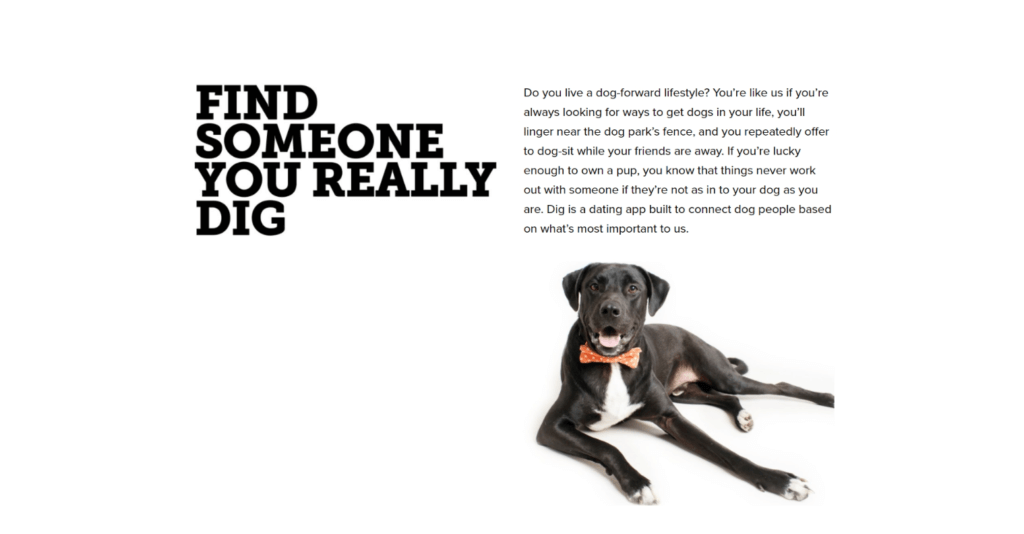 Ease of Use "mobile and desktop version"
Although it has a website (DigDates.com), that's only for information purposes.
So out of all the sites for dog lovers we've looked into, Dig is the only one with an app.
Signing up for a profile on the site is simple enough and you can simplify it even more by using one of your social media accounts and linking it with your Dig profile.
Provide some basic information, upload a profile picture and you are good to go.
I am not going to go into how Dig operates because it really is easy to get used to and use.
While user profiles aren't packed with information, you can learn some details about a person before you make your decision to "dig" them or not.
So yes, it works much like other dating apps.
If someone "digs" you back, then that's a matchup and messaging can take place between the two parties.
You can alert someone to the fact that you have sent them a "dig" by using a treat.
These can be purchased through the app.
You can also adjust parameters to make sure you find the best possible matchups for you, for example, near your location.
Dig isn't only about you though.
Look through the daily deals to find toys and other treats that you can buy for your pooch.
While you can wait for matchups to happen naturally, you can alert someone to the fact that you sent them a "dig" by using a treat.
But how much will this cost you?
Here's a breakdown:
$1.99 – 3 treats
$5.99 – 15 treats
$9.99 -30 treats
I love the fact that Dig comes as an app and not a website-only dating site.
This is just about perfect for people who are on the go, as those who own dogs usually are.
It works much in the same way as all modern dating apps and to message others, you first need to be a match with them.
And you can speed that up by using threats that aren't badly priced at all.
Dig continues to grow in the United States and if you are looking to meet other dog lovers, it's a no-brainer trying it out.
It scores 4 out of 5.
Our team at Onlineforlove scoured the internet for the best animal attraction dating sites to compose this article.
Those we found were tested extensively throughout the review period.
That evaluation process used a range of critical factors that helped us to score each site or app and provide them with an overall rating.
That final rating was based on these factors: registering as a user, how messaging works, how effective the matchmaking algorithm is, overall ease of use, key features and more.