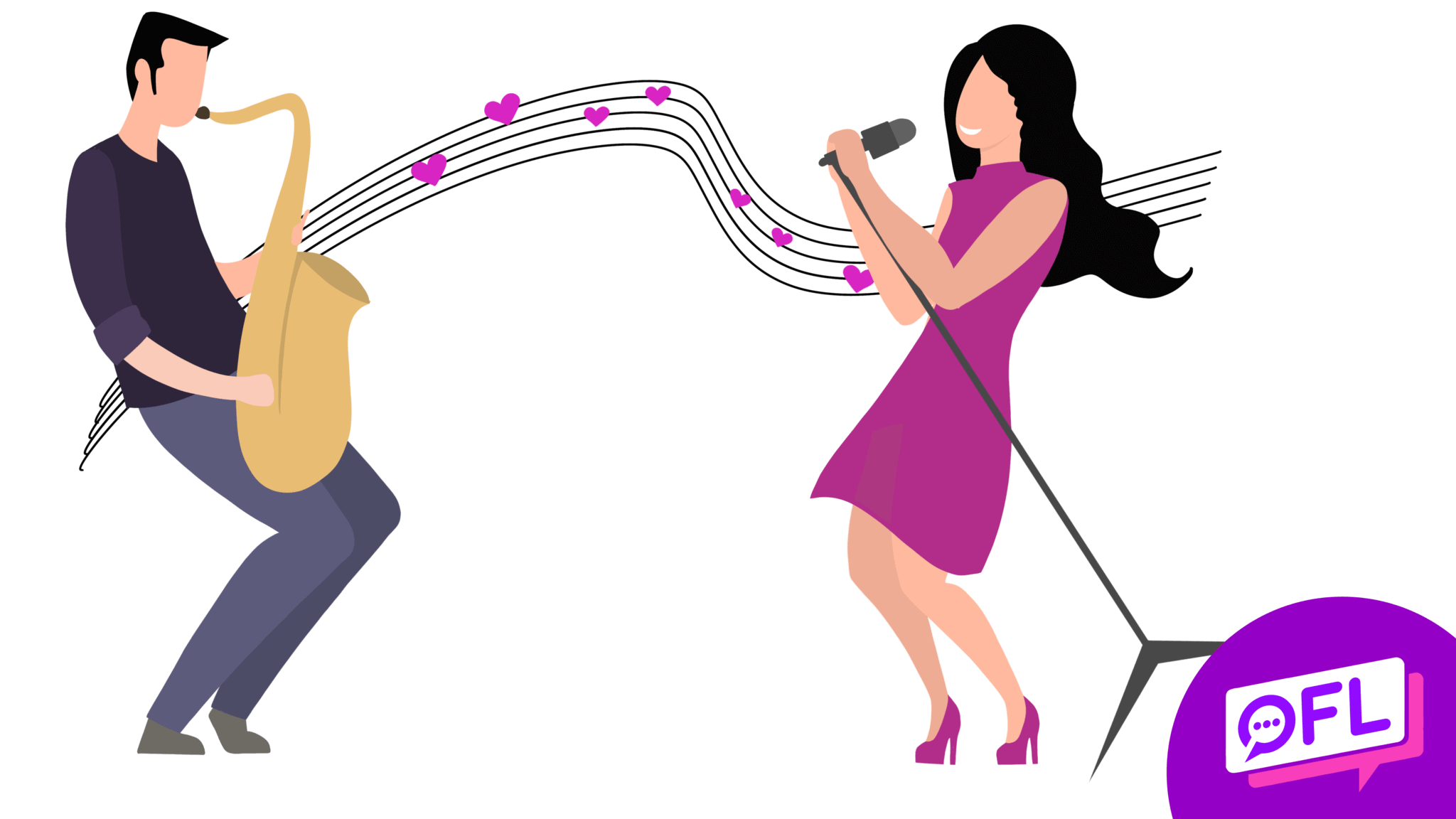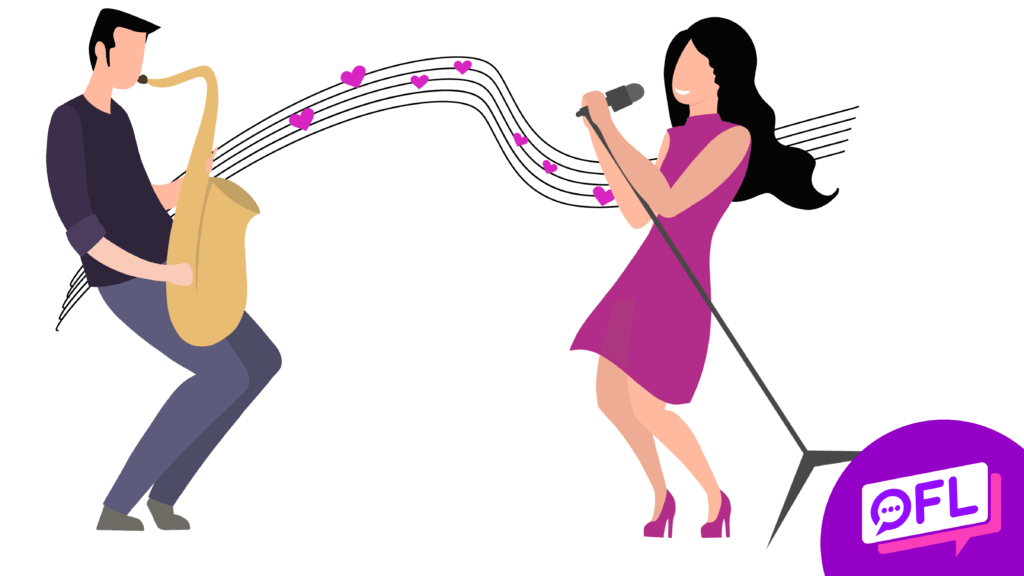 If you want to meet someone for a romantic relationship, who shares the same, or relatively similar music taste as yours, then stay tuned for our Best dating sites for musicians reviews.
People often say that if you're dating someone who shares the same interests as you do, the chances of being happy are much higher.
In today's world, online dating is thriving, especially now with the pandemic situation. In, such an environment, it is really hard to meet someone for a romantic relationship, due to the restrictions in most countries.
Therefore, online dating is the best alternative. That's why we are here today to present to you the selection of the best dating sites based on music.
OFL Top Recommendations based on 100,000+ Survey

"Serious Relationships"
"Discreet Hookups"
"Best Course for Men"
"Quick Flings"
"Normal Hookups"
"Our Quiz"
Without any further due, let's get onto it!
Is your dating app giving you the best chance for success?
Make sure to take our online dating site/app quiz to find out.
People who follow our dating site suggestions have on average 2 more dates per month.
Best Dating Sites for Musicians in Video Form
Audio (podcast) form for those of you on the go
1. Tastebuds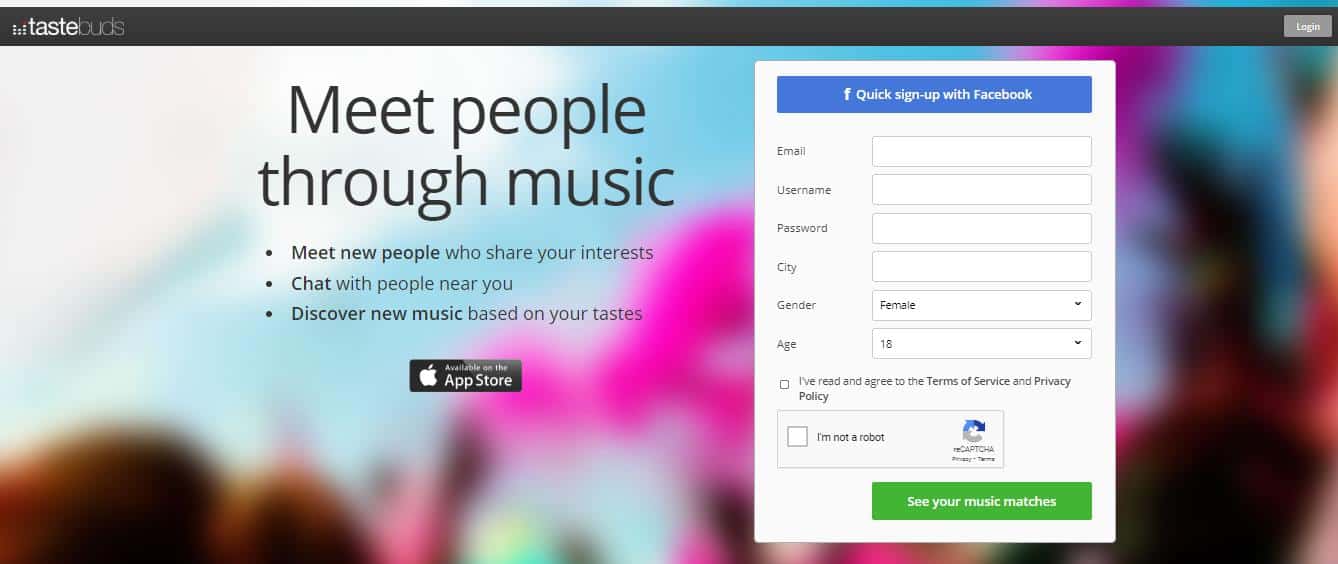 Ratings
Signing Up – 4.0/5
Making Contact – 3.0/5
Profile Quality – 3.0/5
Effectiveness – 4.0/5
Pros and Cons
Pros:
Excellent dating app for music lovers
Easy registration
Guaranteed safety, due to the verification system
Features group chats and threads for bonding with other members
Messaging is free for everyone
Cons:
Tastebuds dating app can only be used on iOS
The site only lets you meet people from the nearby area
Demographic
As for the demographics, there are more than 500,000 members on Tastebuds dating, from all around the world.

The majority of members, about 25.69%, are from the United Kingdom, while the 2nd place is reserved for the USA, with 12.75%, followed by Mexico (9.89%), Brazil (7.31%), and Ireland (7.29%).
Furthermore, there are over 70,000 weekly active members, and the website gets over 160,000 total visits, with the average duration of a bit more than 26 minutes.

Who is it for
Tastebuds is the best choice for people who are interested in finding a music dating site, where they could meet people who share love for the same music genres and artists.
Furthermore, there are more men than women on the website, with the proportion being almost 2:1. More precisely, 64% of members are males, while only 36% are females, which means that there are not enough girls for all men on the website, meaning that ladies have quite more options to choose.
As for the age distribution, the majority of members are between 25 and 34 years old, with the addition, that it is not possible to register on Tastebuds if you are younger than 18.
Like on most other online dating services, there are not too many people older than 45 on Tastebuds as well.
Ease of use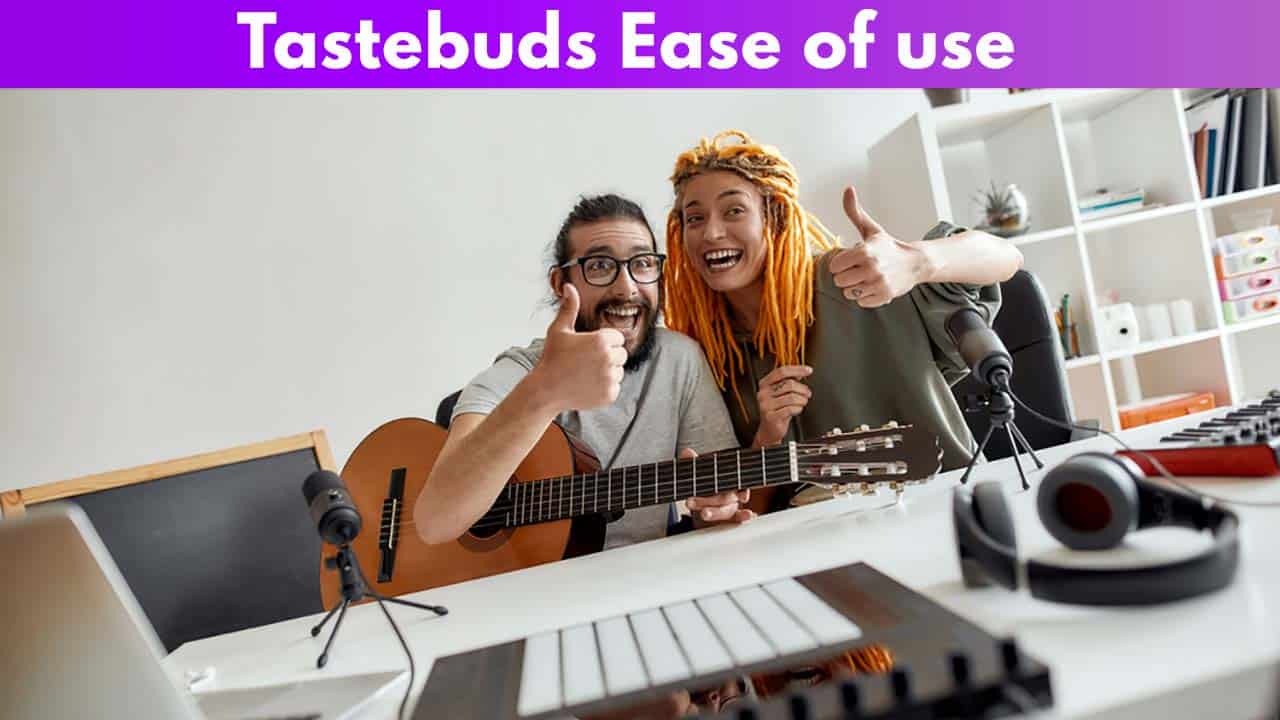 It is relatively simple to register on Tastebuds because the process is very fast, and you can also use your Facebook account to sign up. The entire process lasts only for a couple of minutes.
After you verify the account and log in, you have an option to add more information and photos on your profile.
The higher completion percentage you have, the higher are chances to find someone special on this dating service.
Once logged in, you can search for members on your own. There is no need to get match suggestions, so you will have complete freedom of choice.
Messaging is free for everyone, but it is limited in terms of length, so you will not be able to send a lot of messages to one member until you get a match with them.
OFL Top Recommendations based on 100,000+ Survey

"Serious Relationships"
"Discreet Hookups"
"Best Course for Men"
"Quick Flings"
"Normal Hookups"
"Our Quiz"
To help you with that, there are two features, Message Bomb and Get Lucky. The first one, though, can be used just once per 24 hours. Clicking on Get Lucky, the algorithm will choose one person and lead you to their profile page, where you can see whether you like them or not.
You can search and apply filters on Tastebuds without any restrictions, while the photos can be seen only once you do a search.
Profiles on Tastebuds are not very detailed. They usually have information about favorite music artists, different bands, music genres, etc.
In order to fully complete your profile, you need to include some musicians you like, to shortly describe yourself, and to add some photos, as well as completing the Facts About Me part of the profile.
Tastebuds features a pretty good mobile app, with a nice design. The app is needed if you want to join different chatrooms since this feature is not available on the desktop version. Sadly, for Android users, this dating application can only be used on iOS, on iTunes.
What's great about it though, is the fact that you can sync your iTunes library, and share your music taste, without too much work.
Also, you can use your library to find people you might like, since the app allows you to scan your library, and see the members in your vicinity, who have similar taste in music.
Most Tastebuds features are free to use, but there is also a premium membership if you want some additional services, such as the ability to send unlimited messages, to remove ads, to use incognito mode, and to anonymously visit other people's profiles.
Prices start from $10/month for one month, $19.98 for three months, and $30 for 6 months, which is not that expensive, compared to other online dating services. Payment can be done via credit card or PayPal.
FAQ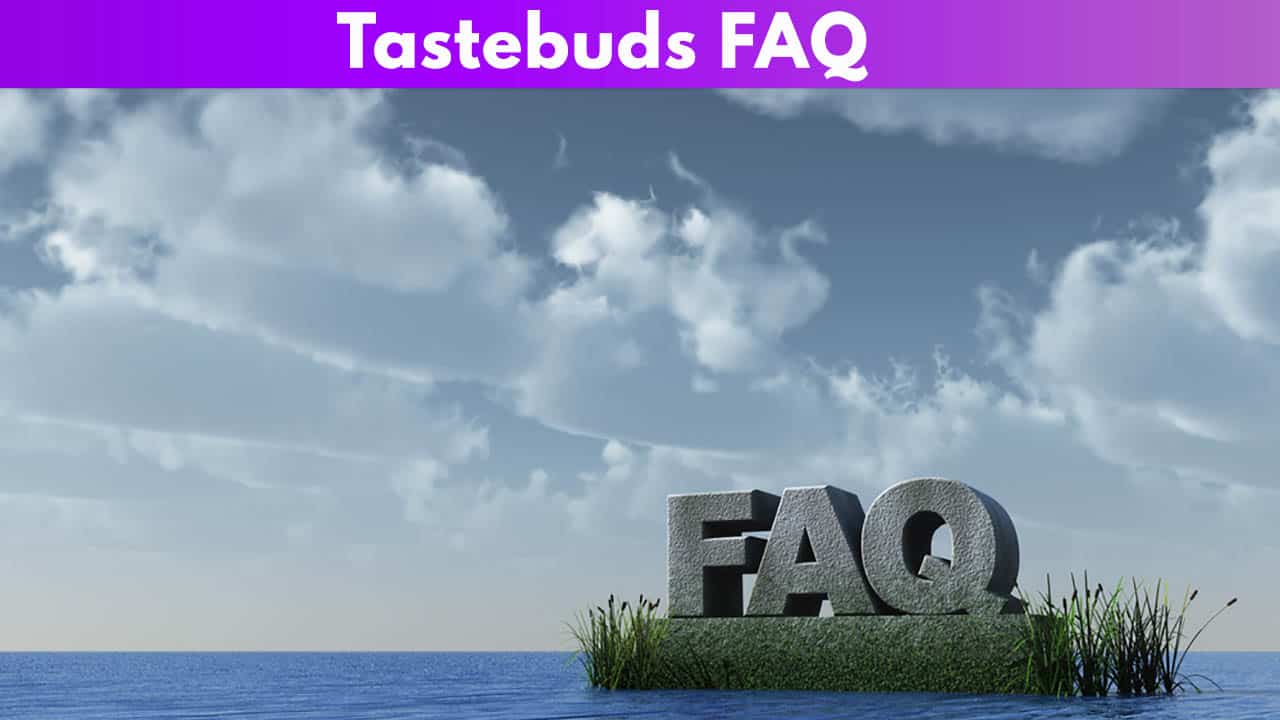 How to reach Tastebuds customer support?
You can contact Tastebuds customer support via different channels:
Can other members see when I check their profiles?
If you are a free member, your profile will always be in regular mode, meaning that other members will see when you visit their profiles. Only if you subscribe and use incognito mode, other people won't be able to see if they check their profile.
Is it possible to report other Tastebuds members?
If you feel like someone's profile is a fake, or if they harass you in any way, you can report them to customer support, and they will conduct a thorough investigation. If it turns out the account you reported is indeed fake, it will be suspended.
Overall rating
Tastebuds is definitely one of the best options if you are looking for a dating site based on music. It is almost completely free, and easy to use, with a solid 3.5/5 rating.
2. Match.com
Ratings
Signing Up – 4.0/5
Making Contact – 5.0/5
Profile Quality – 4.5/5
Effectiveness – 4.5/5
Pros and Cons
Pros:
Huge amount active of members
Free mobile app for both Android and iOS devices
Quick sign up process
Premium members have access to the chatroom
There are a lot of search filters
Cons:
Only premium members can use the message feature
Account verification is not needed
Demographic
As one of the oldest, if not the oldest online dating service, Match has a pretty large members base, with over 30.79 million visits, and more than 20 million registered members, from all around the world.

The vast majority of members come from the United States, with over 77% of members. Then we have the United Kingdom, with a bit over 9%, followed by Canada (5%), Japan (1.97%), and Sweden (1.83). Apart from the top 5 countries, Match is present in 247 more countries.

Also, a lot of members are quite active, which makes dating experience even more enjoyable. The website itself has over 3 million logins per day.
Who is it for
Most Match members are people who are looking for a serious relationship. Match.com doesn't give you an option to state that you are in a relationship because the website doesn't encourage cheating.
When it comes to gender distribution, 45% of all members are females, while the rest 55% are men. The majority of men are in the age range of 25-34, while most women are between the ages of 35-54.
Therefore, if you are looking for an older lady, for a serious relationship, or even marriage, this website is definitely for you.
Ease of use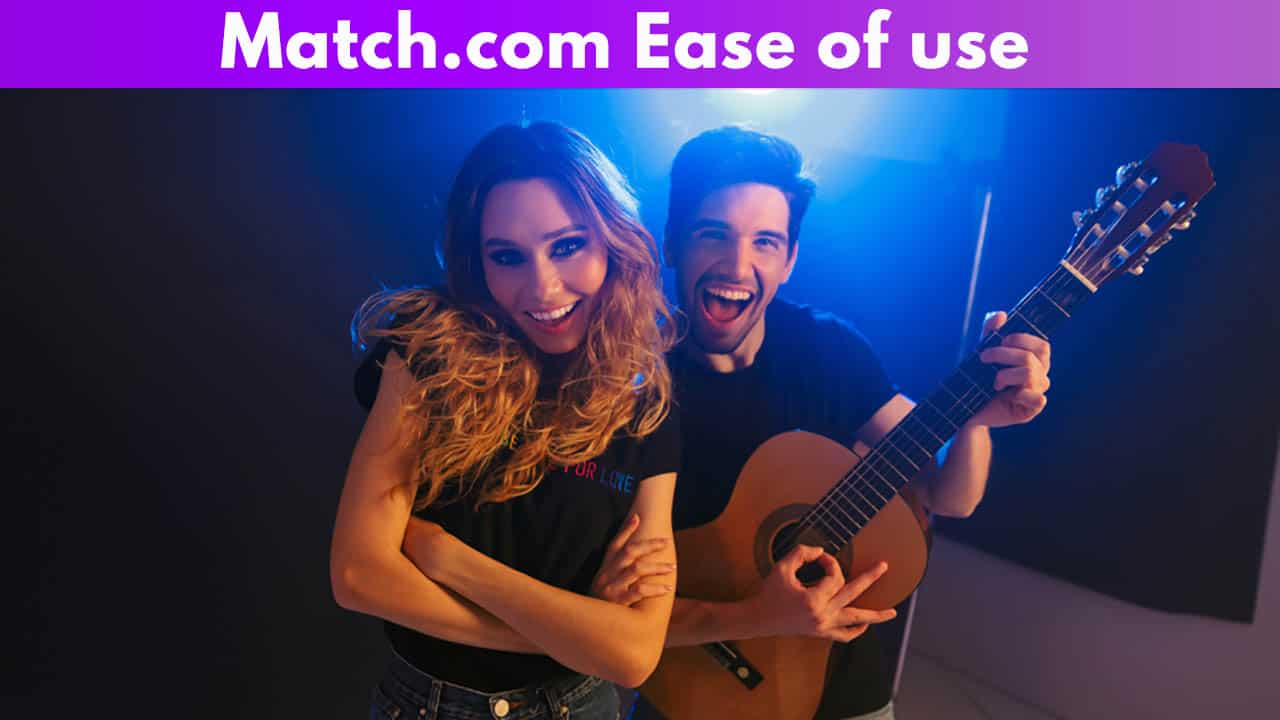 Registration on Match.com is relatively fast and simple since it takes only several minutes to complete. All you need to do is share a couple of details, such as your email, zip code, gender, sexual orientation, and birthday.
After signing up, you will be taken to the profile builder, where you can say write something about yourself, as well as give other information, such as height, type of body, relationship status, and other personal information.
Once you're done, you will be asked to add a profile photo. It should be a normal picture, with no nudes, since Match is primarily a website for finding someone for a serious relationship., even though there is not official staff approval for profile photos.
An interesting thing about Match is that it doesn't require account verification, which is both advantage, and a downside. Good thing is that it shortens the registration process, while not so good effect of that is people can make fake profiles.
Even though Match is free to use, sending messages is only available to premium members, while people with a free plan can send likes and conduct searches without additional charges.
Apart from that, all members have access to the 'Discover' feature, which allows you to apply a decent amount of filters while searching for a perfect match.
There are two additional features, only available to members with a paid subscription, and those are 'MatchPhone' and 'MatchMe'.
MatchPhone is a pretty useful feature, if you bond with someone, and want to check if they are real. This feature gives you the personal phone number on the website, through which, you can communicate with other members.
MatchMe is a form of a profile boost, let's say since it will boost your profile to the front page of other people's suggestions.
Profiles on Match.com are usually quite detailed. You have the option to add up to 26 different photos, and apart from the extensive profile builder, a large number of members tend to write even more information about themselves.
For even easier access, Match is also available on mobile devices, and it has all the features as the desktop version.
A very good thing is that the app itself is available on both iOS and Android devices, so you can get it from both App Store, or Google Play Store. The app is also pretty responsive, so the user-experience will be enjoyable.
As for the paid plans, Match offers two different paid plans, and the option to buy individual boosts, which costs from $0.99/credit for 1 credit, $4 for 5 credits, and $6 for 10 credits.
The standard plan includes 3-12 months of membership, with the price starting from $38.97 for 3 months of membership.
Premium plan's price starts from $44.97 for 3 months, with the option to pay for 6 and 12 months of membership as well.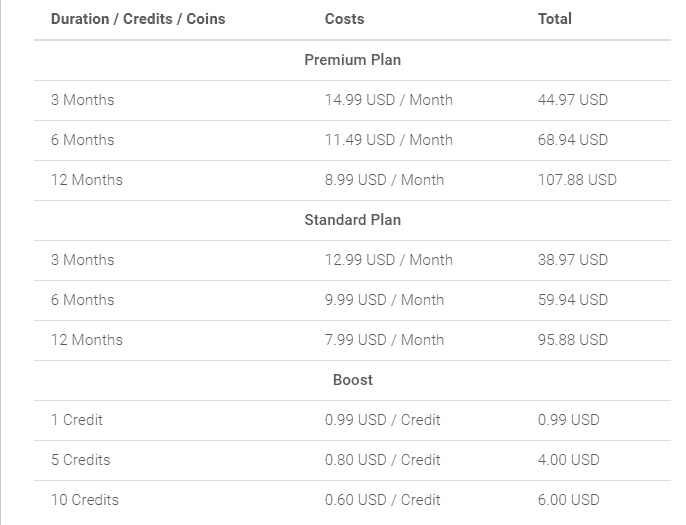 Premium membership is always automatically renewed unless you cancel it, so keep that in mind. Match accepts payment from credit cards and PayPal.
Also, one weird thing about paid plans is their cost is a bit different if you are using the mobile version of the platform. There are only four plans, offered in the mobile app, three premium plans, with the costs of $44.99 per month for just 1 month, $119.97 for 3 months, and $149.94 for 6 months, as well as just one standard plan, which costs $137.94 for 6 months.
FAQ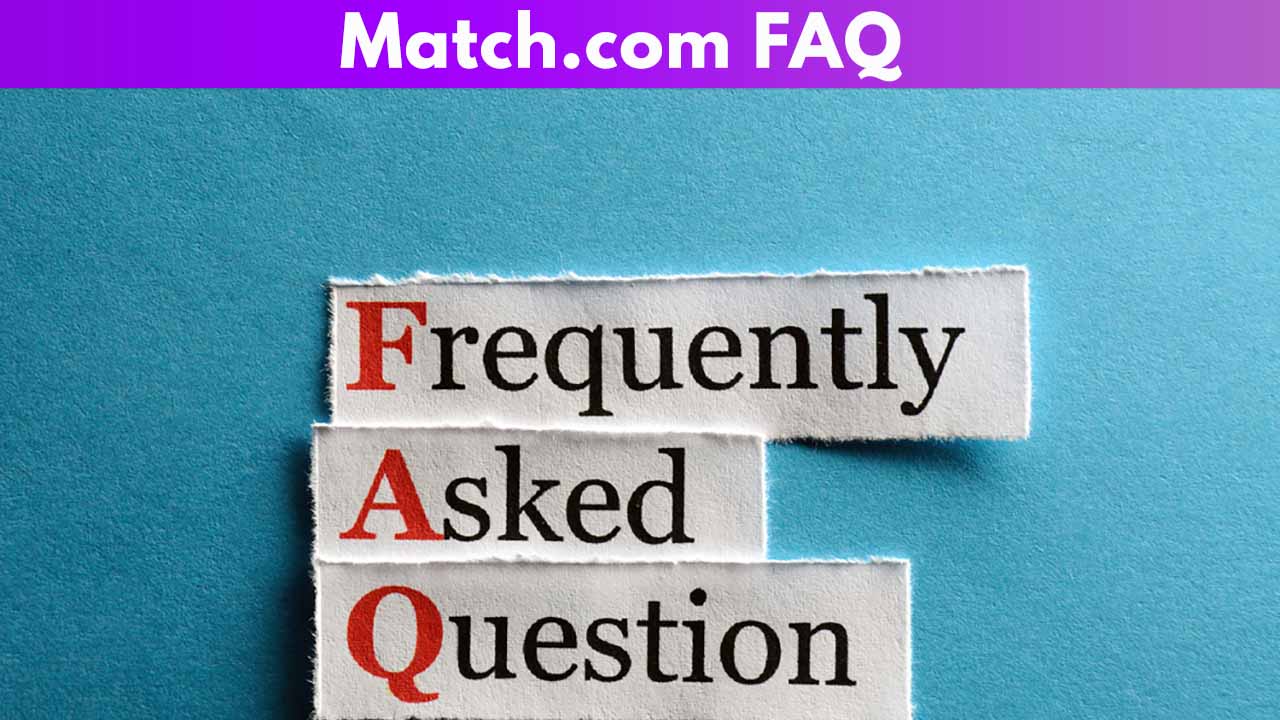 Is it possible to get a refund on Match.com?
No, Match.com doesn't issue refunds on any of their services. Subscription is automatically renewed, so if you want to stop being a premium member, make sure to cancel your subscription one day before it ends, just to be safe.
What is the Match guarantee?
Match guarantee is available to members who purchase a 6-month subscription plan. This feature states that if you don't find a relevant match within these 6 months, you will get another free 6 months, without any hidden charges.
Can I link my Facebook account to Match?
Yes, Match.com allows its members to link their Facebook profile. However, Match will not post anything on your Facebook profile, if you do not allow it.
Overall rating
Due to the number of features, and how old and successful the platform is, our overall rating of Match.com is 4.5/5. It is definitely recommended for everyone who is looking for a great platform to meet their music soulmate.
3. Planet Rock Dating
Ratings
Signing Up – 4.0/5
Making Contact – 3.0/5
Profile Quality – 2.0/5
Effectiveness – 2.0/5
Pros and Cons
Pros:
Simple registration process
Great for rock lovers
Anti-scam system
Free to register
Cons:
More than 90% of the members are from the United Kingdom
Crucial features are only available to paid members
Demographic
Planet Rock Dating doesn't have the largest membership base around, due to the very narrow niche it covers.

There are a bit more than 68,000 members, with almost 95% of them being from the United Kingdom. Rest 5% are split amongst 251 countries, with the most noticeable being Denmark (1.95%), Peru (1.40%), the United States (1%), and Ireland (0.65%).

Who is it for
As mentioned above, Planet Rock Dating is truly a dating site for music lovers, especially for people who enjoy listening to rock, and bands like AC/DC, Led Zeppelin, Pink Floyd, Rolling Stones, etc.
However, because almost all members are from Great Britain, it's recommended mostly for people who live in that area, or in nearby countries.
Apart from just being a dating site for rock lovers, it is also a community of people, who share the same views on the world, and who would like to share their passion for rock with other members, even if it doesn't lead to a relationship.
Truth to be told, there are quite a lot of negative reviews, stating that quite a large number of members are actually fake and that those who are real, are not so keen to date online.
Ease of use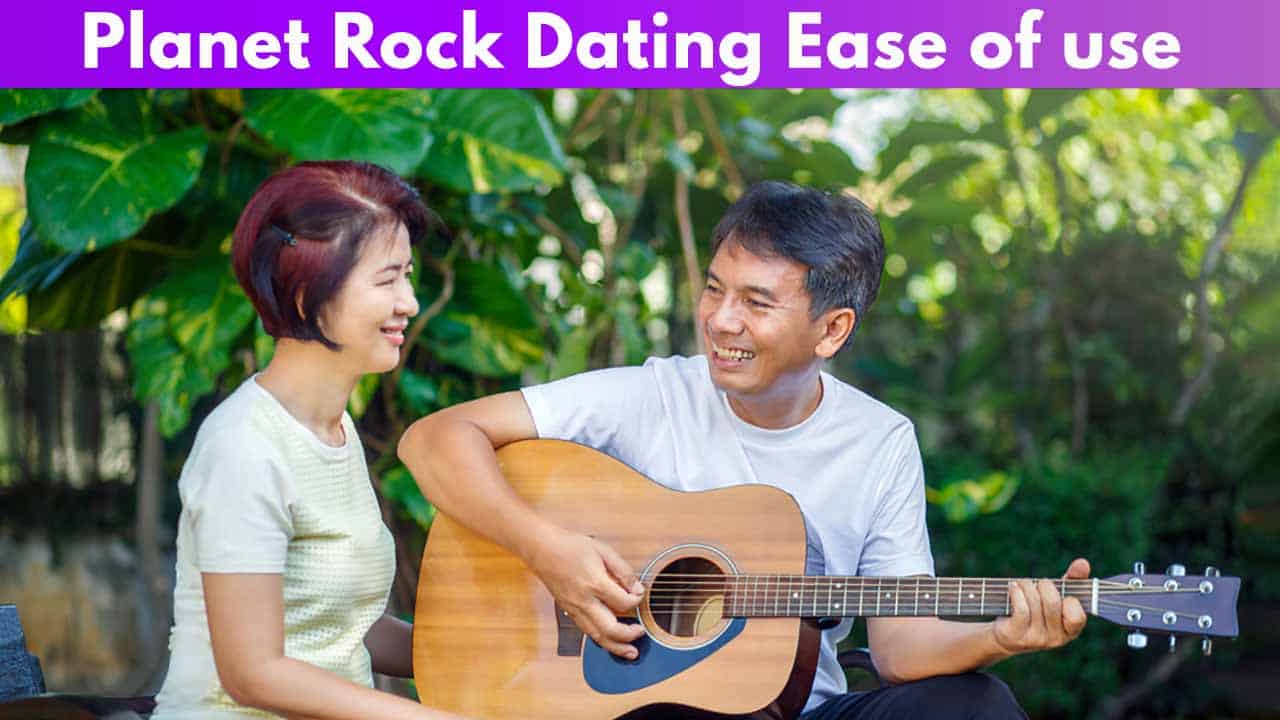 Registering on Planet Rock Dating is pretty easy. All you need to do is share your gender, age, name, and email address, and you are good to go.
The basic membership on Planet Rock Dating is free, which allows you to create a profile, upload a picture, and conduct a search for other members, depending on the county they are in.
As a free member, you can also send as many winks as you like, and create a list of favorites. The website will notify you via email whenever other members send you a wink, message, or when they add you to their favorites.
Apart from the free membership, Planet Rock Dating offers a premium membership, which you can upgrade to at any time, by paying $50, which would give you access to the following features:
Create your own and read other people's dating diaries
Check who visited your profile
Messaging
Upload more pictures
Instant messenger for quick online chat
Therefore, in order to do something real on Planet Rock Dating, you will have to pay for a premium subscription, since it contains the most crucial features of every online dating site.
FAQ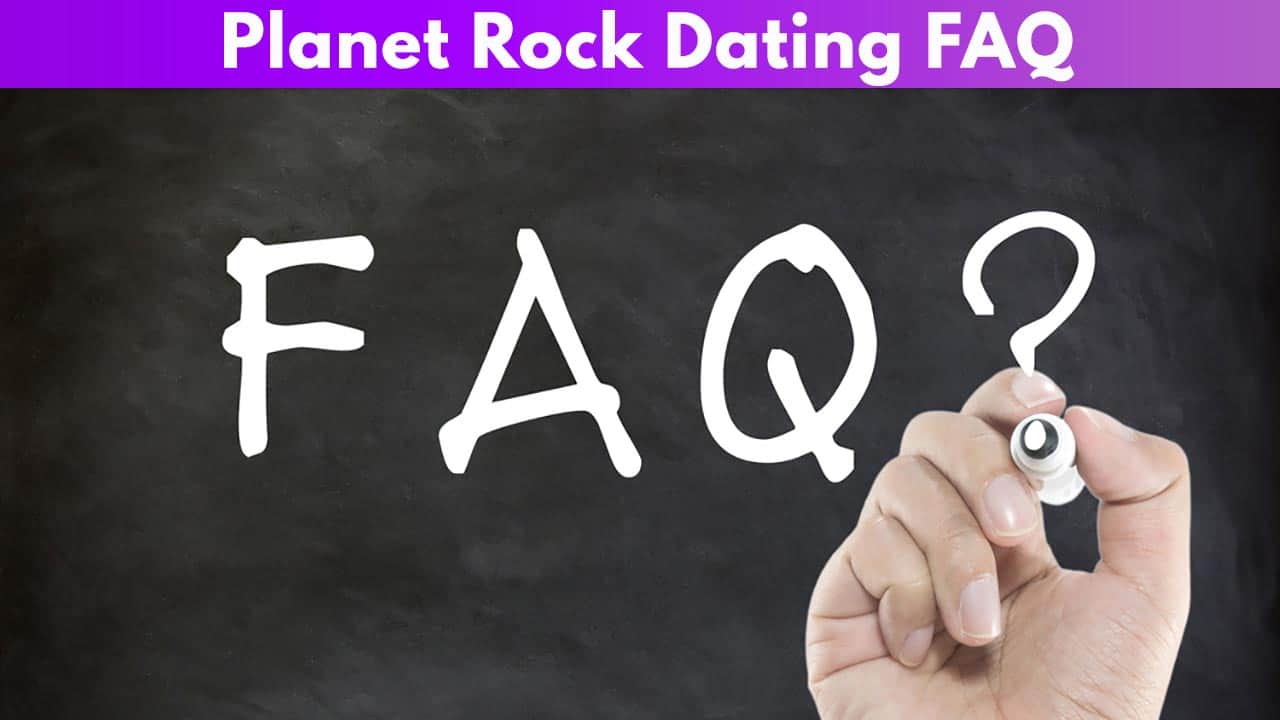 Can I cancel my Planet Rock Dating Subscription?
Yes, you can easily cancel the subscription on Planet Rock Dating, by logging in and going to your account page. There, select the 'Membership', and press the option to cancel the subscription.
Can I report to other members?
Yes, there is a report option on Planet Rock Dating. To report other profiles, go to their profile page, and press the 'Report Profile' option, then simply provide a short explanation about why you are reporting them in the first place.
Is it possible to fully delete the Planet Rock Dating account?
Yes, to delete your Planet Rock Dating account, simply go to the 'Account', click on the 'Membership', and simply press the 'Delete account' option. An important thing to note here is that if you have an ongoing subscription, make sure to cancel it first.
Overall rating
Because of the fact that Planet Rock Dating is mostly used by people from the UK and the fact that you need to pay to use some of the most important features, our overall rating of Planet Rock Dating is 2.75/5.
4. CLiKD
Ratings
Signing Up – 4.0/5
Making Contact – 3.0/5
Profile Quality – 4.0/5
Effectiveness – 3.0/5
Pros and Cons
Pros:
Interesting quiz concept
Higher-quality matches
Easy to use
Fast registration
Cons:
Small membership base, due to being relatively new
Demographic
CLiKD is a brand-new dating app that comes from the United Kingdom, and which brings some new and interesting features in online dating.
Its user base is extremely limited at this time, with most members being from Great Britain, and some percentage of them are from the United States.
Even though it is quite new, CLiKD is quickly gaining popularity, which is probably because of the small innovations it brings.
Who is it for
As expected, CLiKD is recommended for people who live mostly in the UK. You might ask why we even included this app on this list.
Even though it is not strictly a music dating app, CLiKD brings an innovative feature in online dating, which makes it suitable for this list.
It will be explained in detail a bit later, but let's say that, unlike on Tinder or Bumble, for instance, on CLiKD you cannot match simply by liking someone.
Instead, you need to pass a test made by the other person. If both of you pass each-others tests, only then you will be matched, and able to talk.
This will give you less, but higher-quality matches, so you can basically find members who have the same taste of music as you do, for instance.
Ease of use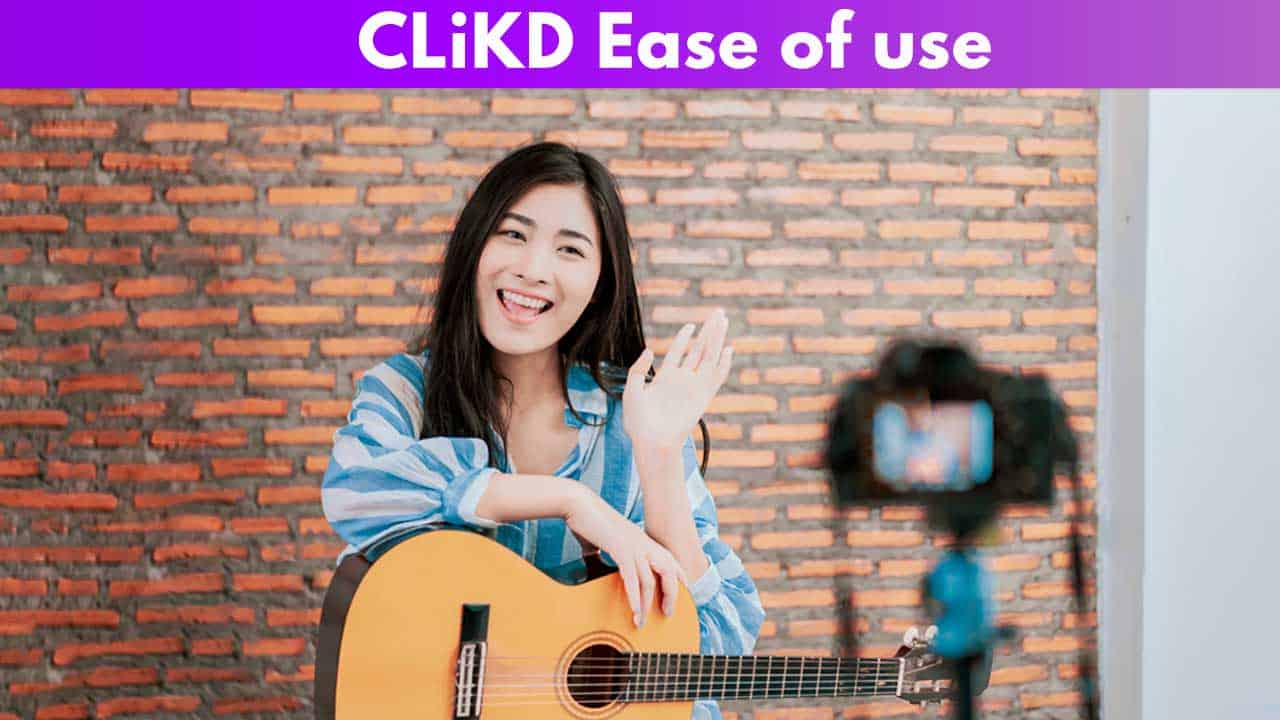 There are two ways to join the CLiKD community. You can either sign up with your Facebook account or via mobile phone number.
Once you register, you can add some basic information, such as your gender, age, the reason you are on the platform, and location, as well as upload some photos.
Then you will come to the fun part, where you need to create a small test, or quiz, by selecting 3 questions the app offers, and each can have up to 2 answers.
This list of questions is regularly updated because members are able to submit their own questions on the CLiKD website.
As for finding potential matches, the system is similar to Tinder. You simply select a couple of different criteria, such as the age range, distance from your current location, and gender. Once you do that, you will get match suggestions on a daily basis.
Now, in order to match someone, you need to pass their quizzes, or how they are called in CLiKD, dealbreakers.
Once both you and your potential match get at least 2 out of 3 questions from each other dealbreakers, you will be matched, and able to chat.
This system really makes it a bit more difficult to find matches, but it results in receiving high-quality matches, and people with mutual interests.
Most basic features on CLiKD are completely free to use but to boost your chances and gain access to a couple of new options, you can pay £4.99/month.
FAQ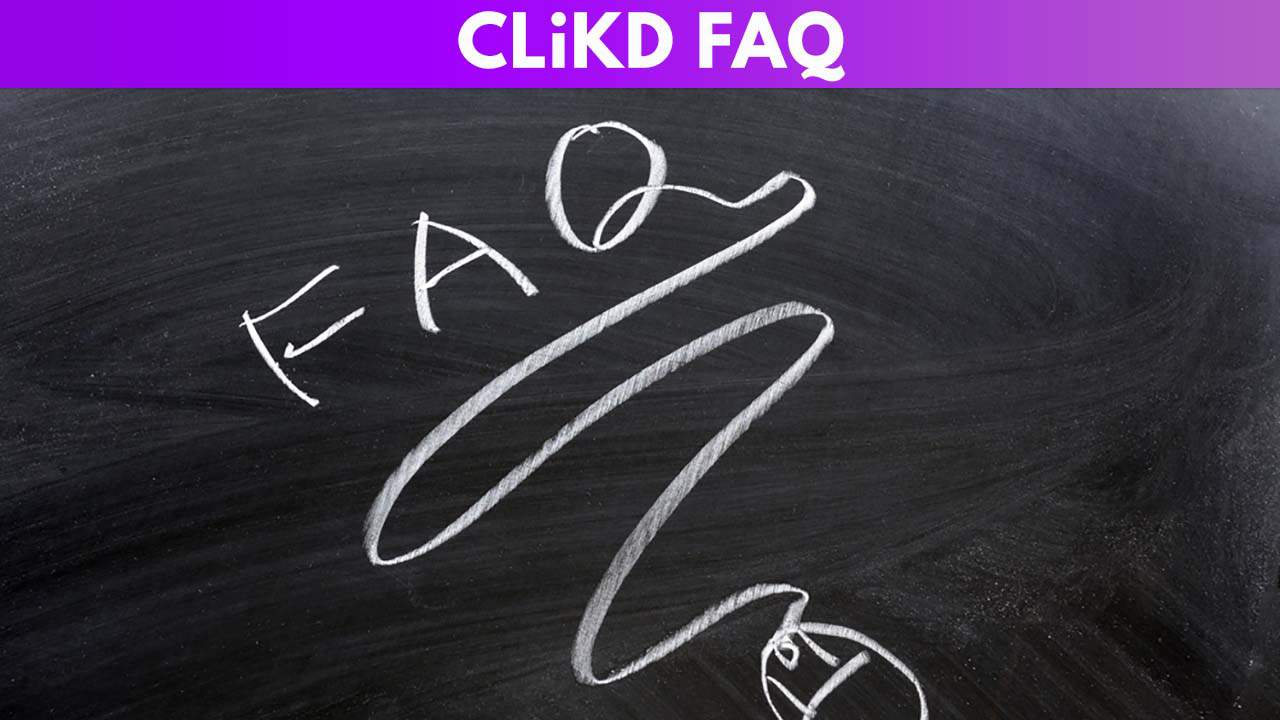 What premium features CLiKD offers?
By purchasing CLiKD premium plan, you get access to unlimited recommendations and super likes, your profile will be boosted, you will be able to see members who have used your dealbreaker, and you have access to a 'Second Chance' feature, allowing you to give and get one more dealbreaker if you fail for the first time.
How to contact CLiKD support?
You can contact CLiKD customer support via email at [email protected], and on Facebook, via Messenger.
How can I cancel my CLiKD subscription?
You can easily cancel the CLiKD subscription in your Google Play or App Store settings, under the 'Subscriptions' option.
Overall rating
Consider that CLiKD is a relatively new app, it is not quite effective yet, but it is gaining popularity fast, because of which the overall grade this review is giving it is 3.5/5.