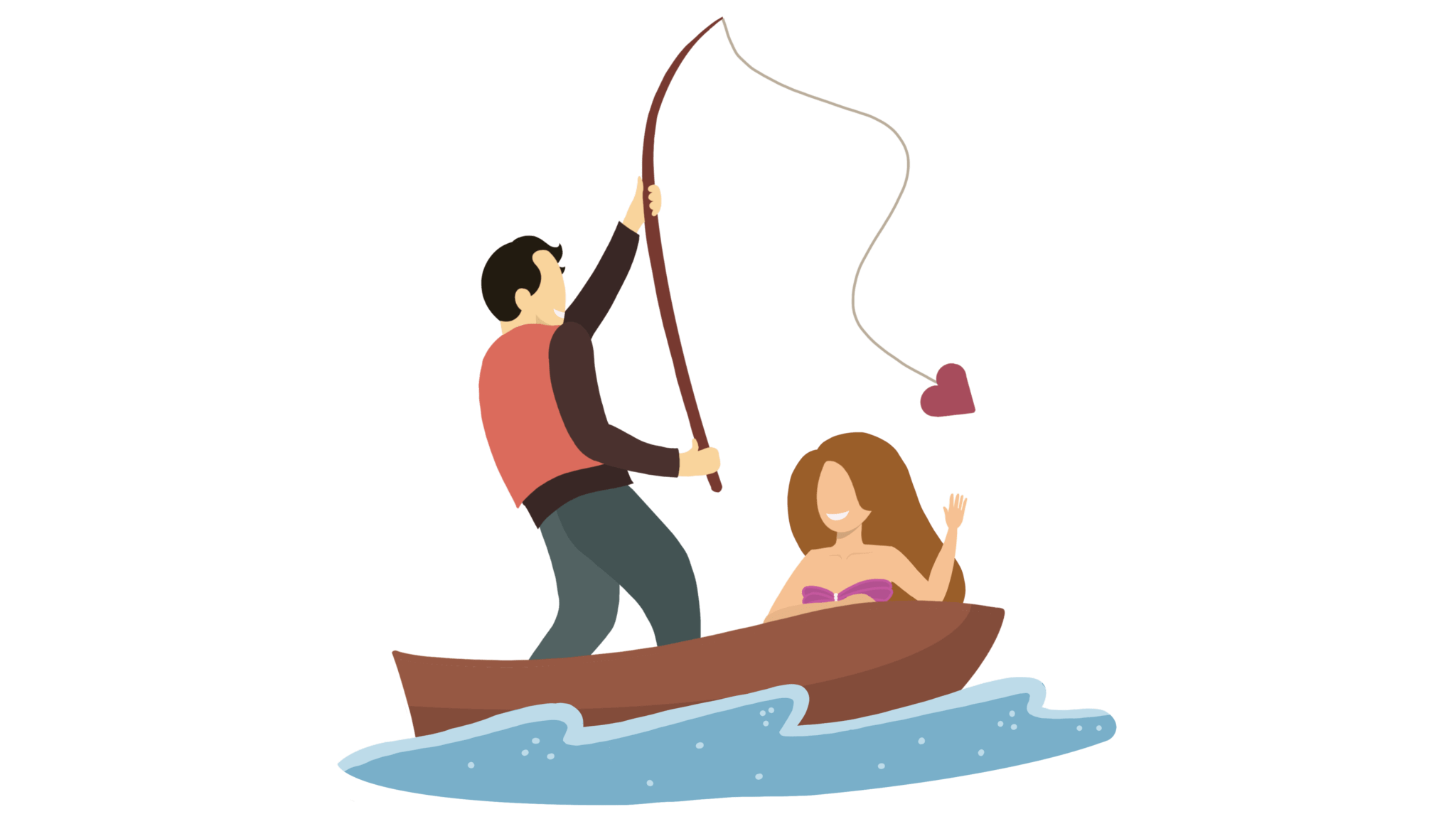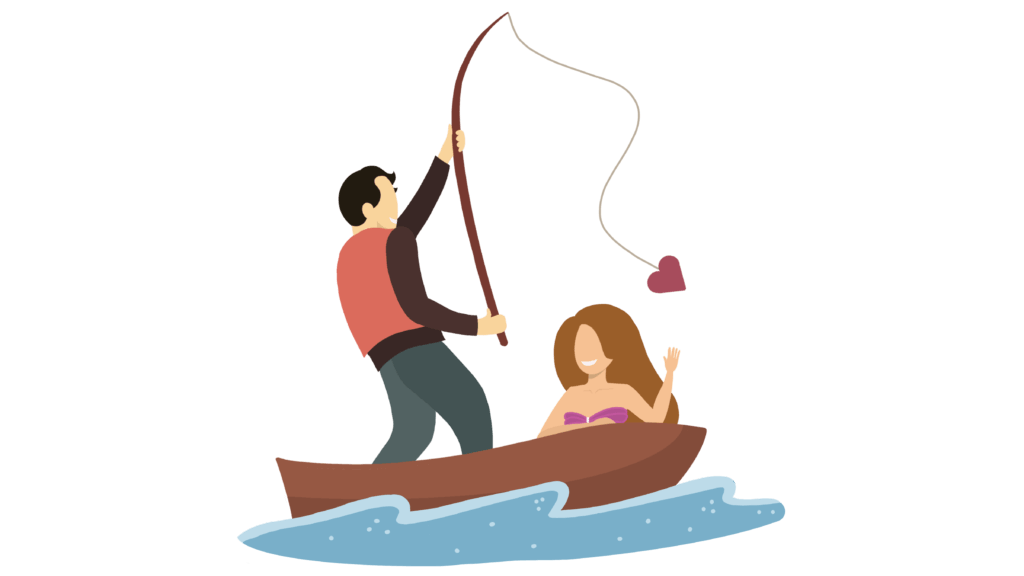 Do you love fishing?
Are you single?
Would you love to meet someone that loves to cast a line and loves to be out on or near the water every opportunity they get?
Well, the internet always pulls through, right?
Yes, believe it or not, there are a few dating websites that cater to those that love to fish or just have a general love of the sea.
OFL exclusive offers - Check all of them

"Serious Relationships"
"Discreet Hookups"
"Best Course"
"Quick Flings"
"Normal Hookups"
"Our Quiz"
Likewise, there are lots of websites that focus on casual hookups only (like BeNaughty or Ashley Madison) as well as those that cater to anyone seeking a serious relationship (like Match.com or eHarmony).
But in today's article, we are going to look at a few of the best dating sites for a Fisherman.
We've shortlisted them based on the following:
So set up your lines and let's see what these sites have to offer.
Is your dating app giving you the best chance for success?
Make sure to take our online dating site/app quiz to find out.
It's a fact that people who follow our dating site suggestions have on average 2 extra dates per month.
Best Fishermen Dating Sites in Video Form
Audio (podcast) form for those of you on the go
Best Dating Sites for a Fisherman

Signing up – 3.5/5
Making contact – 4/5
Profile quality – 3/5
Overall quality – 4/5
Sea Captain Date is free
Provides you with matchups as soon as you log in
The site is easy to navigate
What's a fishing trip without a sea captain, right?
Sea Captain Date is a website for lovers of the sea, including those who love to fish.
And this website isn't new.
It's been operating for over a decade now with much success.
The site has even appeared in Time Magazine as well as the New York Times.
Yes, this is a niche site that's targeting a much smaller market than a regular commercial dating site.
So just how busy can it be?
Well, with sites like this that are extremely niche, it's almost impossible to get user numbers, gender ratios or even the most popular age ranges on the site.
Sea Captain Date does say that thousands of people are online every day sailing the seas of love looking for their perfect first mate.
Many of these have to love fishing, right?
Putting a number on the daily users of Sea Captain Date or trying to guess how many users have registered for the site over the years is pure guesswork, however.
But just think about this for a minute.
A site like this would not have been around for more than a decade if there weren't sea captains and those who love to fish using it, right?
Ease of Use "mobile and desktop version"
Without a doubt, as a lover of all things fishing, giving Sea Captain Date a try is worth your time.
So let me talk you through the process of registering for a profile.

You wouldn't be surprised to find that the registration page is pretty nautical.
We talking about lots of pics of sea captains and anchors.
It's all a bit of fun, really but pretty basic.
So I was surprised to see that you can log in with your Facebook account if you'd prefer to.
The more traditional method means you have to provide the following information:
Username
Email (it must be valid as a verification email will be sent to you)
Password
Your gender (female, male, couple, group)
What you are looking for in your matchups (female, male, couple, group)
That's just the start of the registration process, there's more information to provide as Sea Captain Date wants the following after that:
Real name
Birthdate
Age ranges of desired matches
What kind of relationship you are looking for (e.g. friendship, penpal, one-night stand, love, marriage)
Physical characteristics
Social parameters (occupation, religion, habits)
Profile picture (required)
Once you've verified your email, you good to go on the site.
Overall the design that you came across on the registration page is carried across to the website itself.
And while it's not terrible, it looks a little dated overall.
You will also immediately notice that advertising plays a prominent role on Sea Captain Date but again, it's not too in your face.
This is a simple website where finding your way around is plain sailing.
You've got six main menus at the top of the screen with three other menus made up of icons.
These menus are your dashboard (or home screen), my profile, photos, my matches, search, messages, notifications and profile settings.
While most are self-explanatory, let me take you through a few of them.
For example, photos will show you a range of photos uploaded by other users.
While it's nice to be able to browse through them, you can also leave comments if you'd like to.
My matches brings up a host of profiles that Sea Captain Date has earmarked for you to look through.
You will notice a compatibility rating showing just how much of a match they are for you.
Or you can just launch your own searches using a search engine with a host of parameters that you can set.
These include physical features, interests and more.
Once you've found someone that you'd like to contact to get to know more about, you can alert them to the fact that you like them by sending them a wink or a virtual gift (a rose for instance) or a private message.
And yes, sending messages is for free.
Lastly, I want to talk about the dashboard.
This allows you to launch quick searches, see your matches, upload photos, change matchmaking settings, and more.
At this point in time, Sea Captain Date is a free dating site.
Obviously, that might change at some point in the future, but for now, you are free to browse as many matches as you want, launch your own searches but more importantly, send as many messages as you like.
1. Sea Captain Date is a very niche site. Will I find matchups near me?
Well, it depends where you live, really.
The majority of users are from the United States but I was able to find a number of users registered for my small hometown on the coast in a country far away from America.
2. Is it true that Sea Captain Date only takes users who are 18 years or older?
Yes, that's true.
Like all online dating sites, you must be 18 years or older to set up your profile.
For an overall rating, I give Sea Captain Date 3.6 out of 5.
And it's the perfect date for you someone who loves to fish to explore and find matchups with a similar love of the sea.
This isn't the most sophisticated dating site you will ever see, but it serves a unique purpose, that's for sure.
And it's worth your while checking out.

Signing up – 4/5
Making contact – 3/5
Profile quality – 4/5
Overall quality – 4/5
Simple registration process
Includes a profile view counter so you can see how many times you have been viewed by others
Extensive search parameters for members
You can't message effectively if you aren't a member
Simple search engine for non-members
While not strictly a dating site for those who like to fish, Boater Singles obviously includes users who love boating.
And with boating comes fishing, so for that reason, you'd be silly not to make use of this niche website to find someone who possibly likes fishing just as much as you do.
Finding user numbers for the site, however, wasn't possible, although the landing page claims 1200 new users sign up each day.
I am sure, however, that number is based on the overall signups for the Premier Dating Network, the parent company behind Boater Singles.
Ease of Use "mobile and desktop version"
A simple registration process will have you logged into Boater Singles and looking for someone to share your passion within next to no time.
To start the registration process, you simply need to provide a username, password, email address, age and location.

What I like about this dating website is that as soon as you log on for the first time, you are encouraged to complete your profile.
And it's something that you should do plus it won't take more than five minutes of your time.
It's quite a comprehensive profile too which obviously helps with making sure the site suggests the right kind of matchups for you.
The site itself has all the regular features that you would expect from a dating website, even though it's for a niche audience.
If you aren't a paying member, the search engine only has three parameters that you can tweak:
The gender you are searching for (and yes, Boater Singles is gay and lesbian-friendly)
Their age
Their location
It's enough to get you matchup returns to look through but you cannot send any messages without opting to take out one of the membership packages on offer.
There is a slight workaround, however.
And that's the fact that you can comment on each user's profile, for example, under the general interests section.
You can also like someone's profile to indicate you are interested in getting to know them better or send them a free wink.
Boater Singles also includes a "Let's Meet" option.
This is found on any user's profile and indicates to them that you'd like to meet them.
If you both want to meet each other, that's a mutual meet which is similar to a match on other dating sites.
At this point in time, Boater Singles does not have an app.
While you can comment on other user profiles, this really isn't an effective way to communicate.
Therefore, you would have to consider membership of the site.
Membership will allow you to send regular messages, instant messages, have more advanced search parameters, make your profile prominent in other user searches, as well as allow you to see who has viewed your profile.
But what's it going to cost you?
Well, here's a quick breakdown of the standard membership plan
1-month membership – $24.95
3-month membership – $53.85 ($17.95 per month)
6-month membership – $83.70 ($13.95 per month)
There is also what Boater Singles call a best value plan:
3-month membership – $63.00 ($20.99 per month)
6-month membership – $101.94 ($16.99 per month)
All this membership adds is the ability to highlight your profile in other user searches.
1. Do I need to be a member of Boater Singles to be able to message other users?
Yes, you do.
While you can comment on other user profiles, to effectively make use of this dating site, you will need to message or instant message them.
And yes, that's a member-only feature and behind a paywall.
2. Is Boater Singles part of the Premier Dating network?
Boater Singles forms part of the Premiers Dating network.
That means it has a large support structure behind it, which is a good thing in terms of user privacy and overall security.
While Boater Singles is marketed as a website for those who love boating in all forms, it's worth your while checking it out to see if members love fishing too.
That means a little digging on your part but that just makes it a little more fun right.
Boater Singles is part of the Premier Dating network so I am pretty sure there are crossover profiles from other websites that they run.
On the whole, however, this is a well-designed, easy to navigate website with plenty of users.
As for a rating, it gets a 3.75 out of 5.

Signing up – 2/5
Making contact – 4/5
Profile quality – 3/5
Overall quality – 3/5
Profiles indicate if someone loves boating and other water-based activities
Well designed website with lots of cool features
Extensive profile
Member features are well priced
There are some fake profiles
Lots of advertising
Again, Boating Passions isn't strictly a dating site for people who like to fish.
But with a nautical theme, it might just be the perfect place to find other fishing singles looking for love.
Part of the Passions Network of niche dating sites, Boating Passions should be on your list of dating sites for the simple fact that it's free.
Of course, the main target group here is people who love boating and other leisure activities to do with the sea.
Ease of Use "mobile and desktop version"
Perhaps the first thing you will notice about the Boating Passions registration page is the fact that it looks a little dated.
OFL exclusive offers - Check all of them

"Serious Relationships"
"Discreet Hookups"
"Best Course"
"Quick Flings"
"Normal Hookups"
"Our Quiz"
In fact, since the Passions Network who run the site has been around since 2004, the design could reach that far back.
But of course, the design is not the most important thing about a dating site.
It's about how it operates and the kinds of matchups you can find.
Before we get to that, however, let's just go through the registration process.
Initially, you will need a username and email address.
Once you've verified your profile, you have to fill in the details before you can start using the site.
Again, this whole process is done in a couple of minutes but it's a fairly antiquated system that uses much the same design as the initial registration landing page.
There are questions about your appearance, lifestyle, education and more.
It's a really comprehensive profile if a little annoying to fill in as each section has to be clicked on so you can open up the available options.
As for the site, well once you are finally able to log in, don't expect anything special at all.
Its design is pretty outdated but that doesn't matter if it can do a job in helping you find your fishing partner.
And that it can.
Not only can you search for matchups but you can join specific groups.
For example, there is a freshwater fishing group as well as one for saltwater fishing.
If you want to search for matchups there's a number of ways you can do that as well.
Boating Passions also is LGBTQ+ friendly as well.
In terms of messaging, well it's free but to help stop spam you are limited to 10 messages a day.
If someone adds you to their favorites list, then you can send as many messages as you like.
While Boating Passions is free to use, you can sign up for lifetime membership to the site.
That costs $29.95.
So what can you expect when you sign up?
Well, for one, there will be fewer ads,
Also, you will get access to the passion network of dating sites.
You can also upload more photos, send more than 10 messages a day and more.
You'd have to decide if it's worth it or not.
1. Is there any way to communicate with other users other than messaging them?
Yes, there is, although messaging is the most effective.
Boating Passions has a chat room where people can get to know each other.
2. What other extras does Boating Passions over and above dating?
Well, Boating Passions has various groups you can join, all related to boating and the sea.
There are fishing groups as well.
The site also has a forum and user blogs.
While the overall design leaves a lot to be desired, Boating Passions is the type of dating website where you are sure to find people who love fishing just as much as you do.
What I like about it is the dedicated groups, including fishing, where you can get involved and chat with other users just like you and with similar interests.
Best of all, it's a free site.
I am giving Boating Passions 3 out of 5.

Signing up – 5/5
Making contact -3/5
Profile quality – 3.5/5
Overall quality – 4/5
A well-designed site that's easy to use
No other affiliate sites which means everyone here loves the sea and the activities that come with it
Well priced membership options
You need to be a member to message others
Established in 2004, Love Sail is a dating site for those of us who love the water but tackle it in sailing boats.
But if you are anything like me, being on a sailing boat means a chance to fish as well, and most sailors do the same any chance they get.
That makes Love Sail a worthy site in your quest for the perfect fishing partner in my book.
Love Sail isn't new either and has built up a strong database of users.
In fact, the site has been around 2004 and perhaps the best thing about it is that it's exclusive.
That means it doesn't tap into the database of a parent dating site.
So everyone you meet on Love Sail loves sailing and other activities to do with the sea.
Ease of Use "mobile and desktop version"
What an inviting dating website.
Like me, I am sure you will love the overall look and feel of the site.

Registering is a simple process where you will need to provide the same basic information that's required of all dating sites.
You will also need to provide some information about yourself like:
Real name
Gender
Birthdate
Location
What you want to use the site for (dating, friendship or signing up to crew on sailing boats)
Sailing experience and qualifications
Nautical miles logged
Occupation
Profile picture
You will need to reply to a verification message from Love Sail and then wait for your profile to be approved as everything is checked to ensure no fake profiles.
Once you are on the site you will notice that Love Sail is not only about dating.
It also includes the opportunity to sign up to crew sailing boats around the world.
For the purposes of this review, however, we are going to stick to the dating aspect.
There are a number of menus at the top of the screen to navigate the site.
The ones you would be most interested in are the "Sailing Men" and "Sailing Women"
Click on one of these and it will bring up a host of matchups based on your profile.
You can refine the returns by clicking the "Modify Search" button if you'd like.
Here you can change a host of parameters, just like a regular dating site for example, age range, location and more.
Profiles are extensive and include all the information you would have filled in during the registration process.
Should you wish to contact someone that you like to get to know better, you will need to take out membership on the site as you cannot message them if you don't.
LoveSail offers a few interesting packages for a membership that you can consider.
While there are the usual types of memberships in terms of duration, there is also a once-off payment that secures lifetime membership.
Now that's not something that I've ever seen on a dating site before.
Let's see how much each package is going to cost you.
Please note, these are converted amounts in dollars from British pounds.
1-month membership – $32
3-month membership – $60 ($20 per month)
6-month membership – $87 ($14.50 per month)
Lifetime membership – $73
It makes complete sense to take the lifetime membership if you are not only going to use the site for dating but for ship crewing as well.
1. Is LoveSail only a dating website for those who love the sea and sailing?
No, it's not.
That's just one aspect of it.
LoveSail is also for people looking to crew boats or those looking for friendship as well.
Dating plays a major role in the site, however.
Yes, it is.
All the checks and balances are in place to keep your private information and credit card details safe.
Every LoveSail profile is also authenticated to ensure there are no fake profiles on the site.
LoveSail gets a very solid rating of 3.8 out of 5.
This is a niche site that's well run and includes thousands of like-minded individuals.
While it's not strictly a fishing site, it's well worth trying out in an effort to find the catch of your dreams!
I love the fact that it's easy to sign up for, easy to navigate and has those little extras that make the site a pleasure to use.