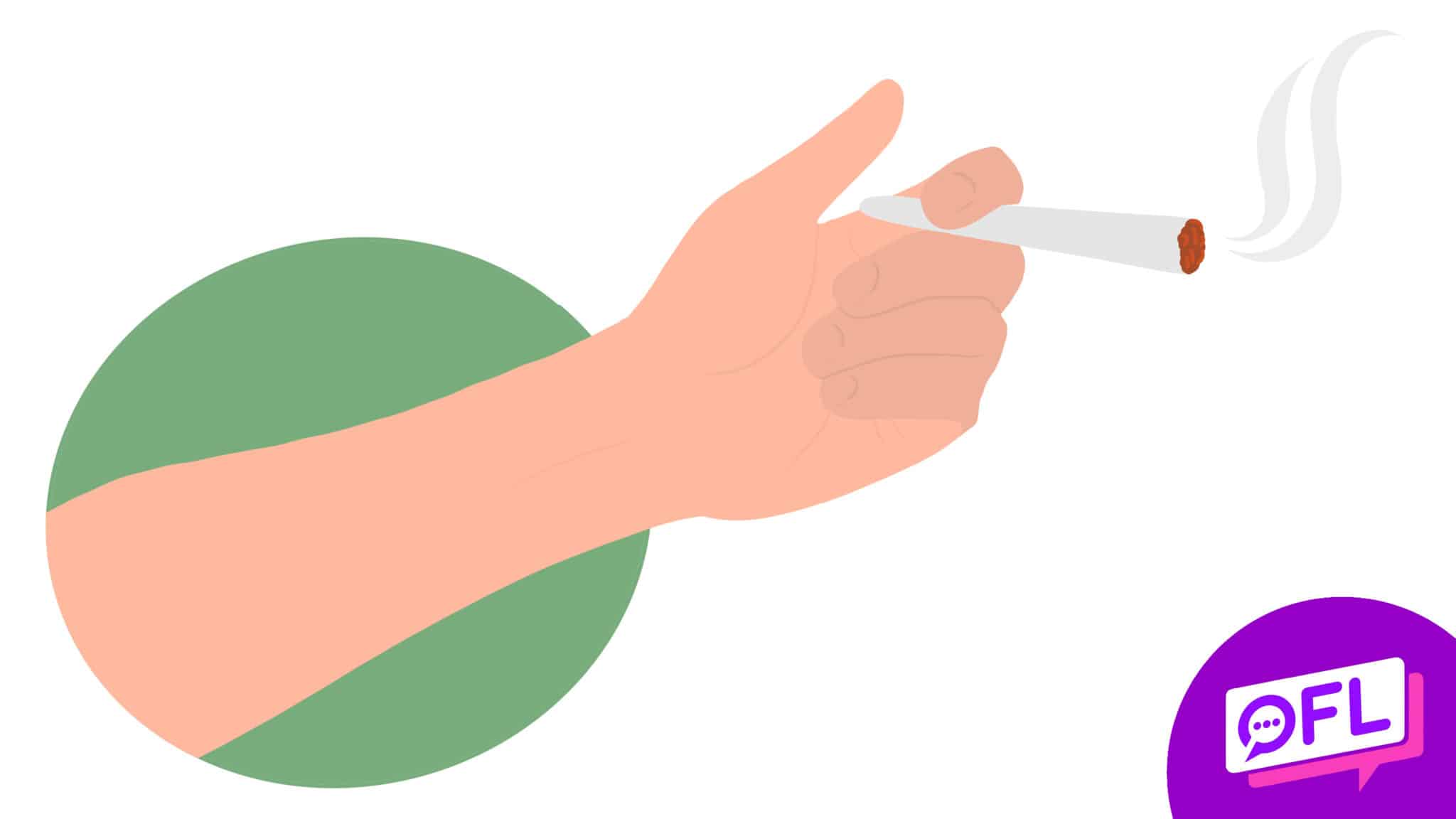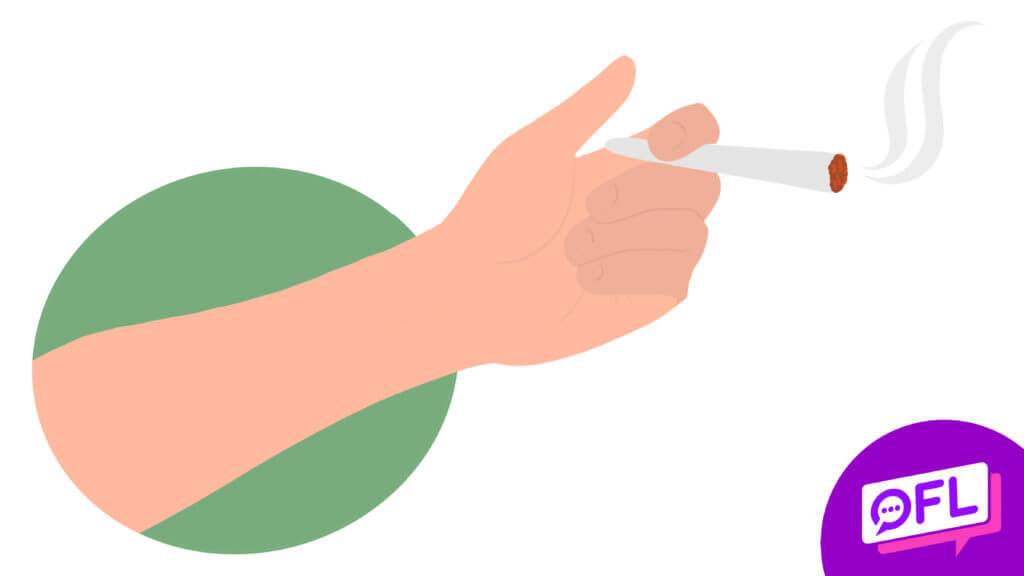 Let's be blunt about it.
Are you a stoner looking for love?
Well, you've come to the right place, that's for sure.
That's because today's article is going to cover online dating just for stoners.
OFL Top Recommendations based on 100,000+ Survey

"Serious Relationships"
"Discreet Hookups"
"Best Course for Men"
"Quick Flings"
"Normal Hookups"
"Our Quiz"
And yes, there are dedicated websites and apps out there for lovers of the green leaf.
We are going to look at some of the Best Stoner Dating Sites based on the following parameters:
So sit back and relax a little more than you already are and find out which is the best stoner dating site just for you.
Is your dating app giving you the best chance for success?
Make sure to take our online dating site/app quiz to find out.
It's a fact that people who follow our dating site suggestions have on average 2 extra dates per month.
Best Stoner Dating Sites in Video Form
Audio (podcast) form for those of you on the go


Signing Up – 5/5
Making Contact – 3.5/5
Profile Quality – 4/5
Overall Quality – 4/5
OFL Top Recommendations based on 100,000+ Survey

"Serious Relationships"
"Discreet Hookups"
"Best Course for Men"
"Quick Flings"
"Normal Hookups"
"Our Quiz"
Filled with thousands of stoners looking for friendship, dates, hookups and long-term love
Beautiful unique design
Easy to use
Not all users are stoners
My 420 Mate is pretty big in the stoner dating scene.
Promising to help you find your Mary Jane (I see what they did there), this dating site has featured in a number of publications and not just stoner literature.
In fact, it has appeared on CBS News and featured in the New York Times.
Pretty rad, right?
But what are the user numbers behind a site like this?
It does seem pretty popular after all.
Well, there's no indication of just how many people you will find here but from what I can tell during my time on it, it's active enough, that's for sure.
Probably thanks to all that mileage it received from appearing in the media, right?


Ease of Use "mobile and desktop version"
So My 420 Mate has both a desktop and mobile app for Android and Apple handsets.
But today, I am going to chat with you with the website in mind.
I prefer to register for sites through their website and switch to the app once my profile is all set up.
It's just far easier to do all that on your computer I feel.
The first thing you will notice about the registration page is just how professional it all looks.
This is no two-bit operation, that's for sure.
A username, email, password, your gender and what gender (with LGBTQ options) you are looking for start the process.
The second part of registration includes filling out parts of your profile and then questions related to cannabis, for example, your preferred type, the reason you use it and how often.
Lastly, upload your profile pic and you are good to go.
My 420 Mate is a standalone dating site.
And by this I mean it uses an original template.
Finding your way around is achieved through the five main menus at the top of the screen.
These are:
Dashboard: Take you back to the main page
Photo: Shows you the latest user photos
Subscribe: Sign up for membership here
My Matches: Matches from My 420 Mate are found here
Search: Launch all your own searches using this menu.
I am not going to go into the extras on the site too much.
If you've ever used online dating before, you would understand what each of them does.
You can either look through the matches that the site provides for you or search for your own.
The search engine only has a few search parameters, however.
These are:
Gender
Age range
Location
If they are online
If they have a photo
I love the fact that each profile you look at includes a compatibility rating.
This is based on both your and their profile parameters.
You have multiple ways of getting someone's attention on the site.
From their profile, you can wink at them, send them a private message, send them a gift or grant them credits.
Yes, the site makes use of credits for various functions and gifts you 20 to start off with.
You receive credits from the site for:
Logging in each day (10 credits)
Joining up (10 credits)
Adding a photo (10 credits)
Credits are spent as follows:
Adding your profile to the My 420 Hotlist (-20 credits)
Starting a chat (-5 credits)
Reading a chat message (-5 credits)
Continue a chat dialog (-10 credits)
So if you need credits to be able to operate on the site effectively, just how much are they going to cost you.
Here's a breakdown of the credit pricing:
75 credits – $4.99
420 credits – $10.99
1500 credits – $29.99
Overall, the pricing isn't too high.
Some dating sites that use a currency system like this can be extremely expensive but that's not the case here.
1. Is this a site just for cannabis users?
No, it's not.
When you register, you have the option to mark the fact that you don't use weed at all.
Yes, it is.
It's filled with people who love weed.
Also, you don't need to put in any banking details if you buy credits on the site, you can use PayPal.
With both the opportunity to use both your laptop or the My 420 Mate app (available for both Android and Apple devices), this online dating site for stoners is very popular, particularly in America.
And while it doesn't have membership in the regular sense of the word but instead uses credits, it's not overly expensive.
There is a community of stoners here that are interested in meeting other people.
What more could you want?
My 420 Mate gets 4.1 out of 5.
Signing Up – 4/5
Making Contact – 3/5
Profile Quality – 3.5/5
Overall Quality – 3.5/5
It's free
Not just a dating app but a 420 social networking site too
The app crashes from time to time
First up, kudos on the name!
High There had me chuckling for minutes on end, that's for sure.
This is a little different than your normal dating site.
In fact, High There is more of a cannabis social network with dating elements.
It's app-only as well and has been downloaded over 100 000 times on the Google Play Store alone.
I wasn't able to find just how many times it's been downloaded for Apple devices, but seeing that they are so popular, particularly in the United States, I am sure you could add another 100 000 to that figure, maybe more.
Ease of Use "mobile and desktop version"
As I said, the High There community can only be accessed through the app.
It's a quick download for either your Apple or Android handset.
Note, however, that when starting your account, you can only sign in to the app using a social media login – one of Google, Apple or Facebook.
Verify your age, provide your gender (with an option of non-binary), give a username, upload a profile picture.
You also get to answer some questions related to weed and your weed usage that's used to help match you up with others.
There are lots going on here, with plenty of information related to cannabis in general.
For example, which strain do you prefer, do you use it recreationally or for medical purposes, do you smoke, vape or prefer edibles, that kind of thing.
This all helps when it comes to the dating side of the app, especially with providing you with the right kind of matchups.
If you've used dating apps before, you will already have an idea how it works.
High There will present you with a range of matches for you to look through.
And then the swiping begins, one way if you don't see them as a potential matchup or the other if you do.
Of course, if you match up with them, you have the chance to send messages to each other.
High There doesn't cost a thing!
You can use the app for free, both the information side of it as well as the dating features.
Note that you must match with someone before you can message them, however.
1. Does High There has a website as I prefer that over an app?
Yes, it does have a website but it purely informational.
If you want to make use of High There, the only way to do so is by using the app.
2. Is High There a legit app?
For sure.
It wouldn't be on the Google Play or Apple Store if it wasn't, right?
The fact tact that High There is free makes it an attractive proposition as a dating app for stoners, that's for sure.
Also, there are lots of extras that the app provides related to the 420 lifestyle.
High There is popular too, with over 100 000 downloads on the Google Play Store alone.
It really is worth checking out.
It gets a solid 3.5 out of 5.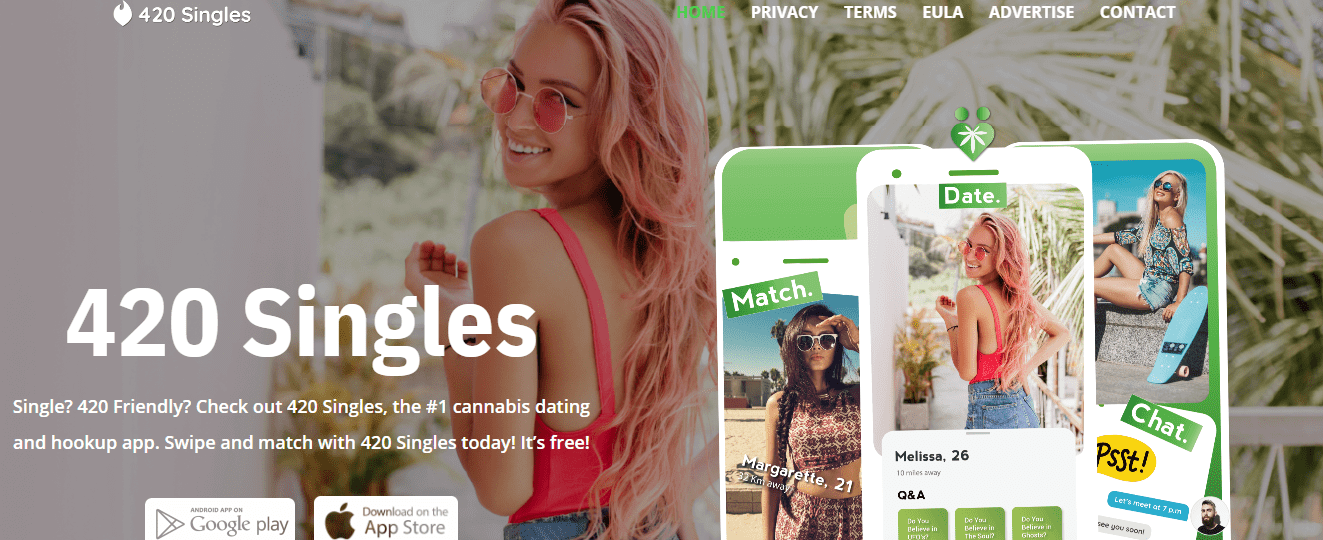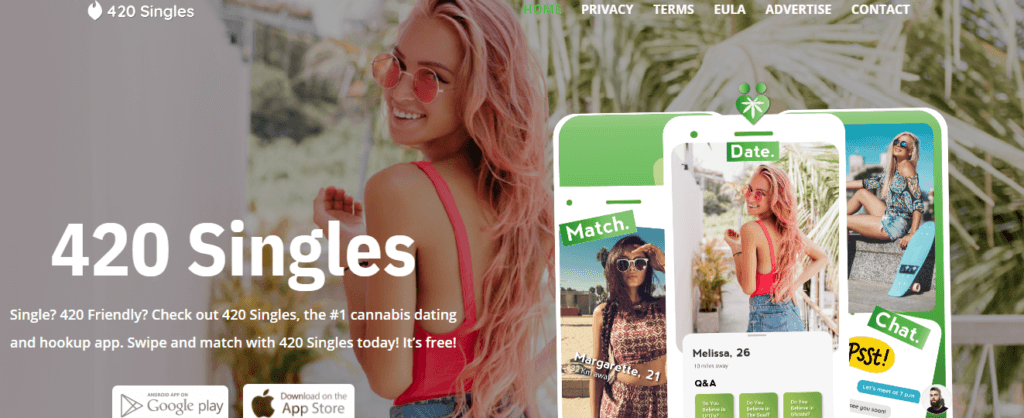 Signing Up – 5/5
Making Contact – 3/5
Profile Quality – 4/5
Overall Quality – 4/5
A top-notch 420 dating app
Lots of like-minded users
Easy to register for a profile
Simple interface
You need to match with someone to message them
Next up in our list of stoner datings sites we are looking at 420 Singles.
This is another app-based stoner dating site that also offers many of its services for free.
You certainly can find stoner buddies on the app for friendship, dating and love without having to pay a cent.
And it has had well over 100 000 downloads on the Google Play Store and probably more for Apple devices.
While it's difficult to come up with a total user number, this is a busy stoner dating app that's for sure, but I will get into that a little later.
Also, from the matchups that were returned to me while I reviewed the site, it's a pretty young bunch of users as well.
I saw very few people over 45 which might just get due to my location.
So now that you know a little more about it, let's get into the finer details of this stoner app.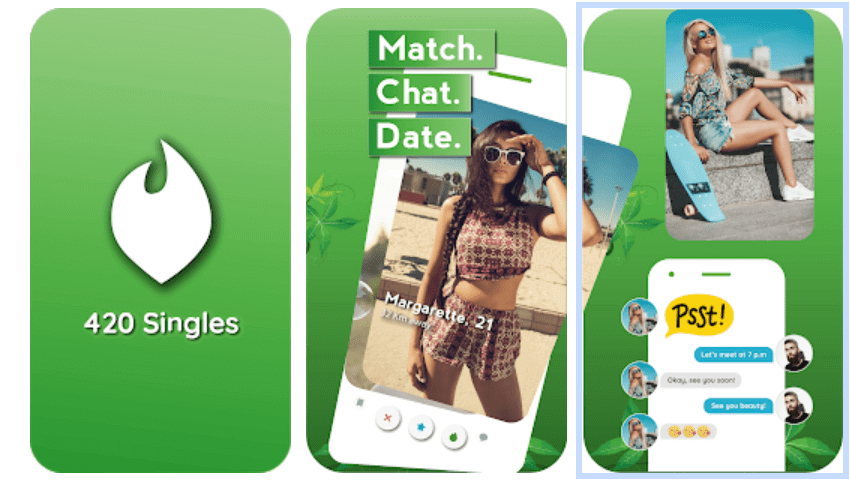 Ease of Use "mobile and desktop version"
Once you've downloaded 420 Singles off the Google Play or Apple Store, you can begin the registration process.
First up, you need to provide:
Your email address
A password
Name
Date of birth
Your gender
Your sexuality (including transgender options)
The gender you are looking for
A profile picture (which you have to add)
Next up, you are taken to a questionnaire that you should fill in to help 420 Singles provide you with the best quality matchups.
It's a bit of fun really, with some wacky questions like "Do you believe in UFOs"
I like that as it's not too serious.
You can also provide information about yourself to give people an idea of what you are all about.
All-in-all, it took me around 10 minutes to complete everything.
The app presents itself like most other online dating apps.
And by that I mean you will be presented with matches that you can swipe through or like.
If you've gone through all your matches, the app allows you to reload those you swiped left on.
You can also bookmark profiles of users to come back to later.
On the top left-hand side of the screen, you will notice a menu.
This is where you can edit your match preferences, change your profile, see who has liked your profile and more.
Like all other similar dating apps, if you like someone, they have to like you back before you can send messages.
But if you opt to buy into membership on the site, you can send messages to anyone you like.
What about the quality of users on the site?
Well, even for the small city I live in, there were plenty of potential matchups and I had lots of fun going through them.
It seems like stoners are everywhere!
Ok, so we've just established that you are able to send messages to any other user should you opt to buy into membership on 420 Singles.
That's pretty nifty but for me, it would depend on how much they charge for membership.
Well, the good news is that it's very cheap.
For a month's membership to the site – and all the messaging you could possibly want – you will pay just $10.49.
I think that's very reasonable and if you aren't patient enough to wait for a mutual match, it's something I would jump at in a heartbeat, that's for sure.
Are there any other extras that come with membership, however?
No, nothing.
Well, at that price, you can't really expect more can you?
1. If I swipe left past someone by mistake, can I see their profile again.
On many dating apps, if you swipe past someone, even by mistake, you cannot see their profile again.
Luckily, on 420 Singles, there is a workaround.
Simply go through all your potential matches and the app will ask you if you'd like to reload those that you have swiped past.
So if you make a mistake or want to see potential matches again, it is possible.
2. How do I deactivate my account?
420 Singles have made it super easy for you to deactivate your account.
Simple click on the main menu system at the top-left of the screen (the three horizontal stripes) and then scroll down the "deactivate account" option.
Click on that and your profile is immediately taken offline.
This is just about the perfect dating app for stoners.
It certainly provided me with tons of matchups to browse through and the quality of these matchups was high standard too.
Nothing could be easier than using 420 Singles either.
From downloading the app to registering and filling out their questionnaire which helps with matchups, I was online and browsing within 10 minutes.
While there's nothing fancy about the app, there doesn't need to be.
And in the ease of use department, it scores high although what did annoy me is that a fair percentage of users didn't complete their profile in full.
But that's a major bugbear of mine on any dating site.
It's there for a reason… use it.
But anyway, that's not the apps fault is it.
So for an overall rating, 420 Singles gets a deserved 4 out of 5.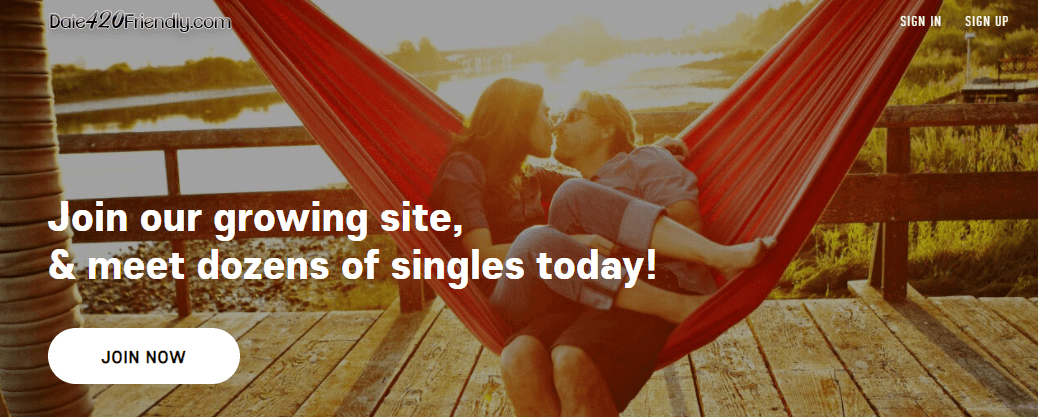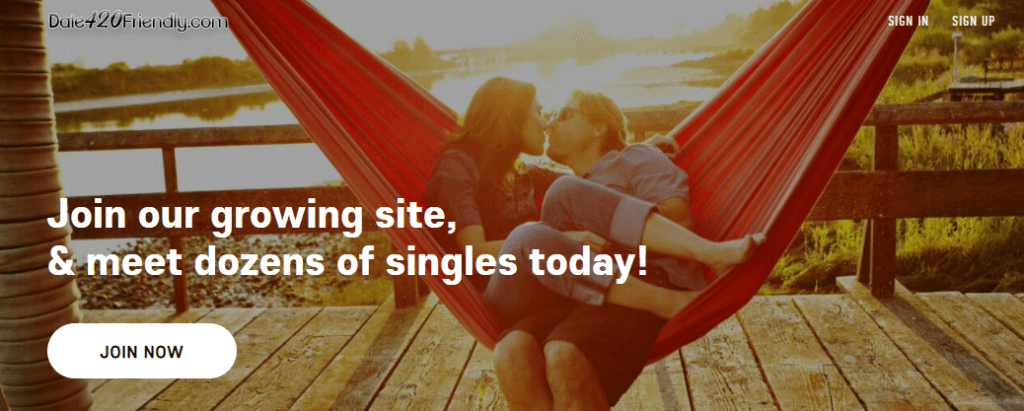 Signing Up – 4/5
Making Contact – 3/5
Profile Quality – 3/5
Overall Quality – 4/5
Well-designed website
It's free


Ease of Use "mobile and desktop version"
This is another website-only stoner dating community.
The registration process for starting your profile on the site is relatively painless.
Obviously, you've got to provide some critical bits of information to complete it, for example, a username, password and email address.
Don't make the mistake of not scrolling down your screen when you click "join" the first time.
At first, it doesn't look like anything has happened but if you scroll down, you will see there is a profile registration process that needs to be completed.
Here you will provide:
Why you want to use the site (for fun, for whatever, for dating, for friendship. You can choose all four if you want)
Your date of birth
The age range of your matches
An about me section
Various appearance parameters
Various lifestyle parameters
Once you've done all that (it won't take more than a few minutes) you are ready to start your quest for stoner love.
Date 420 Friendly has a simple design that includes a few unique features.
For example, it has a social networking element to it with a Newsfeed.
Here you can see when people have joined up to the site, for example.
The homepage or dashboard as the site calls it also includes your matches, a quick search bar, a link to your profile and any bookmarks you've added.
The site also makes use of a menu system, found at the top of the screen.
This includes links to the dashboard, photos of other users, your matches, a link to the search engine and more.
Other than the matches that the site provides you with, you can also search for your own.
To do this, you can either use the quick search bar found on the dashboard or make use of the more advanced search engine where you can specify certain parameters and adjust the search to your liking.
If you've found someone you like, you can follow their profile, wink at them, add them to your bookmarks.
And guess what?
Should you want to reach out to them, you can.
That's because everything on Date 420 Friendly is totally free, including messaging.
There is no cost at all for Date 420 Friendly, the site is free for all users, even all the added features like sending virtual gifts to others.
Interestingly, there is an indication that you can have the adverts removed from the site as part of a membership package.
This is the only extra it offers from what regular users can do on the site.
I couldn't find anywhere to sign up for it, however, and it's not like the advertising was intrusive at all anyway.
1. How do I block someone on Date 420 Friendly?
If you'd like to block someone, you can do so from their profile.
Under the "More" menu, you will find the "Block" option in red.
Click on that to block them.
2. Can I see if other users are compatible with me?
Yes, you can.
Fill in your profile in full and then when you click on other users, you will see a compatibility rating.
This is useful to help you find people that are similar to yourself.
Date 420 Friendly is a stoner site that's got a lot going for it.
To start, it's free and who doesn't like that?
The registration process is super quick and together with completing your profile, you can be making use of the site within five to ten minutes.
Overall, the design is super functional, but the green color scheme can get a bit much.
If I had one negative about the site is that the user base is pretty small but without a doubt, it's growing.
However, it does lose some points when it comes to an overall rating because of this.
But for ease of use alone and the fact that you don't have to pay a cent to use it, Date 420 Friendly gets my vote.
As for an overall rating, it gets 3.5 out of 5.