Online dating is getting more and more popular, and as a result, new platforms are born, providing people a unique opportunity to find their love.
It doesn't matter if you are shy, or prefer people of the same sex, looking for some kinky partner or some fursona to spend time with, you can find anything and everything.
If you are on the quest for the best furry dating app, look no more, as we've created a special list of the top five most visited one.
Our guide features:
OFL Top Recommendations based on 100,000+ Survey

"Serious Relationships"
"Discreet Hookups"
"Best Course for Men"
"Quick Flings"
"Normal Hookups"
"Our Quiz"
So, stay with us and keep reading to find out which are the best furry dating apps and WHY!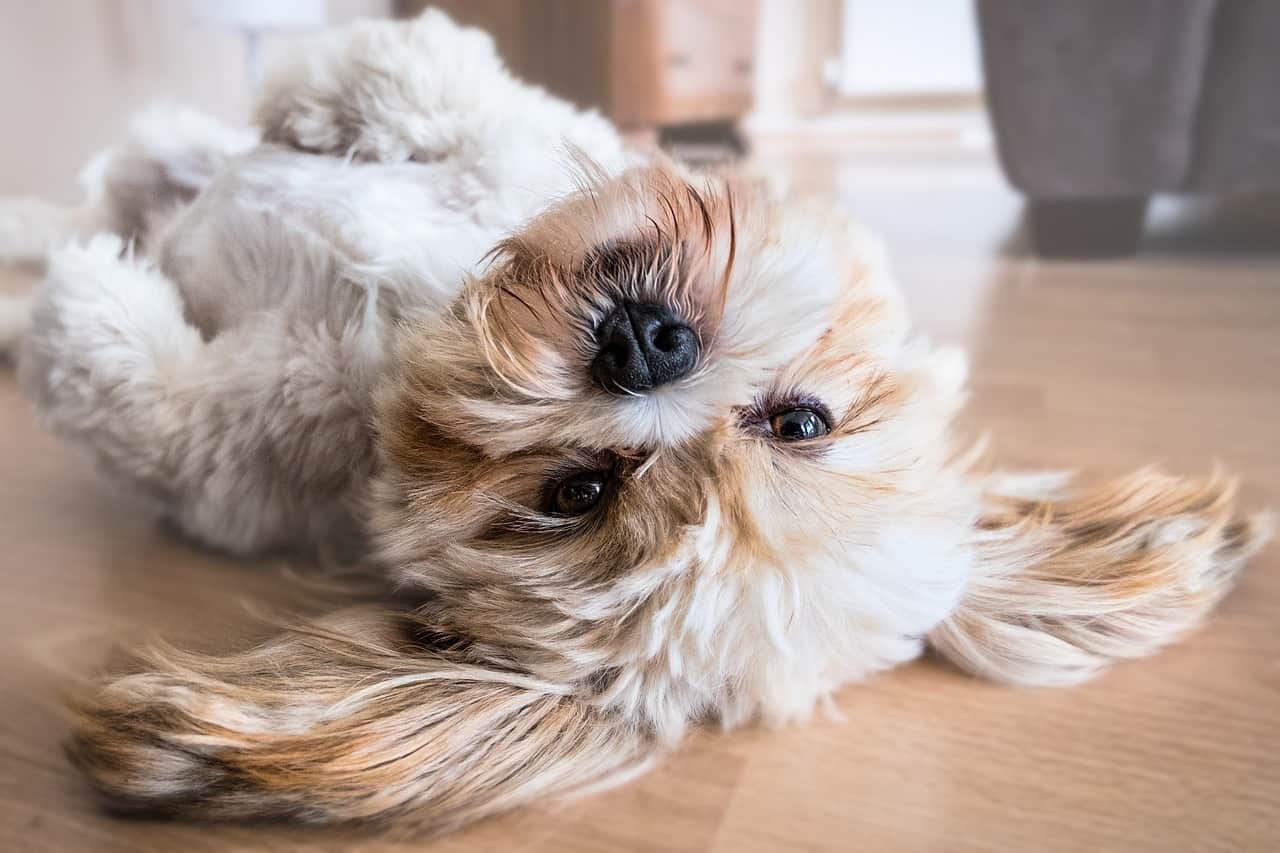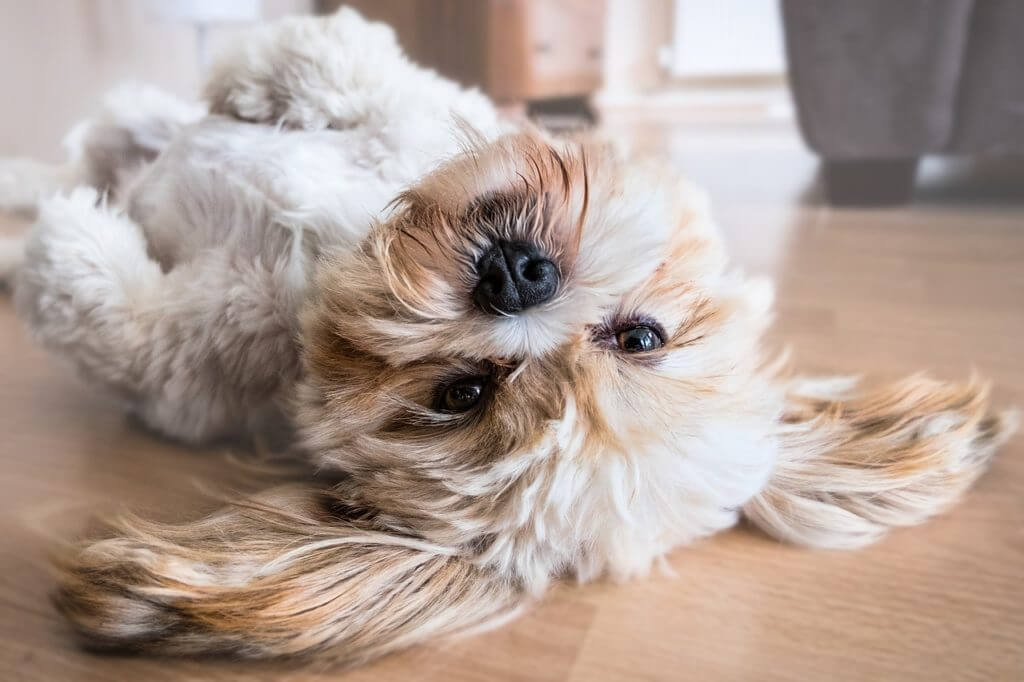 Is your dating app giving you the best chance for success?
Make sure to take our online dating site/app quiz to find out.
People who follow our dating site suggestions have on average 2 more dates per month.
Best Furry Dating Apps in Video Form
Audio (podcast) form for those of you on the go


Signing up – 5/5
Making Contact – 4.6/5
Profile Quality – 4.8/5
Overall Quality – 4.82/5
The amazing base of subscribers
Plenty of active members
Free downloadable apps for Apple and Android
Diversity of options for profile adjustment
The versatility of search filters
Free membership comes with annoying pop-up adds
Problems with scammers and fake profiles
Observing the countries worldwide, the majority of visitors comes from the United States, while Spain takes second place.
In terms of age, members are mostly younger, let's say between 25 and 34, but that doesn't mean that those over 35 are not welcome.
The only limitation regarding ages is for those who are under 18- they cannot become members of Ferzu.
Having in mind that furry fandom encourages diversity, we can say that this matchmaking platform is suitable for everyone.
It's an excellent choice for those who want to experiment and those who are still exploring their own personality.
One of the reasons why Ferzu ended up as the best furry dating app on our list is that both furries and ordinary people can become members.
There's no discrimination, anyone can visit the platform, create a profile, and explore this world of wonderful and unique personas.
Plus, furries are famous for being excellent artists, so it's also a great option for those who want to enjoy a plethora of amazing illustrations.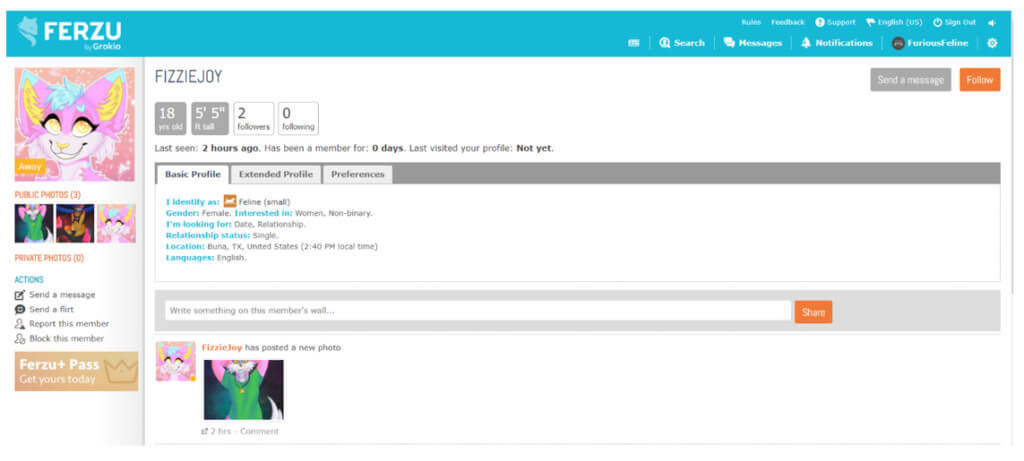 Being extremely user-friendly, this app allows even those who are just getting started to find their way around in just a couple of clicks.
To become a member, you basically need a valid e-mail address and a nickname, that's all.
The page is well-organized, with main categories clearly and visibly displayed, so exploring and navigating is a piece of cake.
1. Can I join Ferzu for free?
Yes, of course- there are no costs for registration, you can open the account without any costs, and start looking for amazing fursonas.
Of course, there's an upgraded subscription as well, which comes with various perks and benefits, compared to the free package of services.
2. Is Ferzu legit app for furries?
Yes, it is, and it's a number one place where you can find your new furry friend or partner.
The site itself was established in 2016, meaning it's among the younger brands in the industry, but it rapidly gained the reputation of a must-visit destination.
3. Which features are available on Ferzu?
One of the most outstanding things about this platform is that it offers a wealth of options to adjust the profile and make it more visible.
There are plenty of gender options, the option to set a body type (yours as well as the one you prefer), the possibility to write your interests, furry memories, and so on.
The more of those you include, the higher are the chances to find some interesting fursona.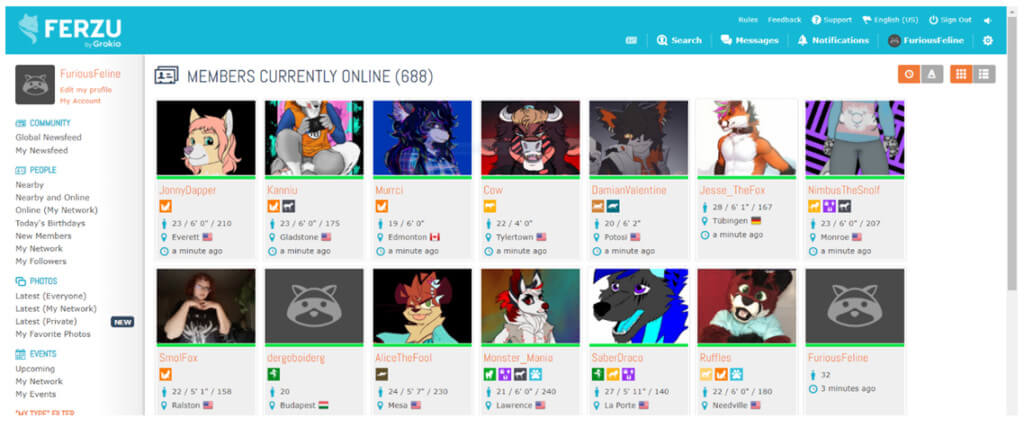 Taking all the factors into consideration, the Ferzu app deserves a rather high rating due to so many adjustment options and opportunities to get in touch with fursonas.
The final score for this one is 4.82, which is more than excellent.
What spoils the impression a bit are those issues with scammers, but unfortunately all online dating websites are dealing with it.
With various payment plans, even premium membership is more than affordable, giving you the option to level up your furry dating experience.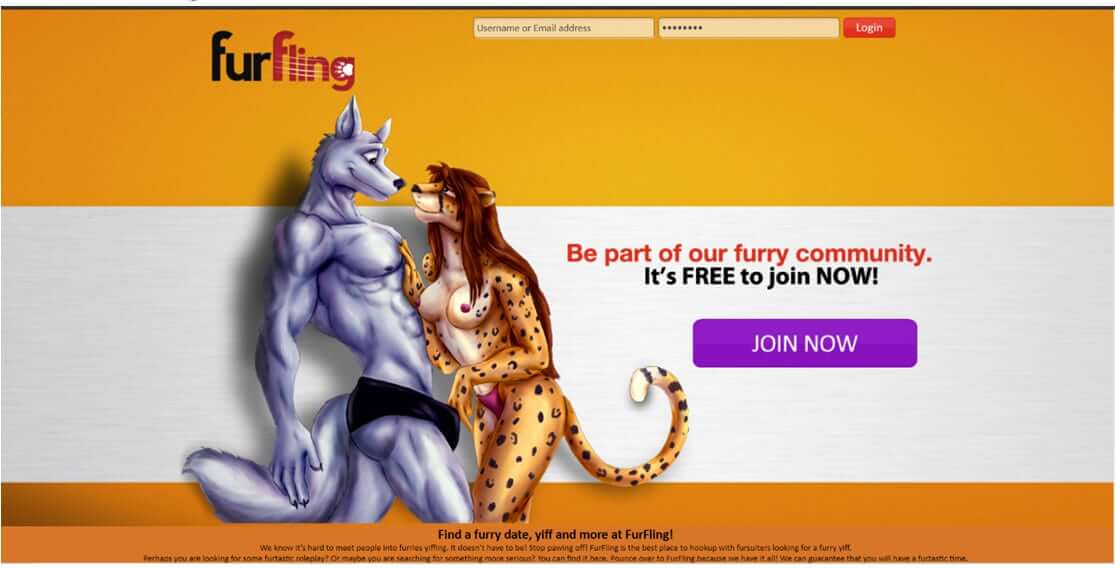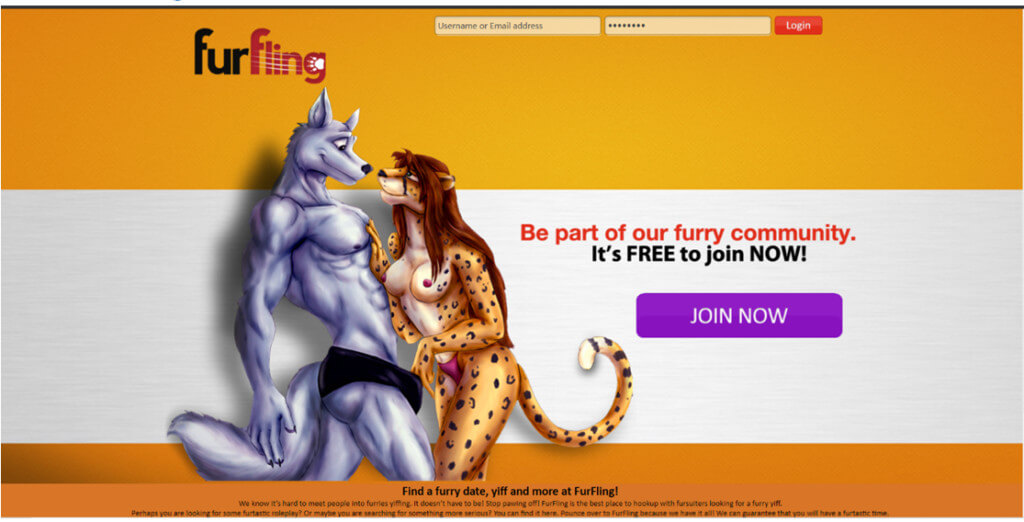 Signing up – 4.3/5
Making Contact – 4.3/5
Profile Quality – 4.2/5
Overall Quality – 4.26/5
Active platform with lots of members
The registration process is not complicated
Suitable for both making friends and seeking partners
Adult content allowed
Issues with fake profiles
Multiple notifications from accounts with no pics
Looking at the countries from which members come, a huge share of them is from the USA, followed by Canada and the United Kingdom.
As for the contribution from social networks, 72.03% of visits come from Facebook, while the remaining part is from YouTube.
Just like all the other competitors, this one is meant for people in mid-20s to mid-30s, but even those above that age limit are more than welcome to join the site and meet furries worldwide.
What differs this one from the vast majority of platforms is the possibility to exchange adult content.
All these furry dating apps are meant for the open-minded, but even in that case, a limit is set for the type of permitted content.
This one imposes no limits, as long as it's not offensive or rude, so this implies that the site is built for those who are not afraid of engaging in a bit more erotic conversation.
Needless to stress out, it's another fine platform where you can meet fursonas from all over the world, and exchange experience with them.
As you can assume, the registration process is relatively simple, what you need is some basic personal data, such as user name, country, age, gender, photo, and a couple of more.
Just like other online dating websites, this one doesn't allow those under 18 to become members.
It is optimized for both computers and mobile devices, but at the moment of our visit, we encountered no information regarding apps.
You can communicate with others by sending a wink, a message, or even a hookup request, but do note that not all the options are available to those who don't have a premium membership.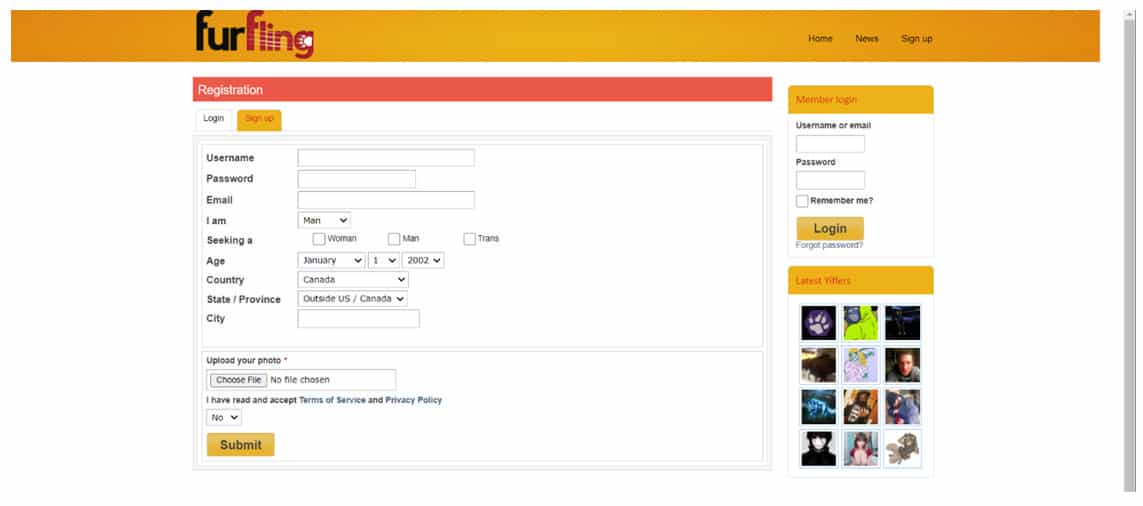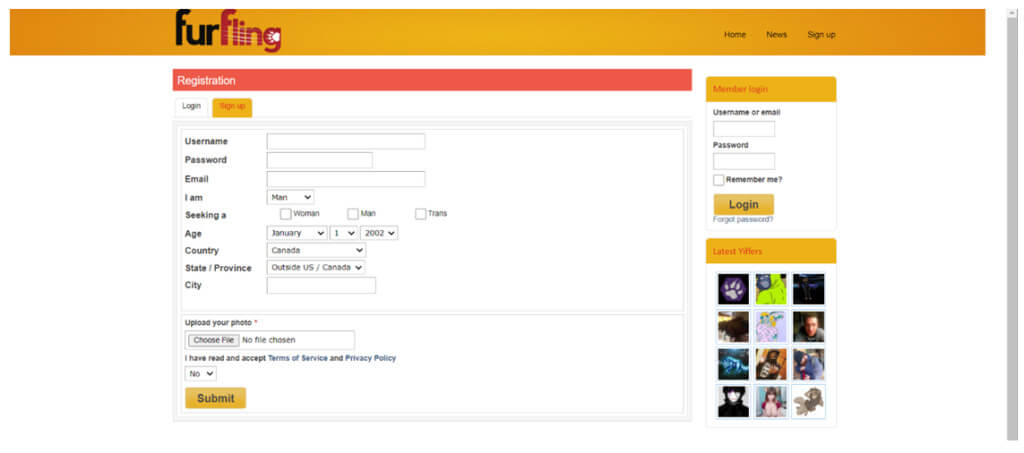 1. Can I join FurFling for free?
Yes, of course, if you want to open an account and join this busy dating platform, you can do so without having to pay anything.
Of course, if you want access to some special features and more diverse tools and options, what you need is an upgrade to the membership.
2. Is FurFling a legit app for furries?
Yes, it is. This is a dedicated dating page and social network for those who are interested in meeting people from the furry community.
It's even for those who want to find out more about the world of furries.
3. Which features are available on FurFling?
Aside from the search function, one can send and receive private messages, or communicate in teal-time, thanks to instant chat service. You can even send winks.
There are many other extras as well, but do note that the scope is very limited for those with free subscription.
With the final score of 4.26 out of 5, FurFling is a place for naughty furries- guess that describes the very essence of this matchmaking platform.
It would be great to have some additional options and to find a good way to minimize those issues with scammers.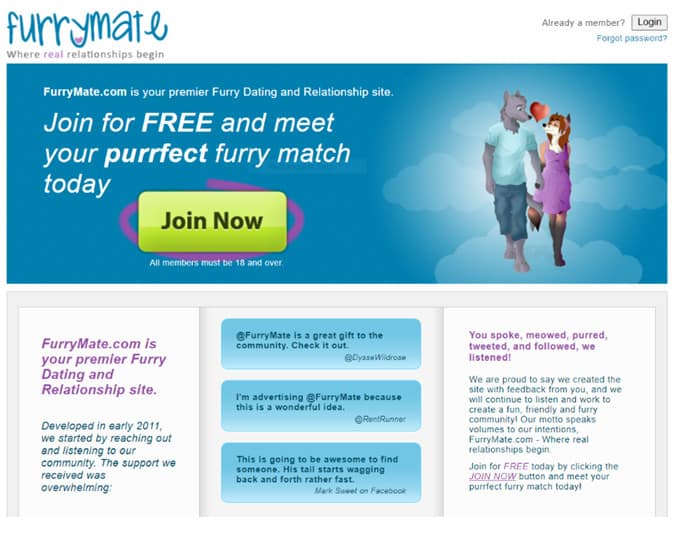 Signing up –4.1/5
Making Contact – 4/5
Profile Quality – 4.3/5
Overall Quality – 4.13/5
Featured in respectable portals such as GQ Magazine, Huffington Post, Reuters (Wall Street Journal)
A plethora of active members
Almost a decade in the online dating industry
Issues with fake accounts bots who were used to lure members into upgrading their subscription to paid
A modest selection of features
No apps for mobile phones
Come to think of a profile of people who are mostly interested in furry fandom, the approximate age group would be those in mid-twenties to mid-thirties.
That's precisely the majority of members using Furrymate.
In terms of gender and sexuality, there are absolutely no limits whatsoever, this platform promotes freedom and diversity.
If you take prices as a parameter, then the cost of services is a bit on the higher end, and as a free member, you don't have as many options to communicate as those who have paid subscriptions.
This platform is a good choice for those looking for a simple and straight-forward platform where they can find someone likeminded.
That someone can be either a dear friend or a partner, it really doesn't matter, the app is crowded with visitors.
Comparing the stats from 2011, and 2012, the growth of the membership base was more than impressive. In June 2011, the number was 4000, but in December next year, there were more than 12,000 members.
This is a good indicator that certain quality is recognized.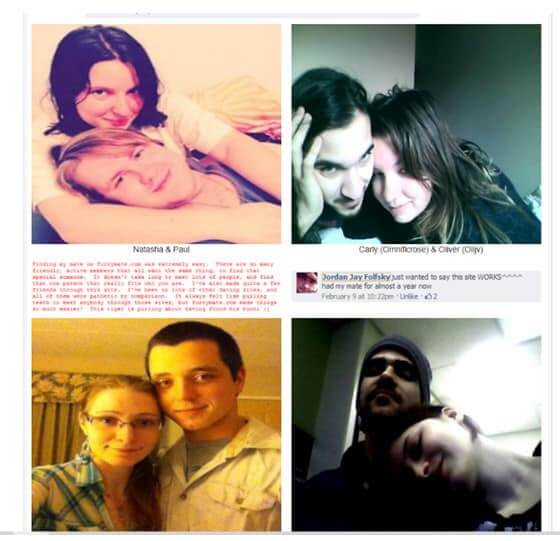 The registration procedure is not complex at all- after all, why complicating when the reason why someone wants to become a member is obvious.
What you should do is fill in a simple form with some basic information, upload a pic, and there you have it- you are part of this furry community.
This can be done both on desktop and mobile- so you can get down to finding someone that fits your preferences even when out and about.
But, sadly, to date, no apps for Android and Apple were made.
1. Can I join Furrymate for free?
Absolutely yes, basic membership incurs no costs, and you can even send messages for free.
If you want to experience the upgraded version of this app, you can opt for a premium subscription, which comes with a fine scope of leveled up services.
2. Is Furrymate a legit app for furries?
Yes, it is, it's among the top-visited brands dedicated to the furry fandom.
So many active members and new ones keep coming only confirm that Furrymate is legit.
3. Which features are available on Furrymate?
Let's say some basic package of features is available.
Members can search other members using some of the following filters- gender, age, with pic only or see who's online at the moment.
There's also an instant messenger option that allows you to set the status as you prefer- offline, invisible, and so on.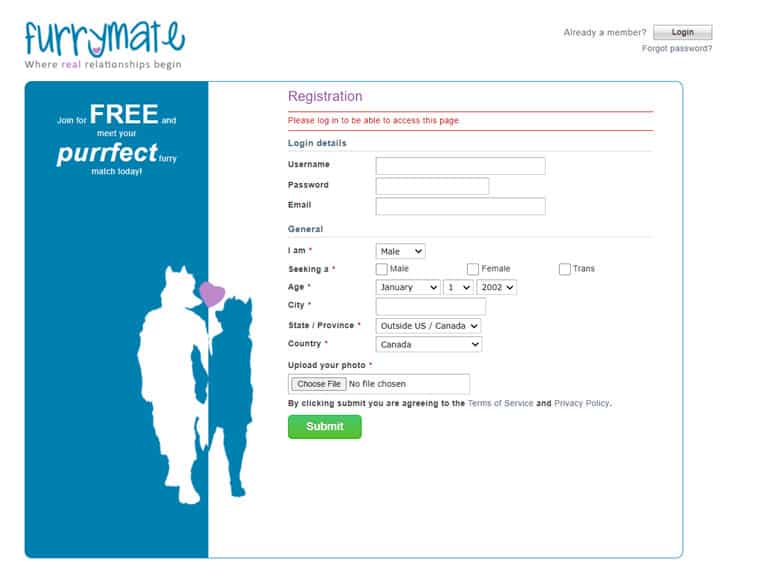 In the end, Furrymate deserves 4.13 out of 5, mainly because the apps are missing from the offering.
As for the rest of the services, they are more or less okay, nothing particularly unique, but no too boring as well.
Some more exciting features certainly wouldn't hurt, and would certainly add more quality to the experience.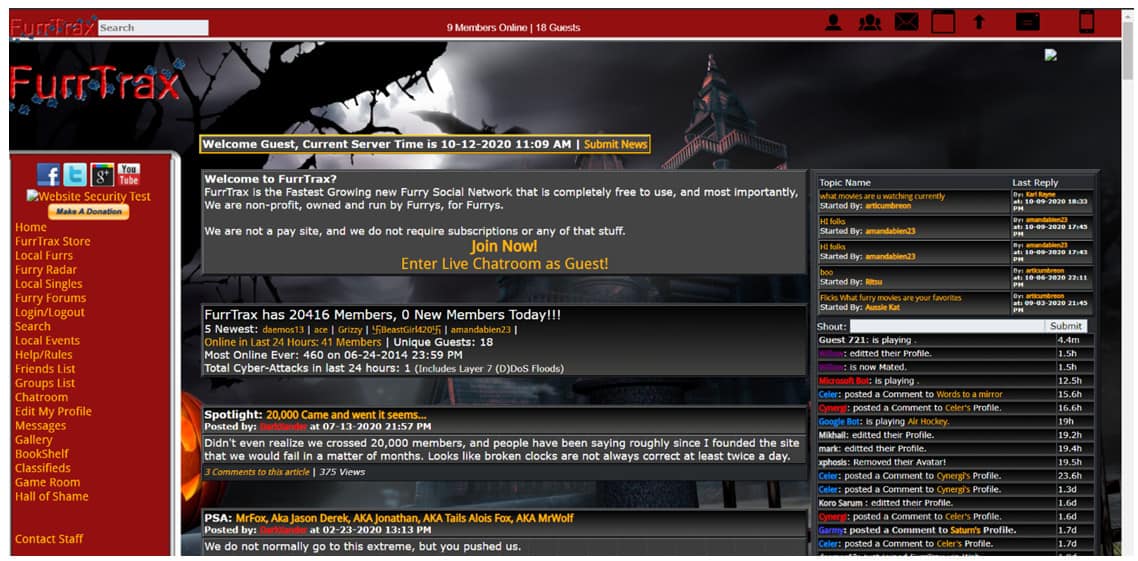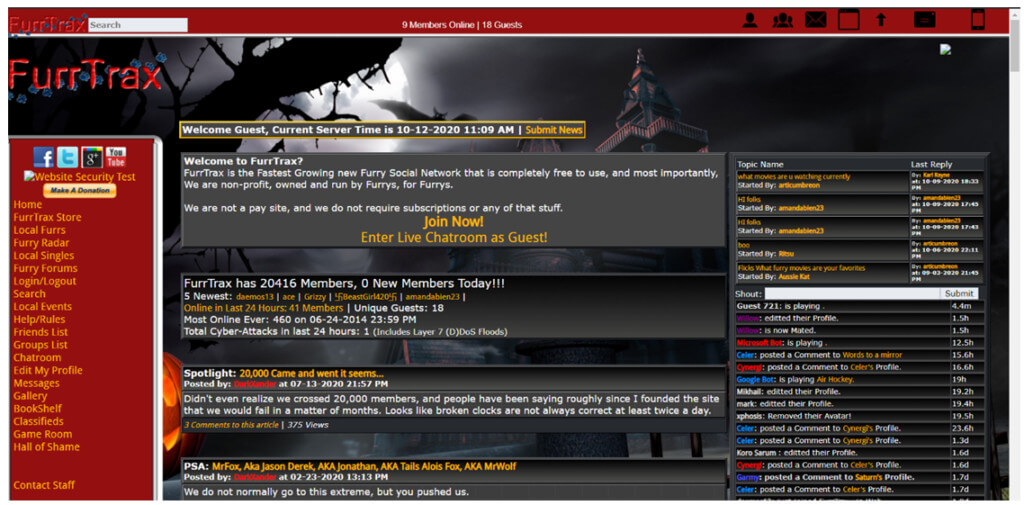 Signing up – 4/5
Making Contact – 4/5
Profile Quality – 4/5
Overall Quality – 4/5
Social network and matchmaking platform
Android app for mobile devices
A fine selection of features
Very busy and active community
No bots on the website, only real people
No app for Apple gadgets
Visuals are not the prettiest ones
Just like all other furry dating apps this one also gathers people between 25 and 35, but even those over this age limit are more than welcome.
There are no discriminatory conditions regarding sexuality, ethnicity, gender, or anything- everyone can join.
Naturally, the only rule to follow is to listen to common sense and be polite to other members when communicating, exchanging pics, and so on.
Of course, minors cannot join until they are over 18.
This matchmaking corner is for those who want to participate in various events, find some new friends, communicate and meet with other furries who live nearby, and more than that.
Being both a dating platform and social network, this project was built with the purpose to help those who belong to the furry community organize well and manage to find those who share the same interests faster.
Due to the uniqueness of all the features, I can freely say it's meant for those who are looking for a highly-interactive place to communicate with other fursonas.
The developer himself stresses out that using bots to attract people to pay membership is 100% un-ethical, which is why he decided to offer a variety of options at no cost.
Simplifying the registration procedure maximally, you only need an e-mail to become a member, that's all, and you can explore a wealth of options displayed out there.
The page works just as fine both on mobile devices and desktop, with a dedicated downloadable app for Android.
Though not spectacular in terms of visuals, it surely is more than functional and simple to navigate.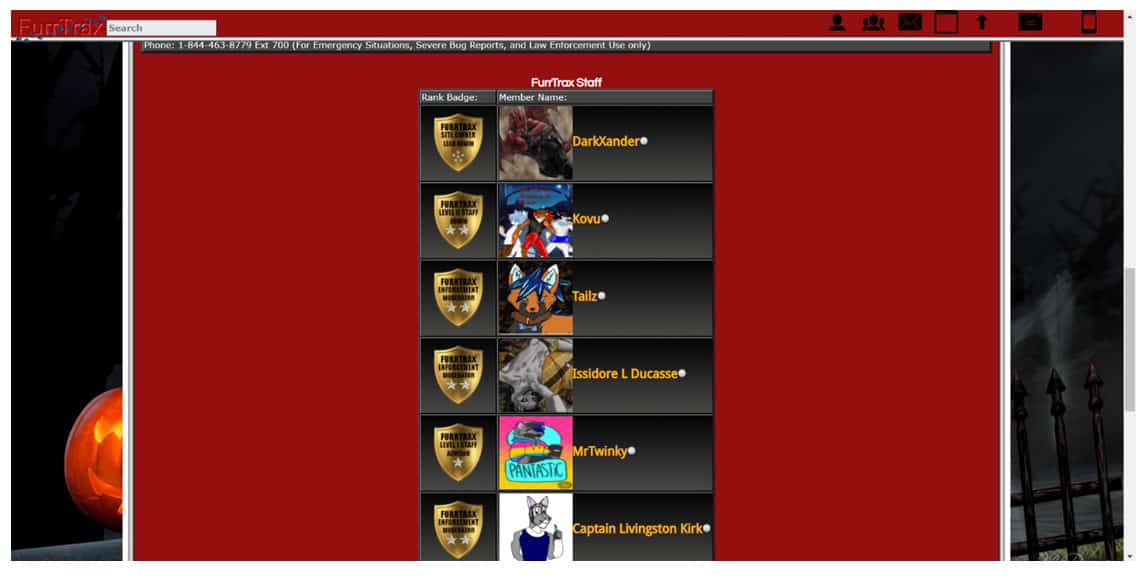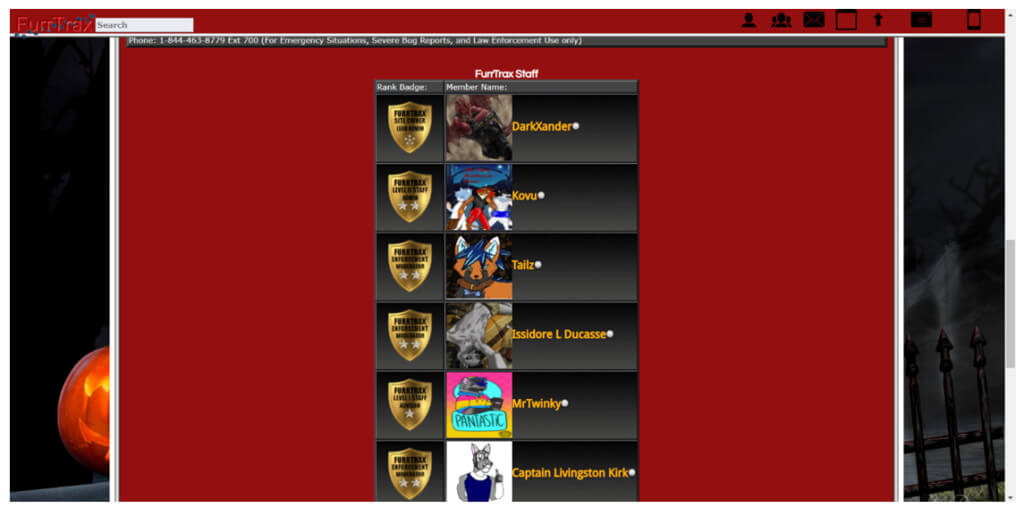 Best Furry Dating Apps – FAQs
1. Can I join FurrTrax for free?
Absolutely, to become a member of this busy platform, one doesn't have to pay anything.
But, if you are interested in obtaining something from the store, then you'll need to spend some money.
2. Is FurrTrax a legit app for furries?
Yes, it is, it's a great place to encounter other furries, exchange experiences with them, and much more.
Worth stressing out is that the founder of the site is a highly experienced programmer, who acquired valuable knowledge by working in both the Private and Government IT sector.
This means safety is on the highest level possible, with minimal or almost non-existent issues with fake profiles.
3. Which features are available on FurrTrax?
The platform is crowded with unique features such as Game Room, Local Events, Furry Radar, Hall of Shame, and many more.
This indicates that the team behind this platform wanted to create as many as possible opportunities for people to communicate with each other.
The main reason why this platform is marked 4 out of 5 is not so visually impressive surface.
You may call me a spoiled user, but when you analyze dating websites nowadays, they put plenty of attention to the main page and overall structure of the site.
This one looks a bit outdated compared to the majority of competitors.
Nevertheless, it still serves the main purpose- connecting furries from all over the world.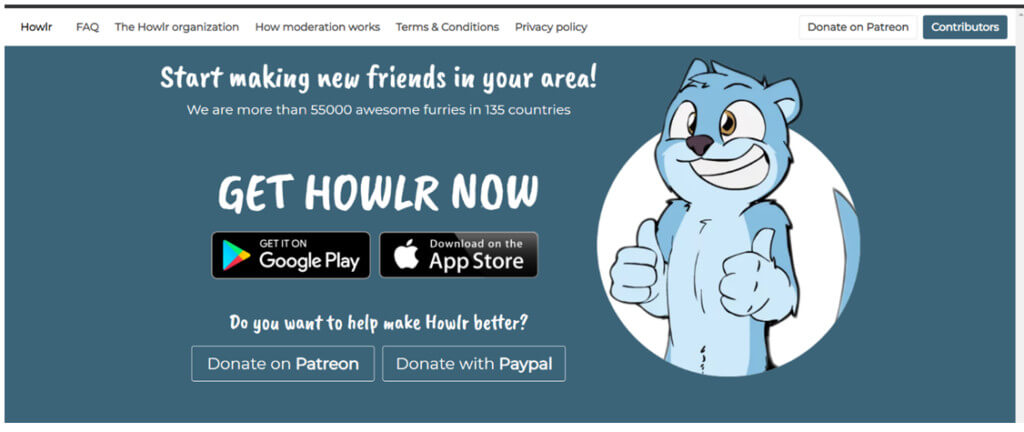 Signing up – 3.5/5
Making Contact – 3.7/5
Profile Quality – 3.8/5
Overall Quality – 3.66/5
Downloadable apps on Apple Store and Google Play
There are no distracting adds
Only those who have Telegram can register
Reputation spoiled due to intrigues involving the founder
Annoyingly glitchy interface
People tend to steal other members' art
No desktop version
Based on the available data for the Android app, this app is popular in the United Kingdom, France, and Germany.
Back when it appeared, Howlr had a much better ranking than today, as it was a fresh and new matchmaking platform on the furry scene, which was just beginning to expand.
Just like the previously mentioned competitors, the majority of users are between 25 and 34, but of course, even those above this age group are free to pay a visit.
Of course, underage visitors will be permanently banned, but they can join this furry community as soon as they turn 18.
Just like all other dating apps for furries, this one is meant for those who want to sneak peek into this unique and intriguing world of furry fans and see what's all the fuss about.
Platforms like this one allow fursonas to find someone like-minded and allow those who are curious to explore this universe to create a profile and meet amazing people out there.
Exploring this furry dating app will be more than simple- if you have Telegram. If not, you cannot even become a member.
Yes, the purpose of this is a higher level of security, as banned users can be tracked easily, but there are sure some better ways to keep security at a desirable level and allow those without Telegram to register.
As for the options, you can chat and send pics (NSFW are allowed in chats), but there's nothing beyond that.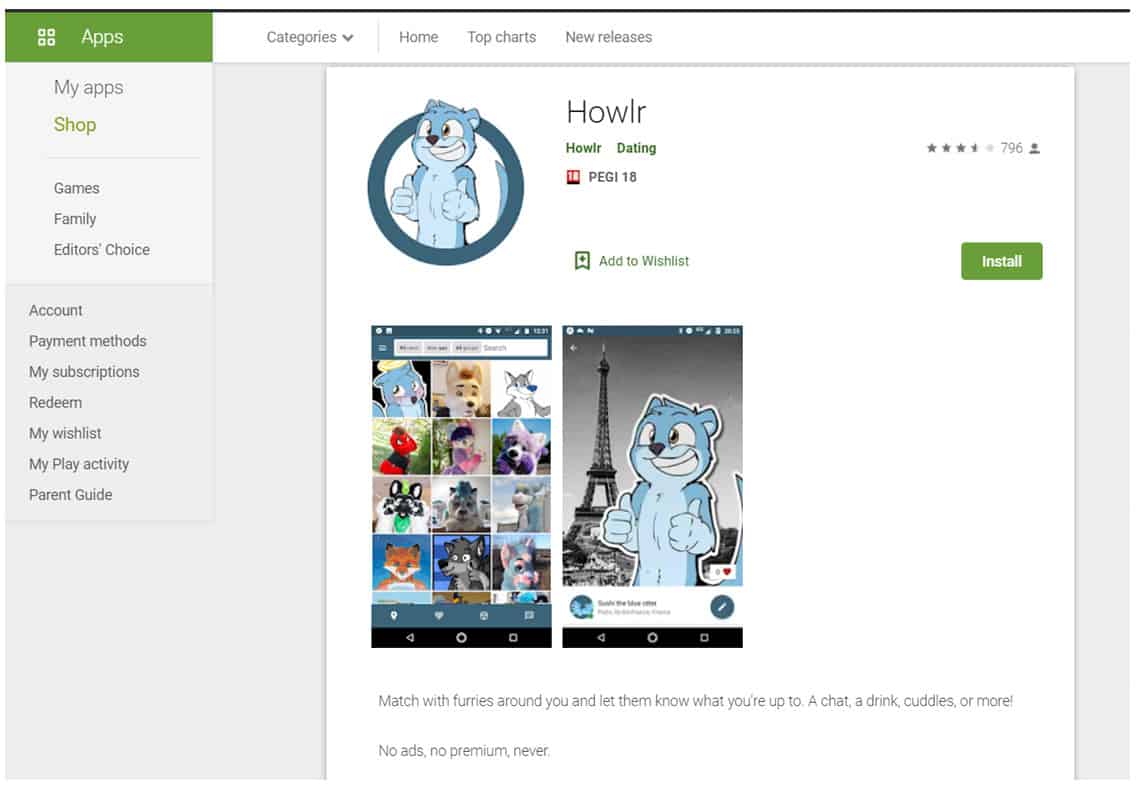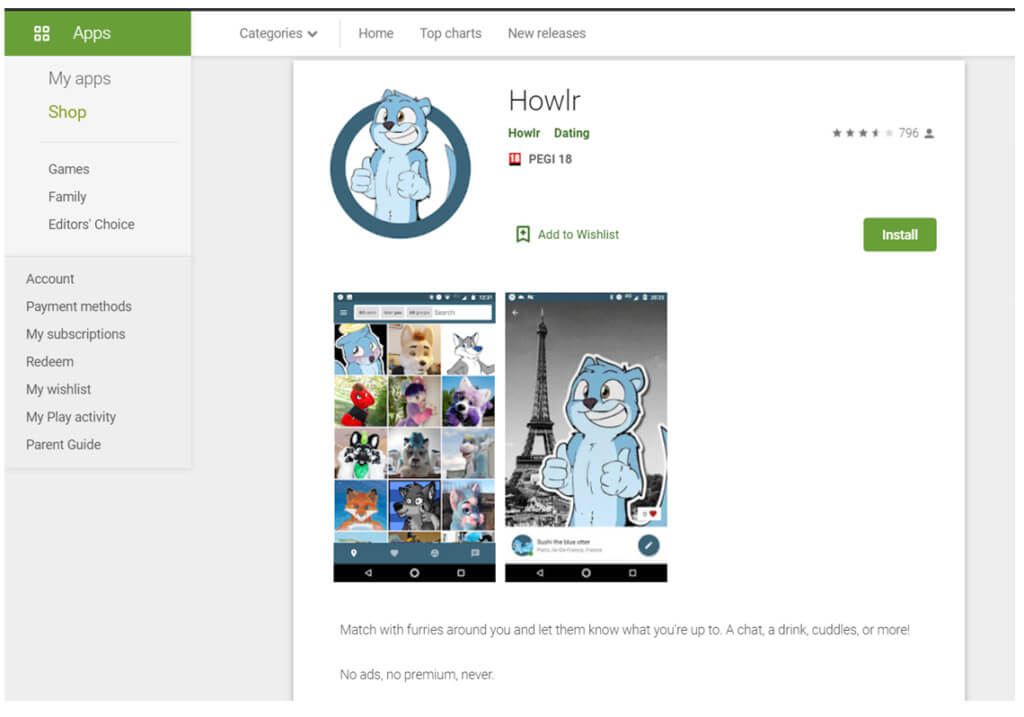 1. Can I join Howlr for free?
Yes, you can. To be more precise, this is the only option, as there's no paid subscription.
On the other hand, the website relies on donations, so you can, if you want to, give some money to support the work and funding.
But you are not obliged to do so, even without payment, you can become a member if you have Telegram.
2. Is Howlr a legit app for furries?
At first, it was, but its reputation slipped off due to some controversies involving the founder's questionable behaviour.
The platform is still active, there are plenty of Android and Apple users, but it's not even close to initial popularity.
3. Which features are available on Howlr?
Not too many are available- one creates a profile and joins groups, and there's Like option as well.
Suggestions are filtered based on the information on one's profile.
With the final score of 3.66, you can see that this app is way below the abovementioned selection.
Still, we included it on the list only because it's a furry-oriented dating app, for those who want to be given as many different options as possible.
We wouldn't definitely recommend Howlr as the first choice, but if you've tested all the suggestions from my list, and you still need some additional apps, you can try it.
But approach it carefully with your eyes open widely.
Knowing that this branch of online dating is still in development, it doesn't come as a surprise that the selection of websites is relatively modest.
Unlike some other niches such as ordinary heterosexual encounters, websites aiming to introduce you to people from Asia, Latin America, homosexuals, seniors, and whatnot, furry dating apps are not as numerous.
Therefore, it's nice to know some other alternatives exist.
For example- eHarmony, Elite Singles, and Match.com are some of the most visited pages with a continuously growing network of members.
They all have positive ratings, a plethora of features as well as an active base of users.
As I said, there are not specialized in furry dating, but paying a visit just for the sake of curiosity definitely won't hurt, so suit yourself.
Having in mind the specific niche, there aren't too many platforms specialized in dating furries, but still, there's more than enough to be able to tell which one's worth it.
I truly hope my guide helped you get to know the best furry dating apps a bit better.
Have you already found your favorite furry dating app so far, and how do you like it?
Share your precious experience with us in the comment section below, I can't wait to hear from you!