Hello there!
I hope you are doing great and are ready to read about the 4 best dating sites in India!
With its population of about 1.4 billion people, India is the second-most populous country in the world!
No wonder there are hundreds of dating sites that are offered on this market, but based on our research and the statistics, these 4 are the very best dating sites in India!
OFL Top Recommendations based on 100,000+ Survey

"Serious Relationships"
"Discreet Hookups"
"Best Course for Men"
"Quick Flings"
"Normal Hookups"
"Our Quiz"
In a bit to find the Best Dating Sites in India, we reviewed sites based on:
Let's get down to it!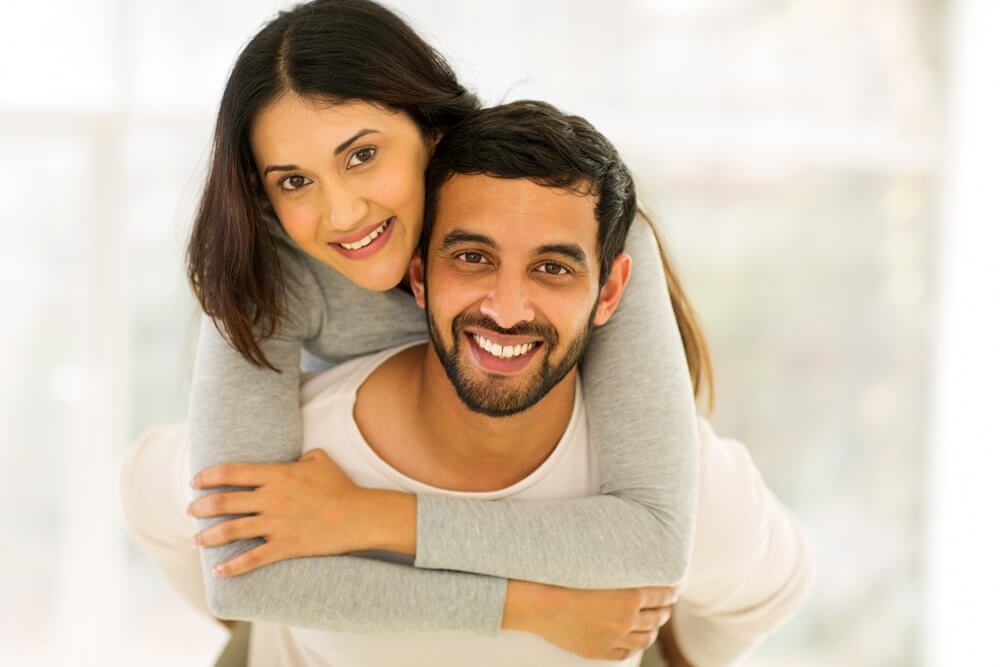 Is your dating app giving you the best chance for success?
Make sure to take our online dating site/app quiz to find out.
People who follow our dating site suggestions have on average 2 more dates per month.
Best Indian Dating Sites in Video Form
Audio (podcast) form for those of you on the go
Best Dating Sites in India

Signing up – 4/5
Making Contact – 4/5
Profile Quality – 3/5
Overall Quality – 4/5
The most popular dating app in the world
50+ million users from 190 countries
Functional free version
Fun and easy to use
Profiles aren't detailed
Tends to cause compulsive use
Believe it or not, Tinder is your best option for online dating no matter where you are!
Tinder is the biggest dating website out there.
It is the #1 dating app in most countries worldwide, and if not the first, then it gets second or third place.
It has a huge user pool of more than 57 million people who use it in around 190 countries!
These numbers are just one of the reasons why this app rocks and can help you with your love pursuit.
No matter if you are looking for a hookup, casual dating, or something more serious, you will be able to find it on there, however, we must mention that the last option is a bit less common.
It is just only for hookups (like BeNaughty or Ashley Madison) or only for serious relationships (like eHarmony).
This is because Tinder is perceived in a certain manner – as the app for more casual encounters.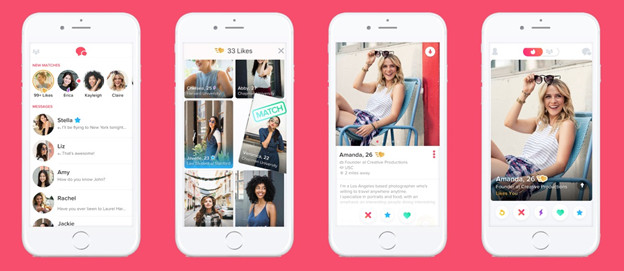 But, don't worry if this is not your deal, since there are people who look for long-term commitments as well.
Also, when it comes to sexual orientations, Tinder is a very diverse online network that welcomes members who have different preferences – gays, lesbians, threesomes, bis, and other fetishes.
You name it, it can be found there.
Most of the users are between 25 and 34 years old, while the second-largest age group is the 18-24 years old one.
Users are pretty active and only in India more than 7.5 million swipes happen every day!
And this was a statistic from 2016, imagine how bigger the number is nowadays!
Another interesting fact is that the highest activity happens from 7-9 pm when members finally sit down after a long day and relax.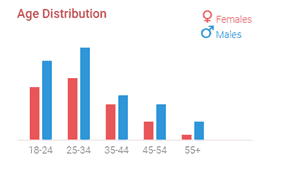 Ease of Use "mobile and desktop version"
When it comes to its functionality and ease of use, Tinder is a top-notch app that works perfectly!
First of all, you can use it on your desktop computer if that's what you prefer, but also on your phone, where millions of people use it primarily.
The app version can be downloaded for free from the App and Play Store.
Secondly, Tinder's design is amazing! It is very clean, modern, minimalistic, and well organized with clear labels and large fonts.
Once you get a hang of it, which takes up to several minutes, you are good to go!
Thirdly, one thing that millions of people love is its fast registration process, since younger people who are on there don't want to waste their time on boring and long questionnaires.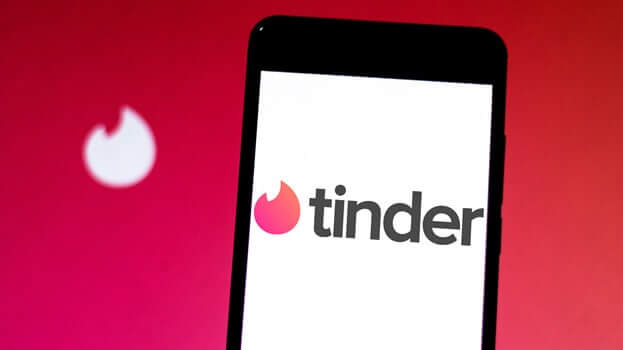 You will be asked to add your e-mail address, first name, birthday, gender, and profile photo. As simple as that!
After you confirm your e-mail you will be all set to start browsing through the network!
The whole point is to find people near your location, however, if you have one of the two premium plans you will be able to unlock a feature that will let you look for users around the globe.
As you can see there are only a few search criteria – gender, preferred distance from your location, and age range.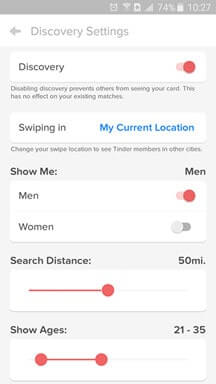 Once you adjust that you will be given a stack of profiles through which you will swipe either right, in case you like someone, or left if you wish to pass.
Unless you don't have a premium version, you won't know who liked you, unless you both like each other, after which a match will be made, and contacting each other will be enabled.
Some of the interesting features are:
This is the above-mentioned feature that lets you browse members in other countries and not only up to 100 miles away from your location.
It is very helpful in case you live in a very rural area, or if you simply want to meet someone of another nationality.
When you start swiping, it will become a very automated motion that will easily cause you to make a mistake here and there.
So, in case you swipe left or right accidentally, Rewind will let you see the last profile again and change your decision.
As the name itself suggests, this feature helps you show someone that you fancy them and hope they swipe right on you as well, so that you get matched. Free users get only 1 superlike per day, so they need to be careful with it.
In case you would like to have your profile highlighted and shown on top of more users' profile stacks, this is the feature to use. However, Super Boost is locked with a premium version.
What we loved about Tinder was its fully functional free version and the fact that you are not obligated to go premium due to the poor free content.
Thanks to this, you can swipe, send Superlikes, and chat for free.
However, if you would like to enjoy more great features, there are two premium memberships – Tinder Gold and Tinder Plus.
Have a look at the difference between these two and their prices in the pictures below.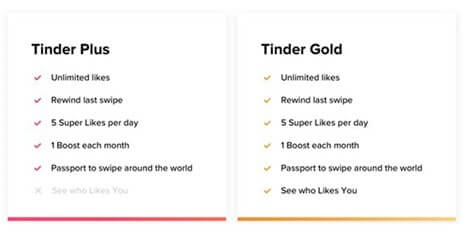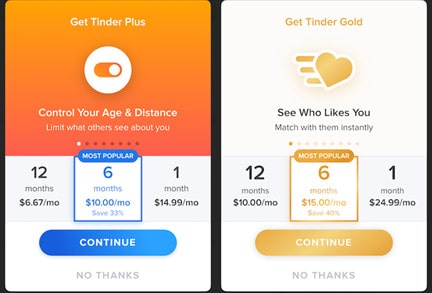 1. Is it possible to use Tinder on the computer?
Yes, it is. There is a fully functional desktop version though which you can also engage in swiping and have the completely same experience like on your phone.
2. How many users are there on Tinder?
There are more than 57 million users who come from 190 countries.
If you wish to become part of the most popular dating app in the world, have fun swiping, chatting, and meeting people of all sorts of backgrounds and even nationalities, and find yourself in a chill surrounding, then Tinder is your best dating site in India.

Signing up – 4/5
Making Contact – 5/5
Profile Quality – 5/5
Overall Quality – 4.5/5
Very fun and interesting to use
The second best dating app India
Very liberal with 22 sexual orientation and 13 gender identifications
Pretty creative and interesting questionnaires
There are many fake profiles
You won't be able to see many users in rural areas
This is another huge international dating website with an enormous user base, which subsequently makes it highly popular in India as well.
It is known for its very liberal views and the fact that they attract people of all kinds of sexual orientations and genders.
This is the place to go if you wish to find someone who isn't only "male" or "female" or the classic heterosexual type.
In addition to this, you can also pick your preferred pronoun thanks to the blank space which is left for it.
We are sure you understand now how non-conservative OkCupid is.
It was first founded way back in 2004, making it one of the oldest dating apps in the world, however, it was completely rebranded in 2018 to look like it does now.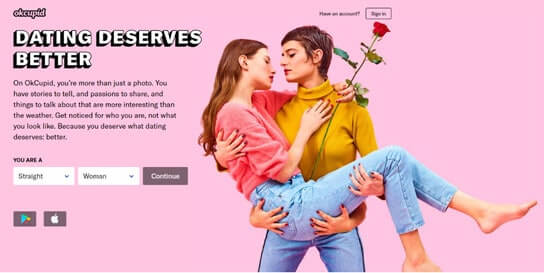 There are around 50 million members whose number rises every day, especially in such a populous country like India, and millions of people are active every day.
On average users fall into the 25-34 age group, however, those of other age are also numerous, which makes OkCupid one of the top dating apps in India.
With its diverse user pool in every sense of the word, we are sure you are very likely to find what you are looking for.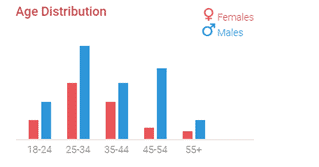 Ease of Use "mobile and desktop version"
If you've wondered how easy and simple is it to use this, one of the best dating apps in India, we are more than happy to say VERY easy!
First of all, there is an app version, so you can meet people, chat and have fun on the go and all that for free since it can be downloaded on both App and Play Store.
Secondly, its design is incredible, so colorful and inspirational that we were blown away! Everything is clear, colorful, and free from crazy and boring ads.
If you decide to join, you will find a pretty interesting way of doing it, other than adding your basic info.
OkCupid features a ton of amazing and creative questions that you can answer and have shown on your profile, so people can get an insight into who you are!
Believe it or not, there are more than 4500 of them, so dig in if that is fun to you!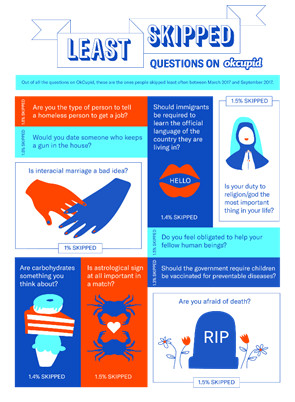 When it comes to communicating with other members it is the same like on Tinder – if you both don't like each other it is impossible to do it.
This was introduced as a safety measure, so you don't get a tone of unwanted messages from random people.
Some of the great features you will get to try are:
This is one of the three premium packages, but this one is special, because it lets you browse the network incognito, and the only people who will be able to see your presence are those whom you already messaged.
This is a feature that highlights your profile so it gets seen by thousands of people during a short time. Stats says that by using this option, more users will see it in a few minutes than a whole day without it.
This is a swiping game, which has become quite popular on many dating apps.
One of the best dating apps in India, OkCupid also features a blog that deals with many interesting and helpful topics – from maximizing your activity online, to dating and messaging tips.
OkCupid has a very functional free version which we loved about it.
It lets you register, see potential matches, sends and gets messages, as well as likes.
However, there are three premium versions – A-List Basic, A-List Premium, and the additional Incognito mode, that come at different prices and include various features.
Have a look at the prices in the picture below.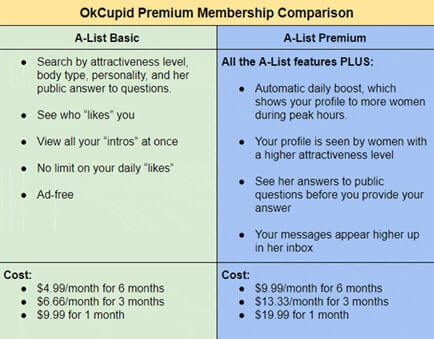 1. Can I get a refund if I don't use my membership all the way?
We are sorry to say this, but the answer is no primarily because OkCupid doesn't offer any refunds.
You will have to cancel your subscription while it's active and it will be stopped from the very next month.
2. What is a boost and how much does it cost?
Boost is a one-time highlight for your profile which will make it visible to many more users. It costs $3.99 if you purchase one and less in bundles – 5 go for $2.99 each and 10 for $2.49 each.
With an overall grade of 4.5/5, OkCupid is one of the best dating websites in India, no matter if you are looking for something casual or more serious.

Signing up – 3/5
Making Contact – 4/5
Profile Quality – 4/5
Overall Quality – 3.75/5
Extremely fast-growing network on the Indian market
The fully functional free version
Fun getting-to-know-you games
Language translator
Some profiles are incomplete
Users complain to receive too many notifications
Tantan is one of the best free dating apps in India that originates from China. It was developed and launched there, but after having had great success, Tantan was introduced in other Asian countries as well.
It became quite popular in India and has a very ambitious goal to take on Tinder, which might be possible with its aggressive campaign and the users base that doubles every three months.
It has more than 90 million users today and will for sure have many more in the future.
Its members look for serious, as well as non-committing relationships, which is great news for anyone who joins no matter which one they look for.
A slight setback is a male to the female ratio which is 67% to 33%, but it is expected that it becomes more even soon.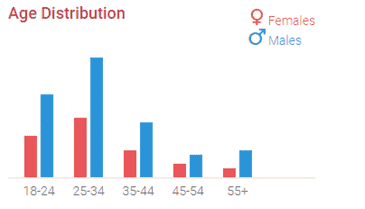 Its users are between 25 and 34 years old on average with other age groups following closely.
Ease of Use "mobile and desktop version"
If you decide to register for Tantan you will most likely be glad to know that the registration process is pretty fast and simple and you can complete it with either Facebook of your phone number.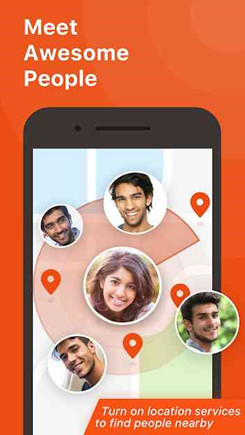 Once you add that basic info and verify your account in case you used your number you will be good to go!
Searching is open to everyone as well as all completely free search filters. As well as other apps, Tantan also makes communication impossible, unless the liking is mutual.
Some profiles do seem empty because completing them is optional, however, there is a way of getting to know your potential match, and it is by clicking on the "moments" tab on their profile.
It is where updates, photos, and other info is located.
This tab makes Tantan get another form and look like a combination of a dating app and social media, which is a great addition.
When it comes to the app version, it is free to download for both iPhones and Android phones, so you can have lots of fun for free.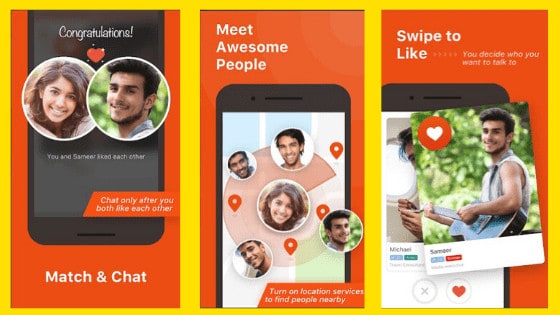 Some of the features you will see are:
Another app has incorporated swiping in its design and people love it! Swipe left, swipe right – the game is on!
This is a feature that is seen in only a few apps in the world and people have gone crazy about it. Since it is based on your location, it lets you know if, how many times and when you and another user have crossed paths.
Not speaking the same language as your crush has never been a smaller problem because Tantan has a feature that serves as a translator between the two of you.
In the chatbox, you will see two kinds of quizzes – general and intimate one that you can play with your crush and get to know each other much better.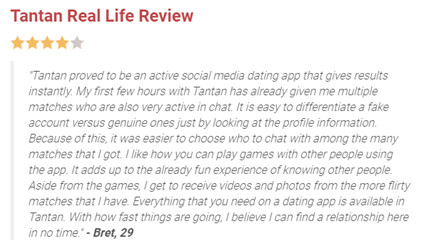 As we've already mentioned, Tantan has a great free version and doesn't lock the most important features with a premium membership.
However, if you decide to get it, you will be pleased with its pretty low price.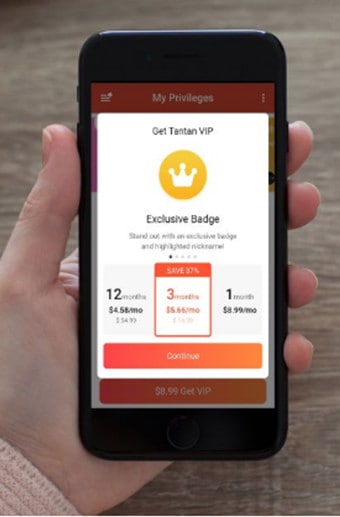 A match happens when you like a person and they like you back. When that happens, you will be able to talk to each other.
2. How many photos can I add?
You can add up to 6 photos to your profiles, however, the "moments" tab lets you upload more of them more often, just like you would on Facebook and Instagram story.
Tantan is a highly functional and incredible app that gets an overall grade of 3.7/5. We highly suggest it if you wish to be part of the fastest-growing dating app in the world and have lots of fun meeting new people.

Signing up – 3/5
Making Contact – 4/5
Profile Quality – 4/5
Overall Quality – 3.5/5
Women are the only ones who can message first
Women are spared from tons of unwanted messages
There are two other sections – BumbleBizz and BumbleBff
Bumble Hive live events happen regularly
Men aren't allowed to message first
Women get only 24 hours to decide if they will initiate contact with someone
Bumble was a pretty revolutionary dating app when it was first founded in 2014 because it gave women the power to message first and only that way enable contact with another user.
It is the first women-empowering app and we love it! No reason it is one of the best dating apps in India!
Today, there are 22 million members on Bumble and thousands keep joining every single day.
As you can see in the picture below, most of the users are between 25 and 34 years old, but the 18-24 age group is almost as numerous.
What is different about this app is the fact that it can be used for finding friends and business partners as well, not only romance, thanks to its two separate sections which we will mention below.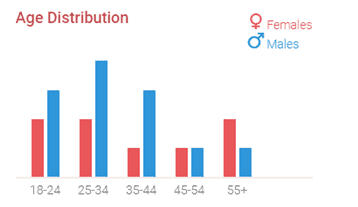 Ease of Use "mobile and desktop version"
Using Bumble is pretty easy and straightforward. It has a very simple and cute design with clear and large labels so anyone can get a hang of it.
The app version can be downloaded on both App and Play Store for free.
If you decide to give it a shot, you will be able to register in two ways – via your mobile phone or Facebook, from which all of the information needed will get extracted.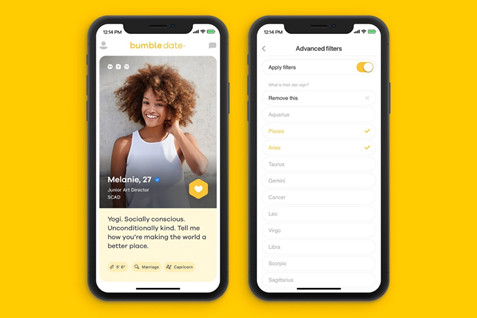 When it comes to searching for users, you can include several criteria, such as gender, age group, distance from your location, and also several advanced filters that are part of the premium version.
There is also a swiping game via which you get your search results, however, when a match has been made, women have to be the ones who message first. They get a short time frame of 24 hours to do this.
Once they send an ice breaker, men are the ones who get a 24-hour window to respond, after which normal communication can take place.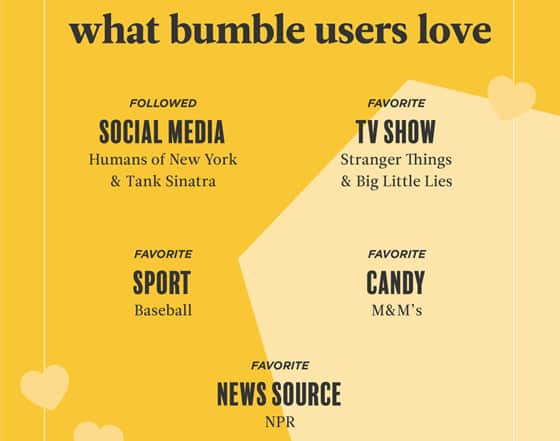 Great features worth mentioning are:
This feature resembles Tinder's Super Like used to show someone you fancy them.
If you aren't into dating, but look for business contacts, partners or other help Bumble can still be your choice thanks to its separate BumbleBizz section.
Another separate section is this one dedicated to finding new friends and we love it!
This is Bumble's blog section that features hundreds of very helpful pieces of information on dating, messaging, date ideas, and other great topics.
Besides Bumble's quite functional free version, there is also a paid membership that includes quite interesting features.
Its price packages are listed below in the picture.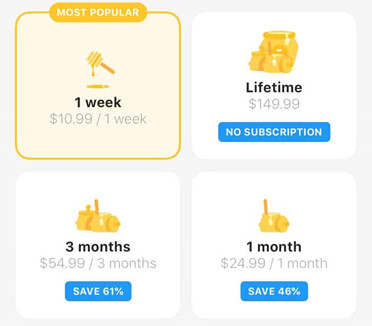 This is the name for Bumble's live events where members, including regular Bumble, BumbleBizz, and BumbleBff ones can meet each other and interact face to face. What we love is the fact that profiles serve as the entrance ticket.
2. I can't seem to find Bumble on the App Store nor the Play Store?
If this is the case, Bumble isn't available in your country.
If you love what you read about this women-get-to-decide app when you won't be bombarded with dumb and unwanted messages and will have a chance to look for friends and business contacts as well, Bumble is your best dating app in India.